Stylish Highlights From Polo In The City
Thursday, November 29th, 2018
Remember that scene in Pretty Woman, where Vivian gets frocked up and attends the polo on the arm of the dreamy Edward Lewis? Well I lived that dream last weekend, with a few obvious exceptions (lady of the night profession and sans one Richard Gere). Check out my highlights from Polo In The City below.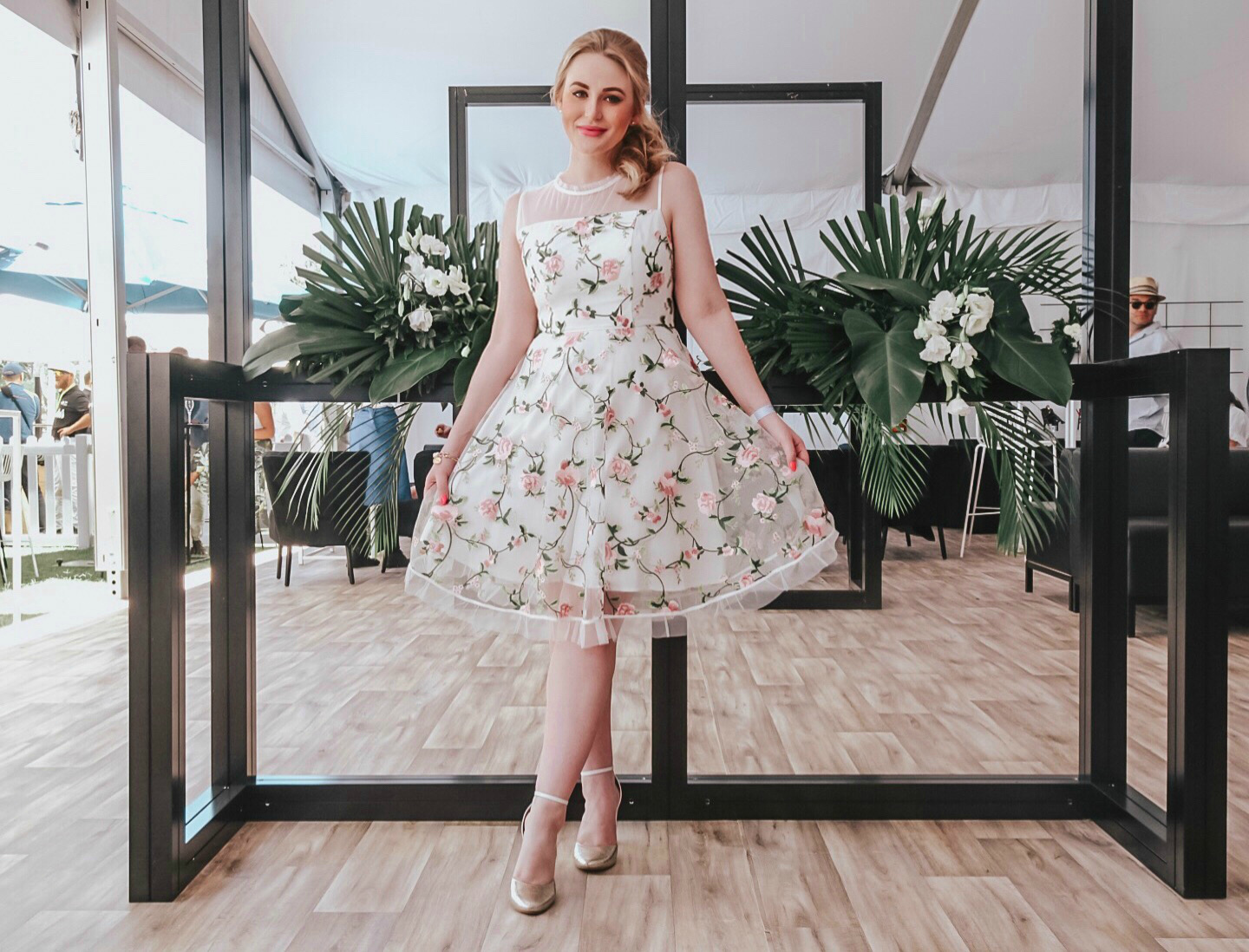 Wearing Review Heirloom Floral Dress.
My first time attending the Polo In The City, was celebrated in the most stylish way, with my sister and I being dolled up by Review. With a love of florals, we both choose garments with dreamy, blooming prints, otherwise perfect for the Spring affair. Sophie wore the Best Kept Secret Dress, a garment so fitting for the sweetest garden soiree, which featured a flirty A-line silhouette with lace fagoted seam detailing. I on the other hand, wore the Heirloom Floral Dress, which spoke 50's chic with the sheer neckline, organza overlay and ruffled trim.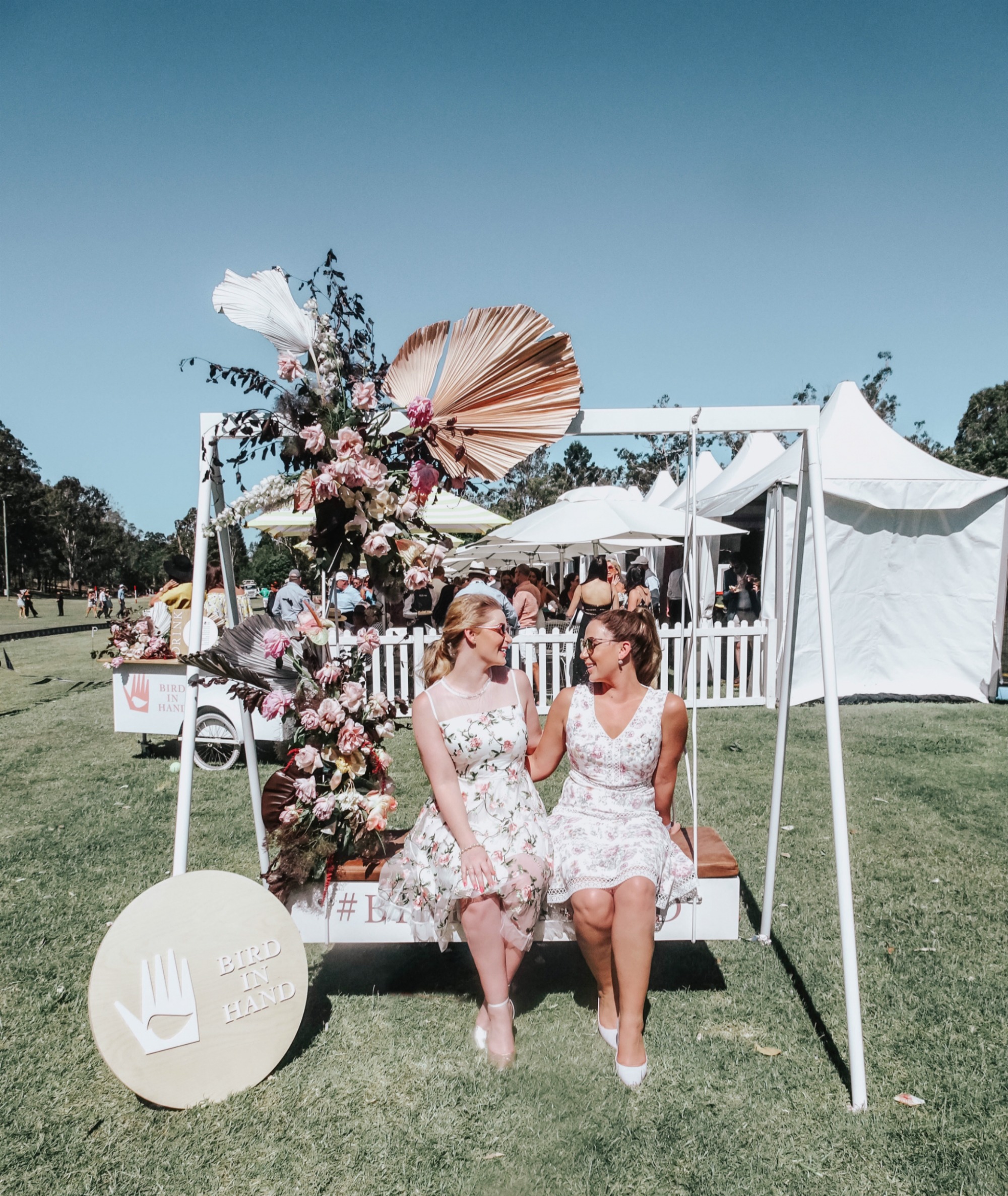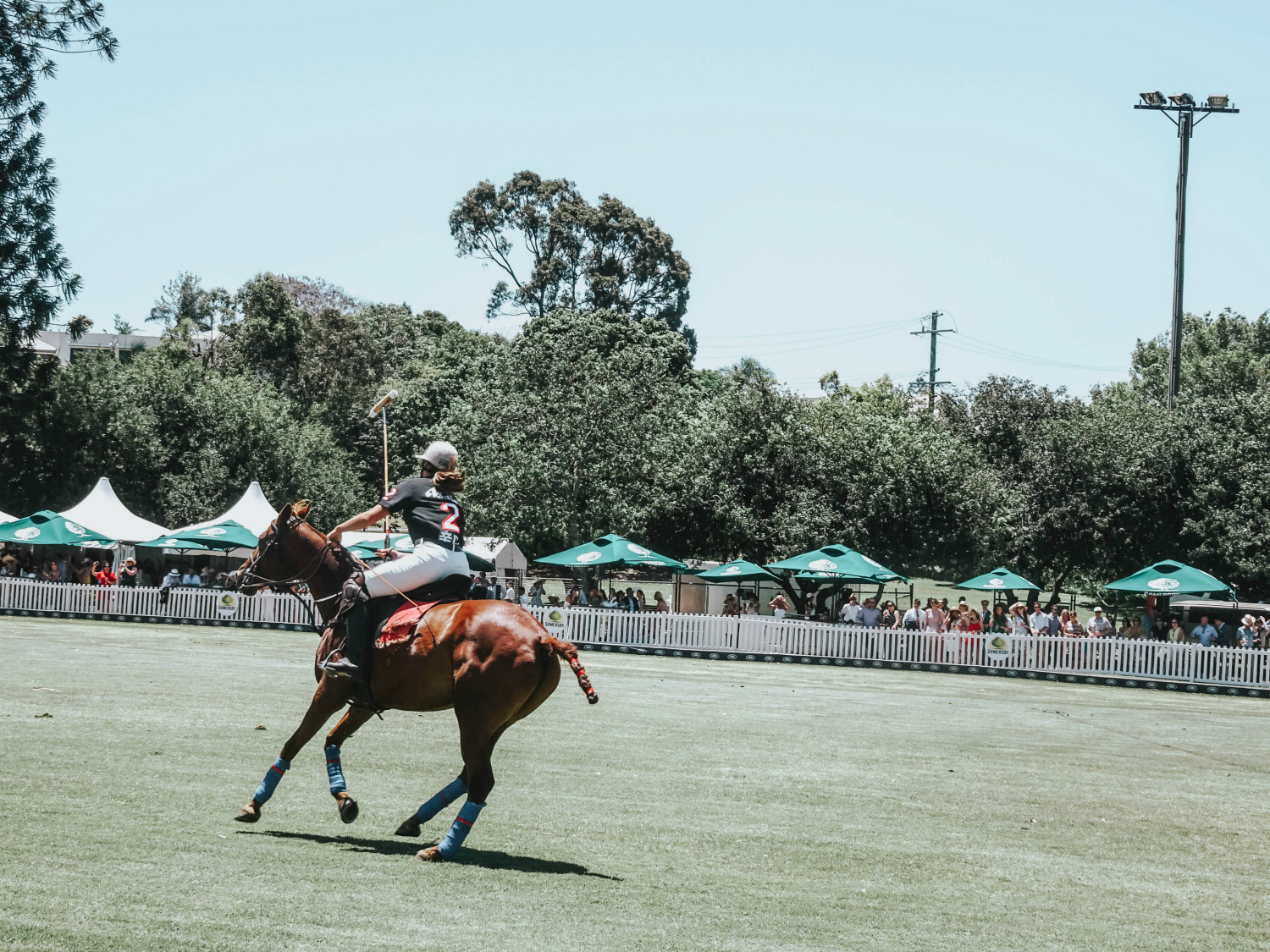 Due to the balmy weather, a crisp pour was essential, including a round of Aperol Spritz, which took me back to my recent European summer. The view of the clear blue skies and endless greenery of Dorrington Park from the Champagne Pommery Marquee, made a picturesque setting for the polo match, which highlighted supreme athletes styled in sophisticated sportswear. Honestly, if playing polo invites such a chic uniform, then where do I sign up?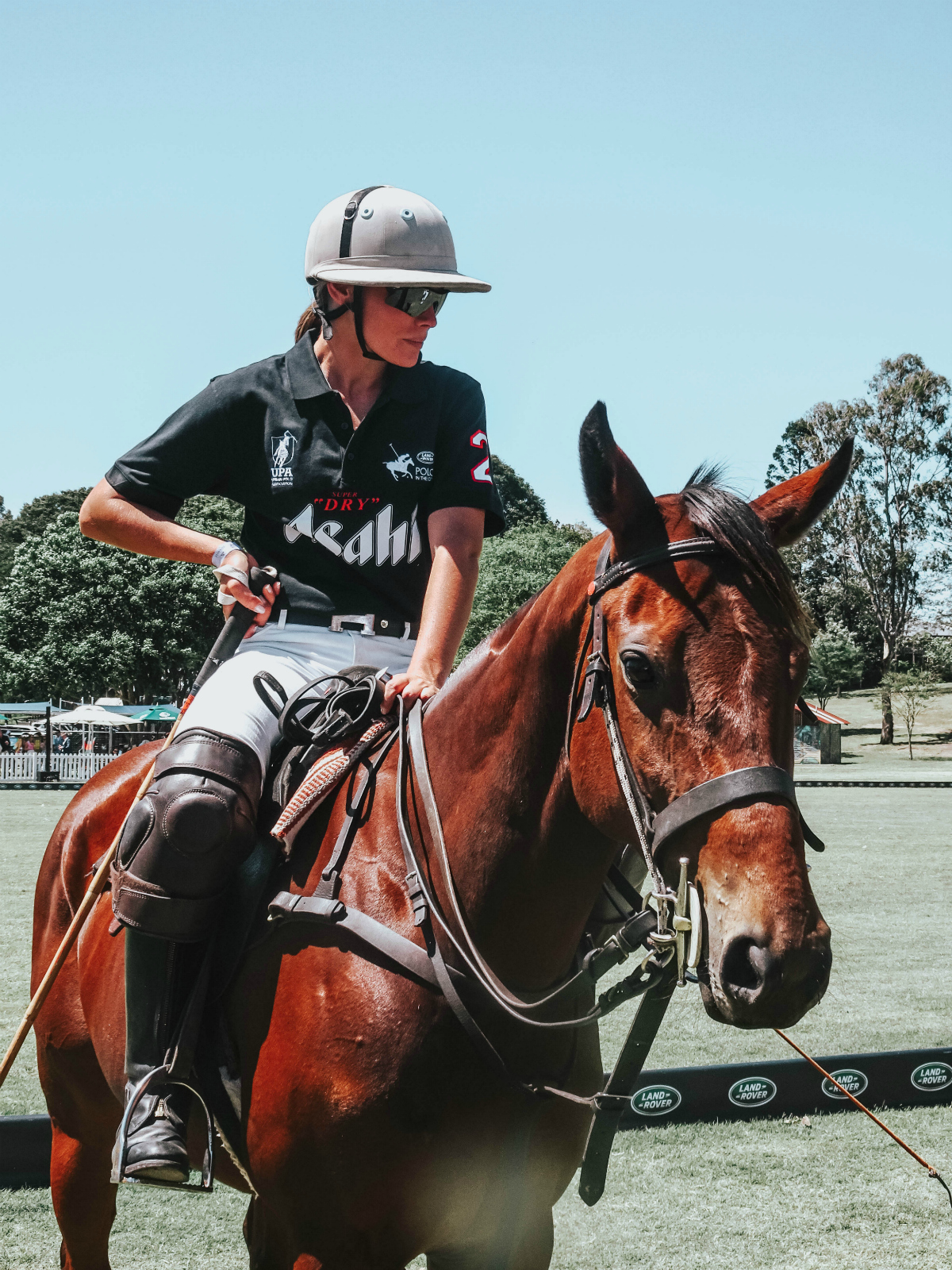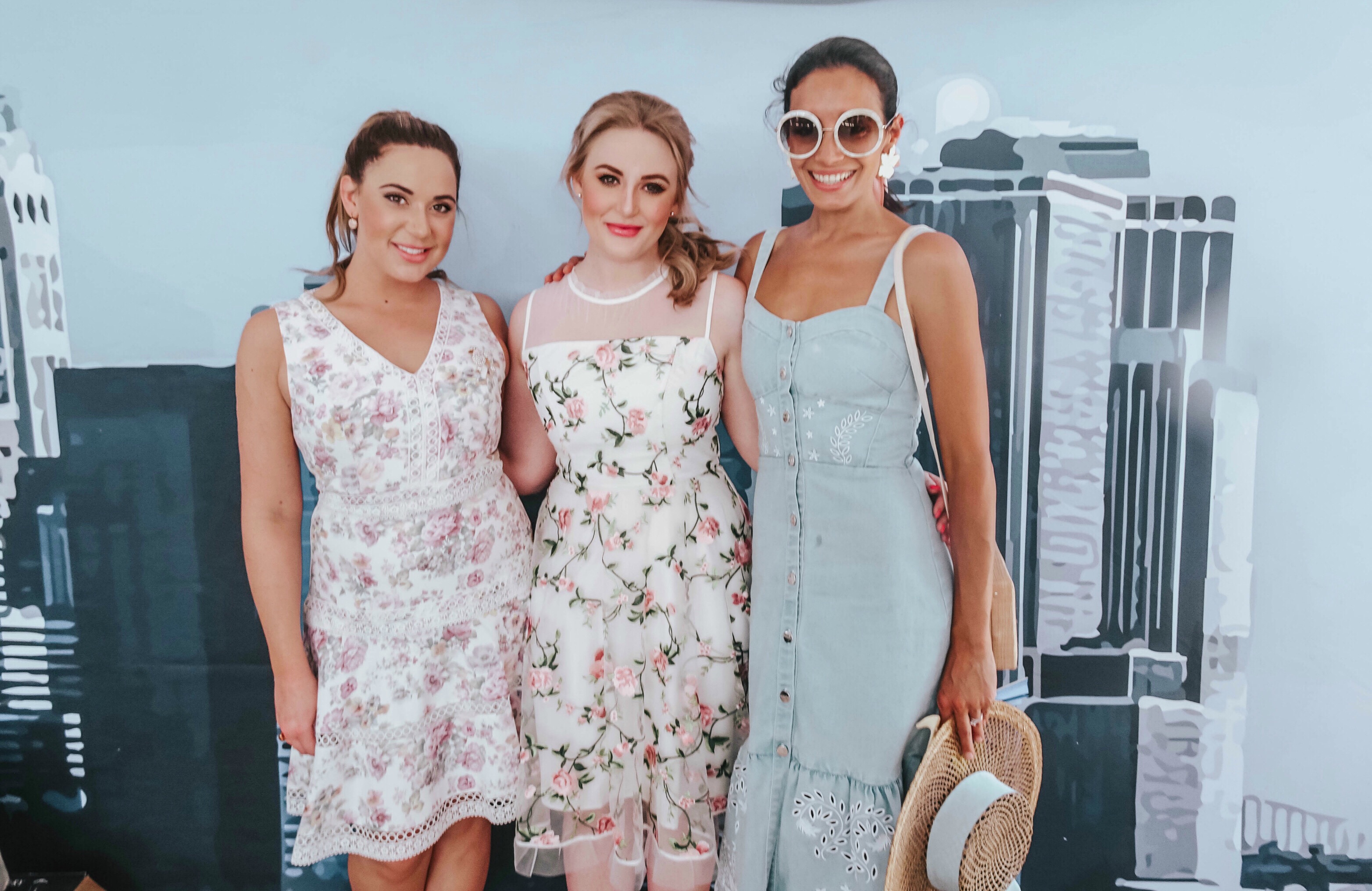 Socialising with the woman of the hour, the face behind The Polo Project and Polo In The City, Natalie Decorte.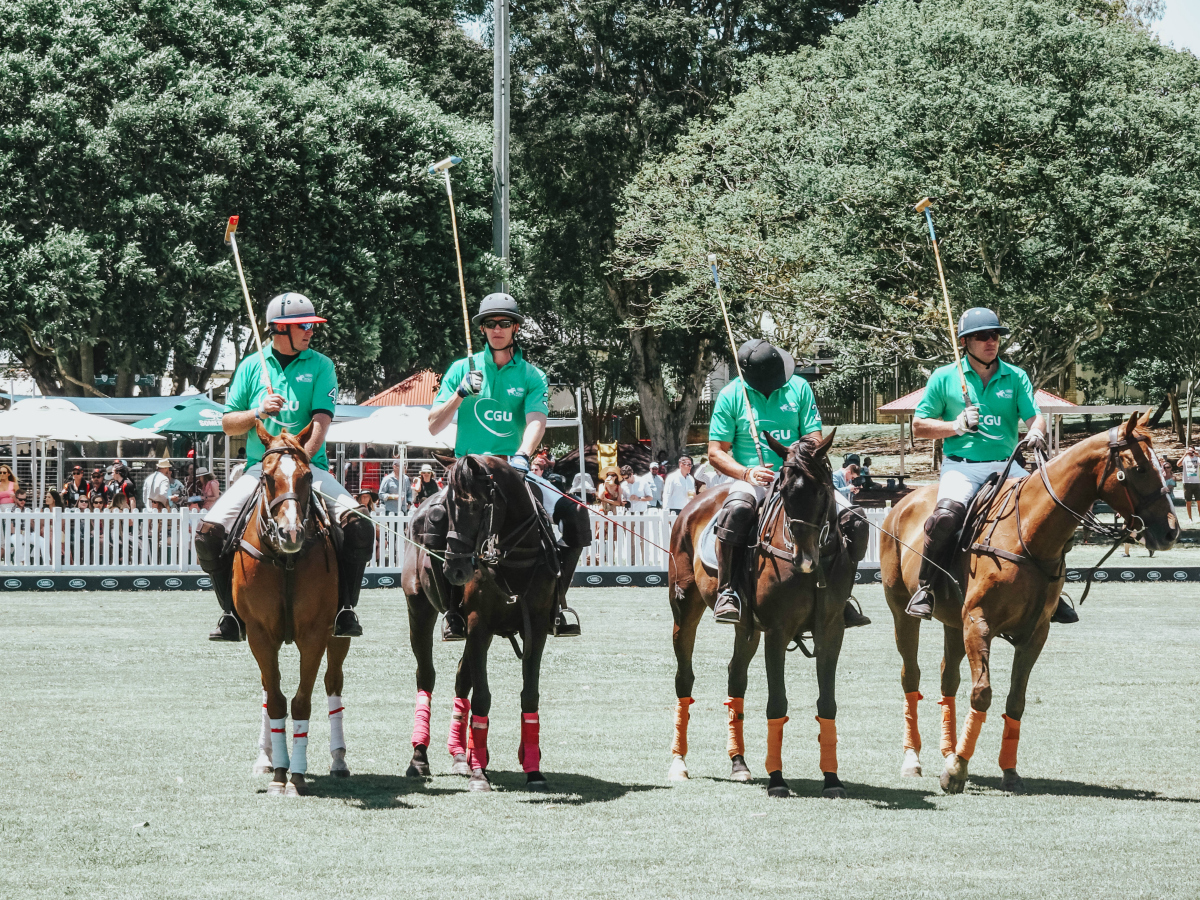 Have you had the pleasure of attending Polo In The City? Tell me your stylish tips and tricks in the comments below! x
Proudly Partnering with Review
---
Blossoms & Blush
Thursday, November 22nd, 2018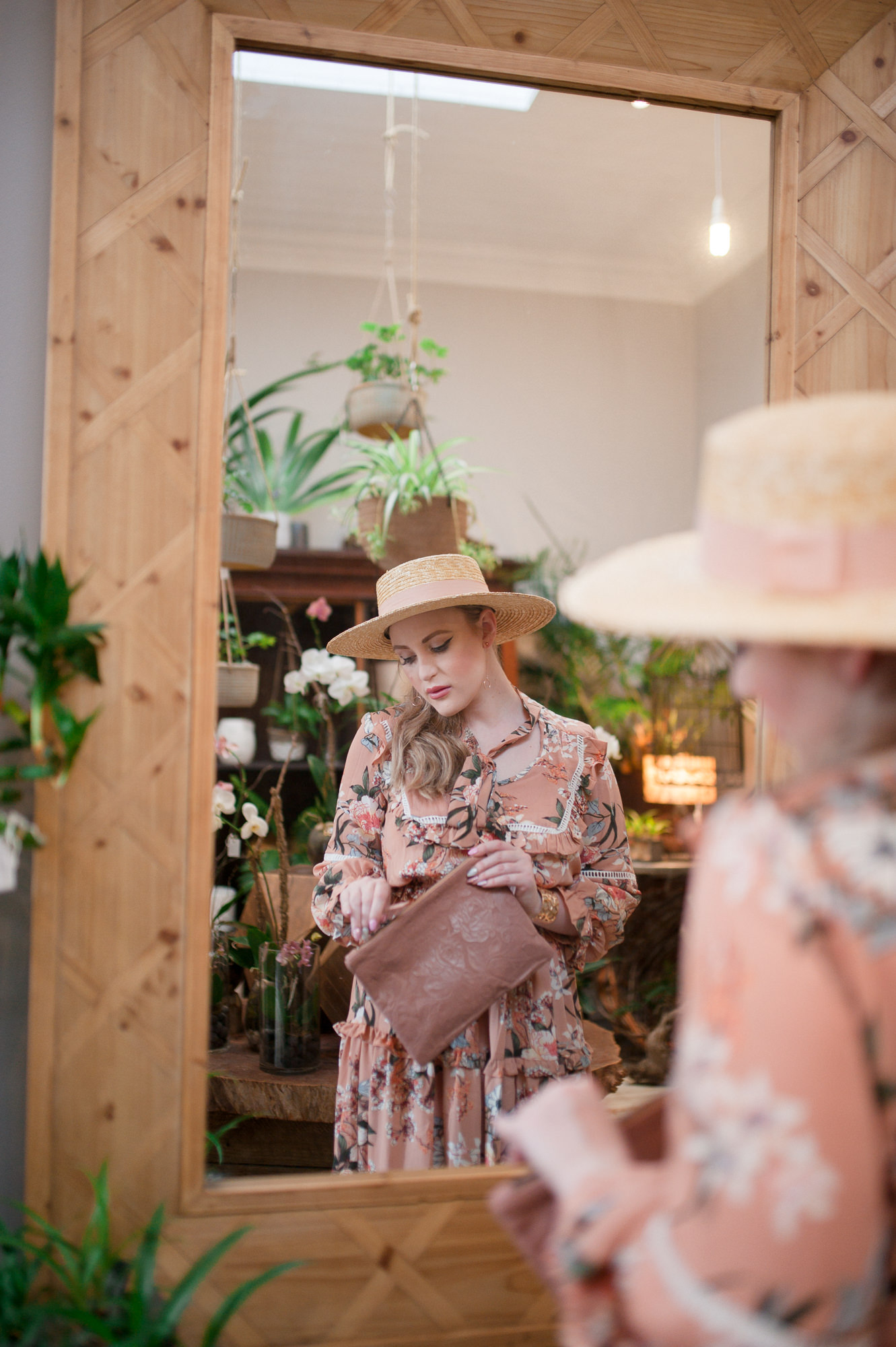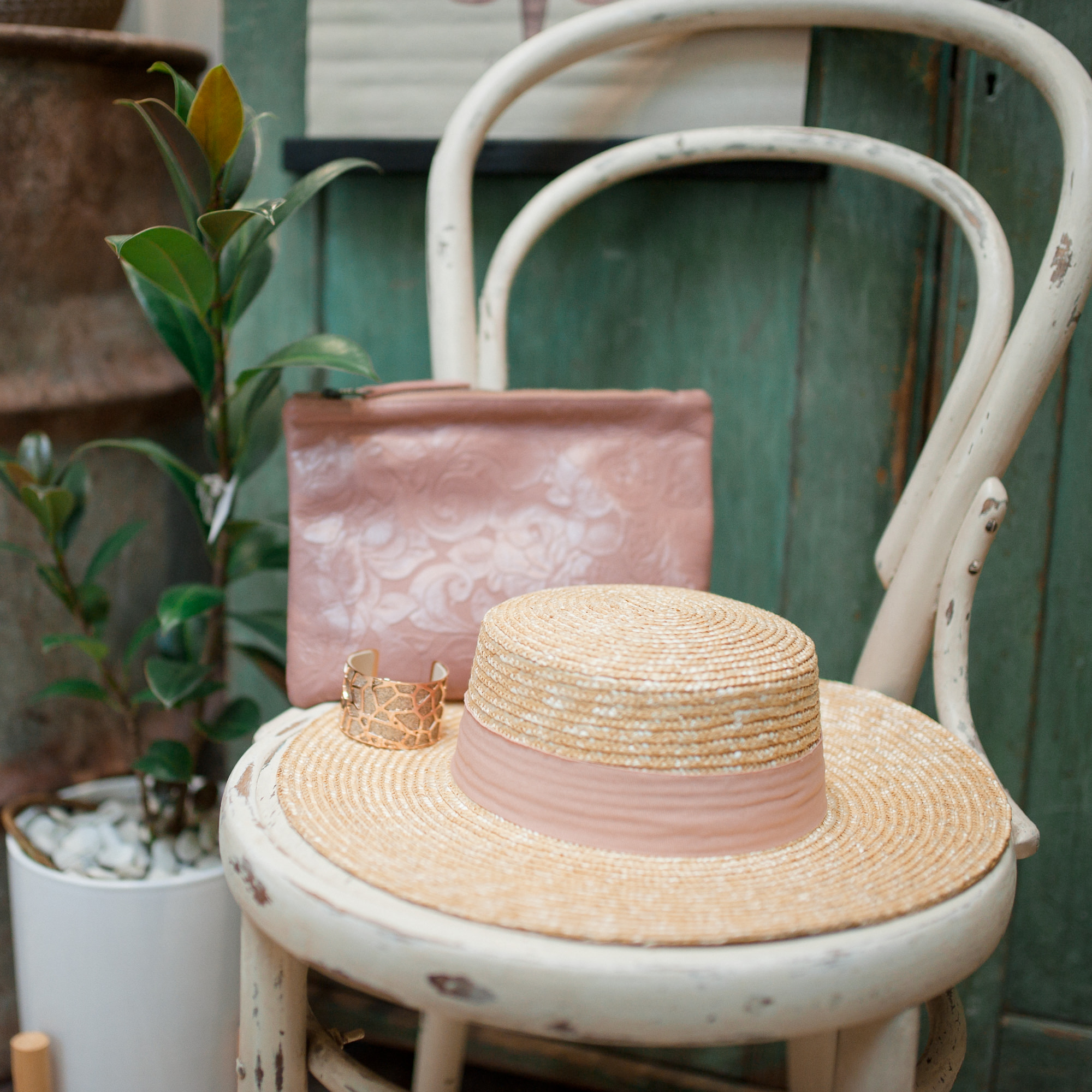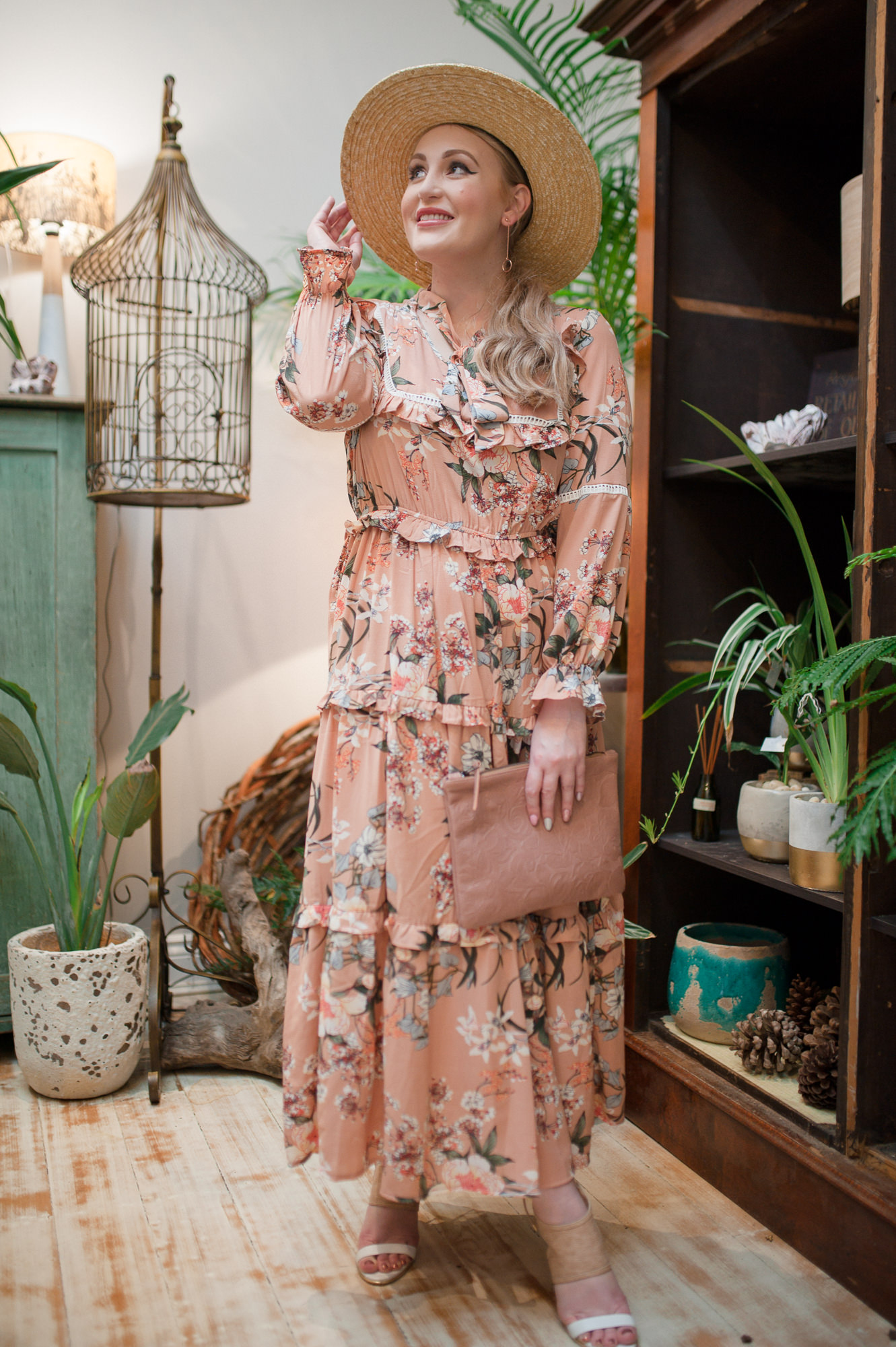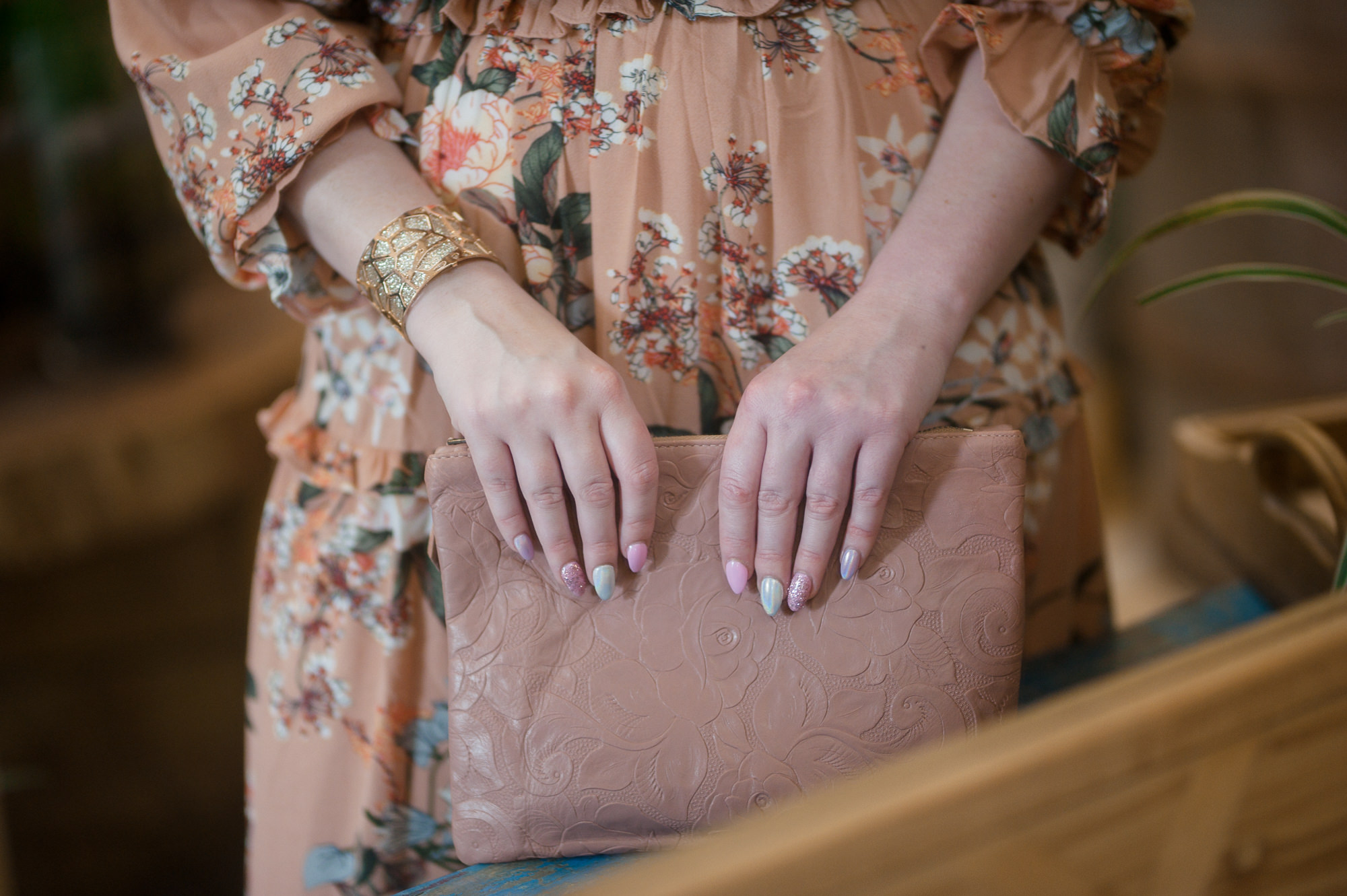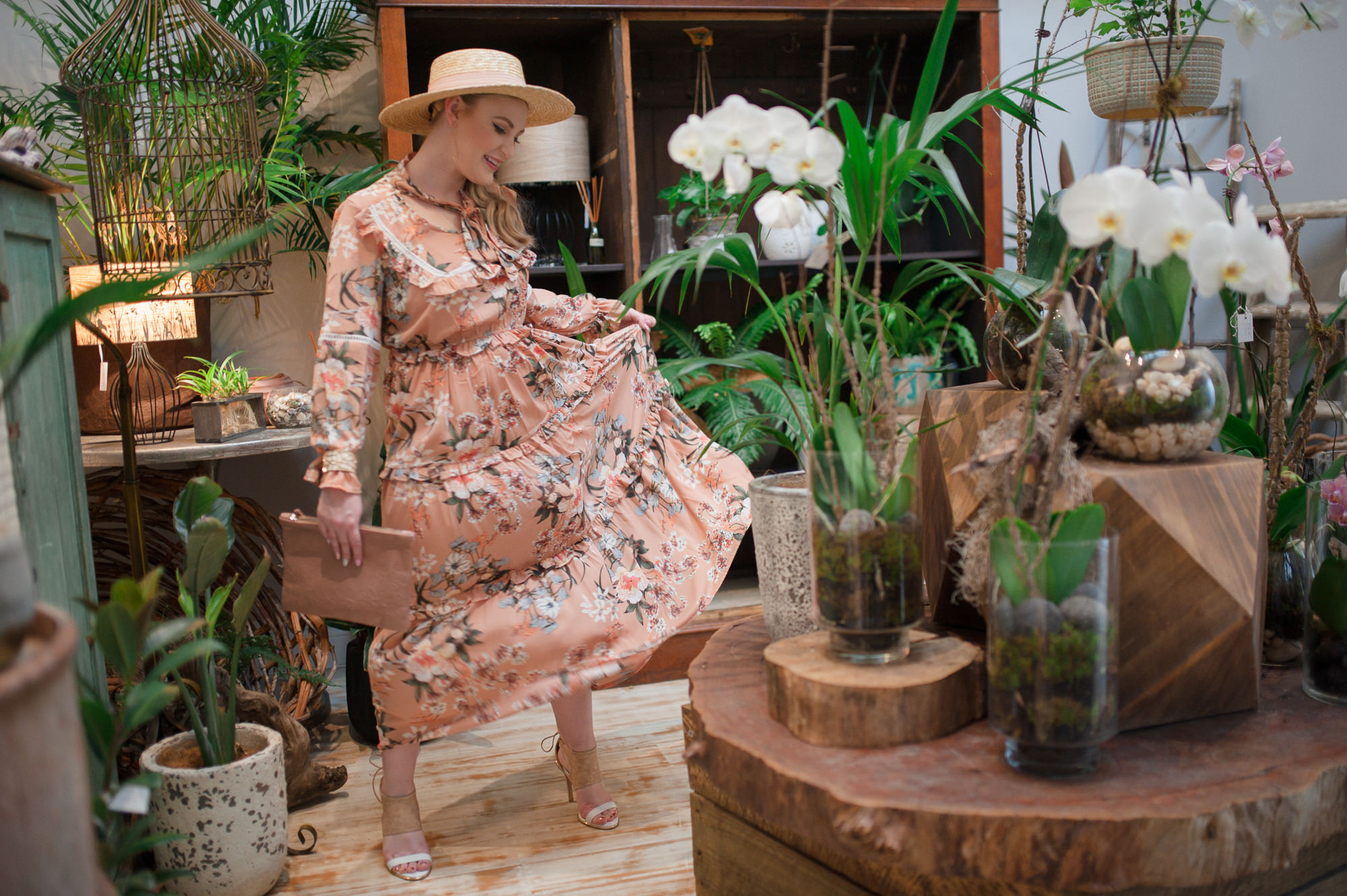 St Frock Folklore Maxi Dress, August + Delilah Shoalhaven Hat, Karmme Desert Blush Clutch, Les Georgettes Customised Bangle, Wittner Heels (similar style here).
If there was ever a colour to make my heart race, then I'm sure it comes as no surprise, it's blush pink. There's something so remarkably feminine about this soft, peachy colour and for someone that throws pink in her porcelain skin tone, it's a complimentary hue. Seeing this gorgeous St Frock garment, I fell instantly in love with the native floral print, along with the dreamy, free flowing silhouette, adorned with ruffle detail and a soft tie neck. This piece has been on high rotation since entering the TBS wardrobe, best teamed with the matching band of the August + Delilah boater, another staple available to St Frock.
One of my favourite little jewellery finds, comes from the beautiful French designer, Les Georgettes, which specialises in versatile, customised pieces. Here, you will see me wearing a beautiful creation, featuring a rose gold, giraffe casing, contrasted by a double sided cream leather and sparkle textured band. I can't explain just how special it is to wear something customised around your very own little vision.
My look is completed with the final rosy detail, seen in my Karmme clutch. Exclusive to the Desert Tales collection, this hand crafted piece features an intricate wild bloom print, embossed in a supple blush leather, inspired by the adventures of the outback.
SHOP THE POST:

Photography By Erin Smith Photography
---
Just Like Audrey
Tuesday, November 6th, 2018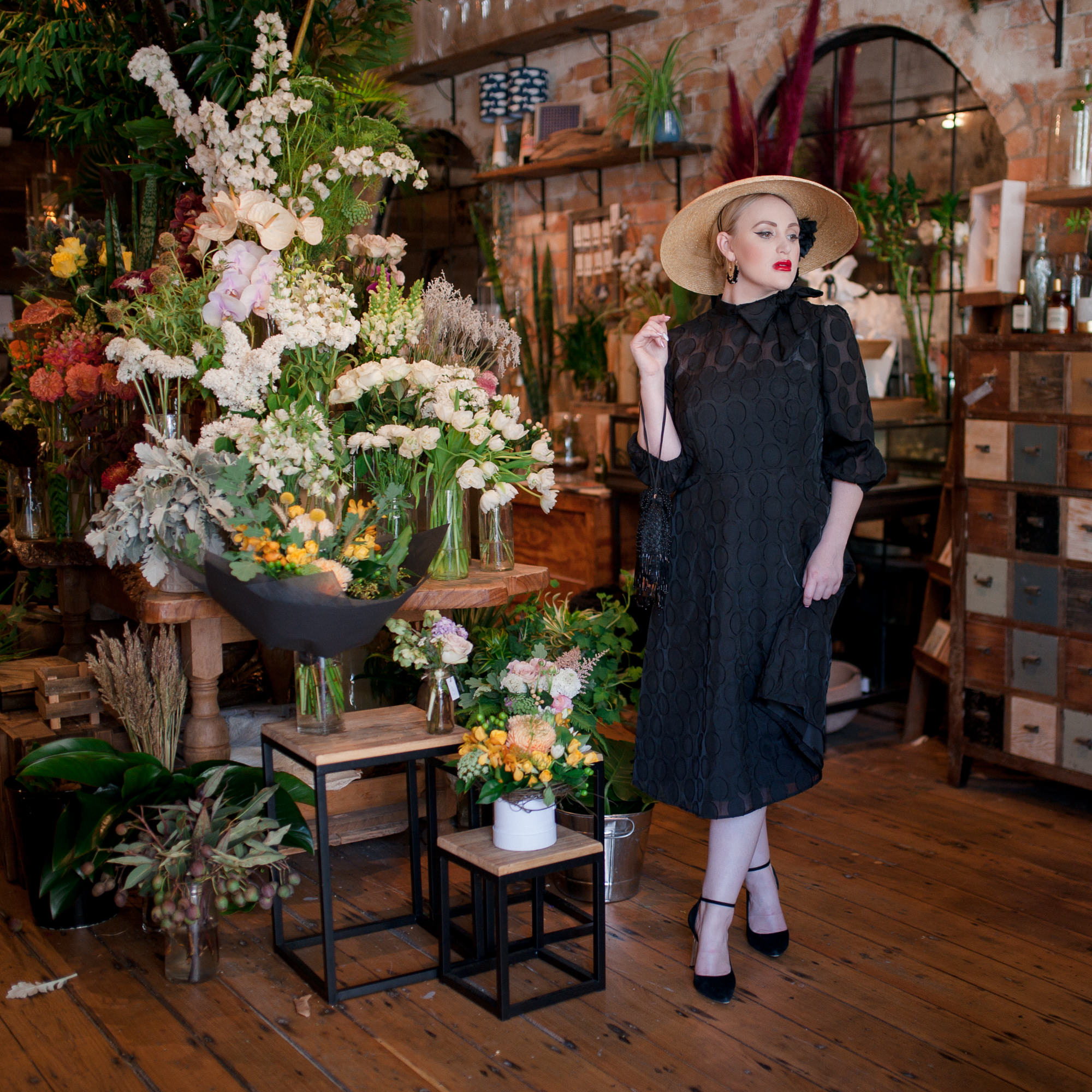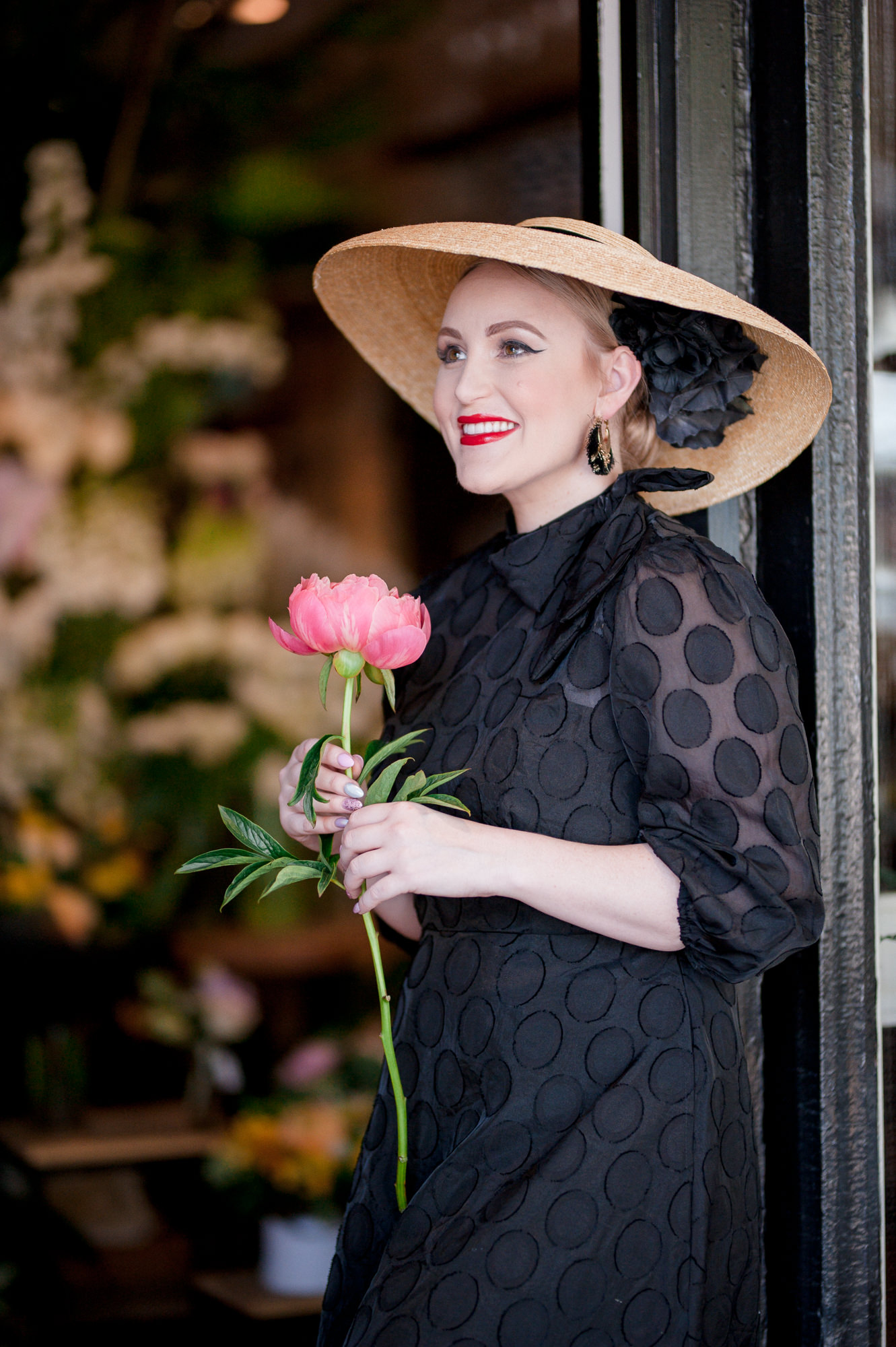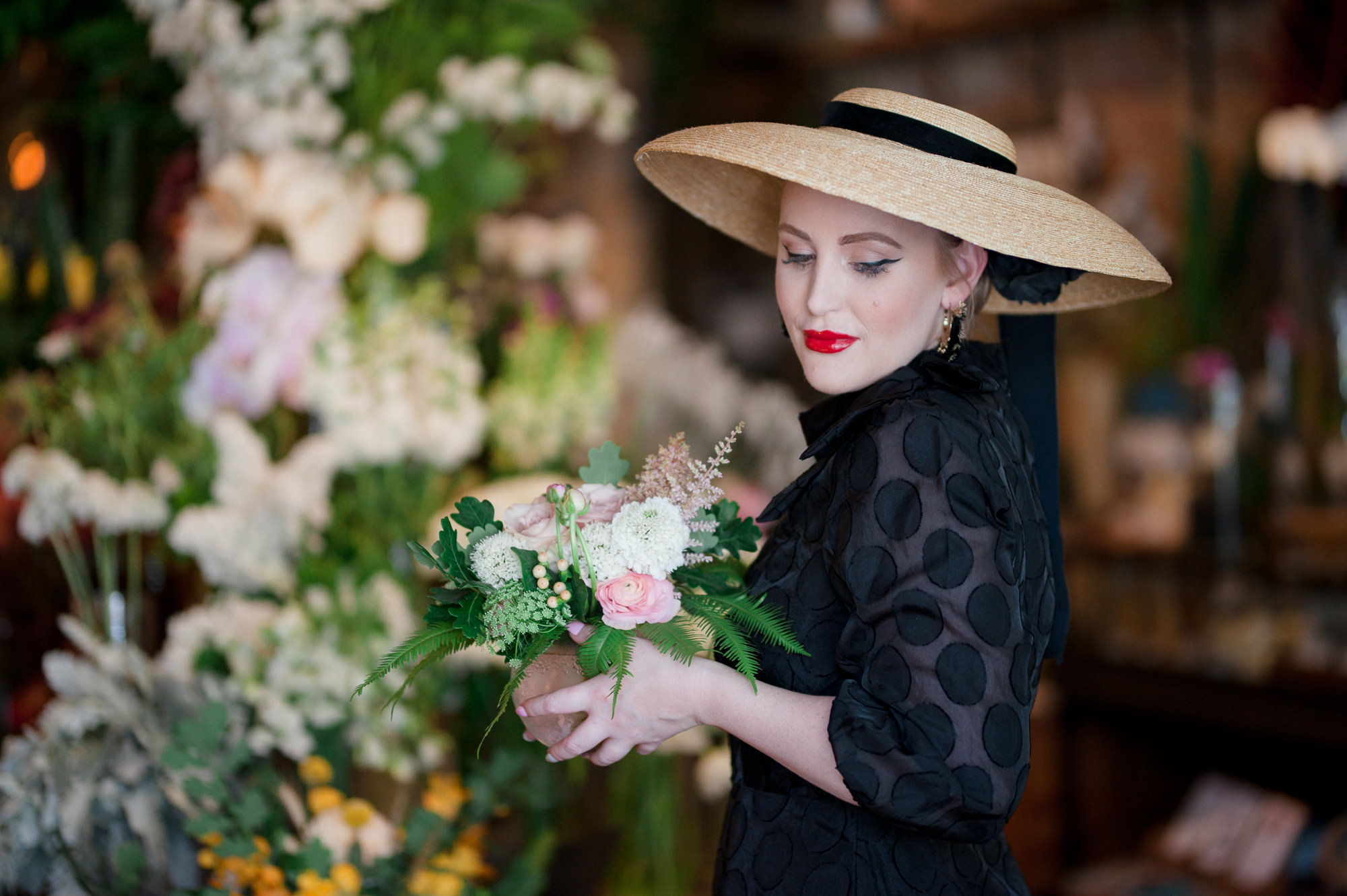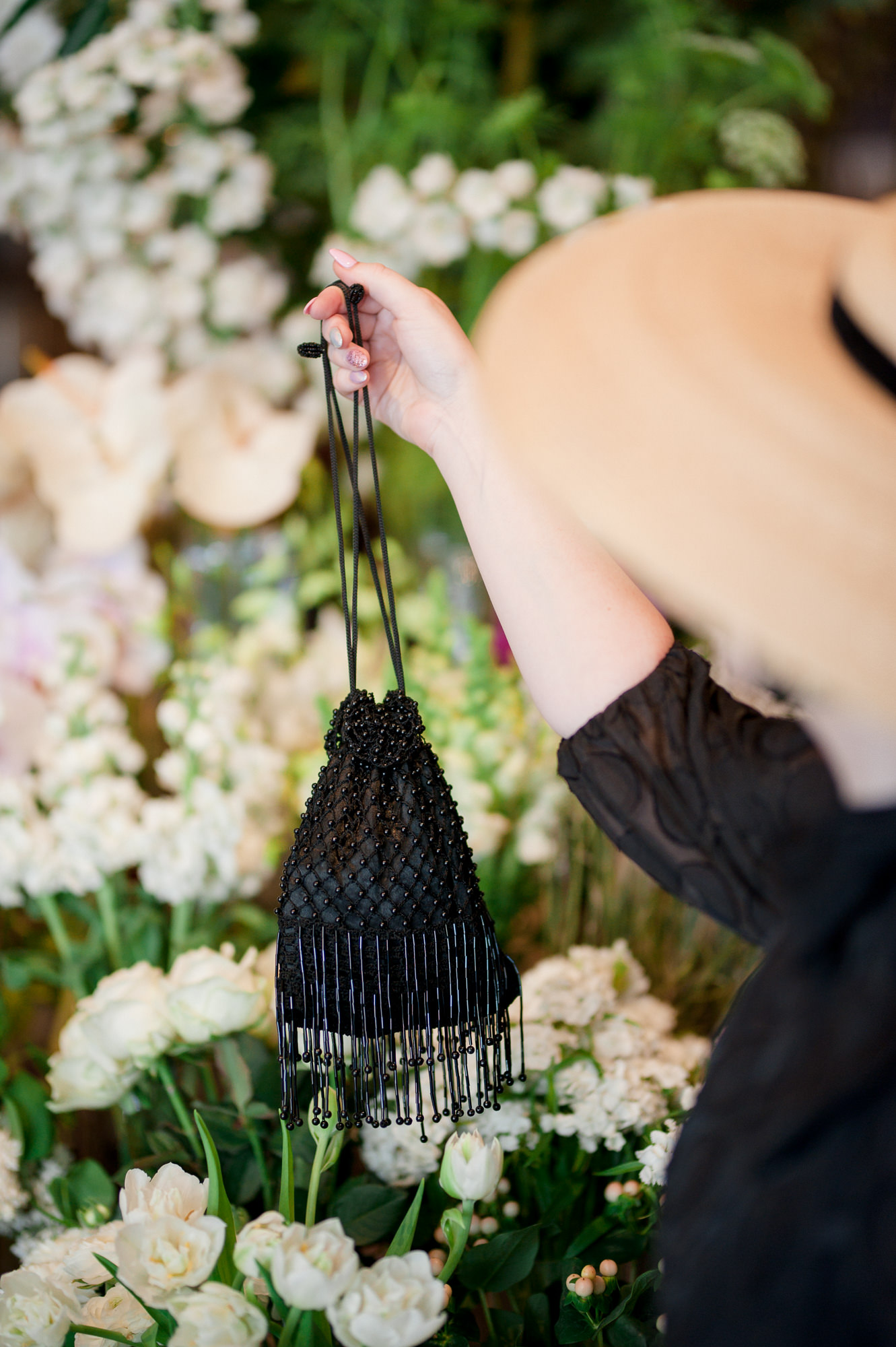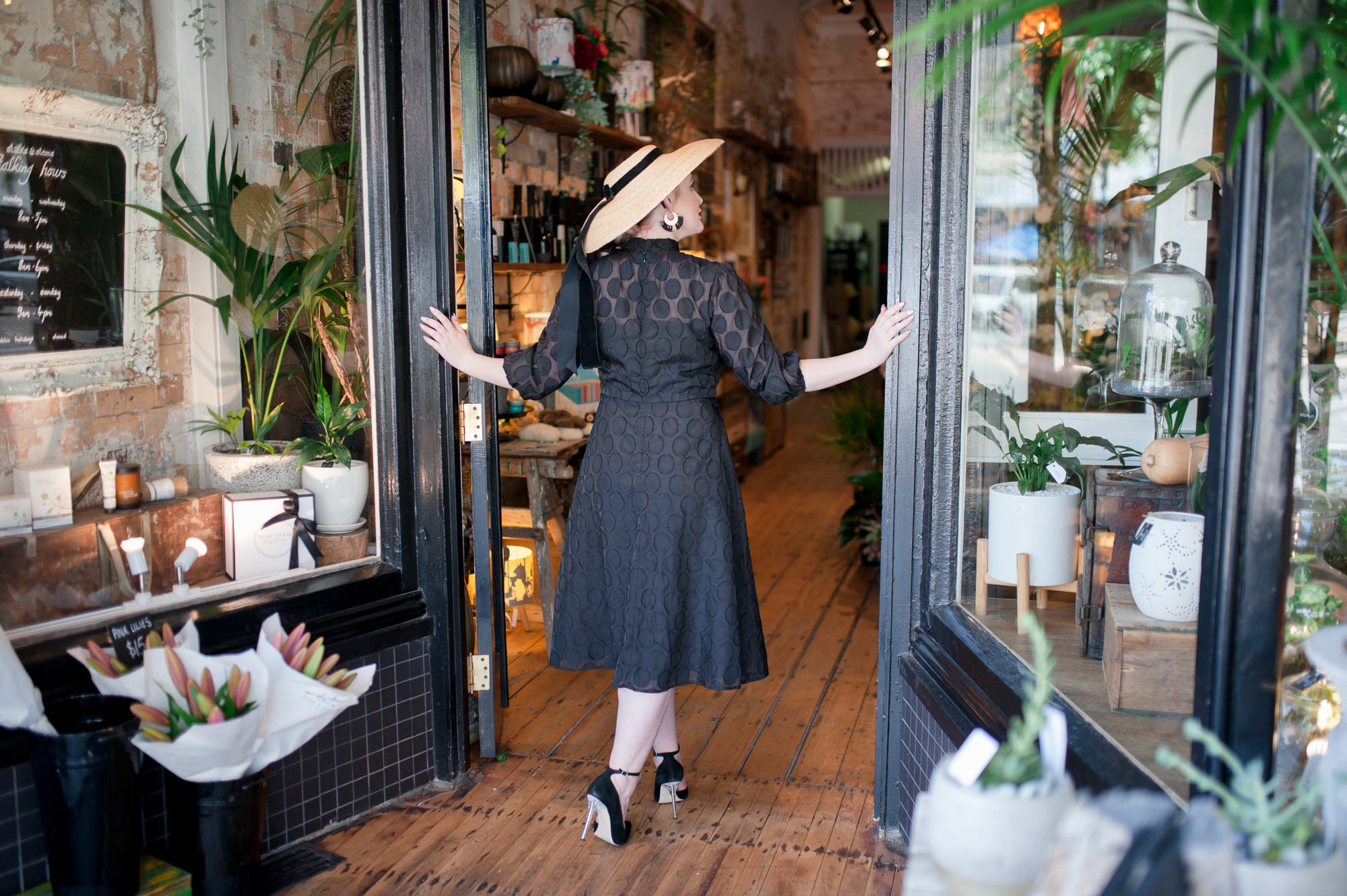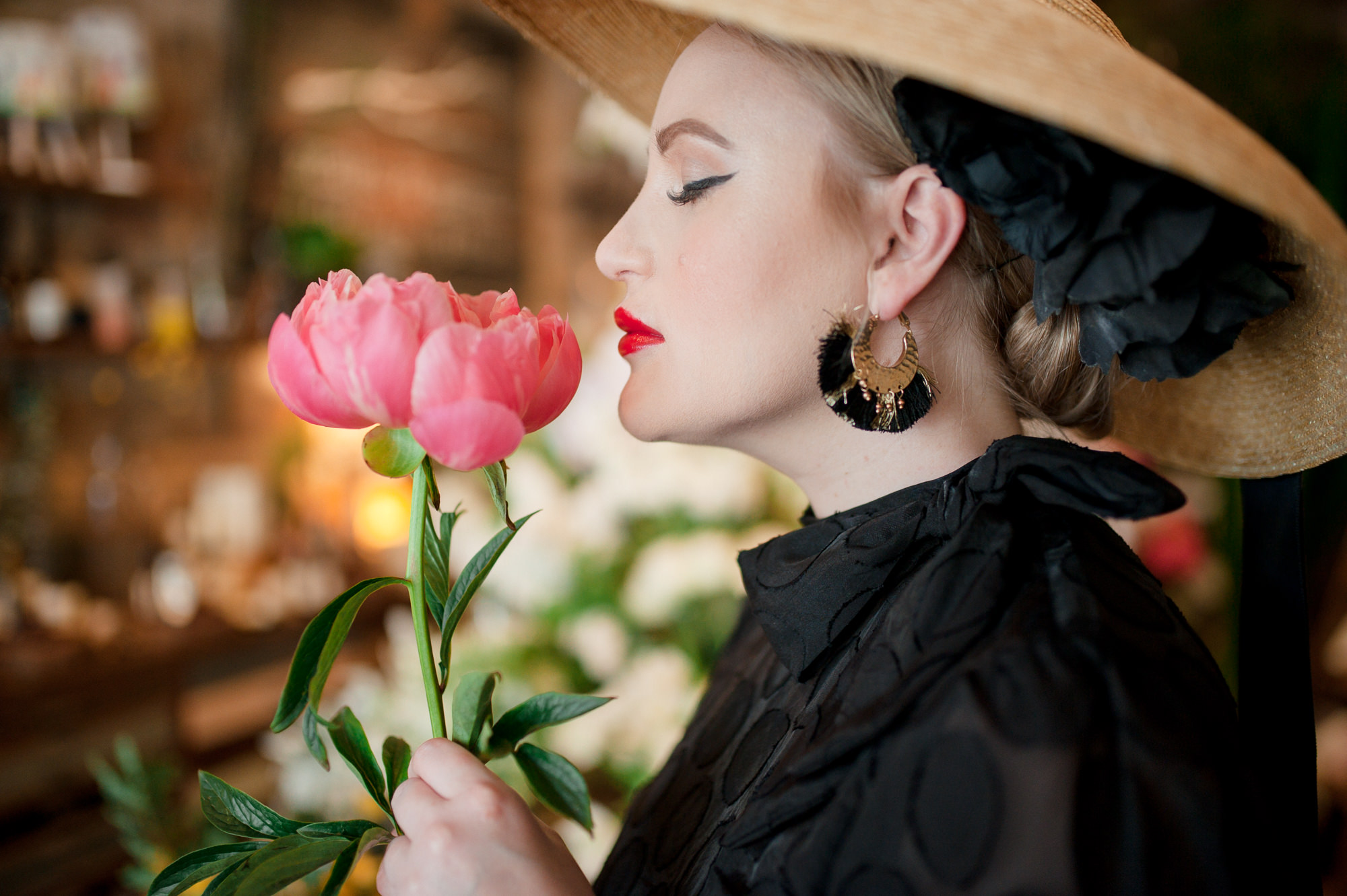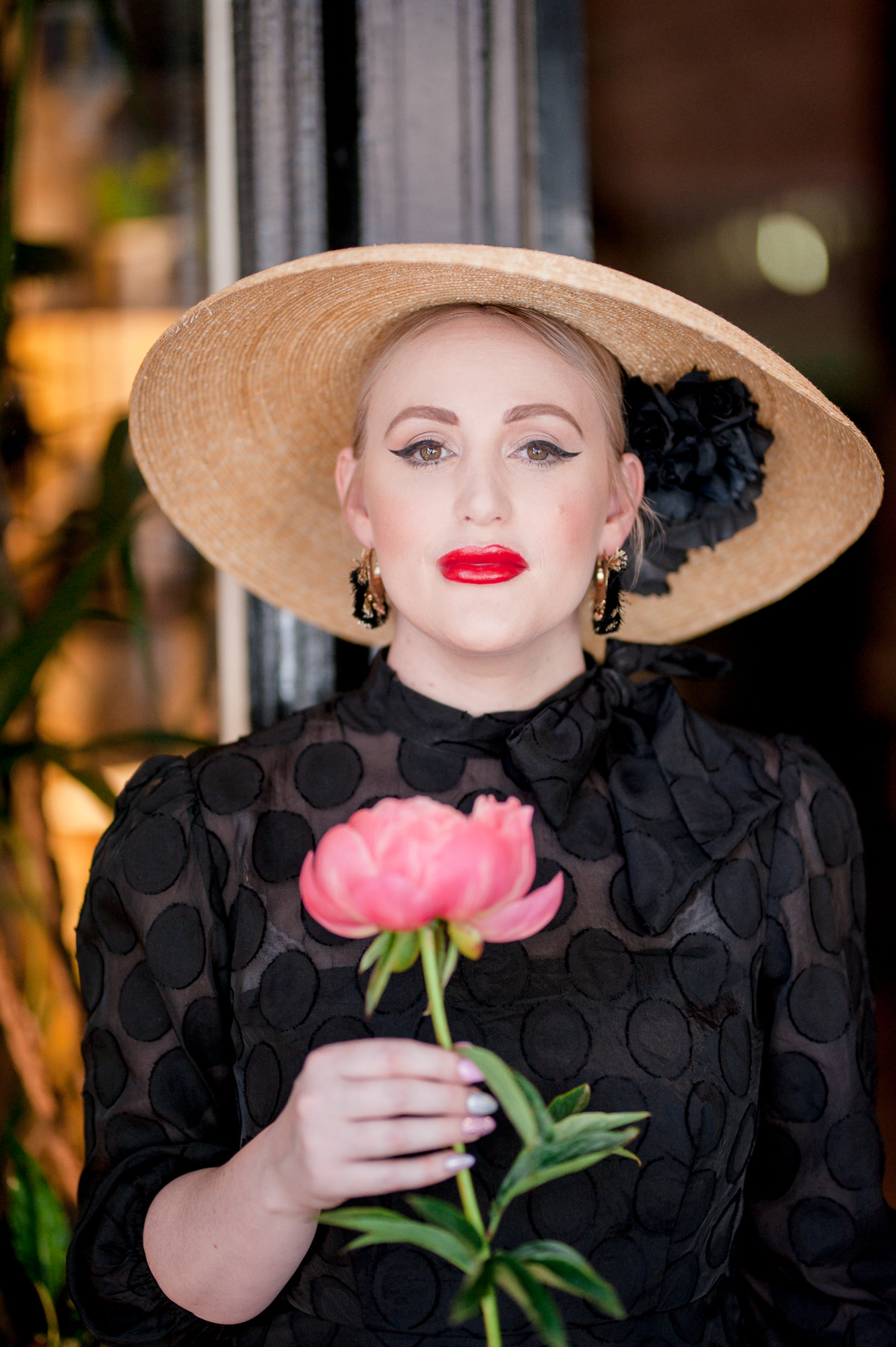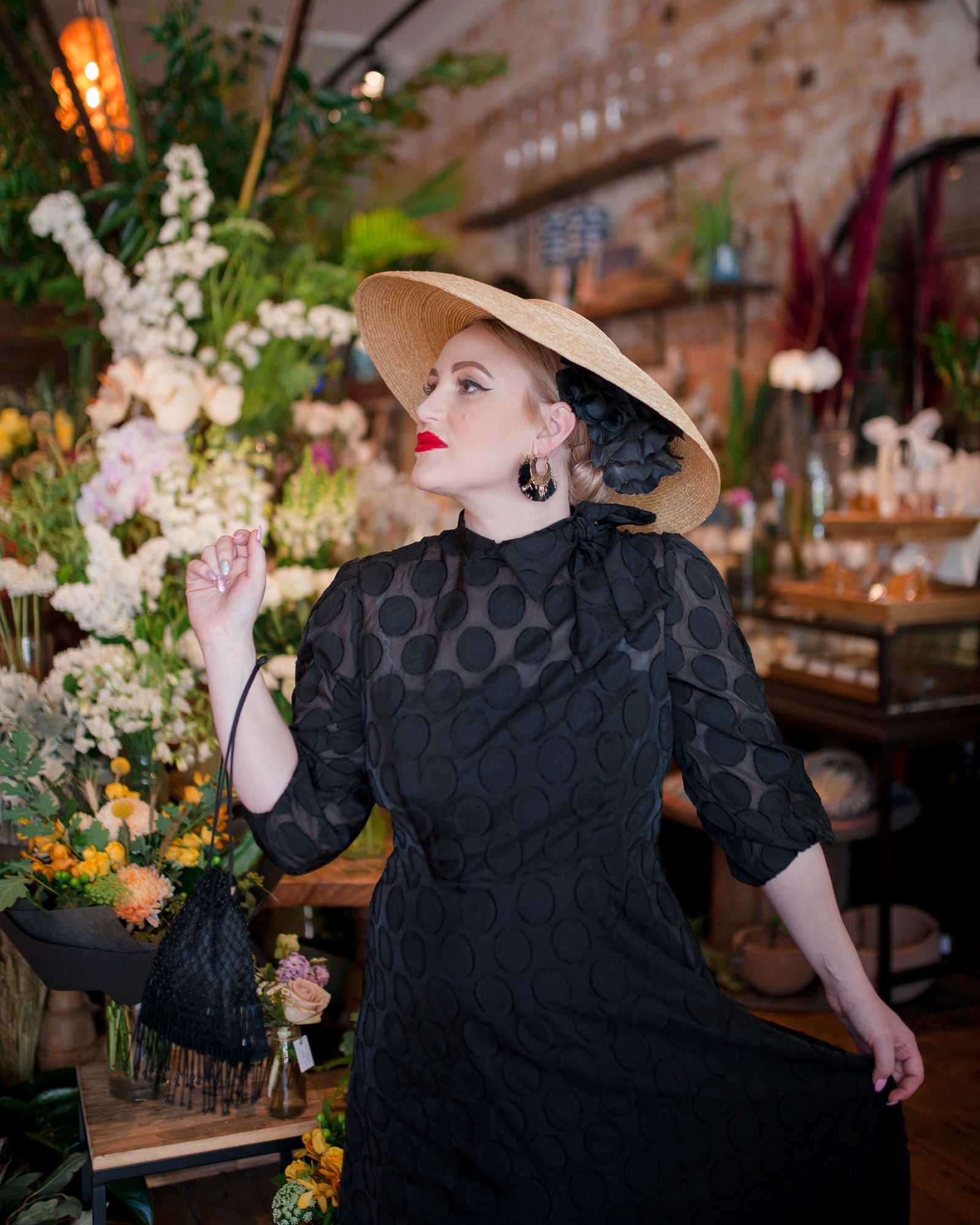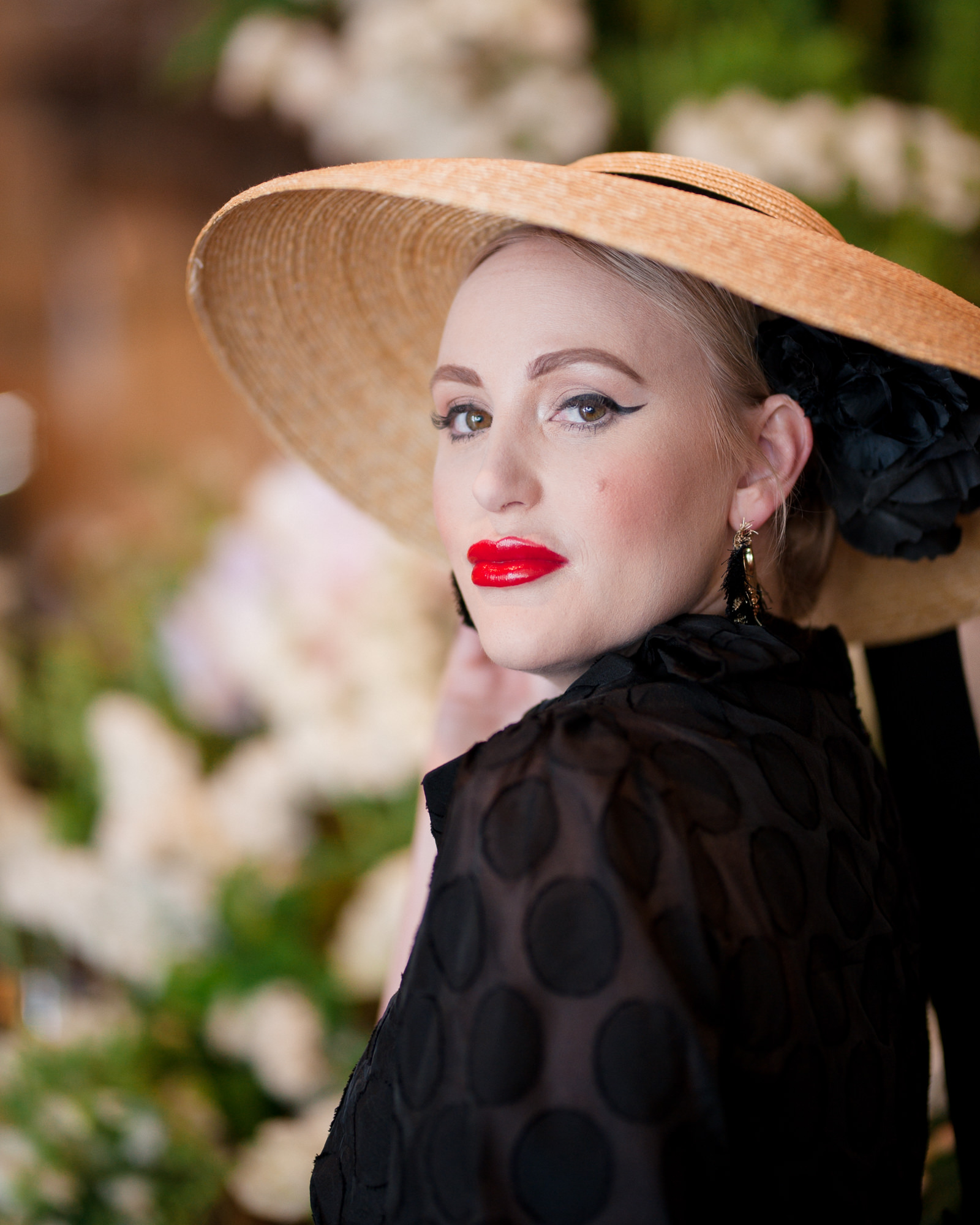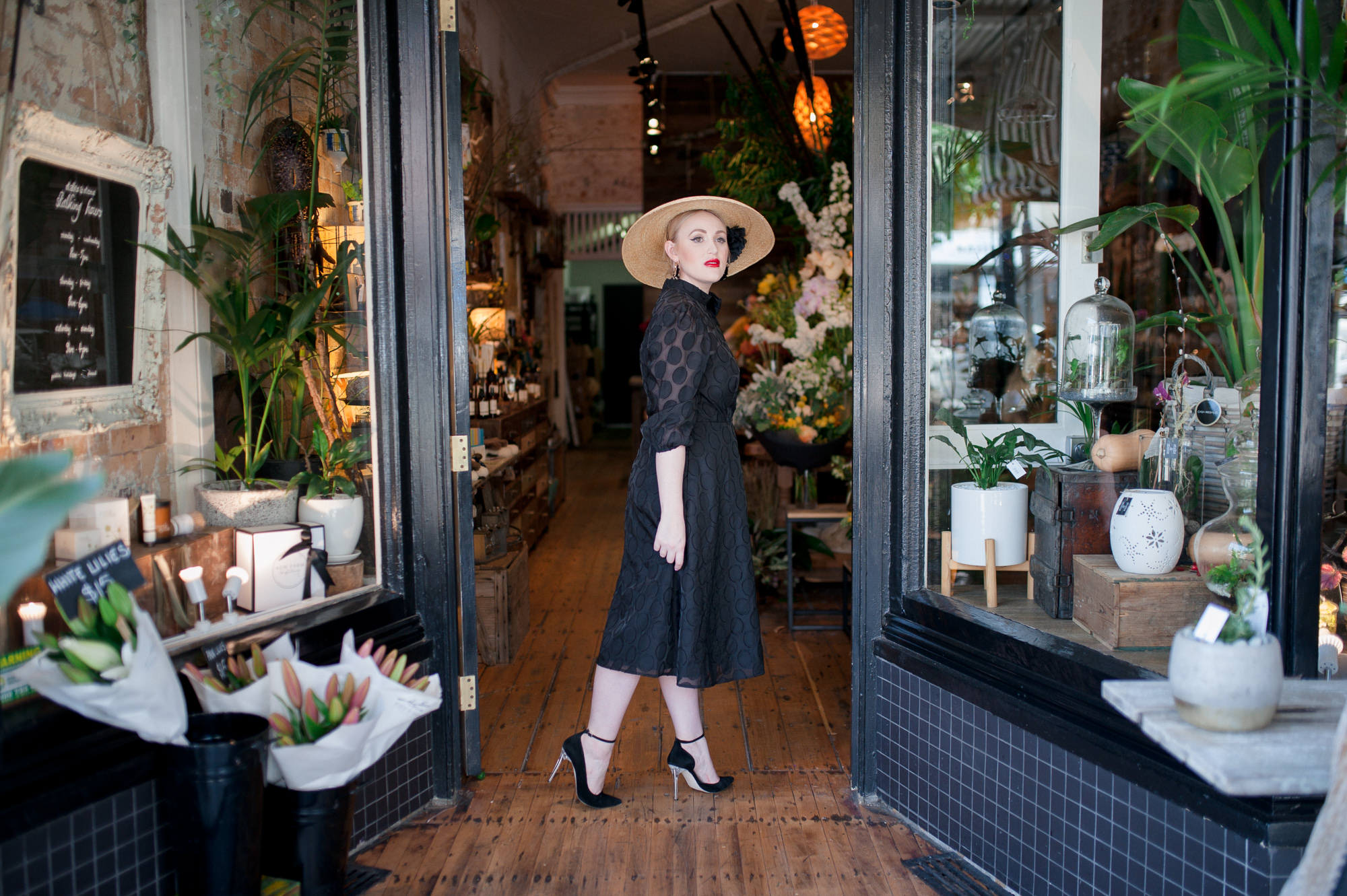 eShakti Bow Tie Polka Dot Burnout Organza Dress, Marilyn Van Den Berg Millinery, Wittner Heels (similar style here), Spanish Earrings (similar style here).
An exciting delivery arrived at The Blonde Silhouette HQ recently; a glam garment of sorts that awaited the perfect opportunity for its first debut. In the carefully wrapped parcel sat a beautiful, delicate frock, constructed from a playful, polka dot, organza fabric. It spoke a sophisticated high neckline and a voluminous A-line skirt, with a little too much sass. I was instantly reminded of the sheer timelessness and glamour of Audrey Hepburn and knew that this dress called for suitable accessories that too spoke elegance and femininity.
Just like Miss Hepburn, I favoured a statement hat, with a brim that most would envy, from none other than Marilyn Van Den Berg Millinery. Jewellery was kept simple and chic, highlighting a pair of Spanish earrings, brought back as a gift from my parent's recent trip to Barcelona. As for heels, I opted for a Mary-Jane style pump, demure for the ultimate day at the races.
Are you as smitten with this old-school Hollywood glamour as I am? Leave me a love note in the comments below! x
SHOP THE POST:

Photography by Erin Smith Photography
---
Travel Diary: Falling In Love With Venice
Thursday, November 1st, 2018
It will surely come as no surprise that on my European month abroad with Topdeck Travel, Italy totally stole my heart, starting with a love affair in the beautiful Venice. Check out my travel diary below!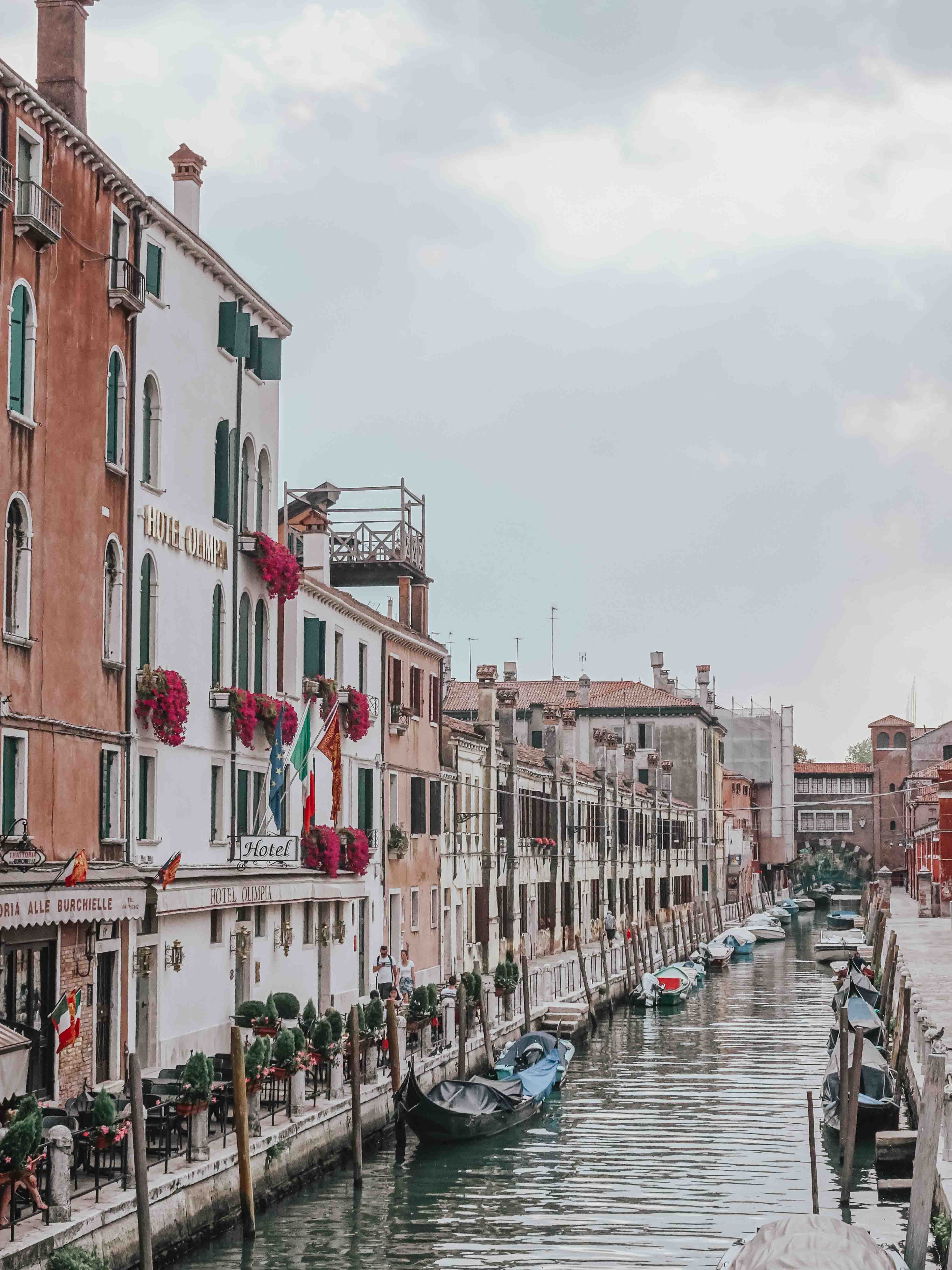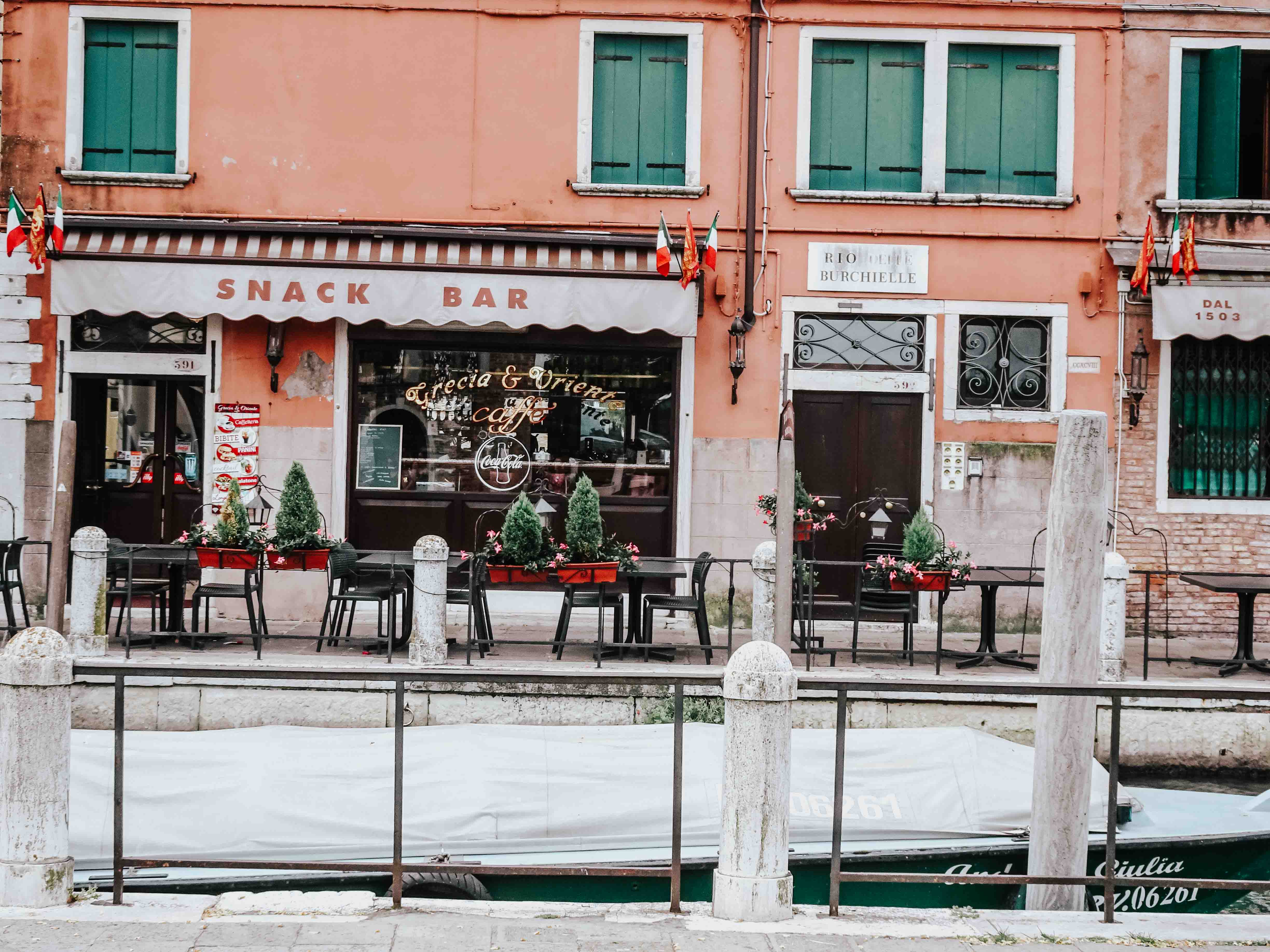 Ahh Venice, the sinking city really is a dreamy myriad of picturesque Renaissance architecture, floating upon the canals. From the pop of pastels seen in the building facades to the abundance of fresh fruit and florals, this European heaven really is an Instagrammer's dream.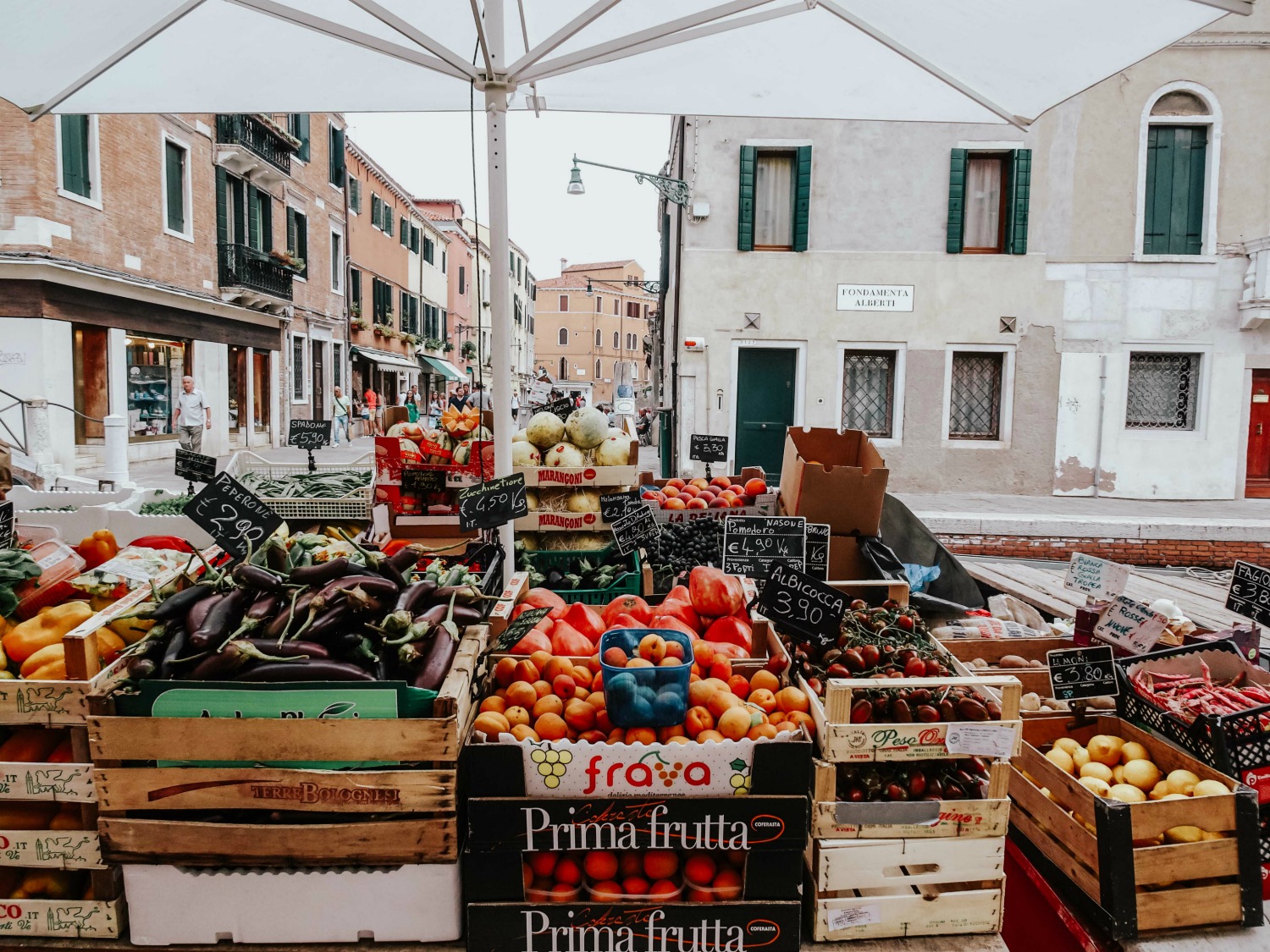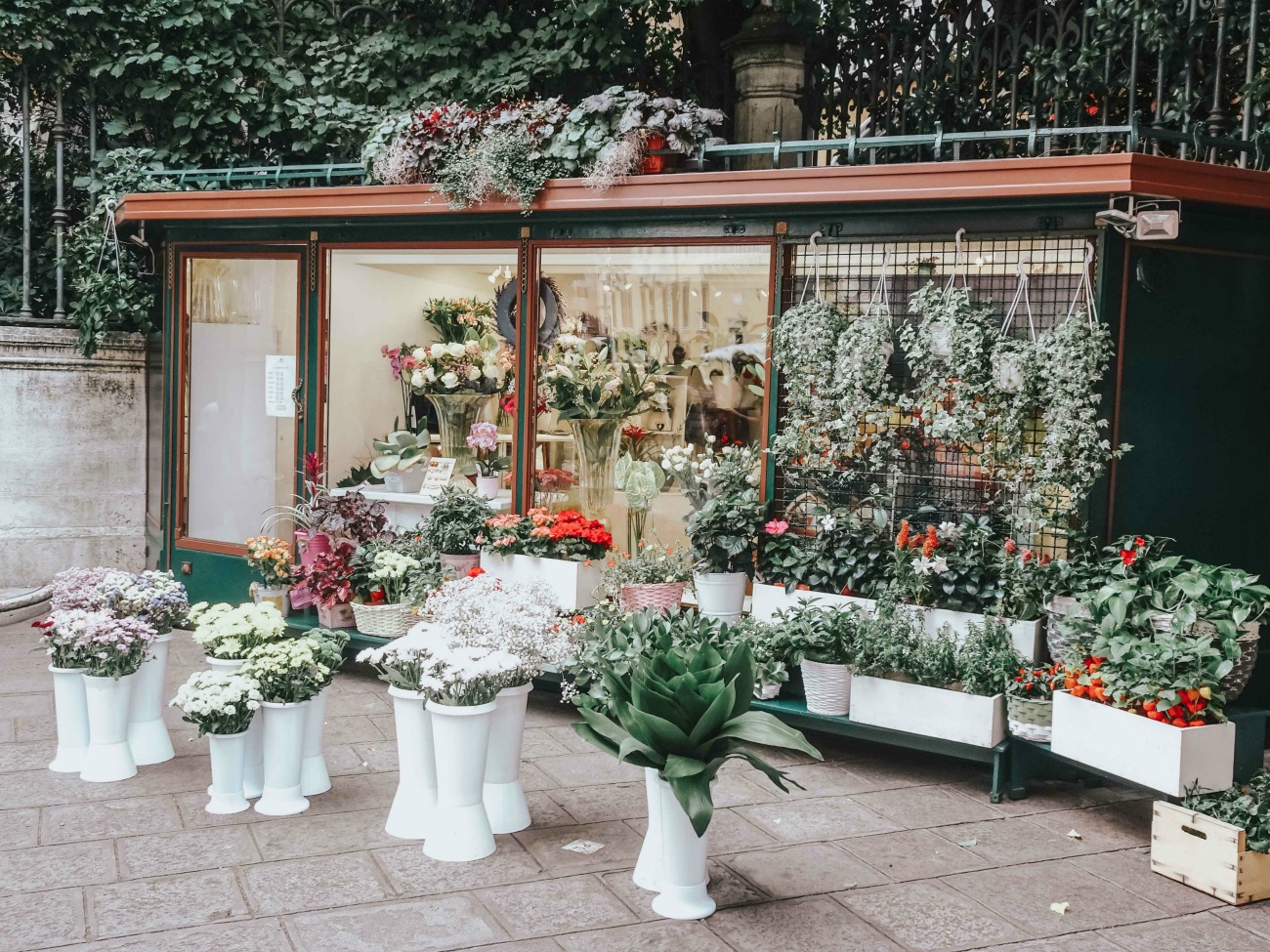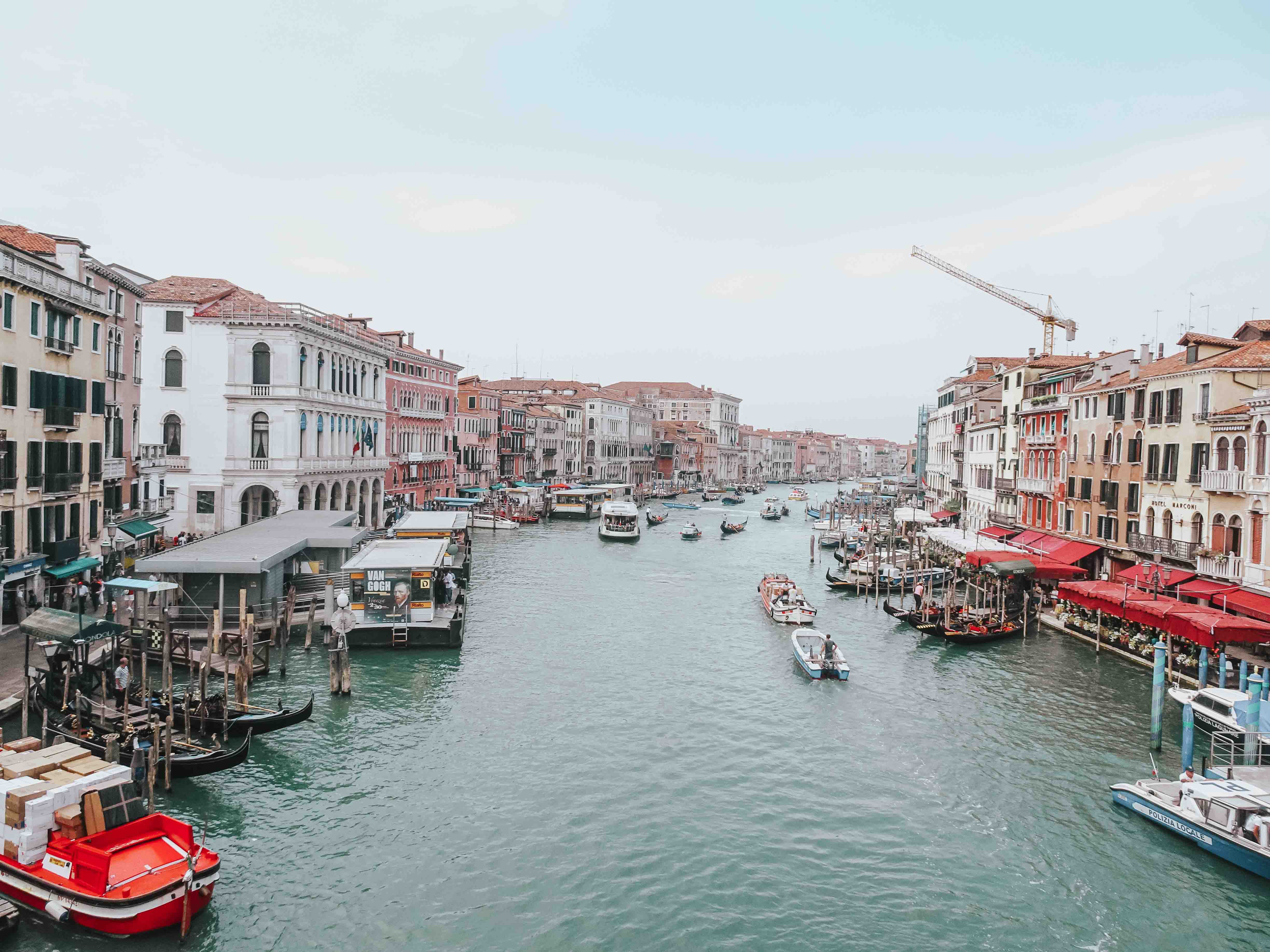 Must Do
If there's one thing you must do in Venice it involves a ride in one of the iconic gondolas to experience the breathtaking views like an Italian royal. As you will notice the gondoliers don nautical inspired uniforms further adding to the charm, whilst rowing the gondolas andante (sorry, my background in classical piano is seeping through!)
Riding in the bow of the gondola, I was privy to the exceptional views of the town with no roads, observing the venetian locals going about their daily business.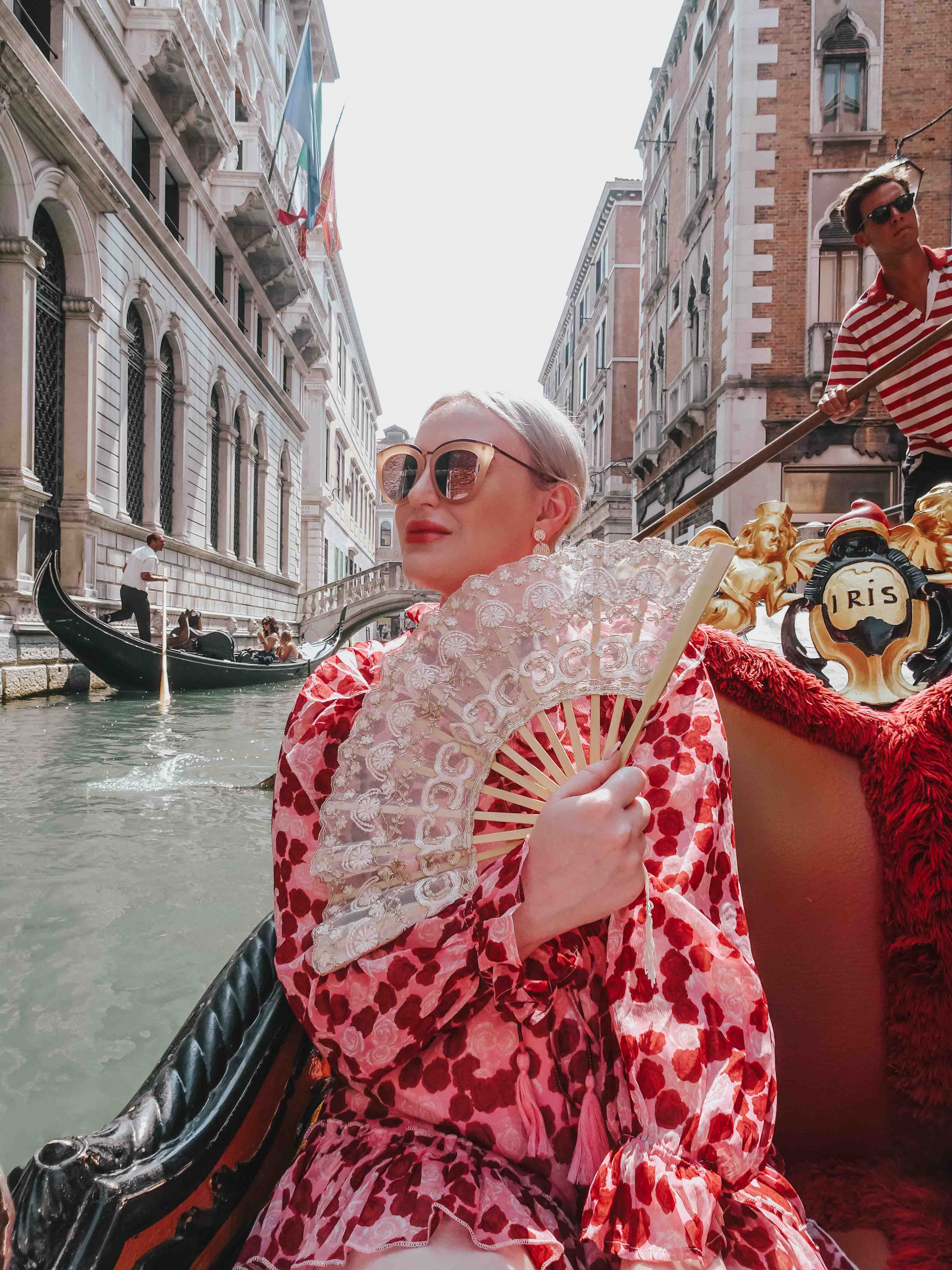 This fan displays the sublime handiwork of the finest lace makers in Venice at the Merletto Lace School. It's delicate detailing and ornate beading makes it one of the most precious and timeless pieces I will ever own.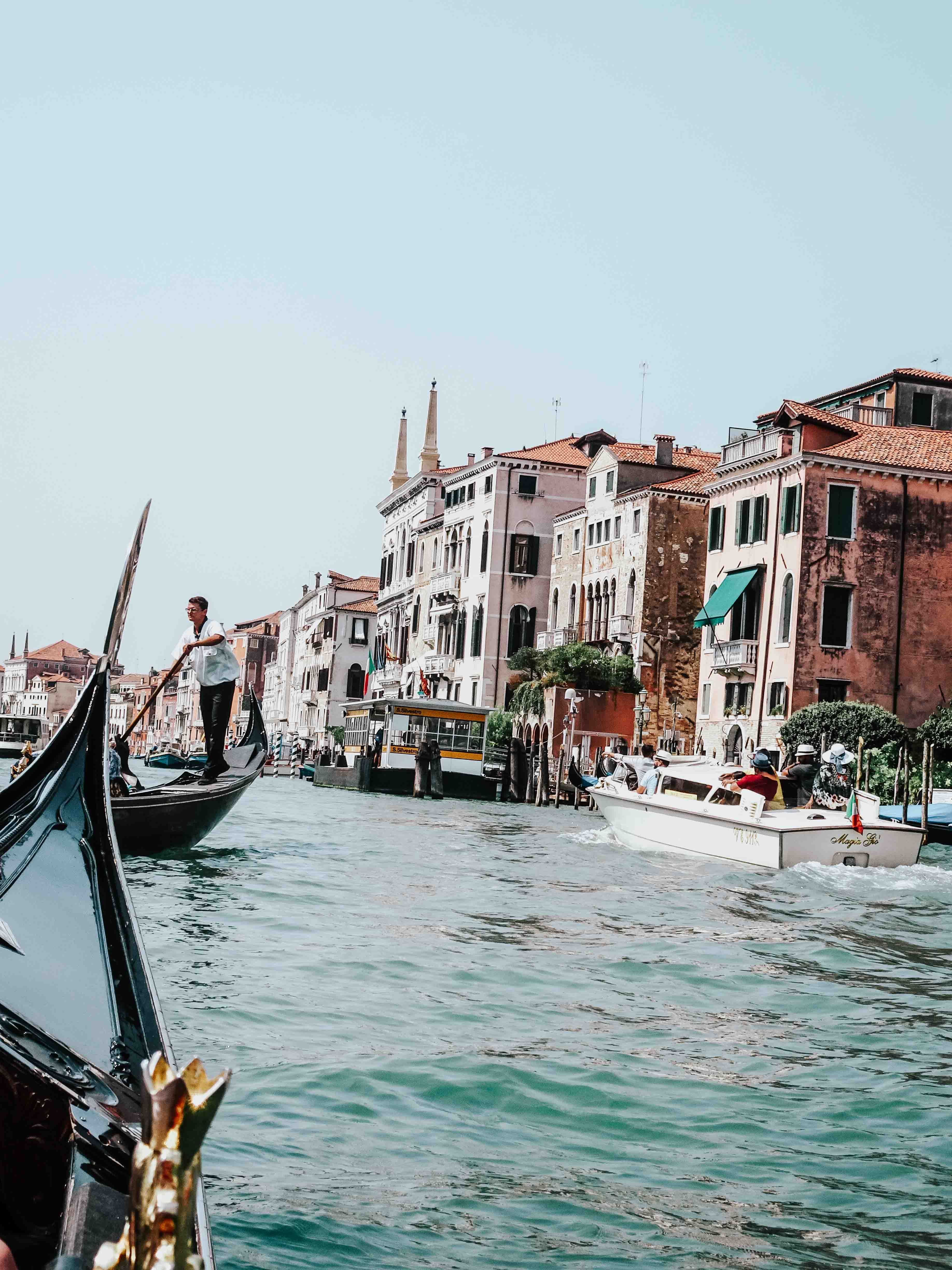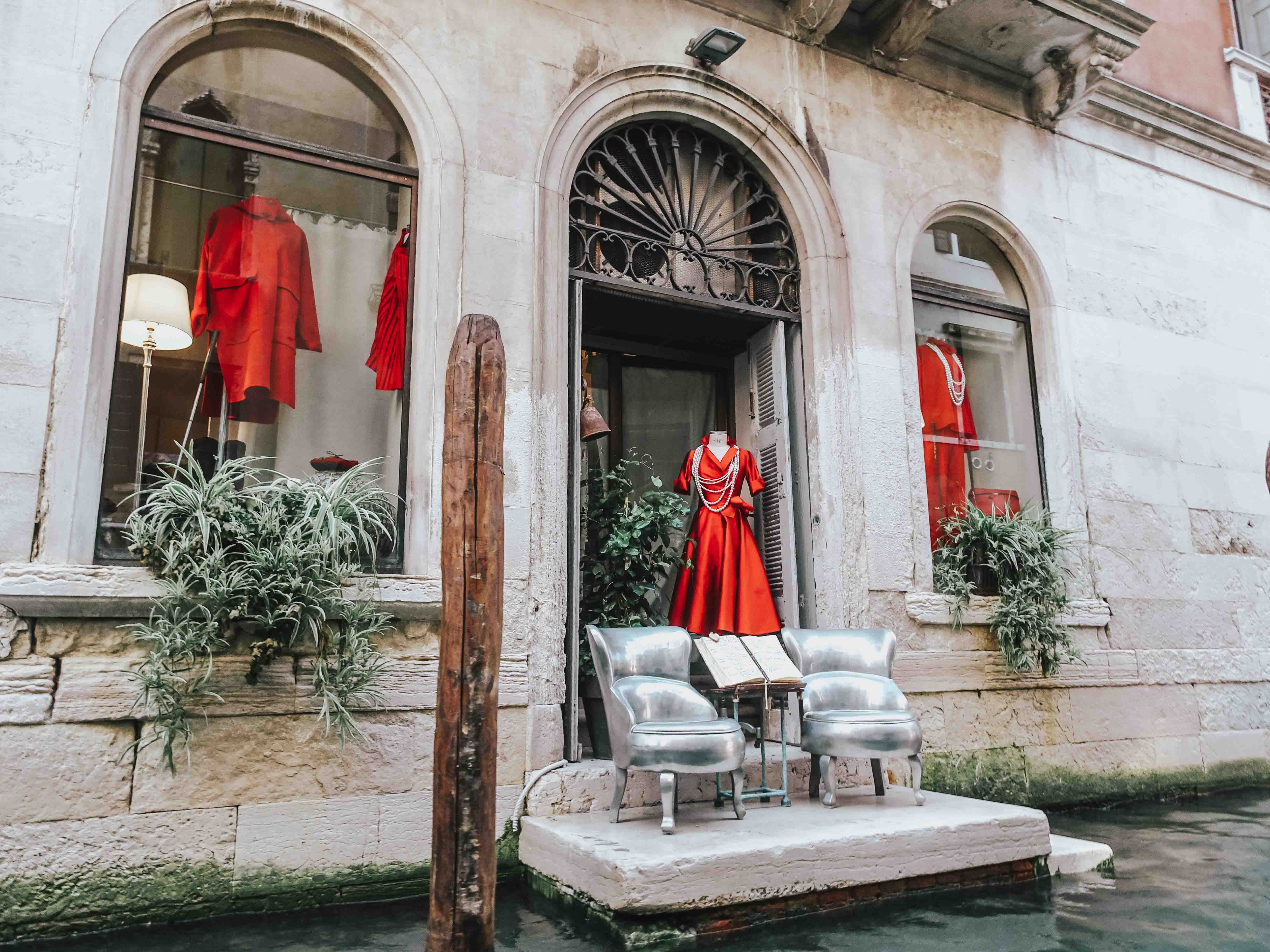 Just how exquisite is this local boutique? 
Must Eat
So Risotto might be considered the local must-have cuisine, but in my 24 days abroad there was no other meal that lived up to the Trattoria Al Gazzettino's Spaghetti With Clams. The freshest seafood you could possibly find was seasoned with fresh herbs and dressed in nothing but olive oil. Delizioso! Truthfully I am still dreaming about this delectable dish. Did I mention the view I enjoyed while indulging overlooked the canals?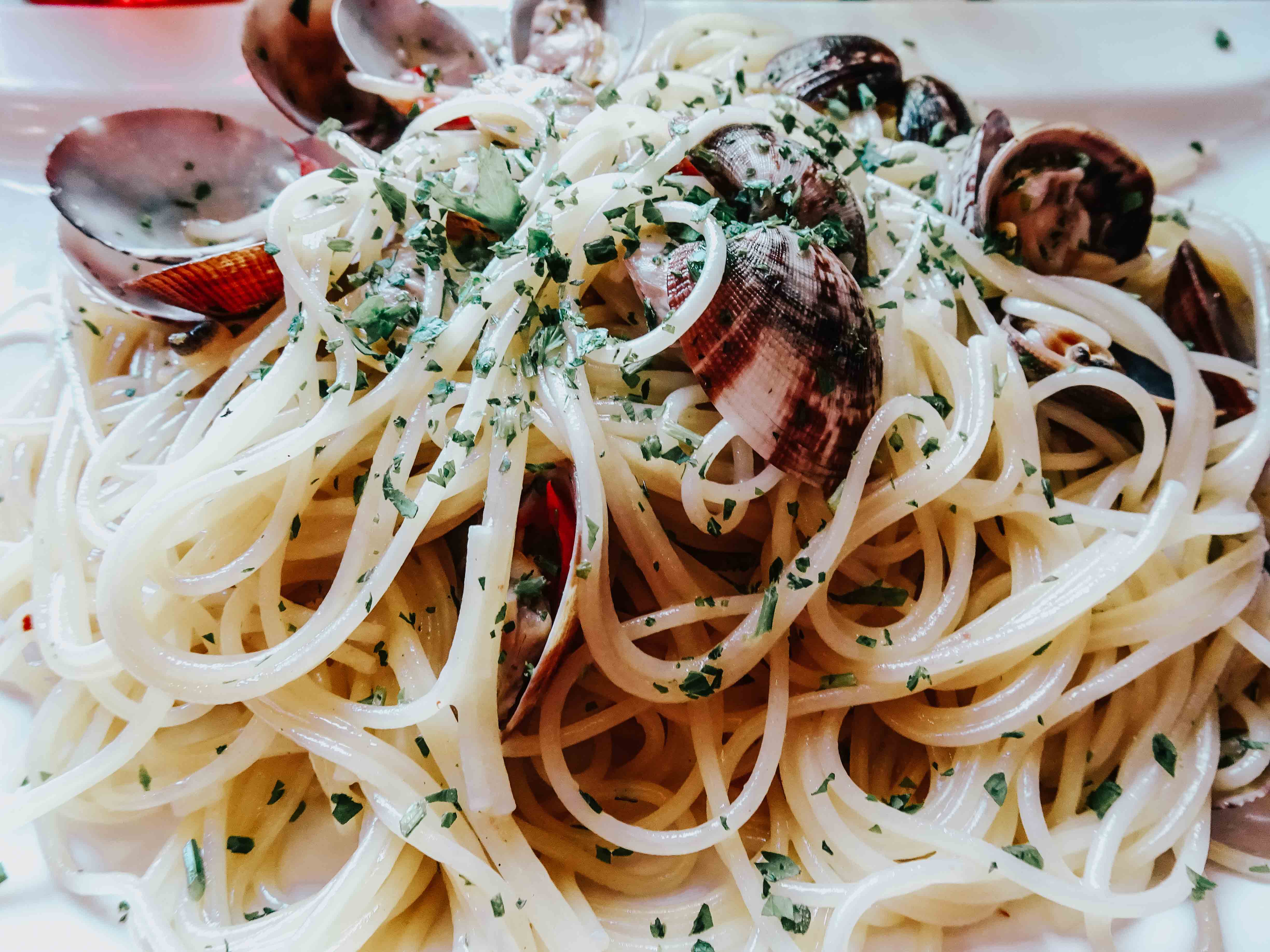 Must See (& Shop)
The shopping in Venice is fabulous – from fine trinket jewellery to opulent lacework, it really was my favourite place to shop throughout Europe. My favourite purchase of the day included an artisan Baroque mask from Ca Macana – a renowned mask shop which commissions pieces for theatre and film including Eyes Wide Shut.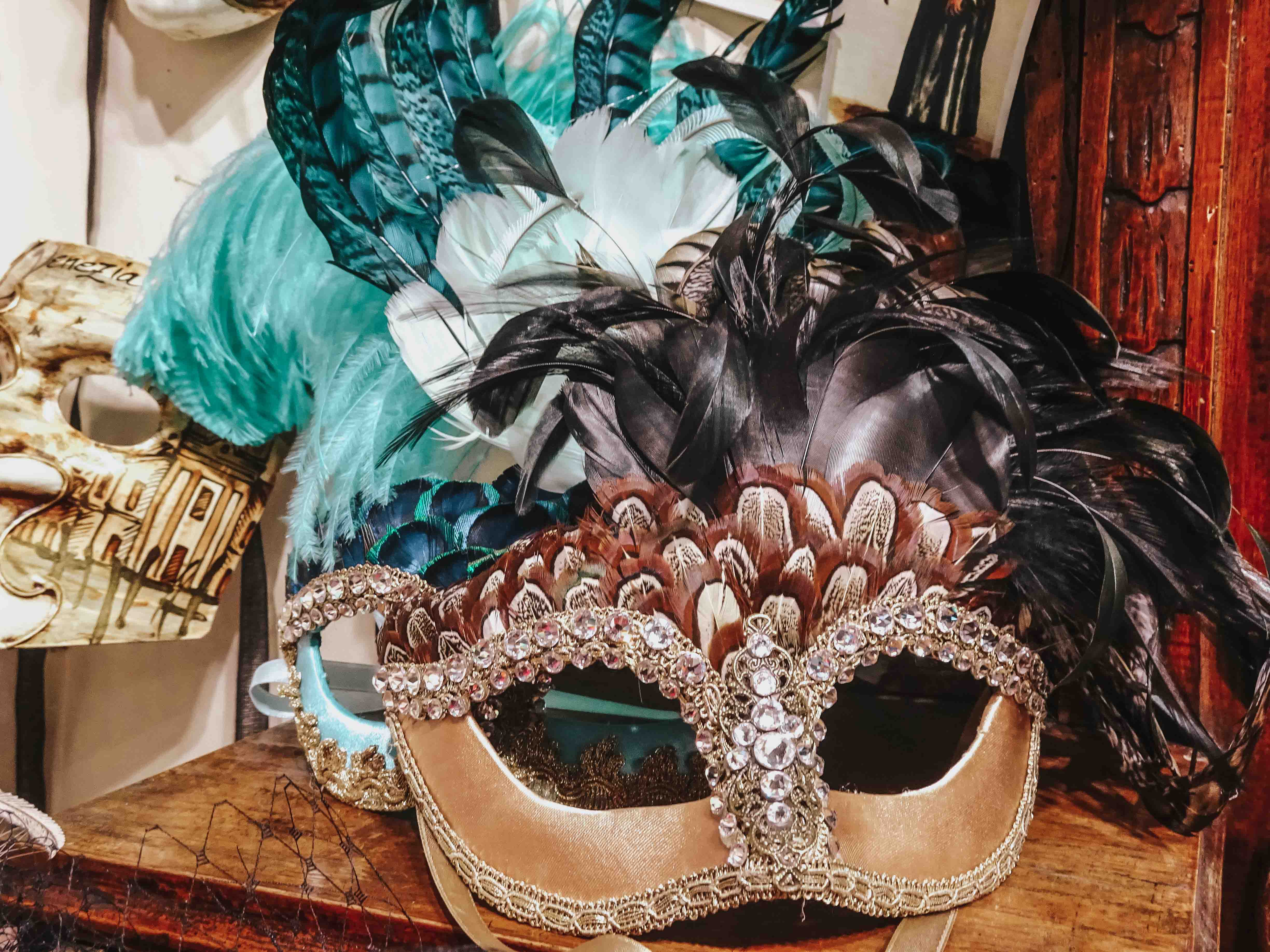 Thinking about escaping to Italy? Now's the time to do it because in the next 100 years Venice might have submerged. Leave any questions you might have in the comments below, or if you have any little tips for my next trip I'de love to hear them! x
Proudly Partnering with Topdeck Travel
---