Kate Middleton Muse
Friday, September 11th, 2020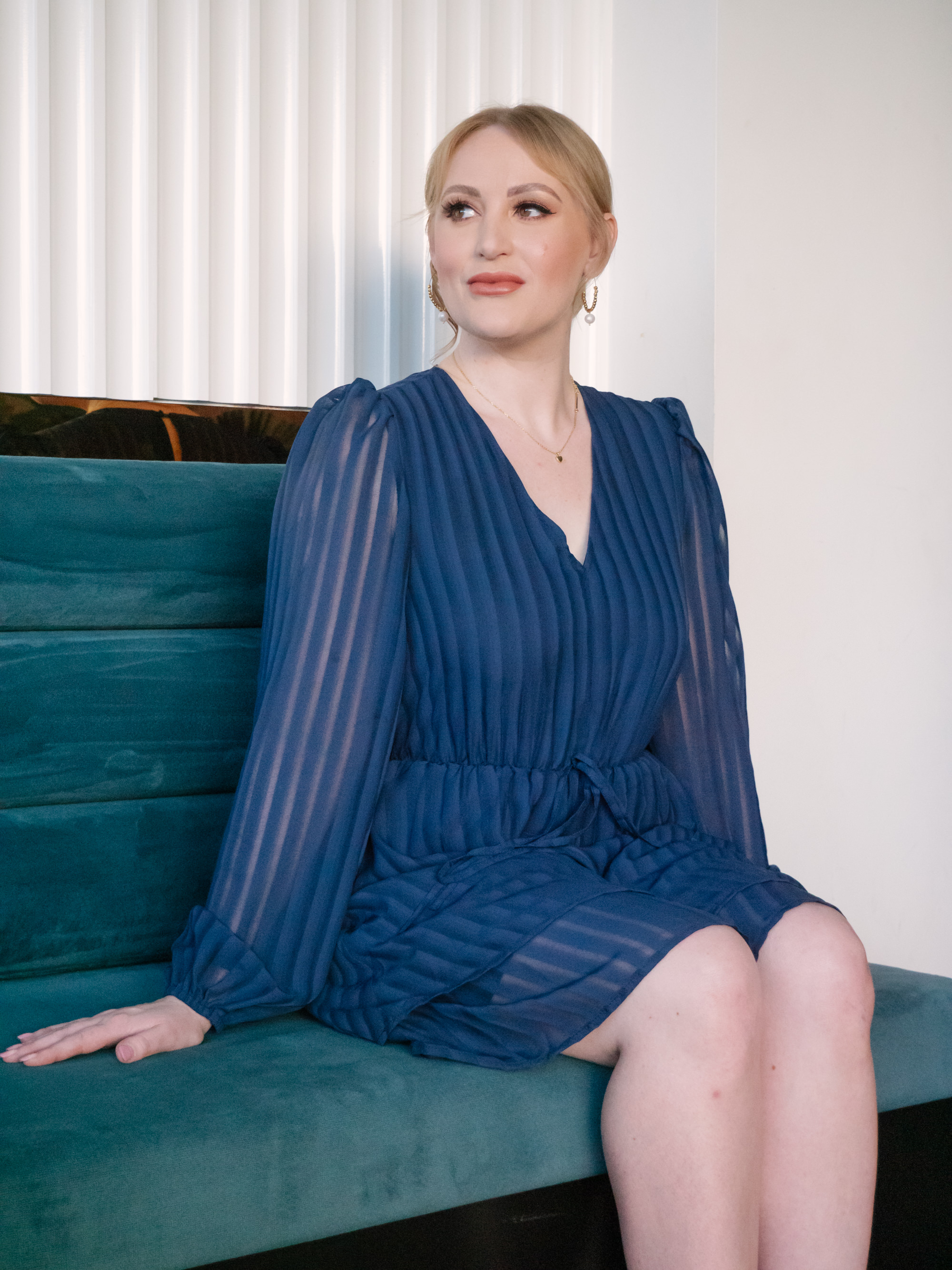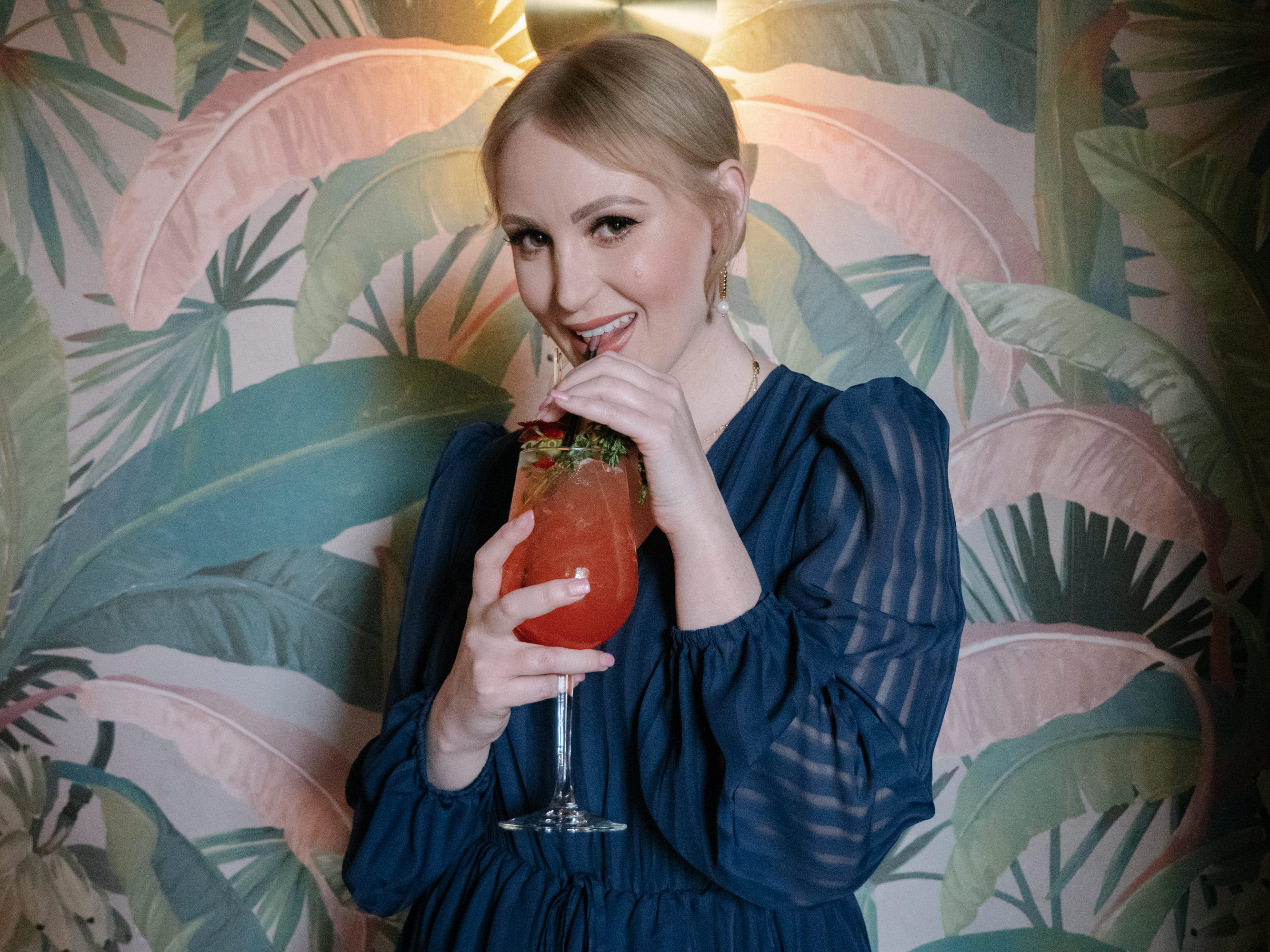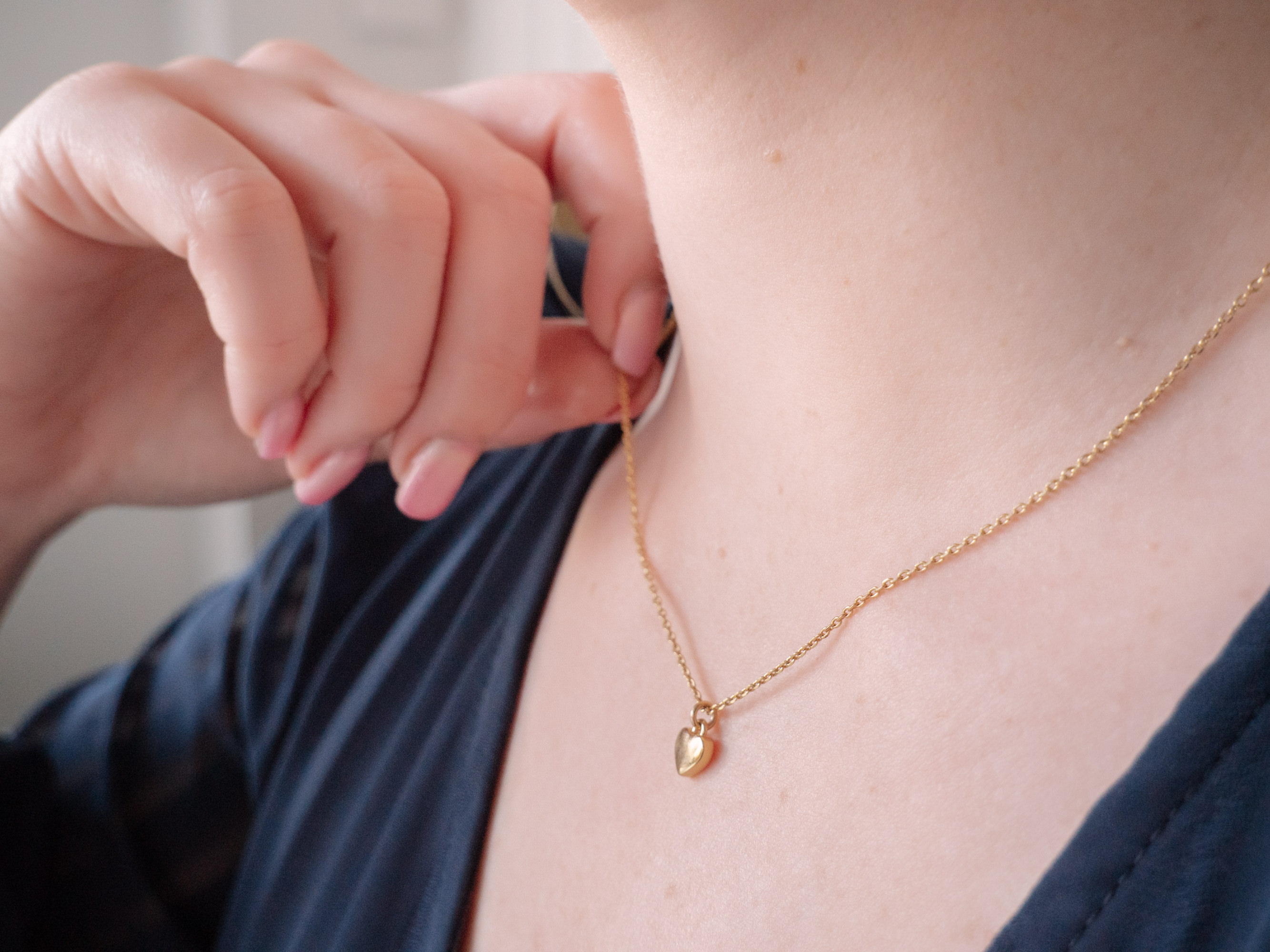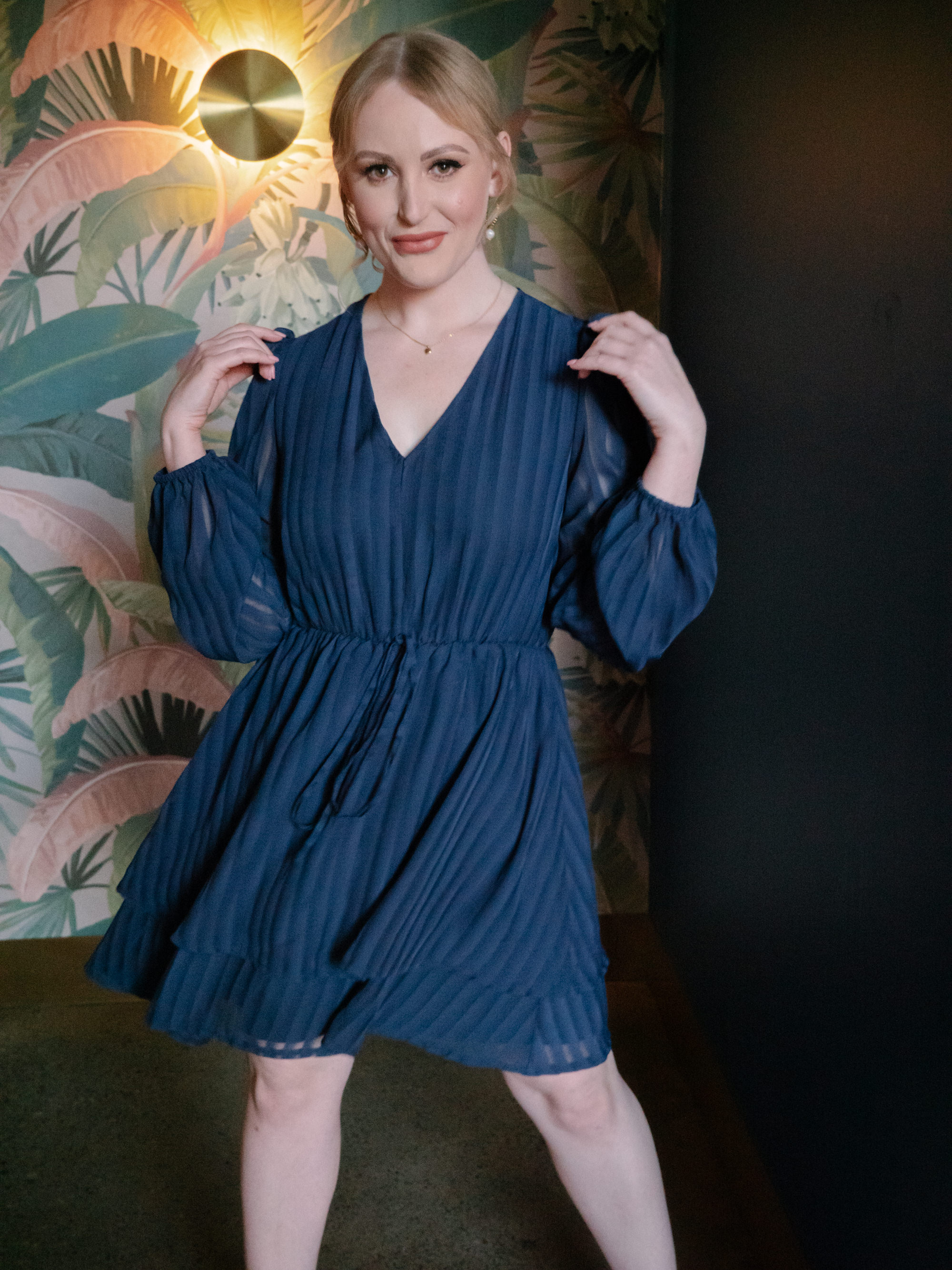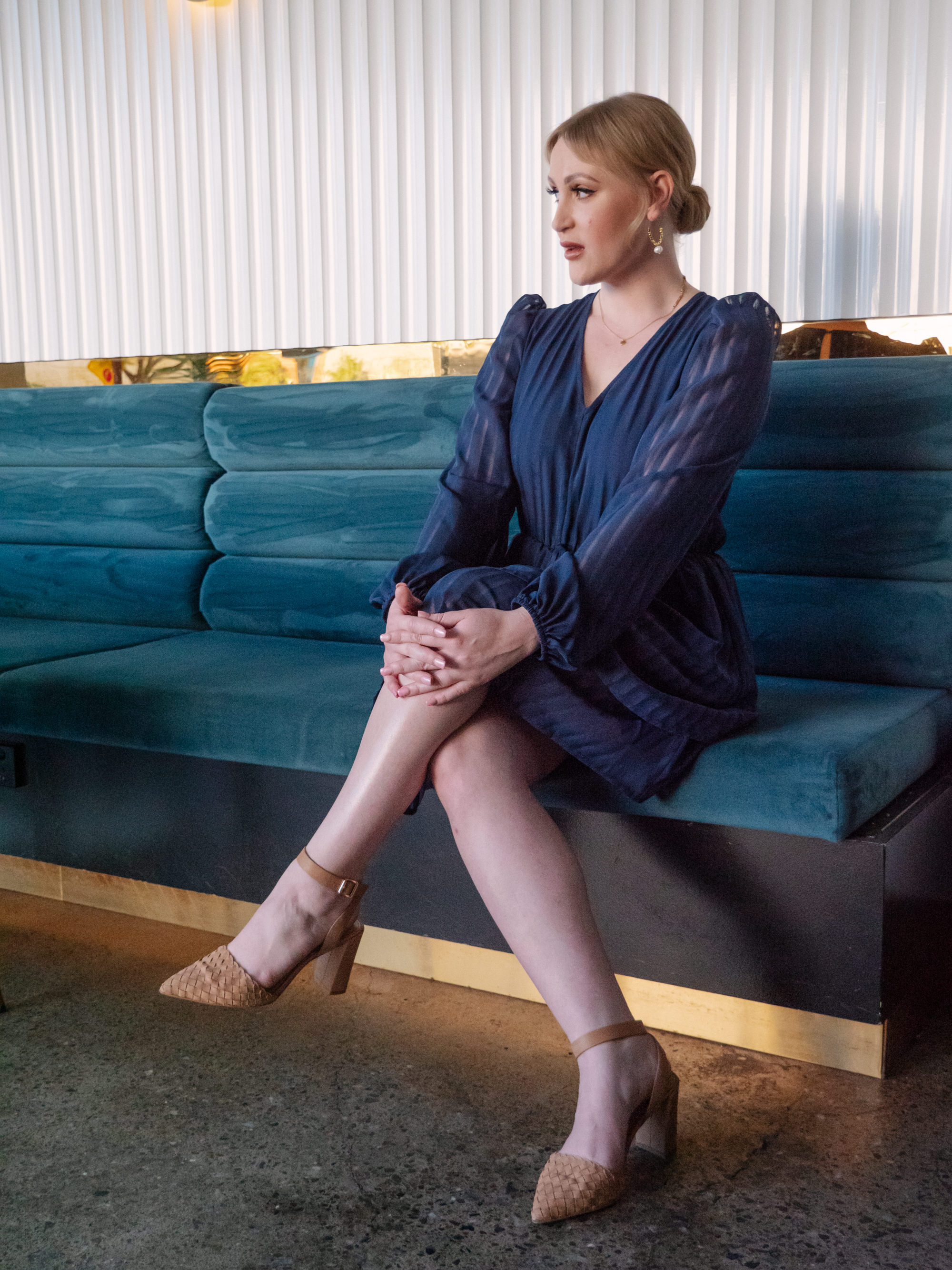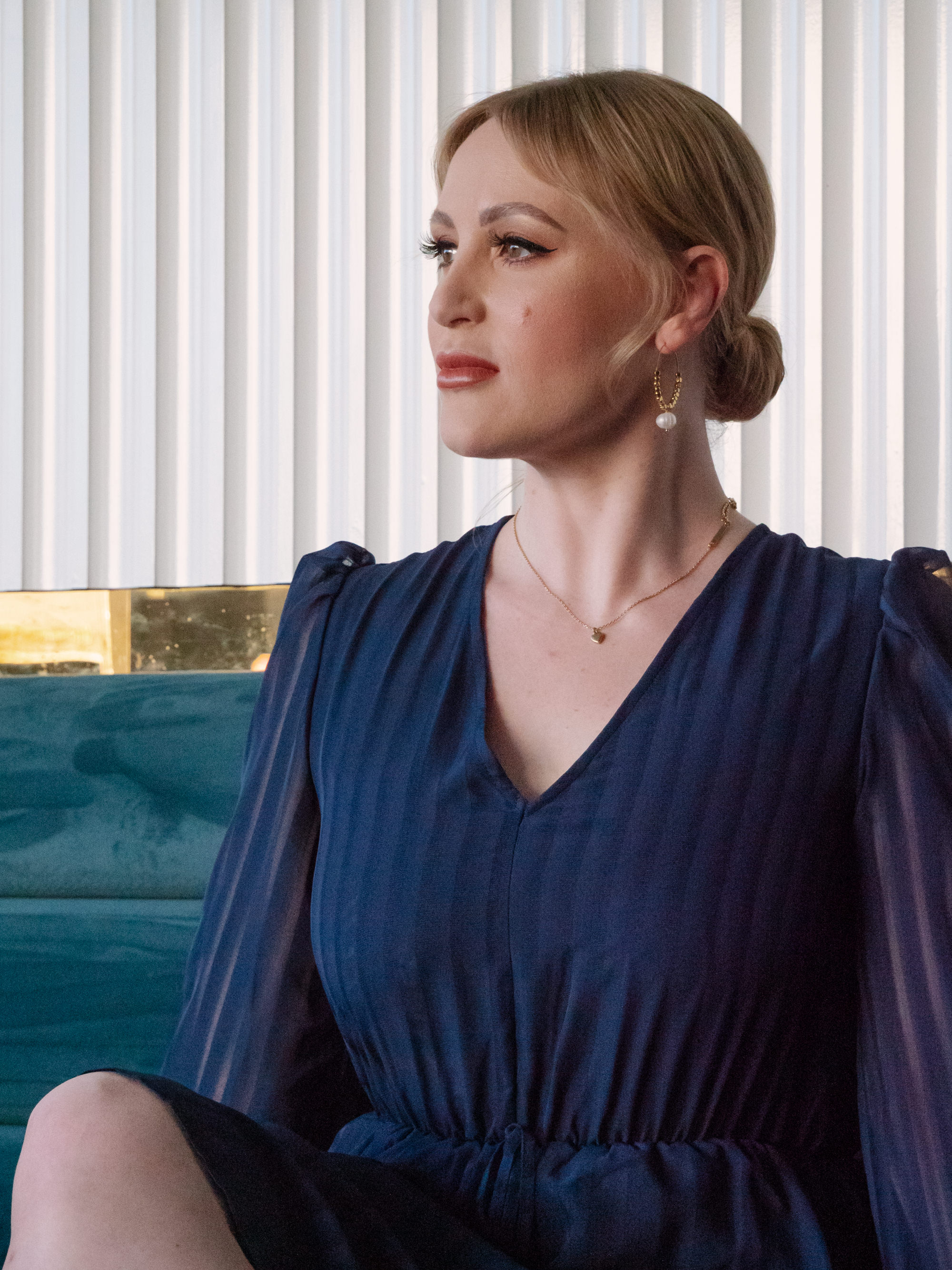 St Frock Prea Dress, Jo Mercer Gwyneth Heels, Liberte Gracie Gold Necklace, Fiera Boutique Earrings.
Whenever I think of the colour navy, I envision Kate Middleton – the heir of sophistication, swanning about the palace gardens, glowing like the regal goddess she is. With blue representing the official royal colour, it is no surprise Her Royal Highness often styles a deep navy hue when stepping out for public appearances.
Channelling the Duchess and her timeless style, I'm donning quite the regal navy number, a dreamy chiffon dress with floaty sleeves and an a-line skirt from St Frock. In quintessential Kate Middleton Muse, I'm teaming this dress with a classic point toe heel from Jo Mercer in a demure shade of beige-nude. For a more effortlessly casual look, swap the heels for an elegant tan ankle boot, like this style here.
Finesse the final look, with some embellishment. Personally, I favour gold finishes when enhancing rich, deep hues like navy, so I'm styling a dainty gold necklace by Liberte and adding some ladylike pearl earrings with a modern hoop twist from Fiera Boutique.
Do you hype this royal look as much as I do? Are you partial to navy and if so gals, how do you style your regal pieces? Let me know if the comments below!
SHOP THE POST:

Photography by Erin Smith Photography
---
Endless Summer Vibes and Staycations at The Ville
Thursday, August 27th, 2020
Nothing says endless summer vibes quite like sprawling coastal views, a crisp ocean breeze and palm trees a plenty, Townsville certainly provides the perfect spot for a staycation. In a bid to escape Winter, the boyfriend (a Townsville native) and I checked into paradise and perhaps the most instagrammable resort in North Queensland, The Ville.
From sunset soirees overlooking the Coral Sea, to exotic island adventures, I present a fabulous little guide to turn on Townsville's best staycations at The Ville.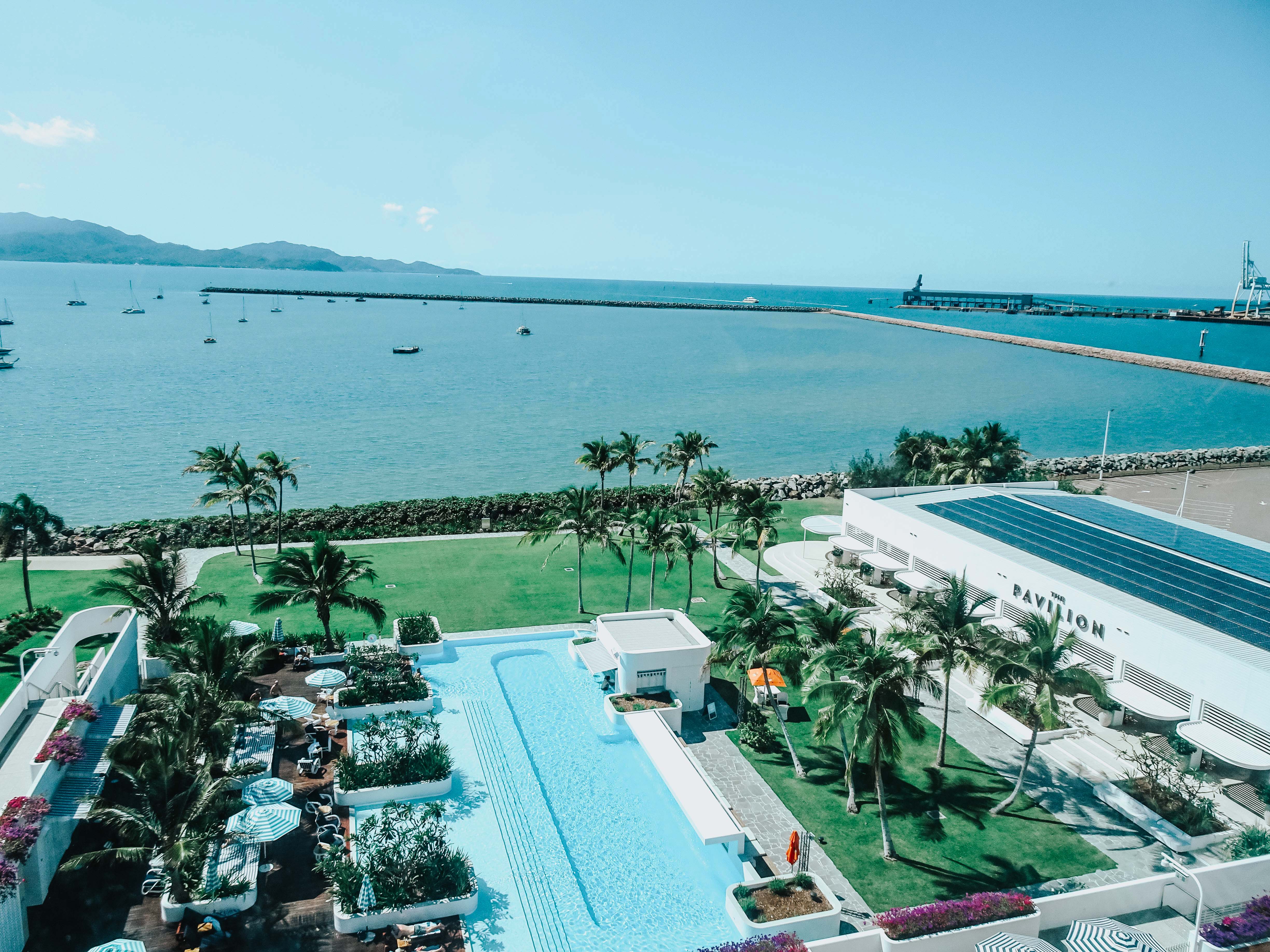 Destination: Heaven on the 16th floor of The Ville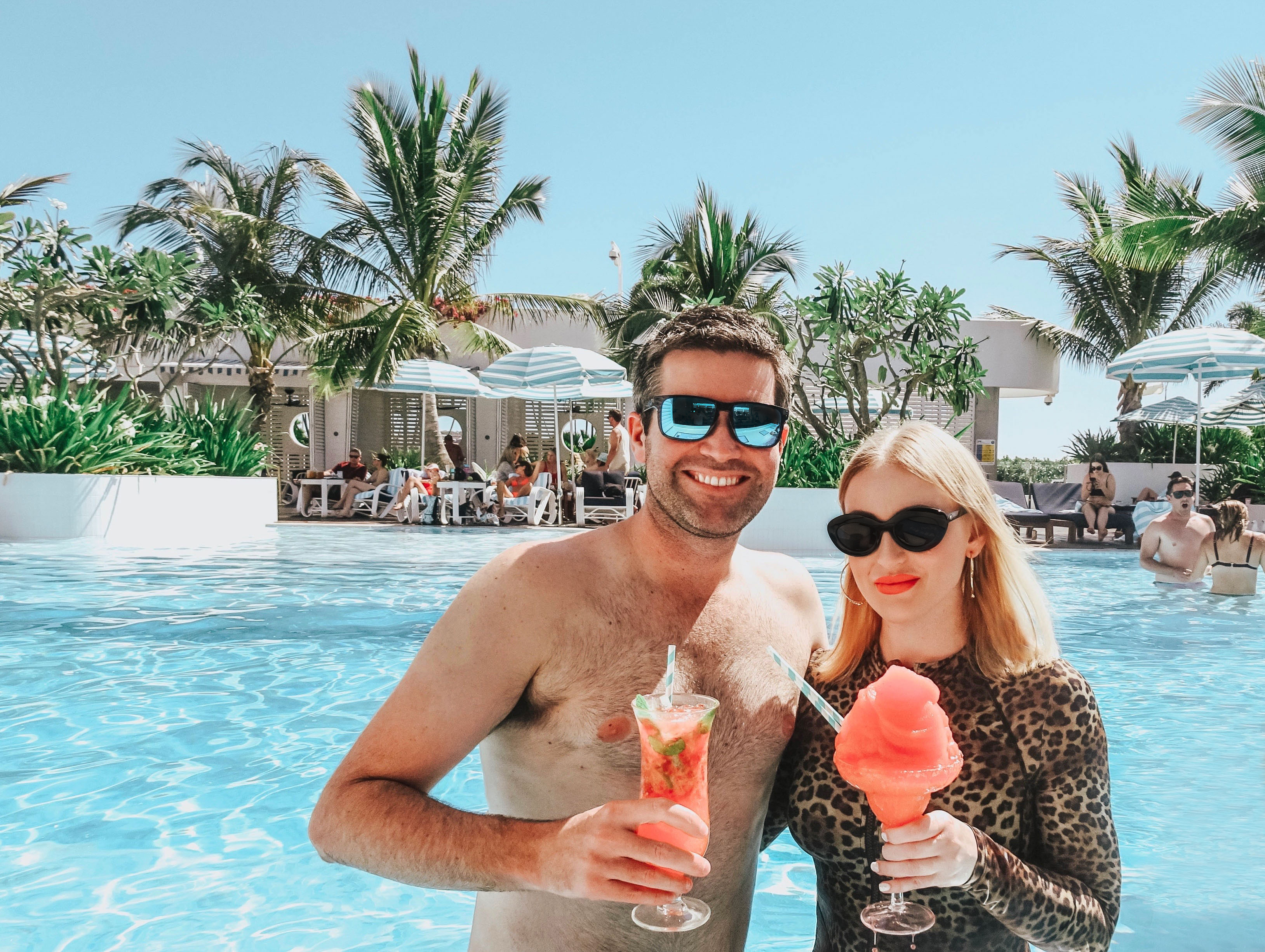 Wearing Une Piece Original Sexie Rashie in Leopard, Liberte Delilah Gold Earrings, Le Specs Sunglasses (similar style here). 
Bougie Breakfasts
For those that like to start their morning with a decadent spread of breakfast delicacies, The Ville's room service menu does not disappoint. My blissful weekend started with a three stack serve of buttery pancakes, complimented by Chantilly cream and garnished with fresh fruit. A side of Coconut Granola remained a favourite from the breakfast menu, which was demolished almost instantly.
A bougie staycation calls for a wardrobe to match, so I'm making a statement with my personalised sleepwear from Homebodii. Inherently feminine from their intricate laced robes to romantic cami ensembles, Homebodii curates sleepwear destined for more than sweet dreams. They've basically changed my loungewear aesthetic, because if it's not satin stamped with my initials, then I just won't have it any other way!
Wearing Homebodii Grace Short Piping Set in Blush, Homebodii Satin Eye Mask.
Revel In Resort Wear
With an infinity pool boasting panoramic views of Magnetic Island and beyond and a swim-up Splash Bar equipped with summer inspired cocktails, you're due for some serious relaxation by the pool.
Swap the sarong for a dreamy kaftan to simply drape over yourself whilst poolside. I'm adorning the Czarina Once In A Blue Moon Kaftan Dress, which highlights a beautiful oceanic colour palette and ornate crystal applique detailing. This little vacay essential will take me from beach to bar with the addition of strappy sculptured heels and a splash of golden accessories.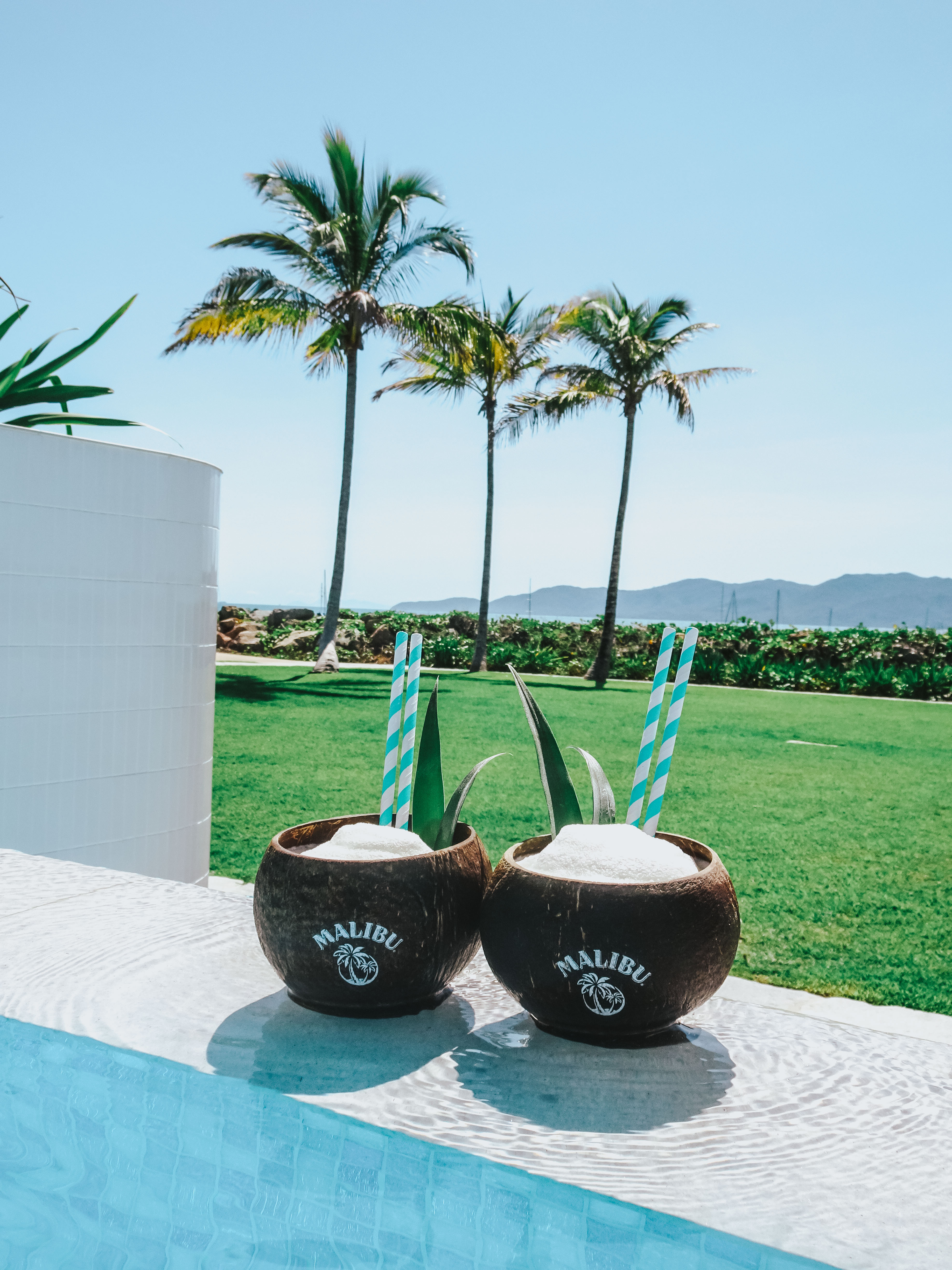 Pictured: Tesalate Montego Bay Beach Towel, Fuji Instax Mini Link Printer, Enpointe Collective Goldie Earrings.
Wearing Czarina Once In A Blue Moon Kaftan Dress, Enpointe Collective Holiday Fling Earrings, Tesalate Cosmic Dream Beach Towel. 
Cocktails at the Quarterdeck
Sunset and spectacular views of the Coral Sea, here's a cheers to The Ville's Quarterdeck which presents the perfect place for a pre-dinner drink. Frock up in something bold and bright like this Mossman Scarlett Set, as this swanky bar draws a stylish crowd. Savour some light tapas and ask the waitstaff to surprise you with an off the menu cocktail – you won't be disappointed, trust me!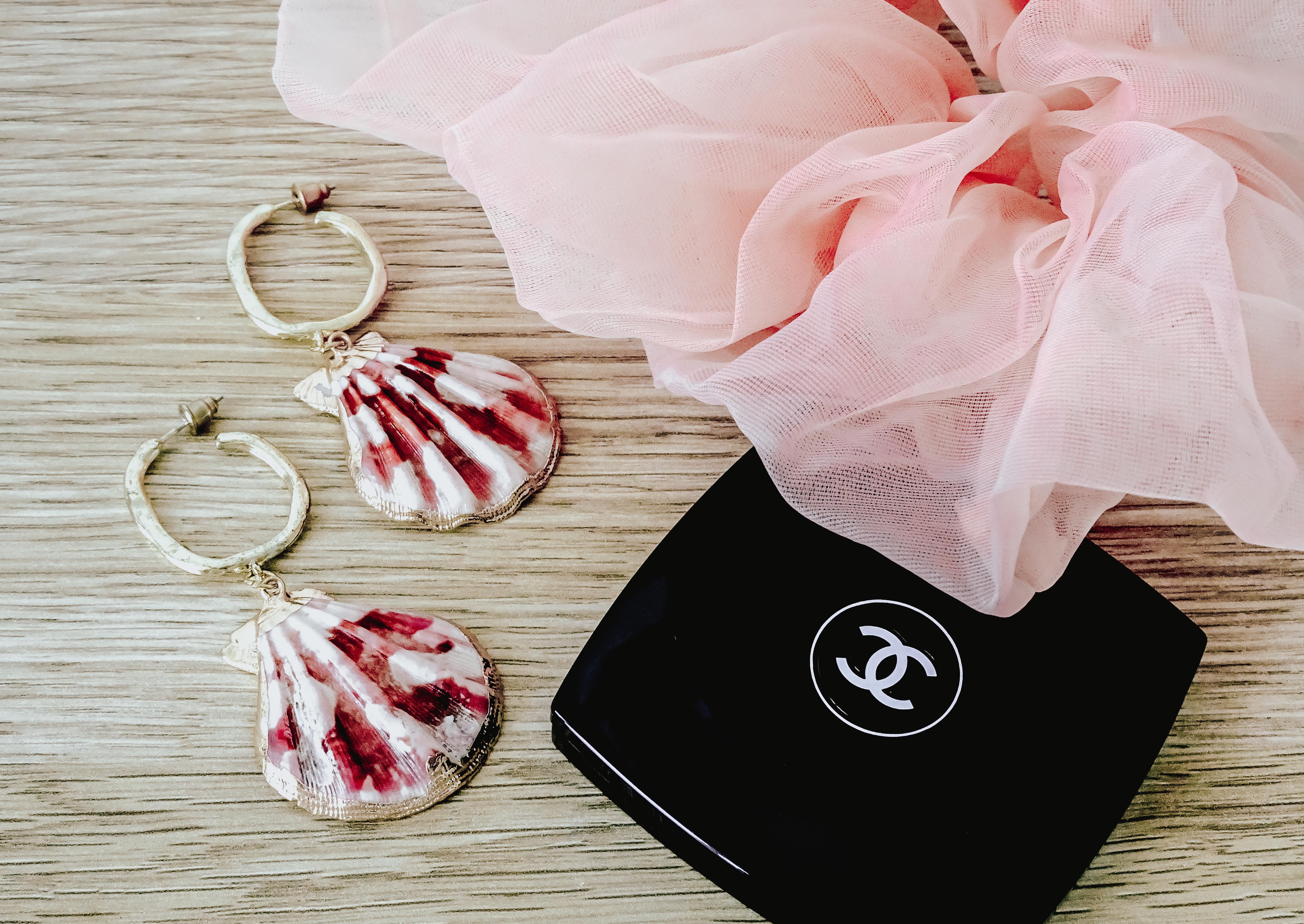 Pictured: Enpointe Collective White Sands Earrings and Creme Puff Hair Scrunchie. 
Escapes to the [Magnetic] Island
If your chasing an island day trip and windswept summer hair, then a quick ferry ride takes you straight to Magnetic Island. My recommendation is to live out your Lizzie McGuire moment dashing from beach to beach on a scooter. A S/O to Road Runner Scooter Hire who provided the hook ups for a scooter matched perfectly to my outfit for the gram.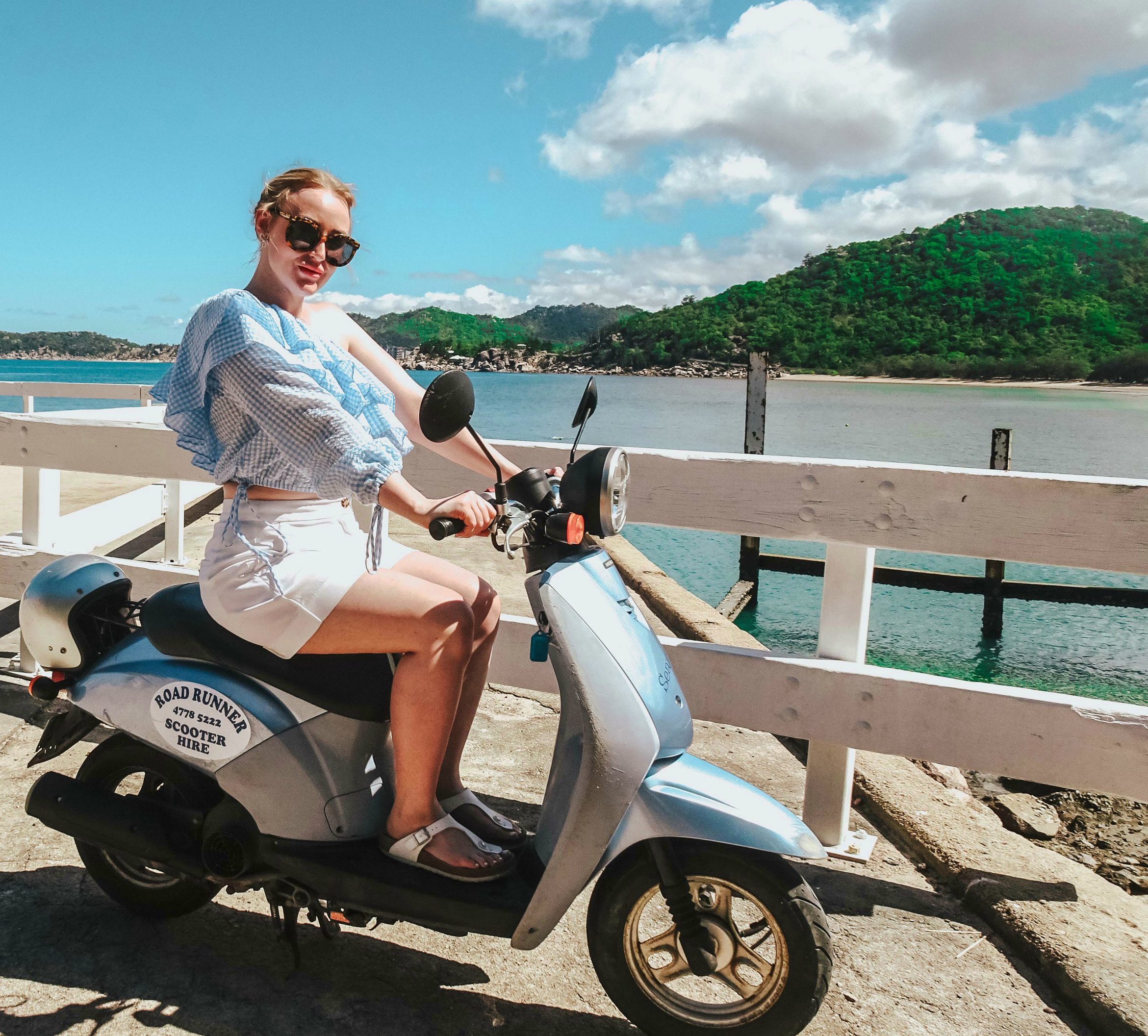 Make sure to capture memories using the Fuji Instax mini Link Printer, which simply prints your favourite snaps in super cute instax form. Little does boyfie know, these will soon be adorning the fridge, frames and any other spots throughout the apartment.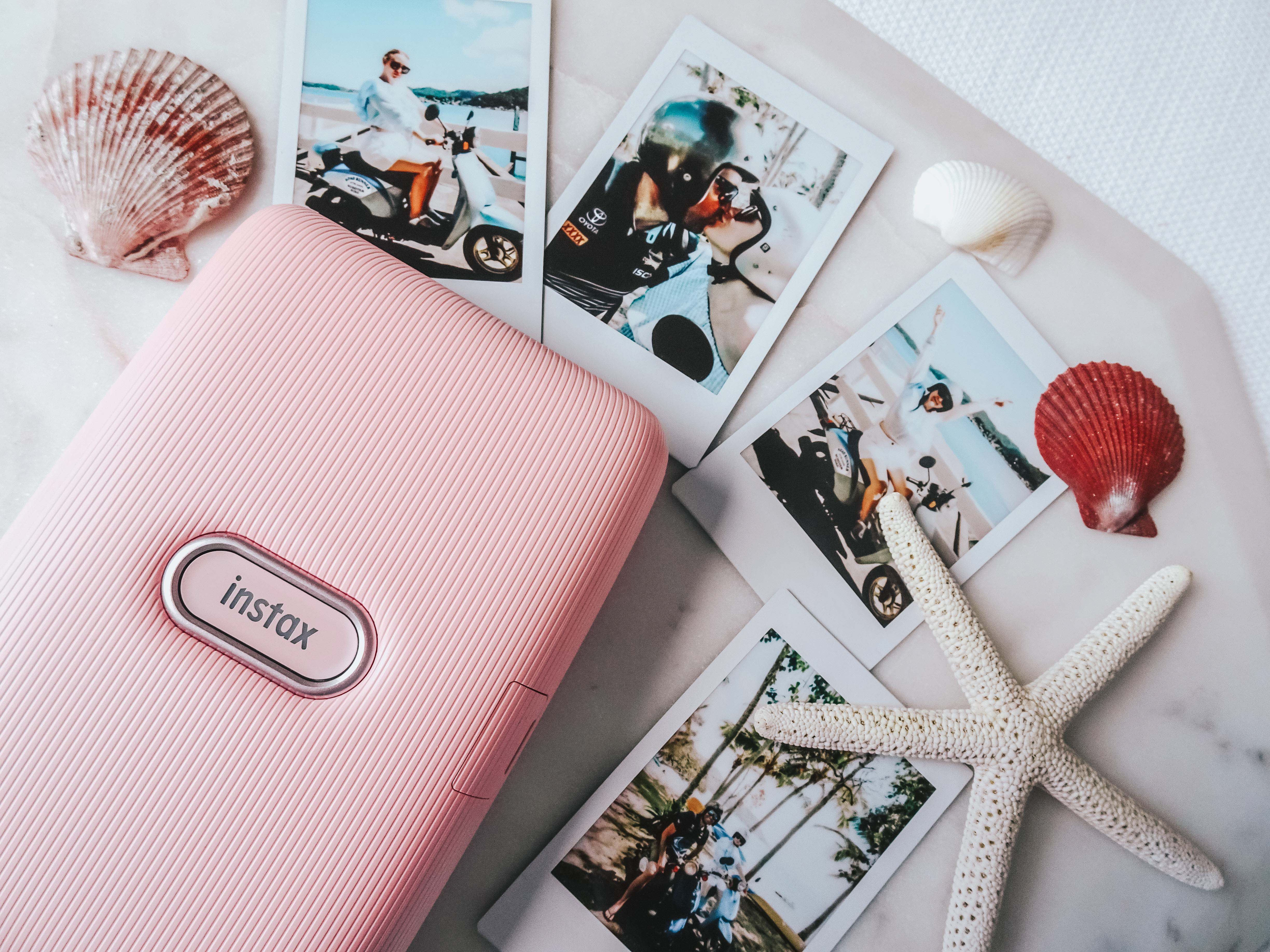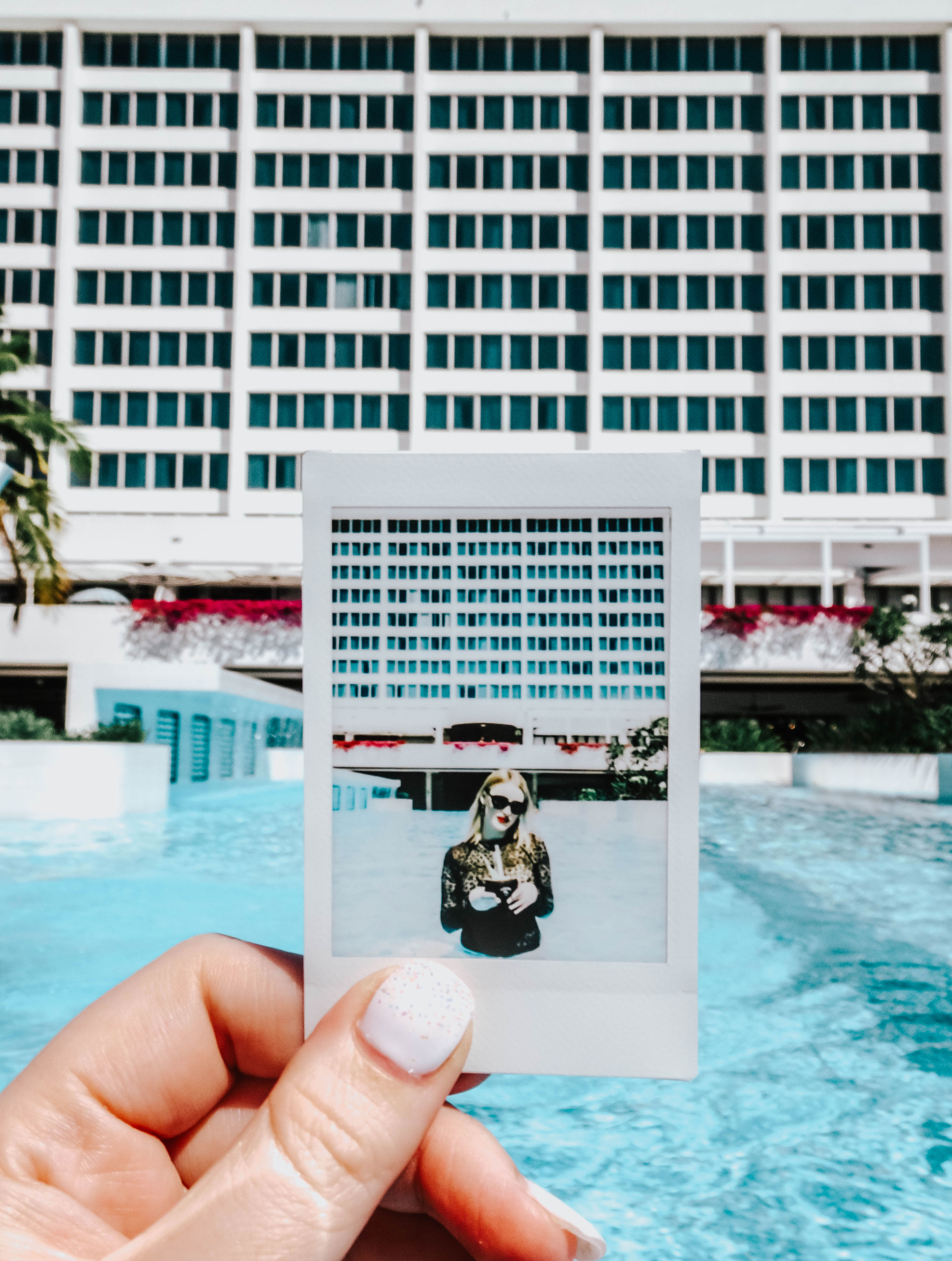 Let's be honest, we never need a reason for a staycation and if your based in Queensland, now is the perfect time to indulge in a little mini break with the beau, a trip with the girl gang or some solo R&R. For all bookings and enquiries for staycations at The Ville, please visit the website for details. In the mean-time, you know where to find me, cocktail in hand!
Proudly partnering with The Ville. 
---
Pretty In Pink With A Power Suit
Friday, January 31st, 2020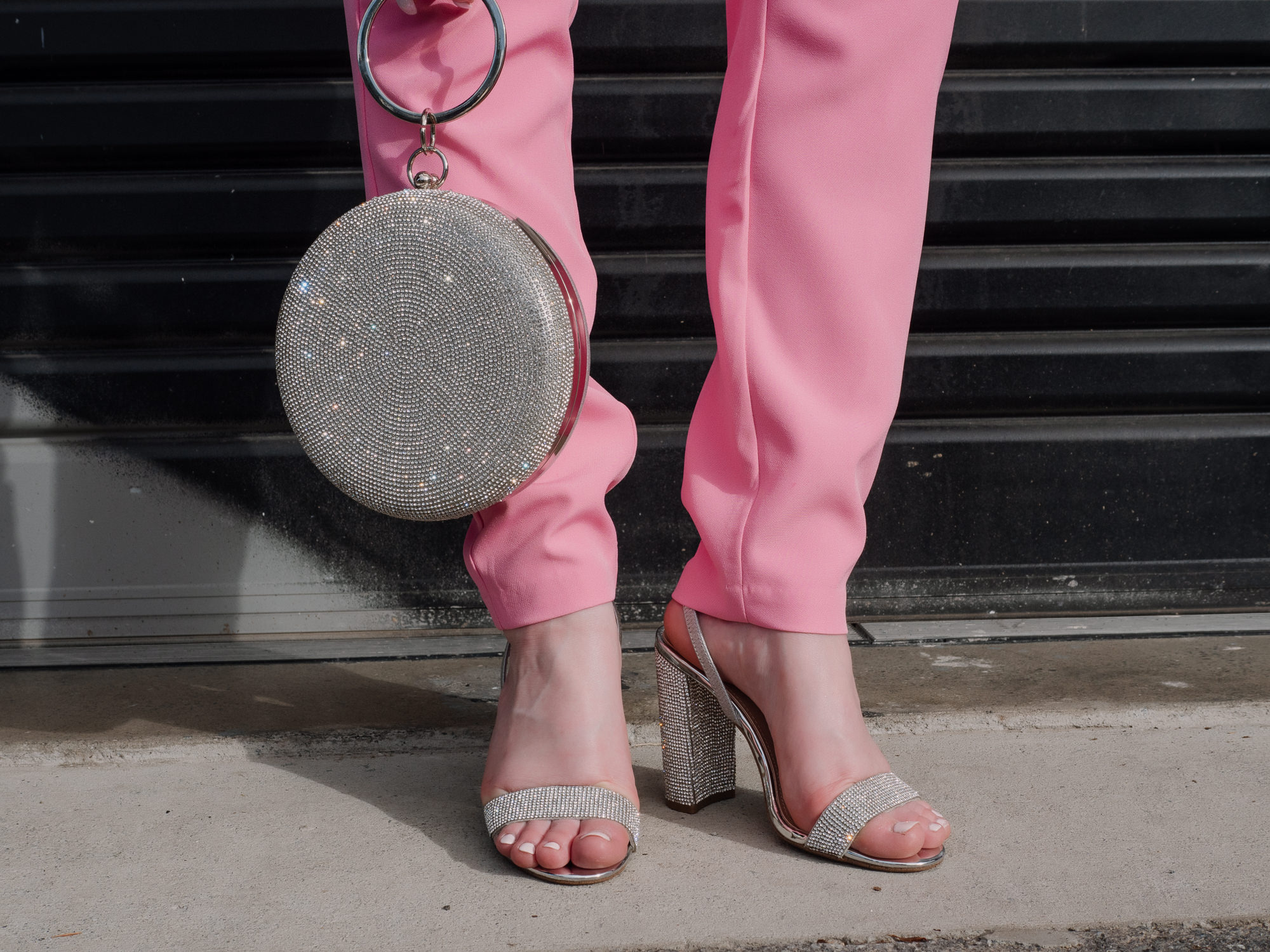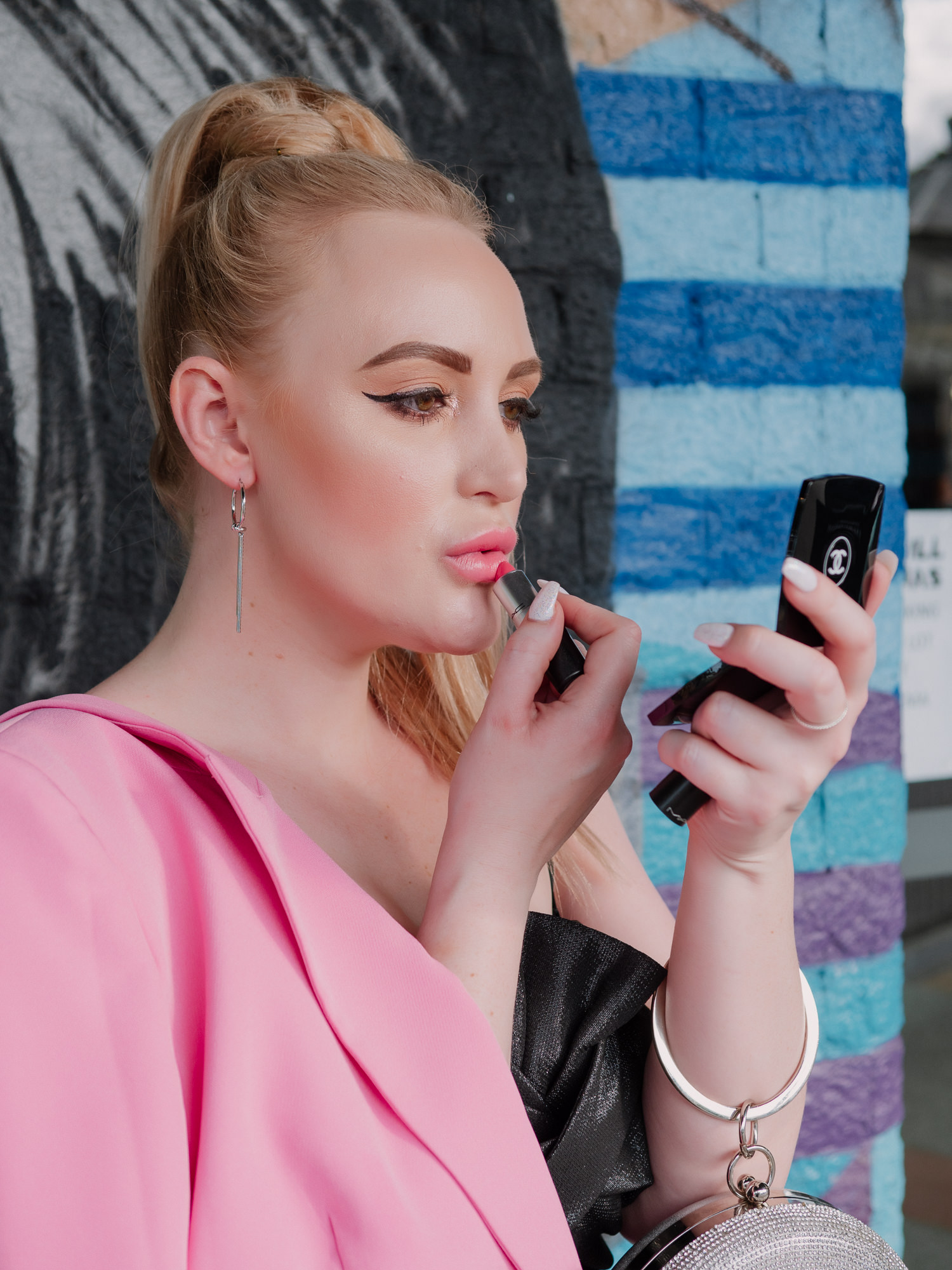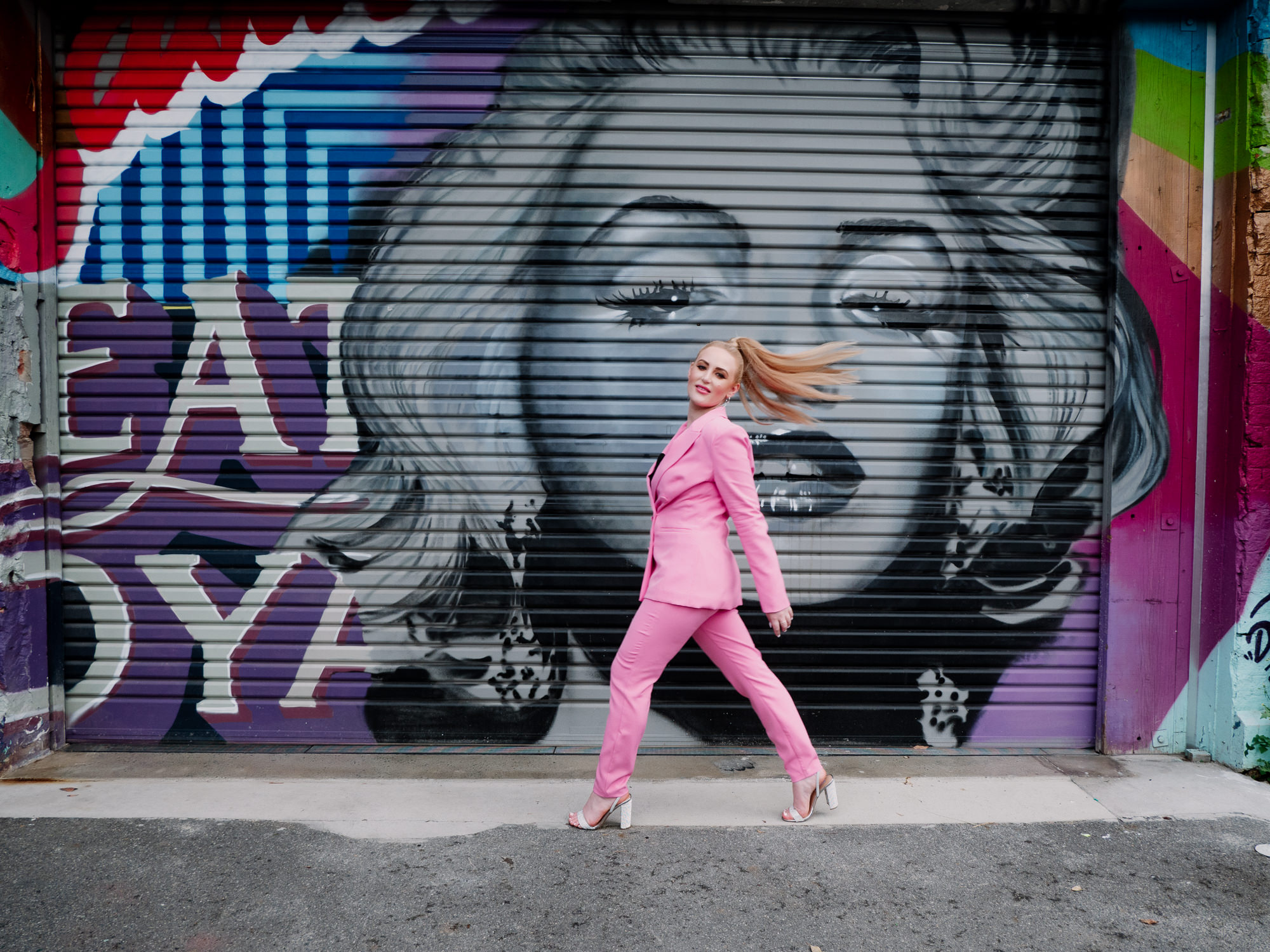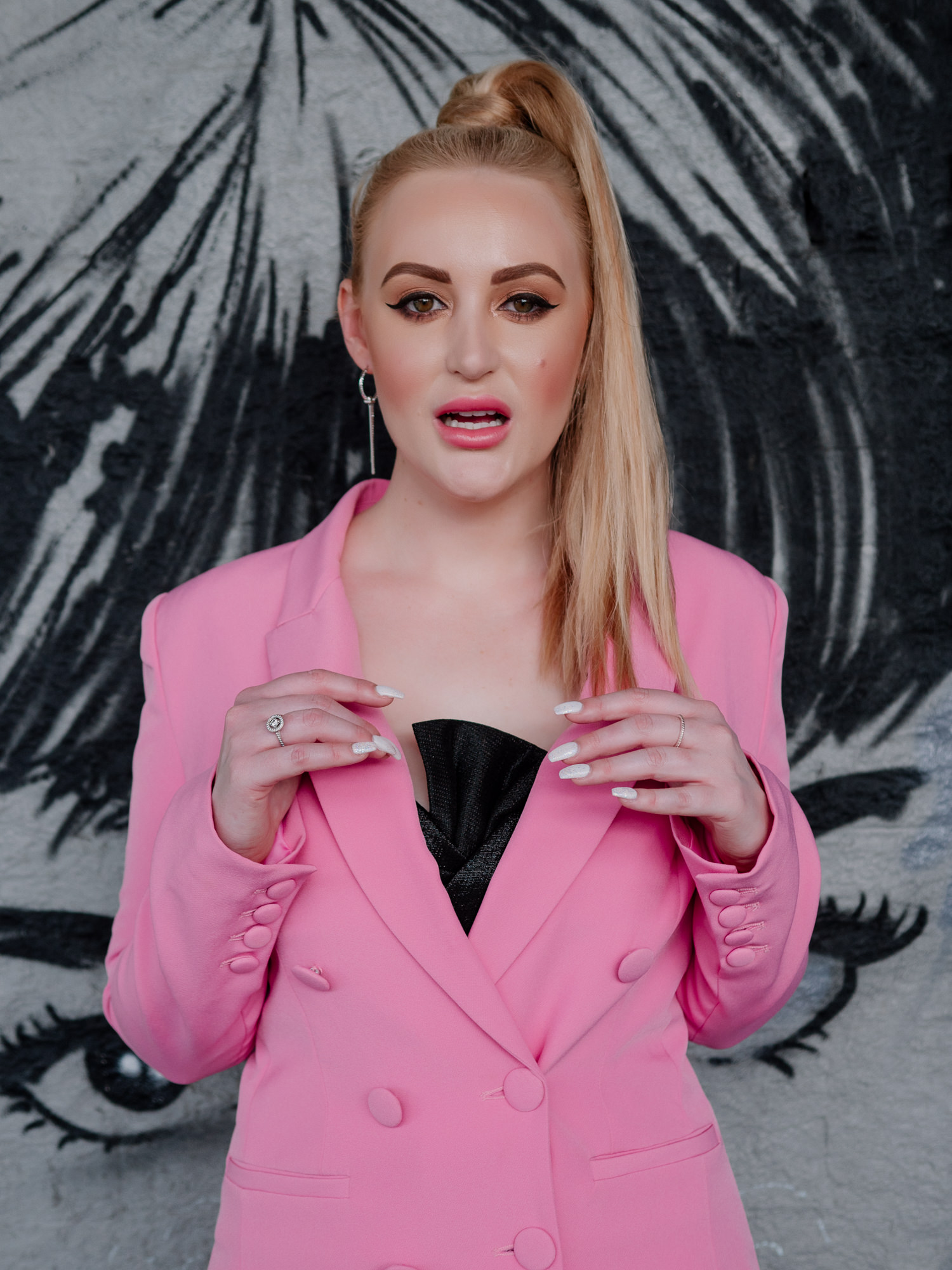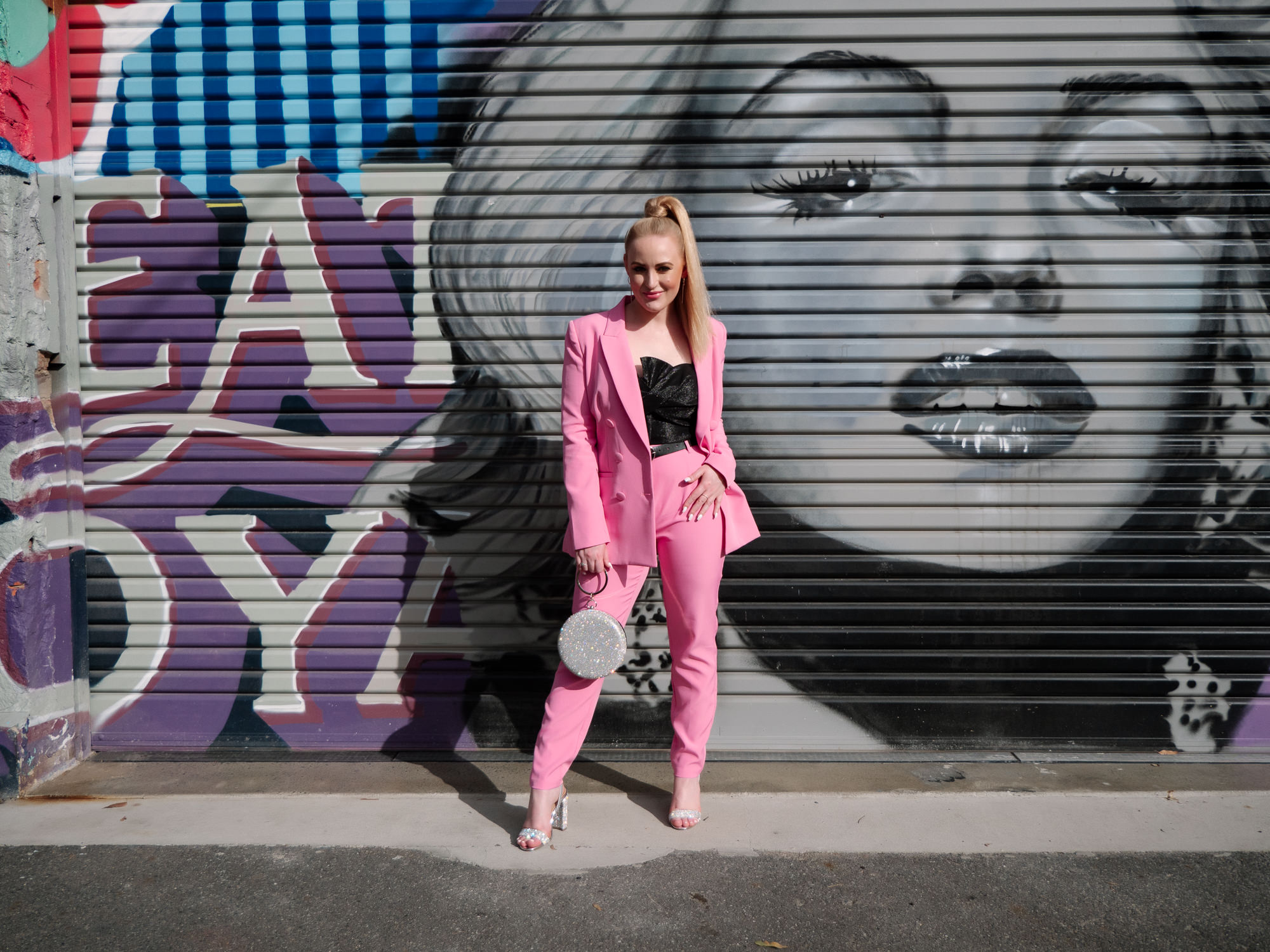 Mossman Pretty In Pink Blazer & Pant, Sass & Bide Cosmic Day Bustier, Steve Madden Cameo-R Rhinestone Heels, Adorne Clutch (similar style here), Swarovski Earrings (similar style here), Piper Skinny Circle Belt.
There's no two ways about it, a power suit in preppy pastel is destined to turn heads. Imagine my Elle Woods exuberance when I first laid eyes on this barbie hued set from Australian label, Mossman. This particular two piece highlights the essence of Mossman's aesthetic, "bold silhouettes, effortless staples and a confident personality". When I'm donning this ensemble, I feel my most feminine self, ready to #werkprayslay from 9 – 5, followed by slipping into crystal adorned Steve Madden heels for cocktails and conversations.
What I love about this power suit is the versatility of styling as separates. I'm planning on elevating a pair of boyfriend jeans with the blazer grazing my shoulders in the cooler months and pairing down the pants with a romantic, puff sleeved blouse for lunch with the ladies.
Have you crowned yourself the corporate queen by styling a power suit? Let me know your top styling tips or suiting tricks in the comments below! x
SHOP THE POST:

Photography by Erin Smith Photography
---
A Whole New Wardrobe #OOTD
Friday, May 31st, 2019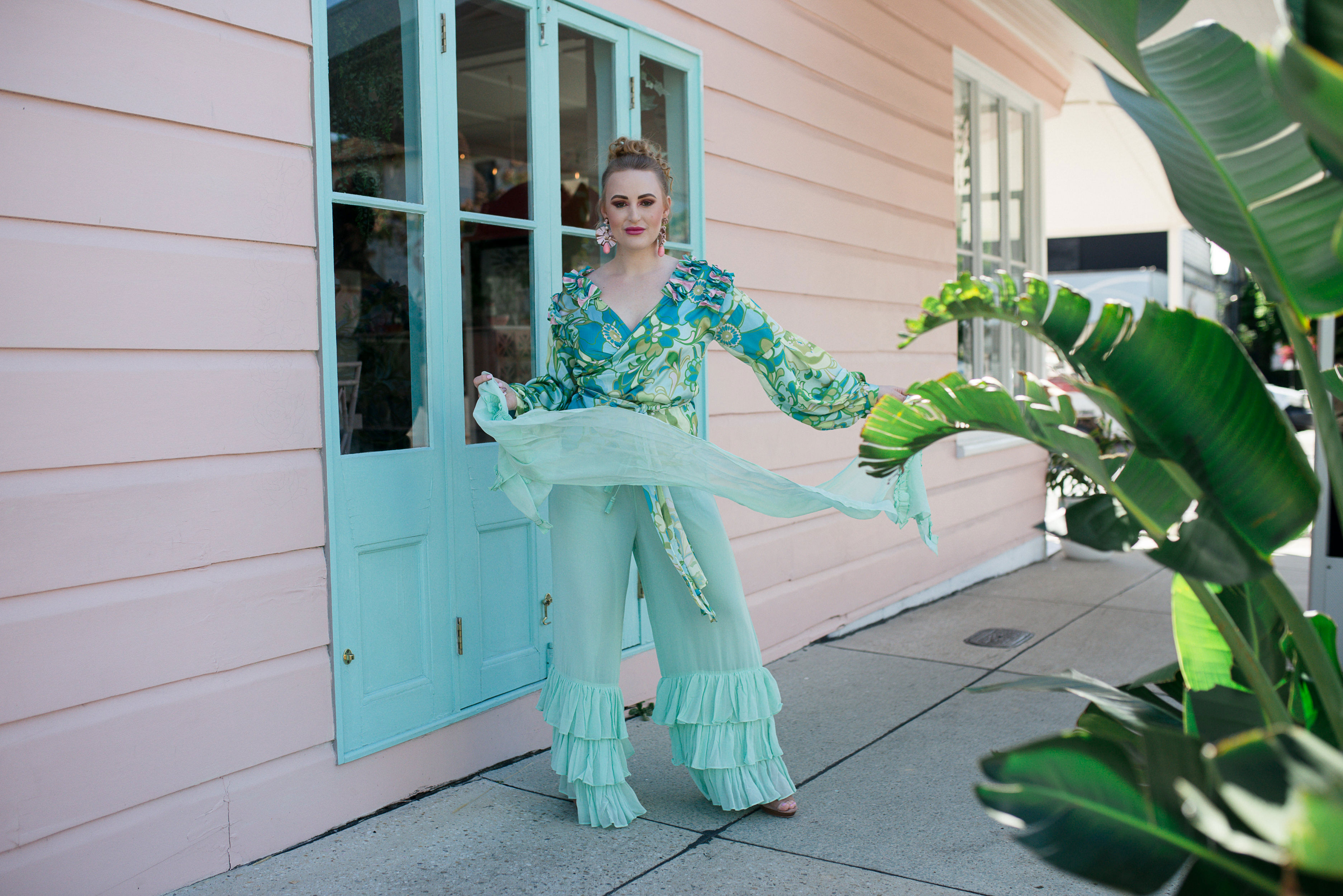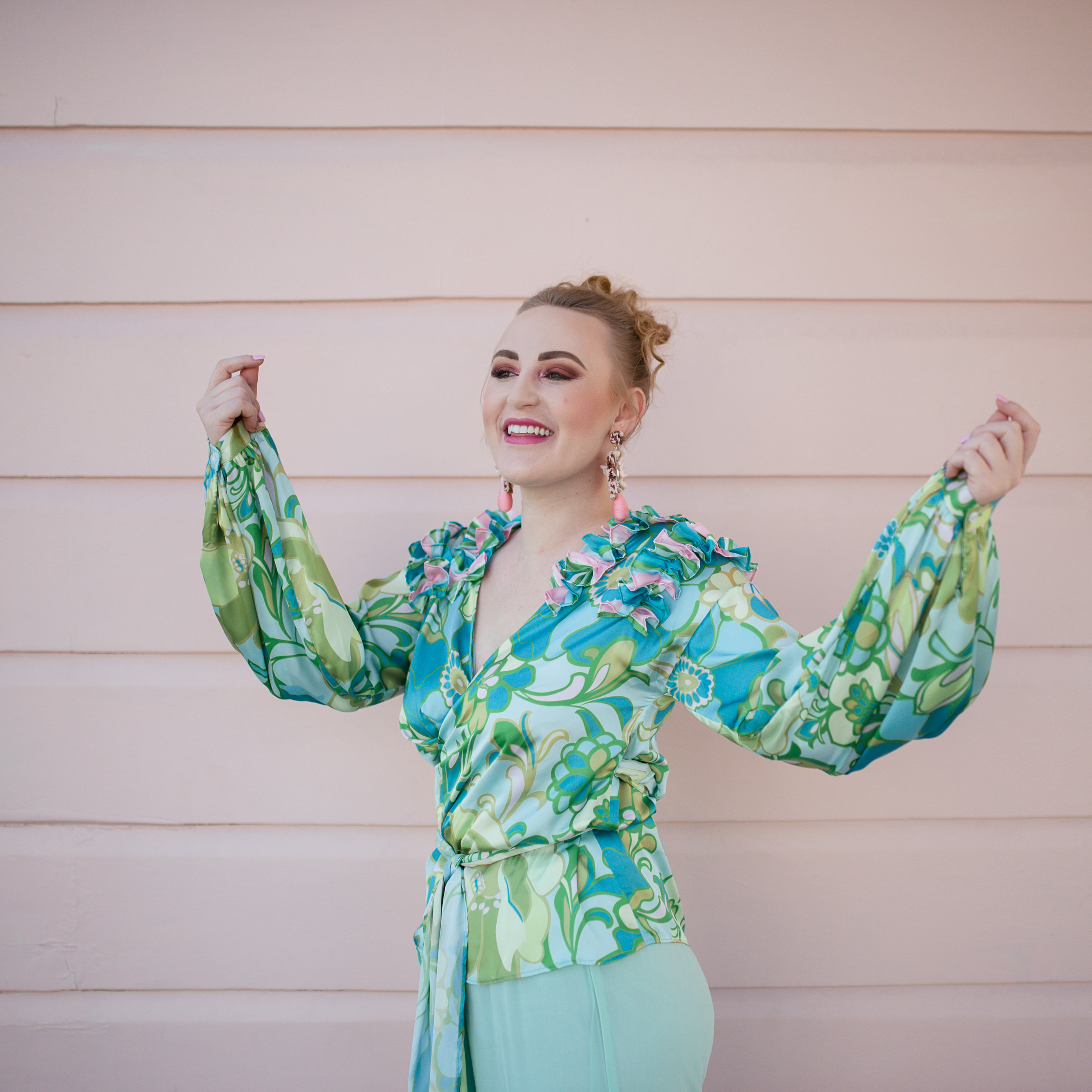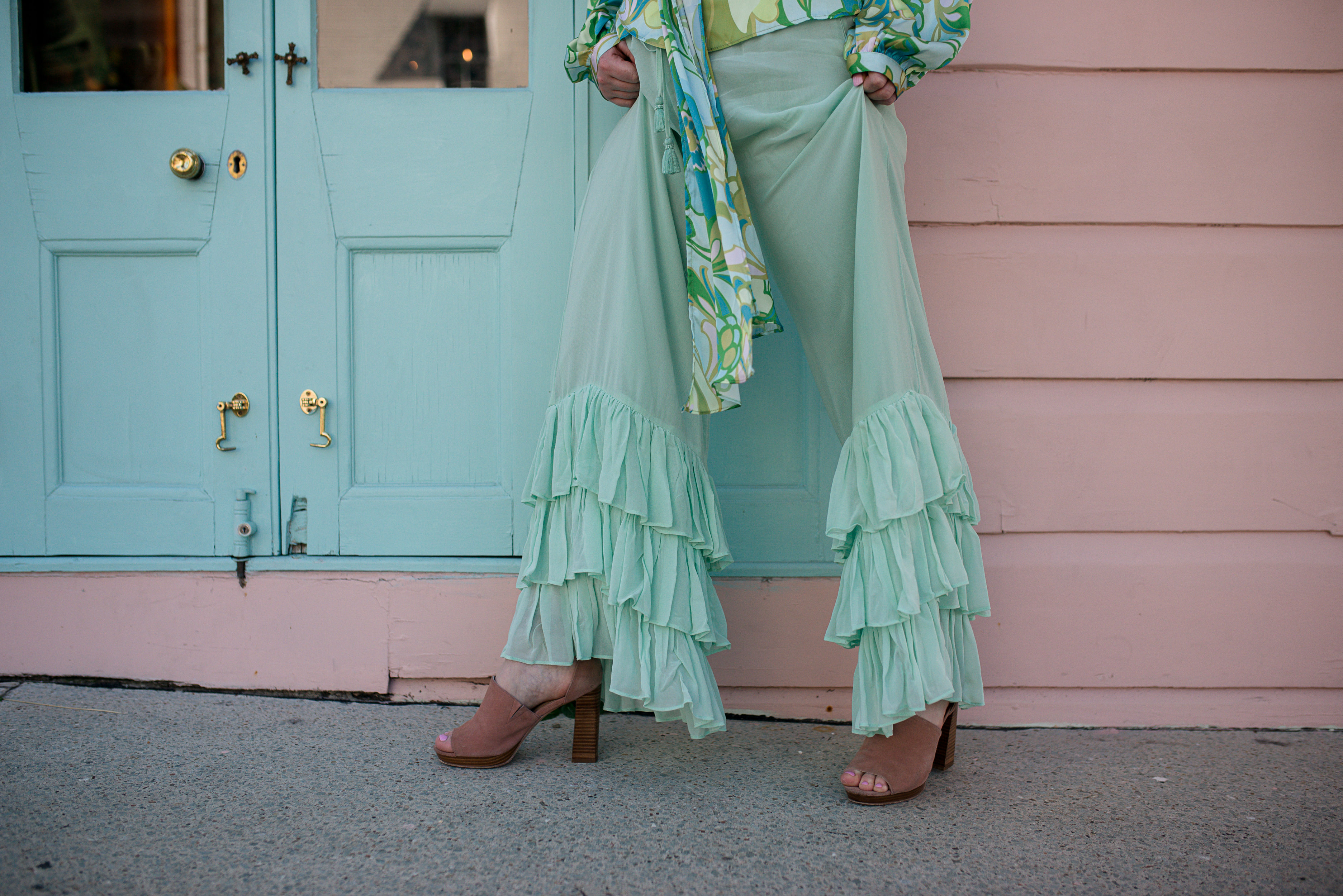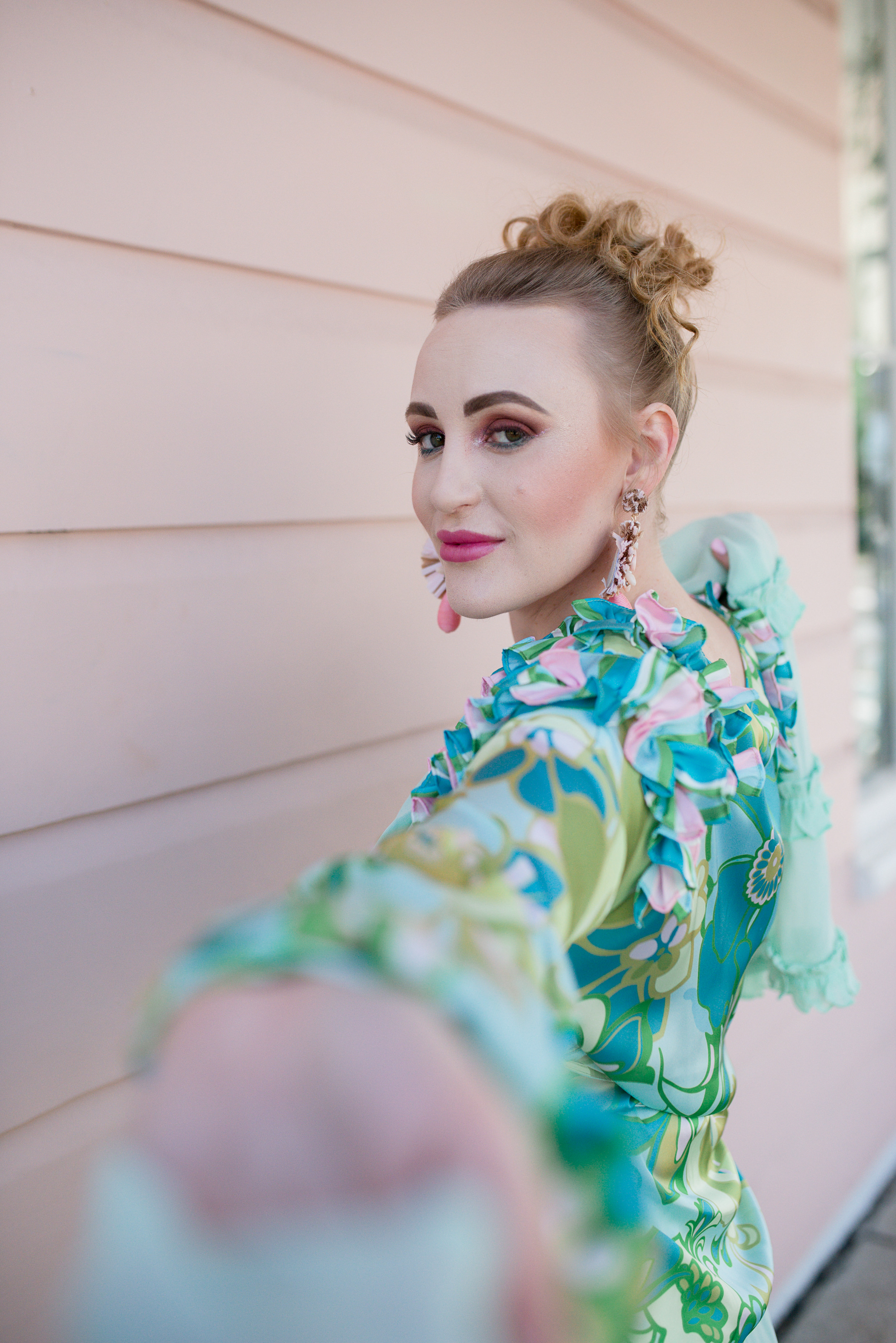 White Label Noba Charli Pants and Mitsy Top.
Disney queens, it's time to drape on the jewels and live your best Arabian night (or day) with the release of Disney's live action adaption of Aladdin.
Attending an exclusive preview screening, complete with lavish trinkets in true Aladdin style, I was completely dazzled (not to mention envious) of Princess Jasmine's glow up, highlighting a whole new wardrobe. From structured embroidered bodices falling into free-flowing fabrics, to the reimagined turquoise set, adorned with a crystal peacock motif, I was entranced by the vibrant colour palette and mix of luxurious fabrics, inspired to craft my very own Spell Bounding #OOTD.
With Jasmine's penchant for harem pants, seen in the original and adaptation, I decided to infuse a little flair with White Label Noba's Charli Pant, complete with layered ruffled detailing – perfect for a quick dash throughout the market place with a particular suitor.
Adding a magical genie-esque note, I've styled the elaborate Mitsy Top, also by White Label Noba, highlighting luxe satin fabric, ruched shoulder detailing, billowing sleeves and a vivid paisley print. Lamp and wishes not included, although I'll happily reside in the Cave Of Wonders!
Prepare yourself for a fantastic point of view, in Disney's anticipated live action adaptation, Aladdin. For more information, visit https://www.disney.com.au/movies/aladdin.
Proudly sponsored, shimmering splendid, by The Walt Disney Company AUNZ.
Photography by Erin Smith Photography
---