I Want What She's Styling: Saoirse Ronan
Sunday, March 11th, 2018
When it comes to the Hollywood style files, I want what Saoirse Ronan is styling. From sheer, shift dresses to structured blazers, this young starlet can do no wrong, on or off the red carpet. I've rounded up some key wardrobe staples to recreate her best looks.
Saoirse Ronan at the Lady Bird Premiere Dublin, Santa Barbara Film Festival, Lady Bird Press Conference.
At The Lady Bird Premiere Dublin
Both demure and positively darling, Saoirse styles a sheer shift dress with an allover strawberry print, totally fitting for her quirky role in Lady Bird. Keeping accessories to a minimal she styles the frock with a pair of pointed suede boots, proving timeless accessories speak volumes on the red carpet.
At The Santa Barbara Film Festival
In a bold move wearing culottes on the red carpet, Saoirse combines the statement pant of the Victorian era with a draping satin blouse. Again, a pointed toe heel makes an appearance, which can be substituted with a pair of mules for a more modern take.
At The Lady Bird Press Conference
Channeling Coco Chanel in a tweed blazer, decorated with embellished brooches, Saoirse is a vision in this vintage getup. I adore how Saoirse pairs her blazer with a LBM (little black mini). Kudos on those pins girl.
SHOP THE POST:

Look 1: Realisation Par The Alexandra Italia Spot Dress, Wittner Davyn Ankle Boot, Kenzo Tiger Pouch.
Look 2: Portmans Tamsin Tie Neck Top, Country Road Satin Black Crepe Culotte, ZAC Zac Posen Clutch, Skin Footwear Argyle Embellished Brocade Mules.
Look 3: Sportscraft Lotus Tweed Coat, Portmans Buckle Up Mini Skirt, Swarovski Aloft Brooch, Jo Mercer Tempest High Heel Sandals, Santi Imitation Pearl Minaudiere Clutch.
---
Be Cool, Babydoll.
Monday, March 5th, 2018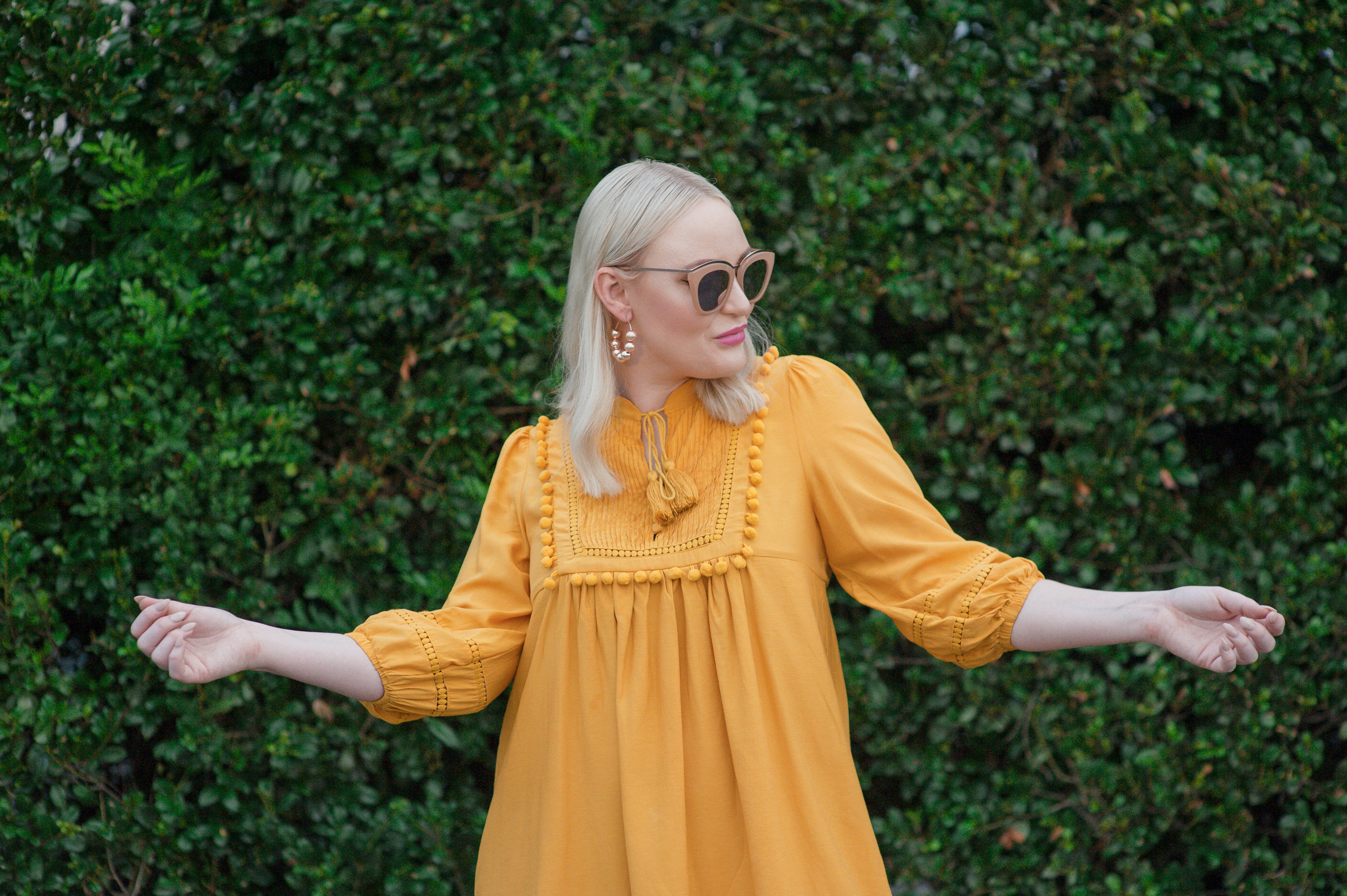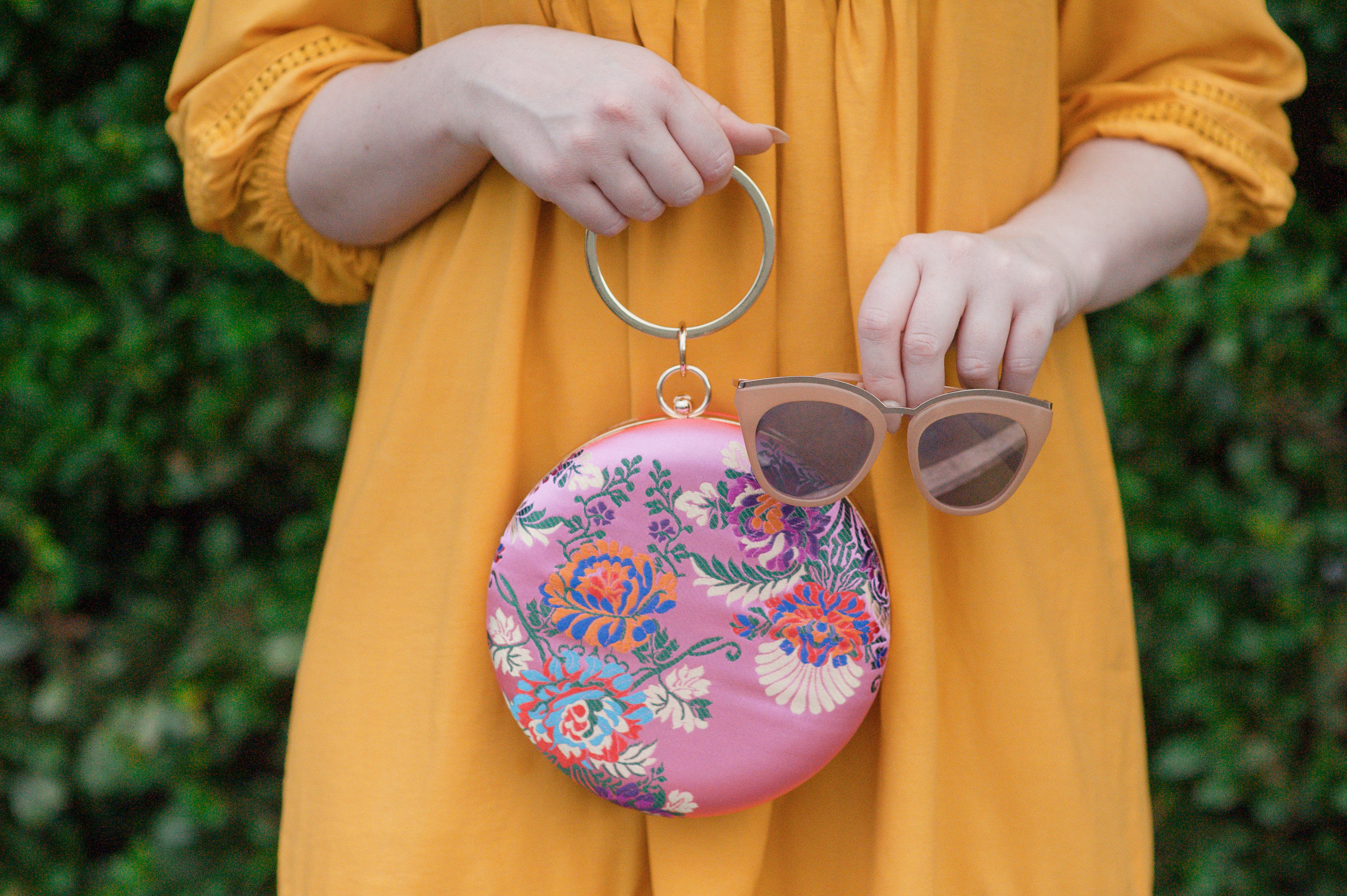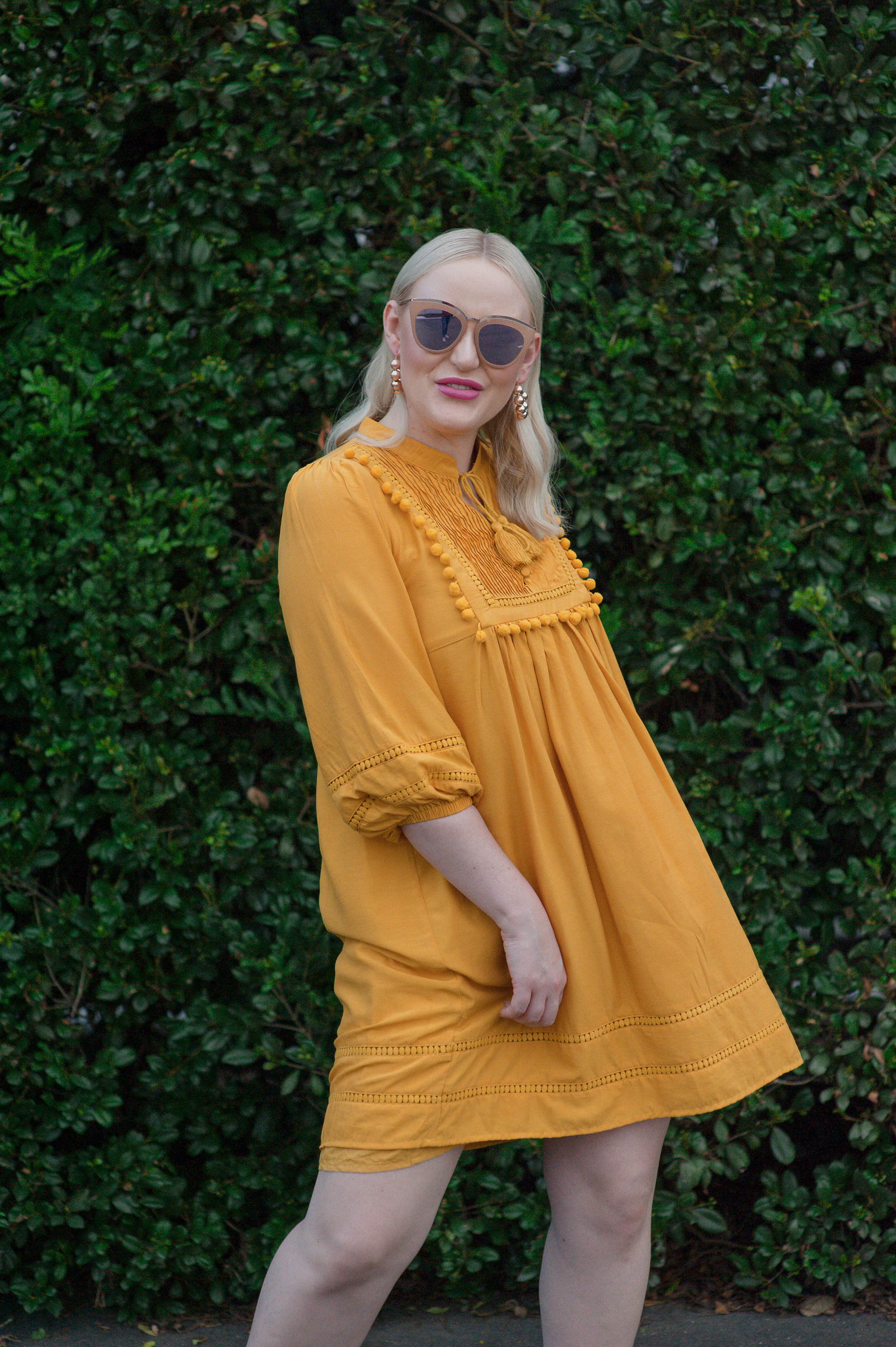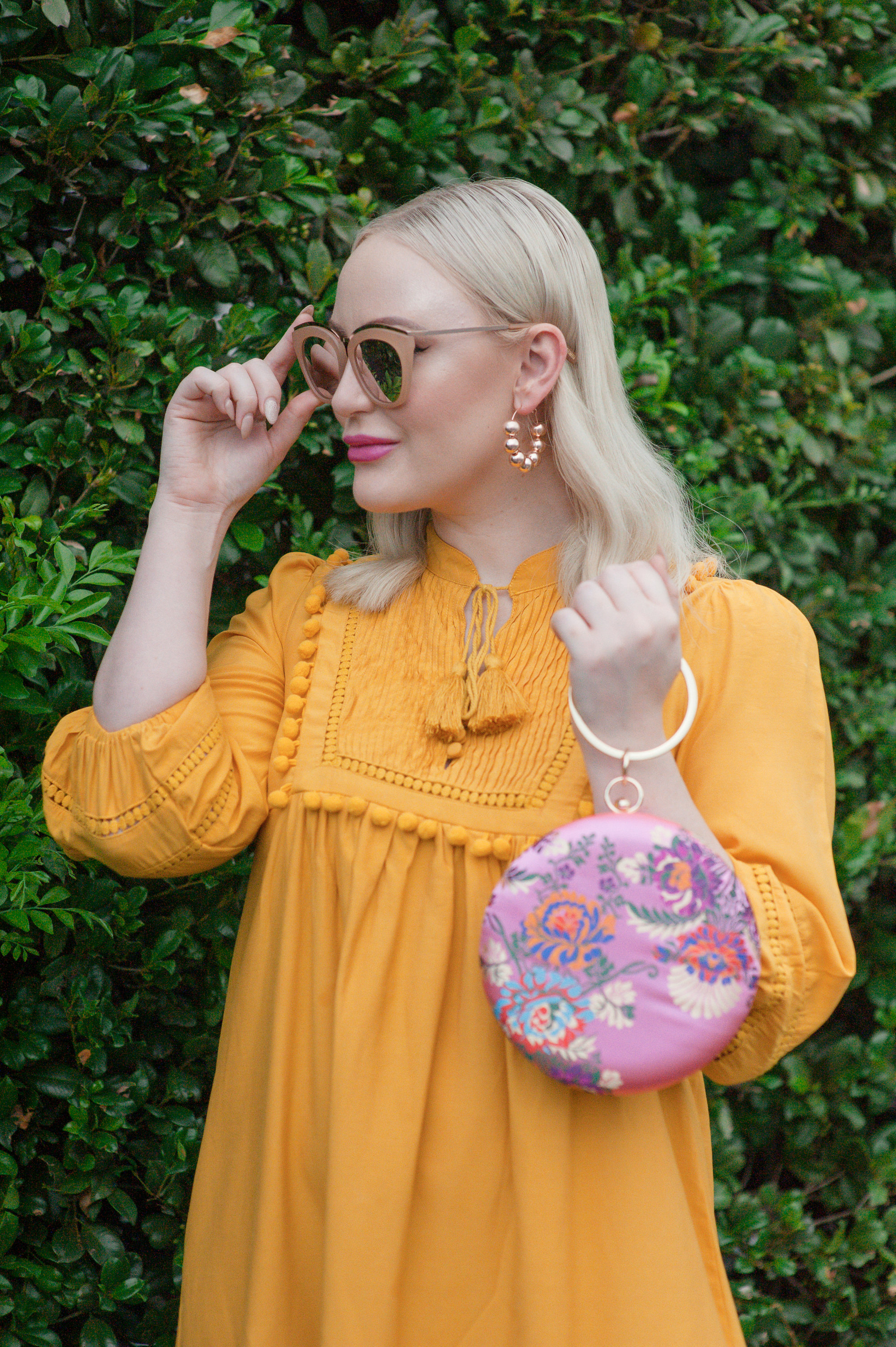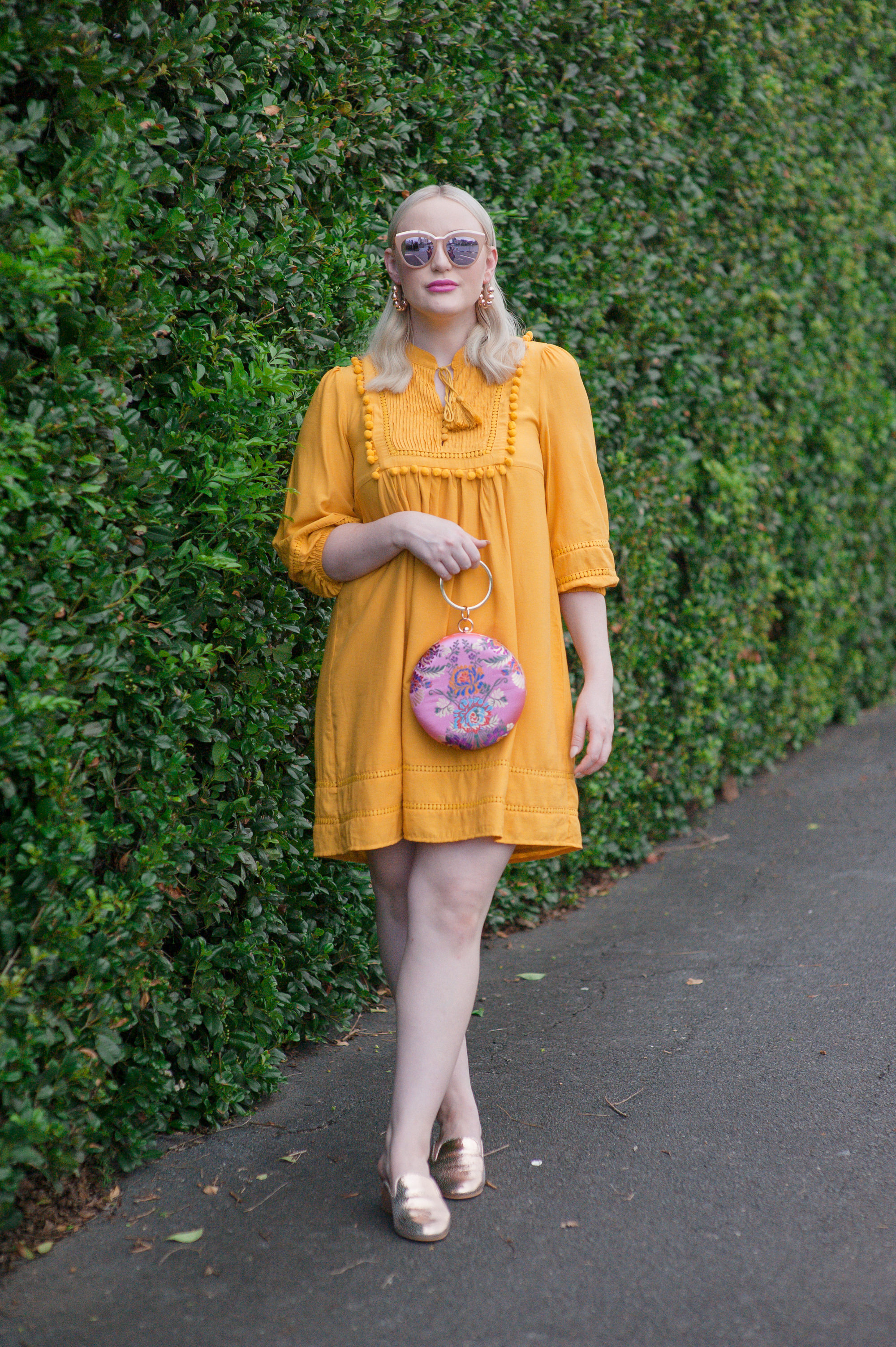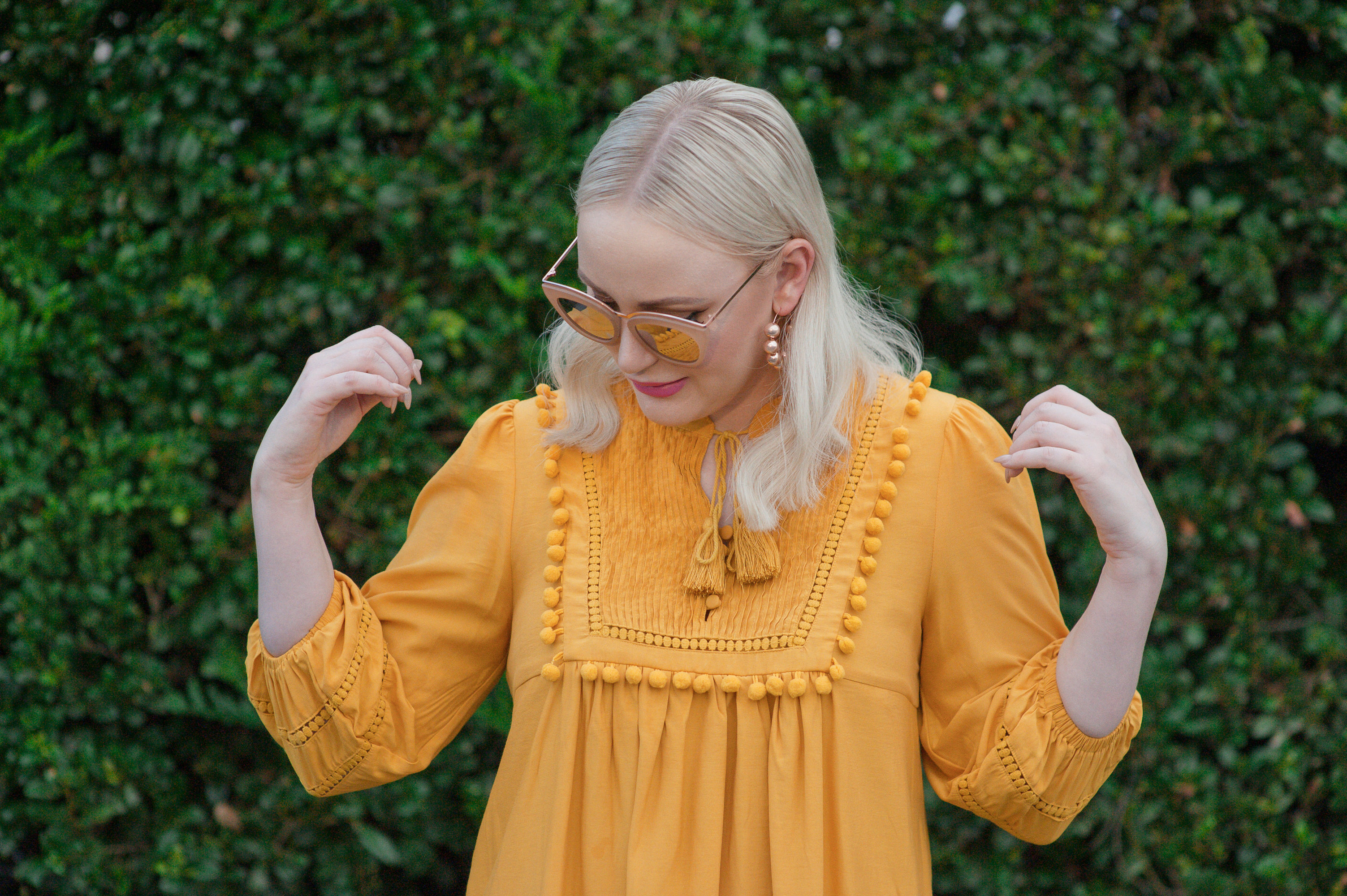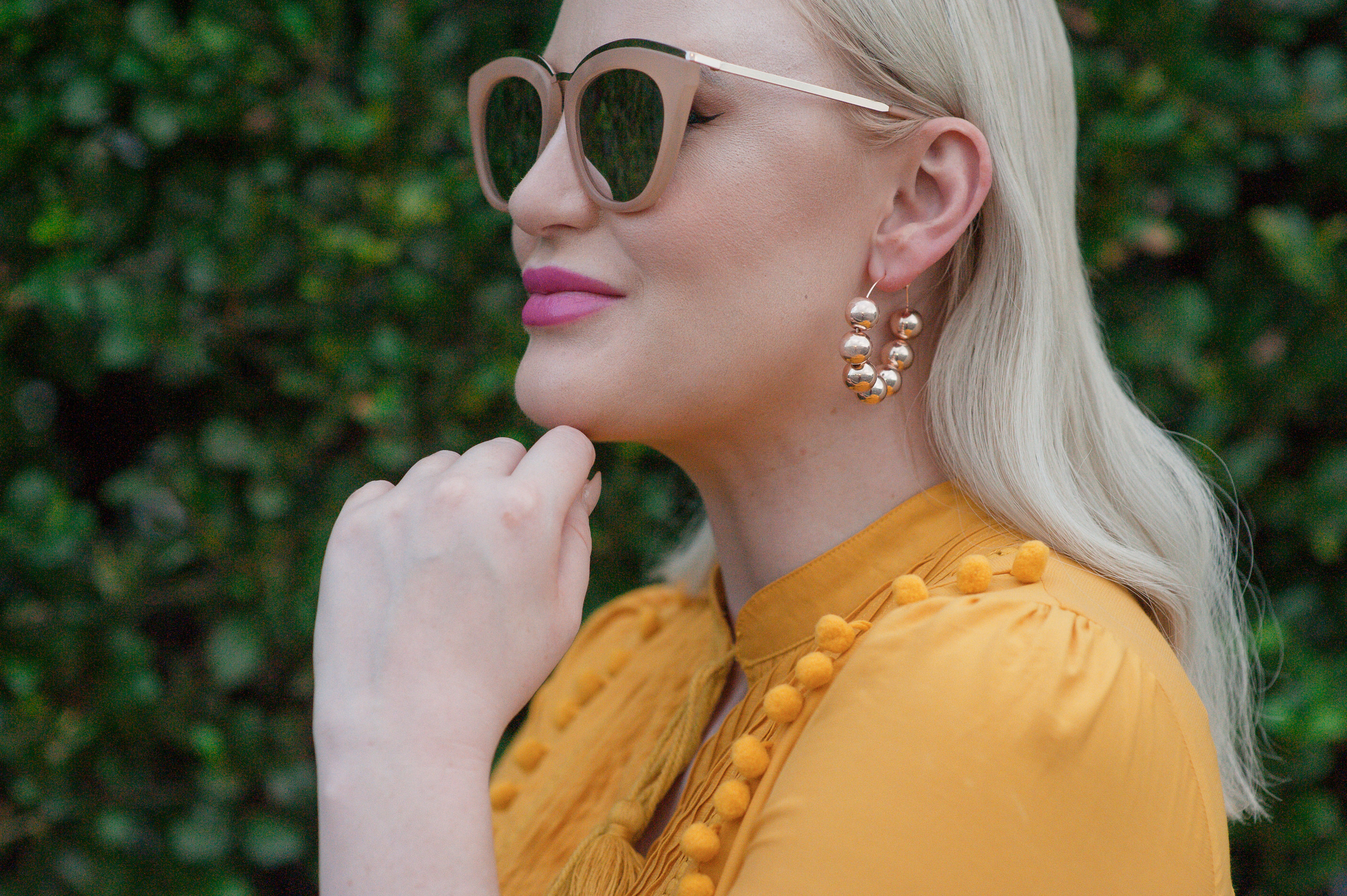 French Connection Frill Babydoll Dress, Wittner Cicily Mule, Adorne Oriental Floral Satin Clutch, Adorne Alexa Small Hoop Ball Earrings, Le Specs Sunglasses (similar style here).
There's a certain femininity about a babydoll dress with it's iconic empire waistline. There are so many design elements I love about this garment; the full bodied silhouette of the relaxed shift and billowing sleeves, the lace detailing and pom pom trim and those tassels! Then there's the colour, that buttery, vibrant shade of marigold, the perfect palette for summery soirees.
Proving that rose gold really is the way to my heart, I instantly fell in love with these metallic mules from Wittner, further complimented by the same tone of these Adorne hoops. As you've seen in my recent posts, I have a penchant for statement clutches and this oriental, satin clutch from Adorne is a real showstopper. The final accessory worth mentioning are these luxe mirrored lenses by Le Specs.
Do you rate this look? I'de love to hear your thoughts in the comments below cuties! Fashionably yours x
SHOP THE POST:

Photography By Erin Smith Photography
---
Chic In Converse Sneaks
Tuesday, February 20th, 2018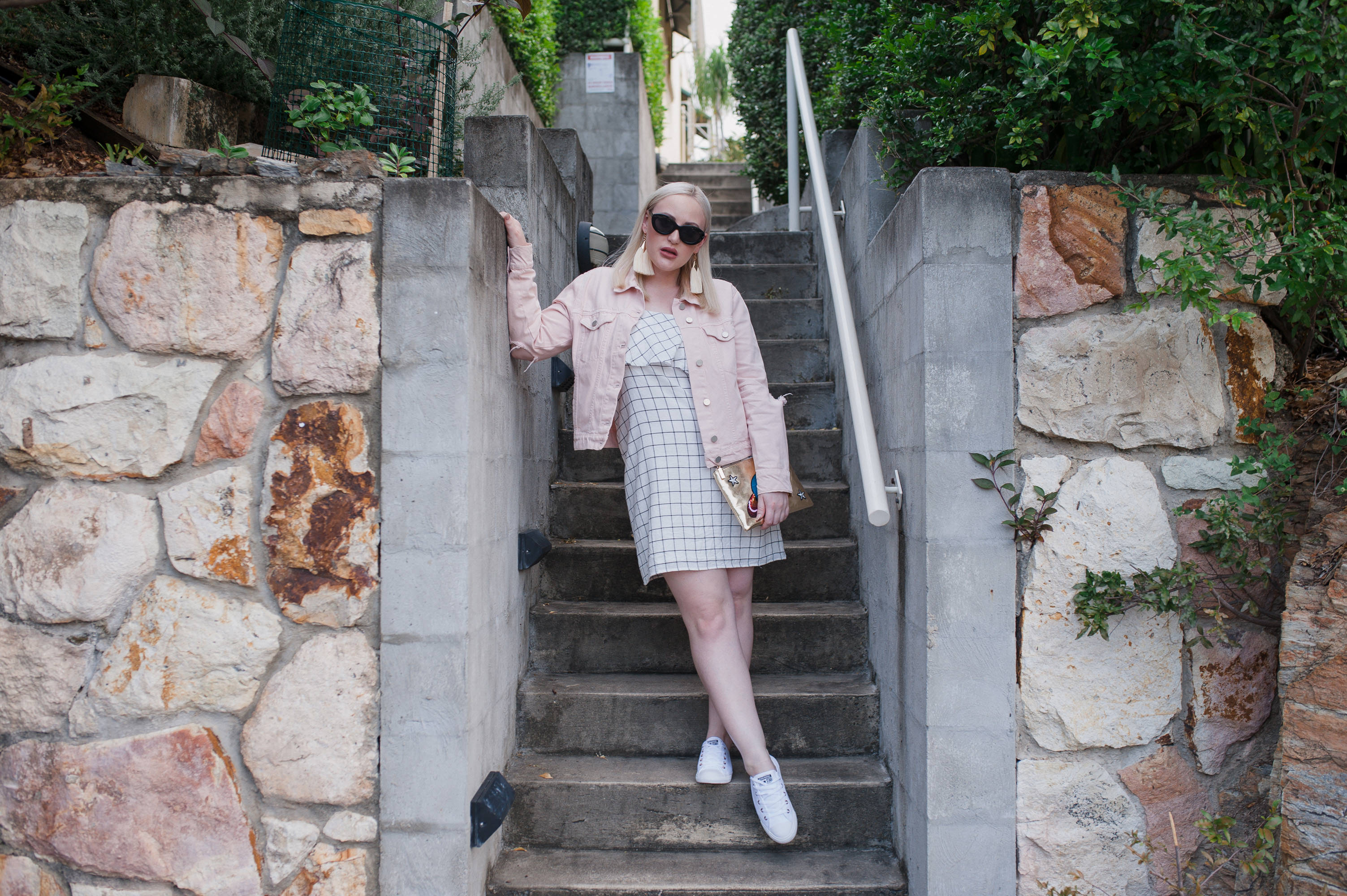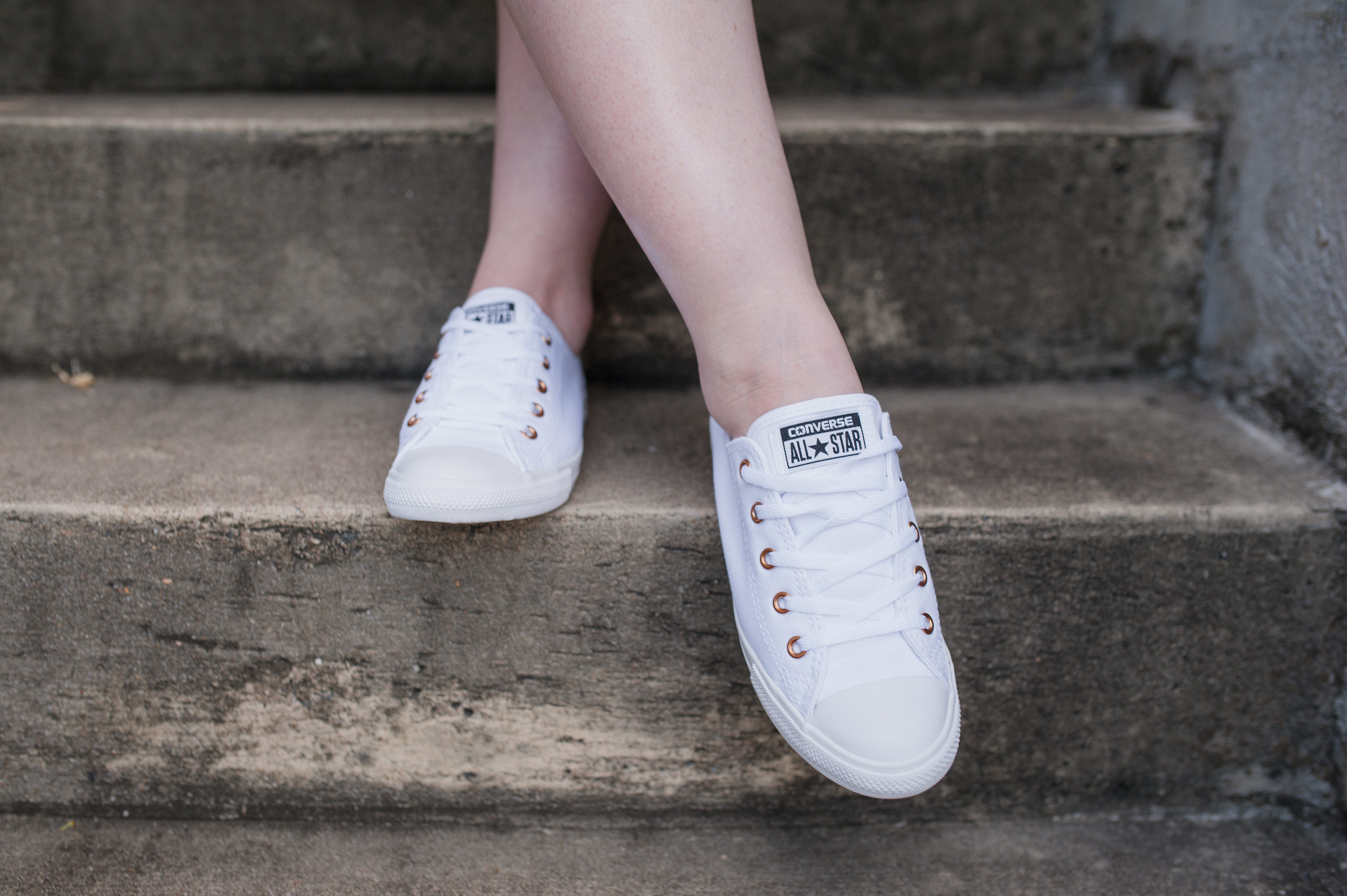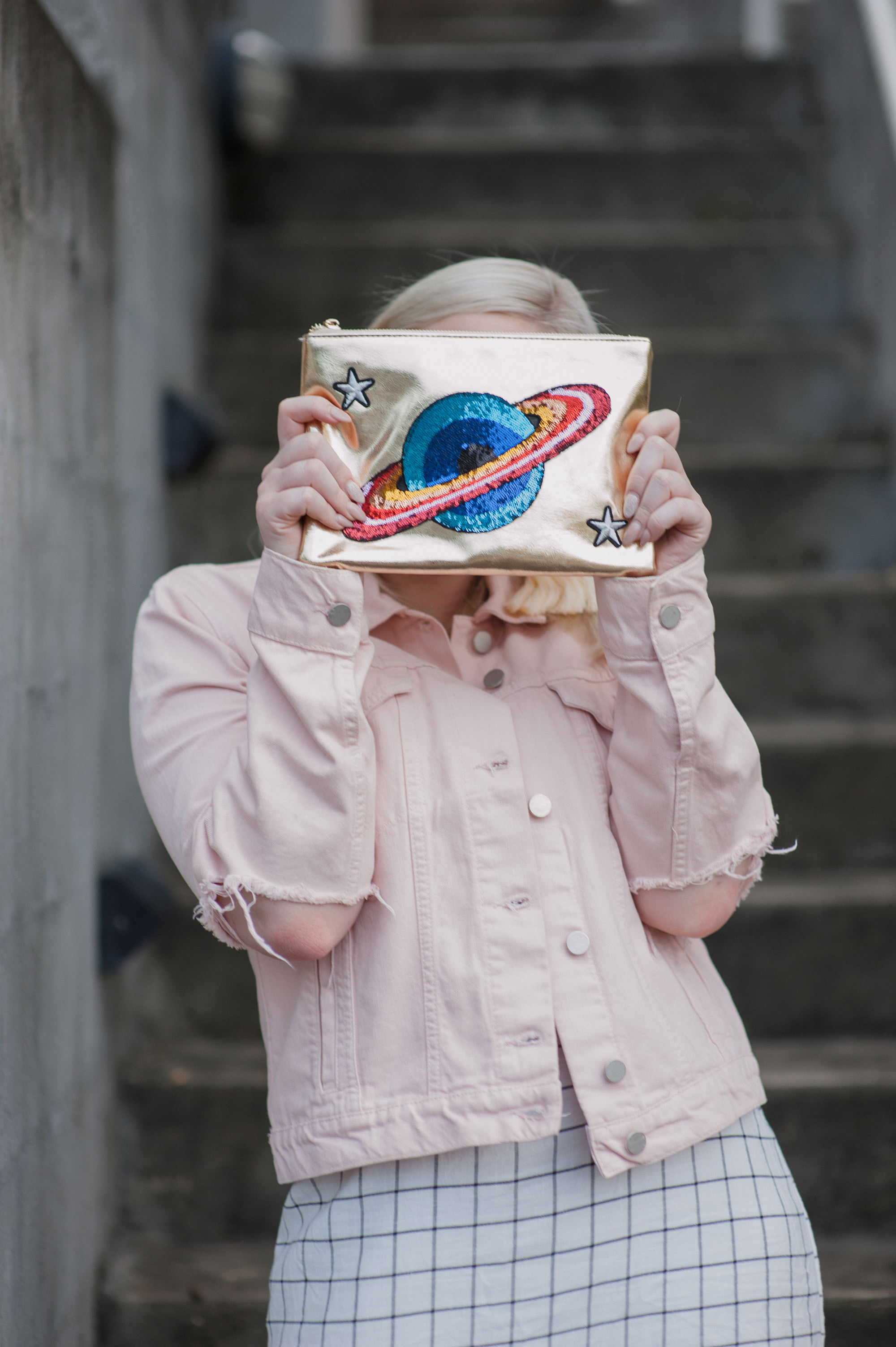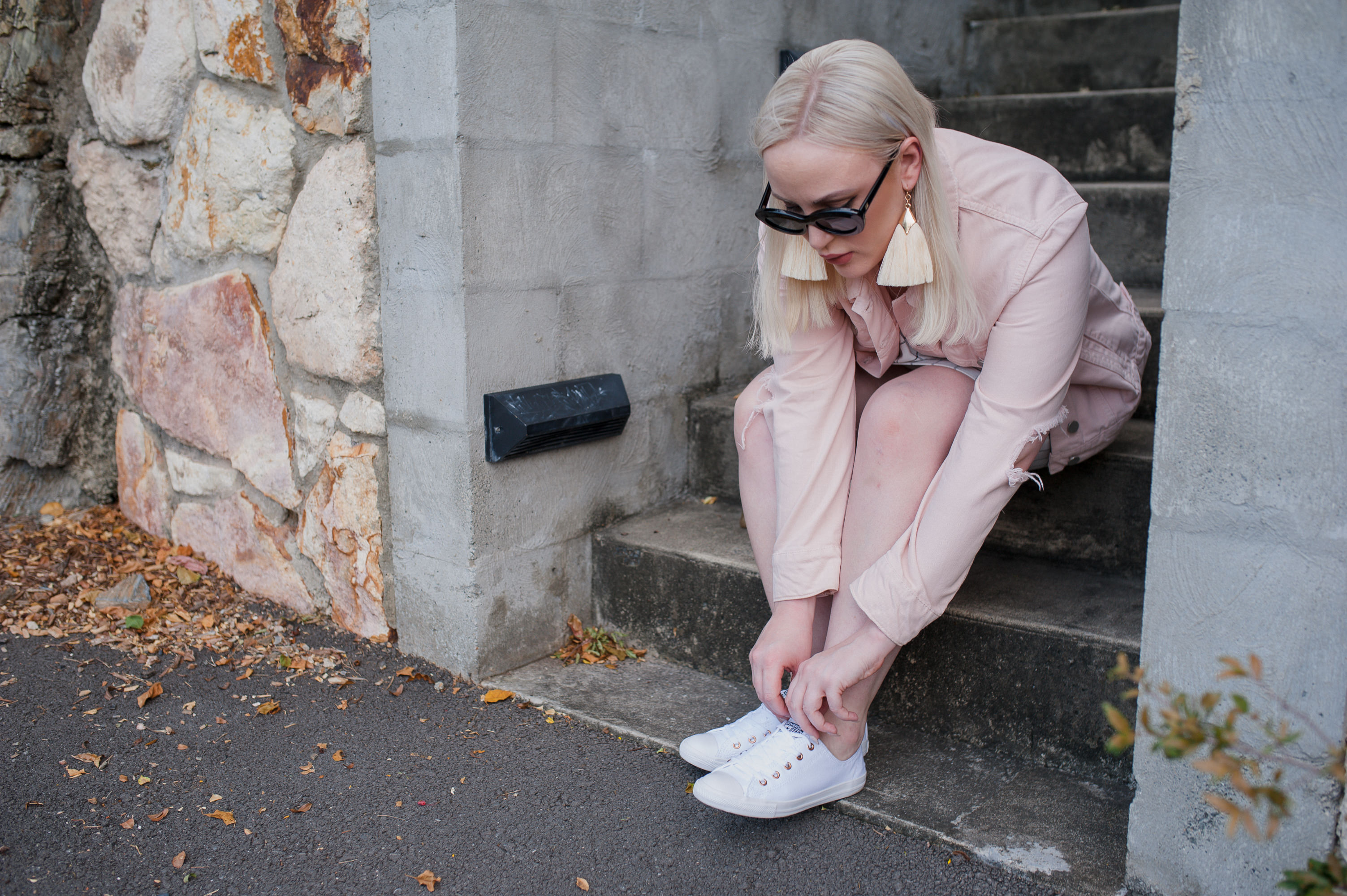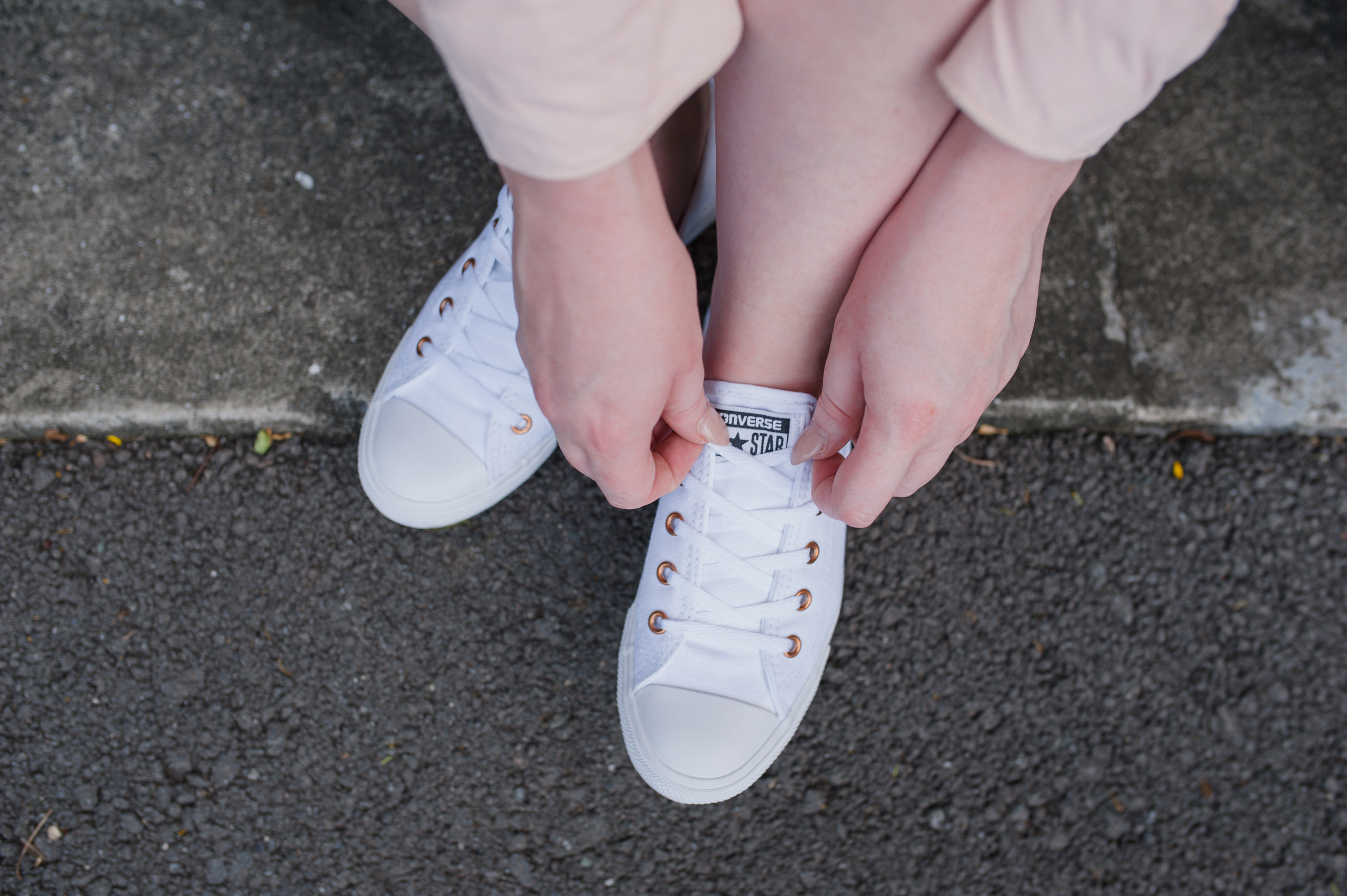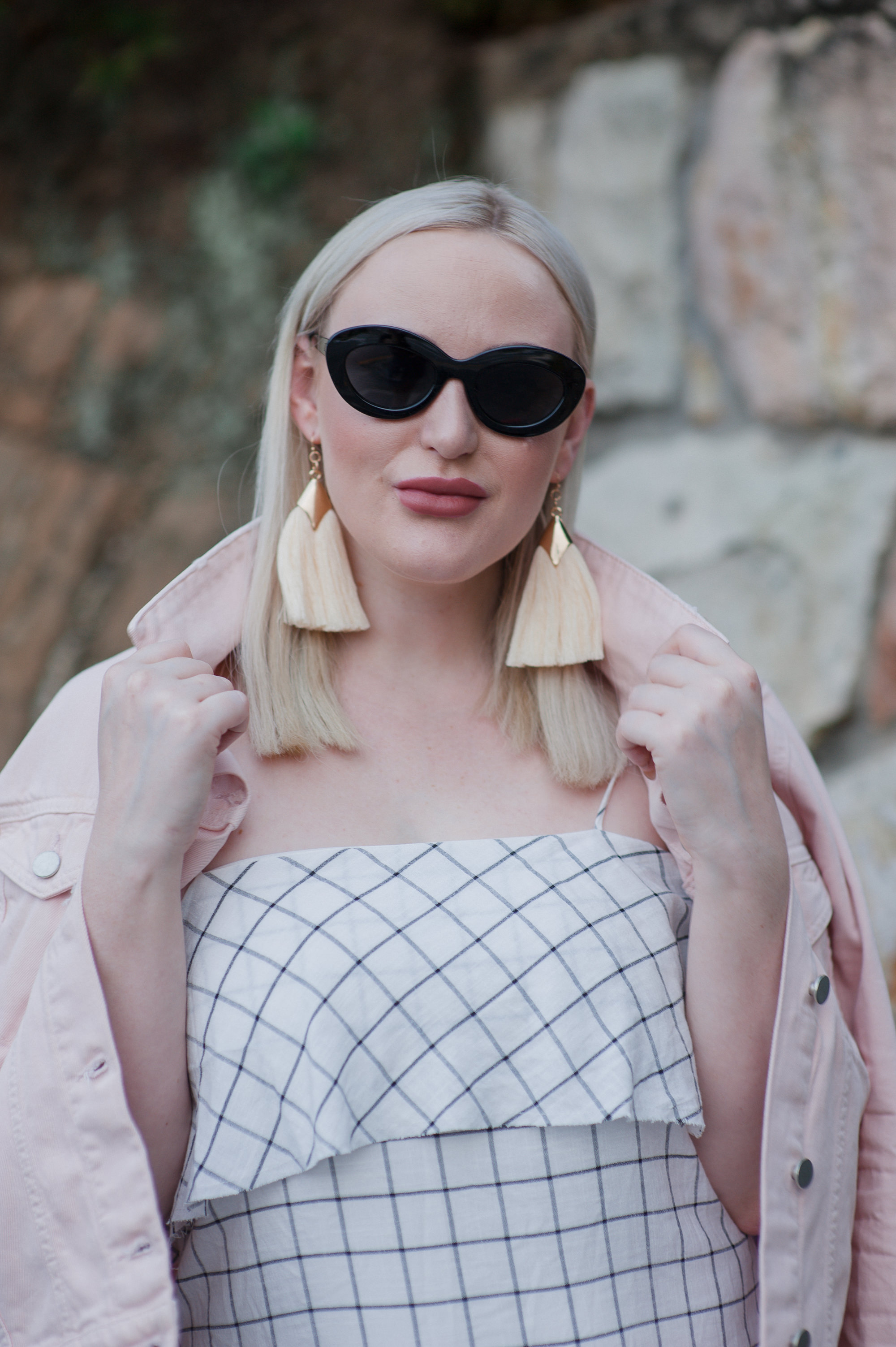 Converse Chuck Taylor All Star Dainty Sneakers, Le Specs Fluxus Sunglasses, Lulu & Rose Dress (available in-store), Adorne Clutch (arriving soon), Adorne Tassel Earrings (arriving soon).
This may shock and astound you, but up until now, I haven't owned a pair of sneaks. I know – I'm weird and far too accustomed to heels it seems. But in my quest to build the quintessential European dream wardrobe, I figured a pair of sneaks is definitely necessary.
First stop, Glue Store, delivering the goods with this fresh pair of Converse sneakers. I do love this style, because just like the name they are extremely dainty on the foot, remaining simple and classic with metallic detailing seen in the rose gold eyelets. When styling these sneaks I still want to convey my feminine charm, so I'm teaming them with a relaxed, monochrome dress, also from Glue.
To complete the look I've opted for the cutest little tassel earrings and a celestial clutch, both of which are part of new season Adorne. But nothing says chic like a pair of 90's inspired (hello Sarah Michelle Gellar!) noir sunglasses. Sharp, sleek and speaking sass in volumes.
Ladies, if you're on the hunt for a pair of sneaks, or perhaps a cute ensemble, I would definitely suggest checking out Glue's new arrivals, because there's a little trinket for all!
SHOP THE POST:

Photography by Erin Smith Photography
---
Check Mate! The Gingham Edit
Wednesday, February 7th, 2018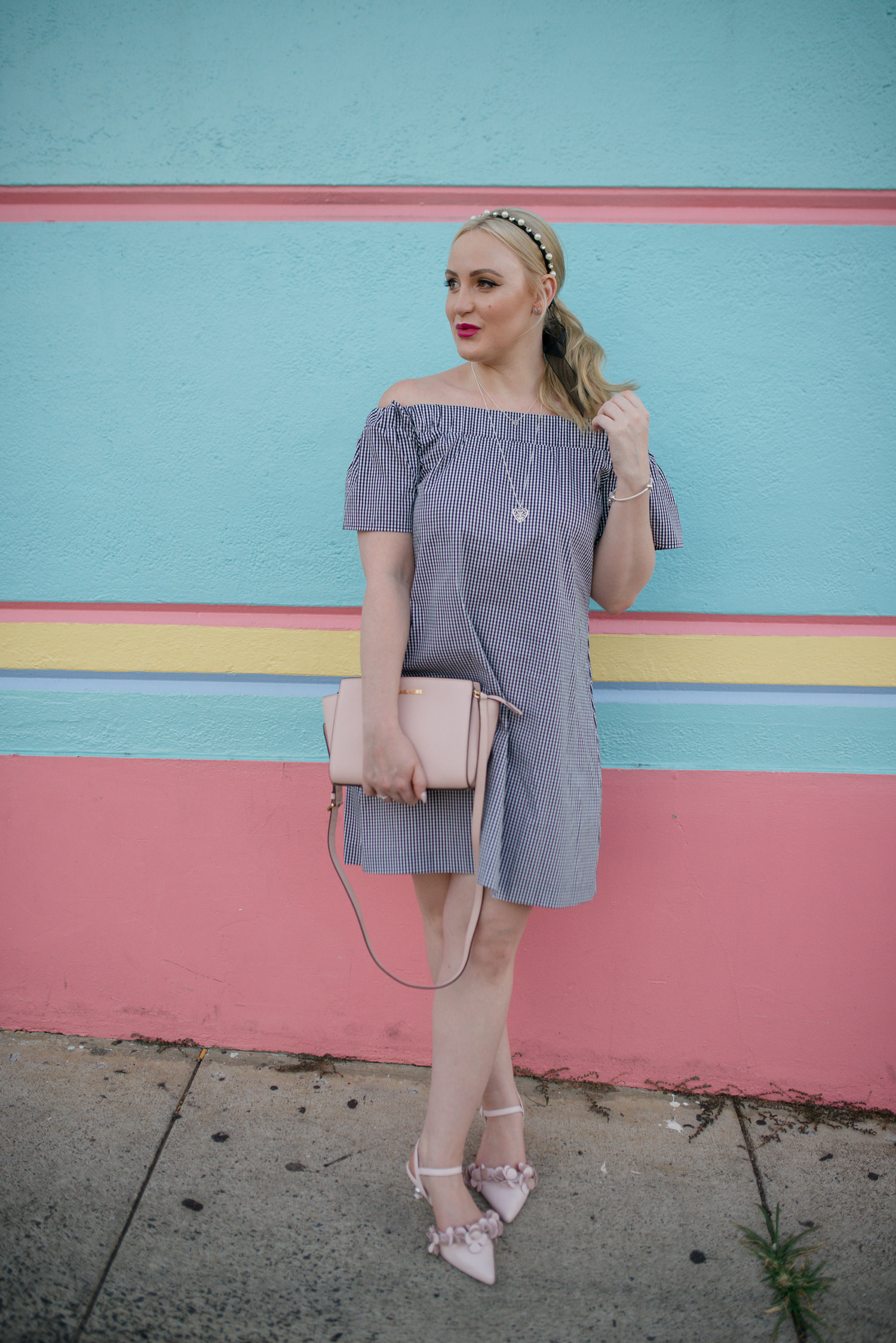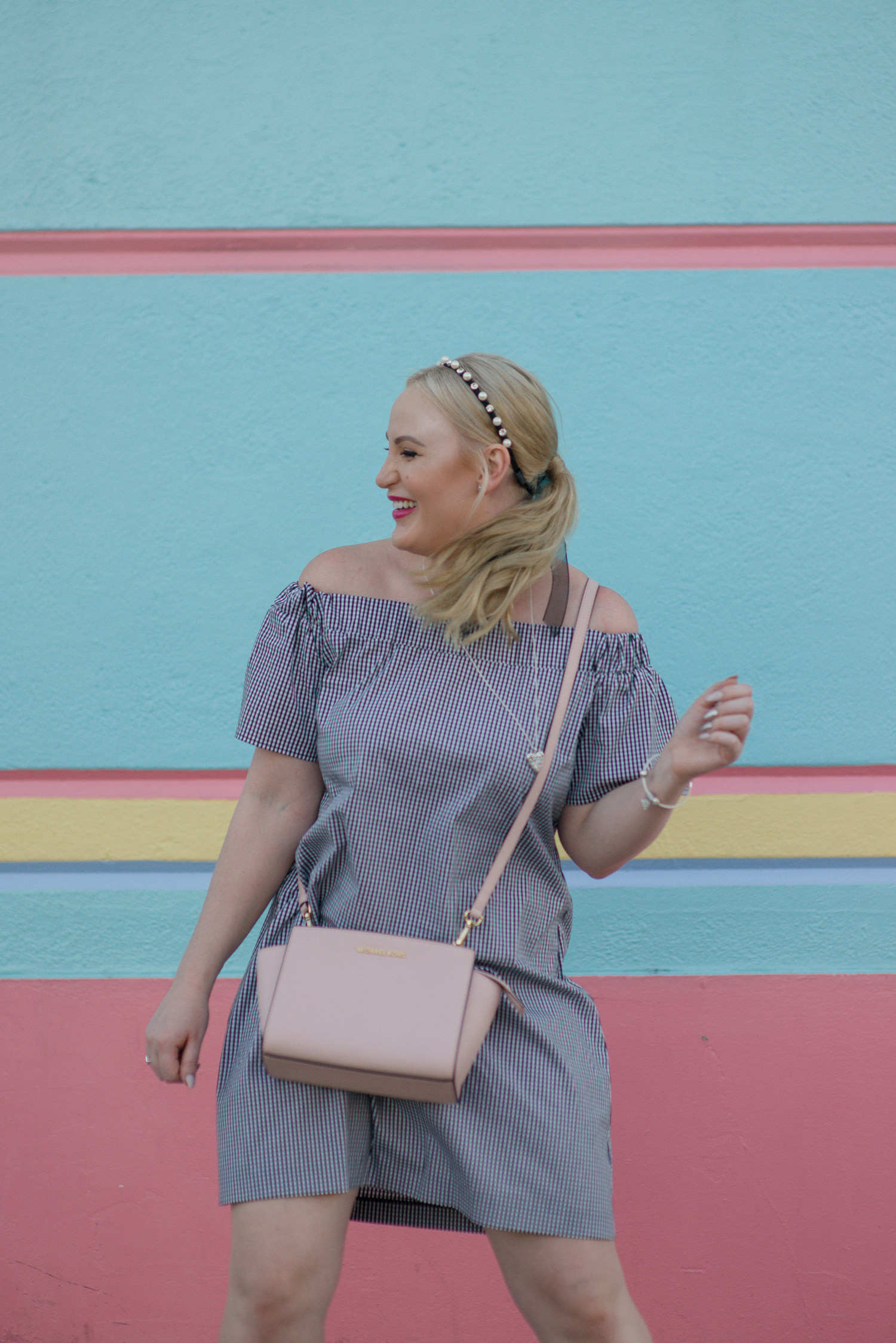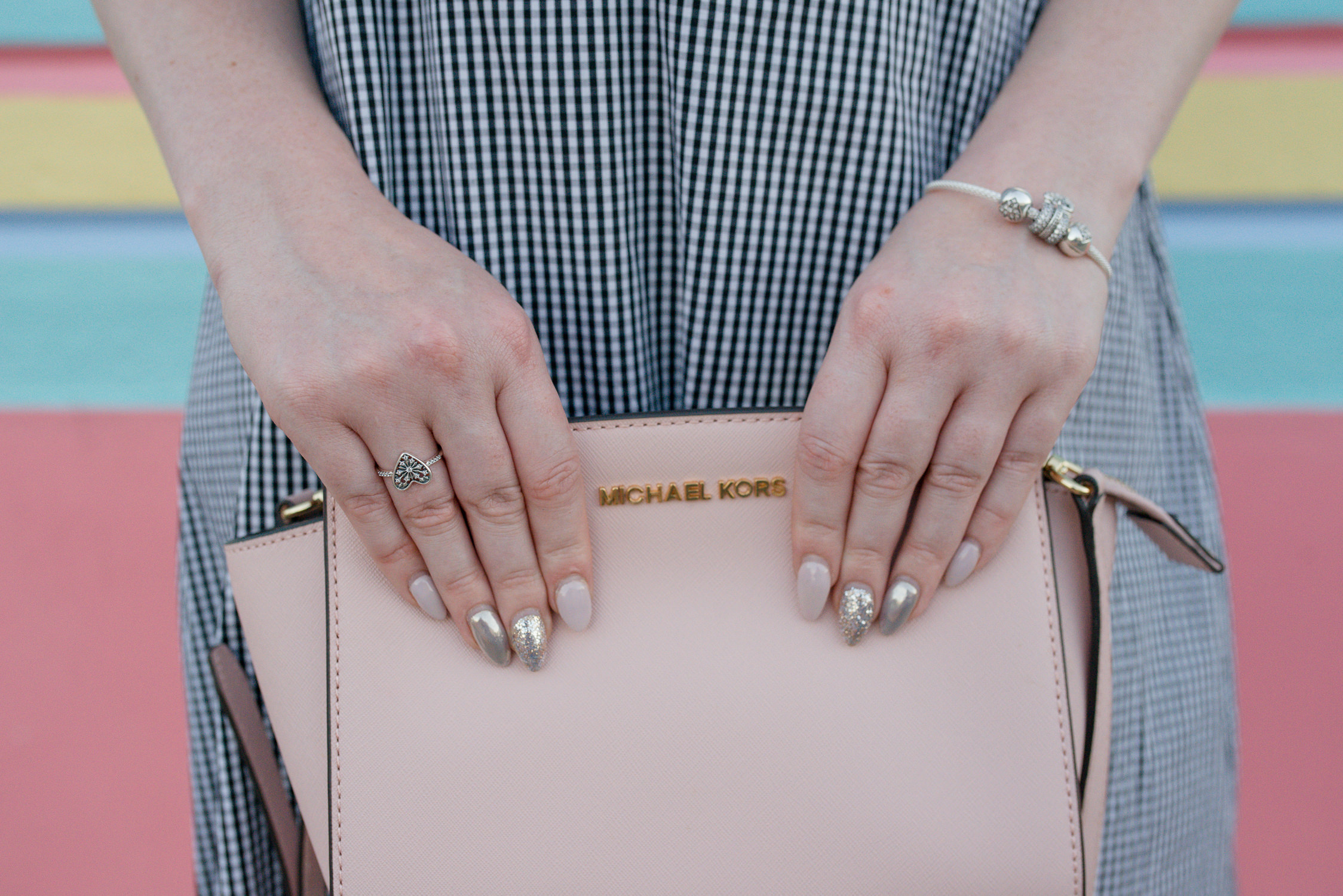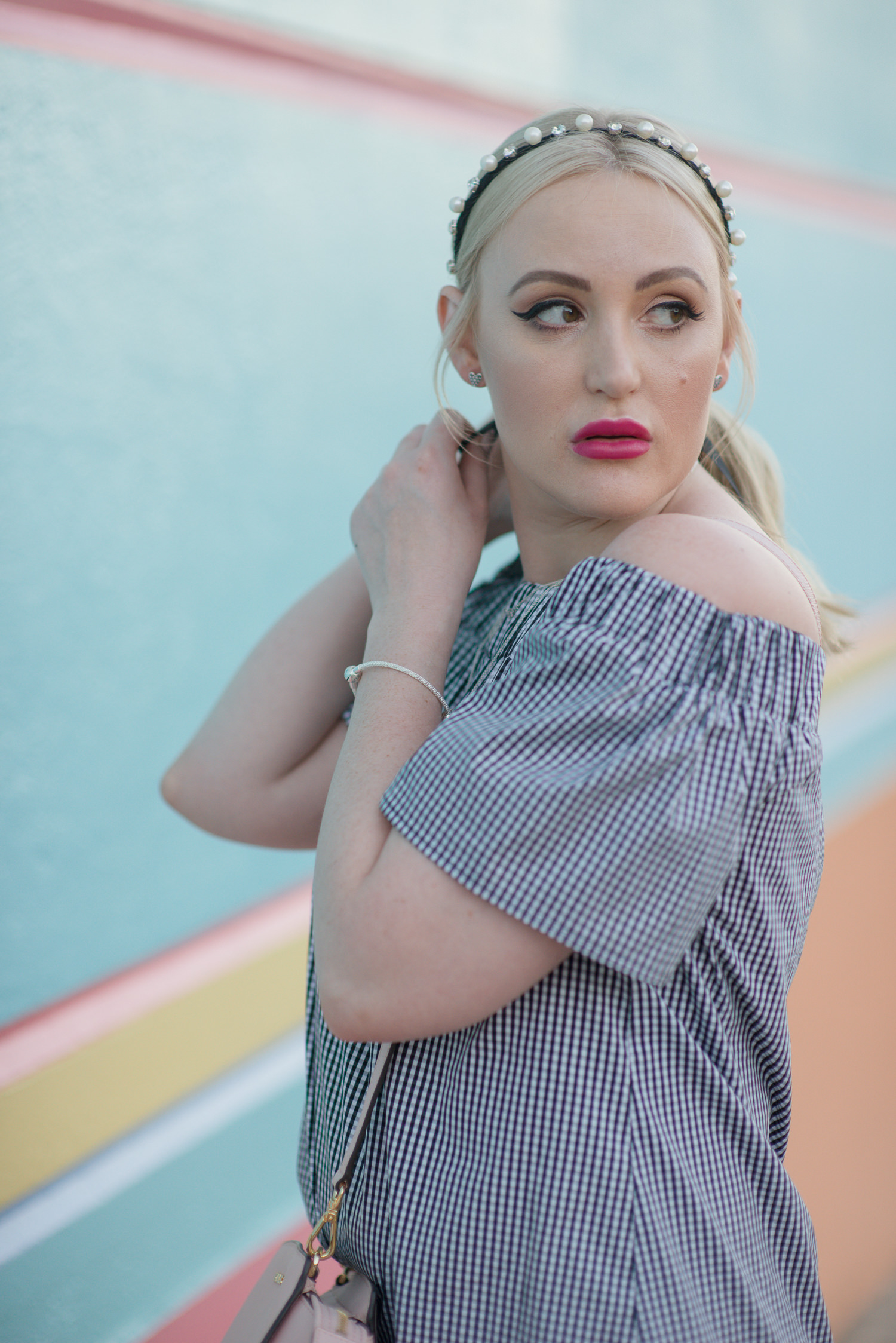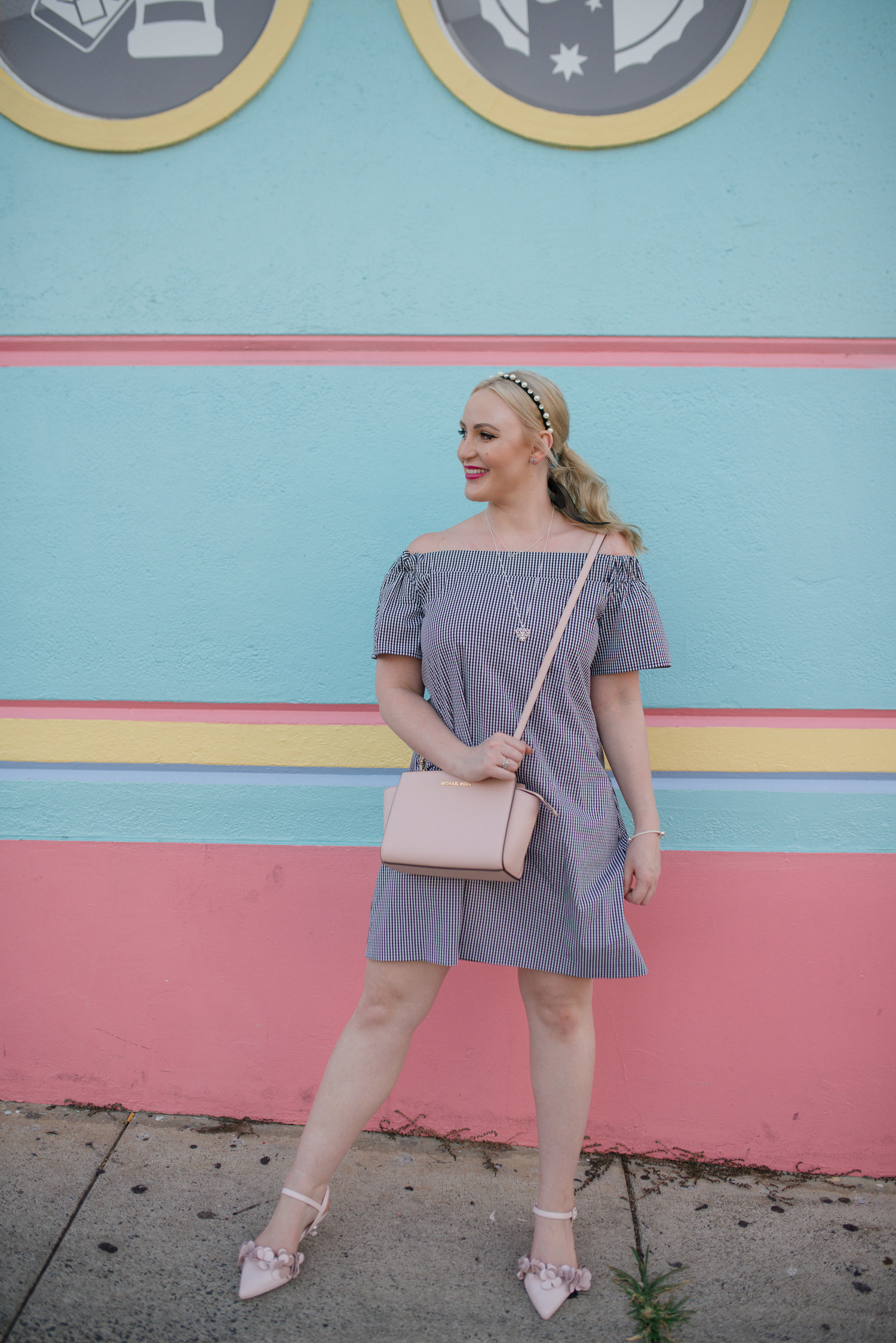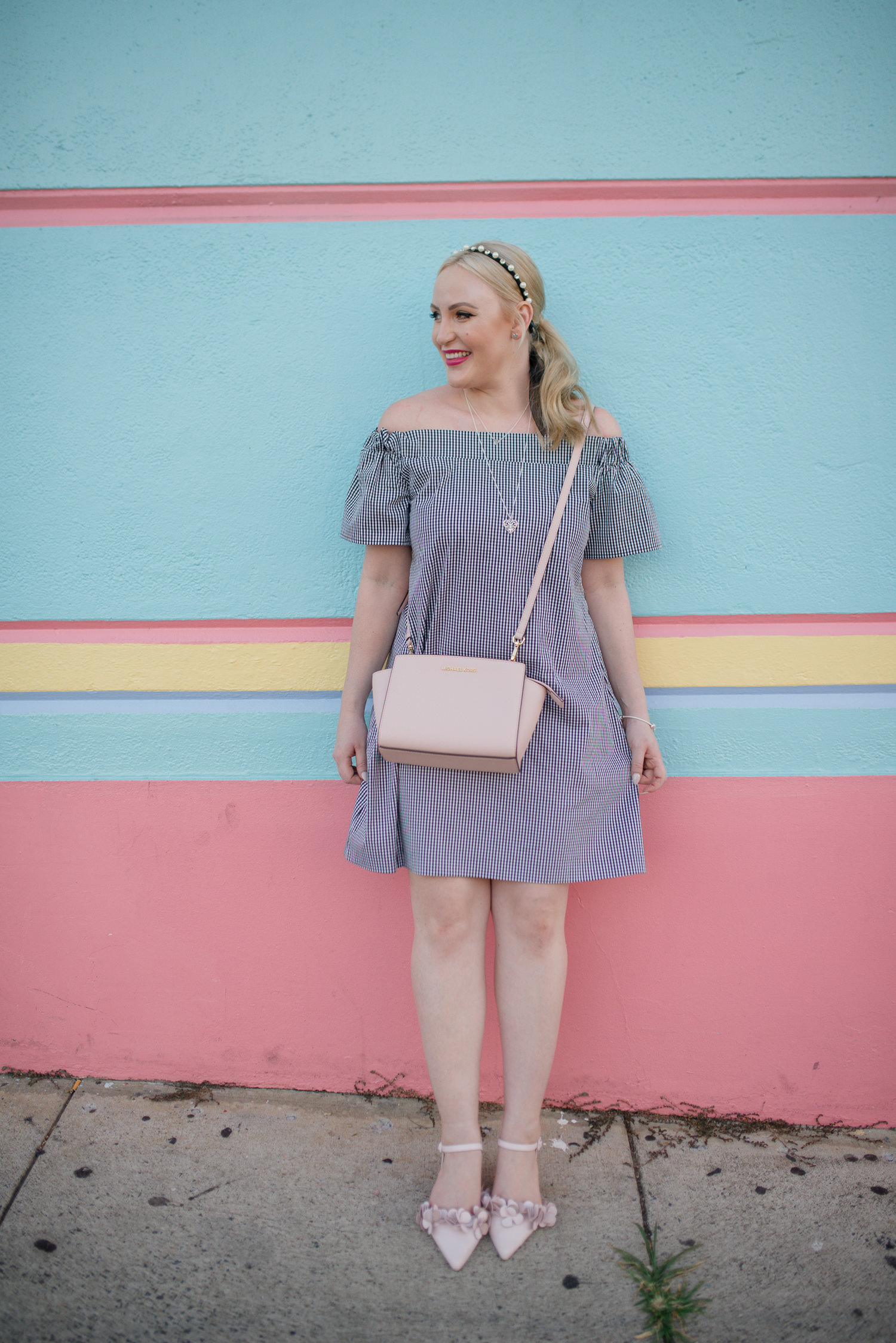 Cue CITC Off The Shoulder Gingham Dress, Wittner Wandy Pump, Pandora Hearts Of Winter Necklace, Pandora Hearts Of Winter Collier Necklace, Pandora Heart Of Winter Ring, Pandora Hearts of Winter Earrings, Pandora Bracelet, Michael Kors  Selma Messanger Bag (similar style here), Milk & Soda Pearl Diamante Headband.
Gingham – summer's little muse is definitely at play and I'm totally coveting all things check! From breezy off the shoulder blouses, to playful shift dresses, there's nothing that says casual chic than a monochrome motif. Take this relaxed shift from Cue, it's light, brunch appropriate and currently on sale. Combined with the right accessories ie, pops of baby pink and splashes of new season Pandora, I'm ready for a cute pre Valentine's date or tapas with the gals.
I'm simplifying the task of sourcing for all you busy fashionistas and rounding up my favourite gingham finds. Ladies start your engines as these pieces won't stay around for long 😉  Happy Shopping!
Clockwise:
SHOP THE POST:

Photography by Erin Smith Photography
---