Slaying The Jumpsuit + Blazer Combo w / Feather + Noise
Monday, May 21st, 2018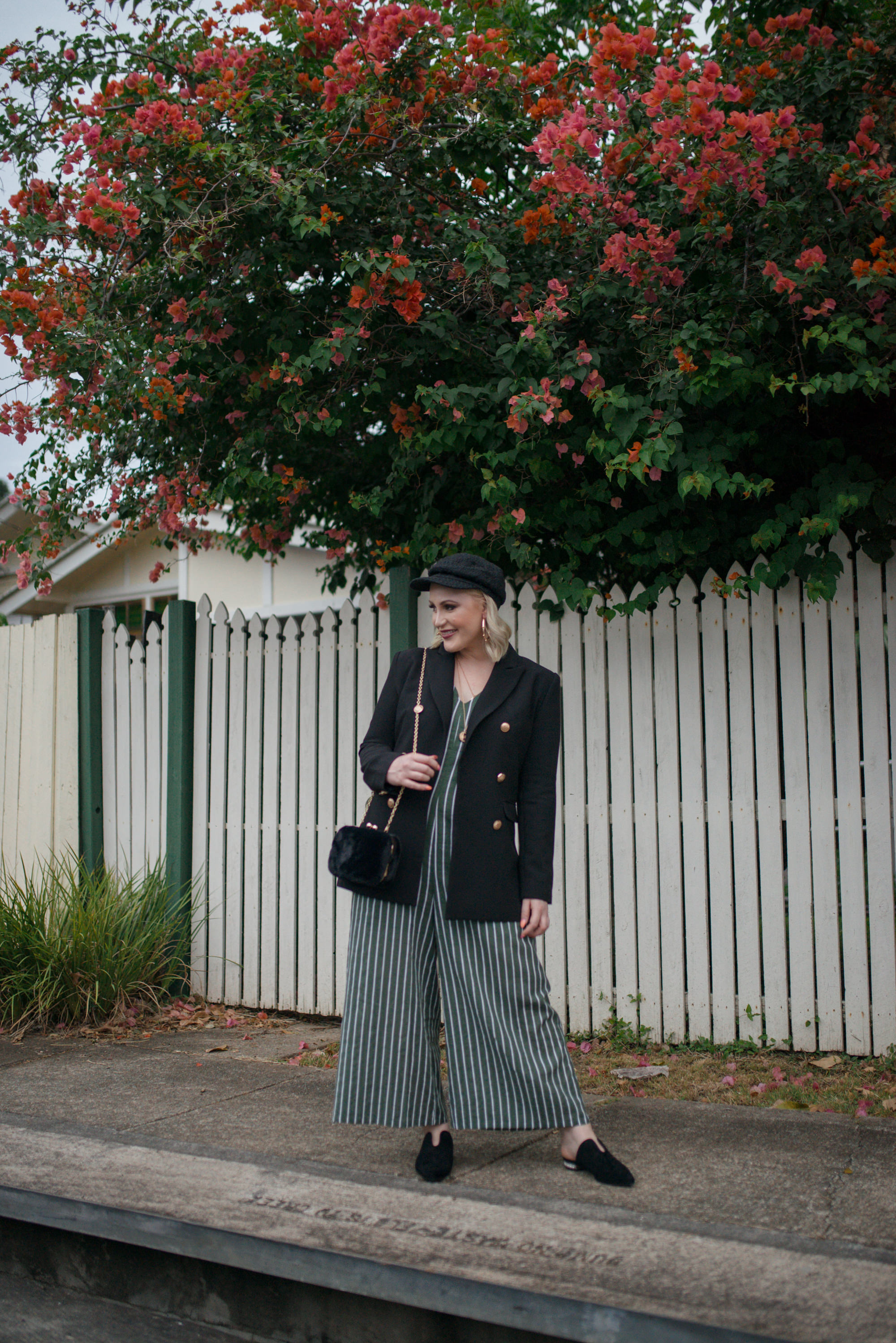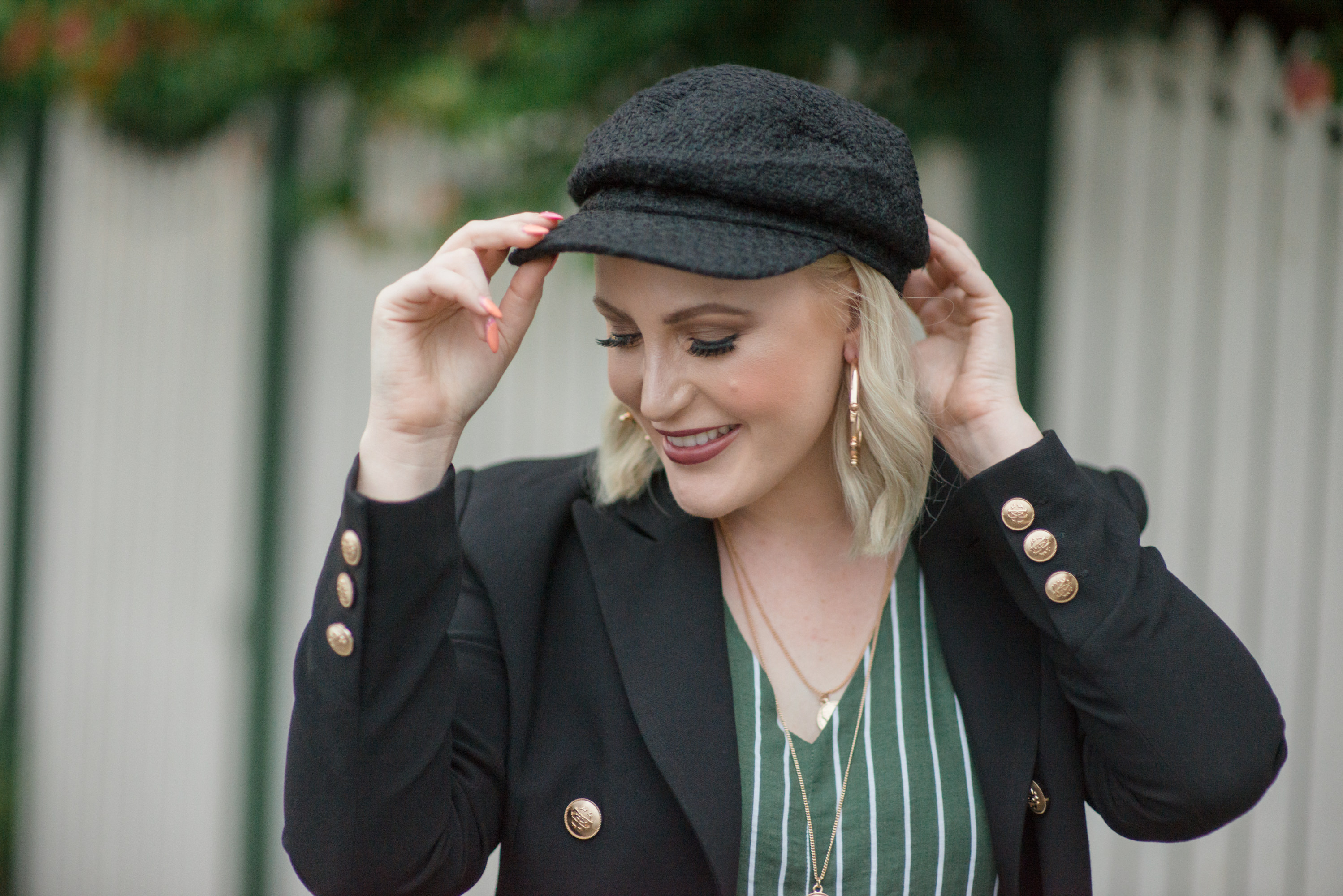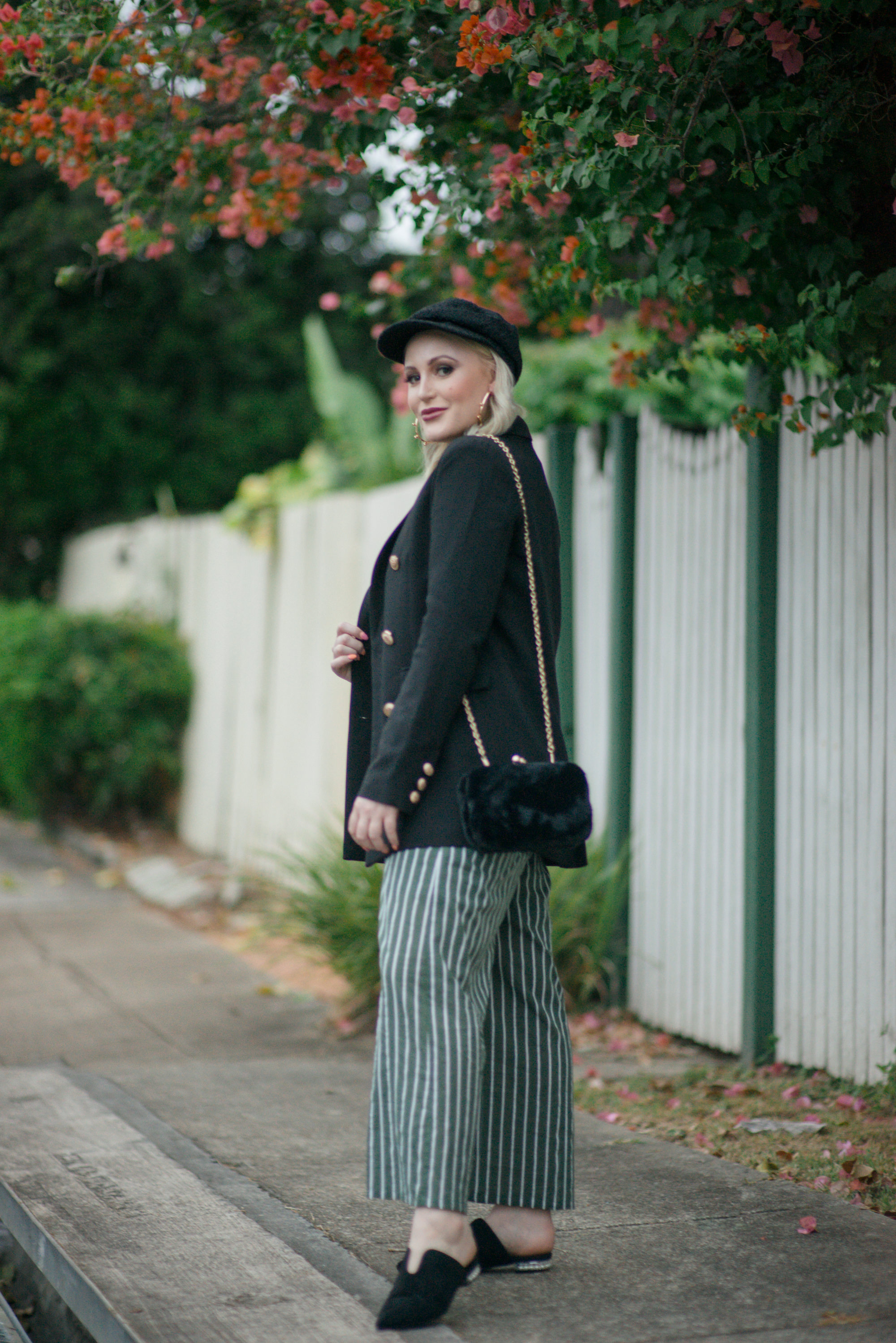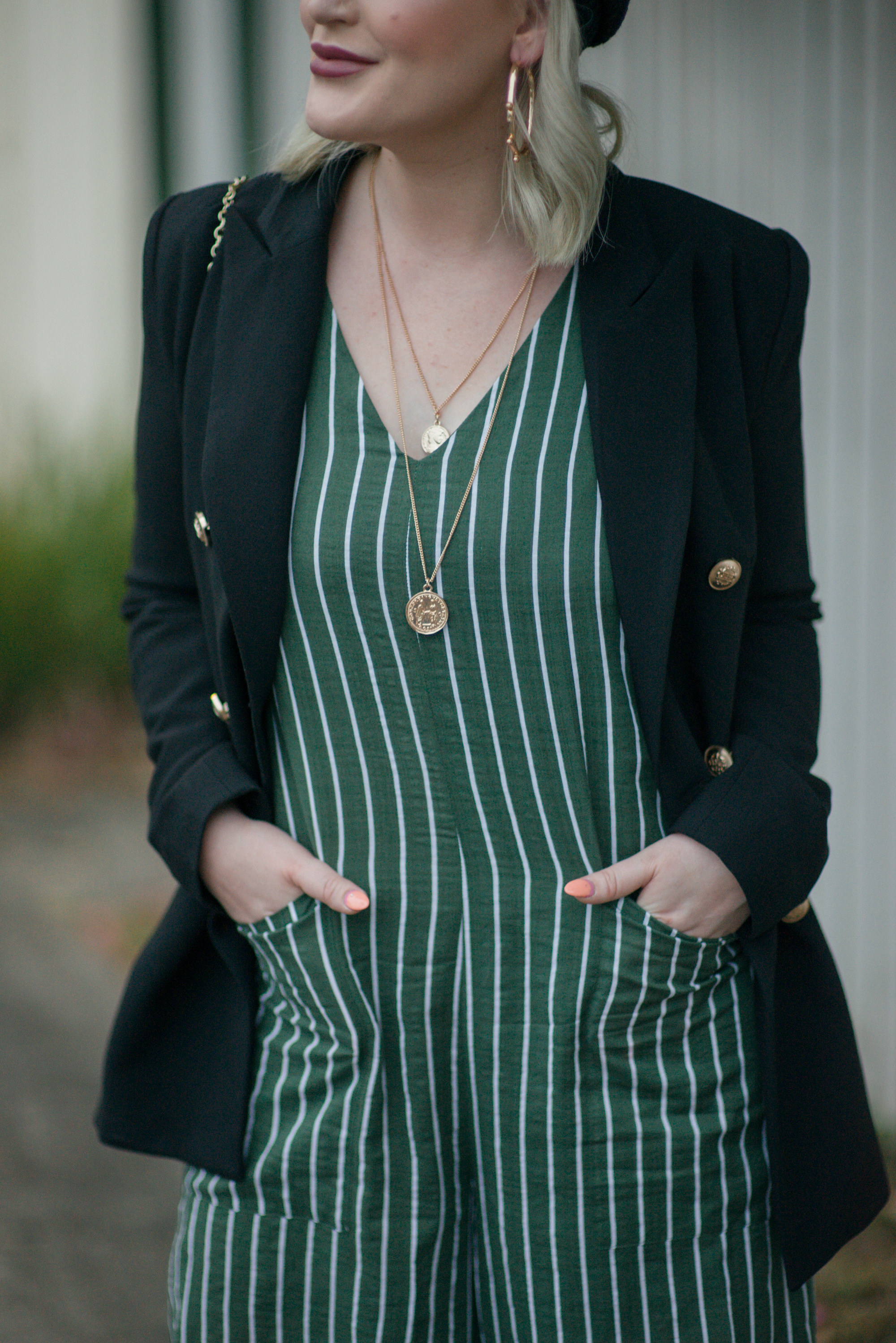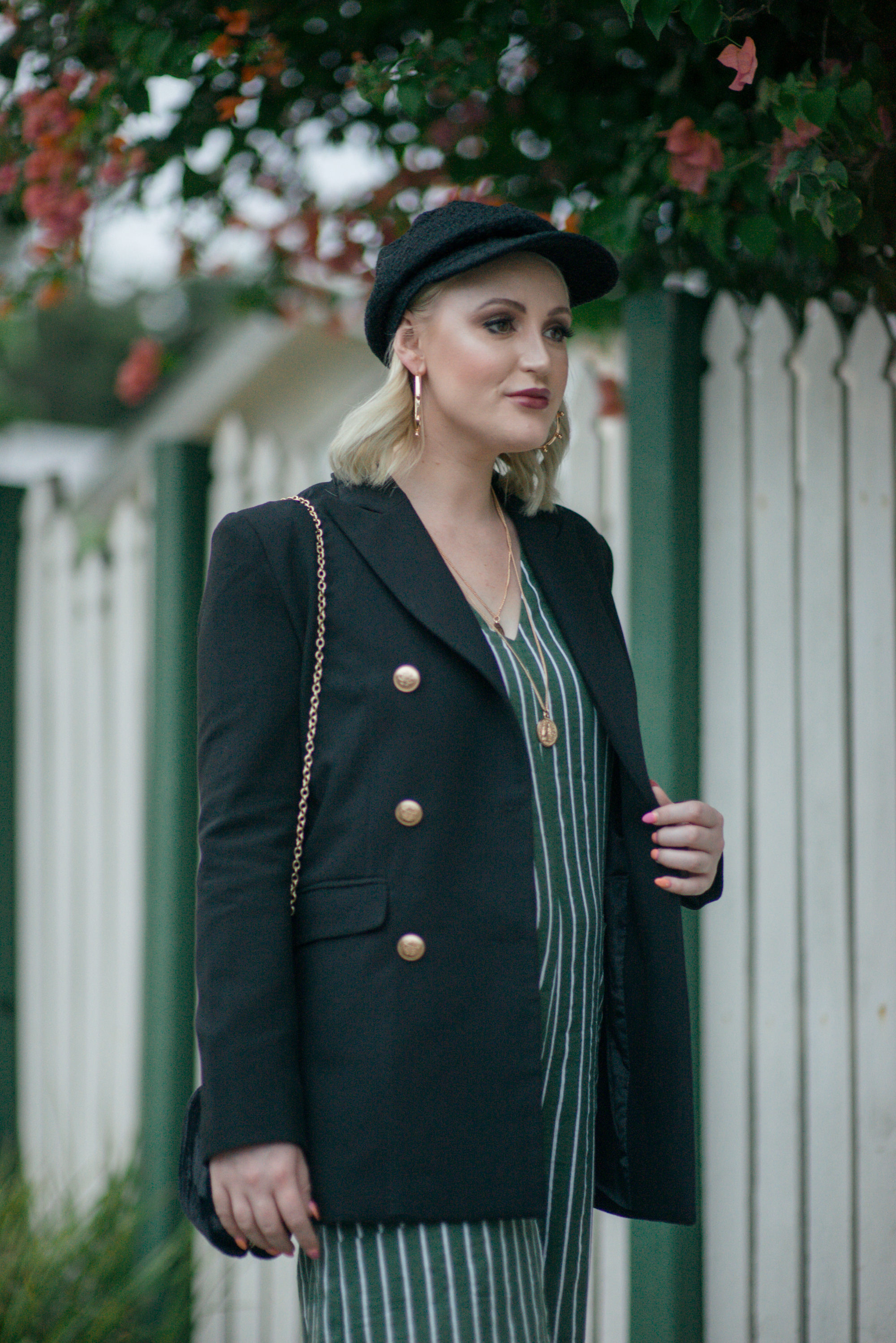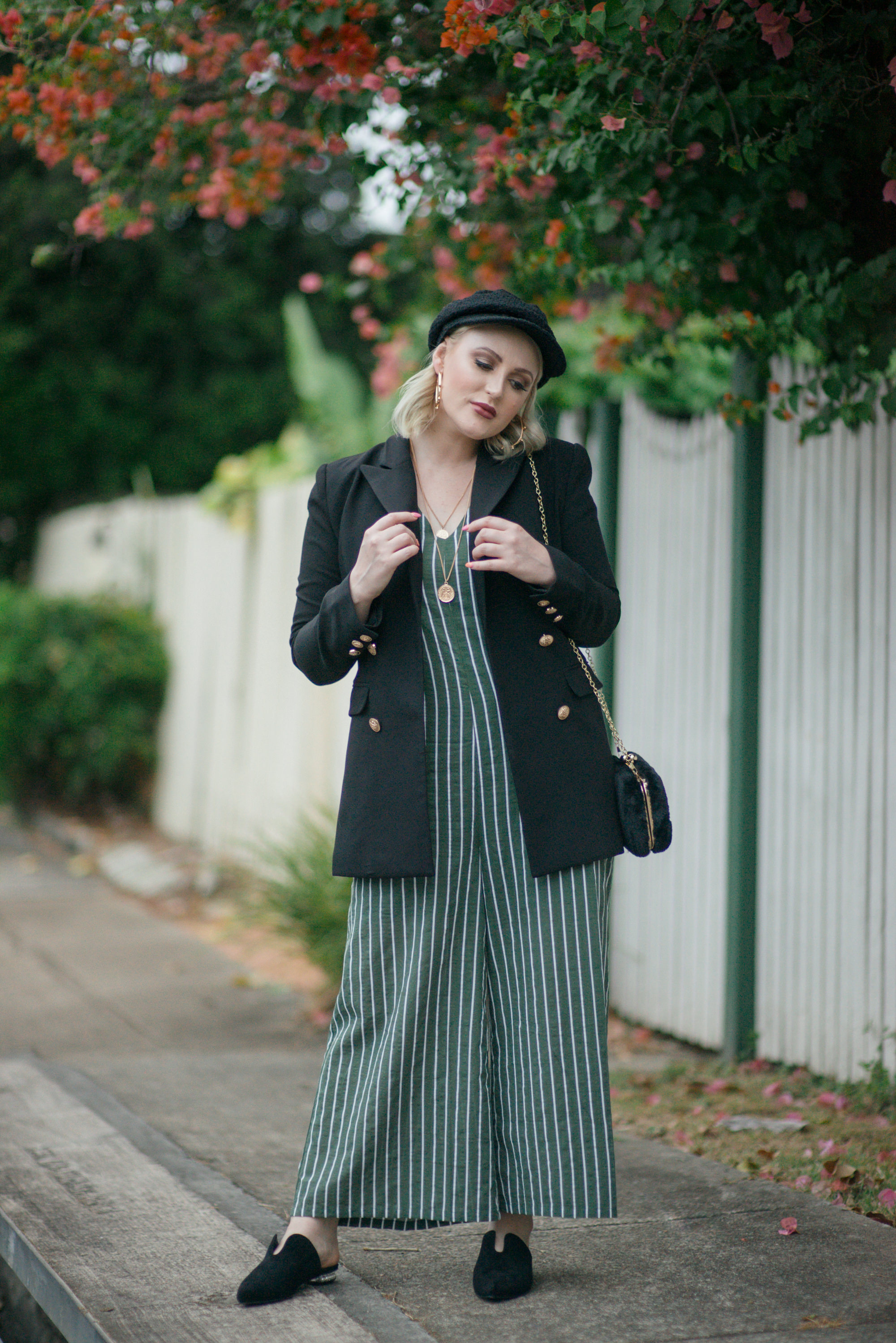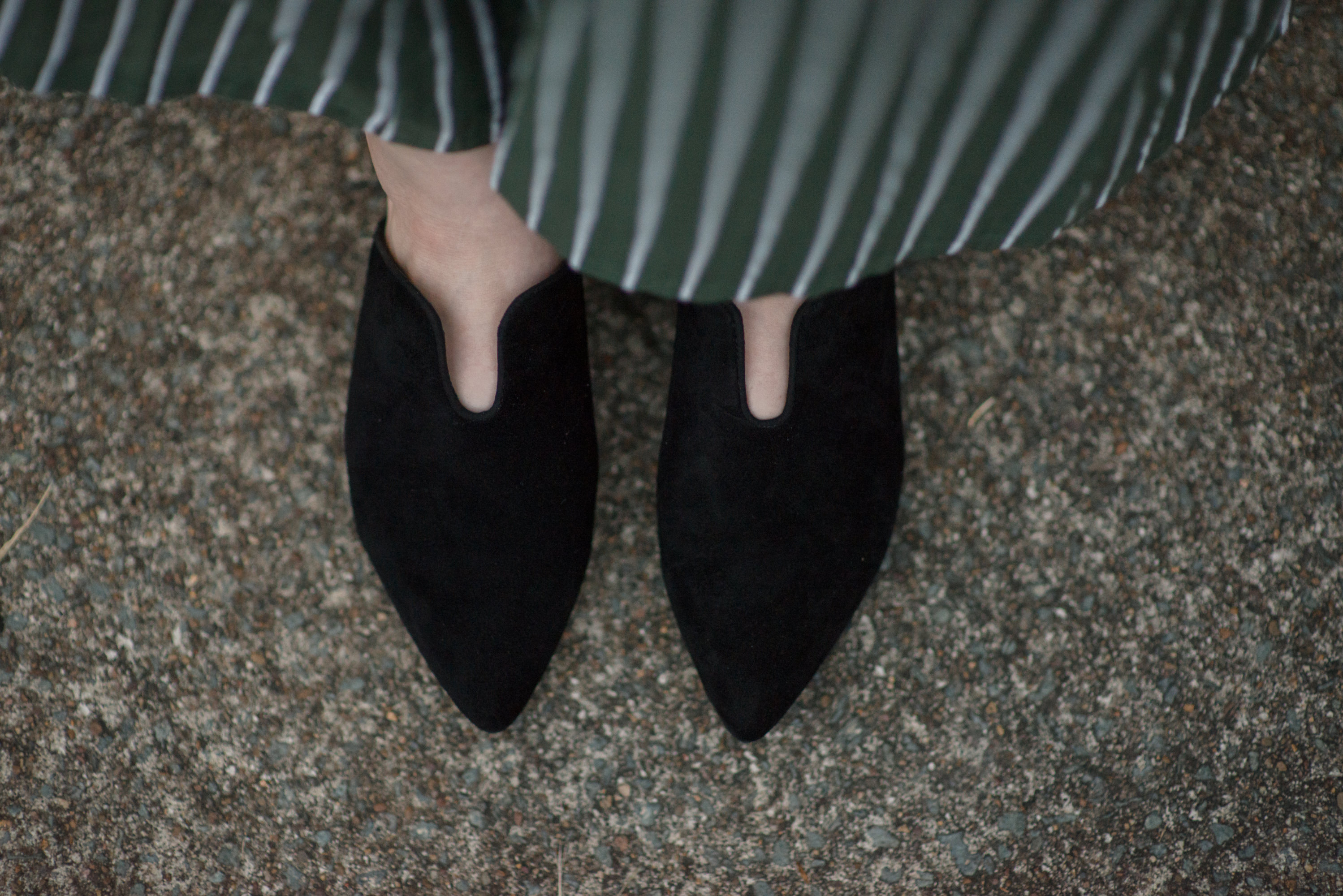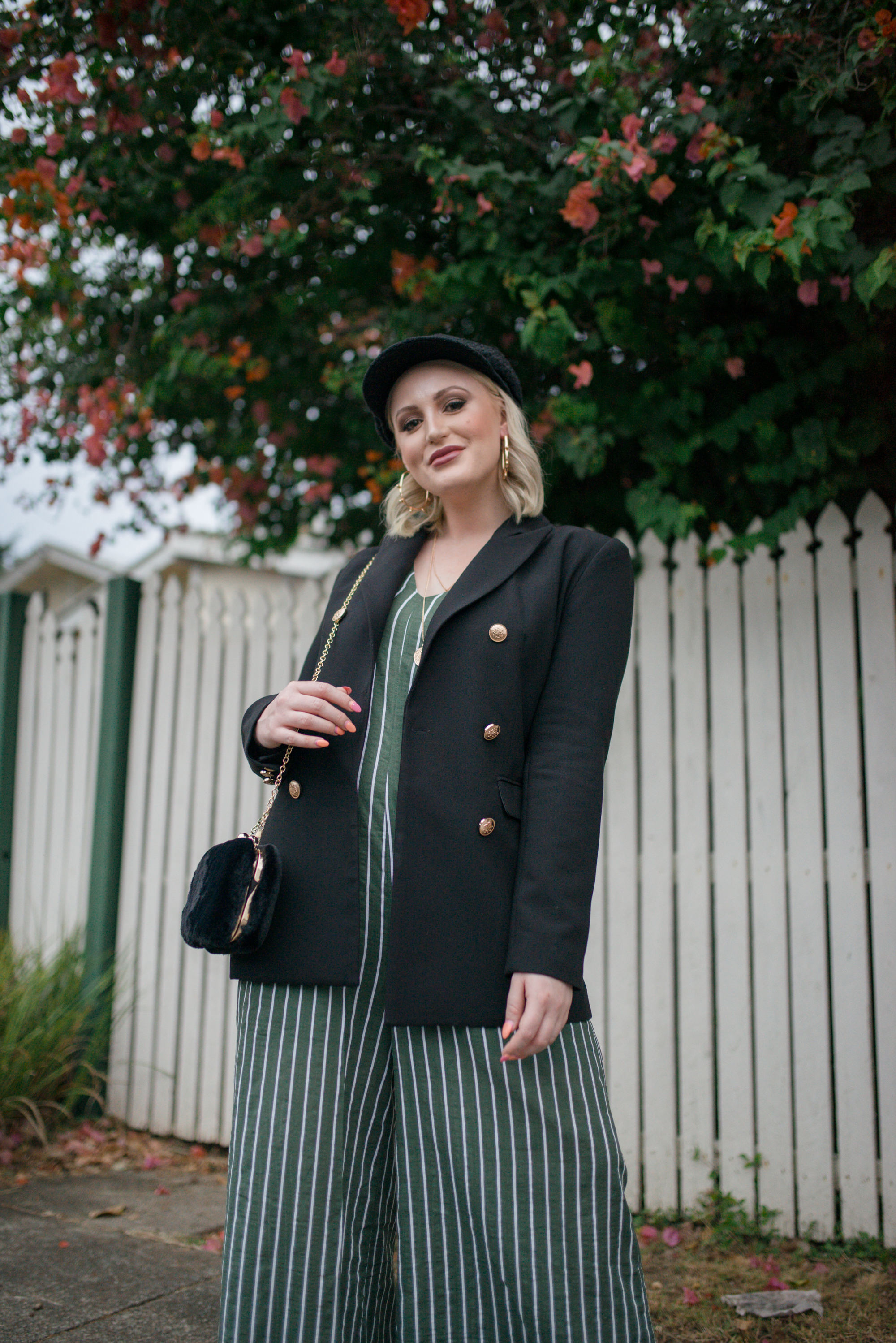 Feather + Noise Felix Jumpsuit & Giselle Blazer; Adorne Fishermans Hat, Fur Ball Clasp Structured Clutch, Hoop Earrings, Double Layer Coin Charms Fine Necklace; Jo Mercer Wisteria Flats.
Ladies, it's no secret that I love me a jumpsuit and I've been dreaming of styling up this Feather + Noise find since it hit the new arrivals online! No doubt it's a strong, optical statement with it's vertical stripe print and wide leg structure, but for me that just adds to it's appeal, especially when teamed with the right accessories.
To transition this piece into the upcoming winter season, I've added a gorgeous blazer, also from Feather + Noise. I'm not sure which detail I love most; the double breasted ornate gold buttons or the structure seen in the shoulder pads. Either way this piece will be on constant rotation.
I've also added my very first pair of mules to my robe and the pearl details seen in this Jo Mercer style are simply divine. Not to mention, this shoe is a godsend for those girlbosses on the go.
Some final sass is seen through Adorne's new accessories and girls, I'm O B S E S S E D! This is your one stop shop for any cuteness within the handbag, jewellery and headwear category.
SHOP THE POST:
Photography by Erin Smith Photography
---
Zara #DearAustralia: Ft My Fav Staple
Tuesday, May 1st, 2018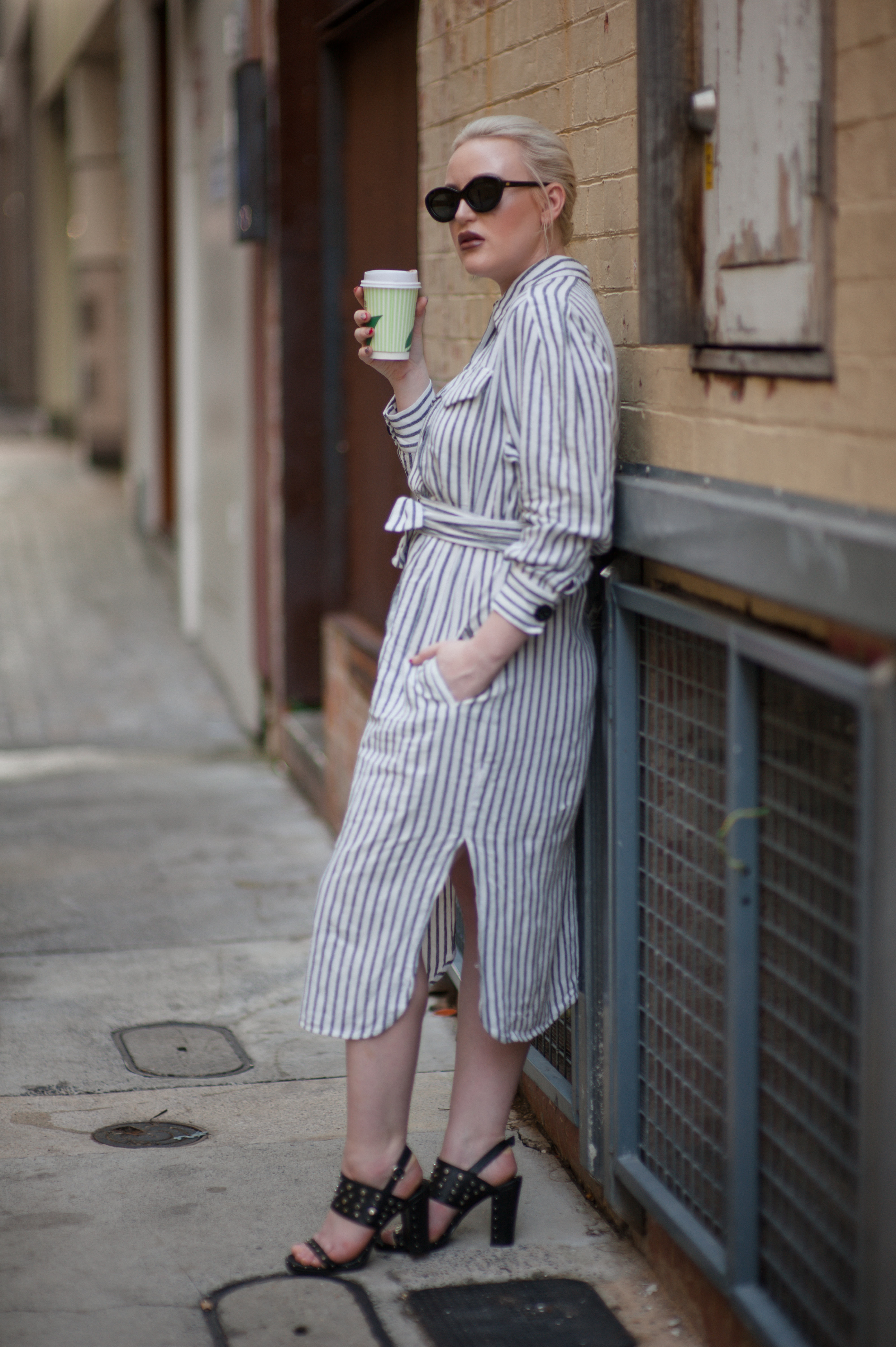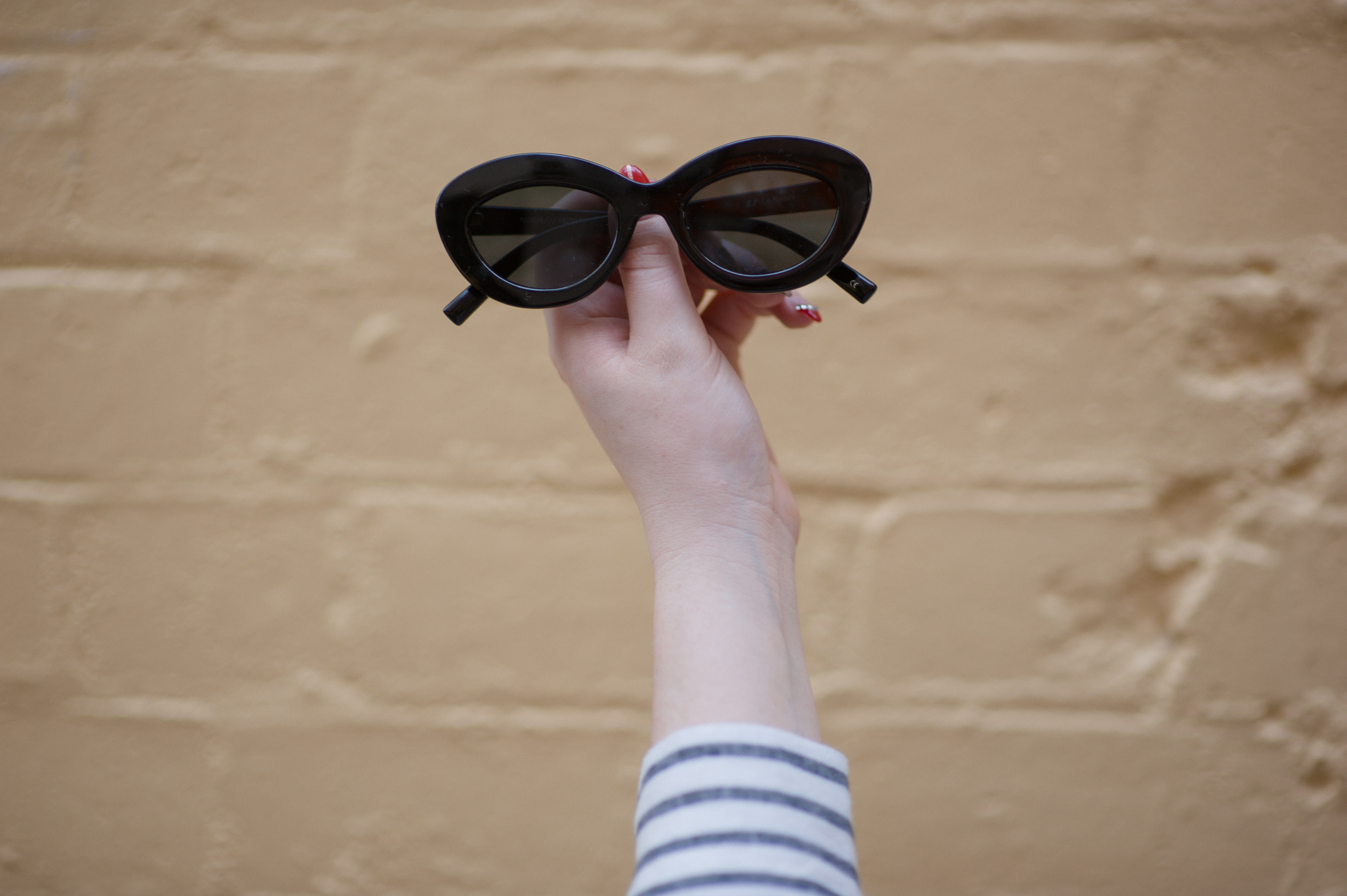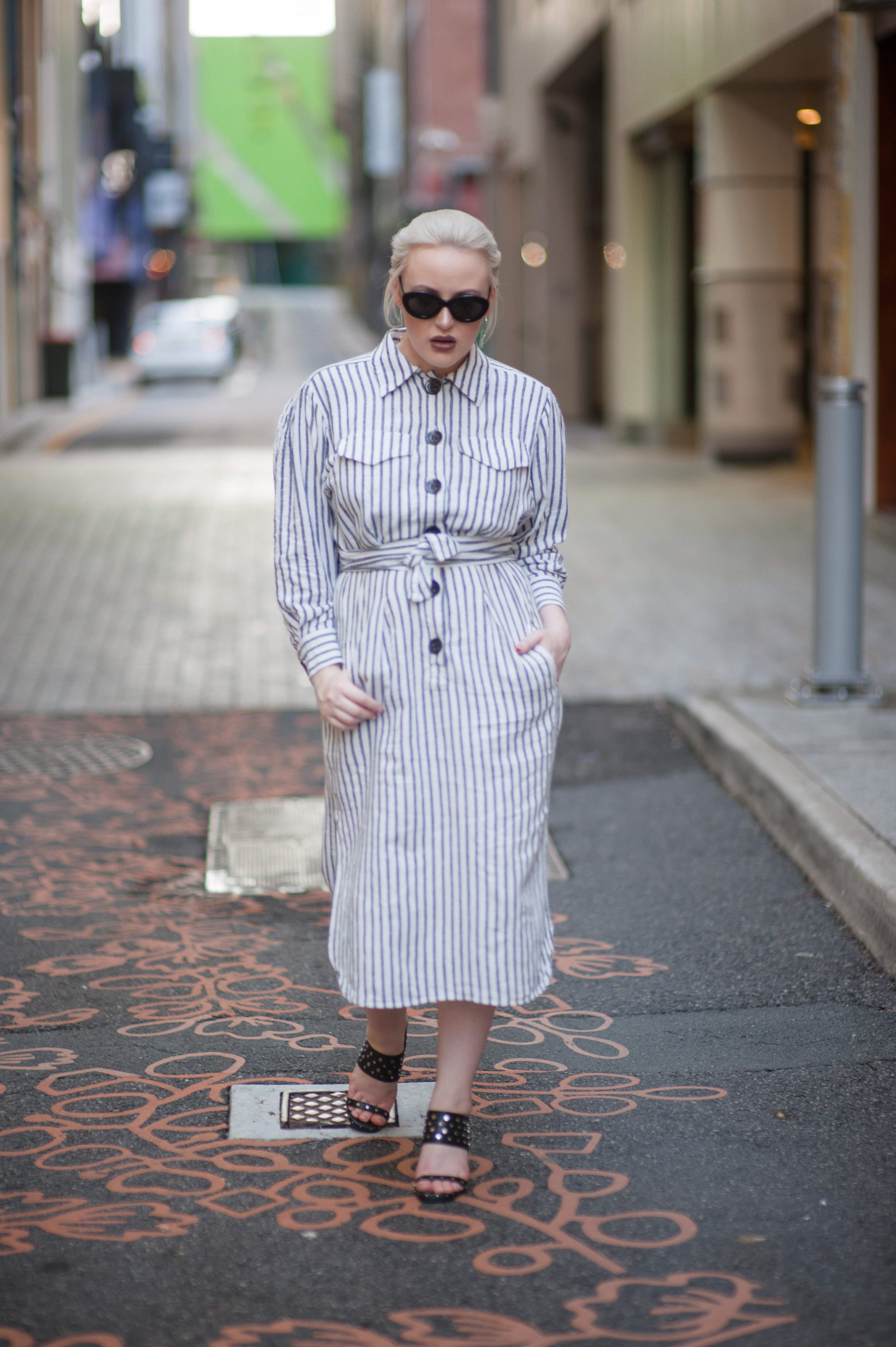 Zara Striped Dress With Bow, Wittner Floyd Sandals, Molten Store The Melancholy Earrings, Le Specs Fluxus Sunglasses.
I speak on behalf of all Australian women (assumedly) when I say that the Zara #DearAustralia movement was an absolute game changer (*insert praise emoji). Since it's release, I've been shopping up a storm, but today I'm highlighting my pick of the mix, showcasing my favourite seasonal staple, the Striped Shirt Dress.
This garment has seen me through a variety of fashionable moments, helping me to sashay into the workplace and taking me from desk to dinner with the girls. What I love this piece is its relaxed form, cinched with a bow at the waist. Of course the puff sleeves, collared neckline and oversized buttons certainly add to it's charm.
Team this frock with a pair of block heels for those dressier moments, or slip on a slide and head straight to brunch. In this case, it's time for a quick coffee before heading back to the office.
Ladies, have you ventured onto the Zara app? What has caught your eye? Let me know if the comments!
Photography by Erin Smith Photography
SHOP THE POST:

---
How To Channel Boho Chic
Sunday, April 15th, 2018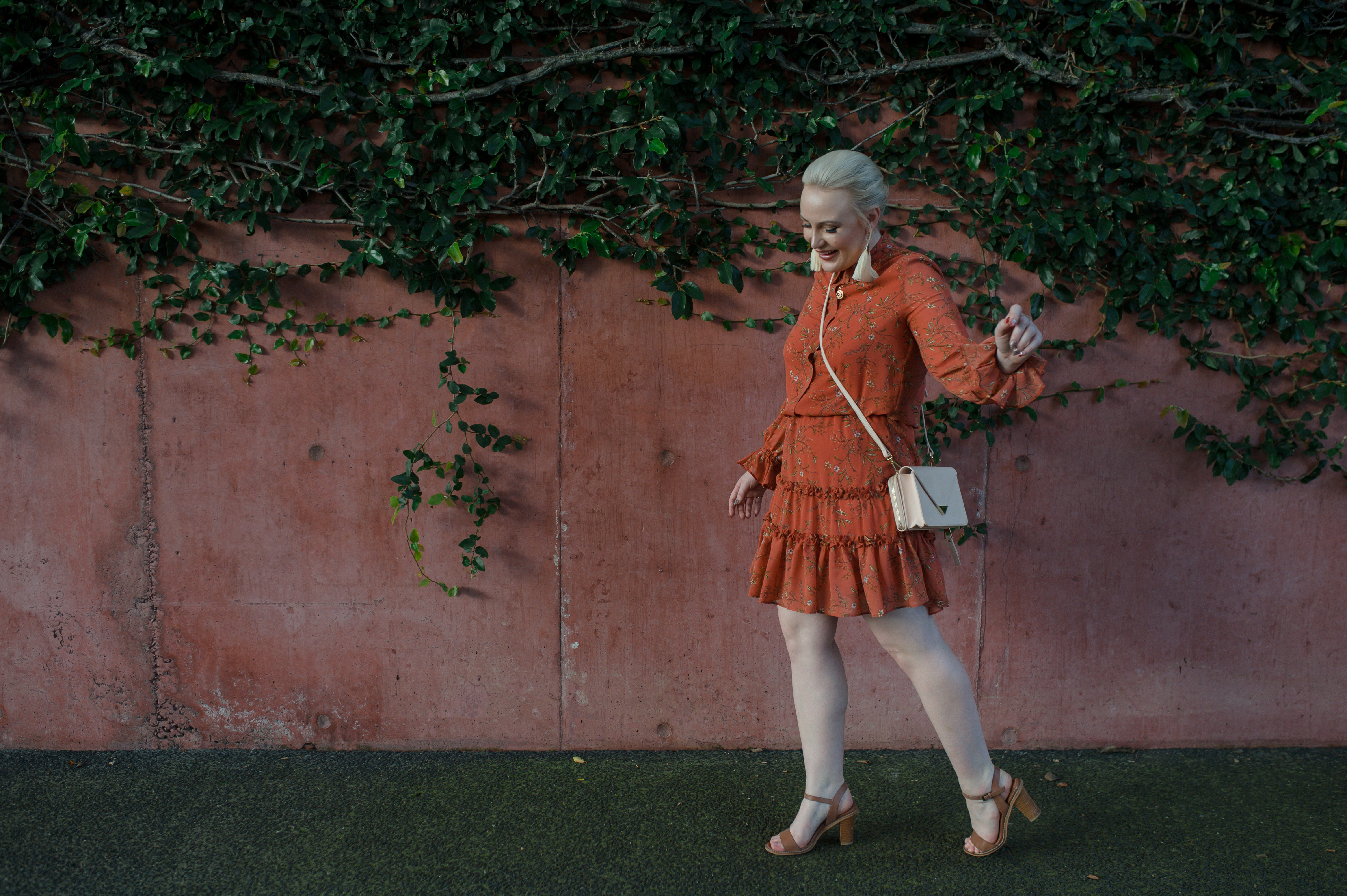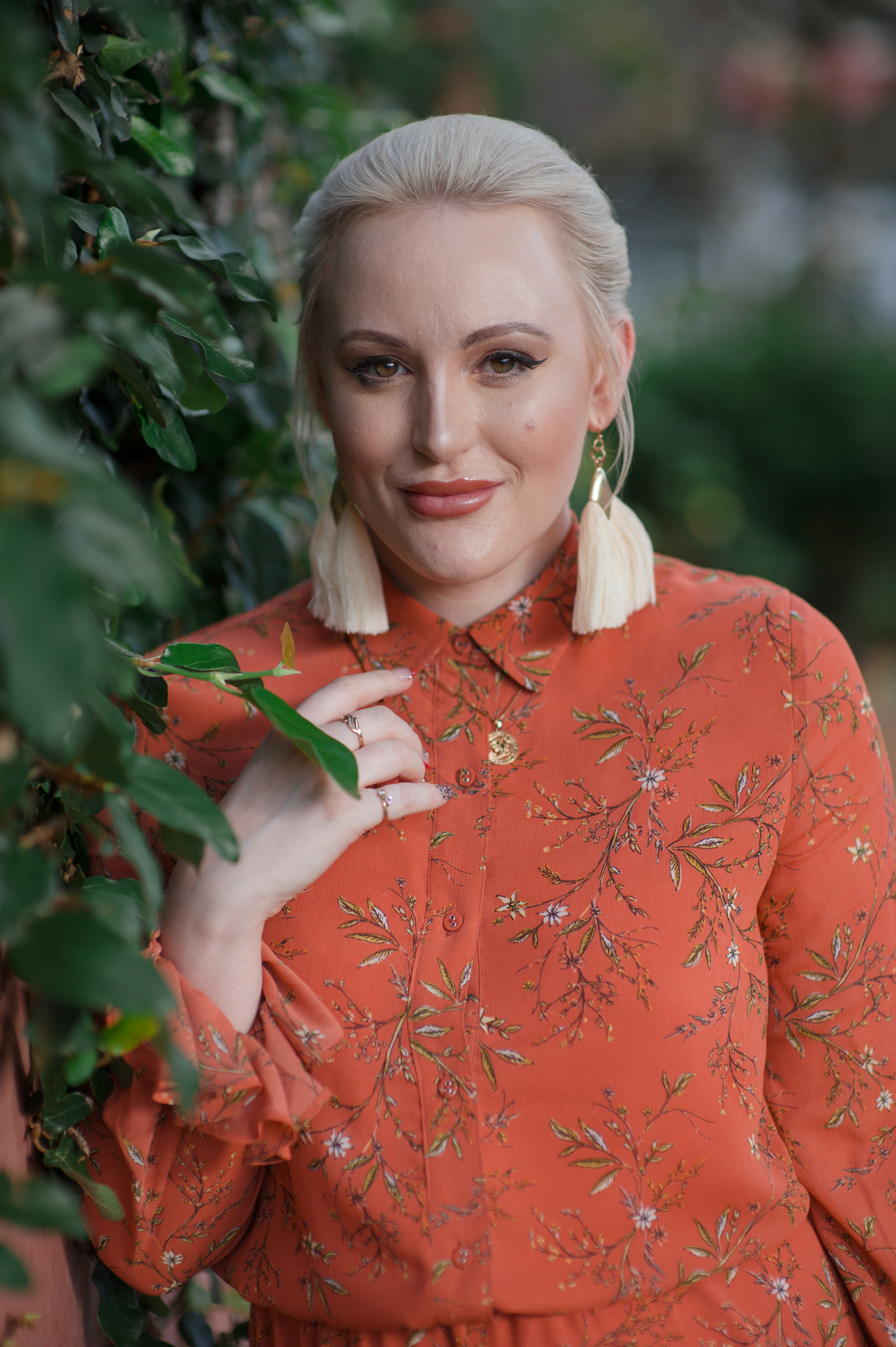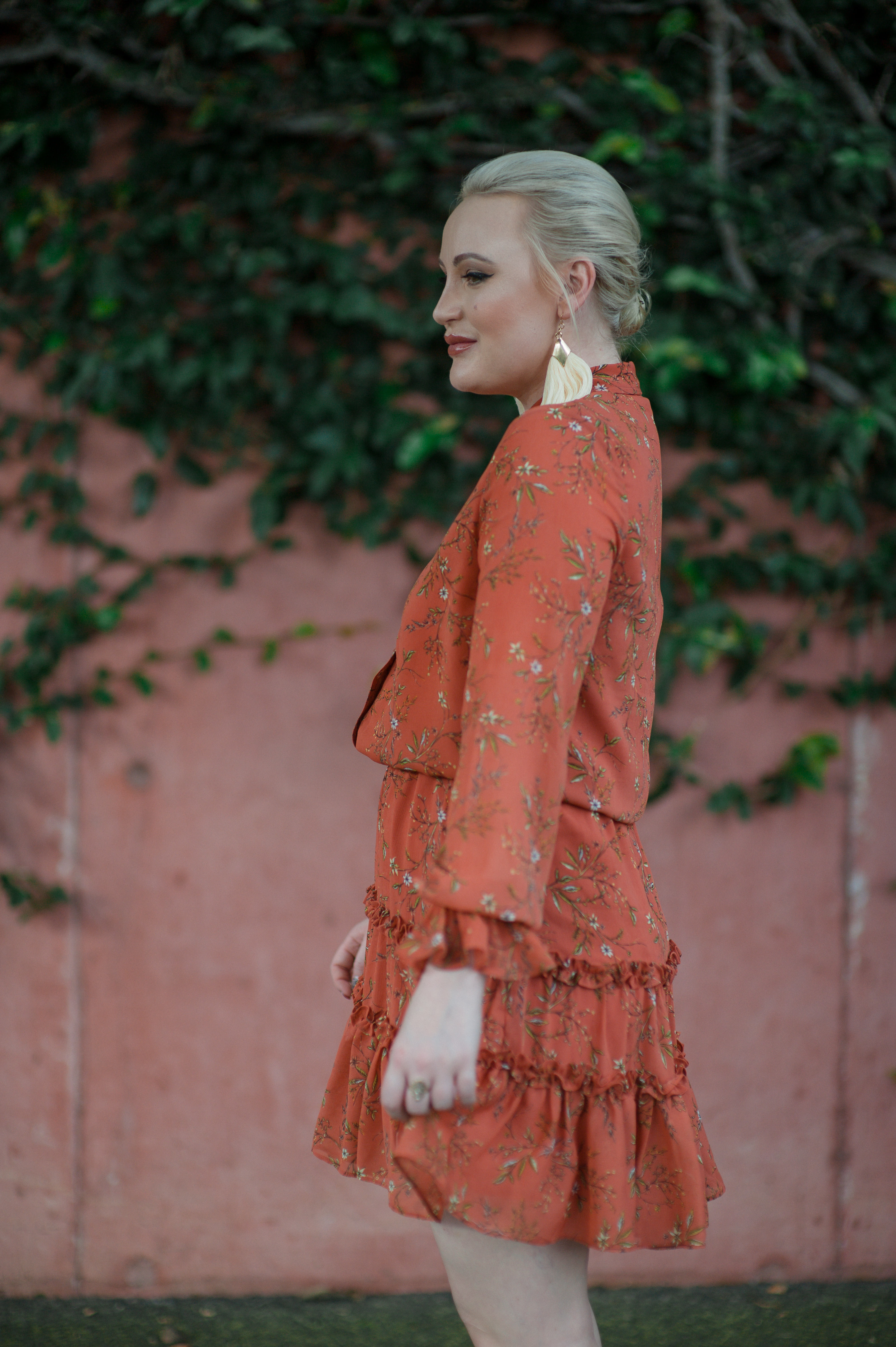 Jag Artisan Dress, Jo Mercer Erasmus Sandals, Adorne Fringe Earrings, Marcs Bag (similar style here), Molten Store Zodiac Pendant Necklace.
Ladies, I absolutely LOVE the concept of boho, but it's not usually part of my classic aesthetic. However, find me a frock in a terracotta hue, highlighting florals and frills and I'm singing a different tune! Can we just take a moment to appreciate this Autumn appropriate Jag number (currently under $100) which is going to transcend from work to play?
So how does one achieve that perfect combination of boho chic? Well, it's all in the details! For me I'm loving the button up collar detail, garnished by a golden Zodiac pendant from Molten Store. I'm teaming this pendant with a pair of tassel earrings from Adorne, because I like to keep things a little extra.
Whilst it wouldn't be boho without the glimpse of a braid, I'm adding my own little twist with a low, nape of the neck knot. Trust me when I say this hairstyle took a quick 5 minutes and was so easy to execute.
I'de love your thoughts cuties, should I incorporate more boho chic looks into my repertoire? Are there any particular labels you are vibing? Let me know below!
SHOP THE POST:

Photography by Erin Smith Photography
---
Hello, Dorothy!
Sunday, April 8th, 2018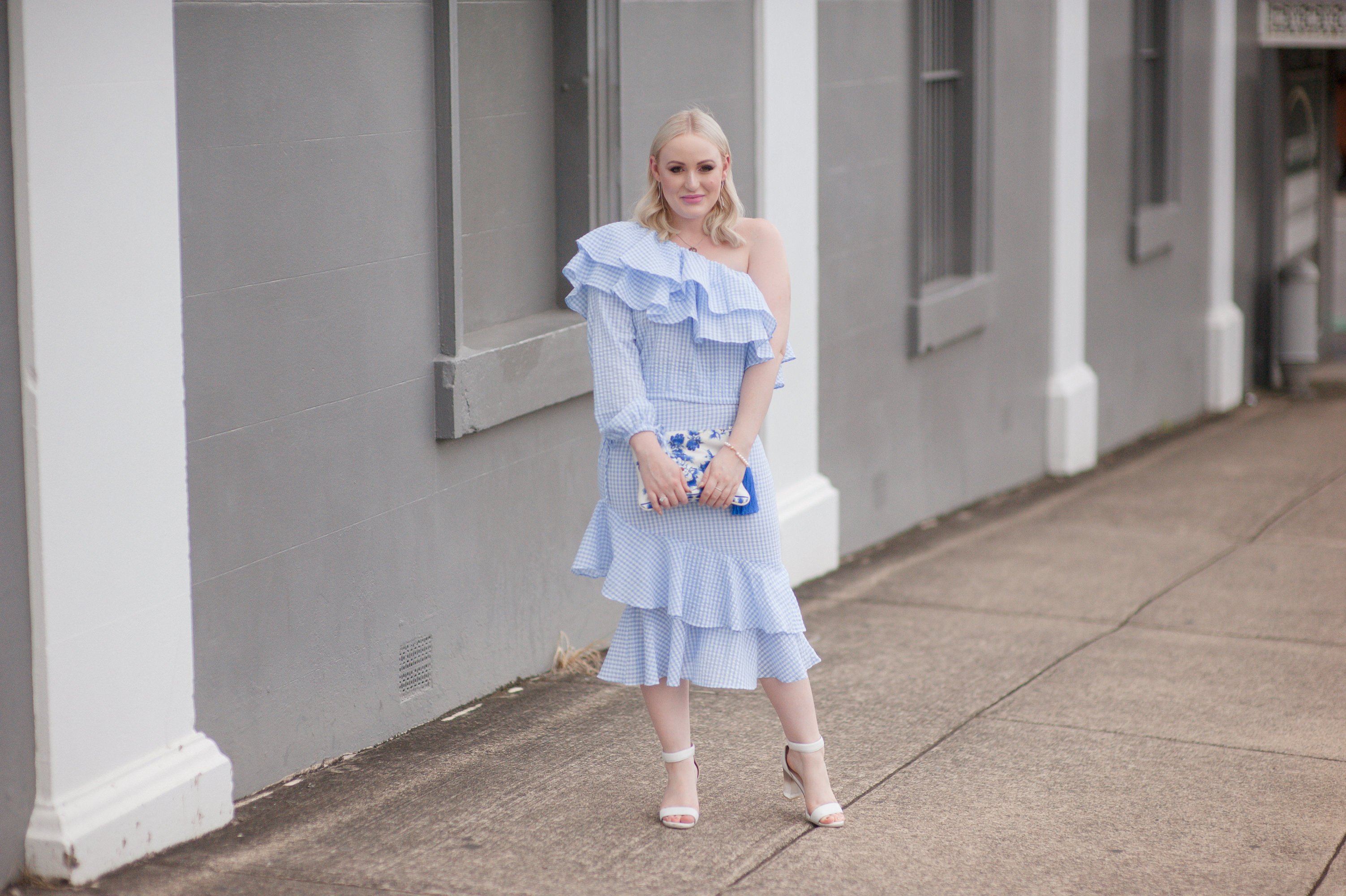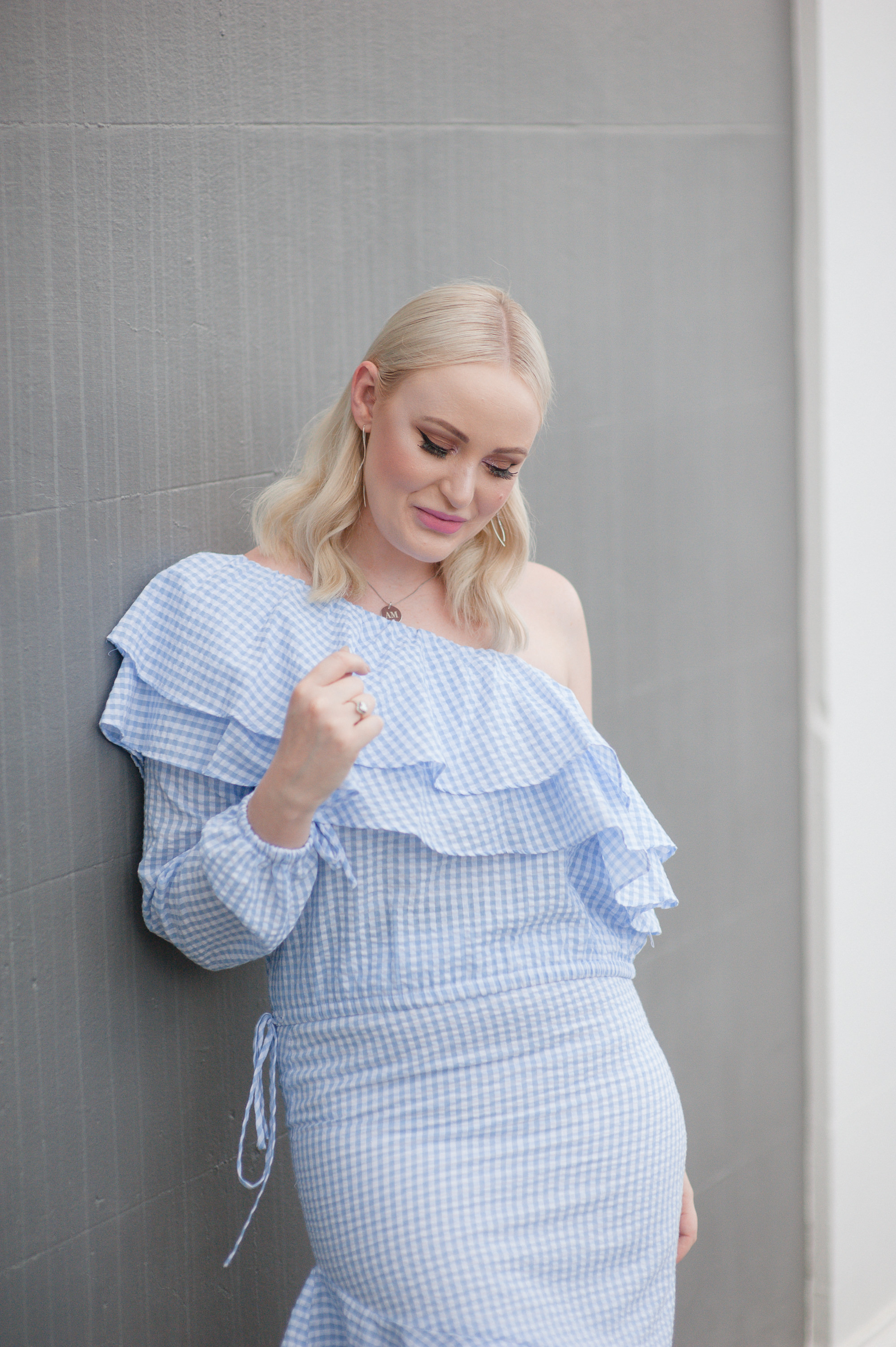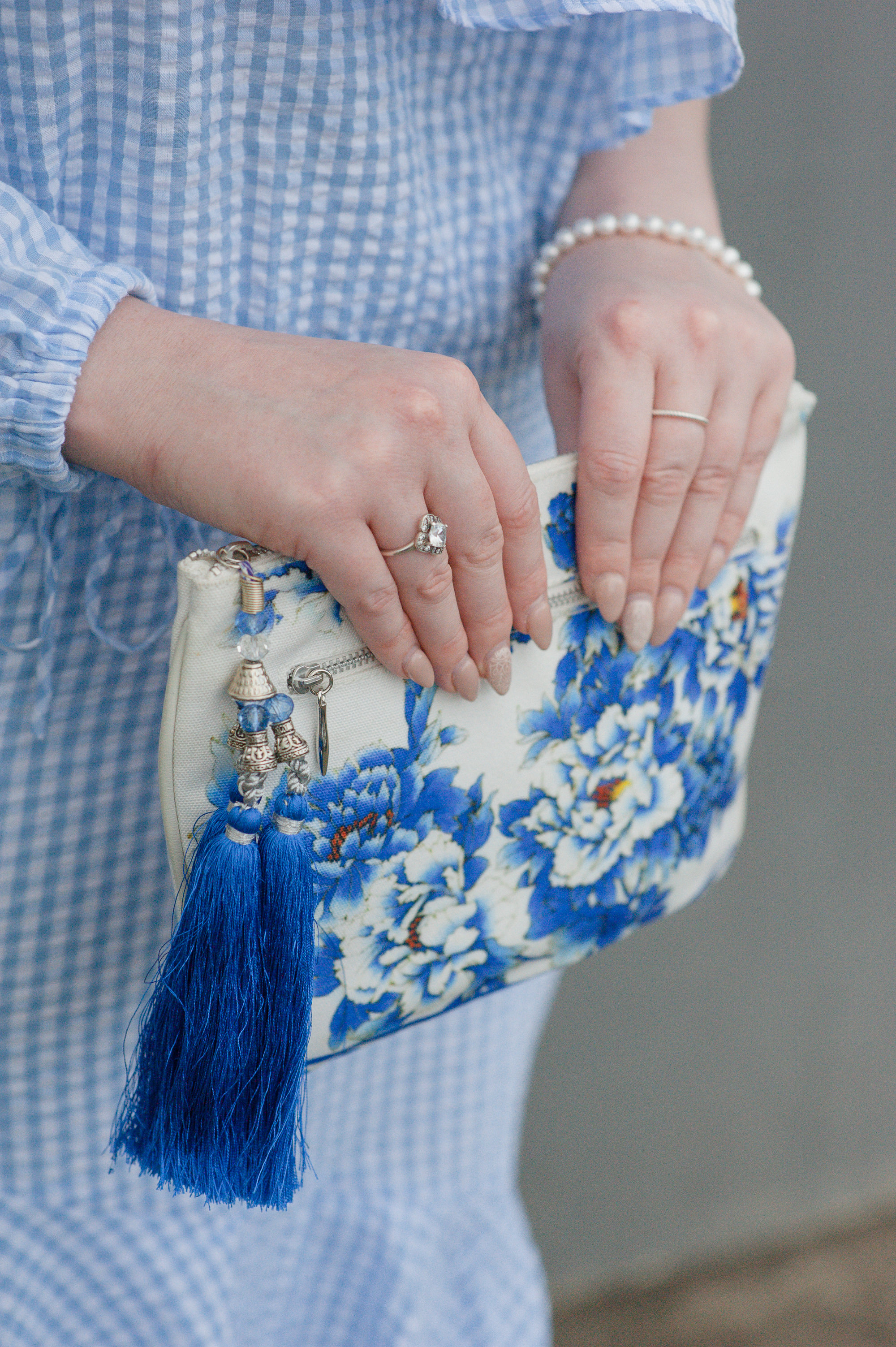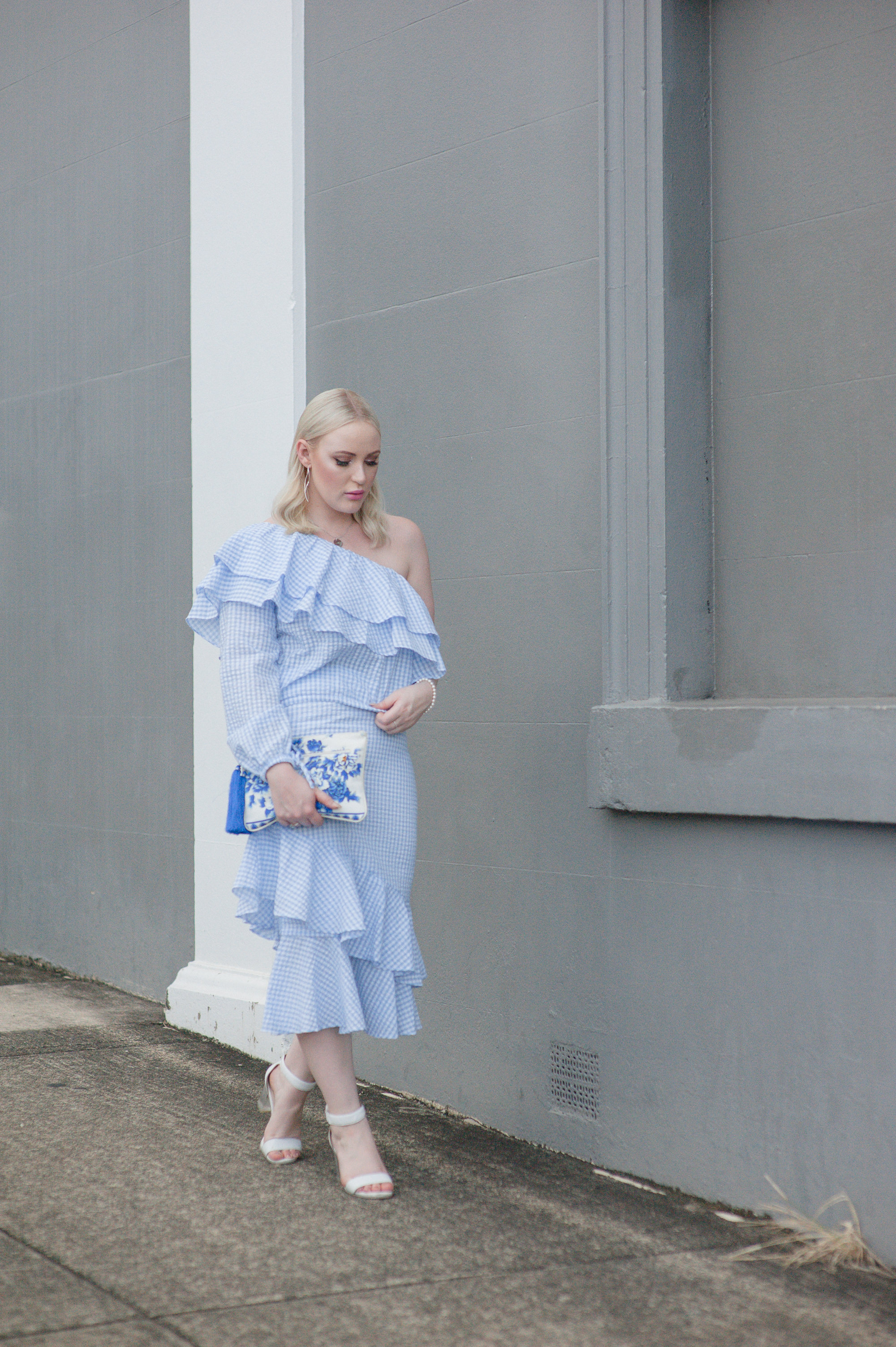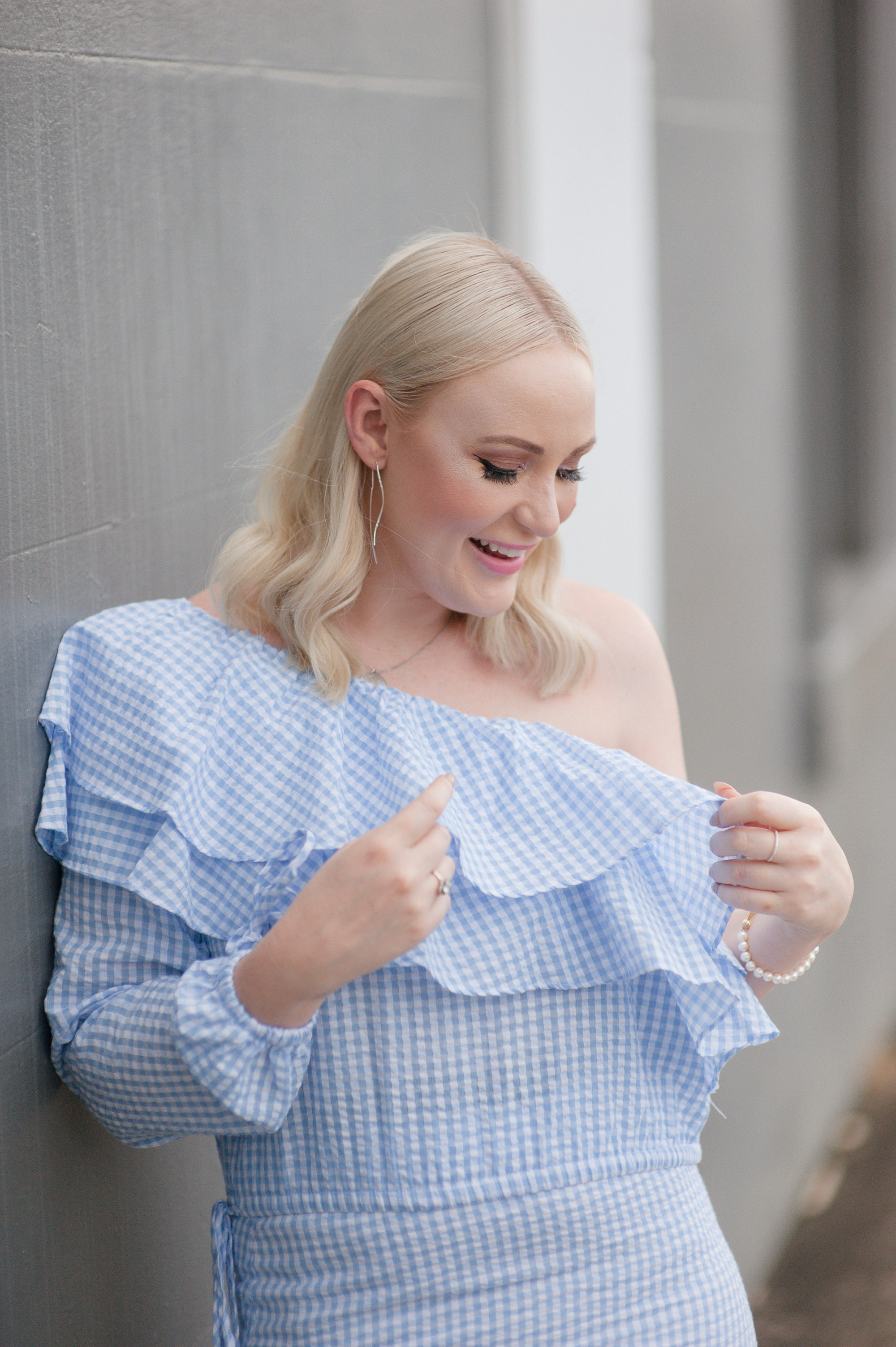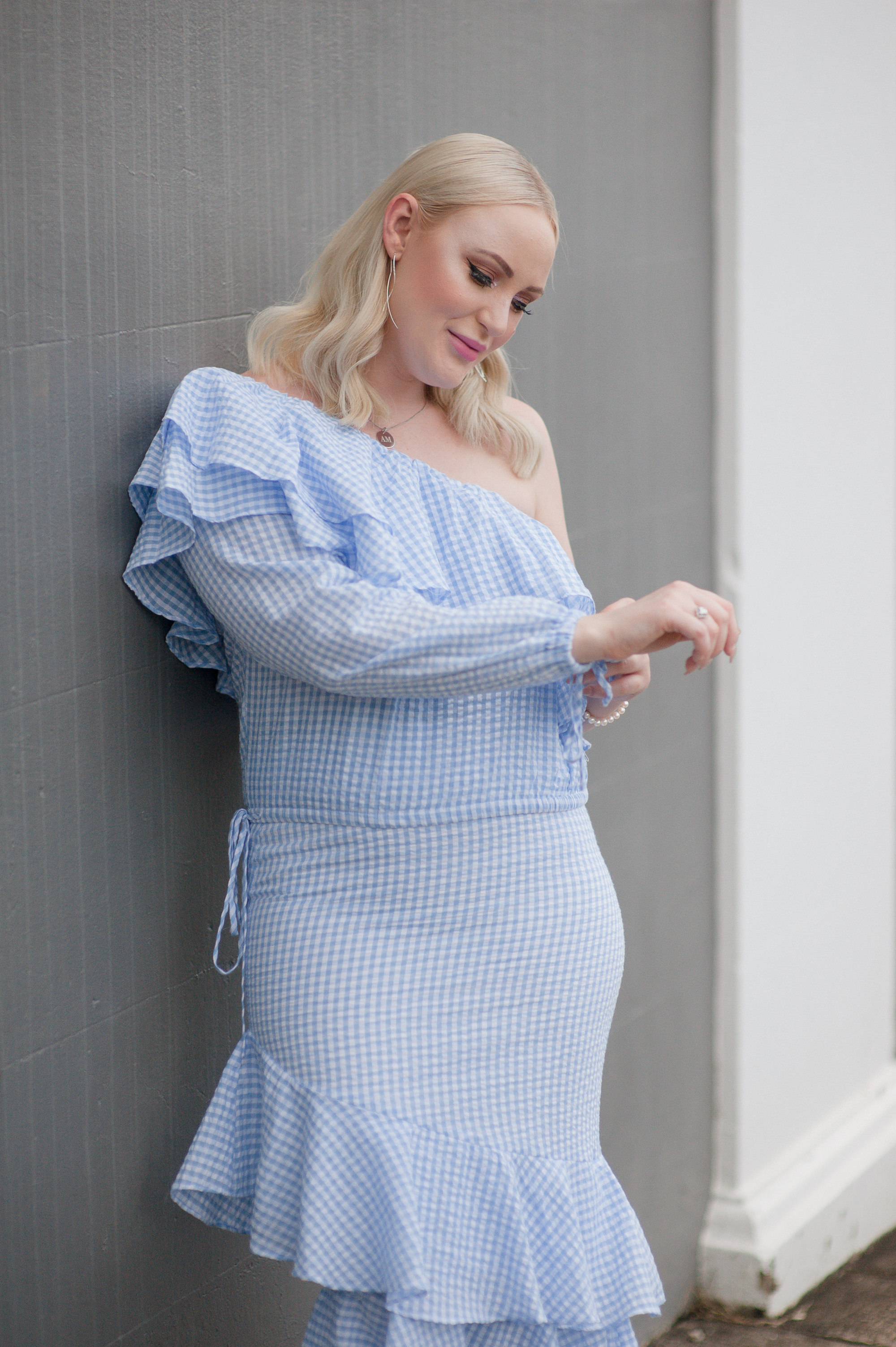 Lulu & Rose Lola One Shoulder Top, Lulu & Rose Bonita Skirt, Michael Bishop Personalised Silver Pendant, Molten Store The Melancholy Earrings, Camilla Clutch (similar style here), Wittner Otto Heels.
Who knew when Dorothy Gale blew in from humble Kansas, she'd make a monumental fashion moment with her iconic gingham pinafore. Channelling a modern day Dorothy, I'm styling a fabulous little gingham set from Lulu & Rose, available at Glue Store. If there's a design element that I love more than the gingham print, it's the asymmetrical frill detail motif seen in the blouse and skirt.
There's no ruby red slippers to complete this look, but there is an incredible Camilla clutch on display, teamed with some silver accessories courtesy of Molten Store and Wallace Bishop. If you are loving this look as much as Glinda would, then shop my favourites below!
SHOP THE POST:

Photography by Erin Smith Photography
---