Saintly with Delphine The Label
Wednesday, August 22nd, 2018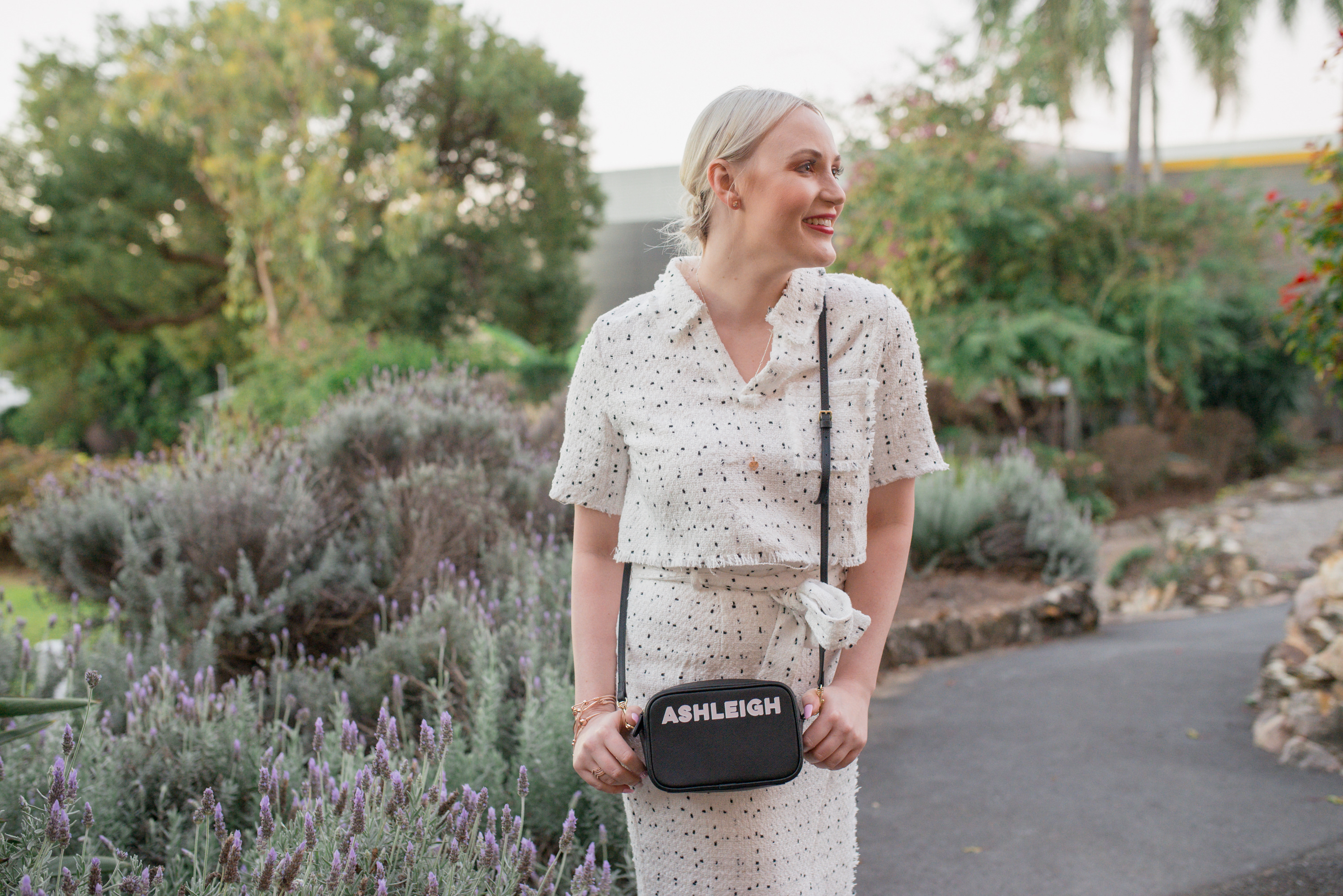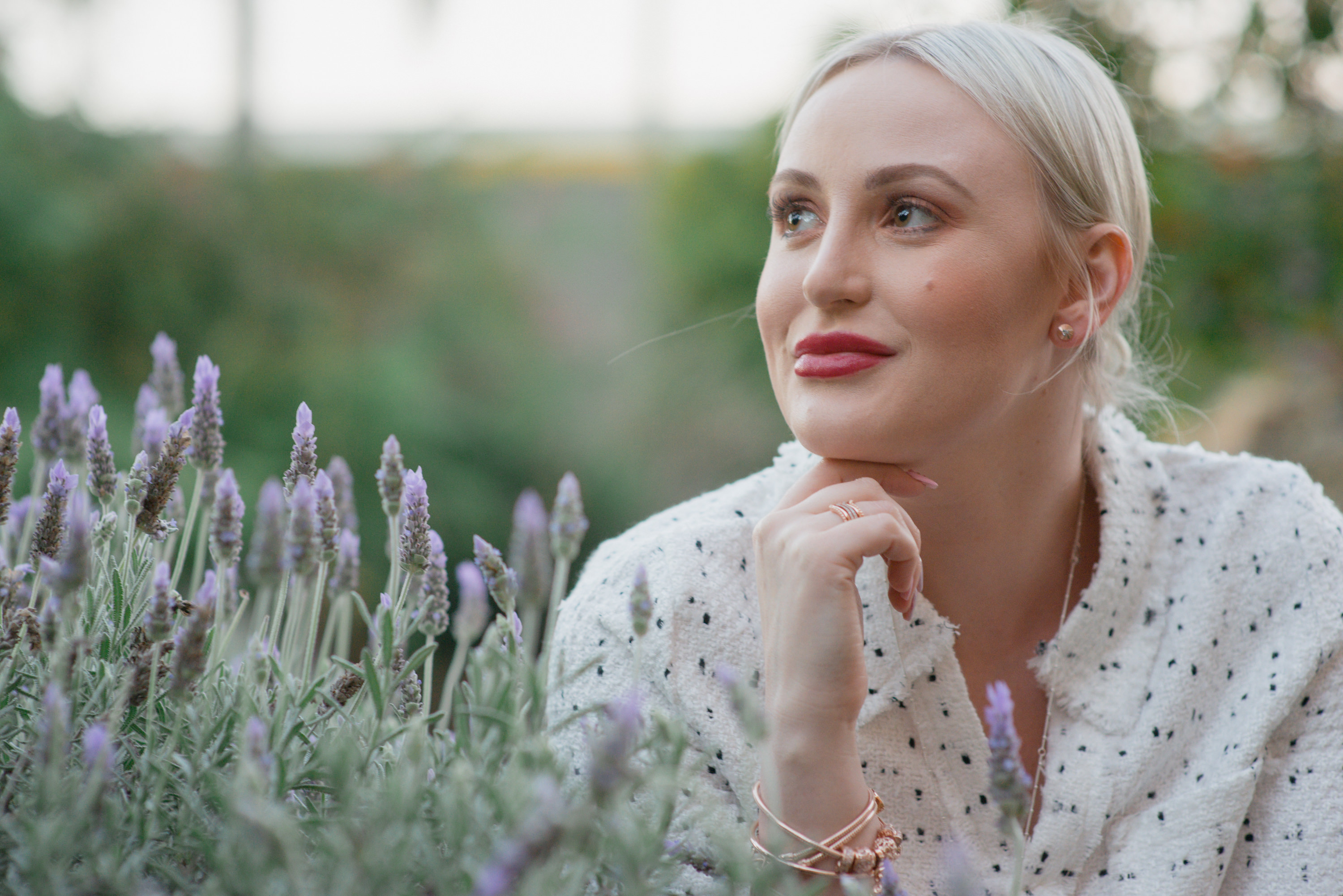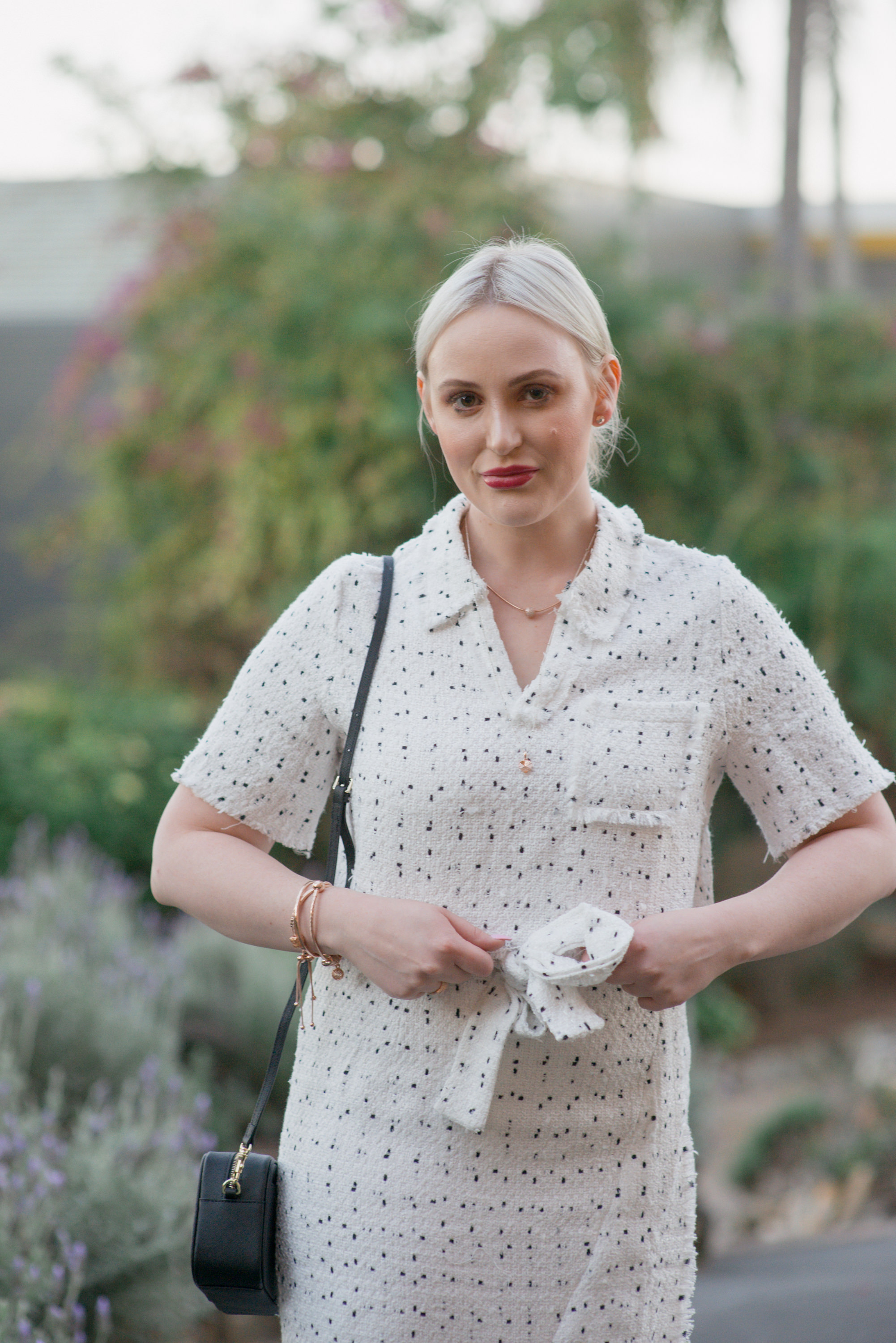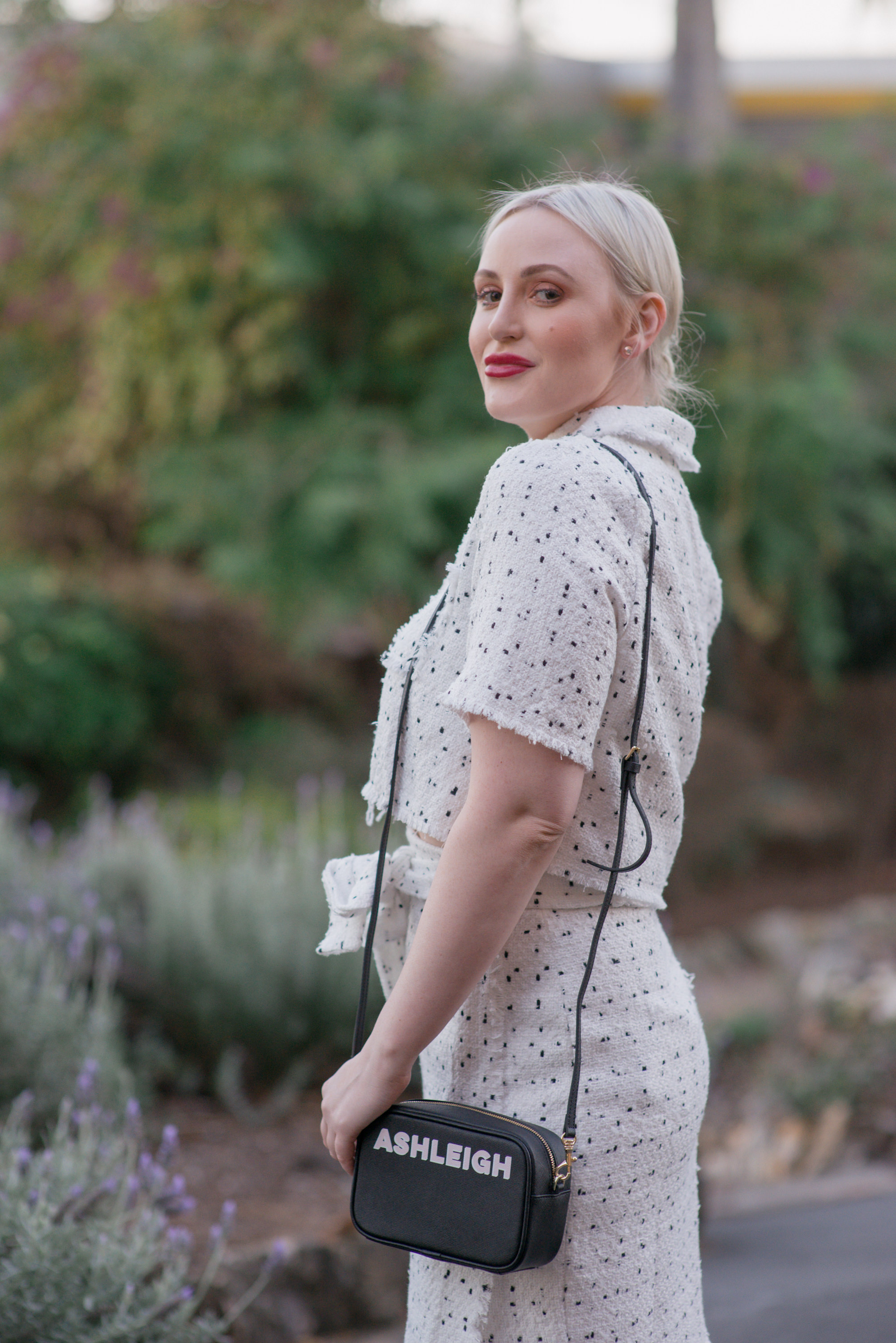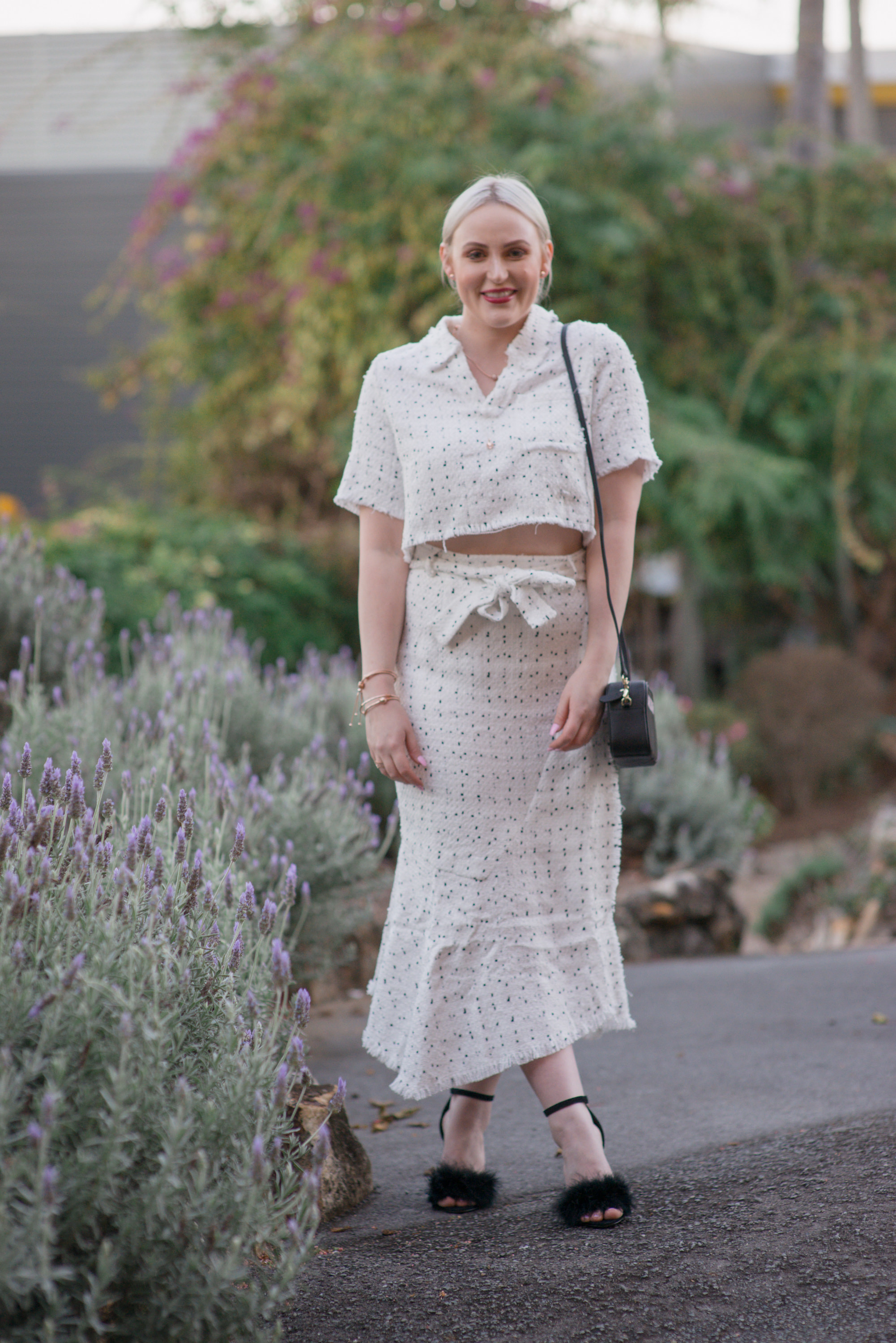 Delphine Saintly Top & Skirt, The Daily Edited Mini Cross Body Bag, Pandora Rose Wish Bone Stack, Rose Moments Bracelet, Rose Moments Sliding Bracelets, Rose Vintage Fans Earrings, Steve Madden Heels (similar style here).
I'm feeling Spring coming on as I style my new Delphine matched set, which features a gorgeous rich wool blend, with a peppered print. Incredibly fresh and even more fabulous, this look is perfect for the abundance of spring events on the cusp, including garden soirees, high teas and chic date nights.
SHOP THE POST:

Photography by Erin Smith Photography
---
Channelling Heather Chandler
Wednesday, August 8th, 2018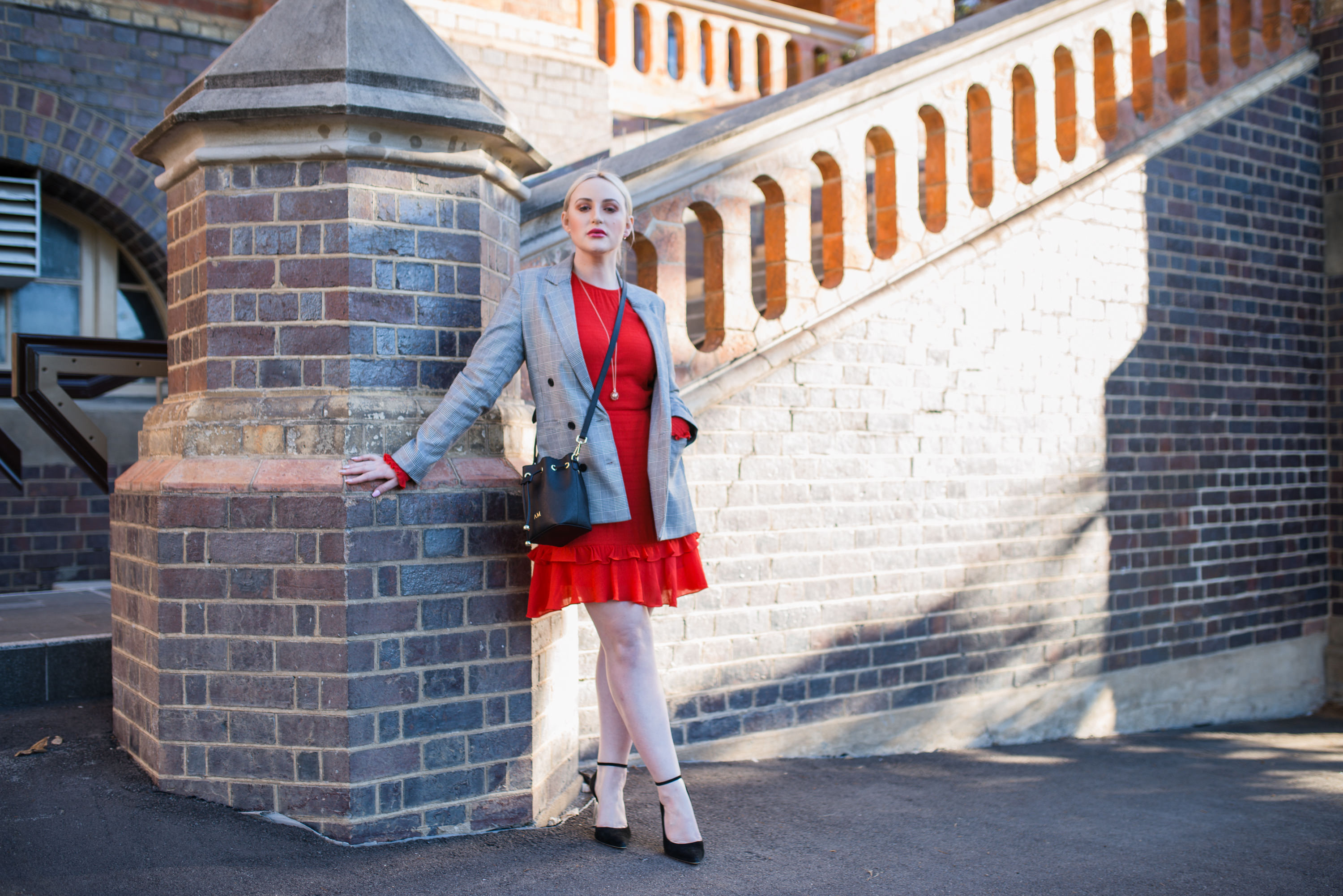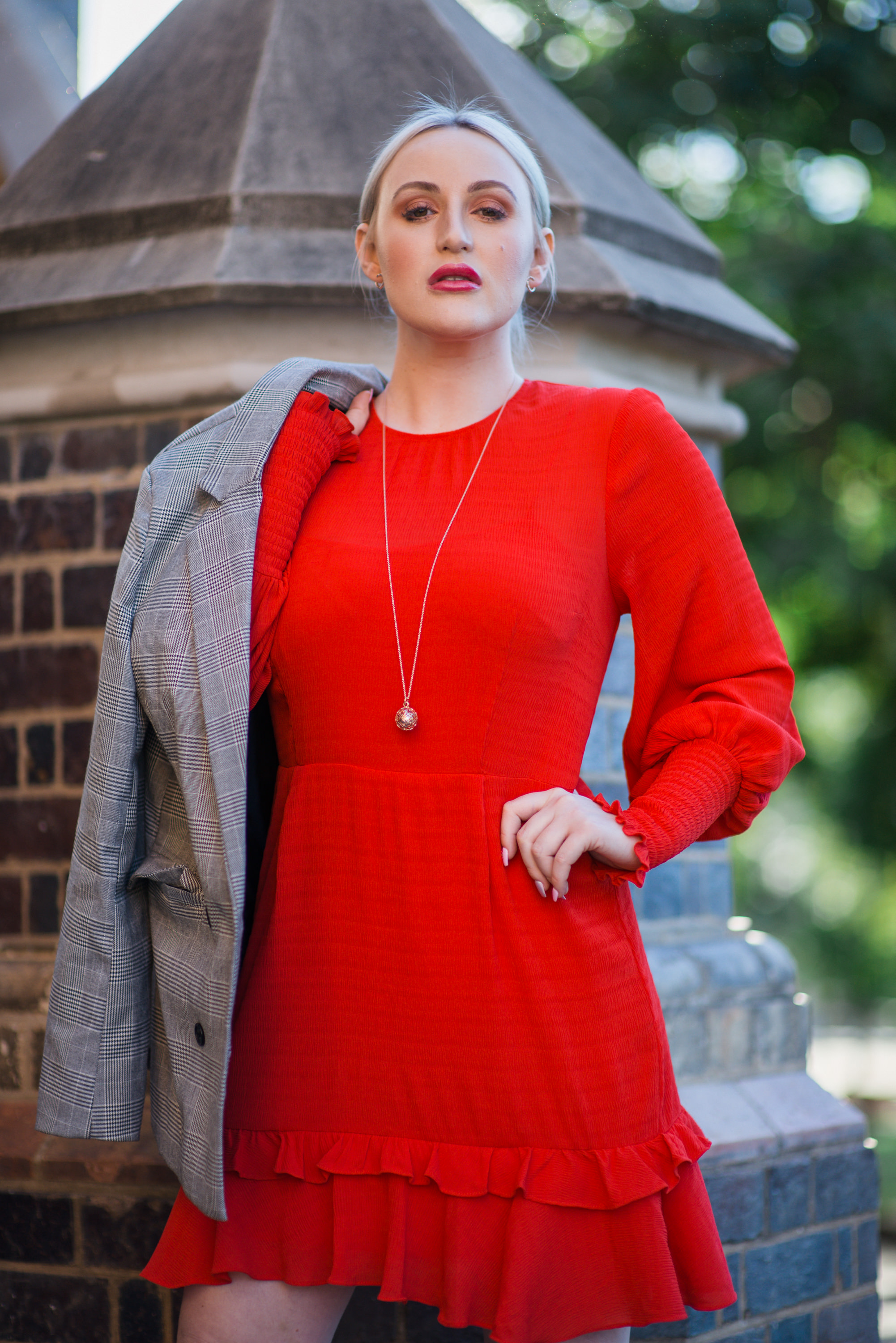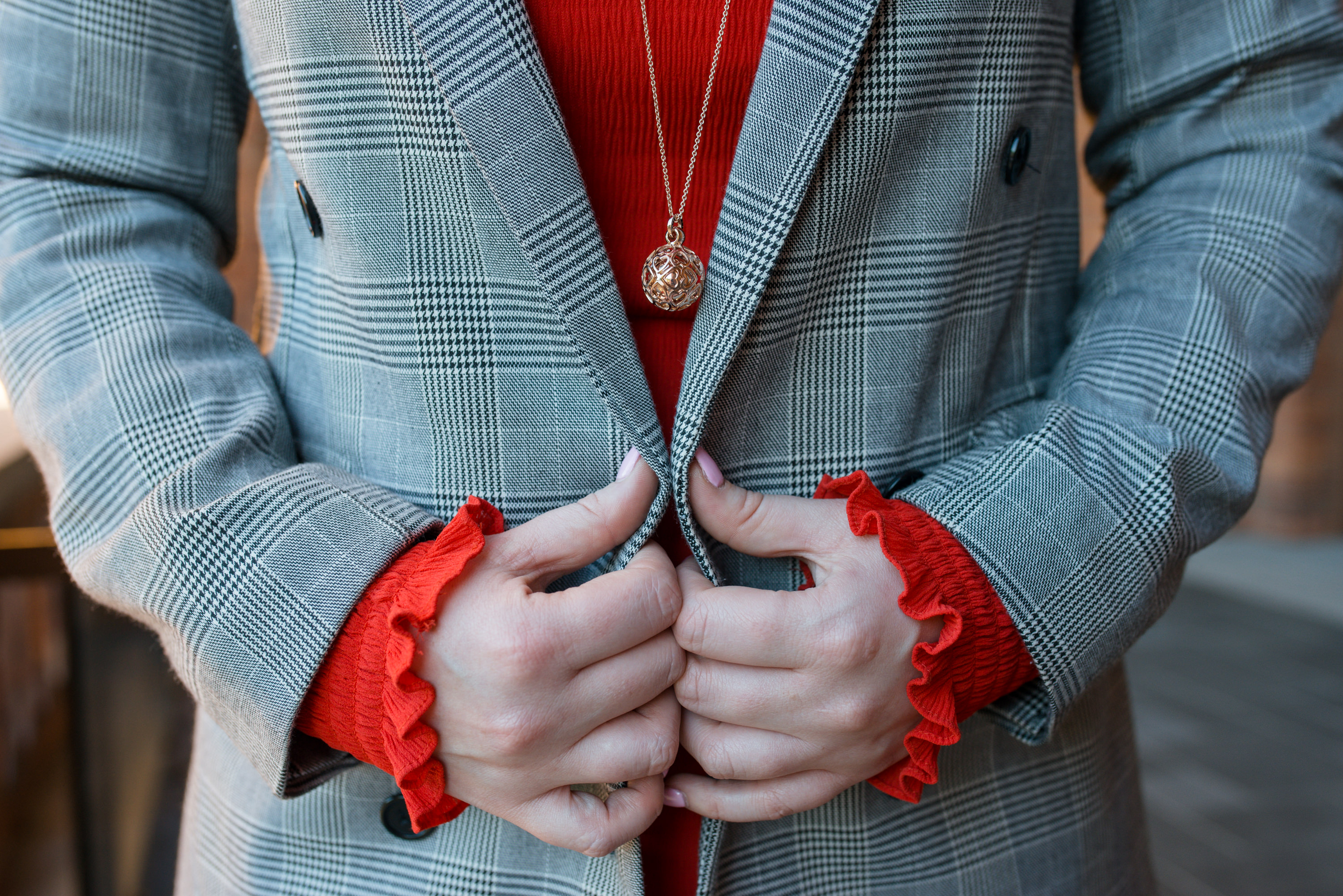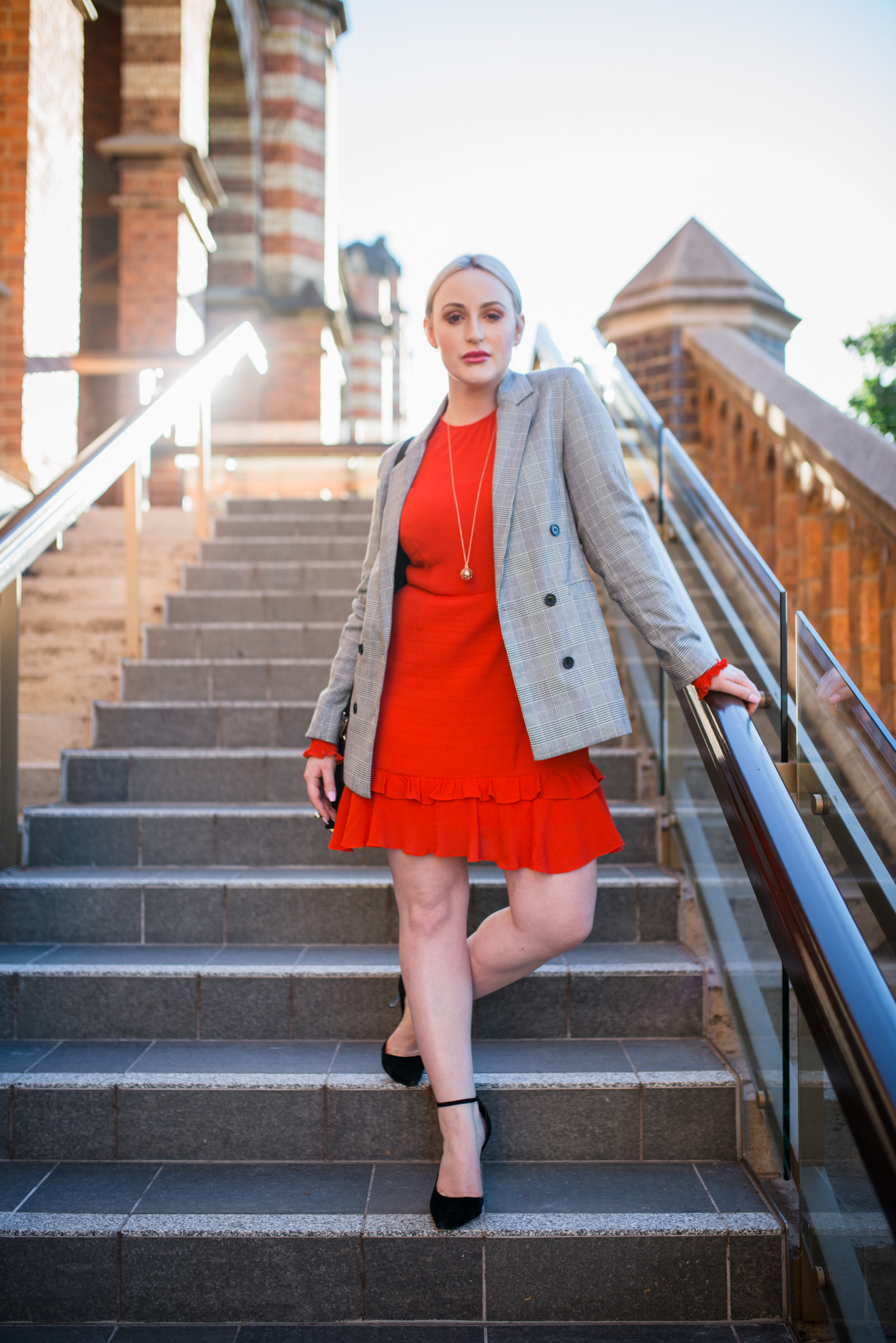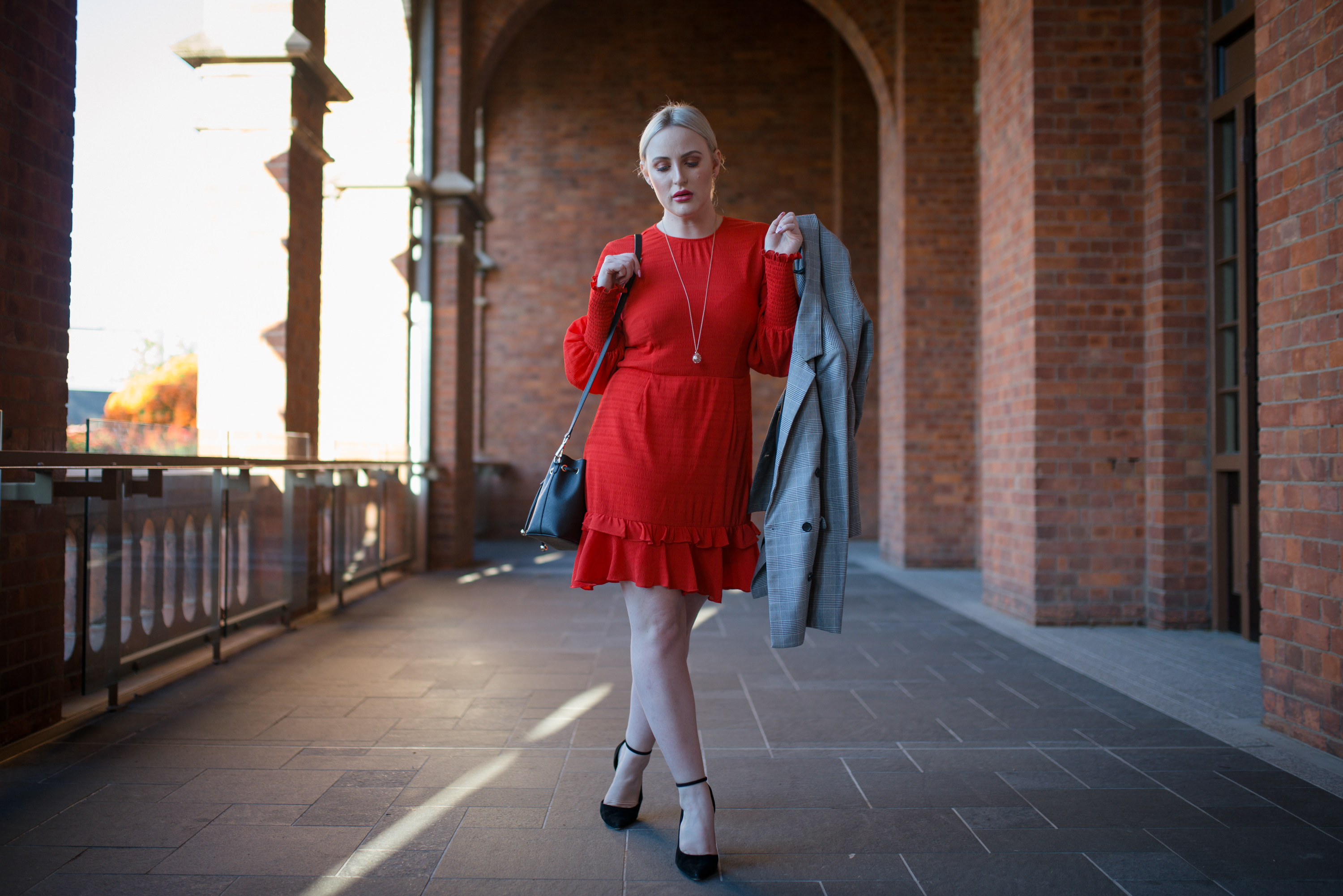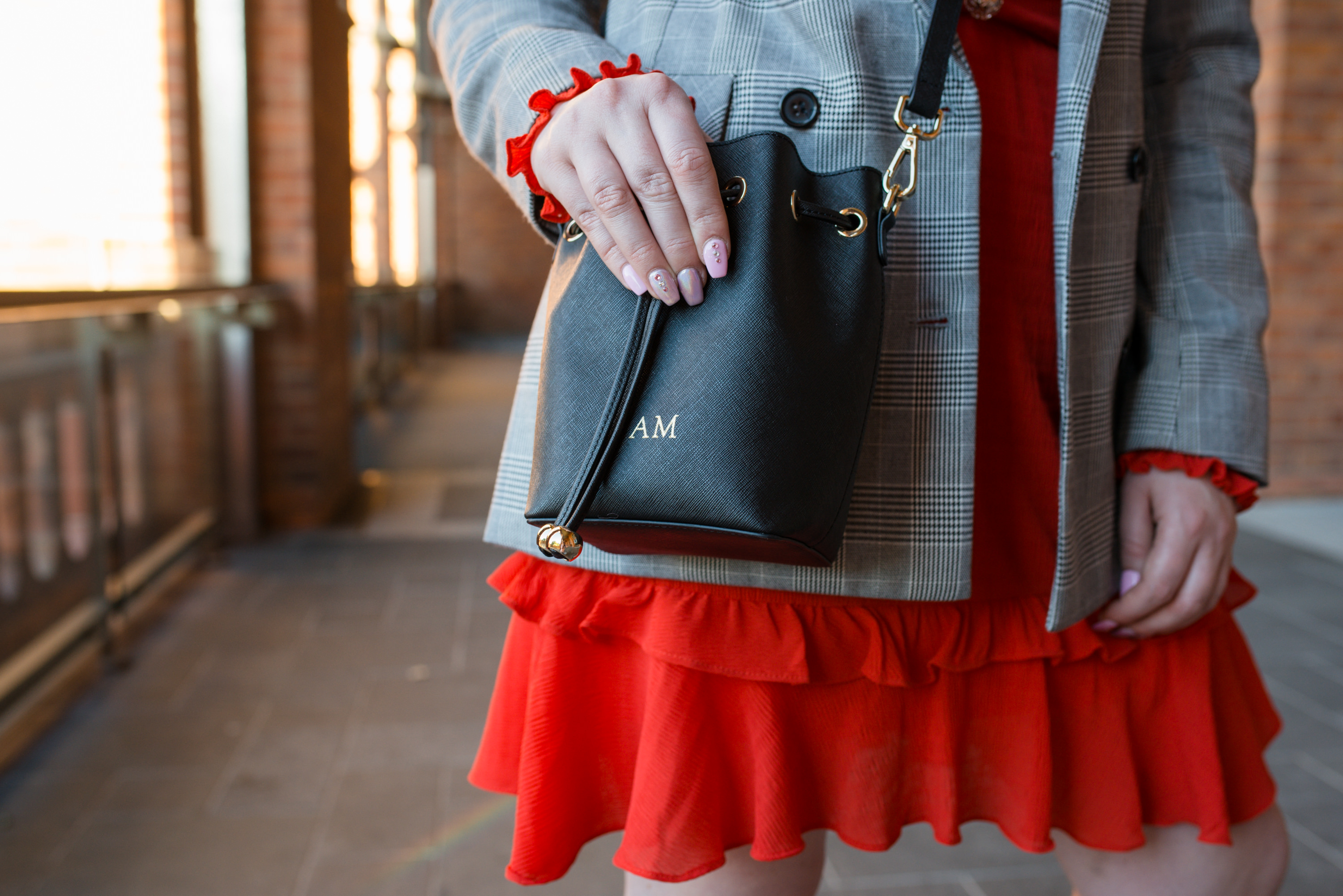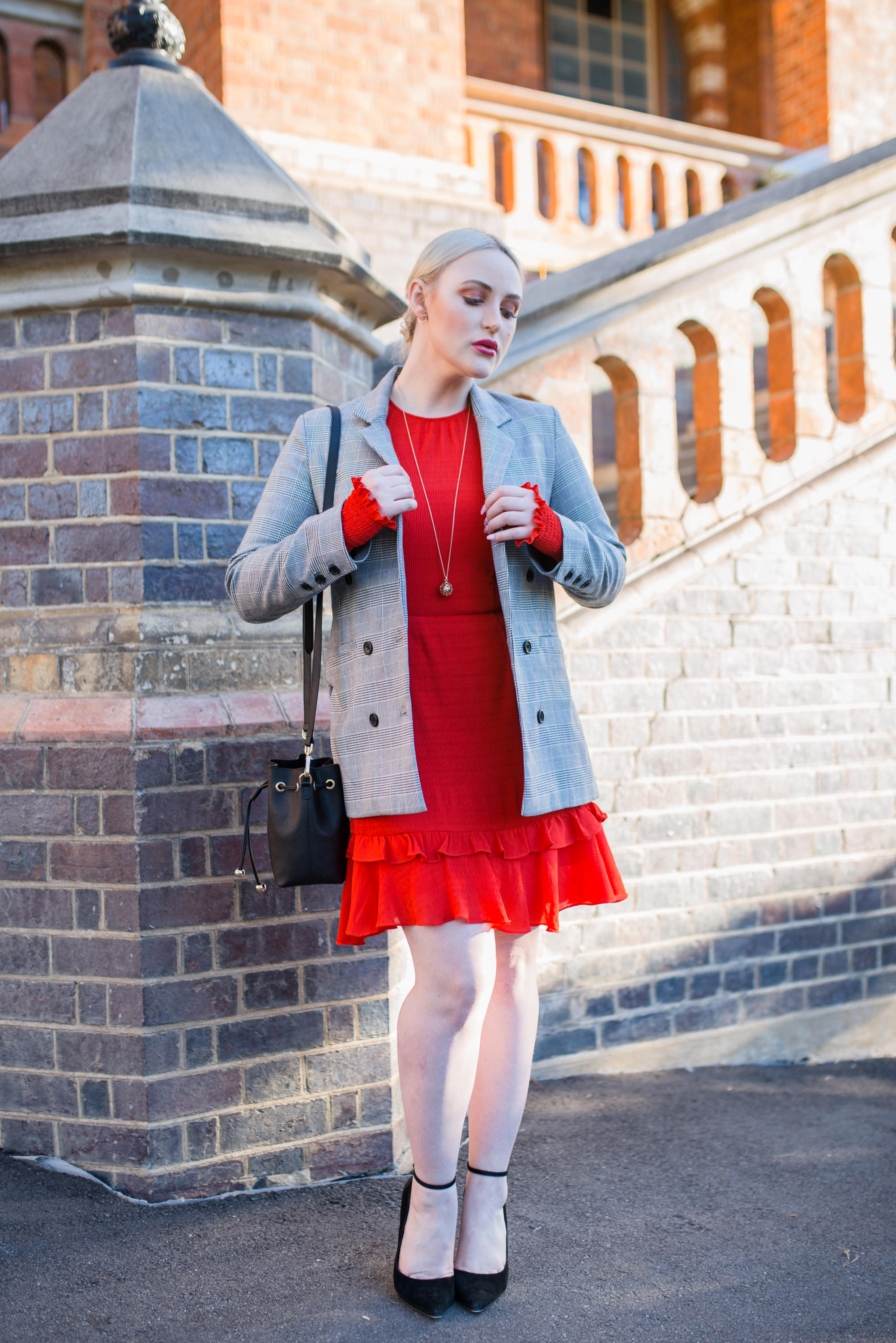 Staple The Label Check Blazer, Witchery Dress (similar style here), The Daily Edited Mini Bucket Bag, Wittner Heels (similar style here), Pandora; Rose Harmonious Hearts Chime Necklace, Rose Bright Heart Hoops.
Ever since seeing the cult classic Heathers, I've been obsessed with Heather Chandler. The queen bee of the screen, her fierce aura, her defining status scrunchie and her impeccable style are just a few reasons to be envious of this fashion icon. So when I found this check blazer, I just knew I had a Heather-esque look in the making.
Feeling super preppy as I style this garment with this retro style frock. Just give me a hint of a frilled hem and bishop sleeve and I'm totally sold. Not to mention this crepe fabric is just heavenly to wear.
Todays accessories feature new season Pandora, highlighting the Rose Collection, along with my new The Daily Edited bucket bag – if Heather was around today, I'm sure she'd approve.
Full disclosure cuties, I jet off for Europe with Topdeck Travel and will have limited access to the blog over the next 4 weeks. Seems like a lifetime but think of the amazing content I'll have for you upon my return. Keep up with all my travel adventures on my Instafeed. Au revior for now! x
SHOP THE POST:

Photography by Erin Smith Photography
---
Stylish In A Suitcase
Monday, July 23rd, 2018
Effortless style and comfort; that's what I'm channelling when packing for my month long Topdeck Travel Spirit Of Europe Tour. Since I'll be constantly on the move, I am sticking to versatile staples, lightweight fabrics and a few indulgent pieces to elevate my #ootds. Here is a selection of my favourite travel items that are joining me abroad, keeping me stylish in a suitcase.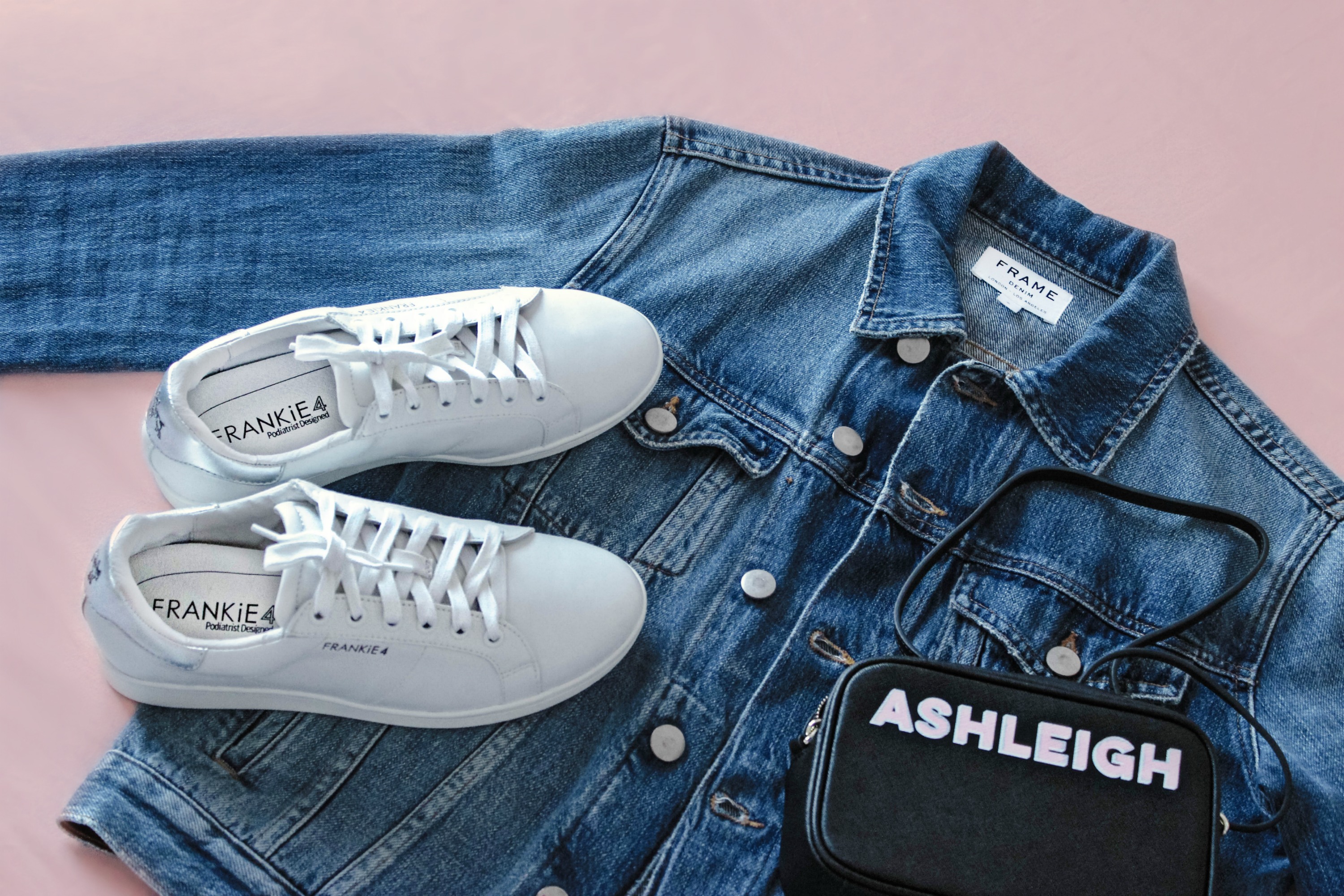 FRANKiE 4 Jackie II Sneakers: If there's one thing I'll be doing a lot on the tour (alongside celebrating Aperitivo), it's walking. A stroll along the Champs-Élysées, a walking tour of Prague, hiking through the Swiss Alps; these activities call for a comfy, yet stylish sneaker. Putting the call out to Instagram, I was recommended a pair of FRANKiE footwear based on the fact that these are crafted by a podiatrist & physiotherapist, featuring a functional footbed, full arch support and cushioning. Otherwise, they are the ultimate travel sneaker, plus they are super cute and on trend.
The Daily Edited Mini Cross Bag: Unlike a backpack, cross body bags are the perfect style for travelling as they are in your constant vision path, minimising the chance of a sneaky pickpocket. What I love about The Daily Edited is that they source a beautiful, high quality Saffiano leather which is durable for everyday wear, and of course the personality that comes with a little monogramming.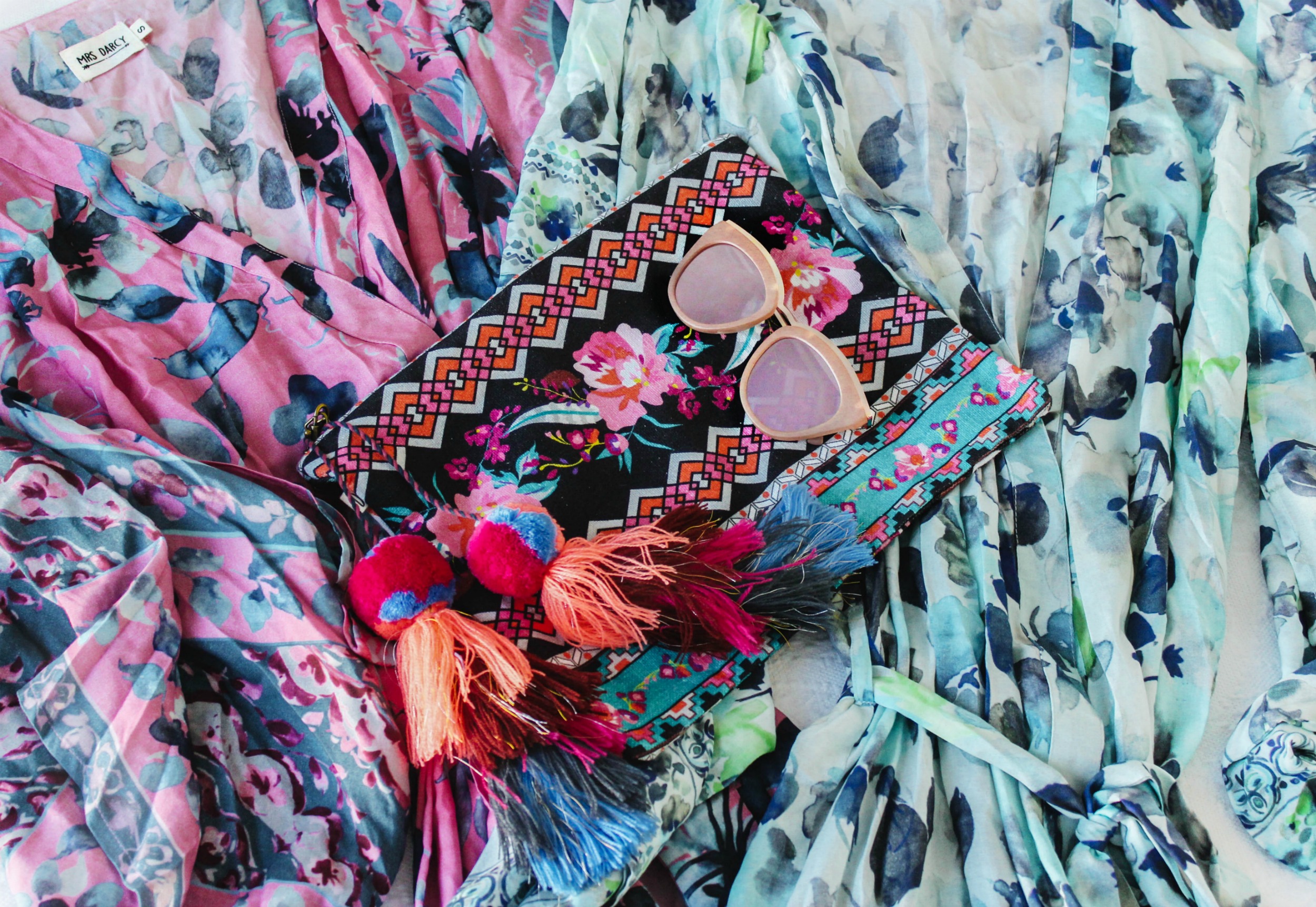 Mrs Darcy Blue Lagoon & Romantic At Heart Kimonos: If there's one thing I automatically pack for a staycation or a lengthy stay, it's a kimono to drape over me as I get ready in the morning. You'll spot me wearing one of my Mrs Darcy kimonos as I indulge in a leisurely breakfast (of french pastries and macarons), overlooking my Parisian balcony.
Mrs Darcy Nightime Bloom Clutch: Evenings out call for a more playful accessory and what better way to say FABULOUS then with this exotic Mrs Darcy Clutch. The quickest way to my heart (and credit card)? Include tassels. Check!
Feather & Noise Montana Dress: You are never ready for a European adventure, unless you have packed a little stripe dress into your suitcase. This adorable number is new season stock from the gorgeous E-boutique Feather & Noise. What I love about this piece is the relaxed fit – I'll certainly need it to mask the hundred croissants I plan to devour.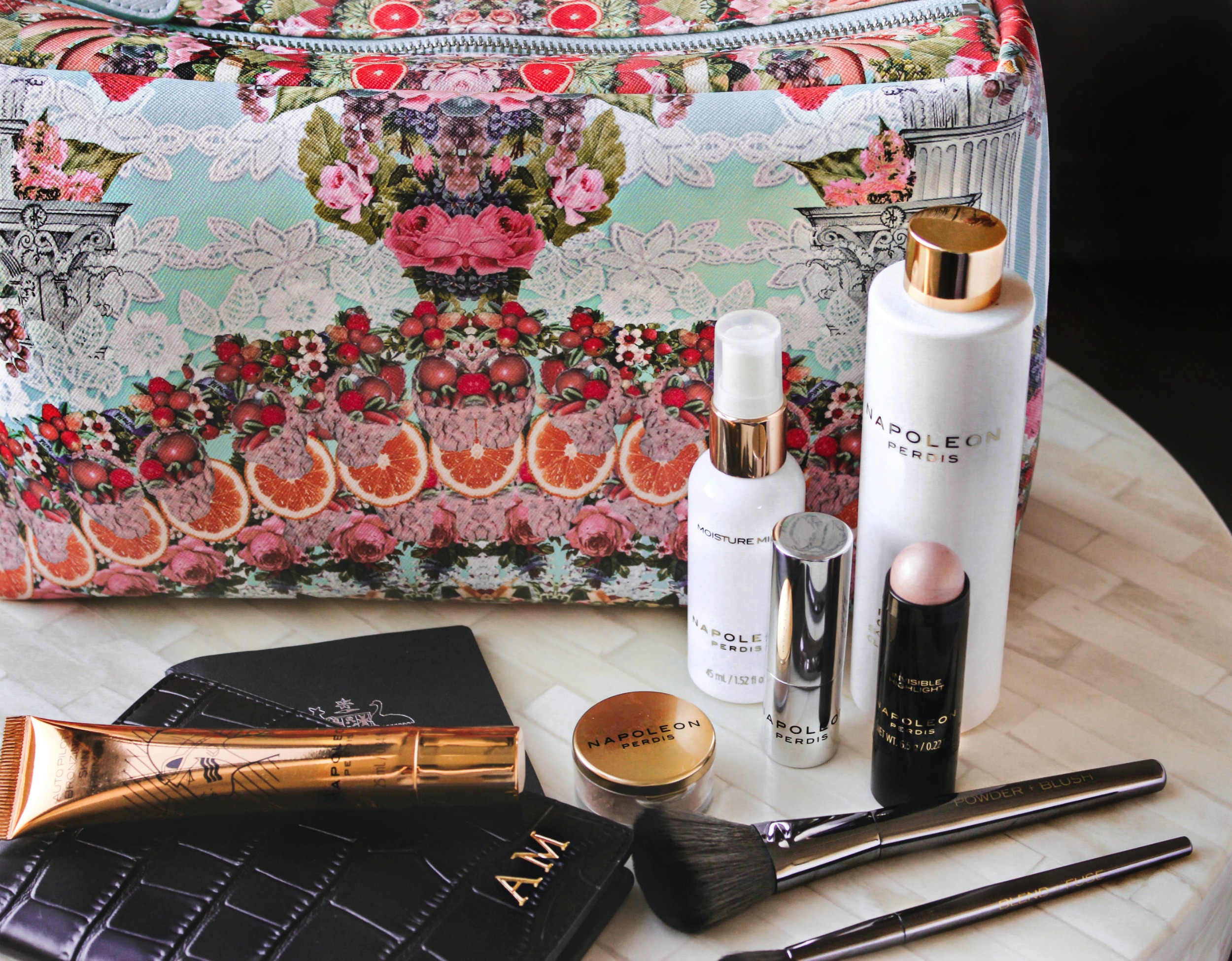 Camilla Makeup Bag (similar style here): If you already thought I was extra, then my Camilla cosmetic case will certainly reaffirm this title, as it's just so fancy for a makeup bag. But when you've got precious cargo (ie, 50 shimmer pots) on the move, you too will want nothing but the best.
Napoleon Perdis Makeup: There's no denying I have an affinity for Napoleon Perdis makeup, with the exception of a few products, it's all I wear of a day. Having to minimise my makeup routine for the necessity of travelling, I have selected a few products that will keep my skin looking dewy and hydrated (Auto Pilot Bronzing Primer, Moisture Mist), with a natural summer glow (Loose Eye Dust in Star Light, Invisible Highlight).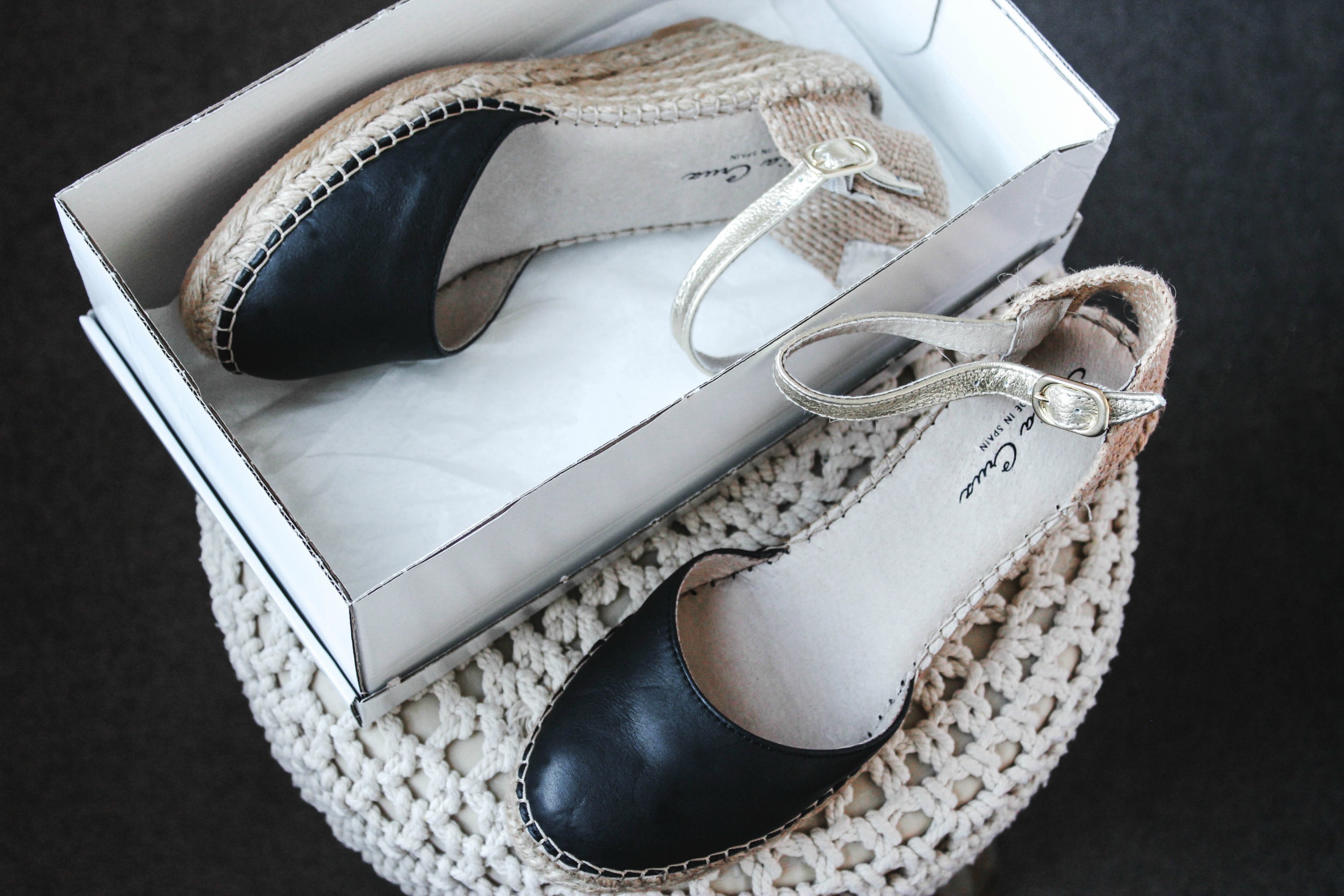 Sofia Cruz Alivia SC Negro Velvet Espadrilles: I vowed that I wouldn't pack excessively this time round; ESSENTIALS only. Factoring in high tea at The Ritz, lunch at Sketch and evenings in Paree, a pair of espadrilles have become an essential, especially when considering the cobblestone surfaces throughout Europe. I just love this pair of Sofia Cruz Spanish Espadrilles, available from Style Tread, as they combine casual with chic, seen through metallic detailing in the ankle strap.
What travel must-haves do you find yourself packing for a stylish getaway? Please leave me your tips and tricks for remaining stylish in a suitcase in the comments below!
Proudly Partnering with Topdeck Travel
---
Elevate Denim To Date Night Chic
Friday, July 20th, 2018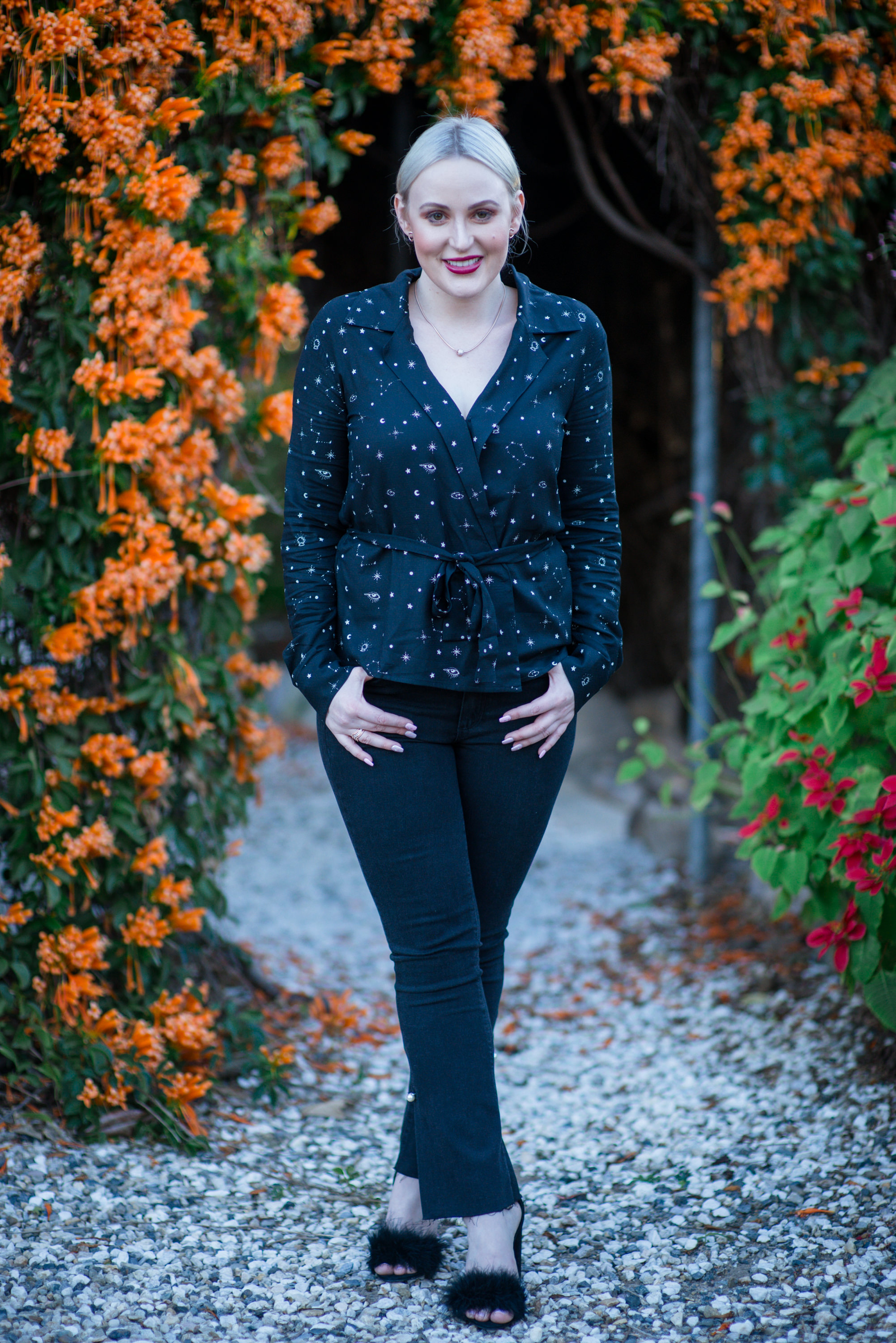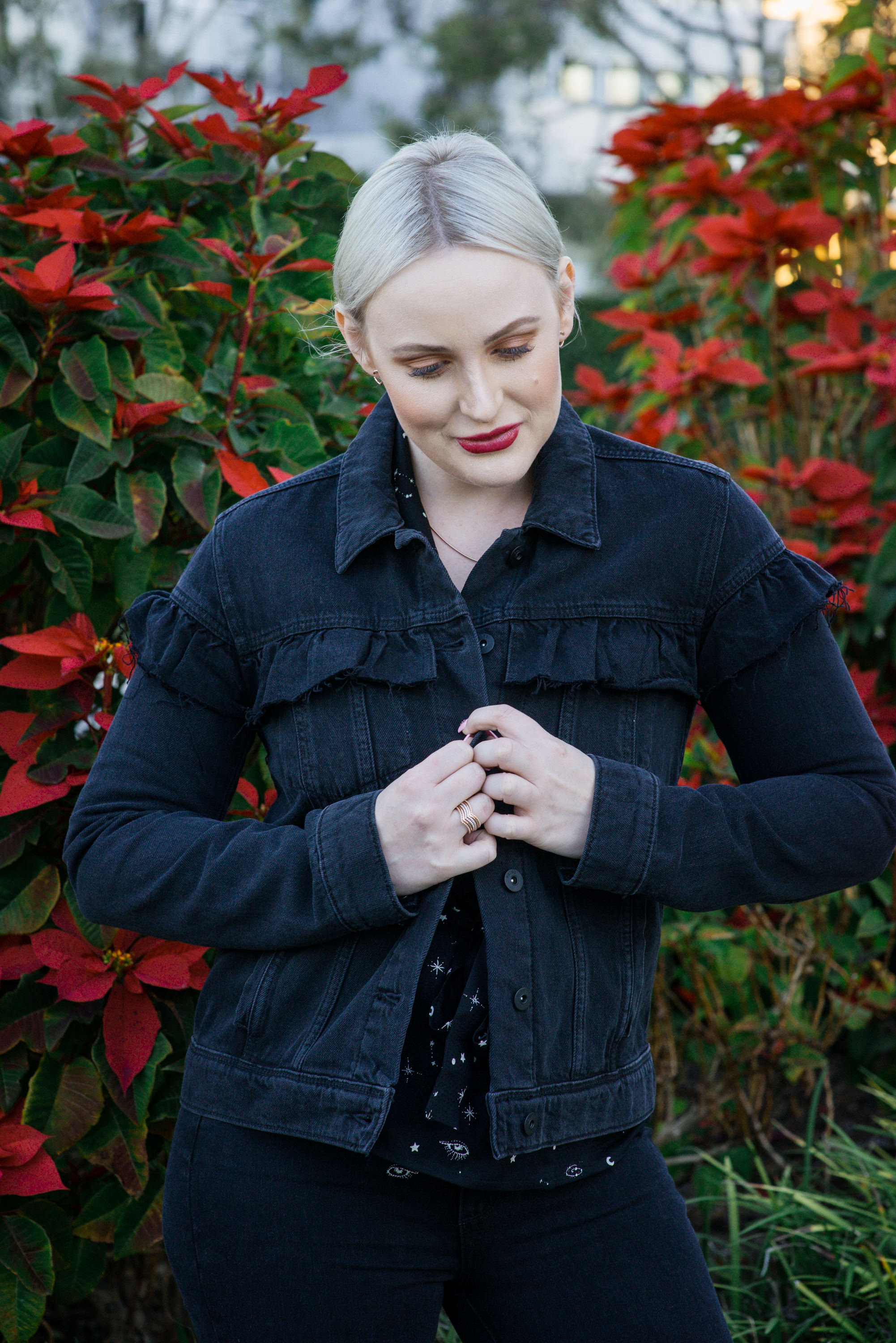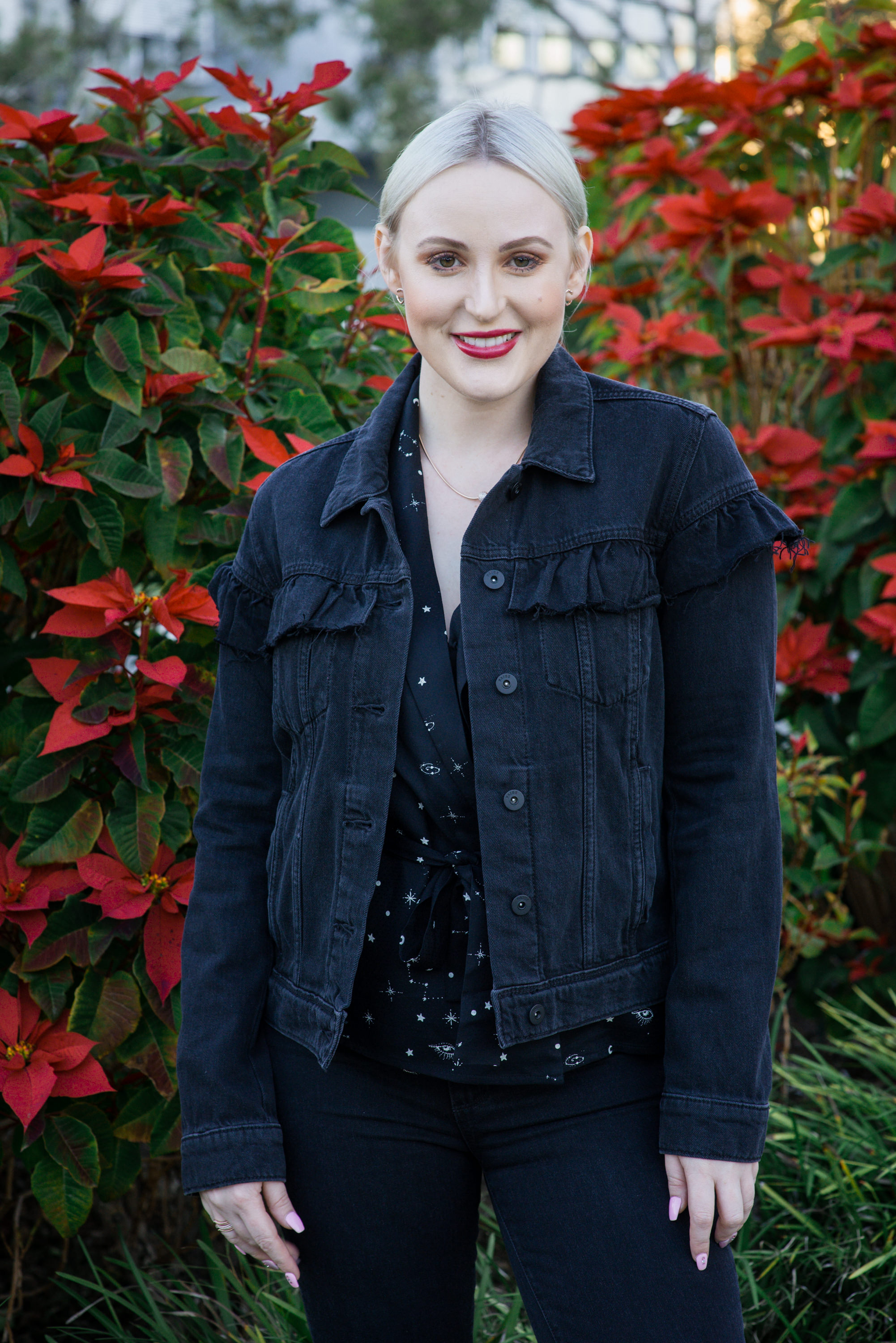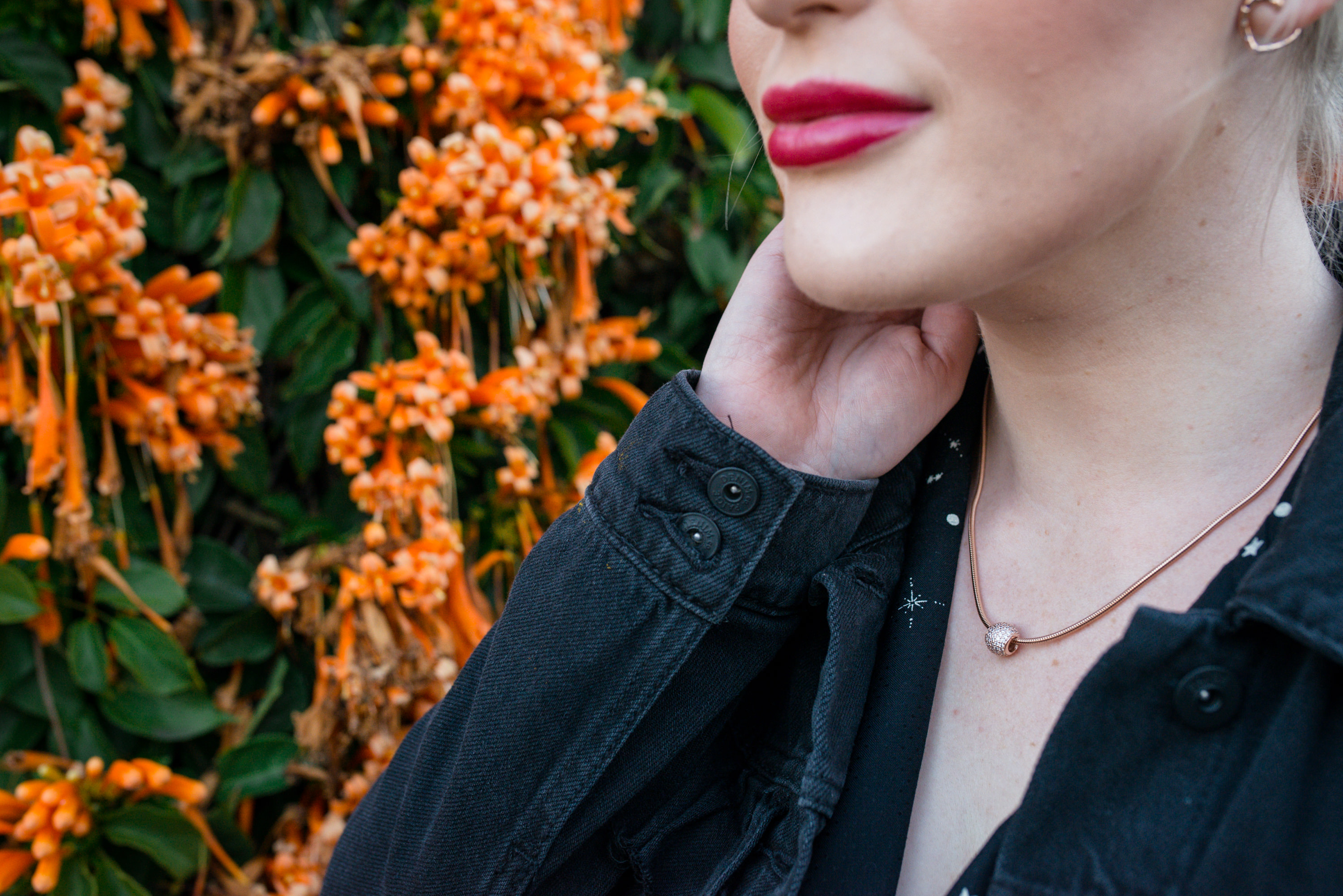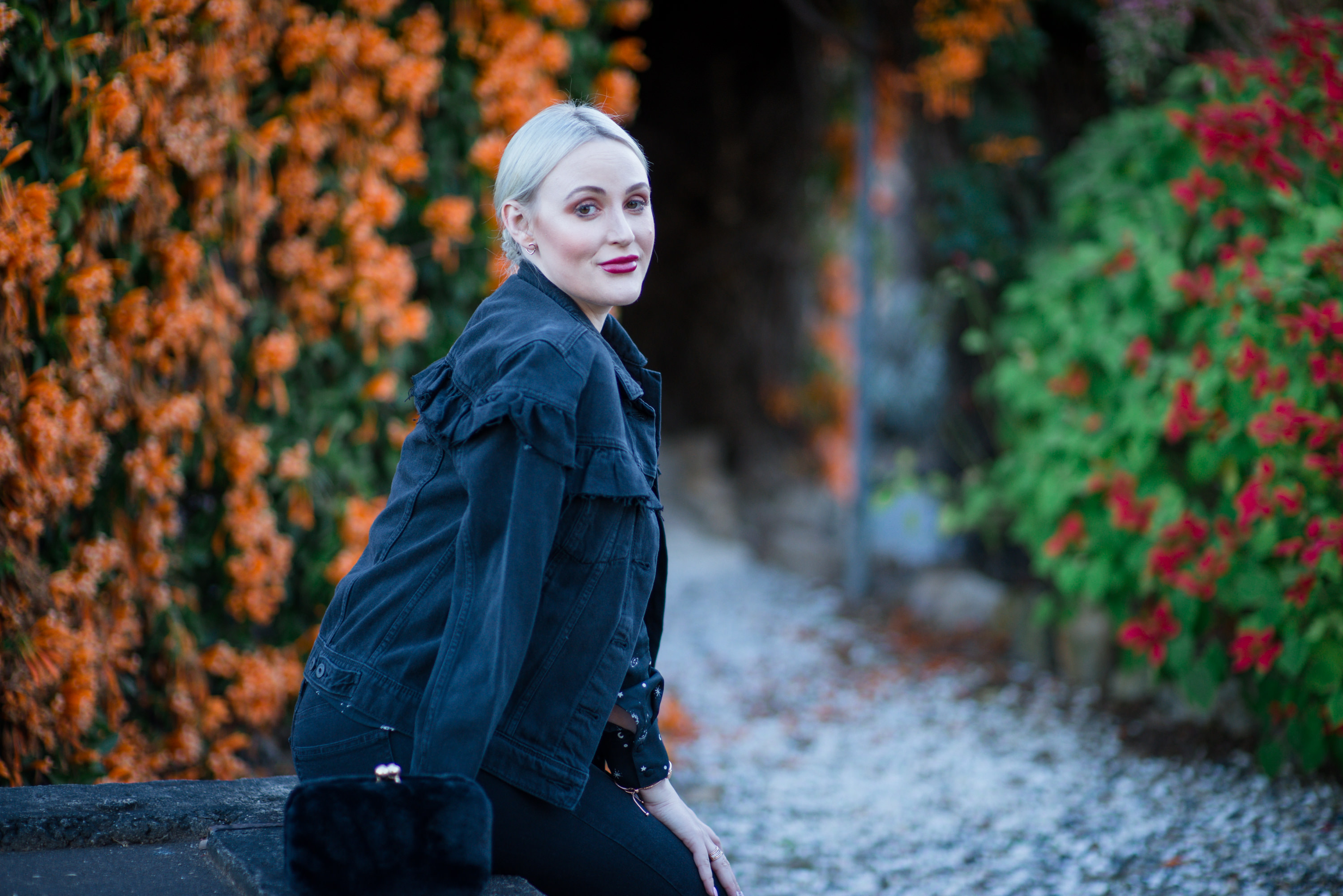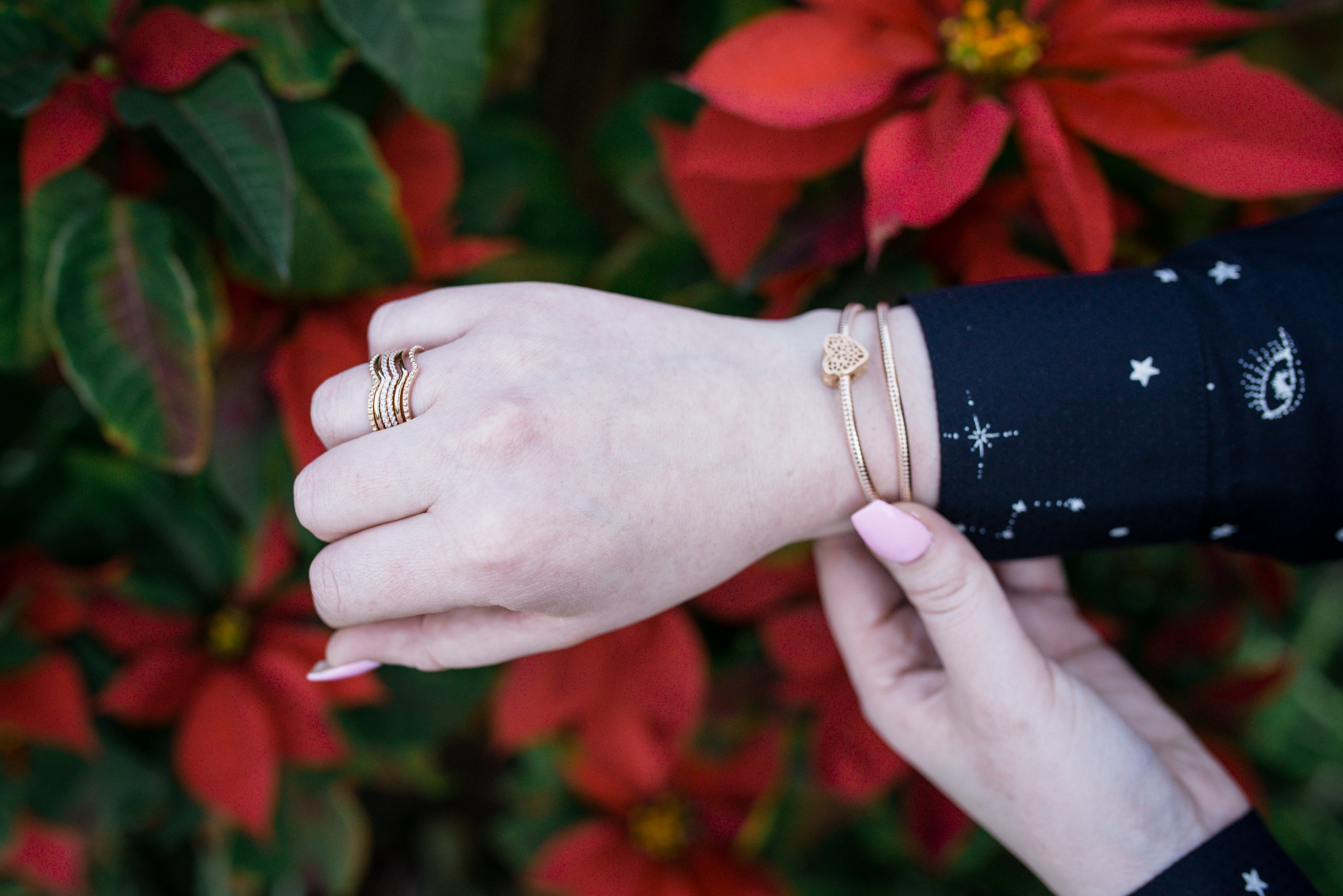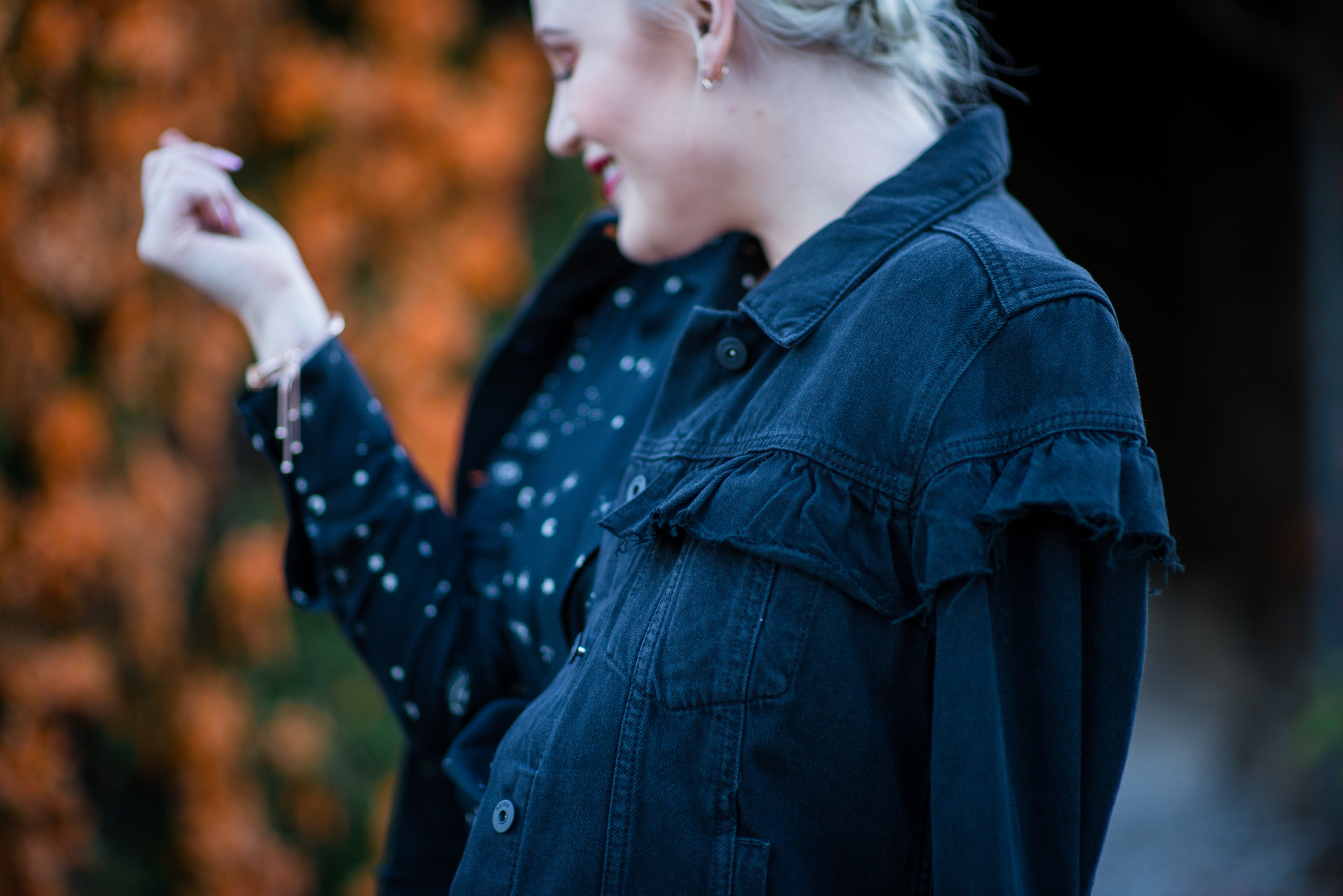 Paige Colette Crop Flare Jean; Paige Romana Blouse; Paige Ruffle Heidi Jacket; Pandora Rose Essence Necklace, Rose Wish Bone Ring Stack, Rose Bright Heart Hoops, Rose Moments Sliding Bracelet; Steve Madden Heels (similar style here).
I'm swapping the LBD this date night and instead styling a very sophisticated denim combo, courtesy of my friends at Order Of Style. Not just for daywear, I'm sharing my top tips to Elevating Denim To Date Night Chic with Paige Denim. Read on ladies.
1. Start with a flattering style of jeans, such as slim fit or straight, in a dark wash. I am obsessed with the Paige Colette Crop Flare as they feature a comfortable high waist, stretched denim fabric and adorned with pearl cufflinks. Still quite polished, this pair would not be out of place in a trendy restaurant or would still be practical enough for a game of mini golf with the beau.
2. Style with a seductive neckline. It doesn't have to be anything too plunging (trust me, that's not my style) but the relaxed draping seen in this Paige Romana Blouse wrap top, creates a beautiful visual against the jeans.  Not to mention, the celestial print adds a little character to the look, perfect for a first date.
3. Keep accessories luxe, yet minimal. Stray from gaudy statement earrings and large rings (trust me, these are a nuisance when it comes to sneaky hand holding) and instead opt for fine, delicate pieces in a rose gold hue. I'm loving Pandora's Rose Collection which features many dainty pieces to suit any budget.
4. Sling a jacket over those shoulders to avoid any nervous chills (yes, they are a thing). A denim jacket never goes astray and like the rest of your ensemble, I recommend a dark wash. The Paige Ruffle Heidi Jacket is the perfect accompaniment to any outfit, being both bold and chic at the same time, with it's feminine ruffle feature and silver hardware.
Do you have any tips and tricks to laying date night denim? I'de love to hear your thoughts in the comments below!
Photography by Erin Smith Photography
---