Bonjour Mon Chéri with Karen Walker
Sunday, December 10th, 2017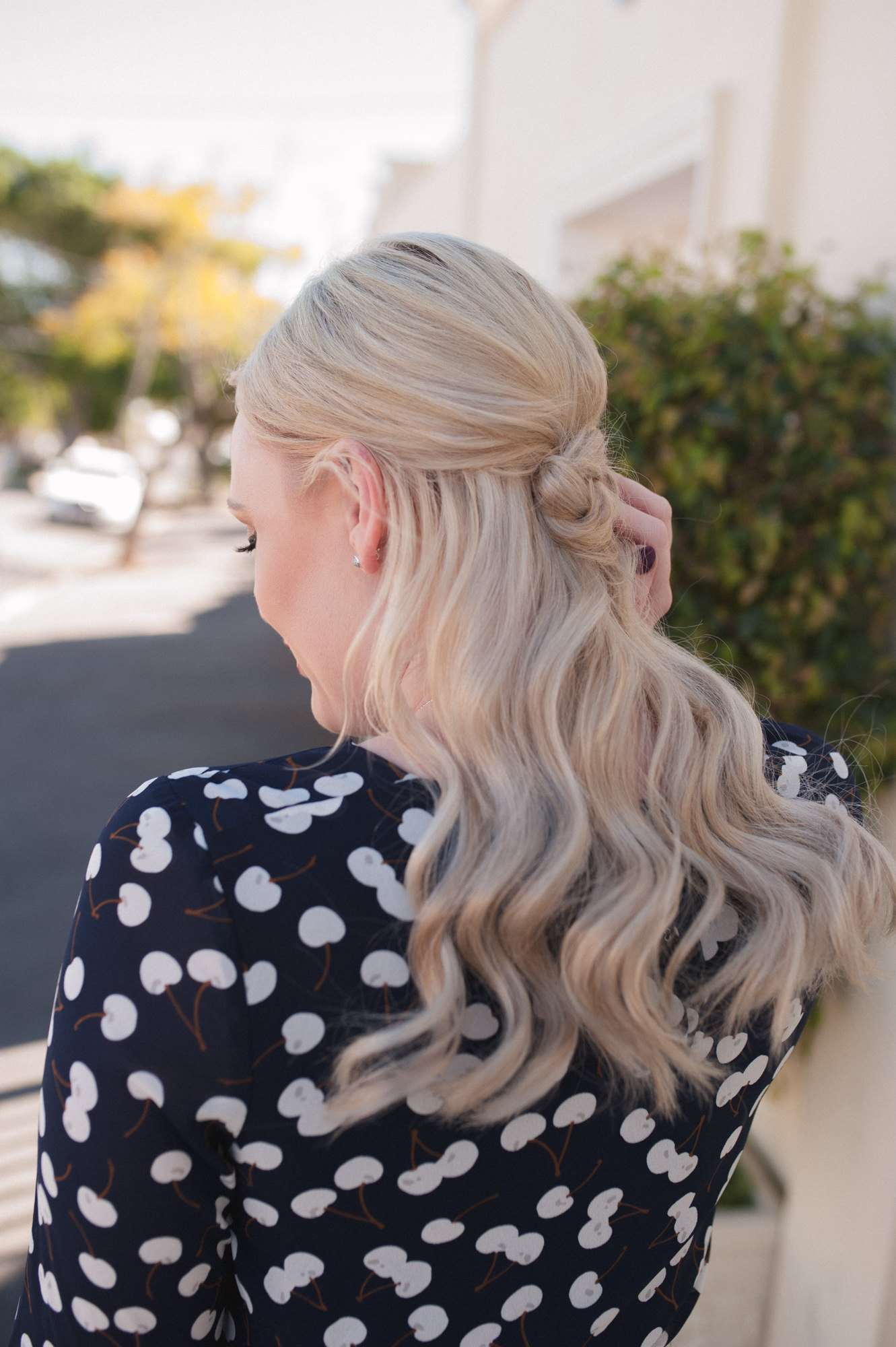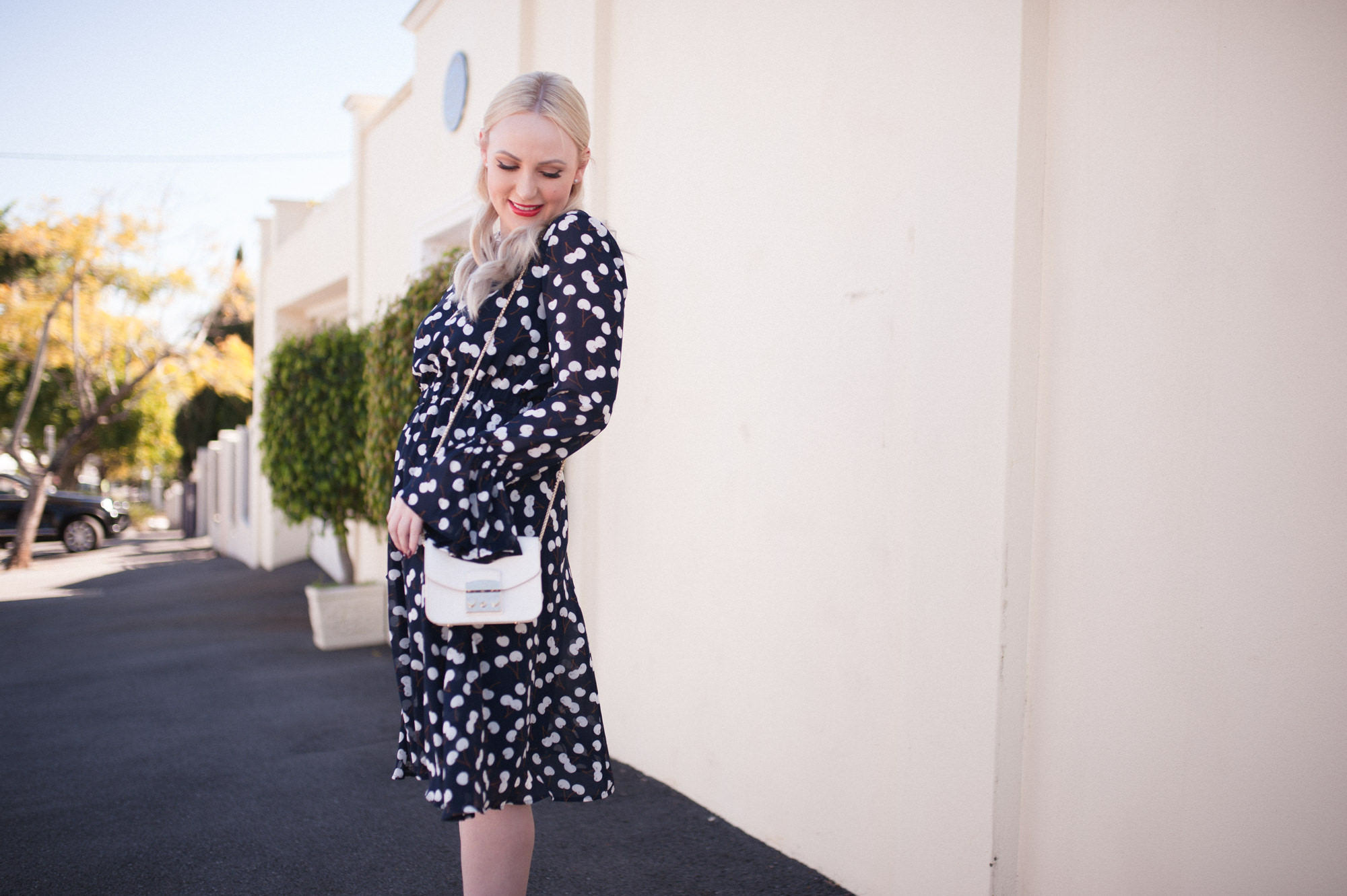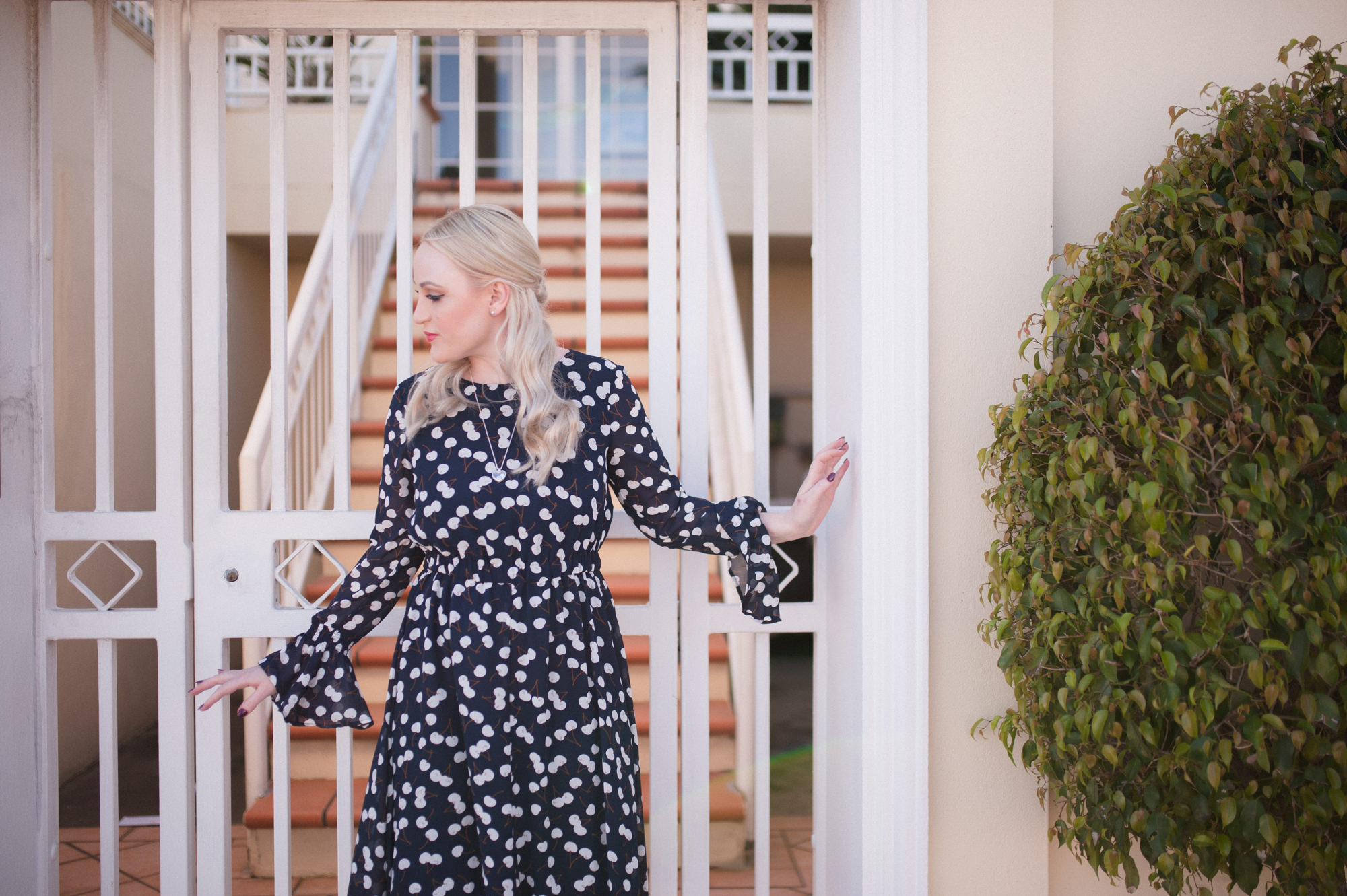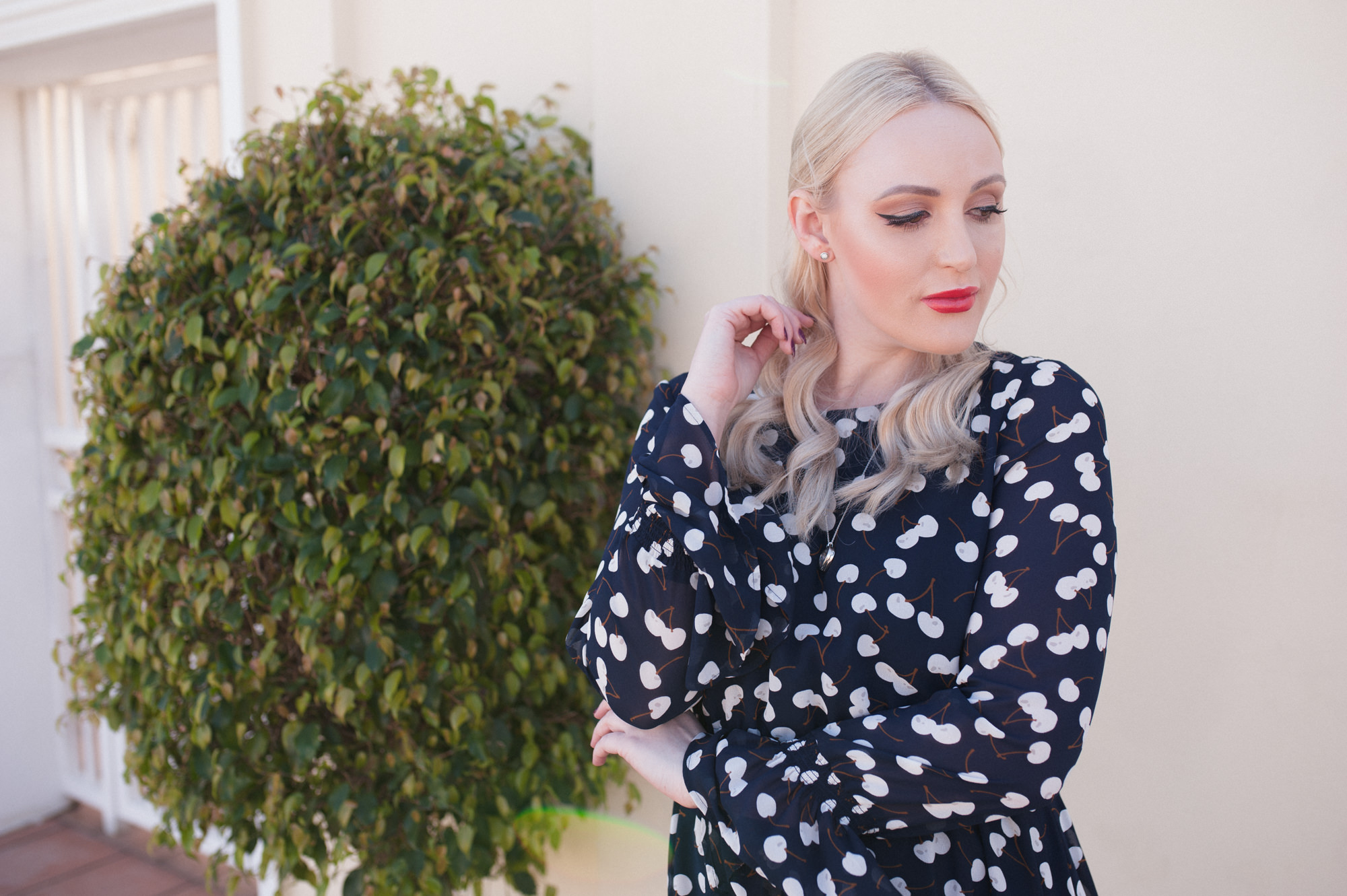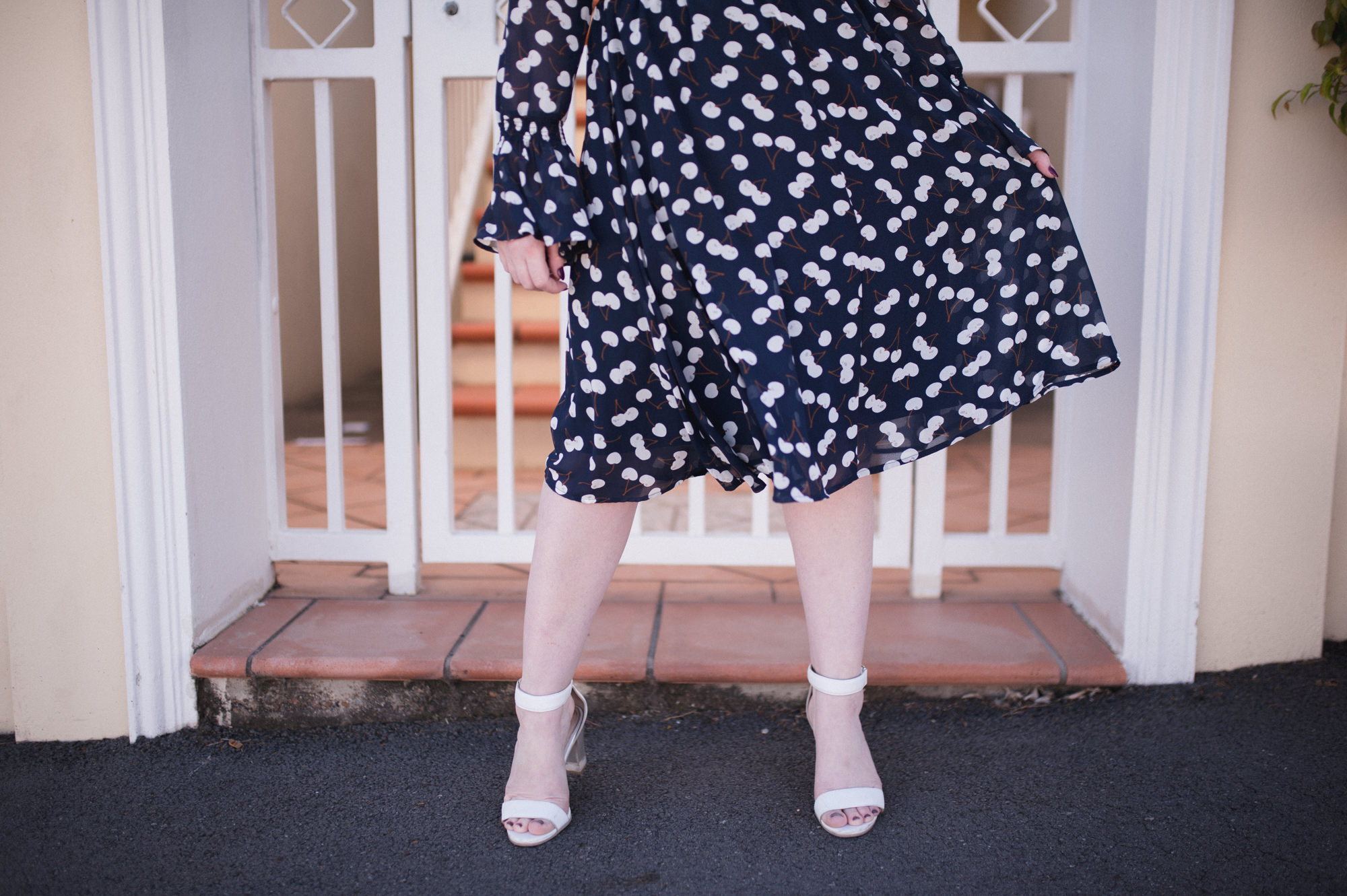 Karen Walker Mon Chéri Dress, Pandora Floating Heart Locket, Pandora Dazzling Droplets Studs, Wittner Otto Heels (similar style here), Furla Bag.
Bonjour! It's been a little while since I've kissed you all hello, but this petite miss has been tres busy with work and festivities. Another frock, another Christmas gathering, you know the drill.
Today I skipped around town in the cutest little dress, a Karen Walker number, featuring a summery cherry print. Floaty, sheer fabric is essential for these balmy 34 degree days in Brisbane.
Best paired with a cute little heel and one of my favourite cross body bags, I'm a carefree femme on the way to a cafe where I can have a spot of tea and a macaron, just as the french would! Bisous, bisous!
SHOP THE POST:

Photography by Erin Smith Photography
Melbourne Cup OOTD: What I Wore!
Tuesday, November 7th, 2017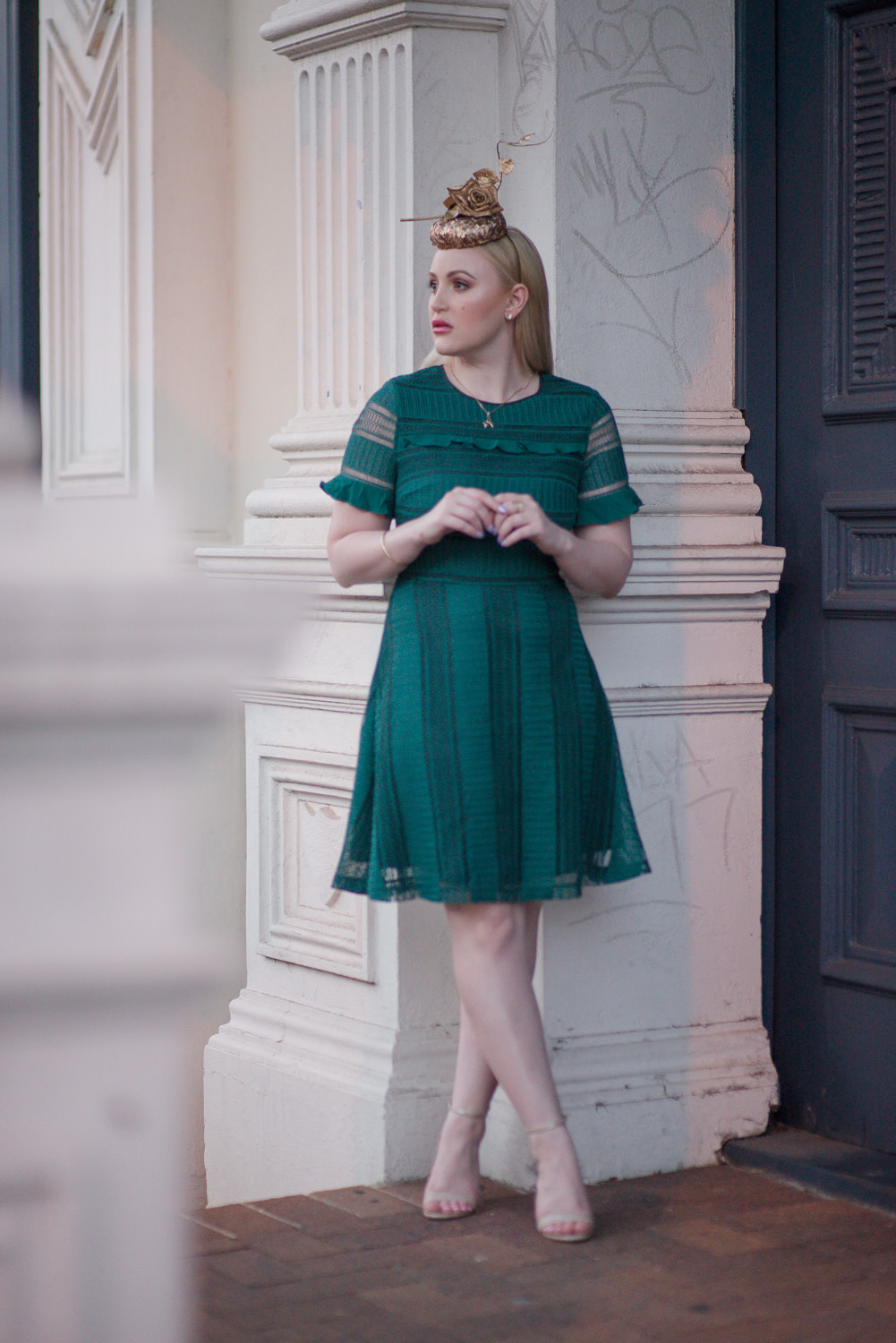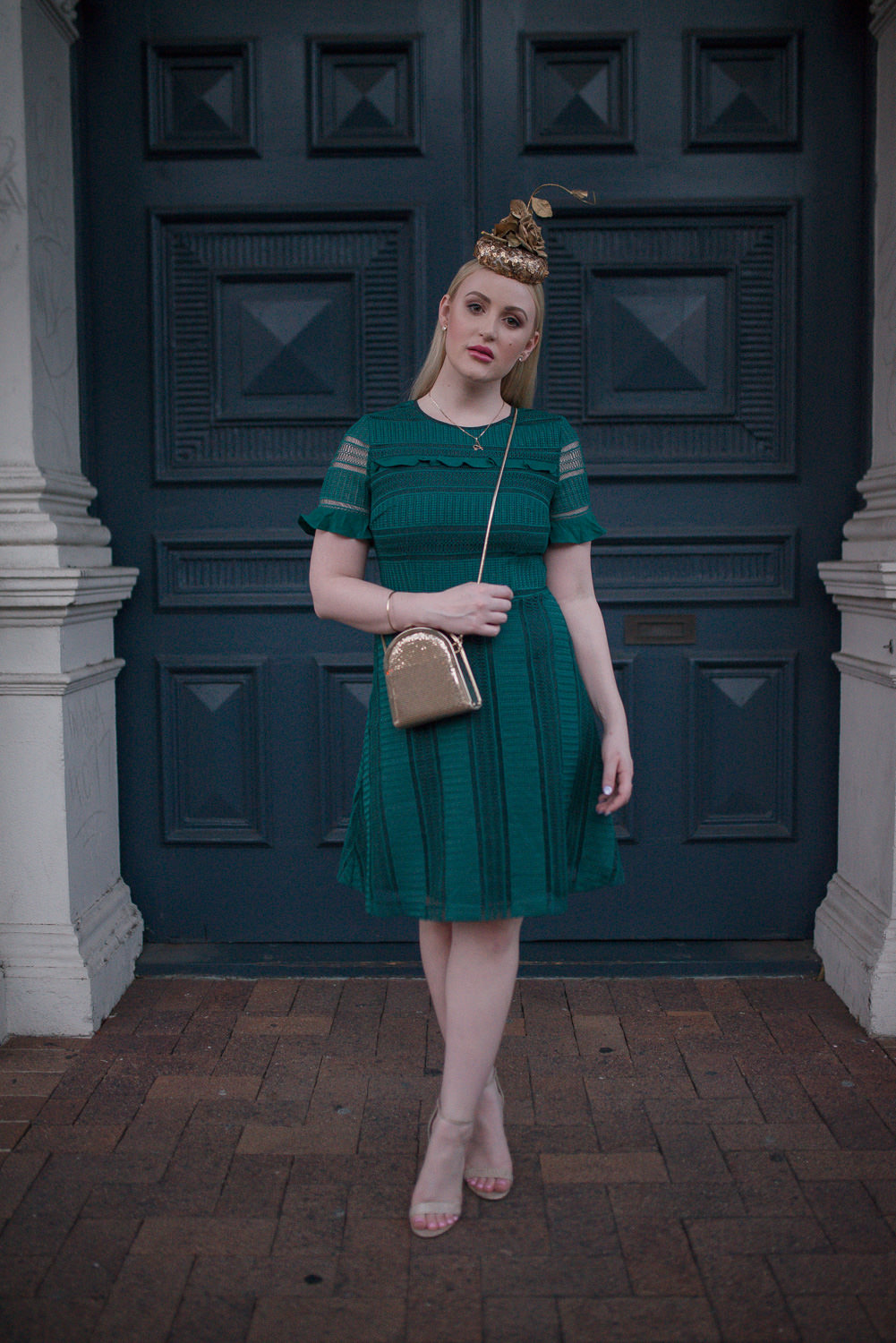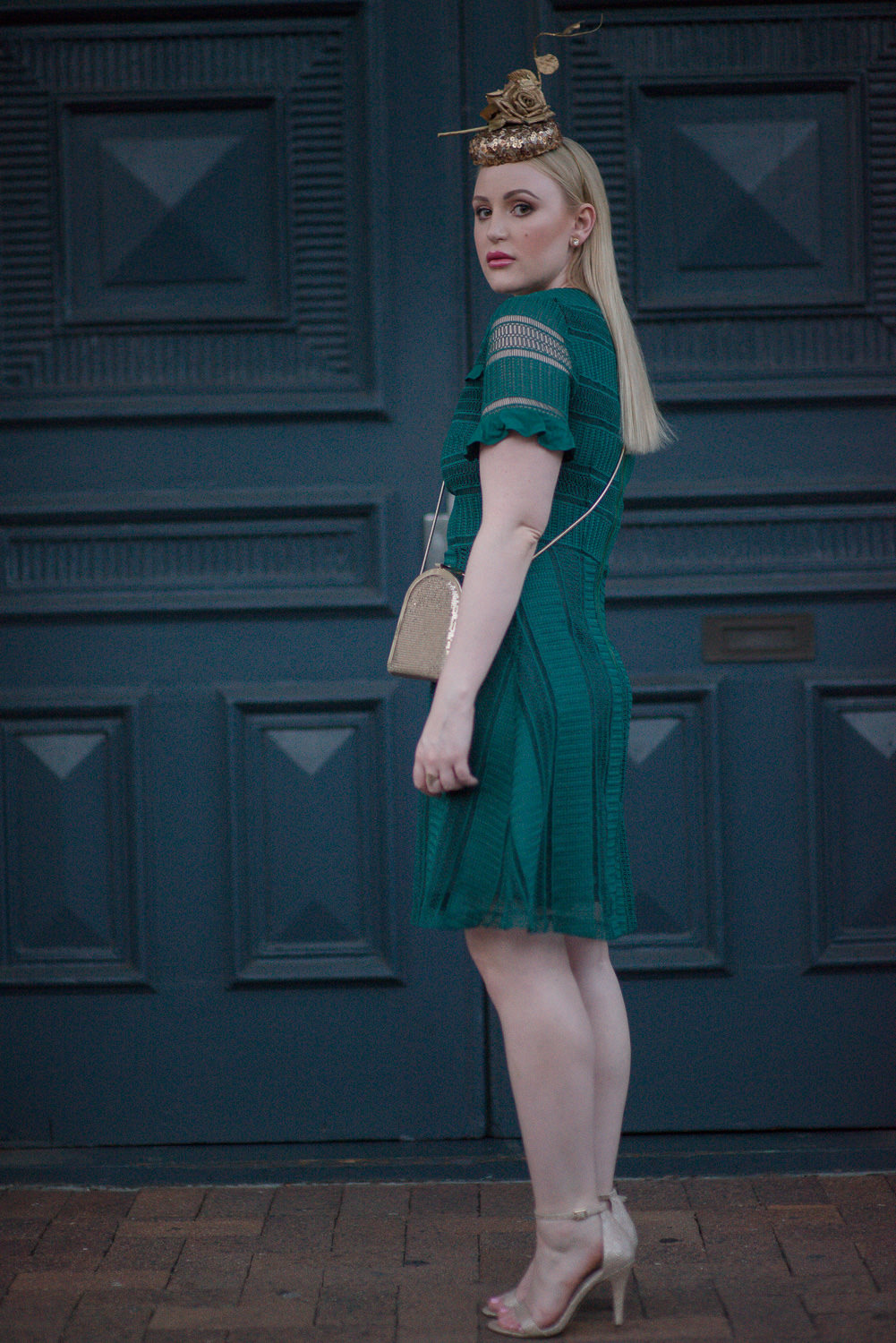 Marcs Emerald City Lace Dress, Marilyn Van den Berg Headpiece, Sachi Heels (similar style here), Swarovski Earrings (similar style here), Oroton Clutch (similar style here).
The most anticipated racing event is back, and just like last year's OOTD, I'm favouring bold colours. Ever since I laid eyes on this elegant, emerald number by Marcs, I just knew I'de found the perfect Melbourne Cup outfit! There's nothing I don't love about this sophisticated piece, from the exquisite lace detailing, to the frilled sleeve detail, this frock is born to worn in the birdcage, with a glass of Moet in hand.
As for accessories, I'm channelling an opulent statement as I style my gold sequinned, Marilyn Van den Berg fascinator, with a matching glomesh clutch – otherwise an Oroton classic. Ensuring my pedicure is nothing short of perfect, I'm stepping into a pair of open toe, strappy heels by Sachi; a pair I managed to score in a Myer midseason sale.
Beauty wise, I'm letting my outfit do the talking, applying a soft palette of blush pinks to the cheeks and lips and teaming with slick, straight hair.
What are your Melbourne Cup OOTD necessities? Let me know in the comments below!
SHOP THE POST:

Photography by Erin Smith Photography
The Best Things To Do in Sydney!
Sunday, November 5th, 2017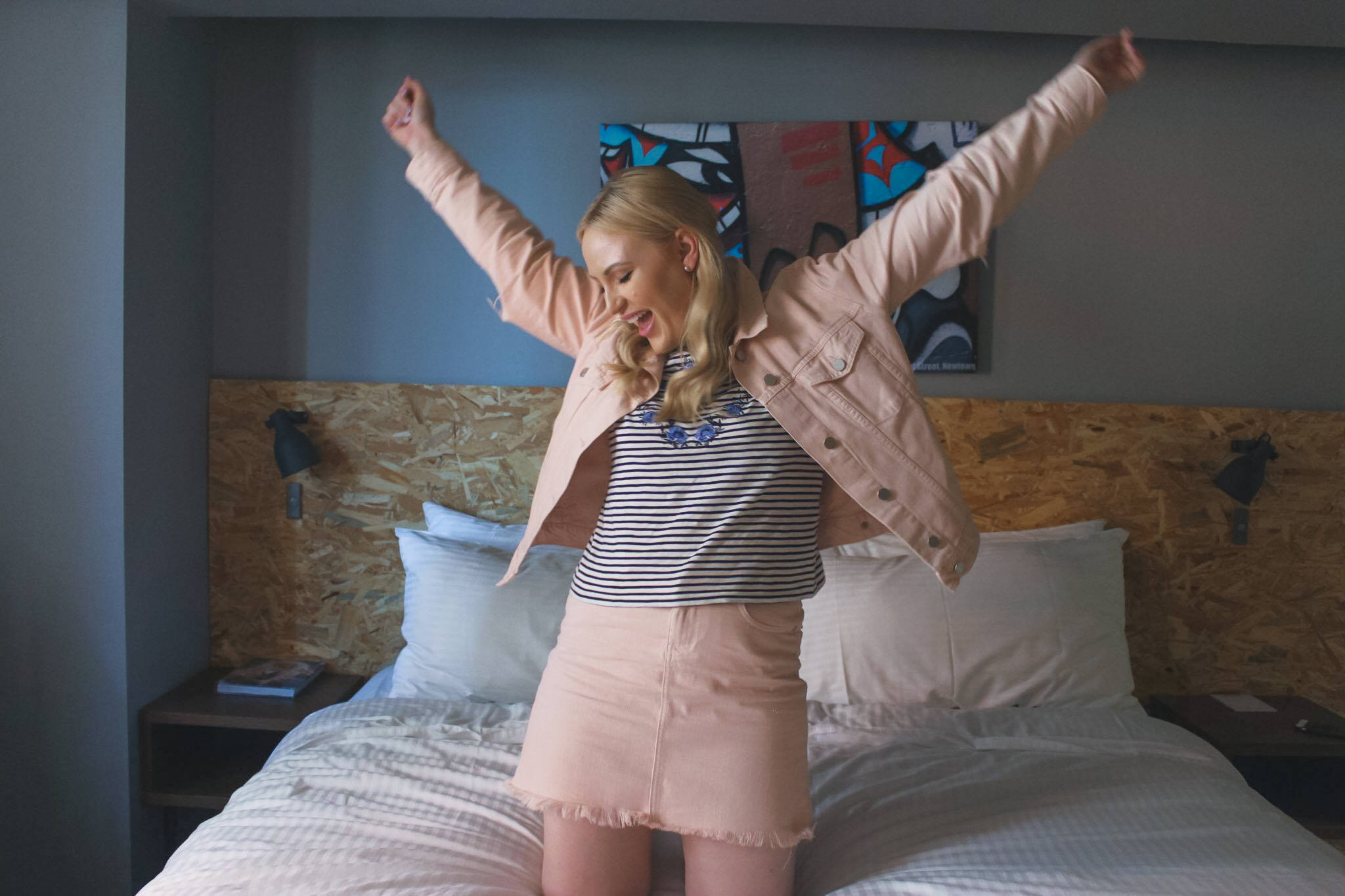 NA-KD Cut Out Sleeve Denim Jacket, NA-KD Pink Raw Hem Denim Skirt, Marcs Porcelain Embroidered Tee.
If you're familiar with my gram you'll already know that last month I enjoyed a staycation in Sydney, courtesy of Marcs (more on that subject soon!) With my best friend in tow, we wined, dined, ferried and frolicked around Sydney, documenting our favourite stops along the way. Presenting my highlights of Sydney's best below!
Stays @ The Urban Newtown
I've stayed inner city many a time, but my favourite digs to date is The Urban Newtown in Newtown. What I loved about this suburb is it's eclectic little collection of cafes, bistros, op shops, boutiques and striking street art. The boutique hotel itself was a super cool sanctuary with its industrial interiors, modern furnishings and lush green courtyard. My suite was generous and stocked with a free minibar (#spoilt), a point of difference and luxury, that The Urban Newtown offers to all guests upon booking.
The staff were incredibly friendly, offering stellar recommendations for local dining and cheeky nightcaps. I actually had the best pasta of my life at a little hole in the wall called The Italian Bowl, recommended by the friendly gent on reception.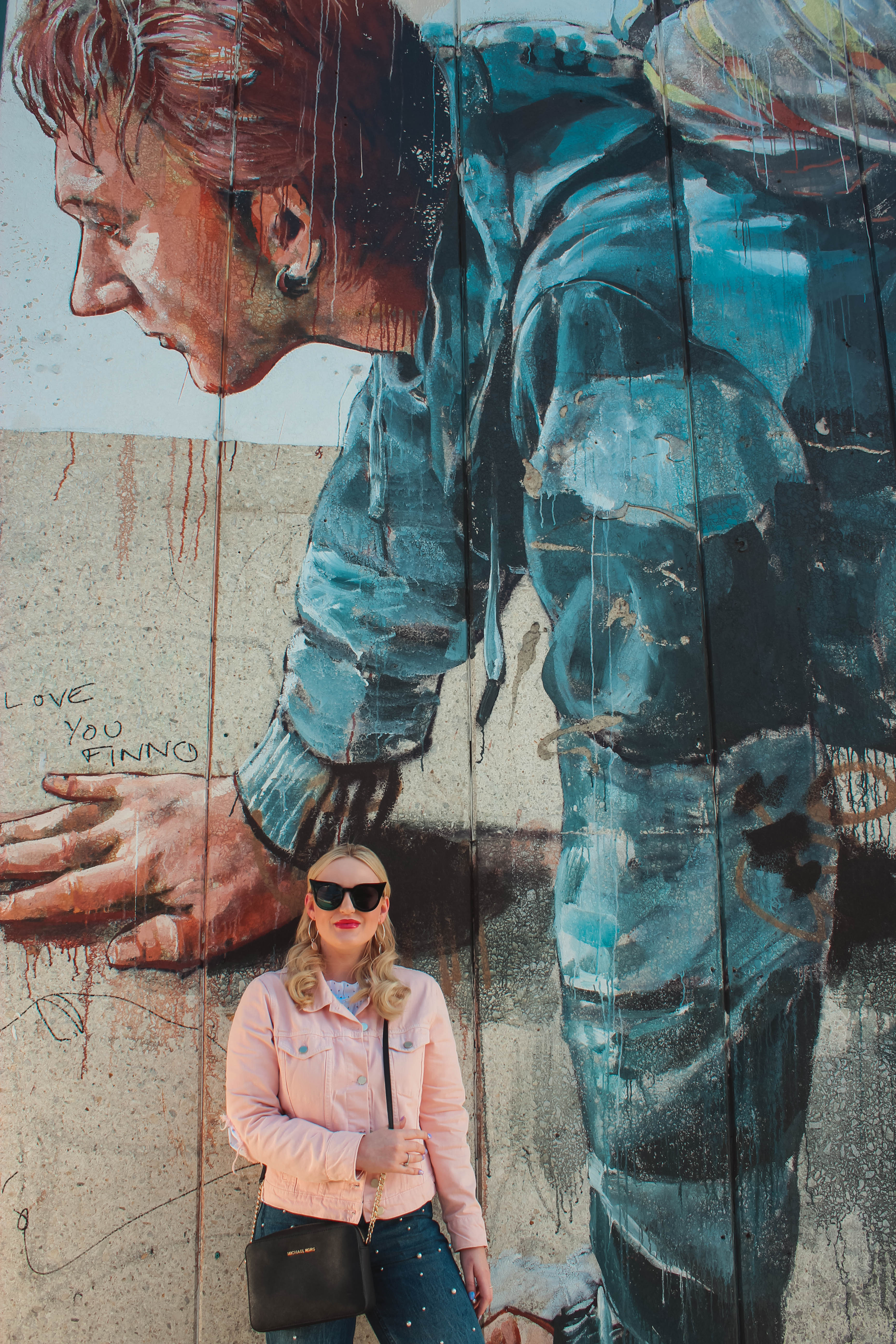 The Urban Newtown is home to this spectacular street art by Fintan Magee. Coincidently his fox mural also displays in my blog's header pic.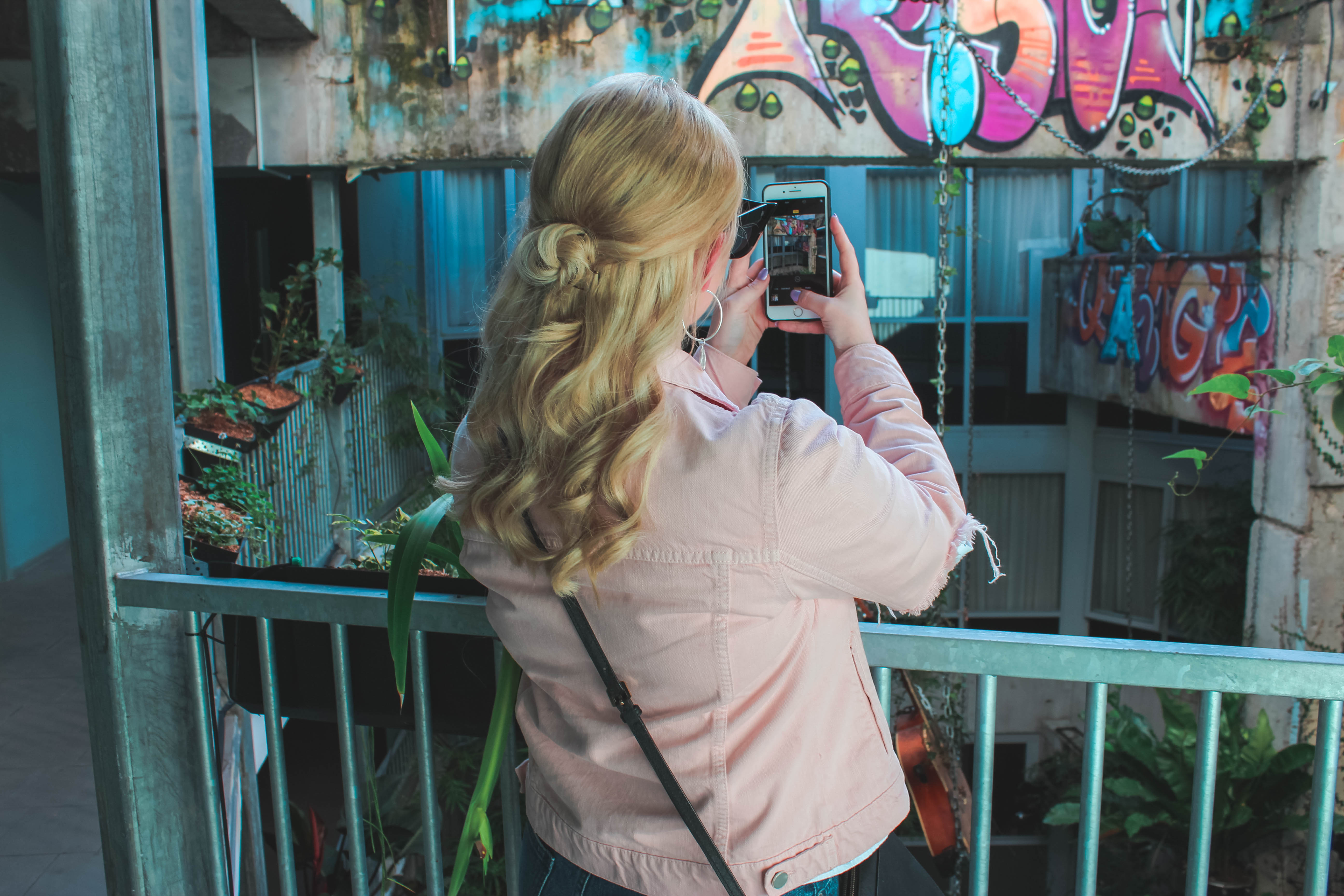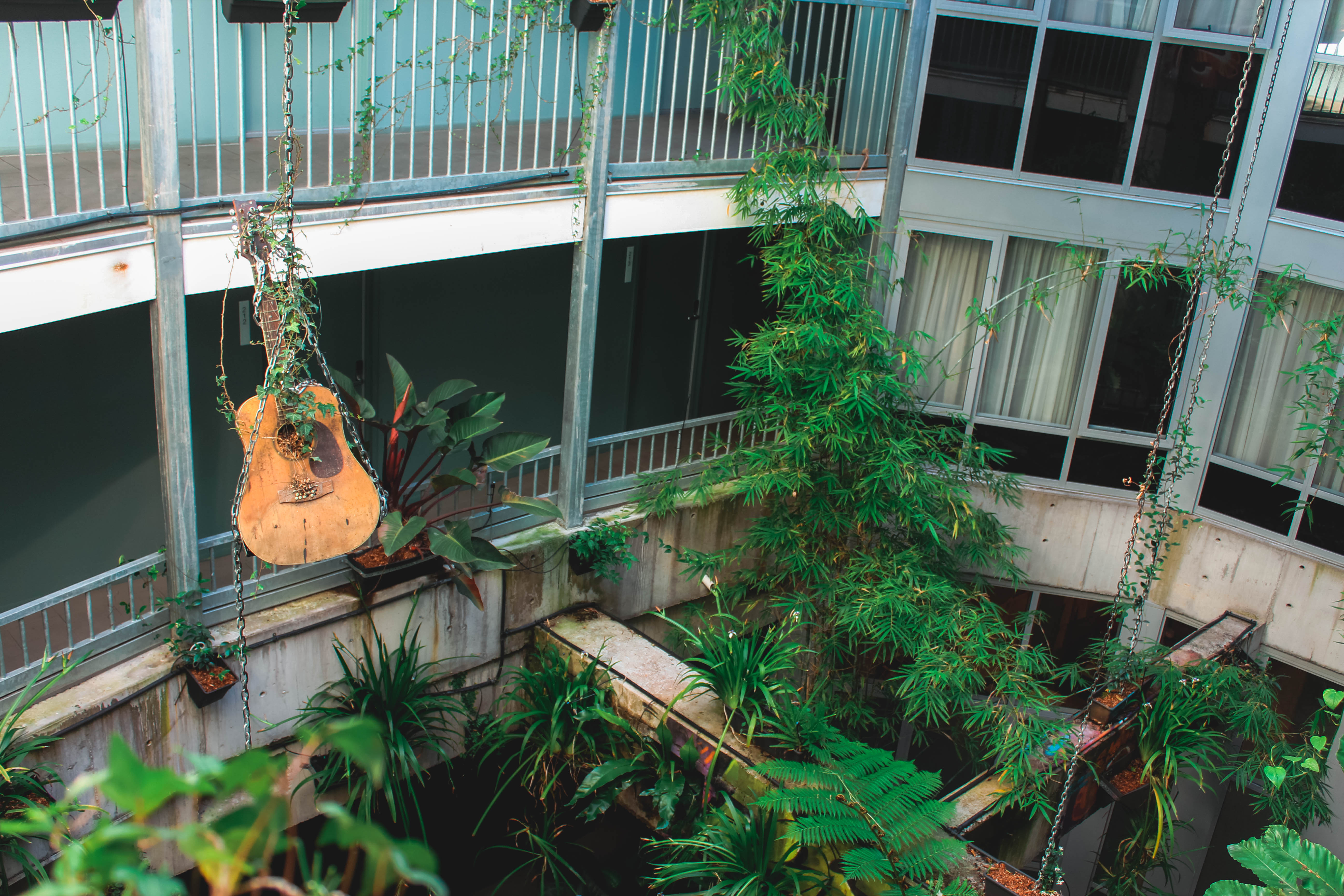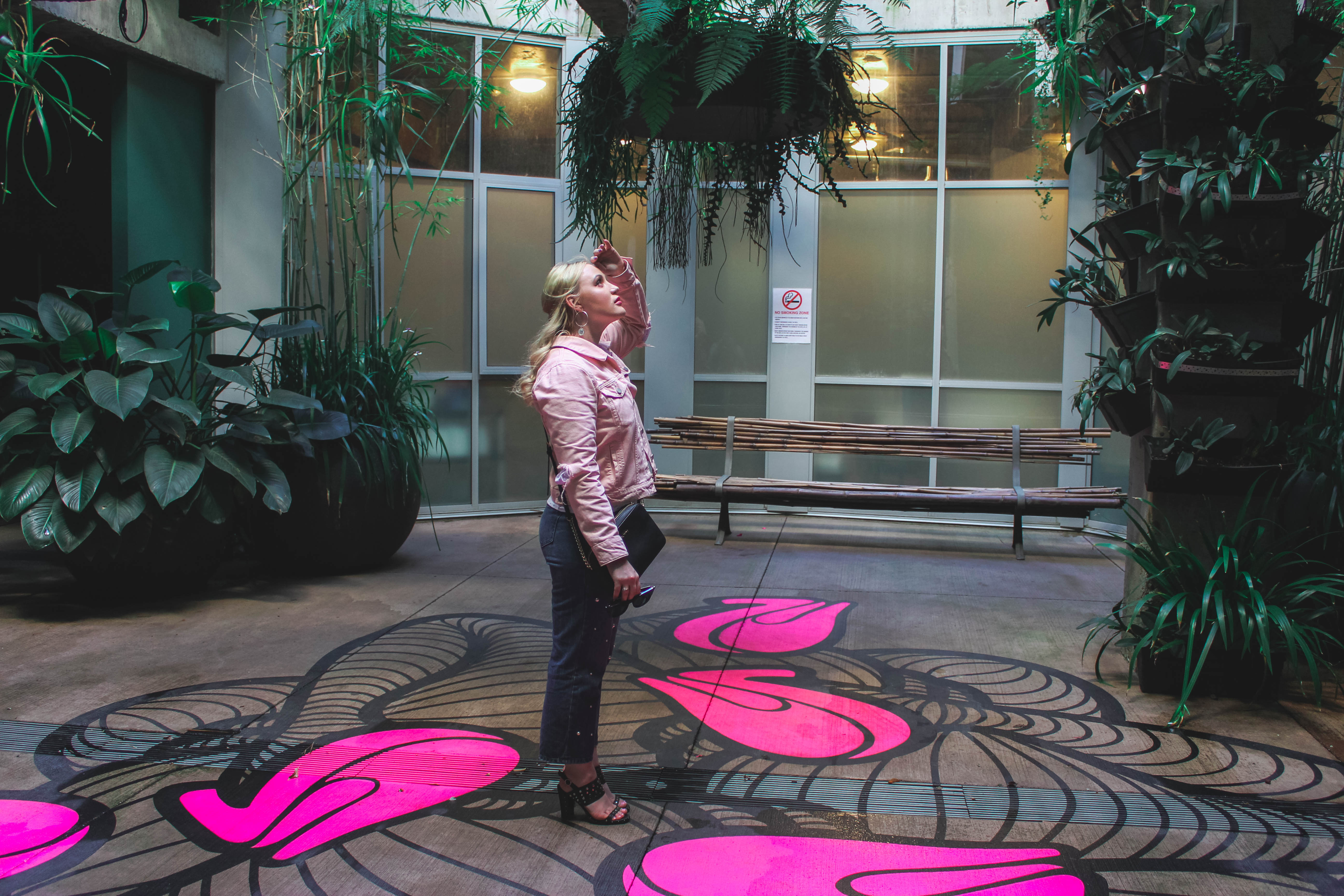 The Grounds of Alexandria
Europe or Sydney? I certainly felt as though I was transported into a dreamy Parisian scene, surrounded by endless florals, petite dessert carts and quaint lemonade stands, in Sydney's Instagrammable haven, The Grounds of Alexandria. While we didn't get a chance to dine at the cafe, we certainly indulged in a few sweets, including the house-made donuts….Delightful!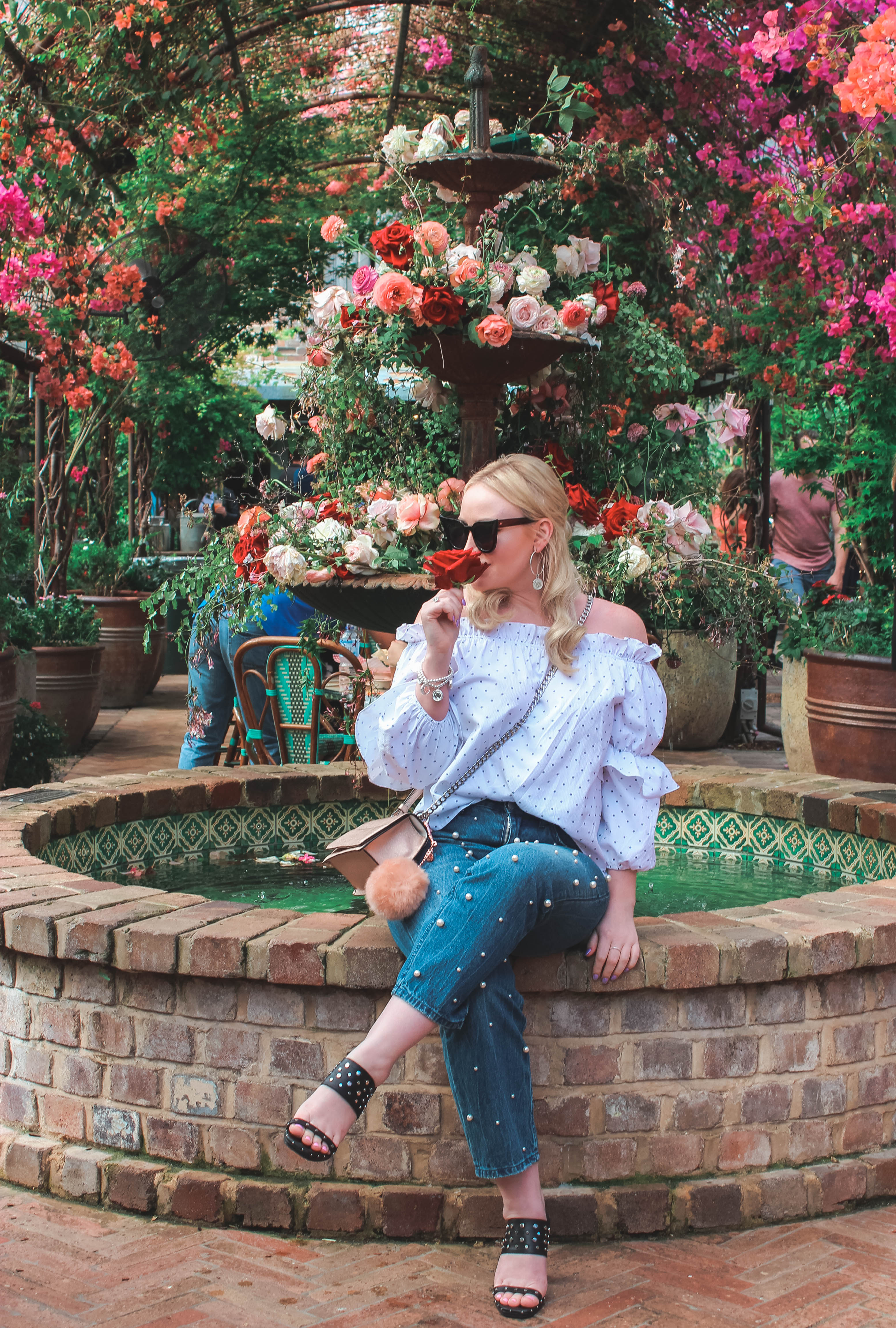 Piper Petites Pearl Jeans, Grab Off The Shoulder Top, Wittner Floyd Sandals, Oroton Crossbody Bag (similar style here), Adorne Coin Hoop Earrings, Adorne Coin Bracelet, Le Specs Sunglasses (similar style here).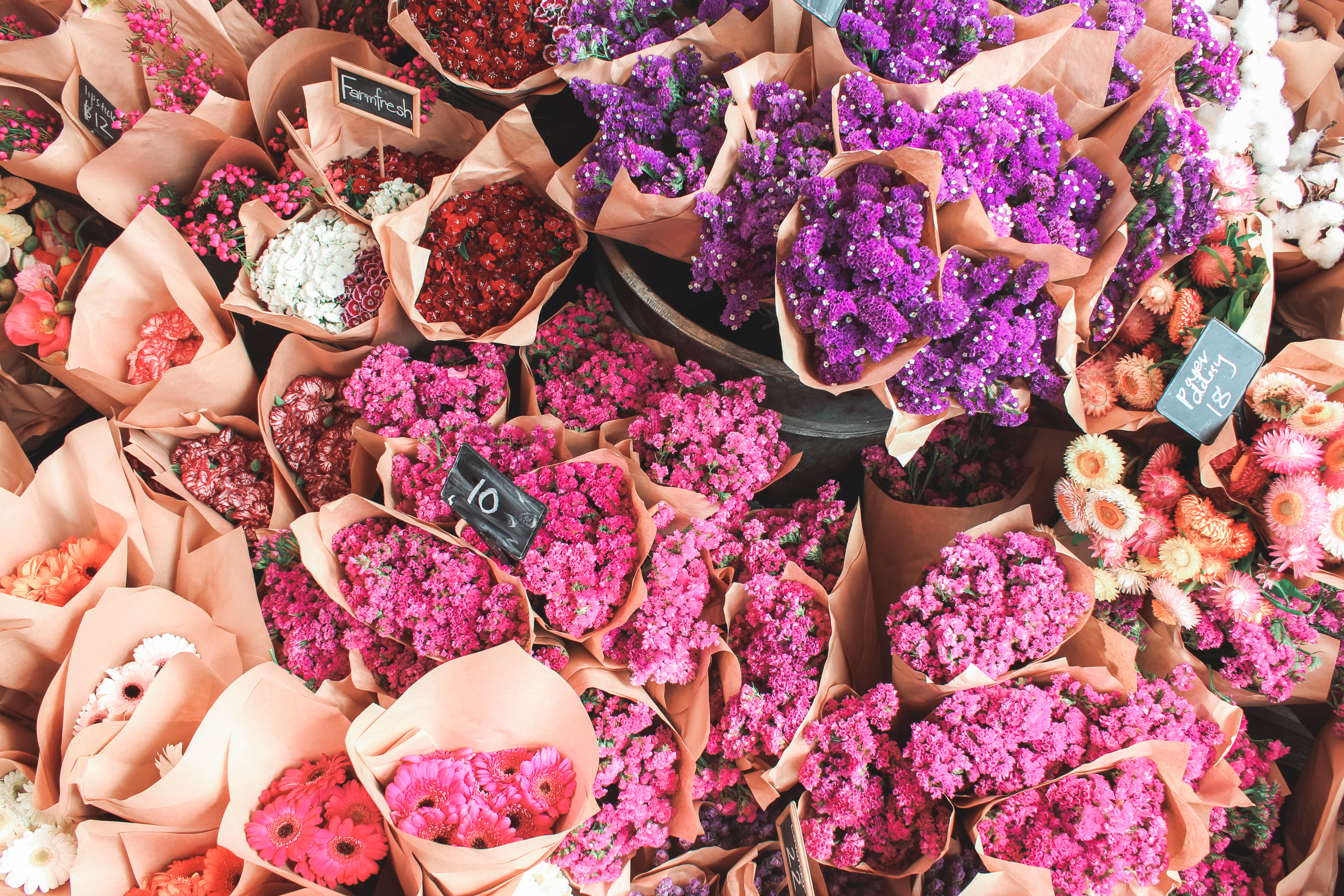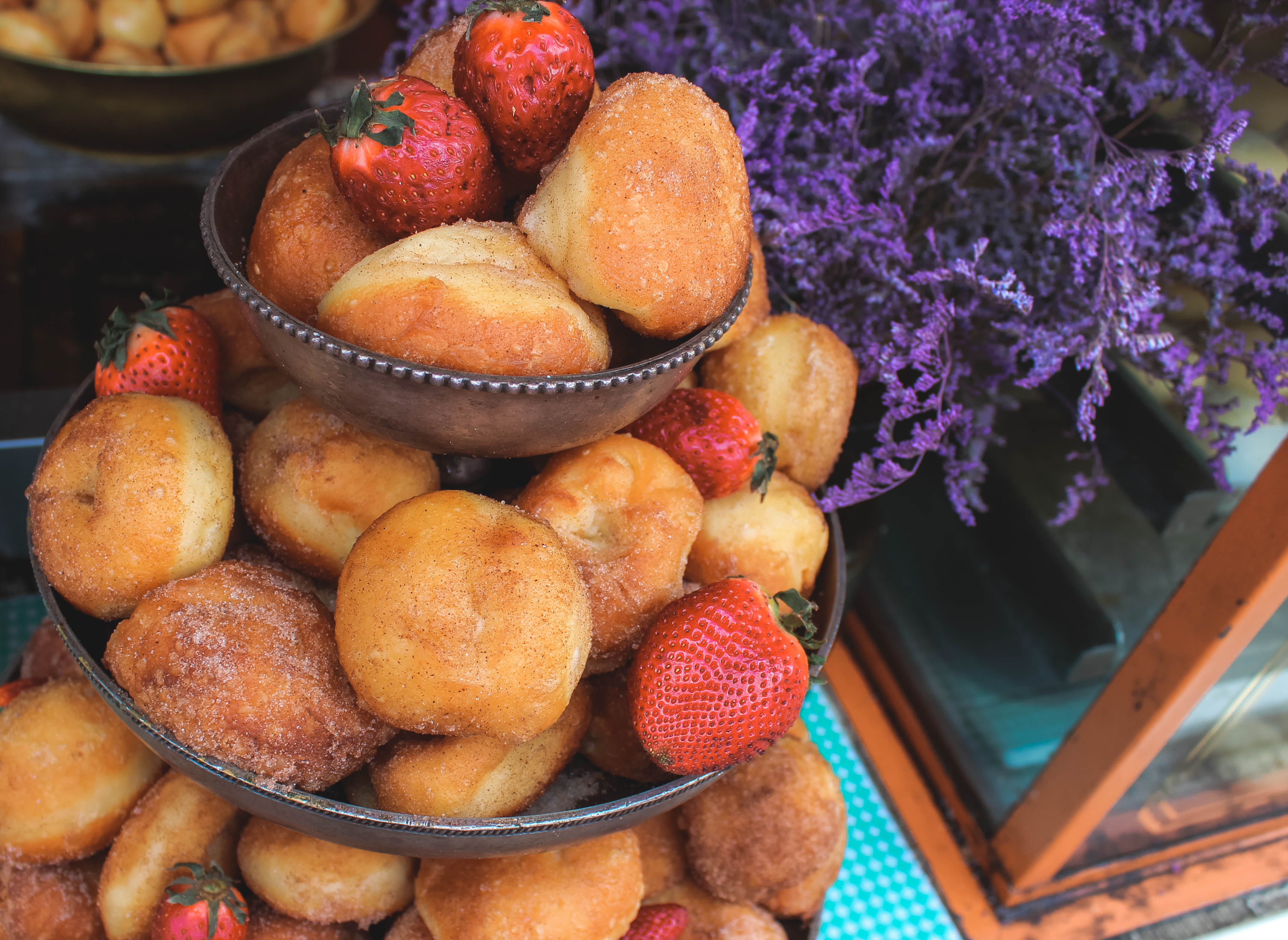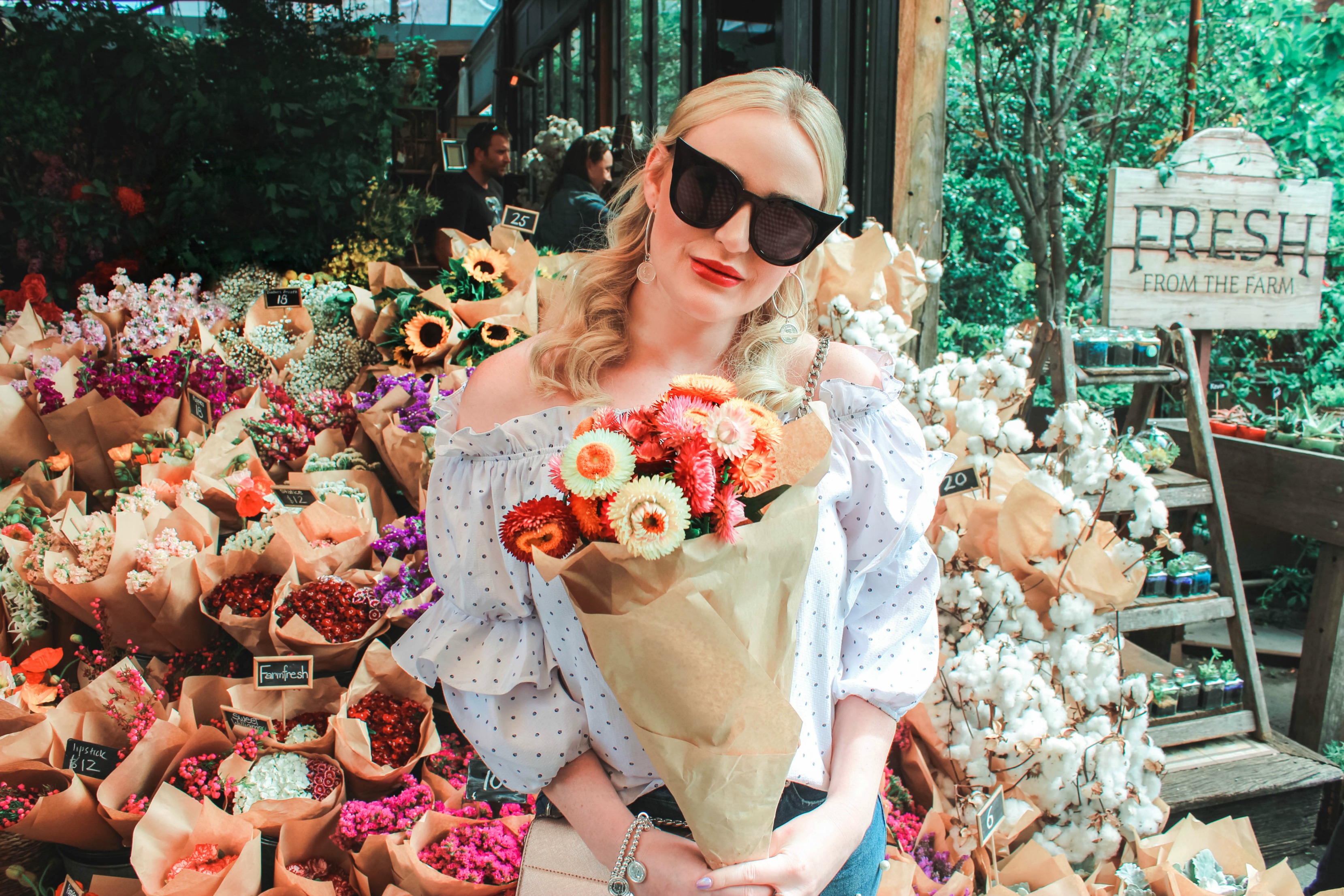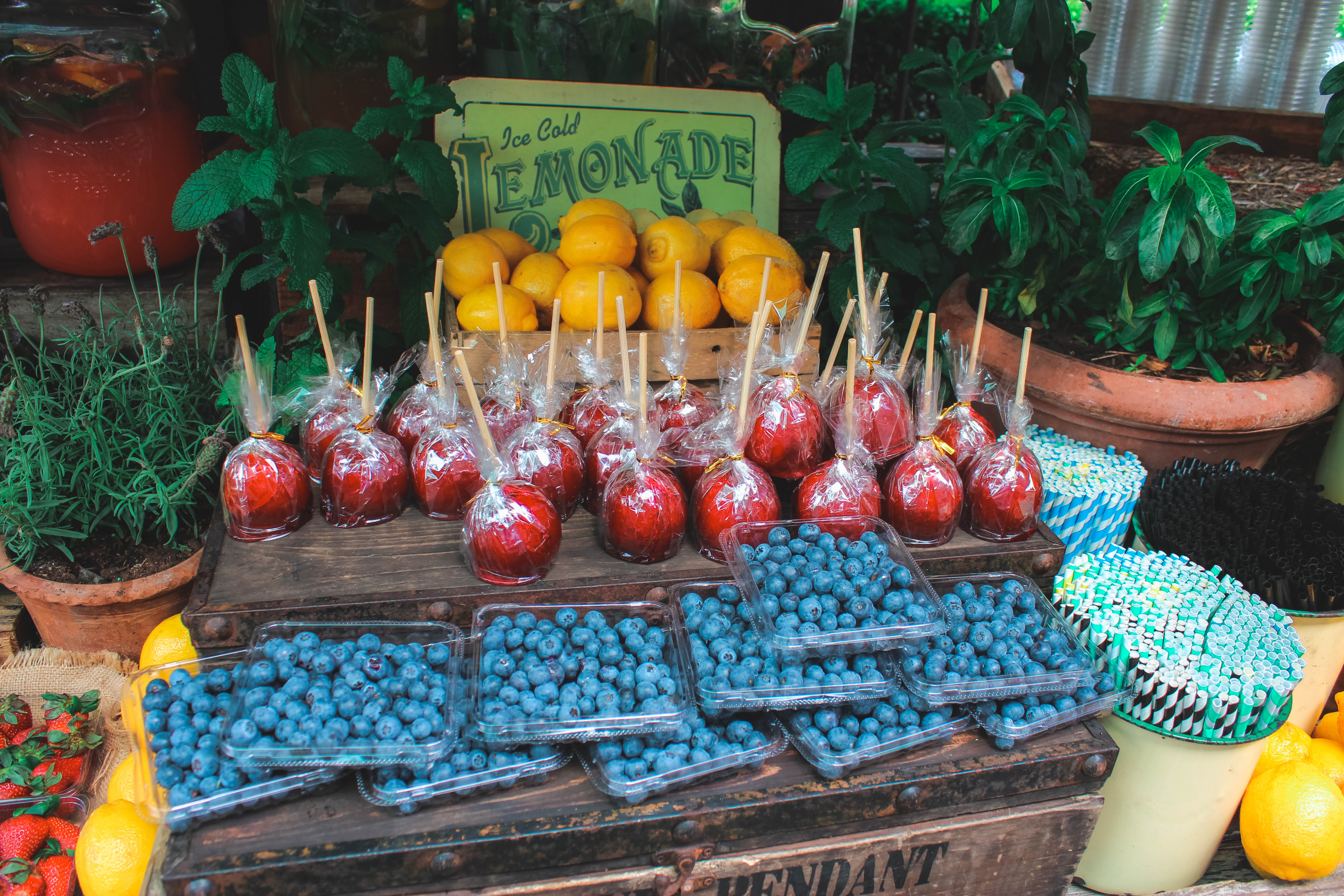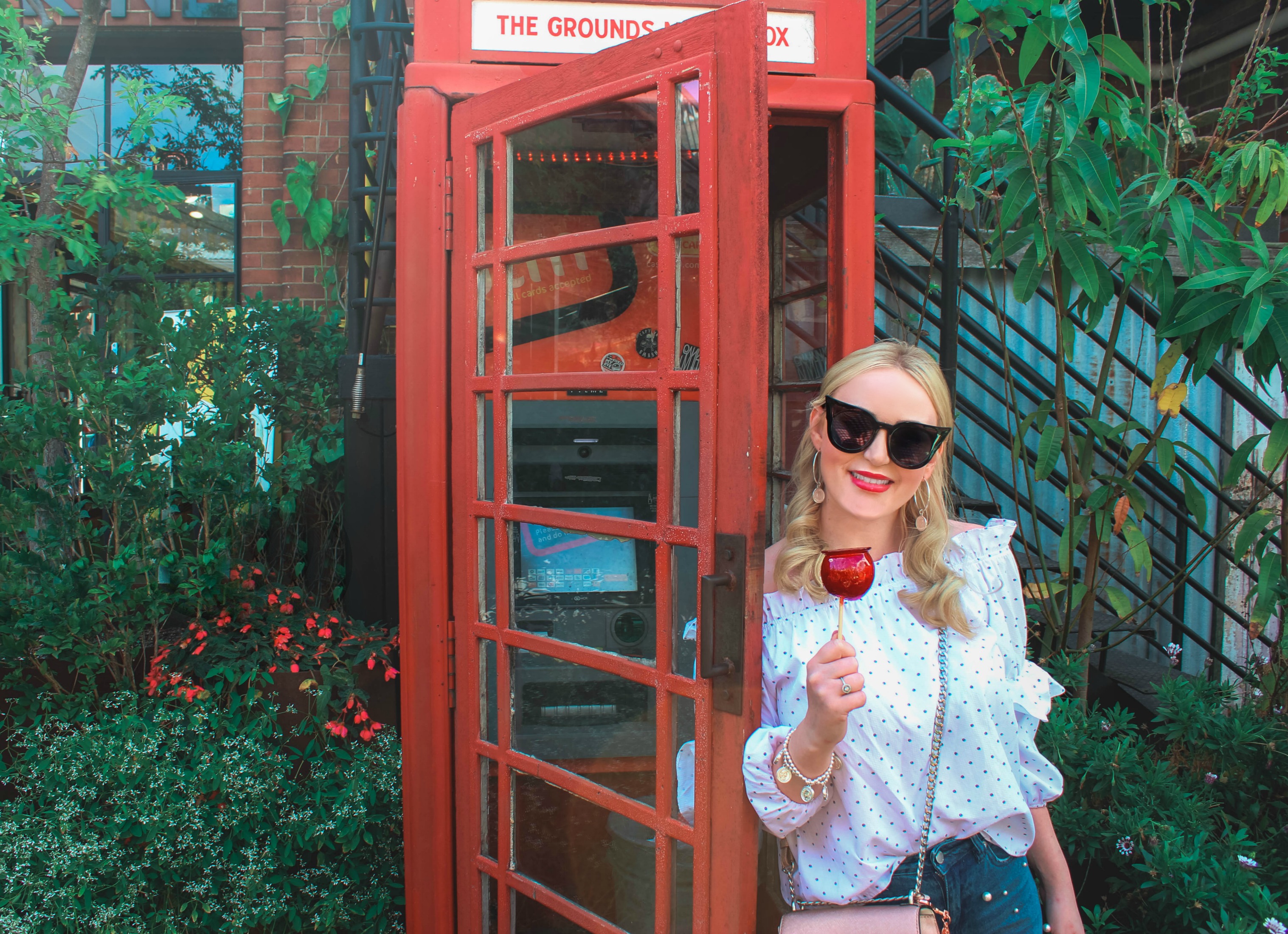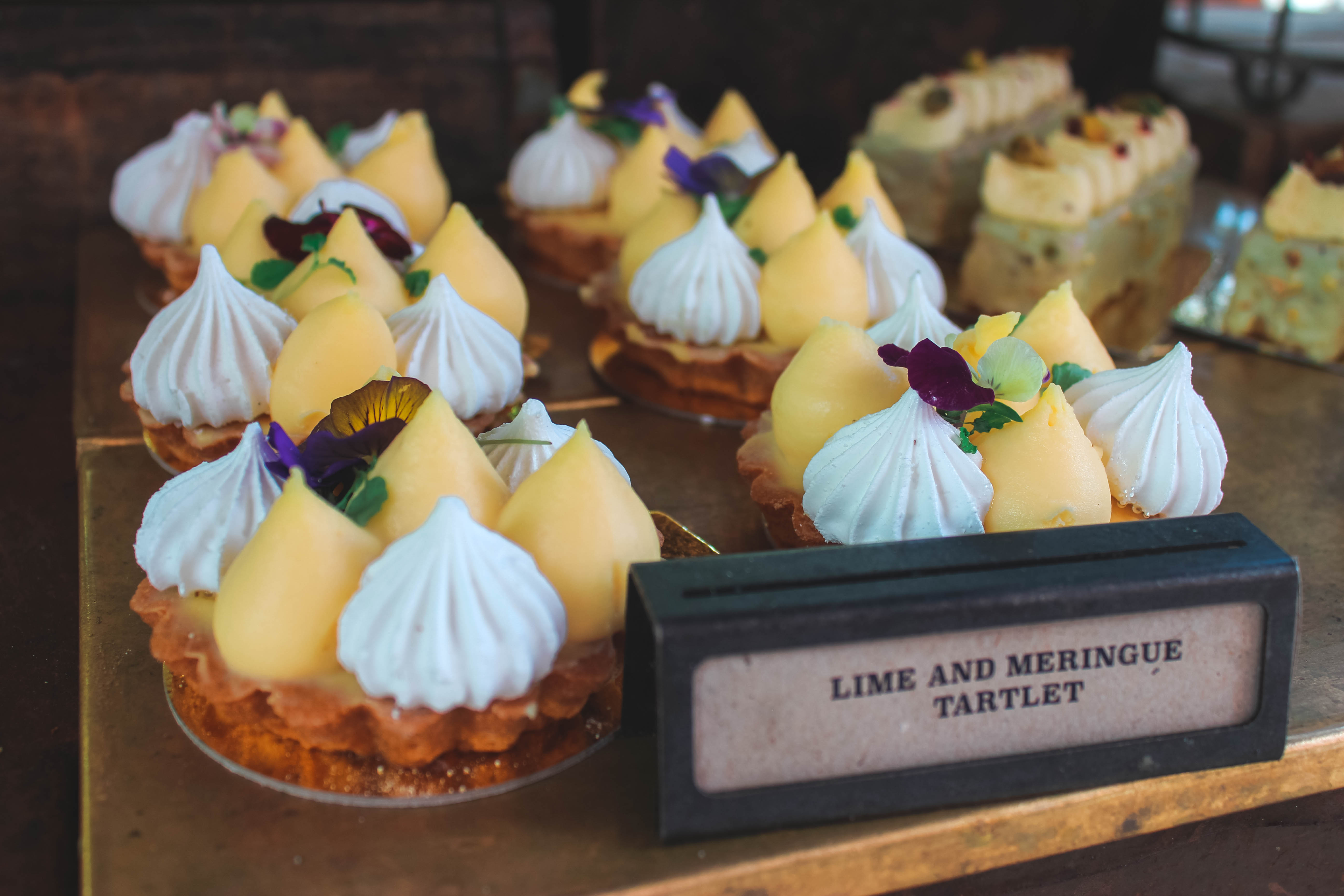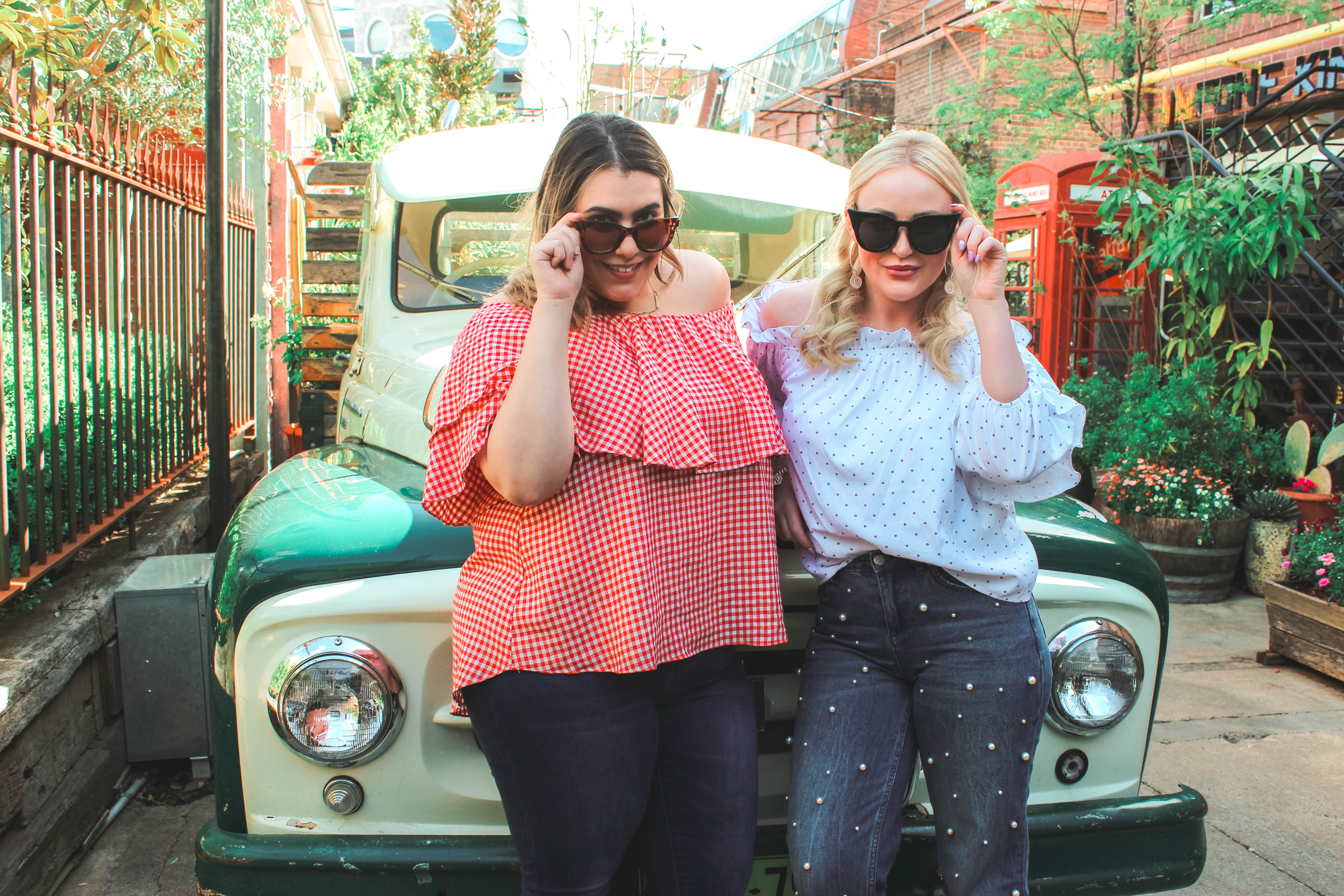 Ferry To Manly
There's no greater feeling then a healthy dose of Vitamin D and the ferry ride to Manly is very picturesque, as it passes by the iconic Harbour Bridge & Opera House. I definitely recommend having a wander throughout Manly and stopping along the waterfront for brunch.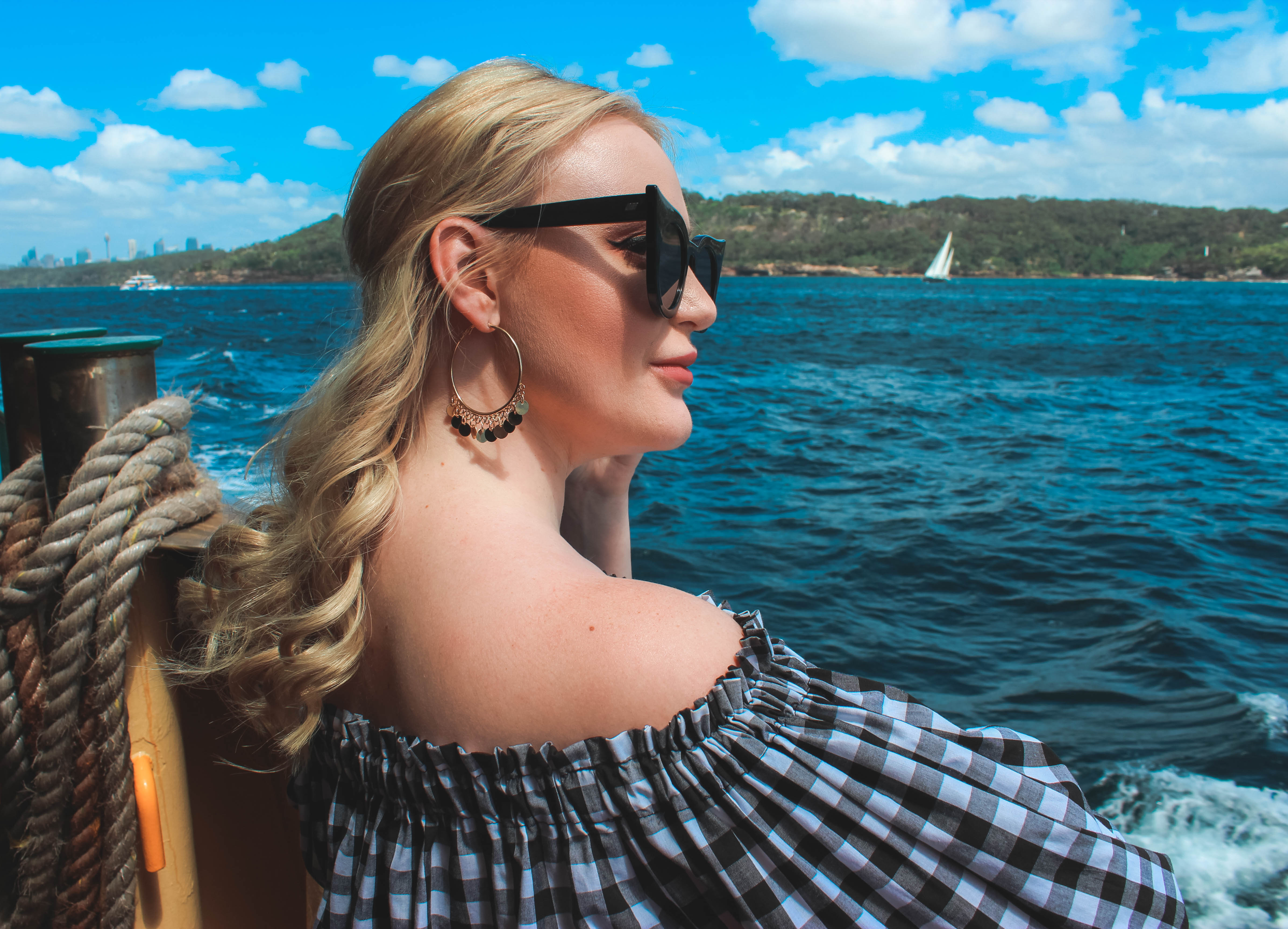 Gingham Off The Soulder Top (similar style here), Adorne Disk Droplets Hoop Earrings.
Dessert at Cow & The Moon
Again, another handy little suggestion from The Urban Newtown front desk. The Cow & The Moon boasts an incredible selection of desserts, known for their award winning artisan gelato bar. My picks? 1 part Roasted Coconut, 1 part Strawberry!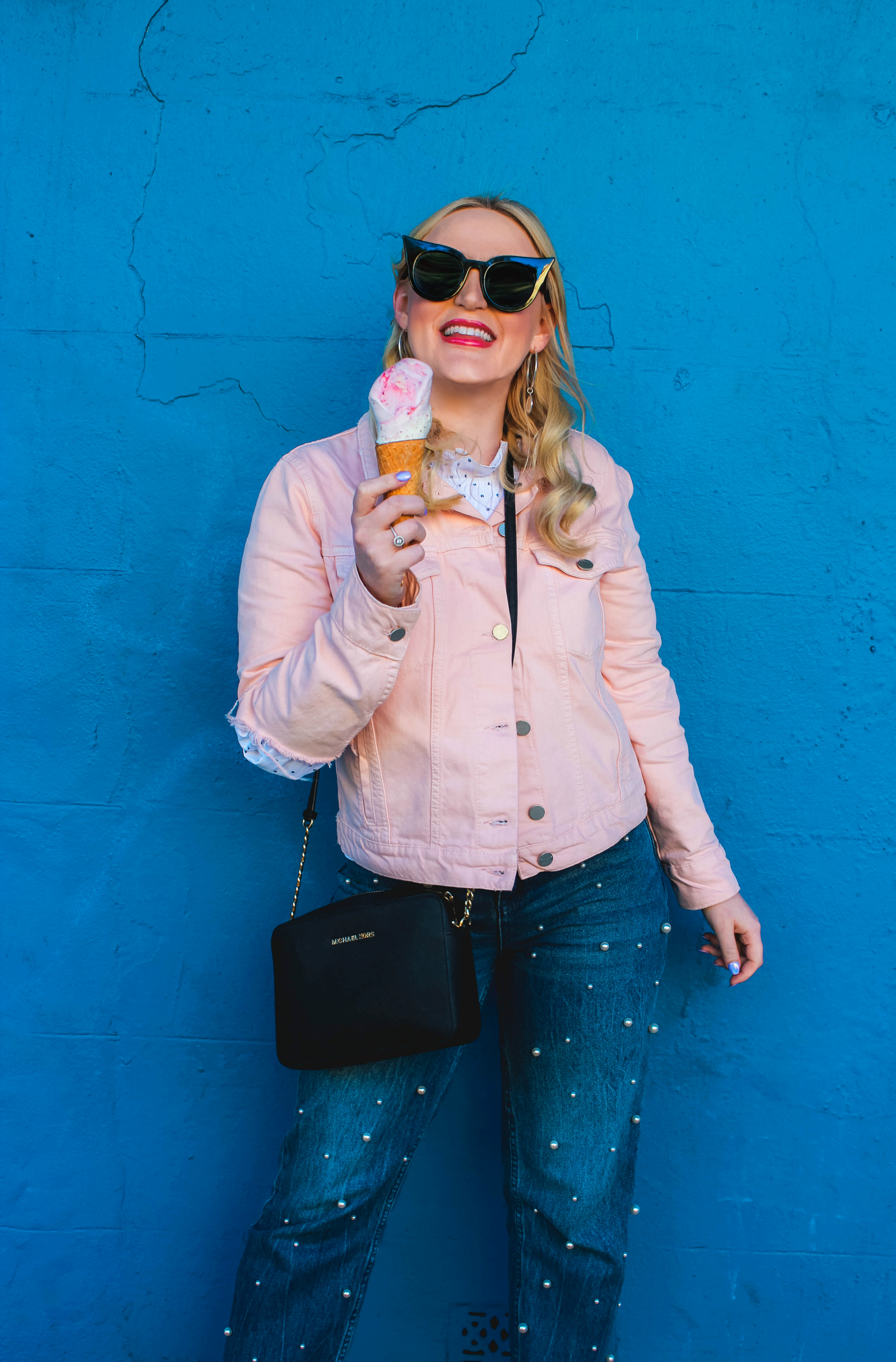 NA-KD Cut Out Sleeve Denim Jacket, Piper Petites Pearl Jeans, Michael Kors Selma Messenger Bag (similar style here), Le Specs Sunglasses (similar style here), Pandora Vintage Allure Ring.
So much in Sydney, so little time! I'de love to hear your thoughts and suggestions on other fabulous spots in Sydney. Please leave me comment below!
Also, my darling friends over at NA-KD.com are giving all TBS readers a special little discount of 20% off purchases + free shipping worldwide. Use the code 'ashleigh20' to redeem. Happy shopping!
SHOP THE POST:

Just Like Cher!
Wednesday, November 1st, 2017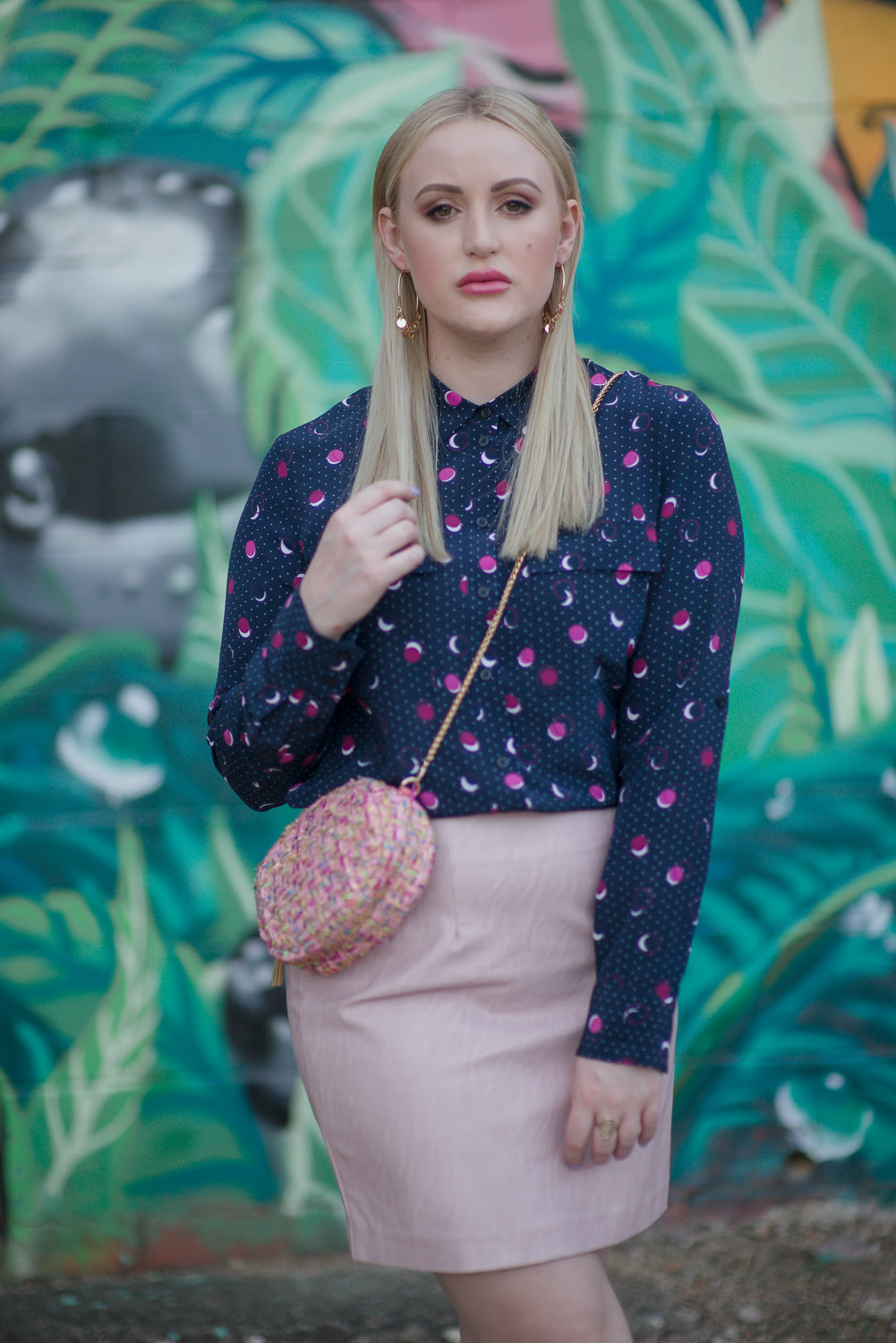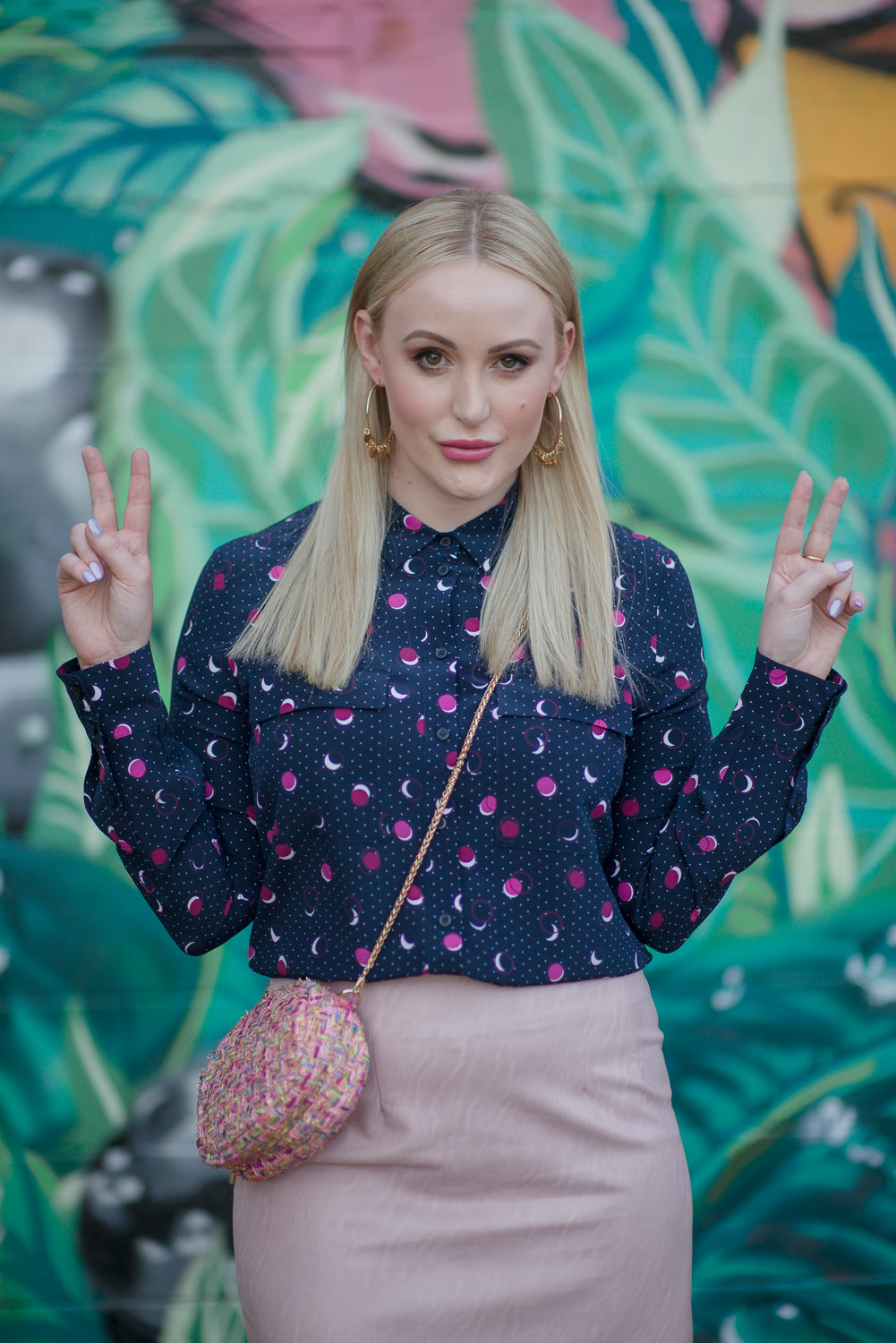 Marcs Spot Print Silk Blouse, MP|C Pink PU Skirt (similar style here), Wittner Wandy Pump, Adorne Manhattan Boucle Mini Oval Bag, Adorne Disk Droplets Hoop Earrings.
Styling this #ootd, I am reminded of a movie counterpart that shares the same penchant for colour coordinating and super cute accessories. Today fashionista's, I'm the modern day Cher Horowitz (minus the plaid) and just like Cher, I'm keeping things preppy with this silken button button down blouse from Marcs. Calling upon my signature colour, I'm teaming this piece with a skirt in the same pastel pink hue as Cher's frock to Mr Hall & Mrs Geists's wedding.
Of course, one of Cher's most memorable moments is when reflecting on her footwear of choice she states,
"You see how picky I am about my shoes and they only go on my feet"
Girl, I feel you, but I do believe she would totally flip over these adorable kitten heels from new season Wittner. At 163cm I'm not usually favourable for such a petite heels, but with the crafted flower detail and pearl embellishment, I couldn't resist!
The final detail is a favourite of mine, a Chanel inspired boucle bag from Adorne – the cutest!

SHOP THE POST:
Photography by Erin Smith Photography
---