How To Channel Boho Chic
Sunday, April 15th, 2018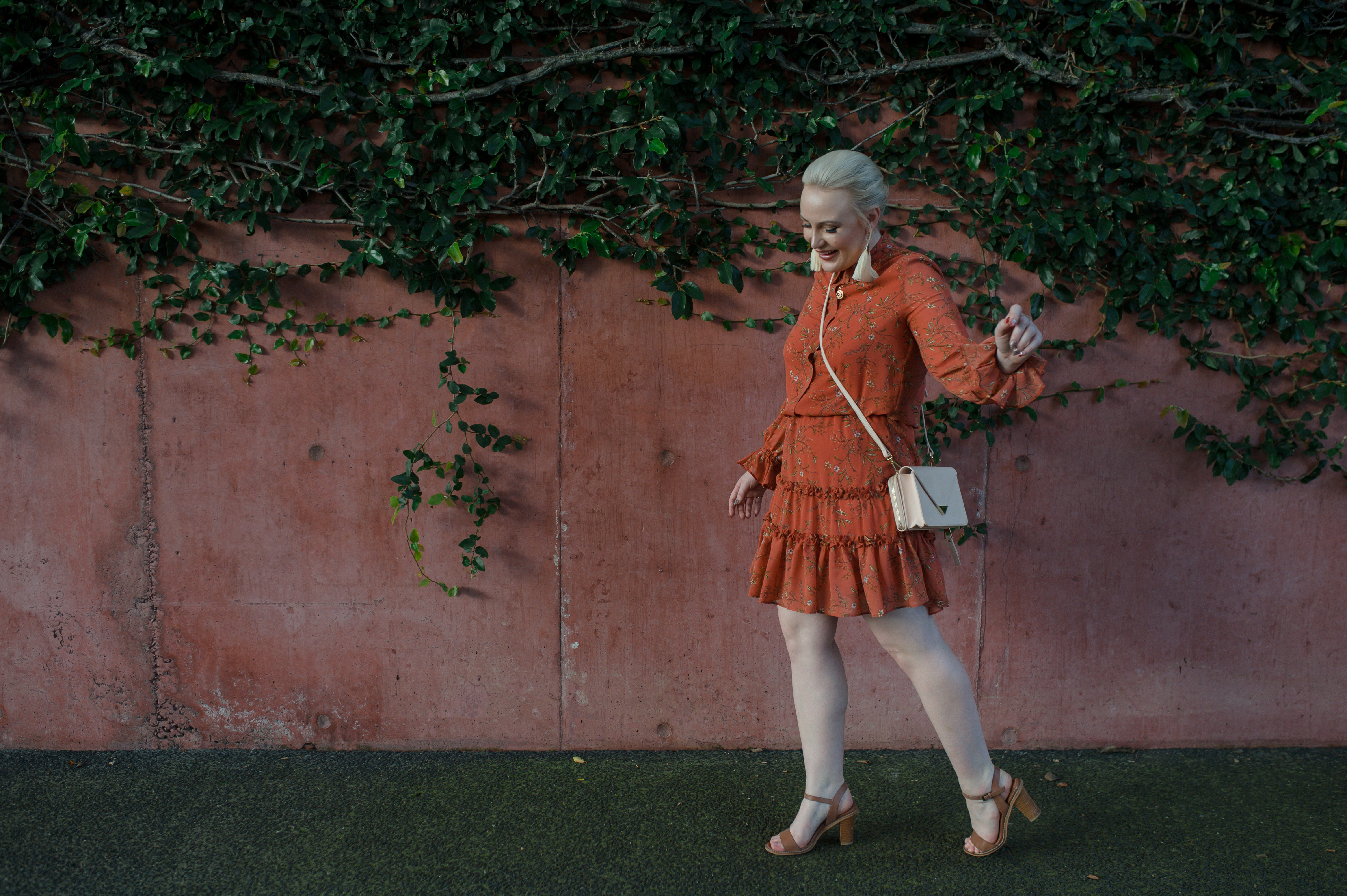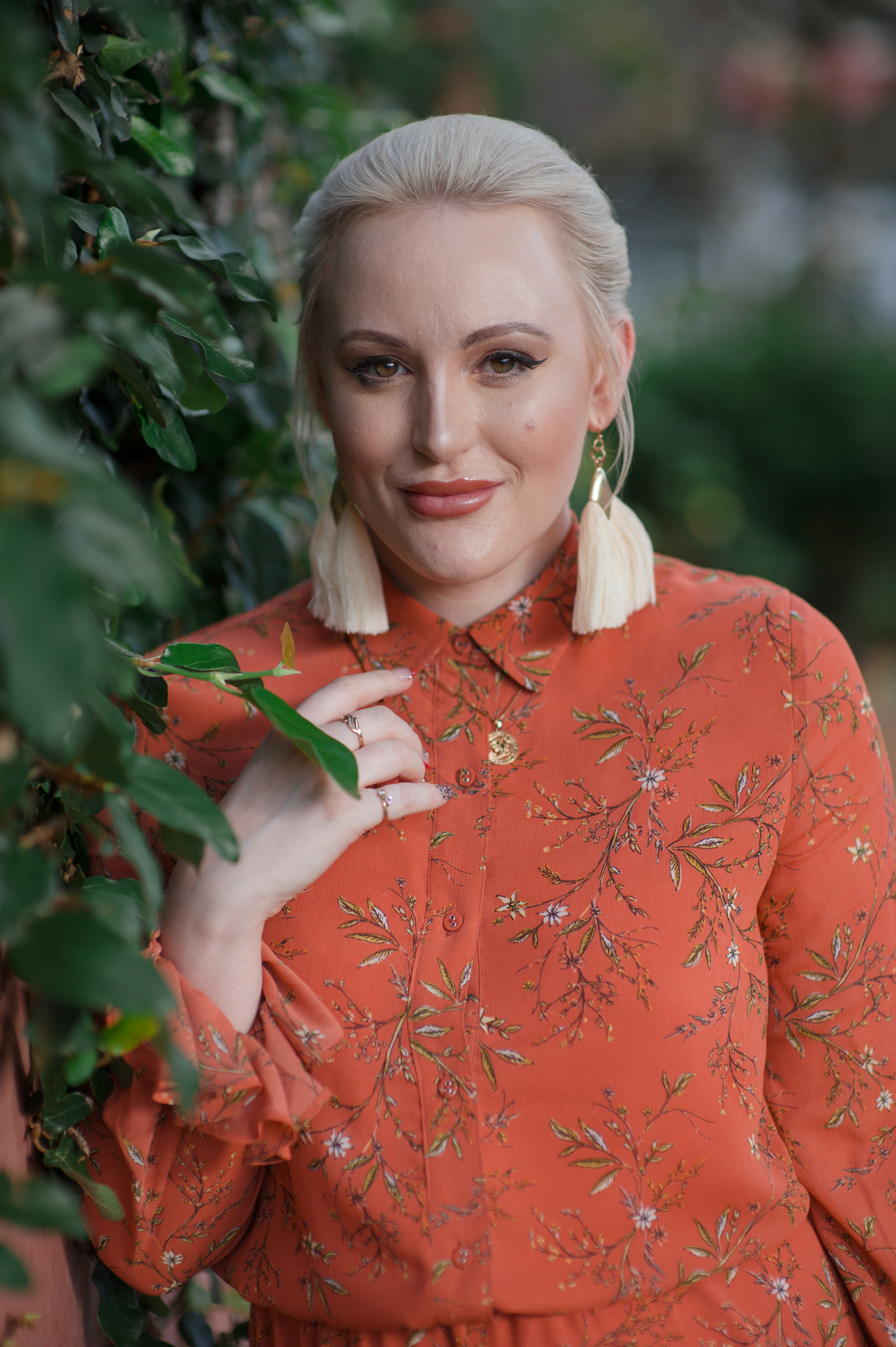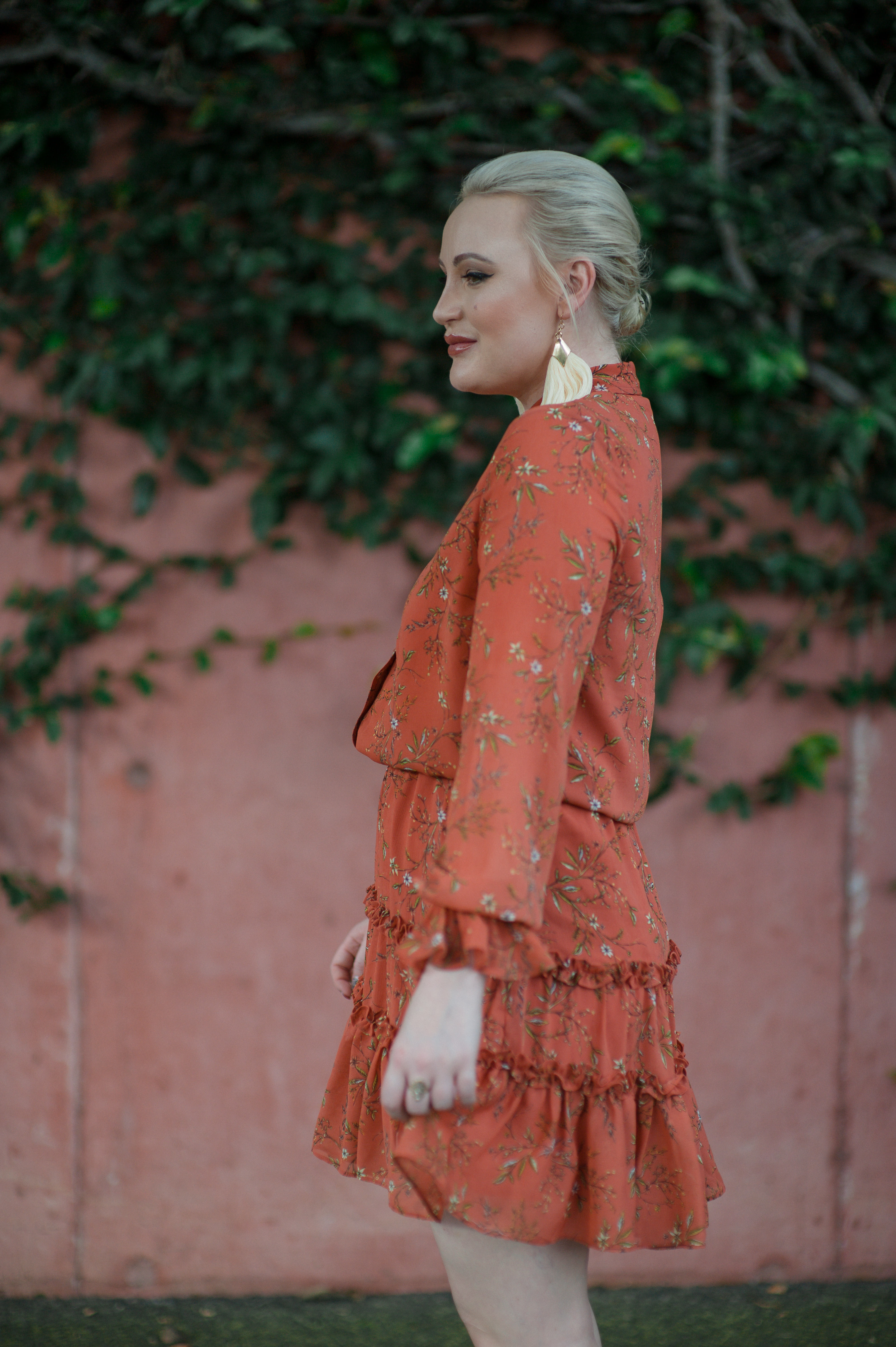 Jag Artisan Dress, Jo Mercer Erasmus Sandals, Adorne Fringe Earrings, Marcs Bag (similar style here), Molten Store Zodiac Pendant Necklace.
Ladies, I absolutely LOVE the concept of boho, but it's not usually part of my classic aesthetic. However, find me a frock in a terracotta hue, highlighting florals and frills and I'm singing a different tune! Can we just take a moment to appreciate this Autumn appropriate Jag number (currently under $100) which is going to transcend from work to play?
So how does one achieve that perfect combination of boho chic? Well, it's all in the details! For me I'm loving the button up collar detail, garnished by a golden Zodiac pendant from Molten Store. I'm teaming this pendant with a pair of tassel earrings from Adorne, because I like to keep things a little extra.
Whilst it wouldn't be boho without the glimpse of a braid, I'm adding my own little twist with a low, nape of the neck knot. Trust me when I say this hairstyle took a quick 5 minutes and was so easy to execute.
I'de love your thoughts cuties, should I incorporate more boho chic looks into my repertoire? Are there any particular labels you are vibing? Let me know below!
SHOP THE POST:

Photography by Erin Smith Photography
Hello, Dorothy!
Sunday, April 8th, 2018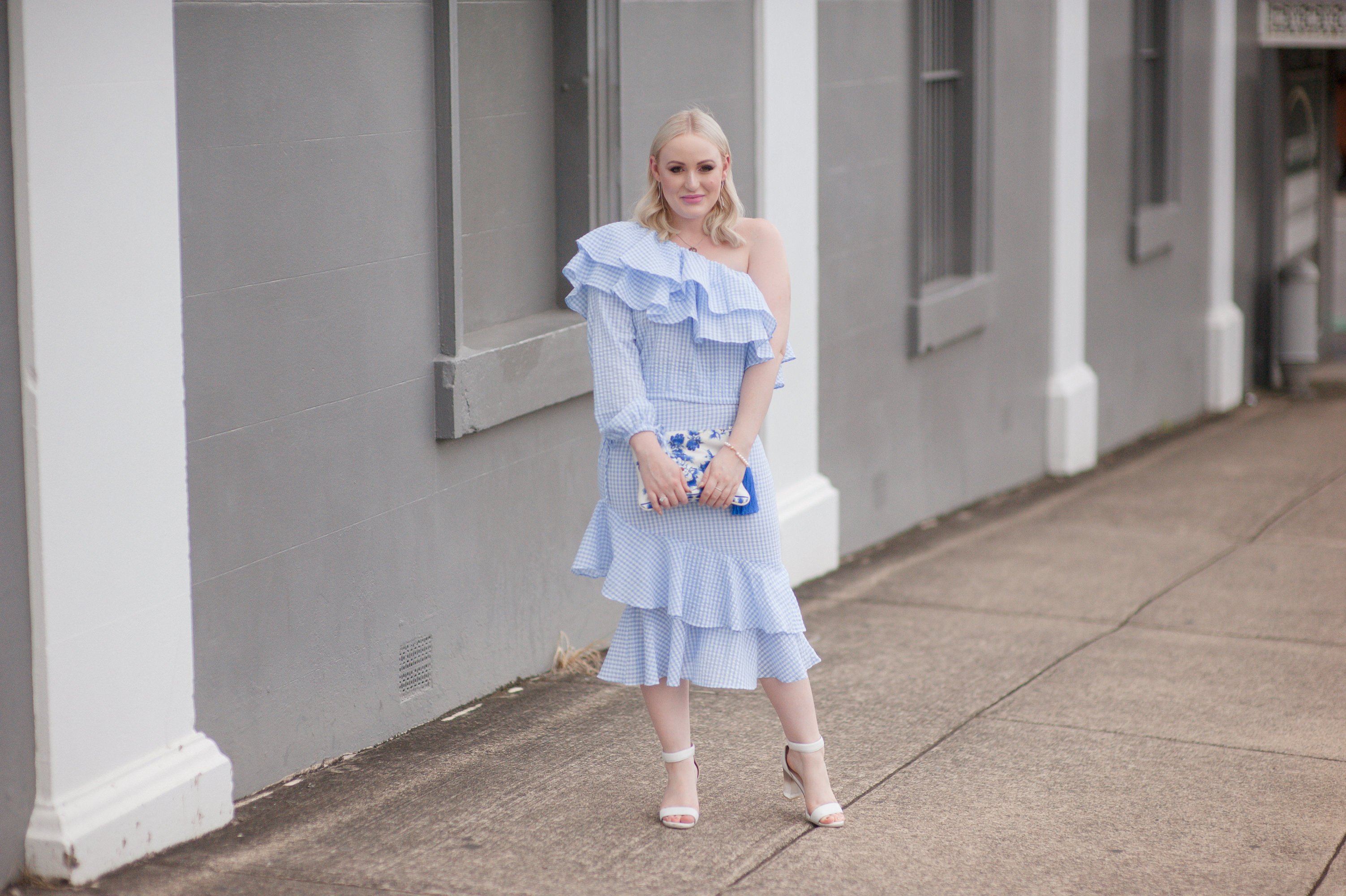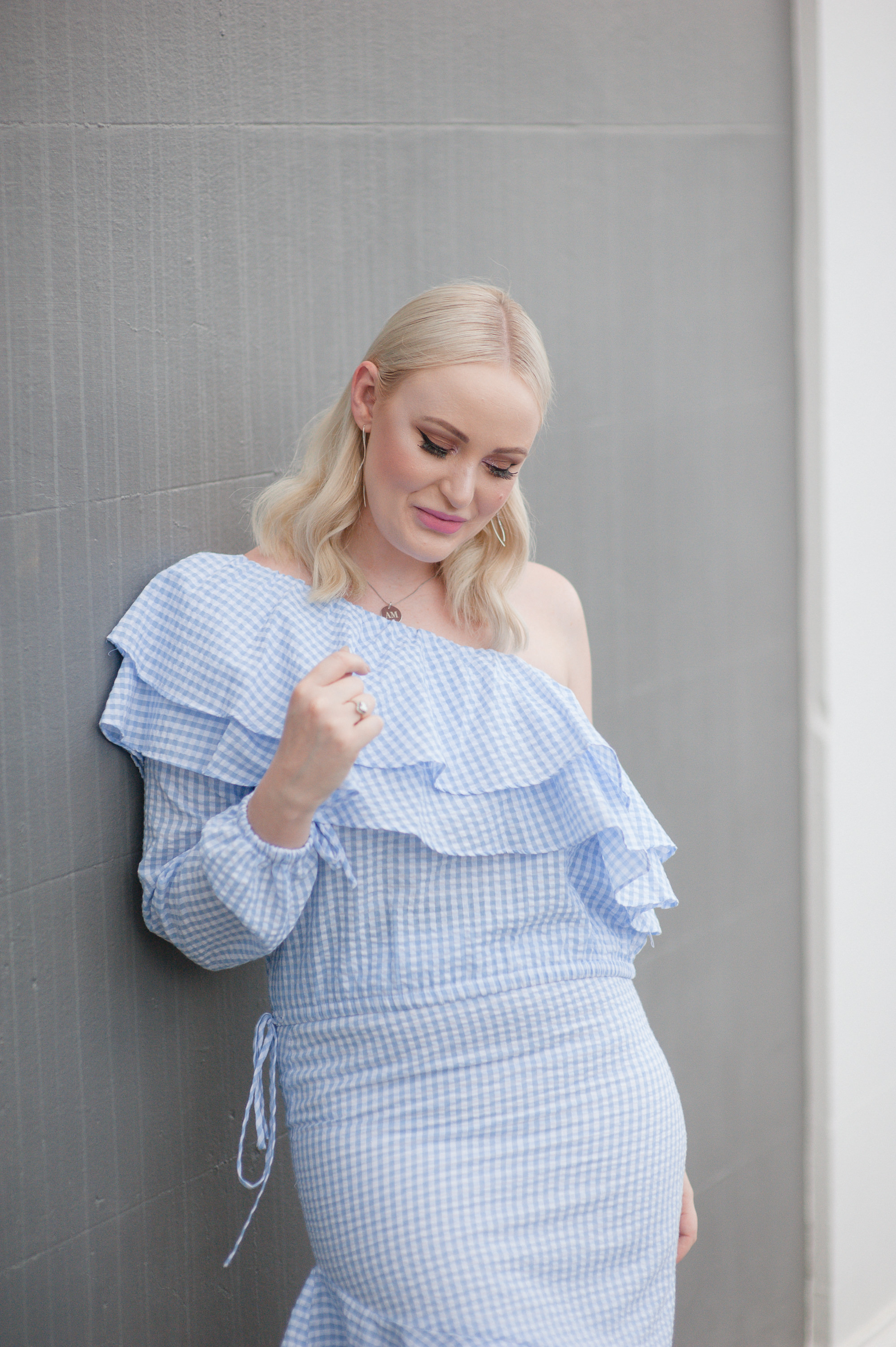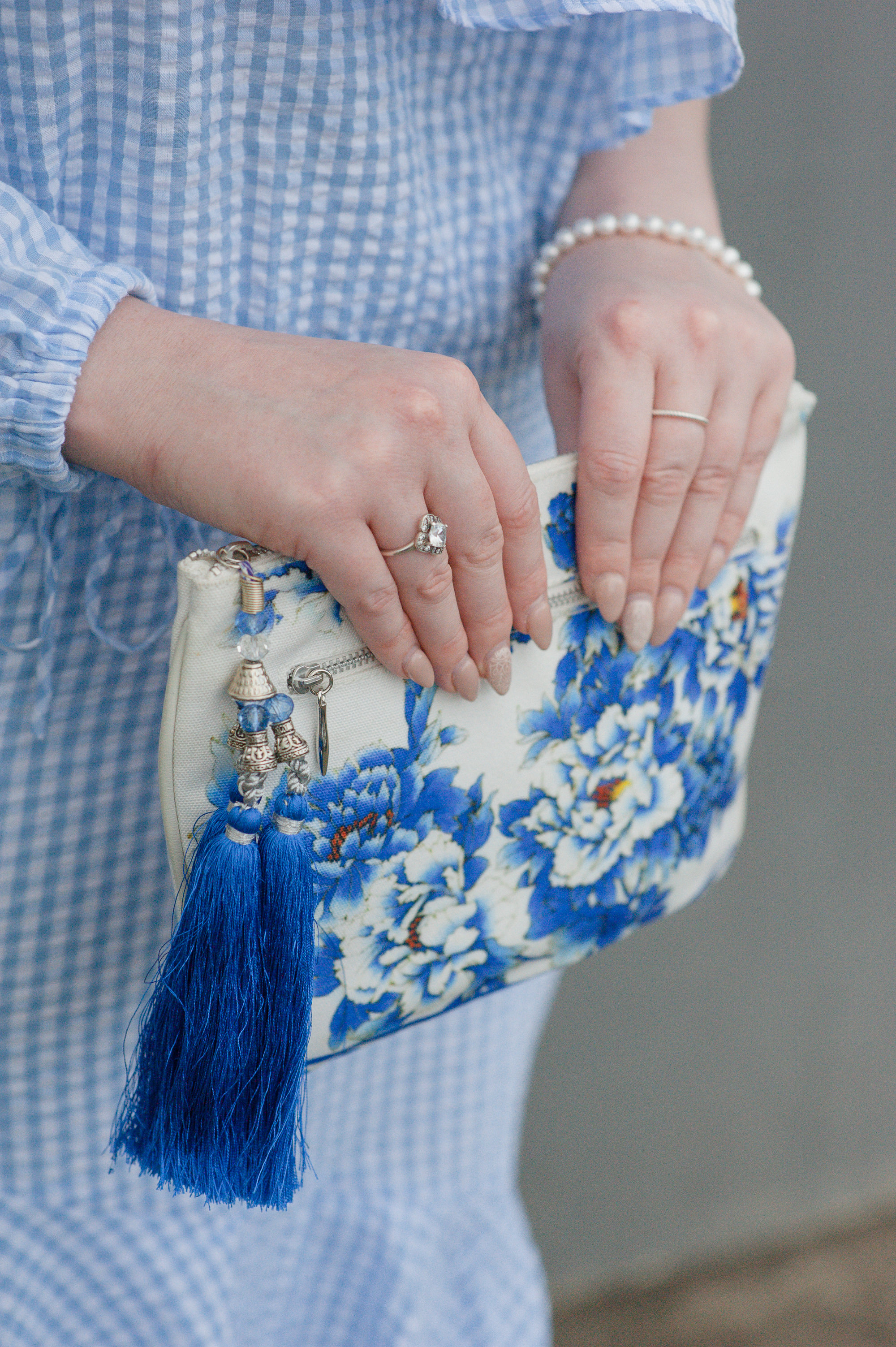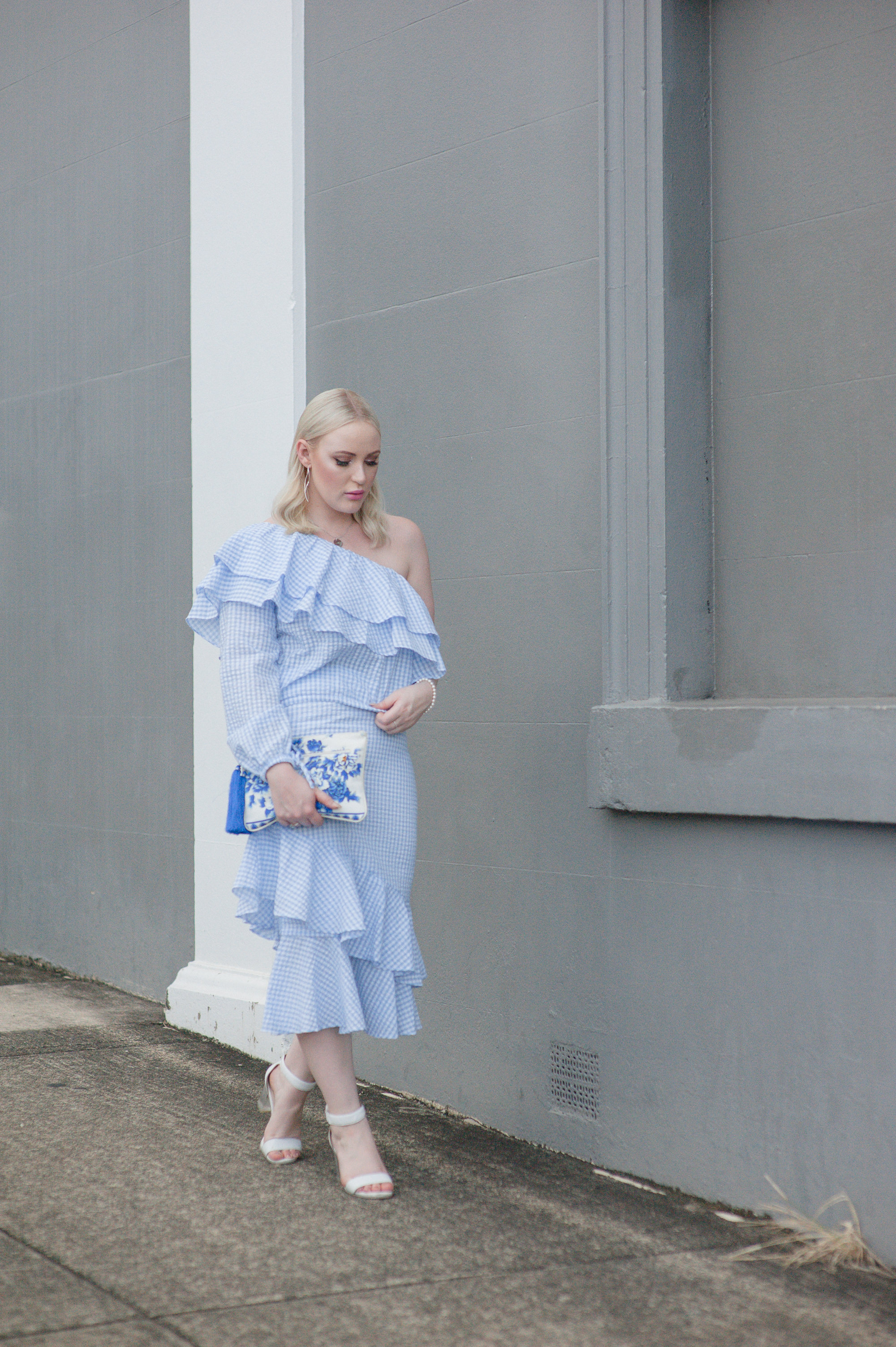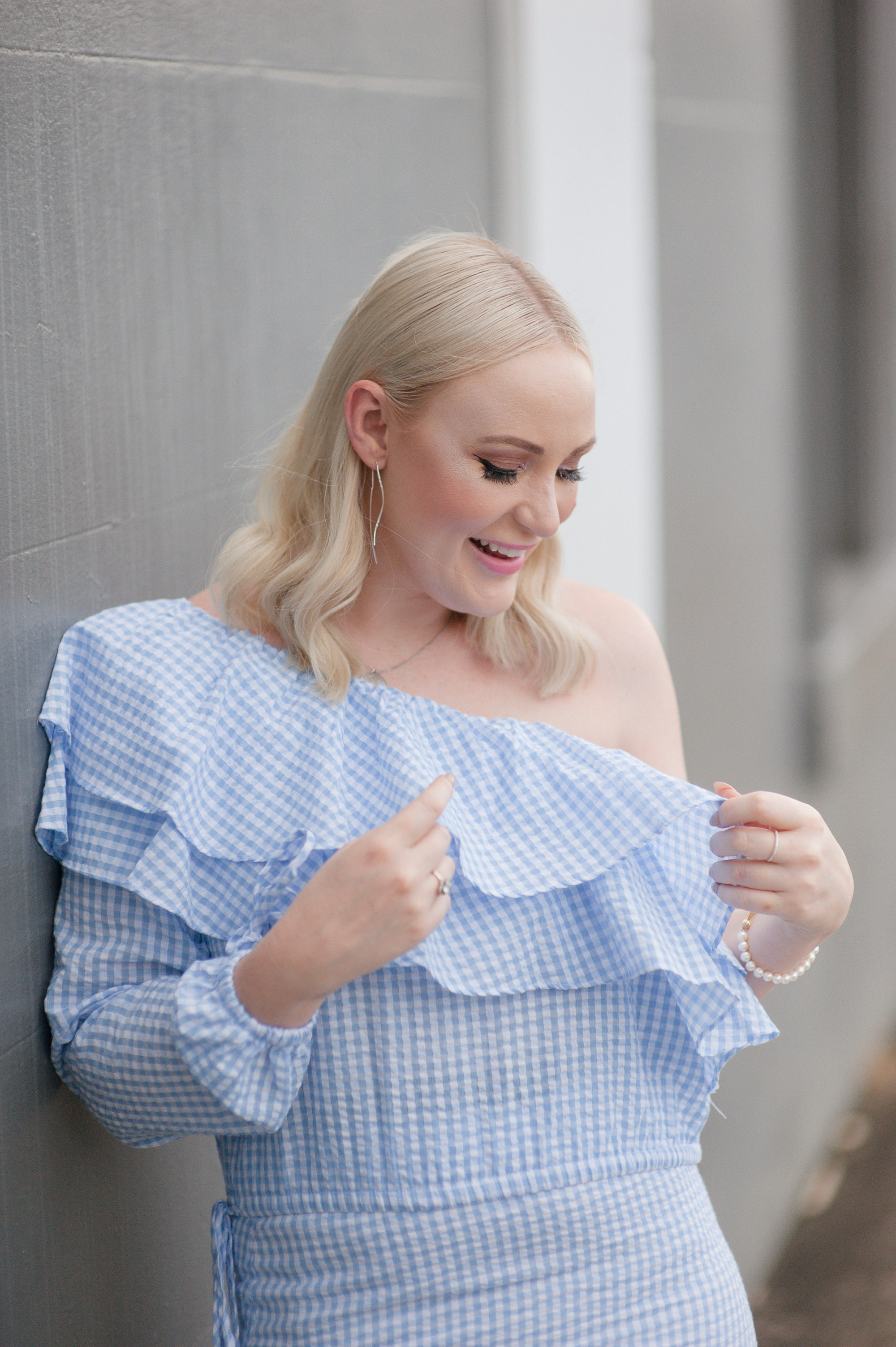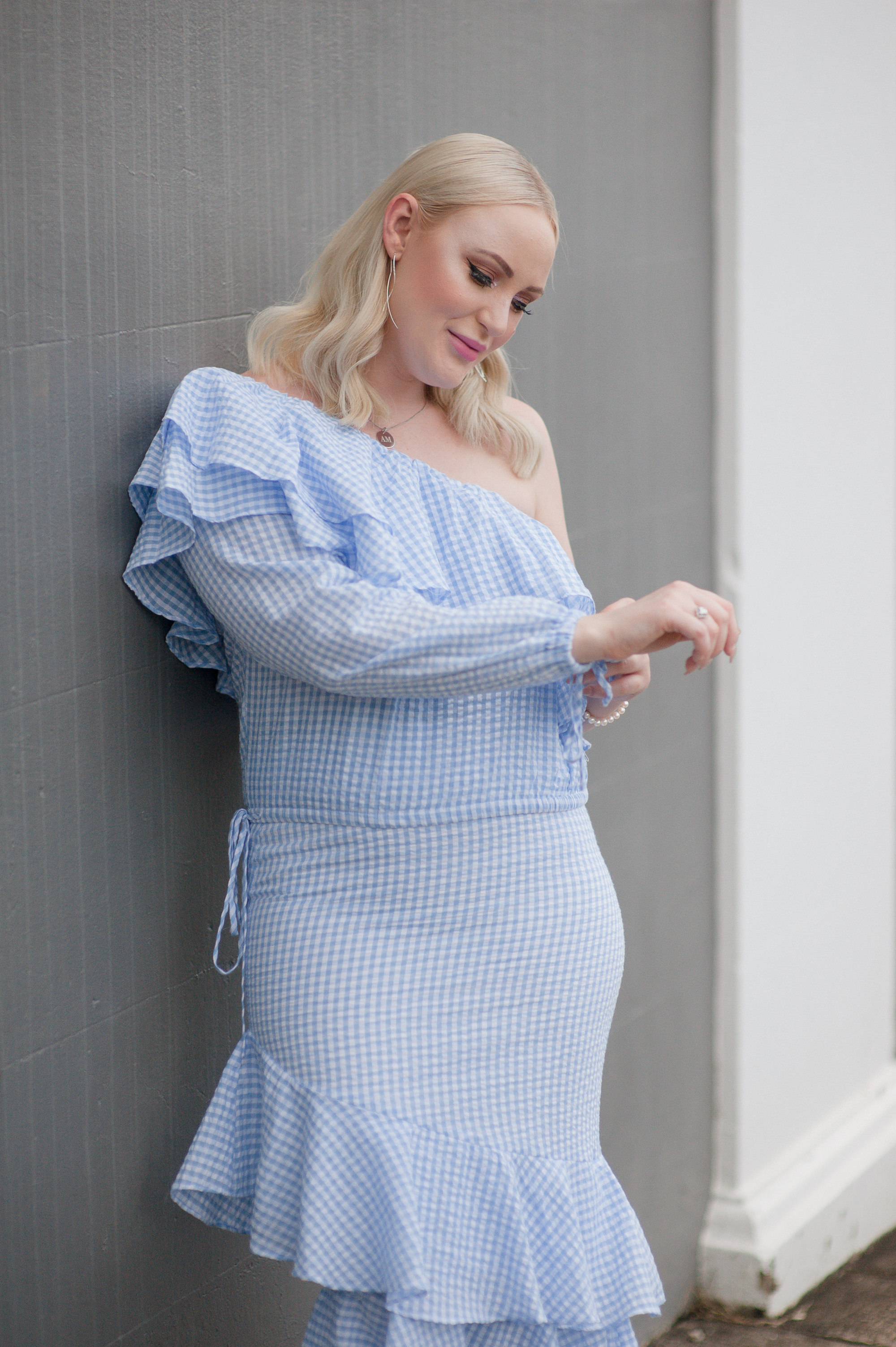 Lulu & Rose Lola One Shoulder Top, Lulu & Rose Bonita Skirt, Michael Bishop Personalised Silver Pendant, Molten Store The Melancholy Earrings, Camilla Clutch (similar style here), Wittner Otto Heels.
Who knew when Dorothy Gale blew in from humble Kansas, she'd make a monumental fashion moment with her iconic gingham pinafore. Channelling a modern day Dorothy, I'm styling a fabulous little gingham set from Lulu & Rose, available at Glue Store. If there's a design element that I love more than the gingham print, it's the asymmetrical frill detail motif seen in the blouse and skirt.
There's no ruby red slippers to complete this look, but there is an incredible Camilla clutch on display, teamed with some silver accessories courtesy of Molten Store and Wallace Bishop. If you are loving this look as much as Glinda would, then shop my favourites below!
SHOP THE POST:

Photography by Erin Smith Photography
Be Cool, Babydoll.
Monday, March 5th, 2018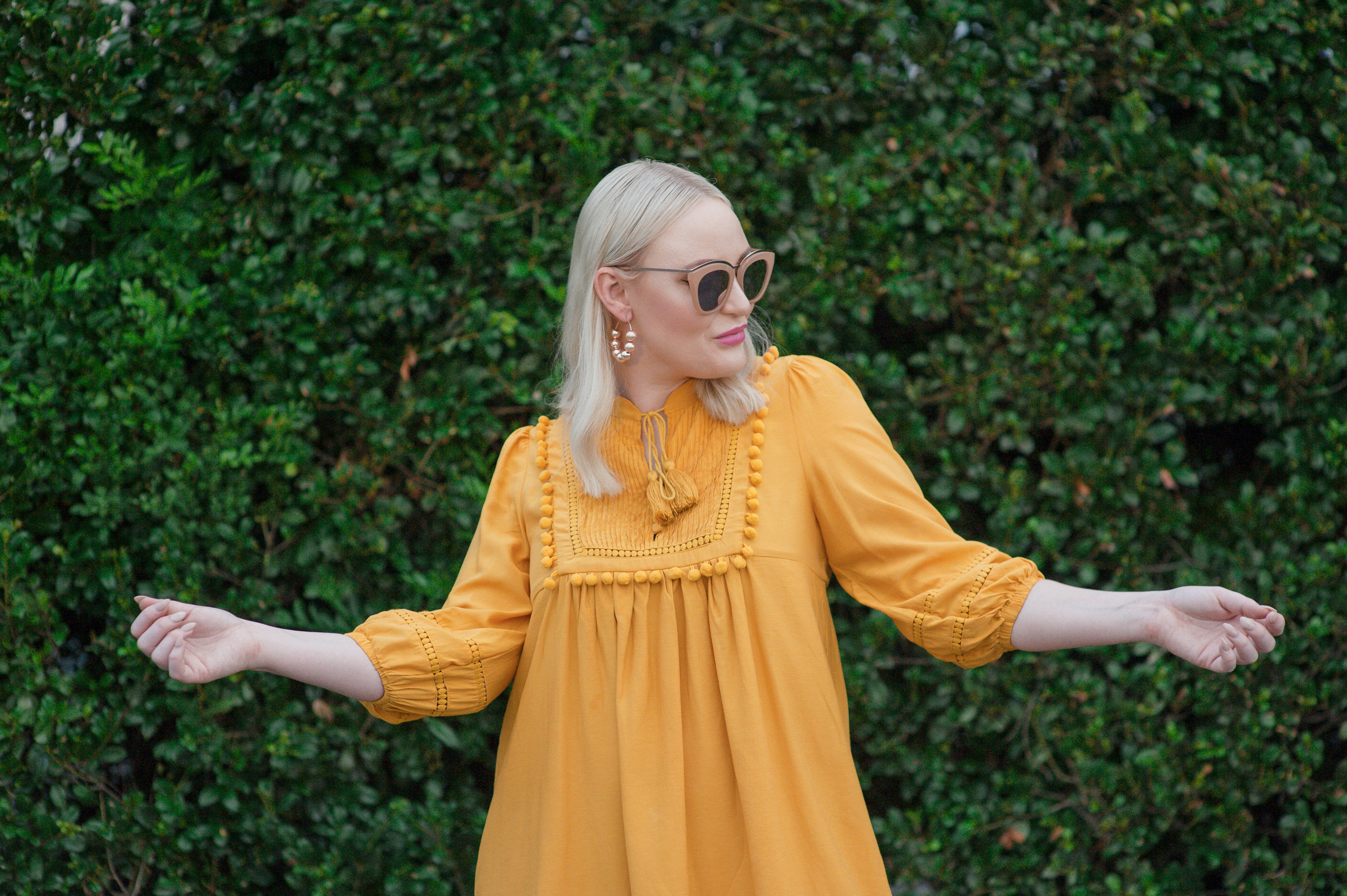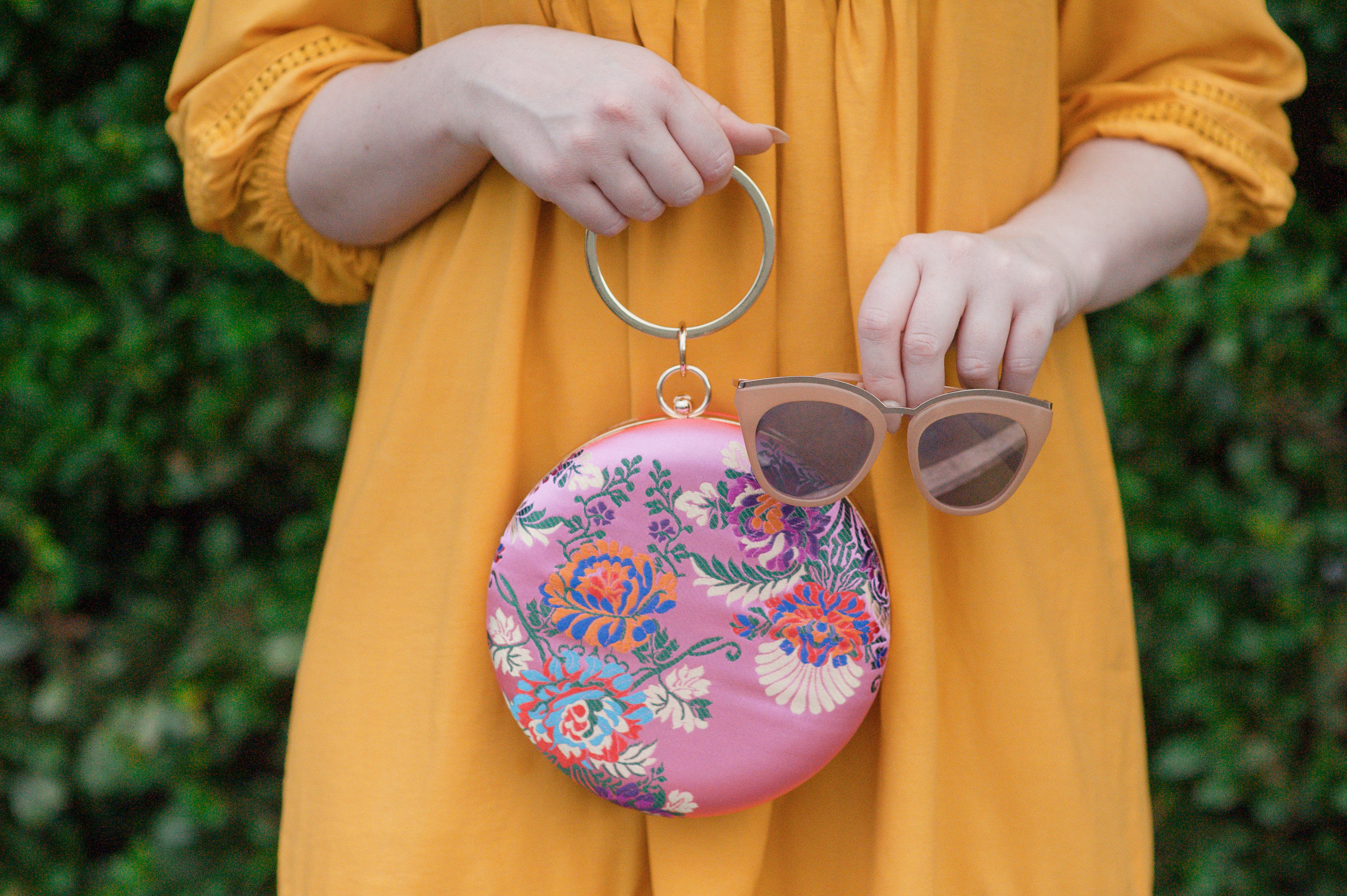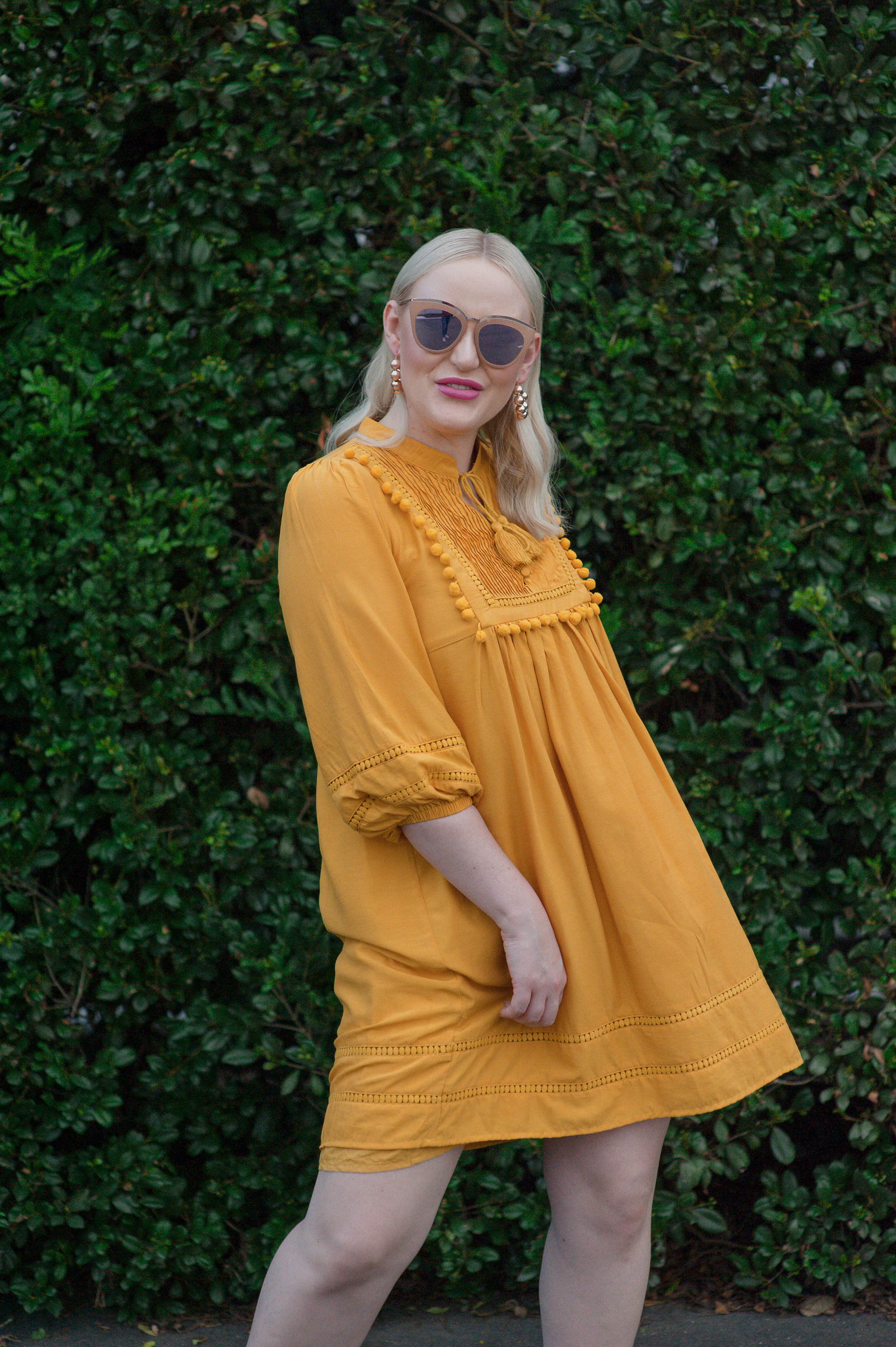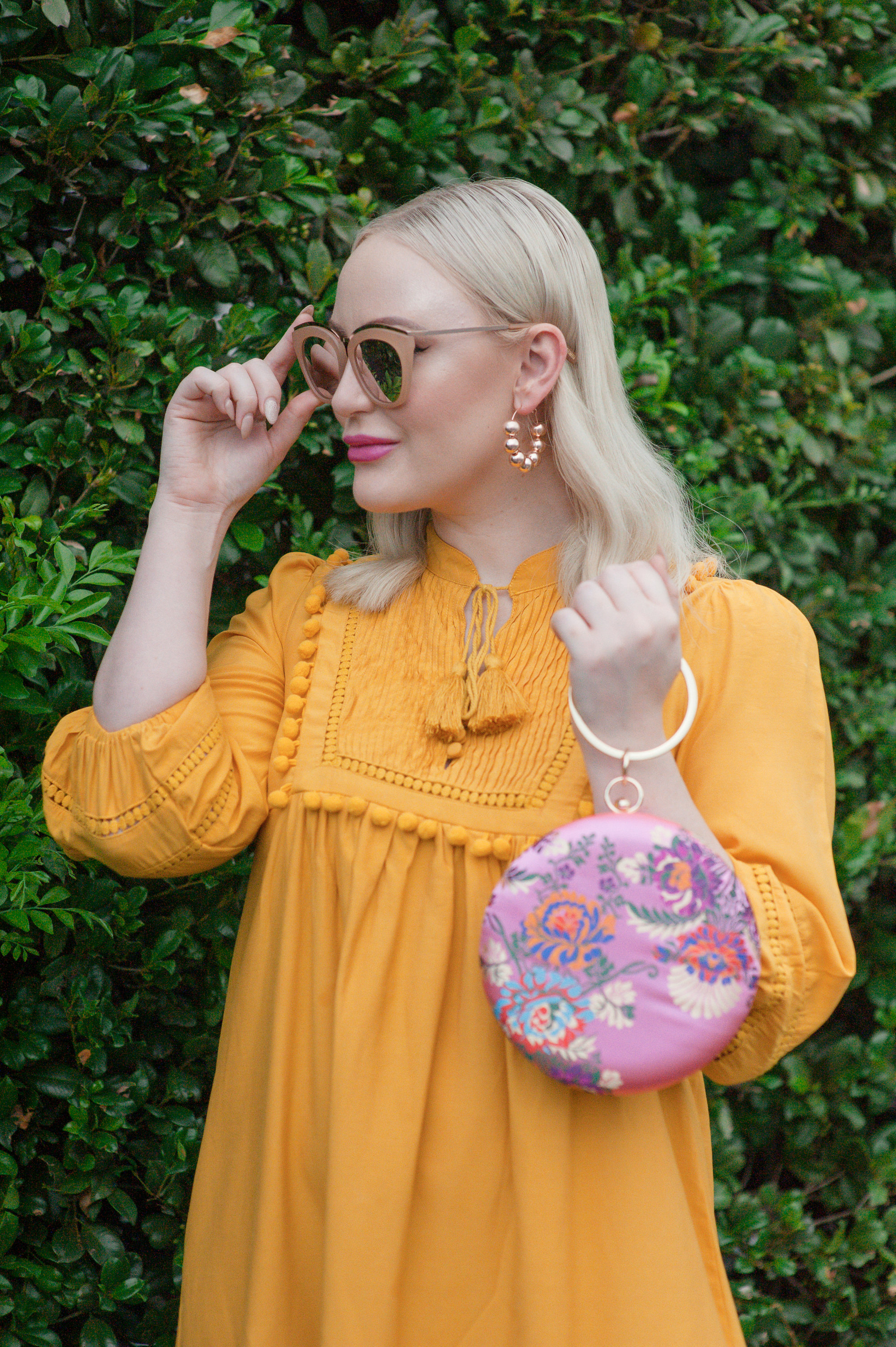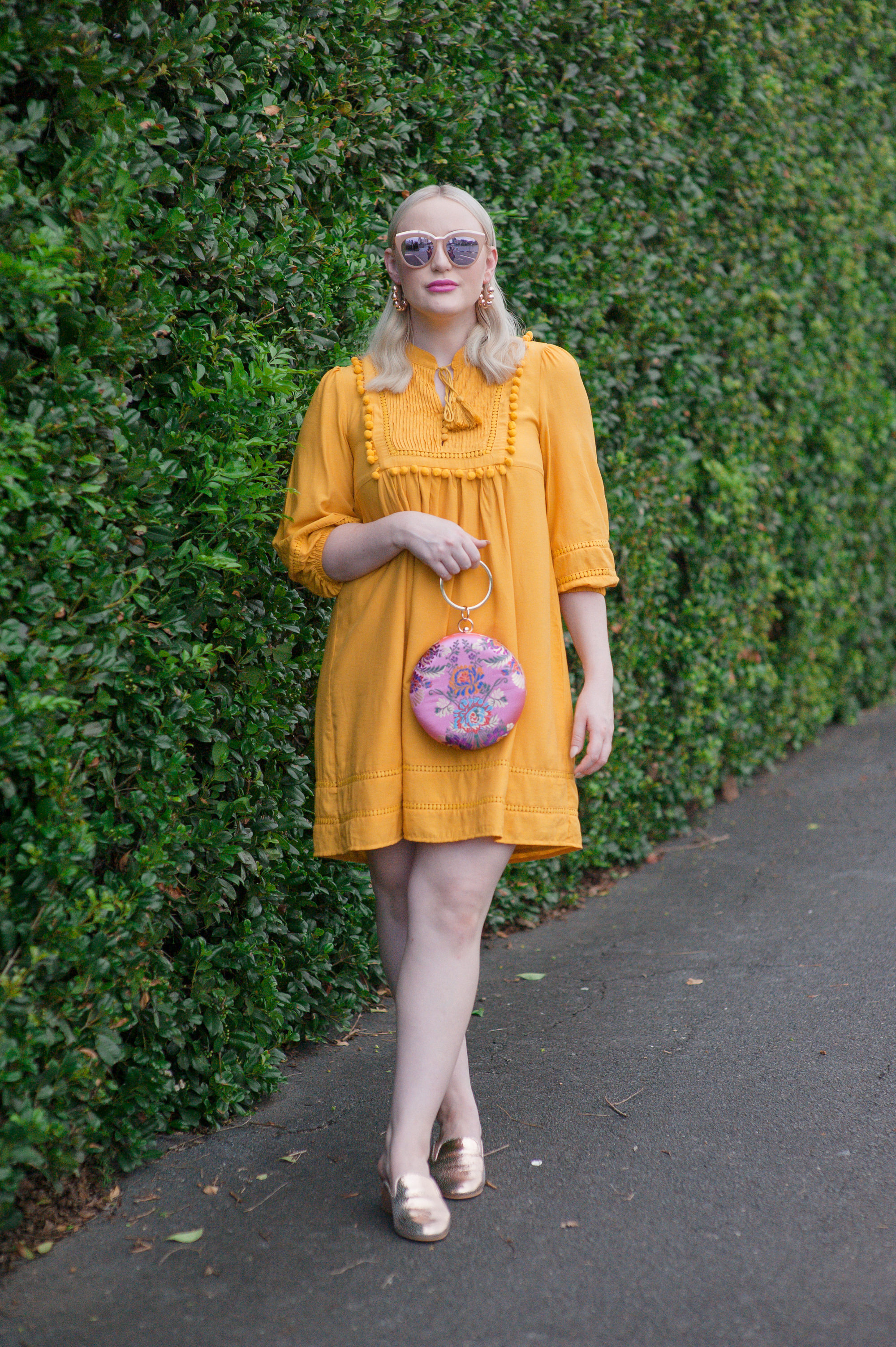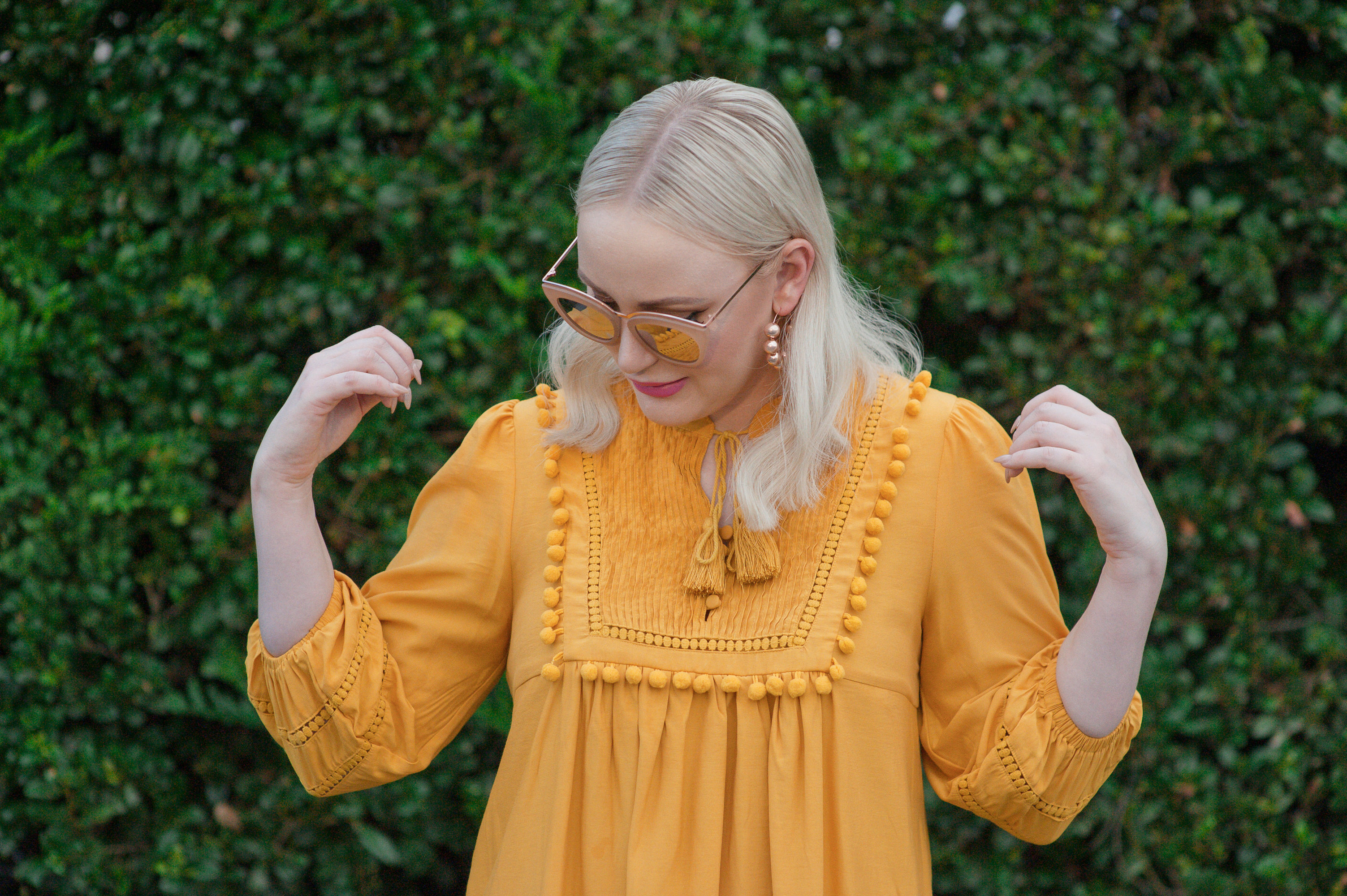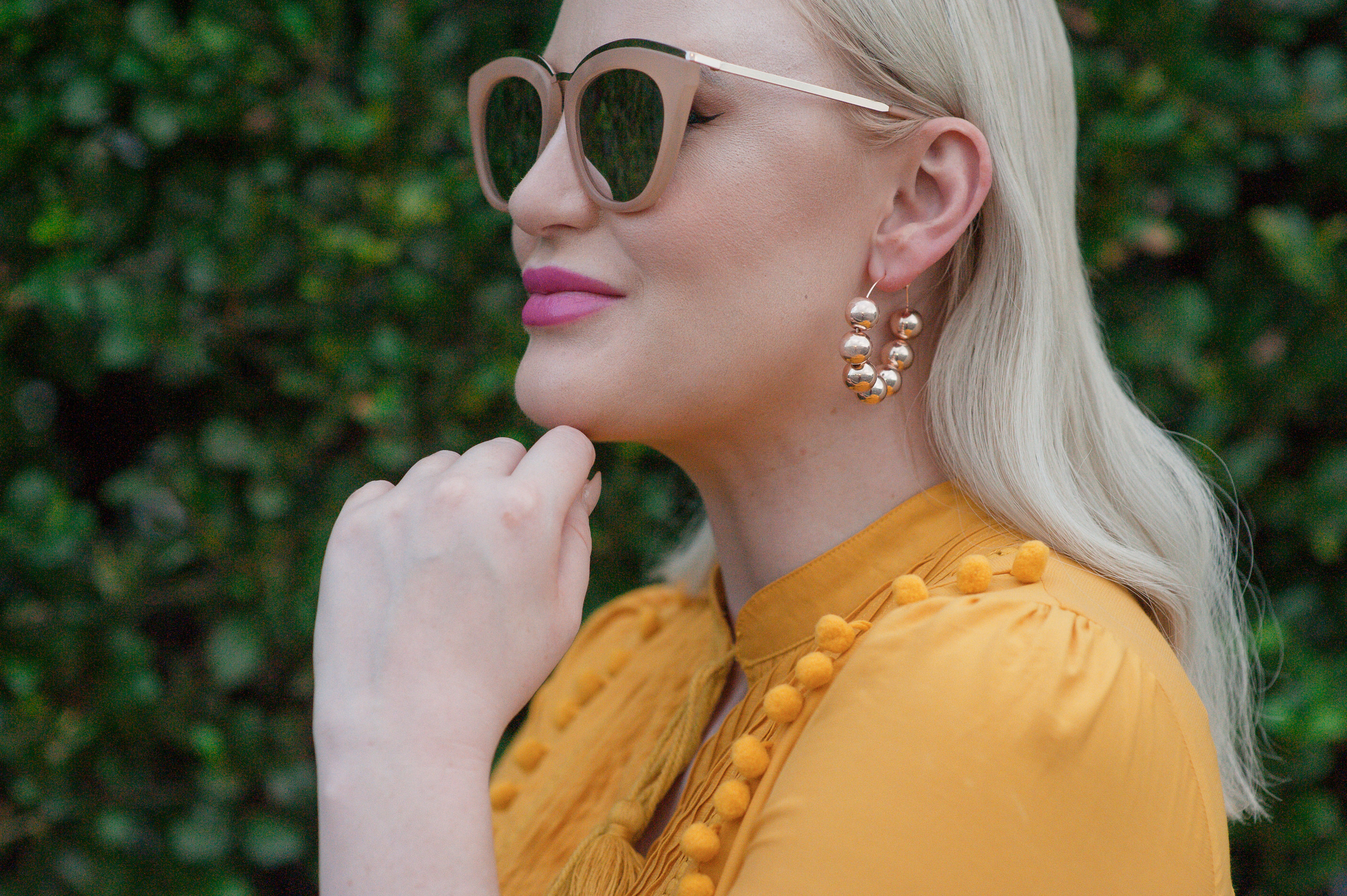 French Connection Frill Babydoll Dress, Wittner Cicily Mule, Adorne Oriental Floral Satin Clutch, Adorne Alexa Small Hoop Ball Earrings, Le Specs Sunglasses (similar style here).
There's a certain femininity about a babydoll dress with it's iconic empire waistline. There are so many design elements I love about this garment; the full bodied silhouette of the relaxed shift and billowing sleeves, the lace detailing and pom pom trim and those tassels! Then there's the colour, that buttery, vibrant shade of marigold, the perfect palette for summery soirees.
Proving that rose gold really is the way to my heart, I instantly fell in love with these metallic mules from Wittner, further complimented by the same tone of these Adorne hoops. As you've seen in my recent posts, I have a penchant for statement clutches and this oriental, satin clutch from Adorne is a real showstopper. The final accessory worth mentioning are these luxe mirrored lenses by Le Specs.
Do you rate this look? I'de love to hear your thoughts in the comments below cuties! Fashionably yours x
SHOP THE POST:

Photography By Erin Smith Photography
Chic In Converse Sneaks
Tuesday, February 20th, 2018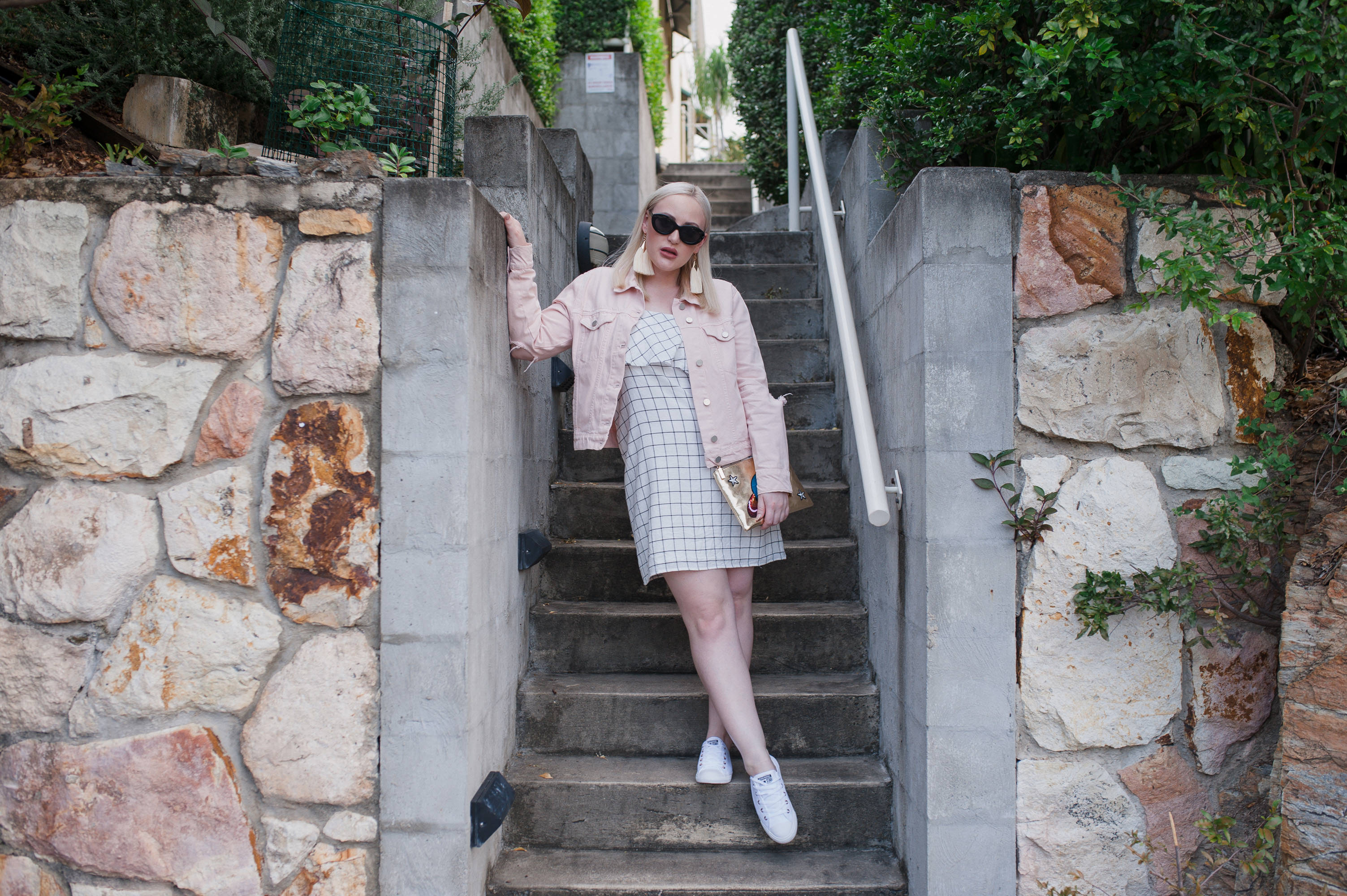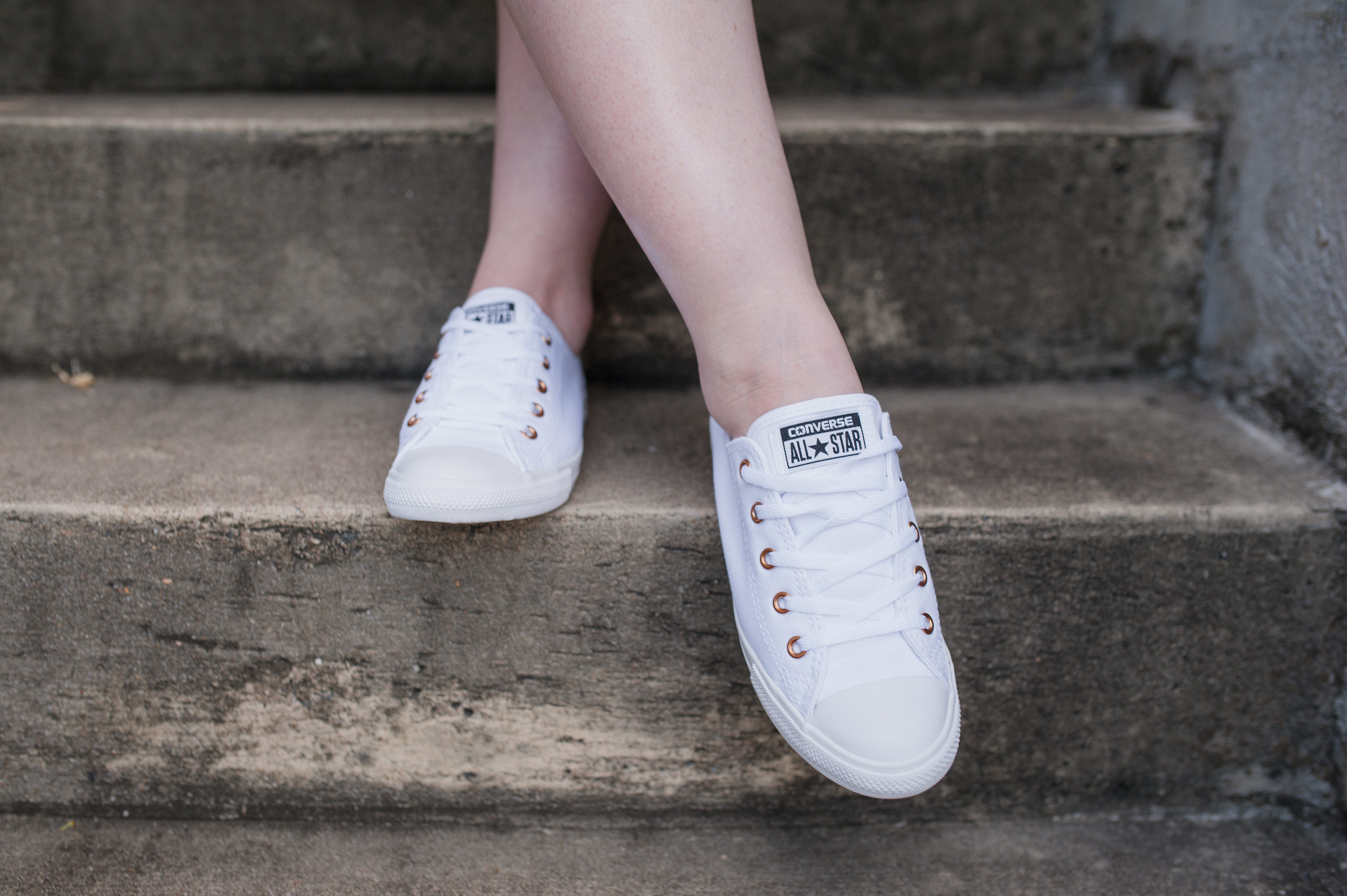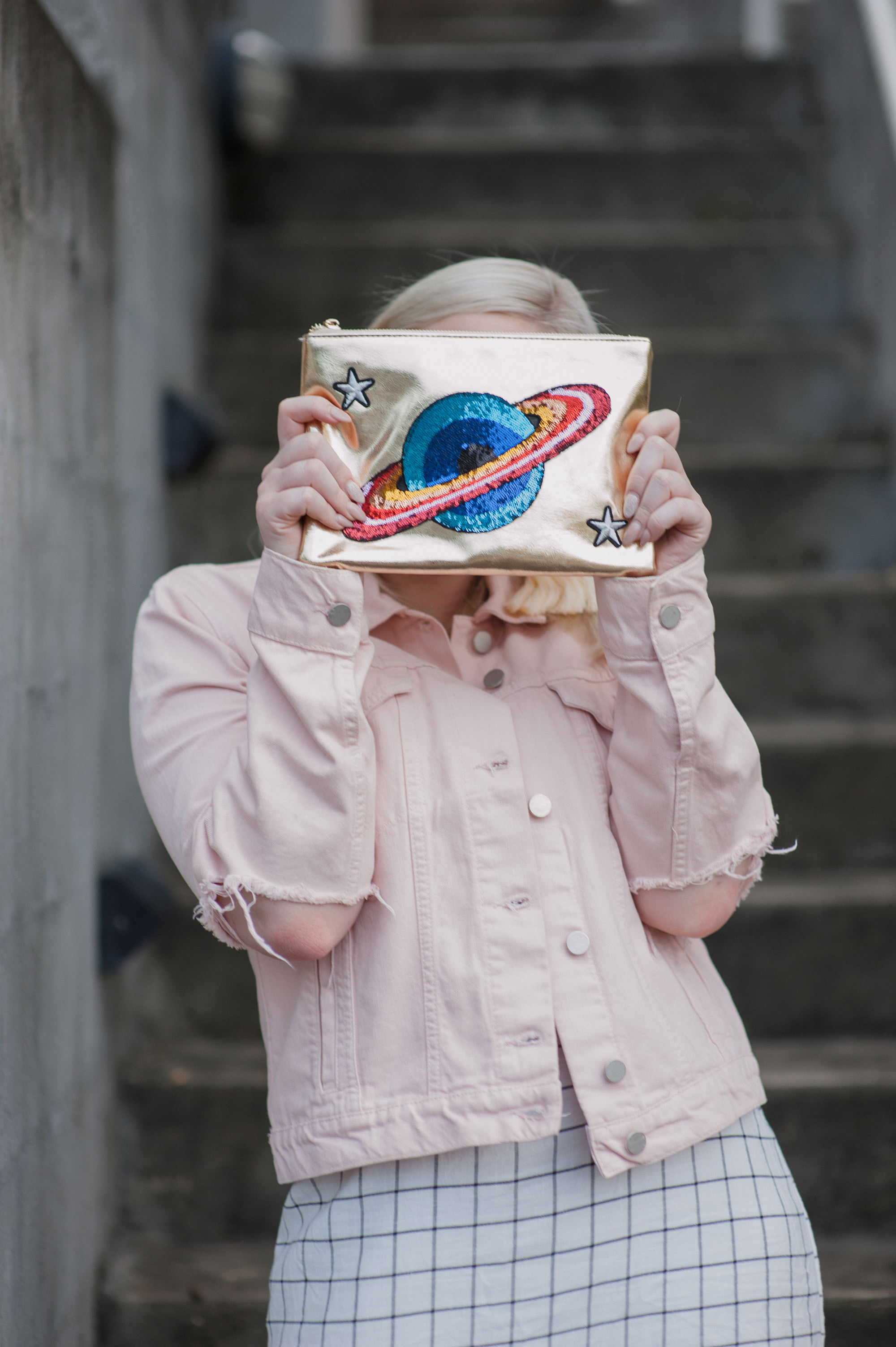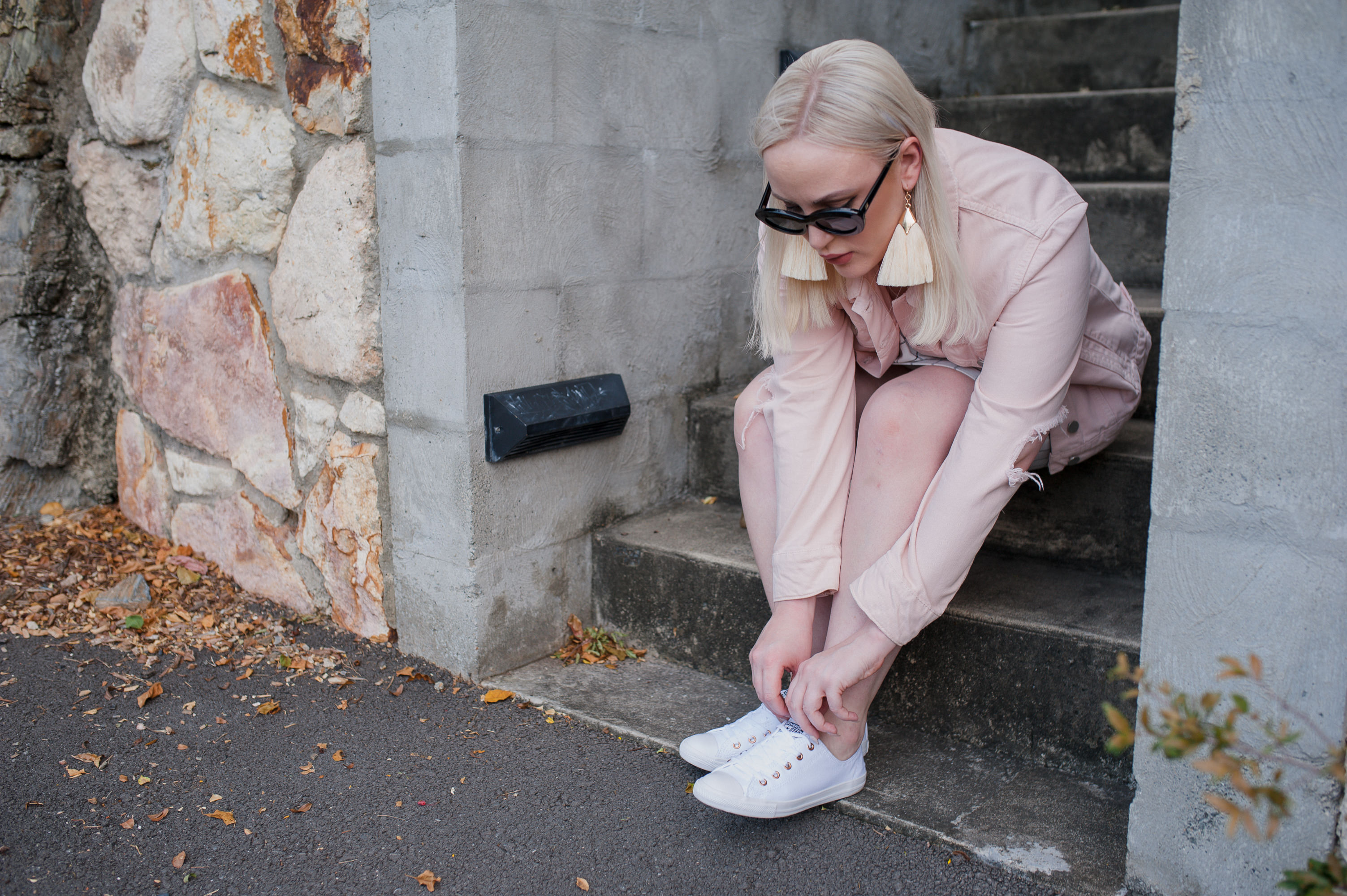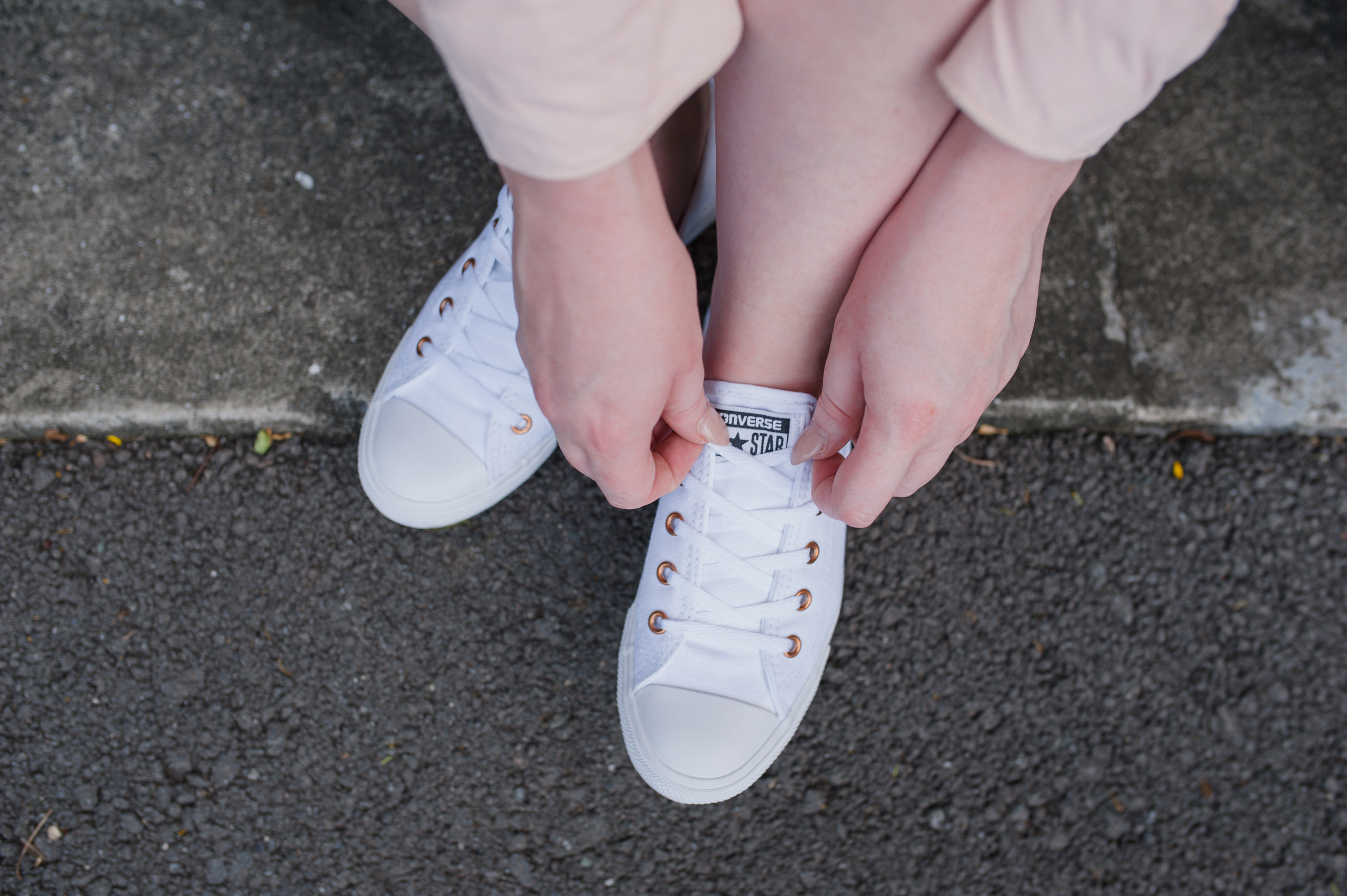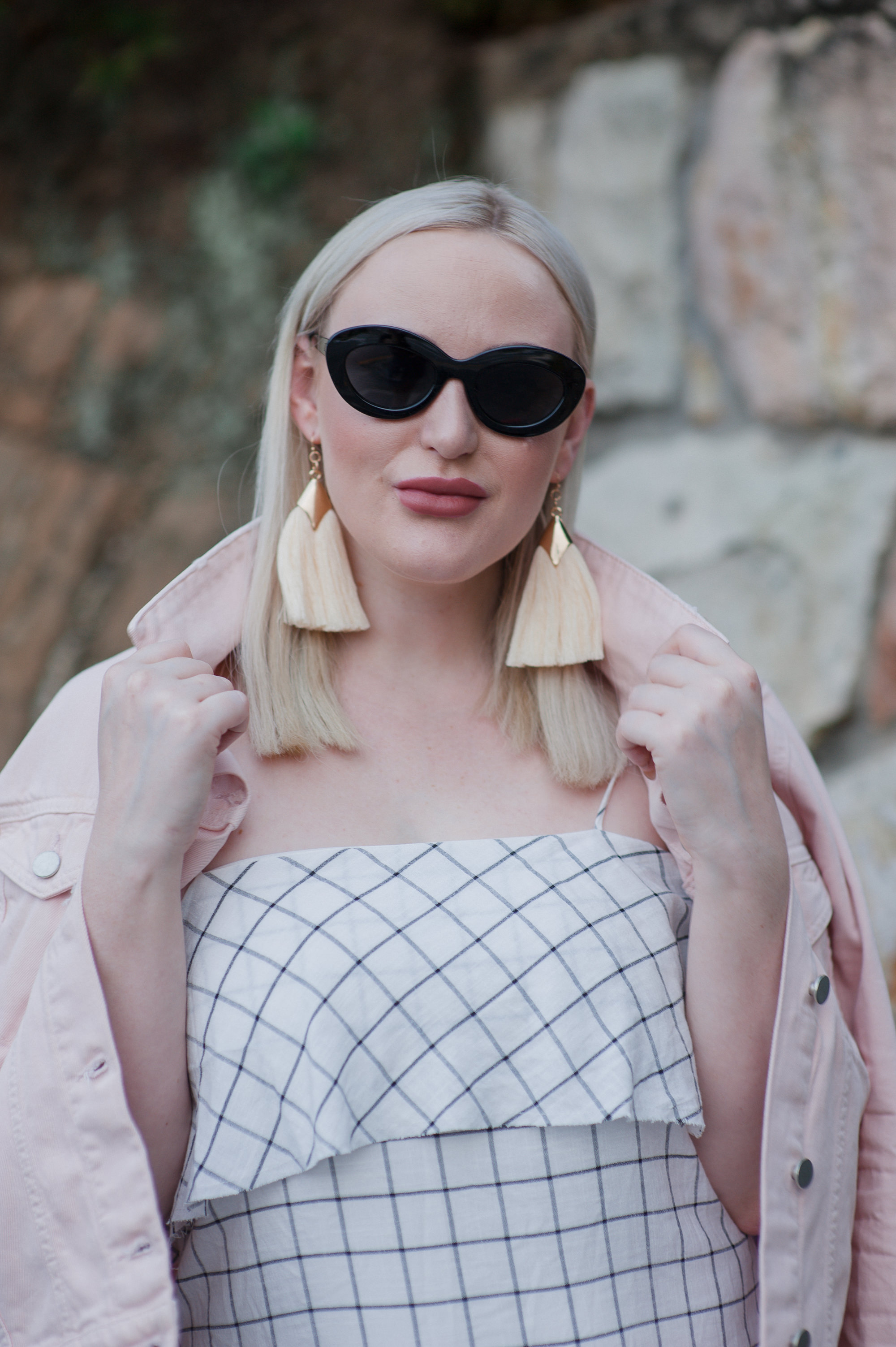 Converse Chuck Taylor All Star Dainty Sneakers, Le Specs Fluxus Sunglasses, Lulu & Rose Dress (available in-store), Adorne Clutch (arriving soon), Adorne Tassel Earrings (arriving soon).
This may shock and astound you, but up until now, I haven't owned a pair of sneaks. I know – I'm weird and far too accustomed to heels it seems. But in my quest to build the quintessential European dream wardrobe, I figured a pair of sneaks is definitely necessary.
First stop, Glue Store, delivering the goods with this fresh pair of Converse sneakers. I do love this style, because just like the name they are extremely dainty on the foot, remaining simple and classic with metallic detailing seen in the rose gold eyelets. When styling these sneaks I still want to convey my feminine charm, so I'm teaming them with a relaxed, monochrome dress, also from Glue.
To complete the look I've opted for the cutest little tassel earrings and a celestial clutch, both of which are part of new season Adorne. But nothing says chic like a pair of 90's inspired (hello Sarah Michelle Gellar!) noir sunglasses. Sharp, sleek and speaking sass in volumes.
Ladies, if you're on the hunt for a pair of sneaks, or perhaps a cute ensemble, I would definitely suggest checking out Glue's new arrivals, because there's a little trinket for all!
SHOP THE POST:

Photography by Erin Smith Photography
---