Luxe Staycations at Gambaro Hotel
Sunday, May 21st, 2017
Weekend sleep-ins and luxe staycations. Little wanderings and hotel lobbying. Sign me up! Reminiscing on my recent check in at Gambaro Hotel, read on for more details.
I found myself on Caxton Street the other weekend, travel port in hand, stepping into the luxe foyer of Gambaro Hotel. Cue relaxation mode! As soon as my sequinned espadrilles hit the floor, I was delighted by the glossy textures, marble surfaces and the striking pendant light feature gracing the grand foyer.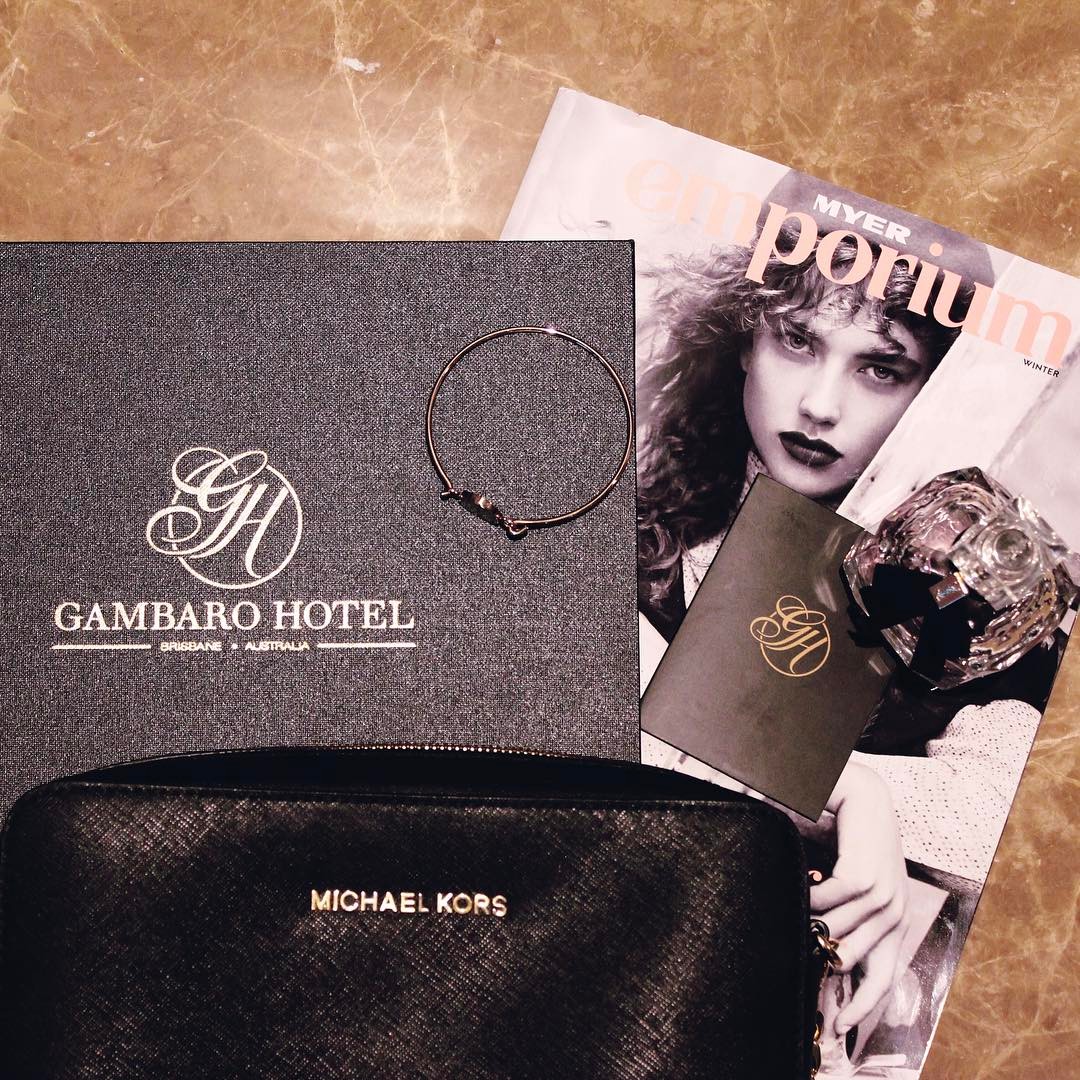 Residing in the beautiful Petrie King Balcony for the evening, I quickly checked out the luxe digs before heading down to The Barracks for something sweet. This delicious Mövenpick creation is a combination of Blackcurrant & Cream, Coconut and Strawberry and yes, it was delectable.
Heading back to the hotel, I managed to catch the beautiful sunset from my balcony, featuring cotton candy skies. A quick trip to Sunset Lounge helped me savour the golden light gleaming down on Caxton Street. So dreamy!
That evening my bestie and I checked into Gambaro's very own Black Hide Steakhouse to taste test their signature steak. I just want to preface this by saying I'm not a massive red meat kind of gal, but I did experience the most succulent Wagyu Rump Cap, cooked to absolute perfection. Ending on a sweet note I indulged in the must-have Rhubarb and Orange Crème Brulée. Superb!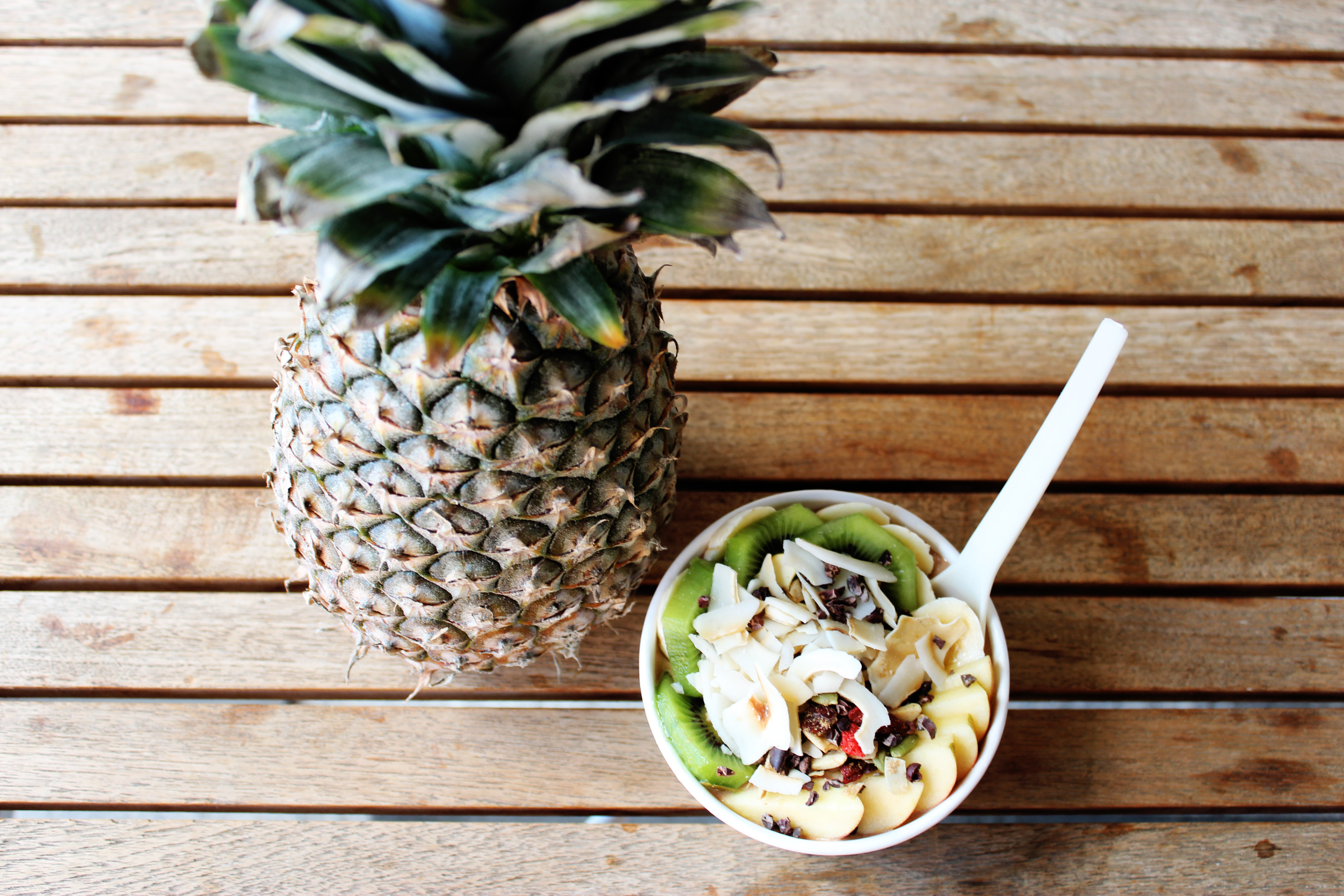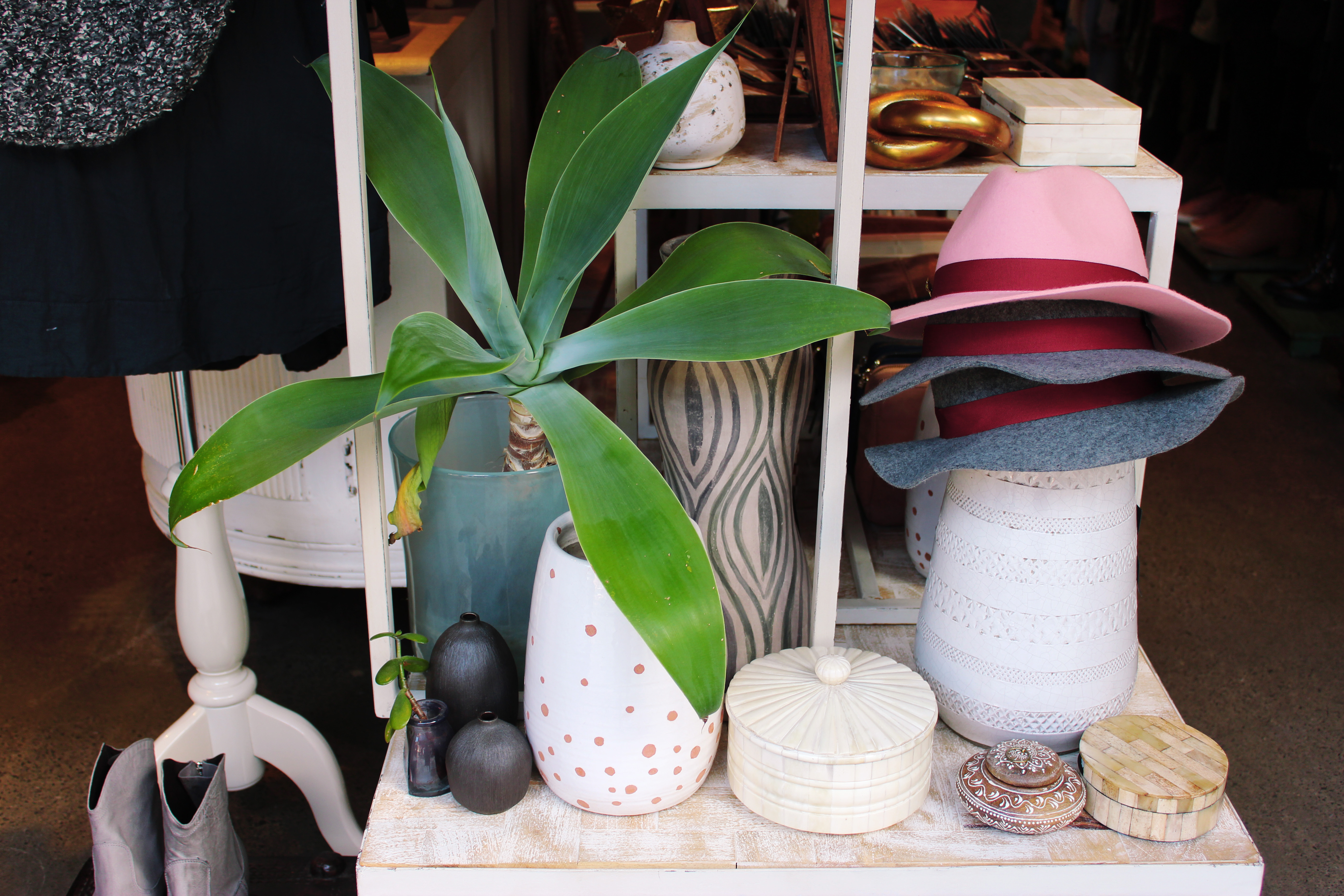 After a leisurely morning in bed and a later check out, I strolled down to The Barracks and grabbed breakfast to go (Charlie's Raw Squeeze), before becoming immersed in the cutest little boutique, The Robe. Filled to the brim with the cutest little knick knacks, The Robe is an eclectic little mix of treasures and trinkets.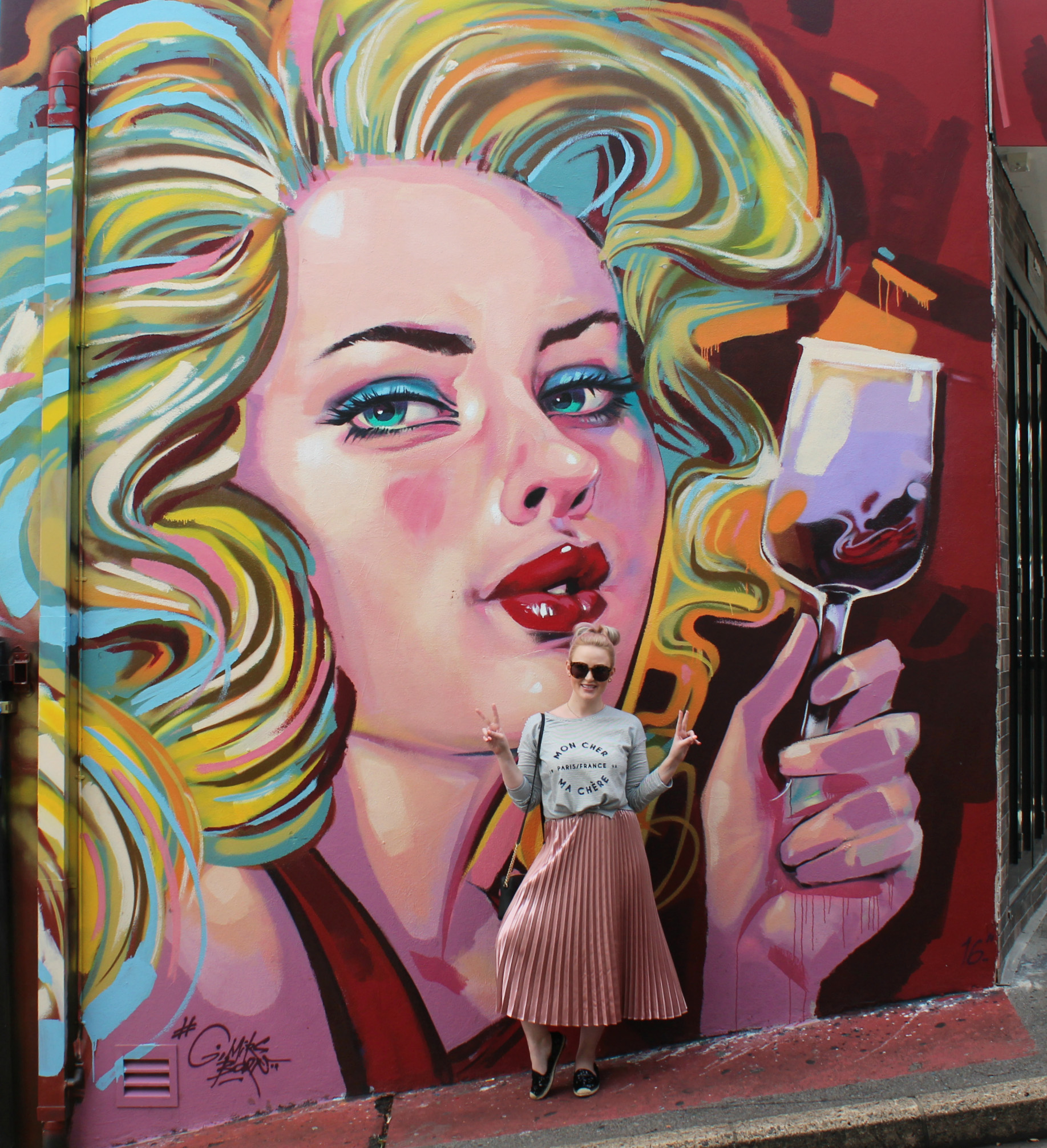 While my stay was short and sweet, my staycation was everything I needed – lavish, indulgent and relaxing. Brisbane fashionista's put Gambaro Hotel on the lust list for your next staycation or book your suite here!
Top Tips To Throwing A Stylish Birthday Soiree
Tuesday, February 7th, 2017
When it's your special day, you deserve to be spoilt like the Queen you are. So get ready to celebratory #slay with my top tips for a spectacular and stylish birthday soiree.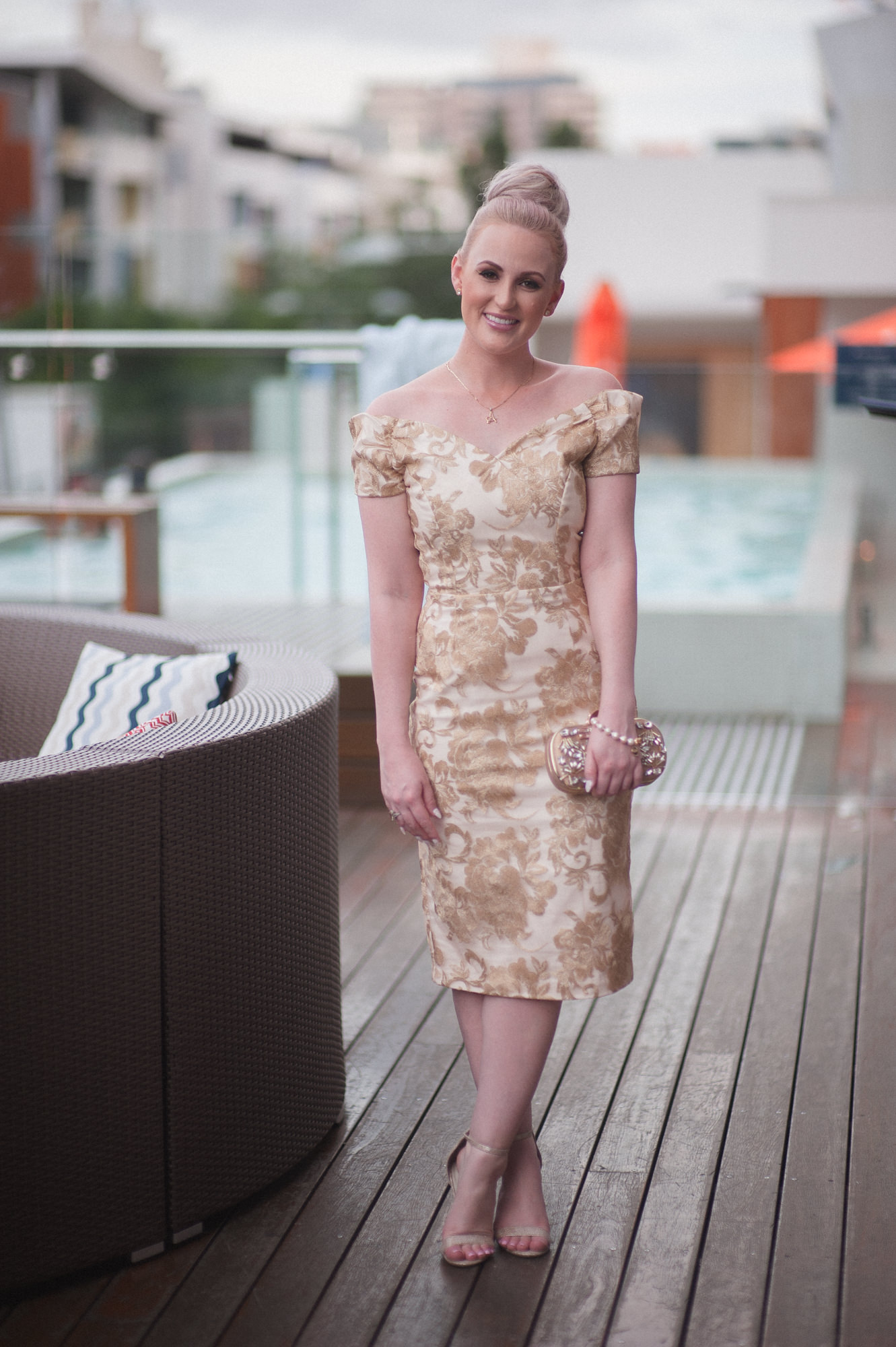 That Shop Fantale Pencil Dress, Sachi Heels, Mimco Clutch (similar style here), Bowerhaus Fleur Pearl Bracelet, Swarovski Earrings (similar style here).
The Dress
Feeling like the Belle of the Ball in my special birthday dress from That Shop. Inspired by the Baroque Period, this stunning frock highlights an ornate lace brocade overlay, a striking feature against the soft, blush base. The delicate, off-the-shoulder neckline sits beautifully on, while the pencil skirt helps to create an elegant shape. I'm teaming this golden gown with metallic accessories; a sparkly, statement clutch and shimmery stilettos.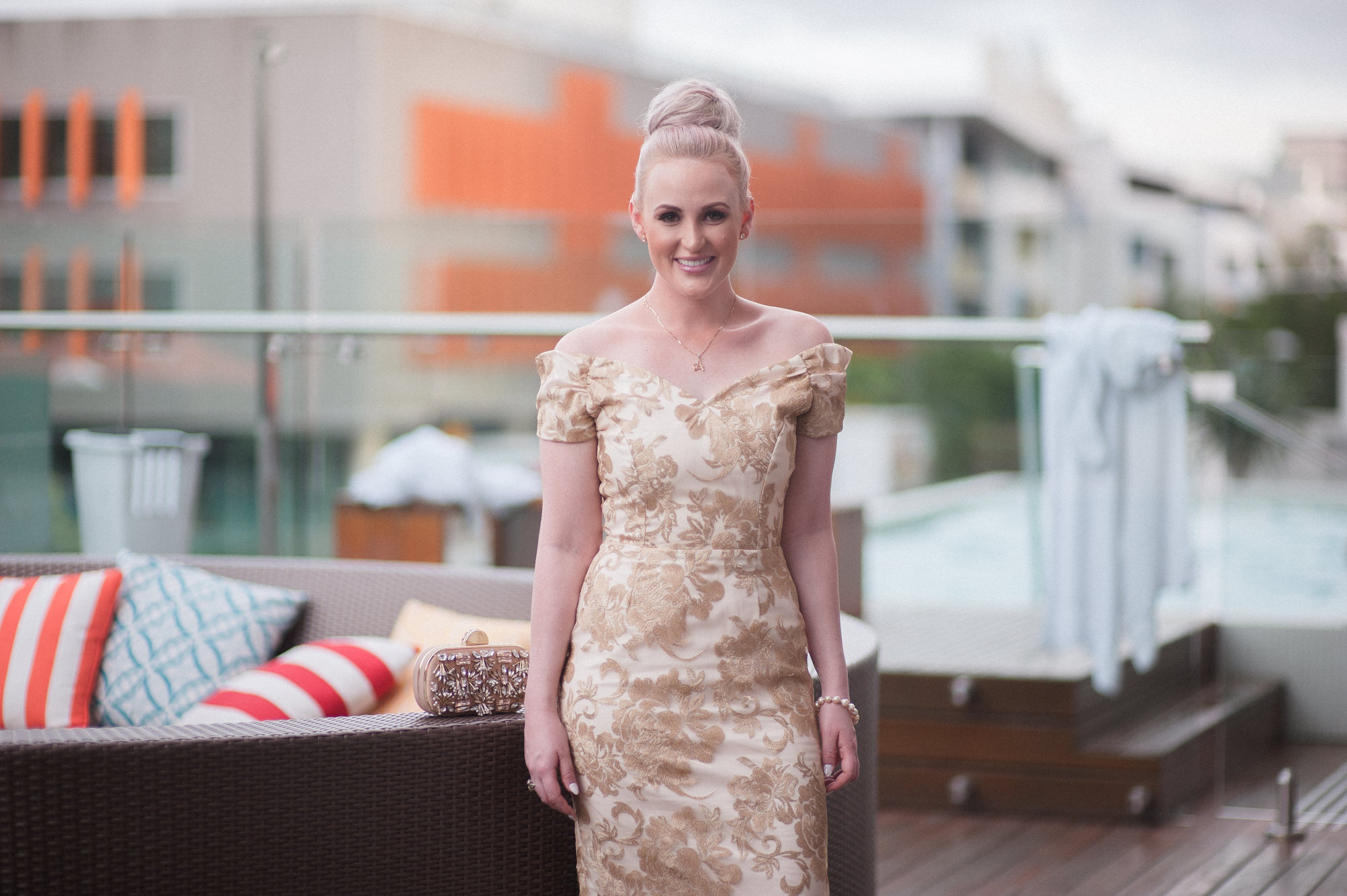 The Glamour
For such a special occasion I decided to have makeup to match, dropping in for some cosmetic pampering at Napoleon Perdis on Edward Street. I had the incredibly talented MUA Prita Astarto create my birthday makeup, which consisted of a flawless, cashmere base, sculpted contouring, precision cat eye and a sparkly outer liner. If you have a fabulous event coming up, make sure you book in to have your makeup done by the amazing Napleon Perdis girls!
The Venue
Of course, to throw a spectacular soiree, one has to find the perfect venue. An A-List guest list deserve a space that is nothing but luxury, inclusive of a fabulous view and a cocktail menu that speaks decadence and deliciousness. There's no other place I would rather sip on an Espresso Martini, than by the rooftop pool at the glamorous Soleil Pool Bar.
Located on the Podium Level of the Rydges Hotel, Soleil Pool Bar boasts an impressive view of the South Bank skyline and hosts a fancy entertaining area equipped with a LED screen that projects a stunning cosmic sky.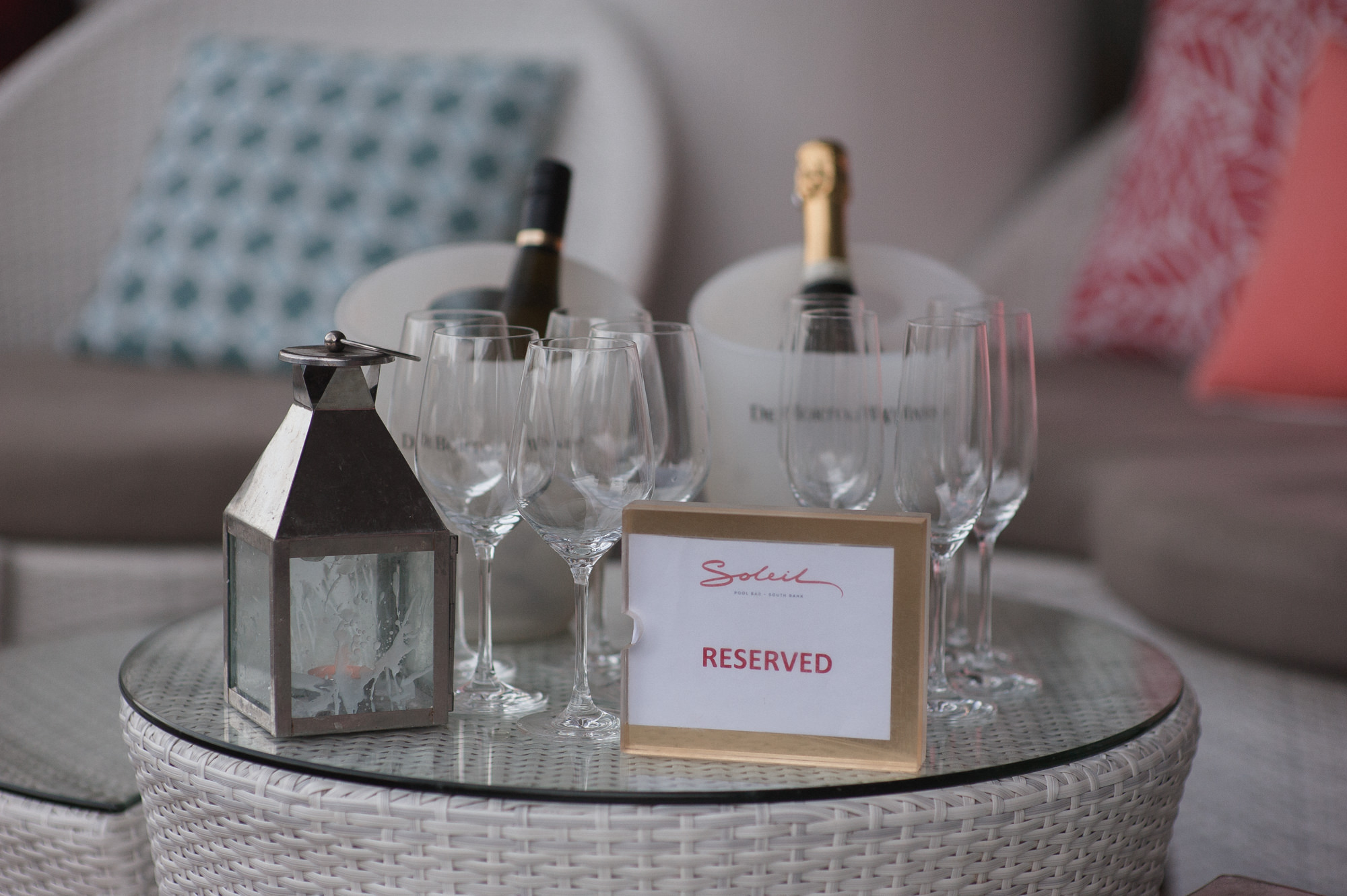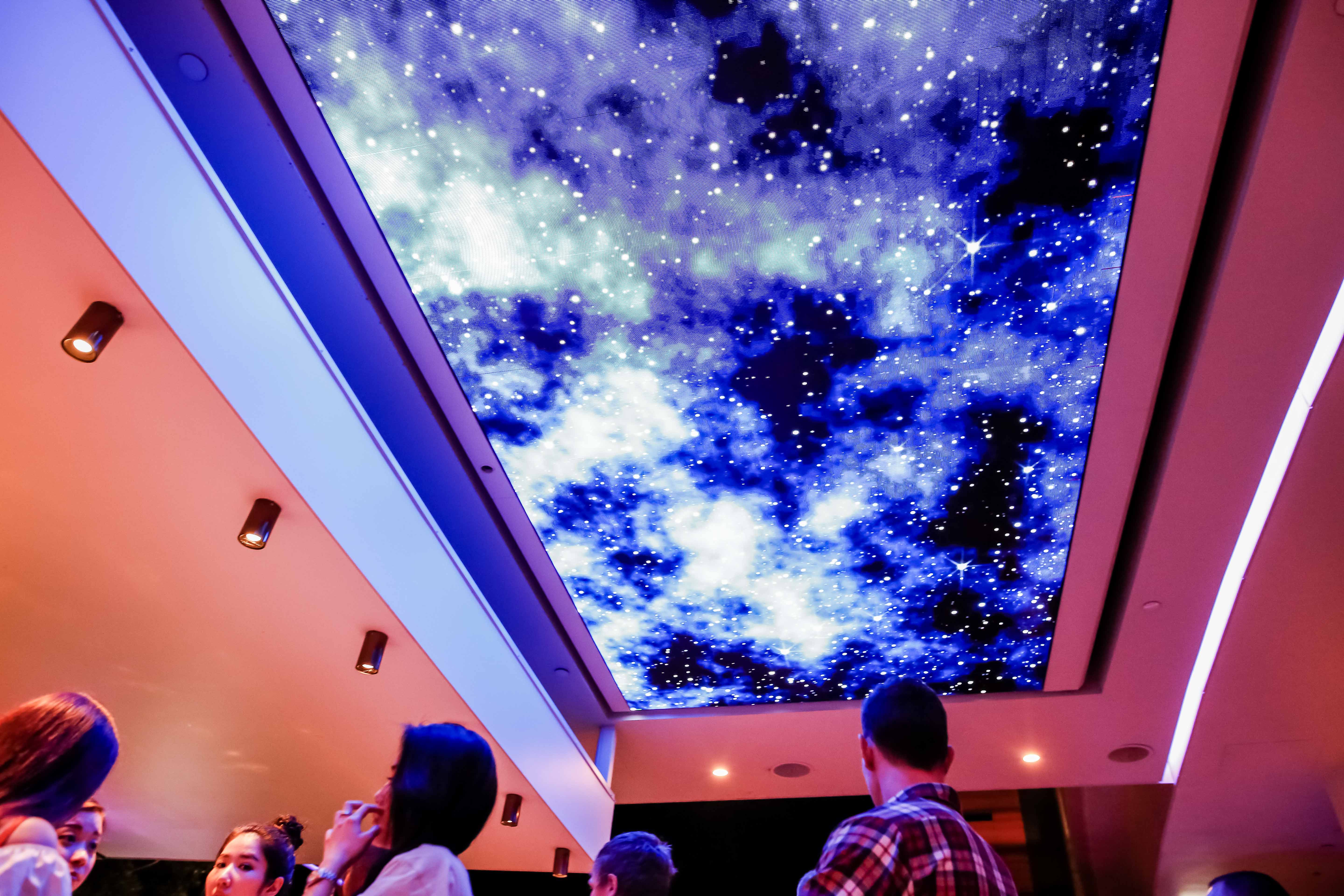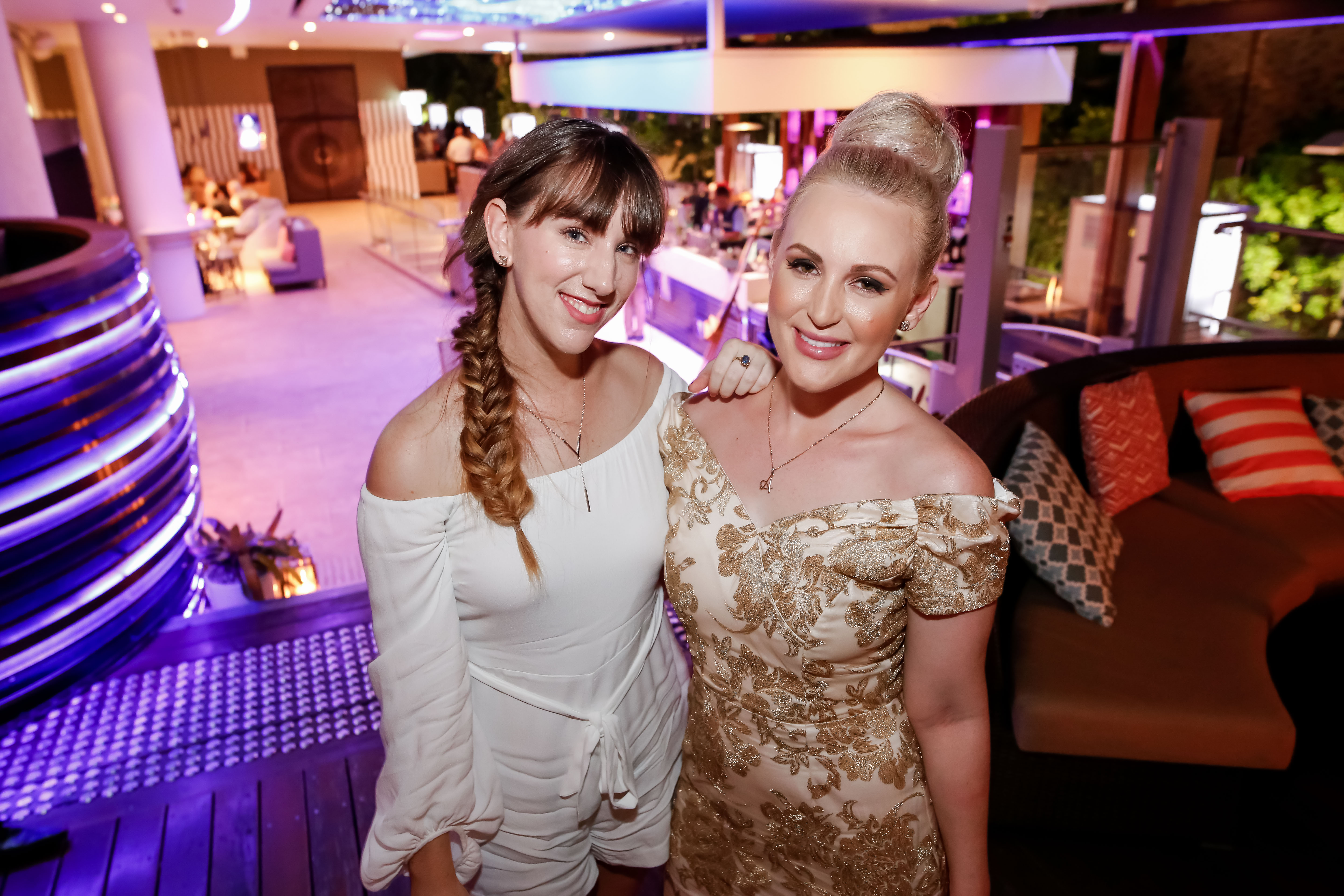 We were treated with glasses of Prosecco and Sauvignon Blanc before moving our way down the extensive cocktail menu, taste testing exotic punches through to the specialty martinis. Familiarise yourself with the fabulous Soleil Pool Bar drinks menu here!
Alongside our sparklies, we enjoyed a delightful selection of tapas including my favourites of the evening, Peking Duck Spring Rolls, Arancini Olives and a delicious Polenta appetiser (pictured).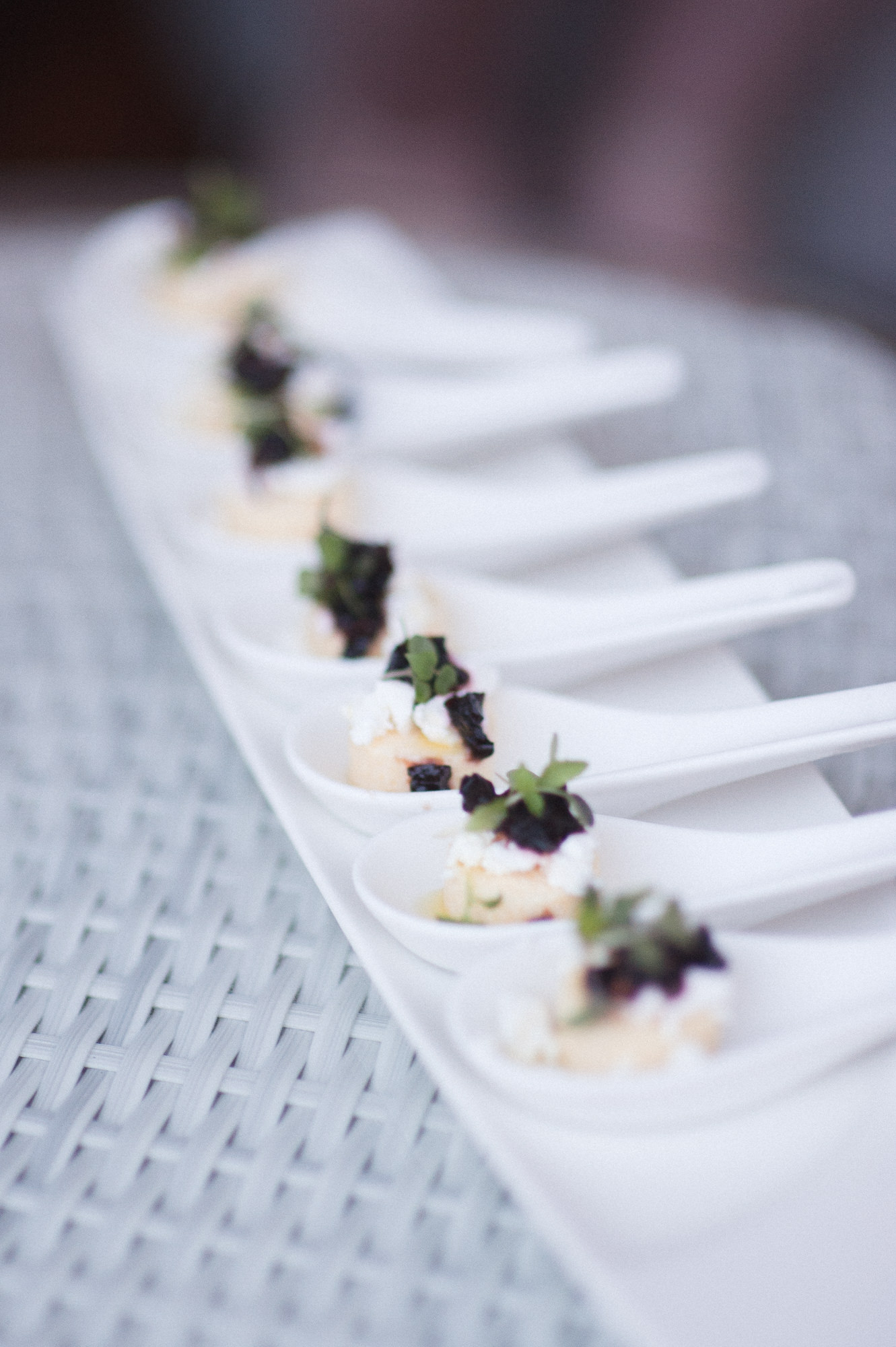 The Guest List
The best part of a birthday soiree, is achieving squad on fleek status with a killer guest list. I recommend keeping things fairly intimate to allow for quality time with the creme de la creme of your social circle. Calling all besties, sissys, main squeezes and soul mates.
Of course, my squad certainly know how to bring the heat with their smouldering selfies, impeccable style and general sophistication. Not to mention, they know how to spoil this birthday girl with the most fabulous treats, trinkets and gifts – I am one lucky lady!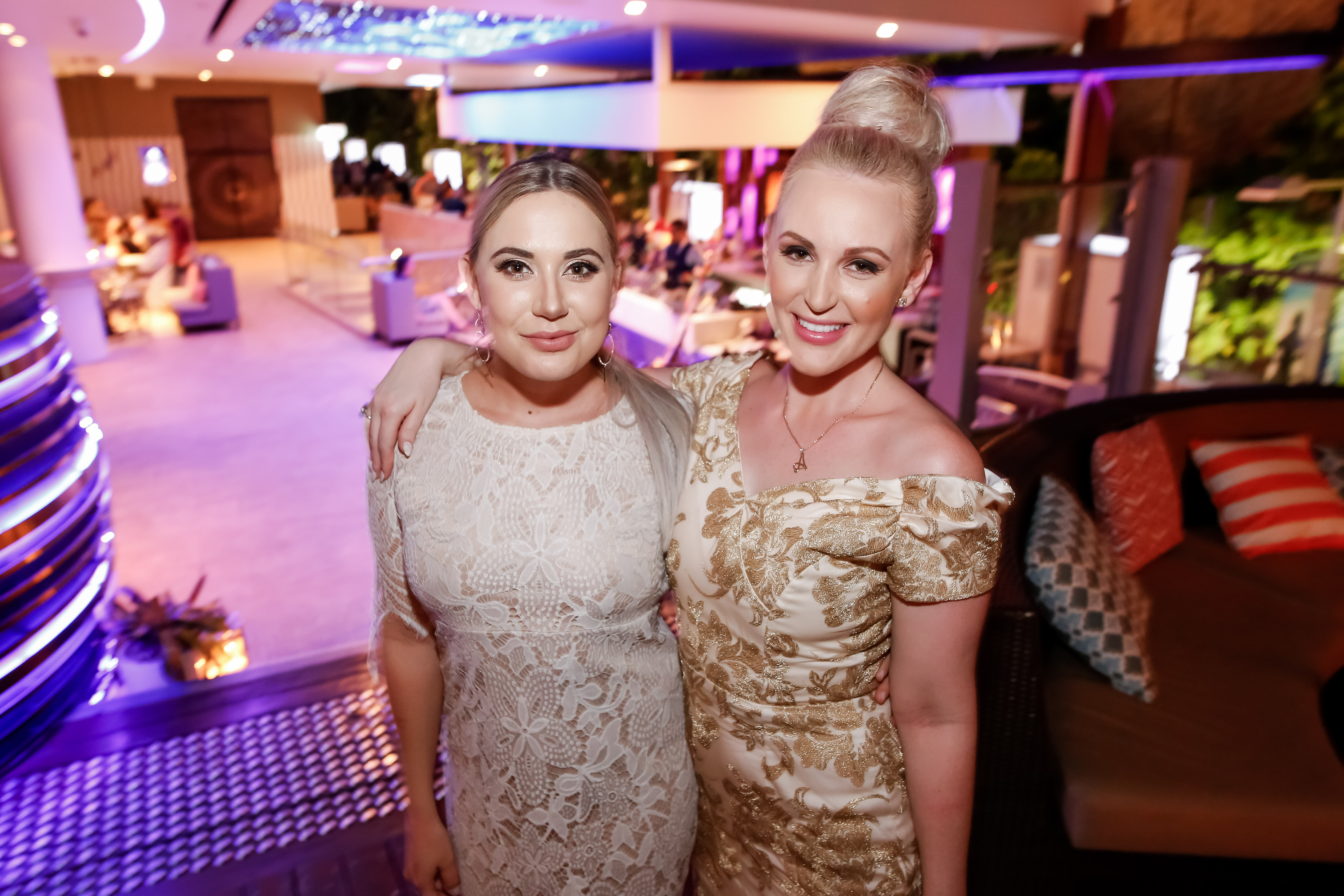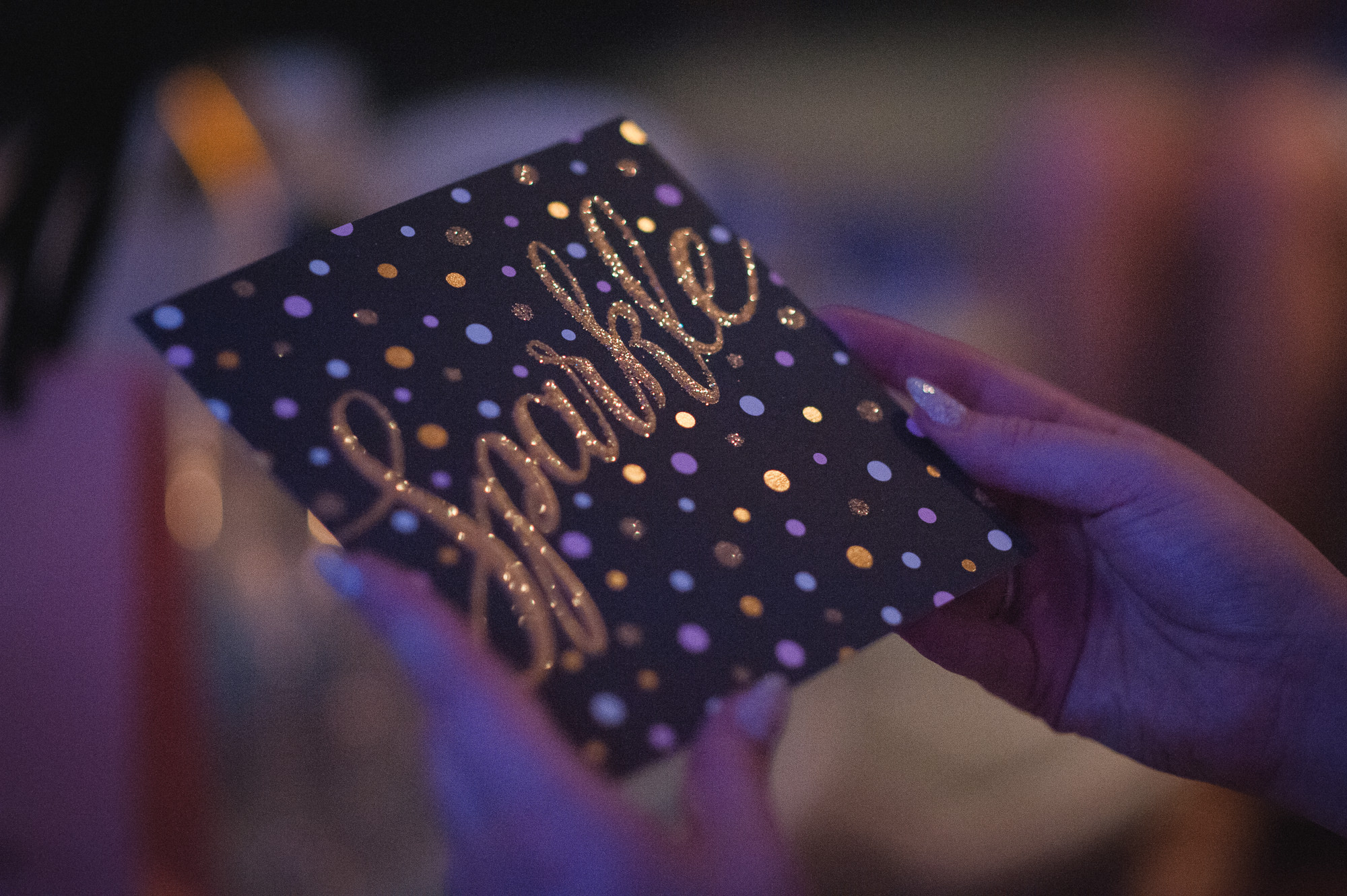 I'de like to wrap this post up with a massive thank you to the events staff at Soleil Pool Bar, who treated my fabulous friends and I to a stellar evening, one I certainly won't forget anytime soon! Here's to reining in 28 with absolute style.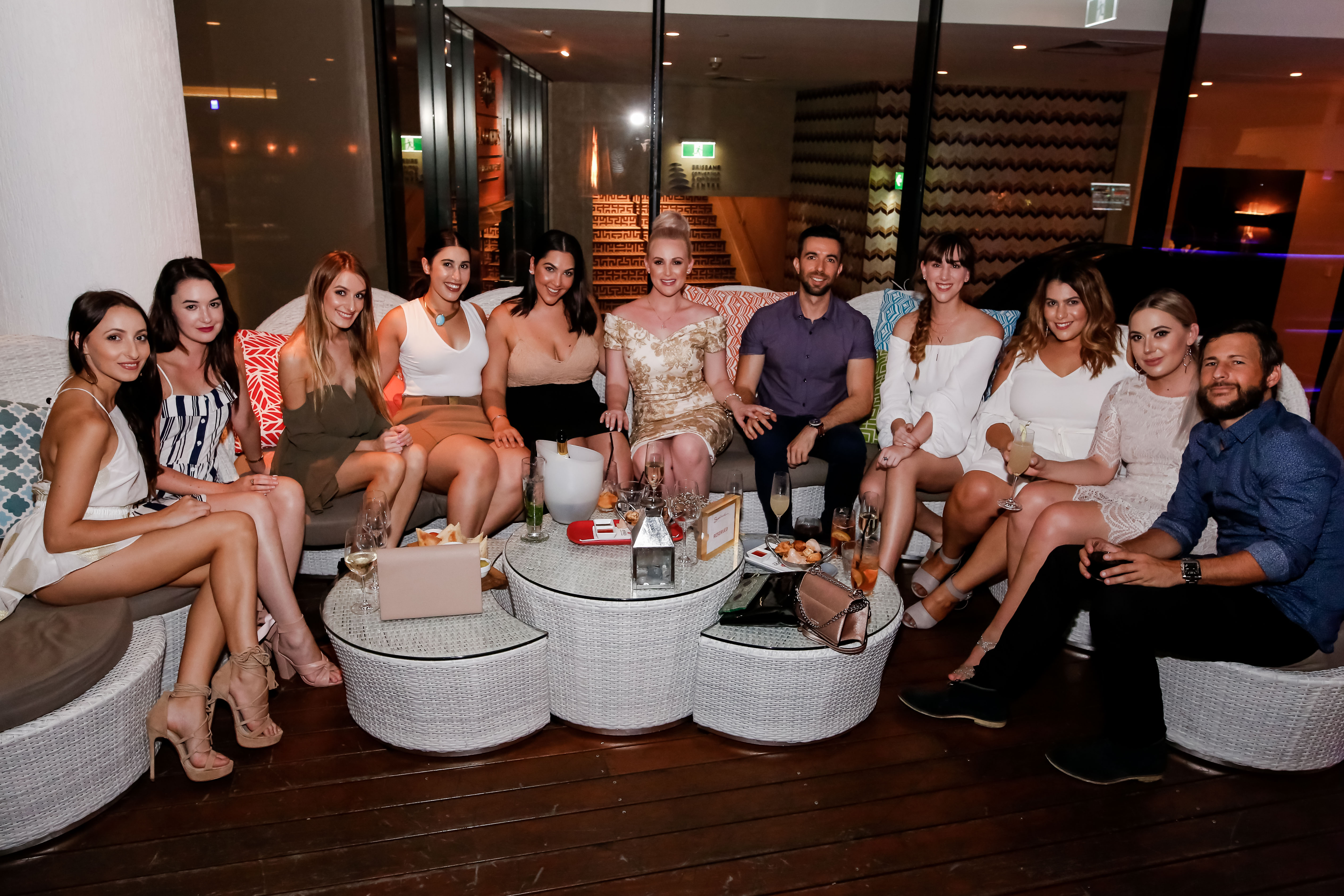 SHOP THE POST:

Photography by Erin Smith Photography & Jared Vethaak Photography
Singin' In The Rain Opens In Brisbane
Sunday, September 25th, 2016
Weather forecast: keep those brollies handy, because Brisbane's in for a spot of rain! Last Friday evening involved frocking up for the red carpet roll out, for opening night of Singin' In The Rain.
Wearing Cue. Photographed by Erin Smith Photography.
Growing up within a musical family, I was constantly introduced to the best of the silver screen and stage, developing an early love for musicals. As a fan of the original movie, I was so excited to hear that Singin' In The Rain would soon tour Australia, arriving at my local theatre Qpac in September.
I will admit I was a little broken hearted in the lead up, to hear that Adam Garcia would no longer be headlining as Mr Don Lockwood, however his replacement Rohan Browne did not disappoint. He was utterly charming, bold, handsome, had a beautiful voice, and boy, could he move! Unsurprisingly he wins over the beautiful Kathy Selden, portrayed by talented Gretel Scarlett, and a beautiful love story unfolds.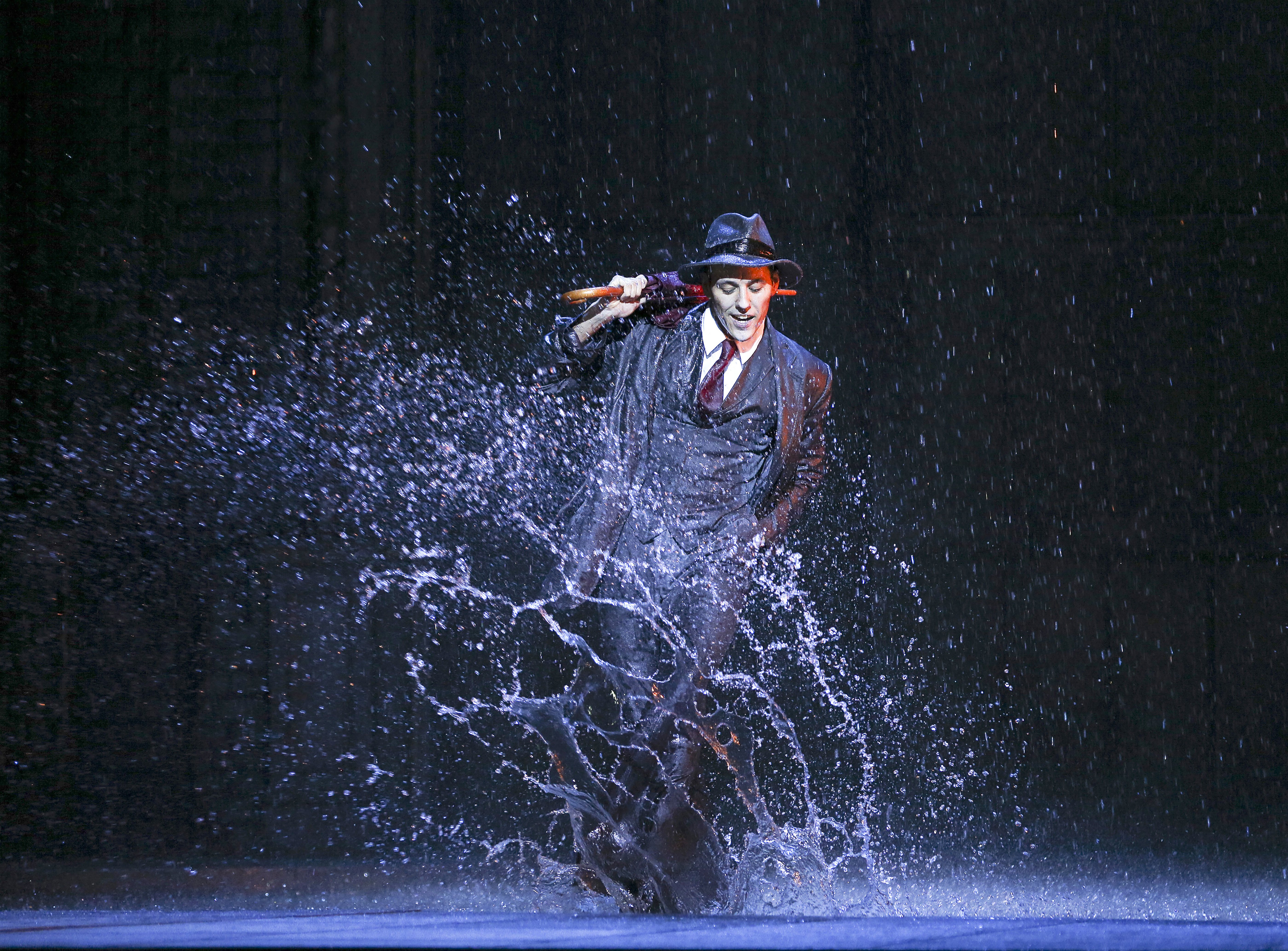 My favourite character throughout the show was none other than SYTYCD champion Jack Chambers. Playing Cosmo Brown, he injected a colourful character on stage, wowing the audience with his effortless dancing and comical flair. Make Em Laugh did just that, leaving the audience in stitches as Chambers delivers hilarious choreography, quickly becoming a highlight of the show. What can I say, I can't resist a man with a great sense of humour.
As a whole, the show was spectacular, from the high energy seen in the initial Hollywood scene, to the final splash and dance number. I was particularly impressed by the ensemble, who brought the hustle and bustle of the movie industry alive, while in tune and in sync, and dressed impeccably in 1920's fashion.
As for the iconic, titled scene, well – I won't spoil that for you. But I will say if you're sitting within the first 3 rows be sure to bring a poncho!
One of my favourite trips to the theatre, this show is a MUST-SEE! Don your best LBD and head to Qpac pronto for a magical stage and screen experience. Click here to book your tickets to Singin' In The Rain. In the mean time, enjoy this cheeky sneak peek from the Australian Cast. 
*Note Adam Garcia does not appear as Don Lockwood, due to an injury he sustained mid tour.
Wireless Beats With Sudio Sweden
Sunday, September 11th, 2016
Where pristine sound quality meets stylish Scandinavian design, these Sudio Sweden headphones are a must-have for any tech enthusiast.
Sudio Sweden Vasa BLA Pink Headphones.
Amongst the excitement of the announcement of the iPhone 7, are some concerns around the missing headphone jack. However, I'm ready for the upgrade, now that I've added a pair of wireless headphones to my collection of tech gadgets, courtesy of Sudio Sweden.
When it comes to technology, Sudio VASA Bla delivers studio quality, elegant design and up to 8 hours of wireless freedom. I've never heard a clearer sound, as these headphones feature a carefully tuned driver and amplifier to separate the sound of every instrument recorded on the track. The result offers a studio experience – it's like listening to Selena Gomez live as I type this very post.
As for aesthetics, these headphones are exquisite and stylish, available in a range of colours and metallic hardware. Naturally, I couldn't go past the pastel pink option with gold hardwear and a matching pink leather case. With a minimalist design, these Sudio Sweden headphones are super light weight and fit conveniently in even the most compact clutches.
For extra treat, I've got a special discount with your name on it, enter the code THEBLONDESILHOUETTE for a cheeky 15% off your order! For more details visit the website here!
---