Costume Call: North By Northwest With Esther Marie Hayes
Wednesday, December 5th, 2018
Last weekend I was transported back to the 50's through the stylish pursuits of the Hitchcock original, North by Northwest, currently showing at Qpac's Lyric Theatre. With a penchant for the ever so stylish decade, I sat down with Costume Designer Esther Marie Hayes for a glimpse into the glamorous costume process. Check out our stylish Q&A below!
1. 5 Words to sum up the 50's fashion decade:
Classic, Tailored, Elegant, Glamour, and Opulent
2. What's your process when it comes to styling script to stage?
Lots of research and logistics! After reading the script a few times while making notes and sketches, I will meet with the Director (in this case, Simon Phillips) to talk through the look and style of the show. For North by Northwest, the pace of the show was to be very fast and thrilling, with the additional challenge of making it look like we had a full bustling film cast with a ensemble of 12 stage actors.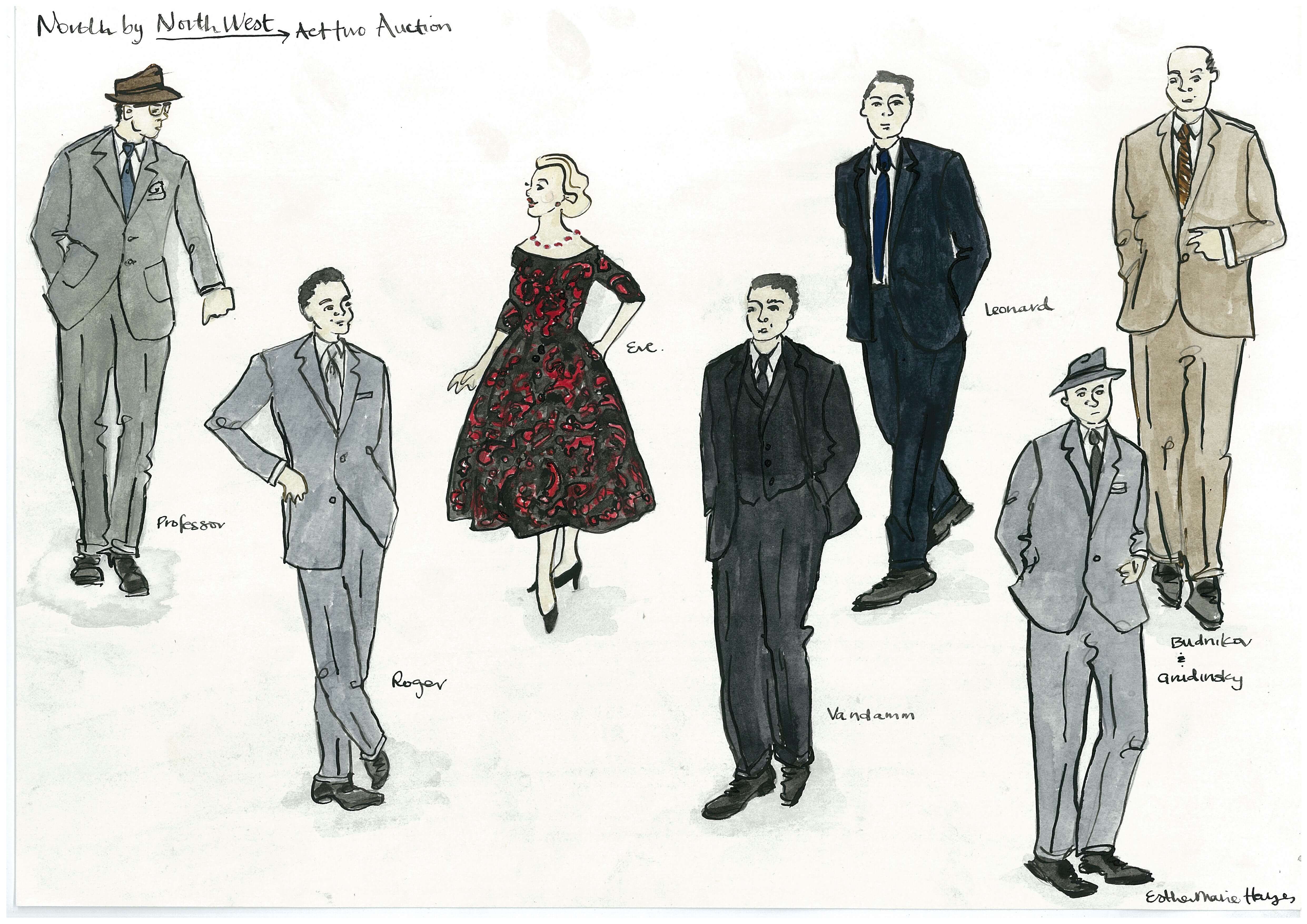 3. How are the character's quirks depicted through their attire?
Everything works together to create a character, from the choice of fabric and/or pattern in the costume, to wig styling and smaller details, such as choice of sock suspenders or matching gloves. Colour and fit also speaks a lot about a character, for example how confident or shy they are. Often it's these smaller details and unique combinations that allow you to shape a character's look and personality. This all contributes to help the actor feel comfortable in the role.
4. Which character has the most stylish wardrobe and why?
Eve Kendal, is the leading lady and her iconic sense of style oozes confidence and sensuality. From her foundation garments to the precise tailoring of her pencil skirt, Eve's wardrobe is designed to represent the familiar 'Hitchcock' blonde while maintaining a sense of mystery.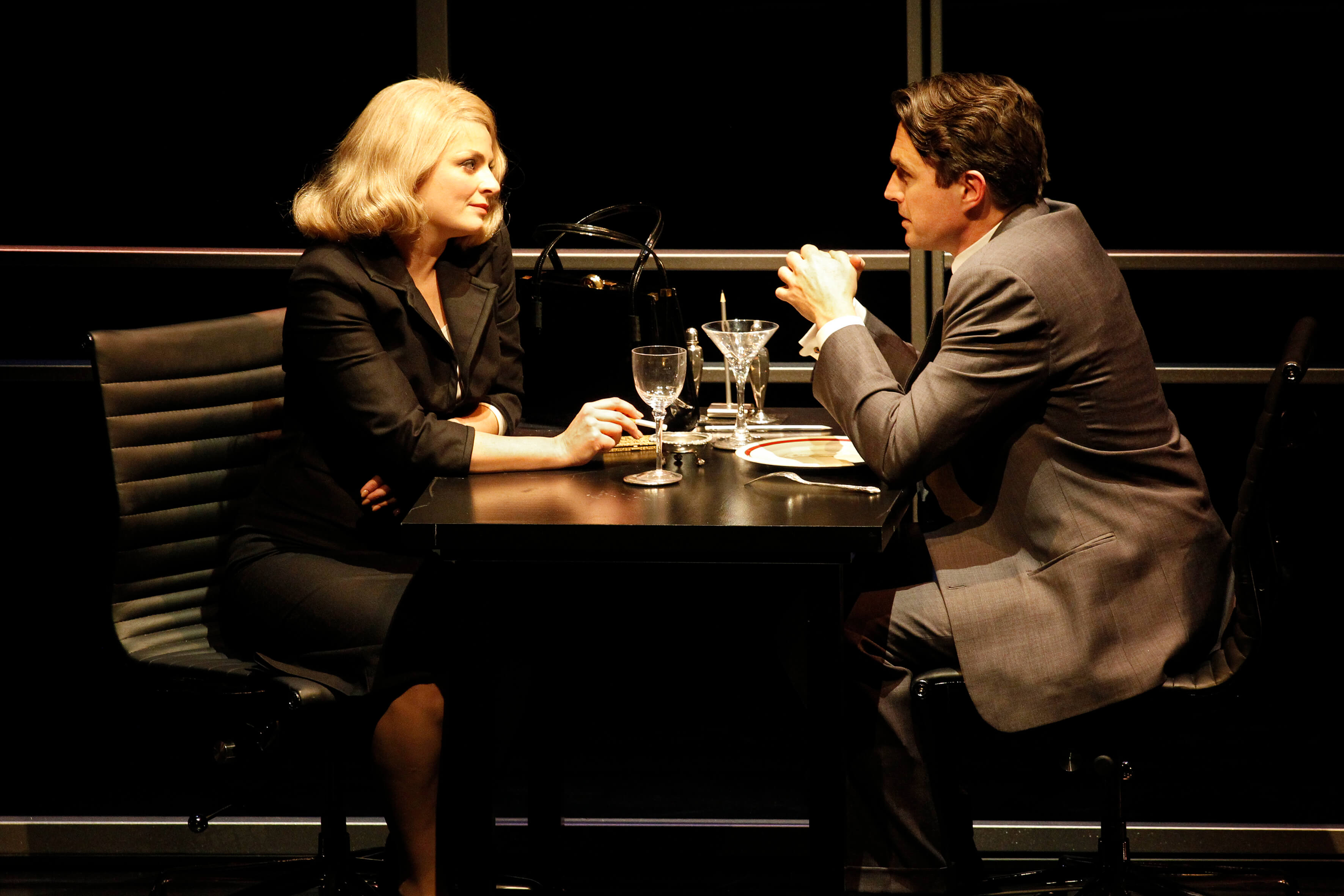 5. Fav fashionable moment on stage?
In North by Northwest, the busy crowd scenes are my favourite- particularly the train scene which has some of the quickest changes!  I also really love the Rushmore cafe scene, it's a dramatic moment in the play and I was able to have fun with colour and pattern for the bystanders in the cafe enjoying their visit to the monument.
6. The most exclusive/rare garment sourced for the show?
There are many original pieces from the 1950s sourced from the States, UK and all over Australia, as well as a few pieces from my personal vintage collection. The most exclusive items are actually the fabrics used for Eve Kendal's costumes. We searched everywhere for the iconic black and rose fabric used to recreate the dress she wears in the infamous auction scene. We found a fabric company in Germany that had beautiful jacquard silk which was almost an identical match..
Another fabric which was also hard to find was the burnt orange knit Eve wears in the final scene. We ended up finding it in one of those tiny, poky fabric stores with piles of materials that reached the ceiling. We found a roll hidden amongst piles of fabric and were very ecstatic, much to the surprise of the shop owner.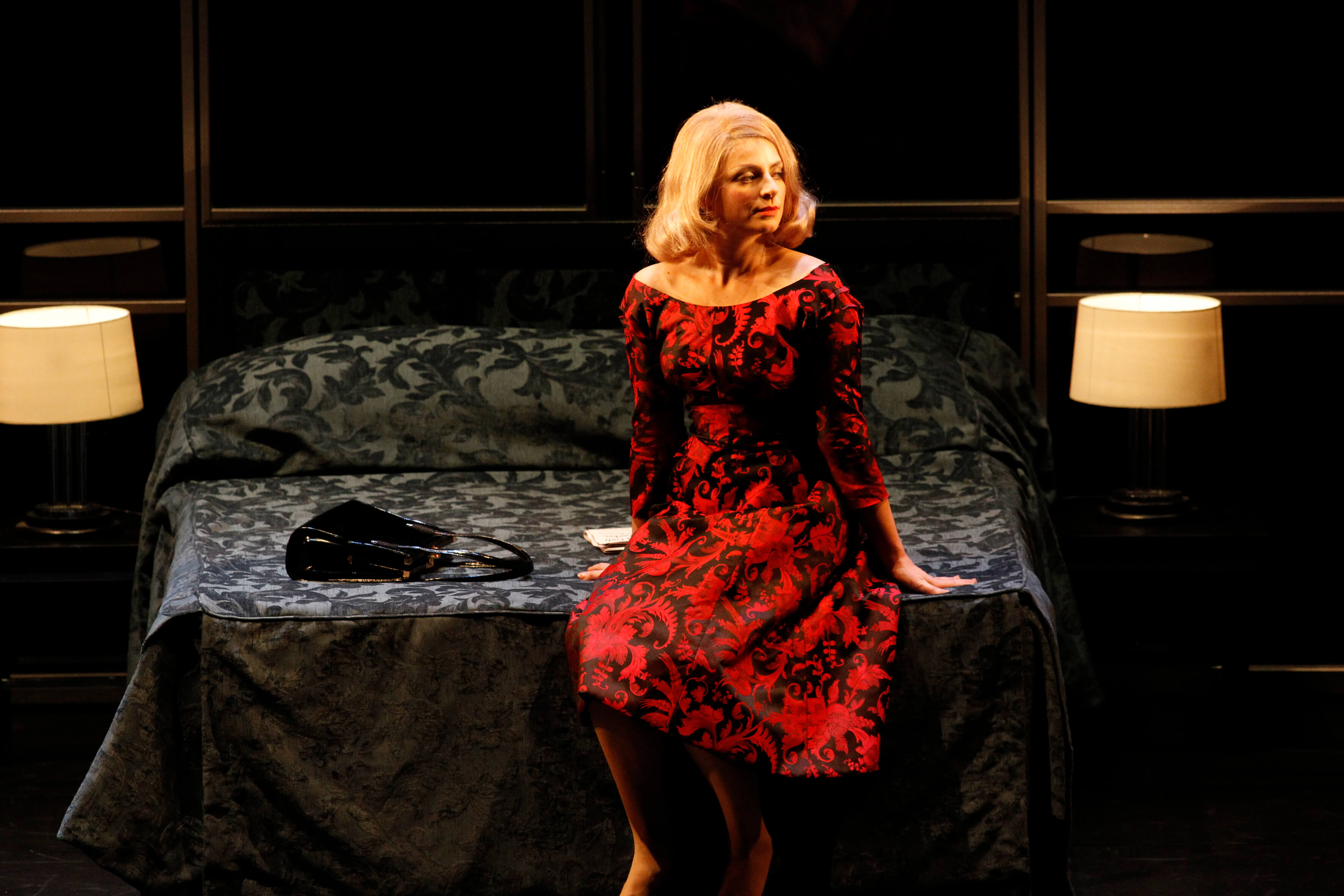 7. Tips & Tricks for those looking to integrate a 50's influence into their current wardrobe?
The 1950's is a great decade to integrate into your wardrobe, as it's such a classic look. For men, start with a clean cut, tailored look- and then focus on the little details and accessories such as pocket squares, cufflinks, hats and sunglasses. Matt Day wears a pair of tortoiseshell sunglasses from Oscar Wylee so it's easy to incorporate classic looks from modern stores.
For women, I would go with choosing classic silhouettes and fabrics. A simple blouse tucked into a pencil skirt will create the iconic 50s hourglass shape. Accessorise with a belt worn on the natural waistline, a Jaunty neck scarf, winged eyeliner and for true 50's glamour, a pair of gloves.
Brisbane, this show is an absolute must-see and will captivate you instantly with the thrilling plot, charismatic leads and stylish ensembles. If you haven't already, then snap up your tickets for the final weekend here!
---
Stylish Highlights From Polo In The City
Thursday, November 29th, 2018
Remember that scene in Pretty Woman, where Vivian gets frocked up and attends the polo on the arm of the dreamy Edward Lewis? Well I lived that dream last weekend, with a few obvious exceptions (lady of the night profession and sans one Richard Gere). Check out my highlights from Polo In The City below.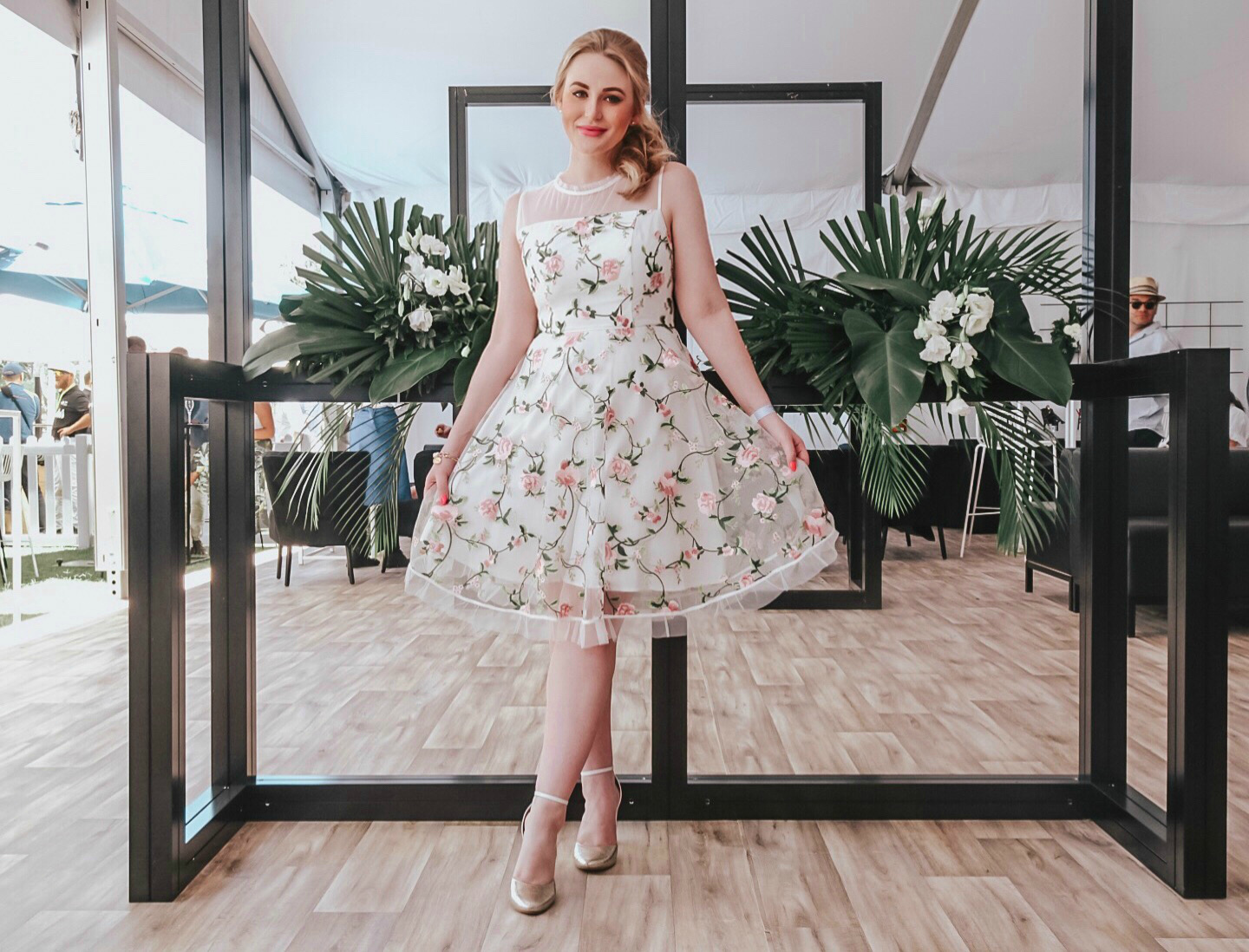 Wearing Review Heirloom Floral Dress.
My first time attending the Polo In The City, was celebrated in the most stylish way, with my sister and I being dolled up by Review. With a love of florals, we both choose garments with dreamy, blooming prints, otherwise perfect for the Spring affair. Sophie wore the Best Kept Secret Dress, a garment so fitting for the sweetest garden soiree, which featured a flirty A-line silhouette with lace fagoted seam detailing. I on the other hand, wore the Heirloom Floral Dress, which spoke 50's chic with the sheer neckline, organza overlay and ruffled trim.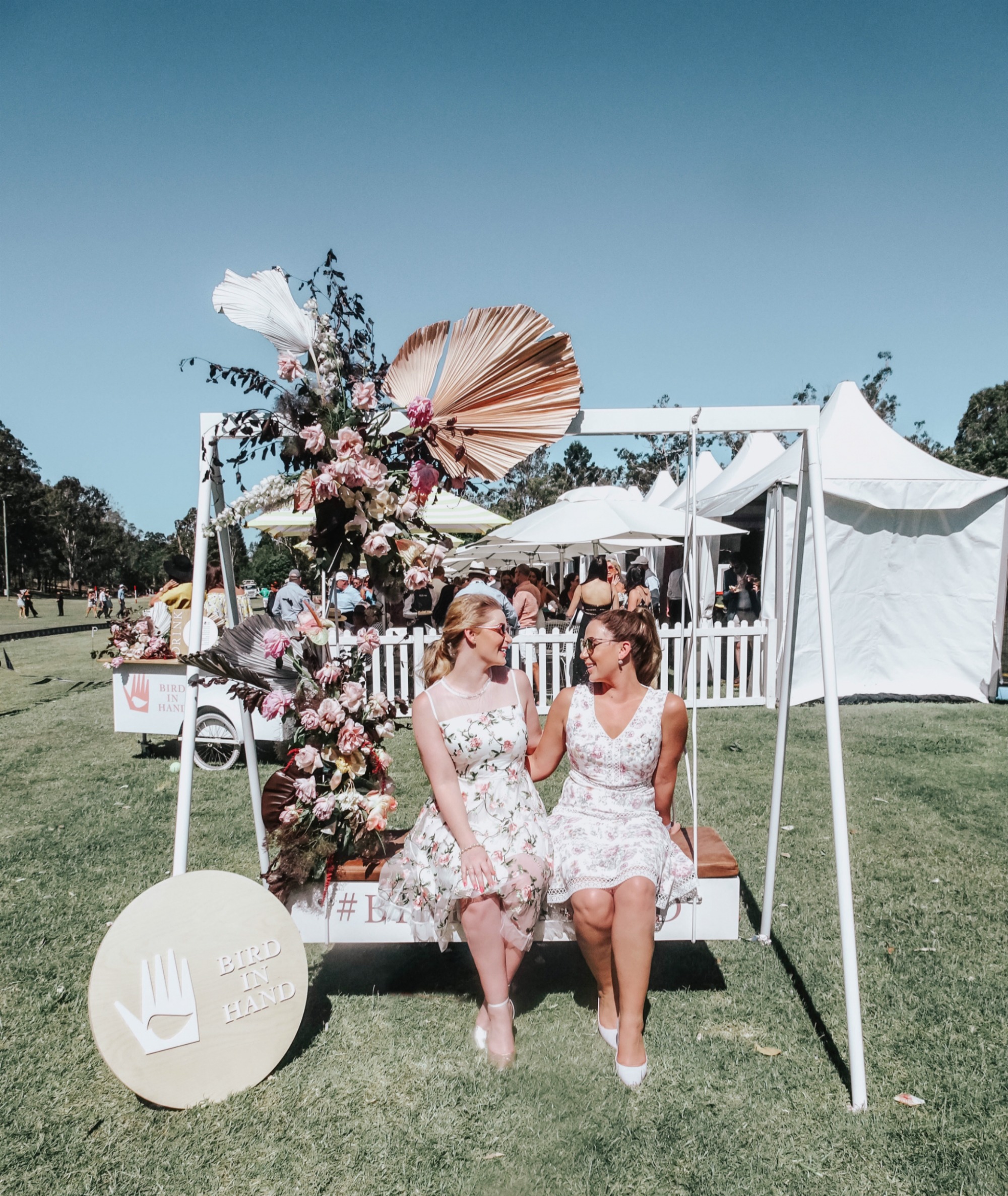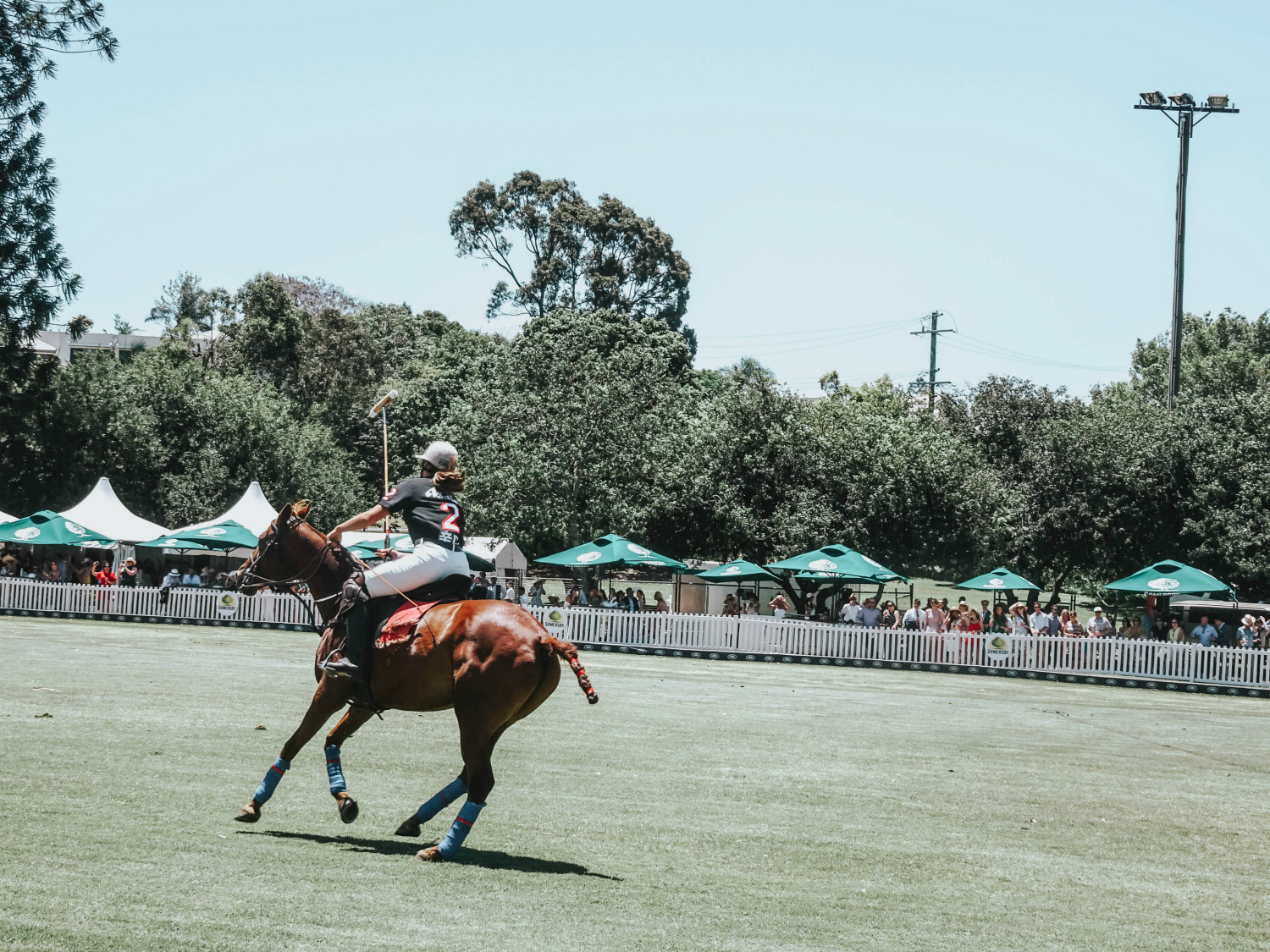 Due to the balmy weather, a crisp pour was essential, including a round of Aperol Spritz, which took me back to my recent European summer. The view of the clear blue skies and endless greenery of Dorrington Park from the Champagne Pommery Marquee, made a picturesque setting for the polo match, which highlighted supreme athletes styled in sophisticated sportswear. Honestly, if playing polo invites such a chic uniform, then where do I sign up?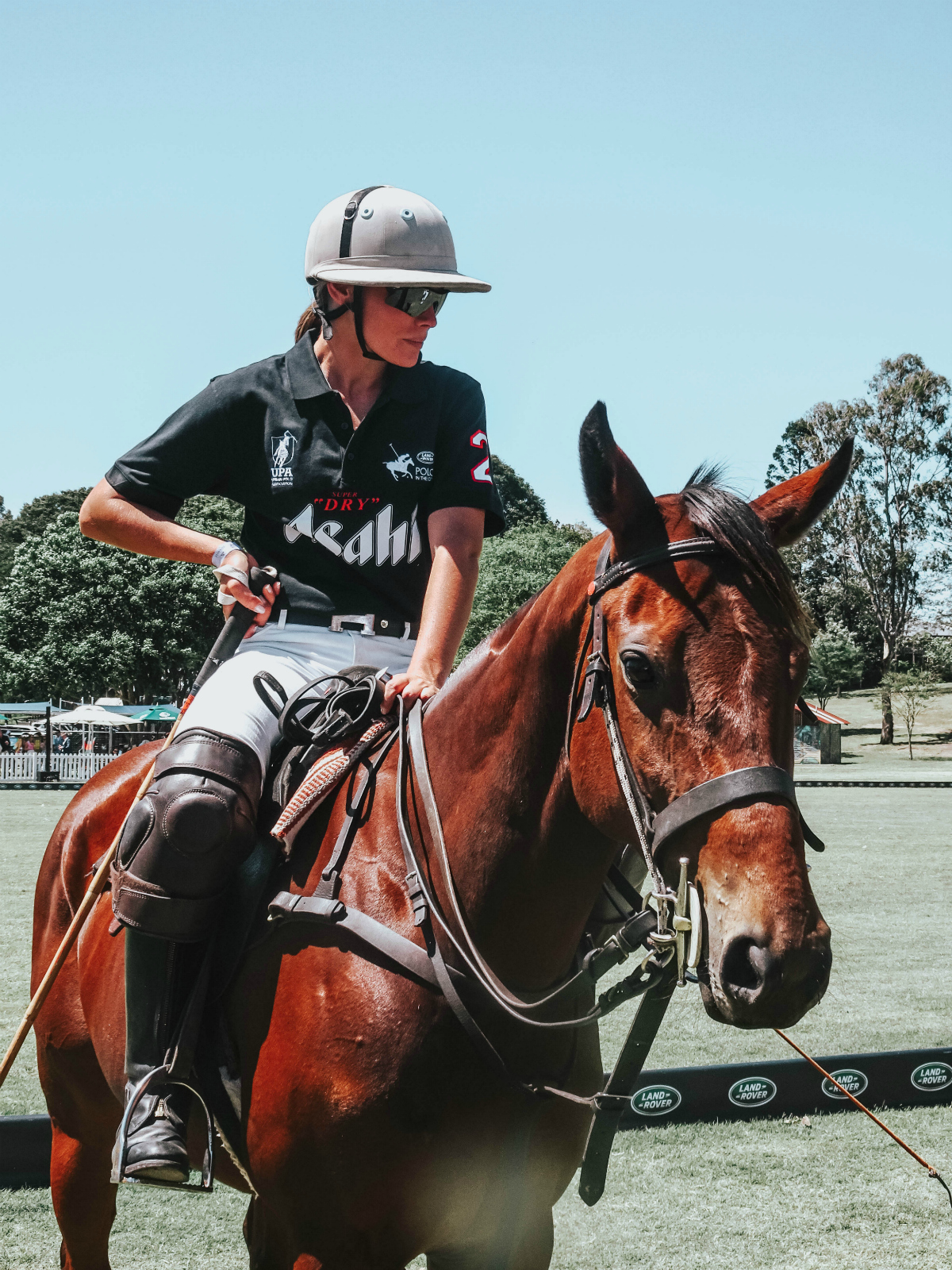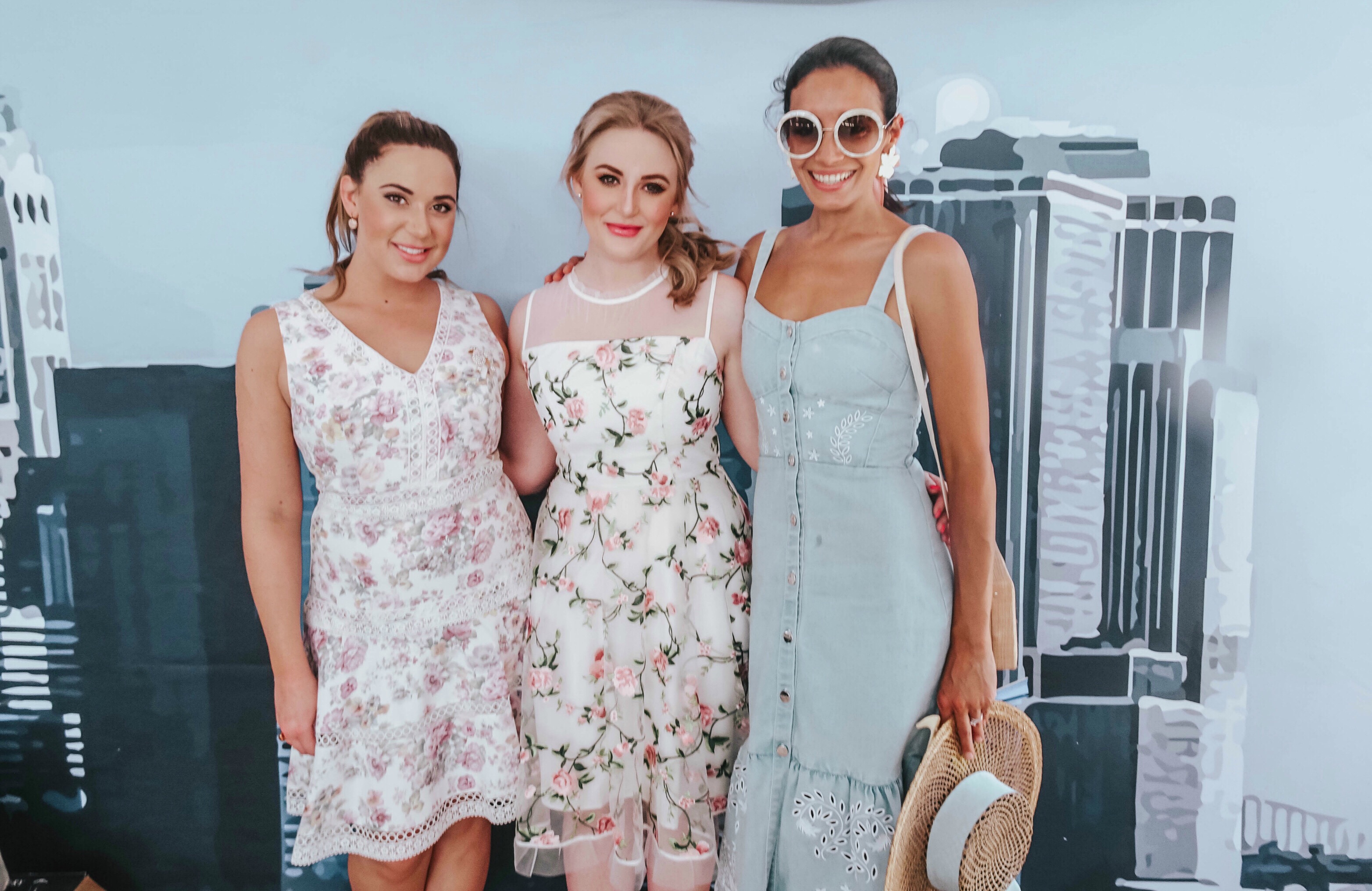 Socialising with the woman of the hour, the face behind The Polo Project and Polo In The City, Natalie Decorte.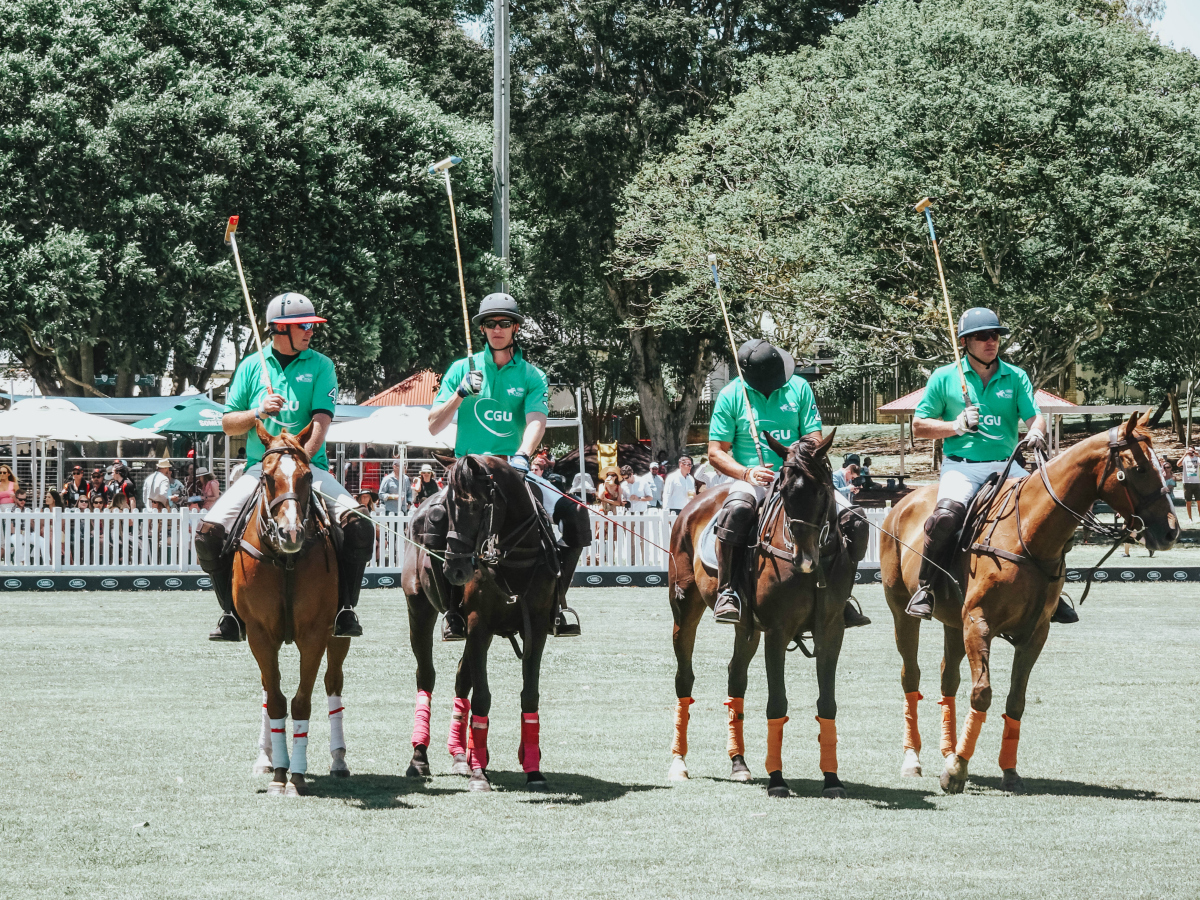 Have you had the pleasure of attending Polo In The City? Tell me your stylish tips and tricks in the comments below! x
Proudly Partnering with Review
---
Blossoms & Blush
Thursday, November 22nd, 2018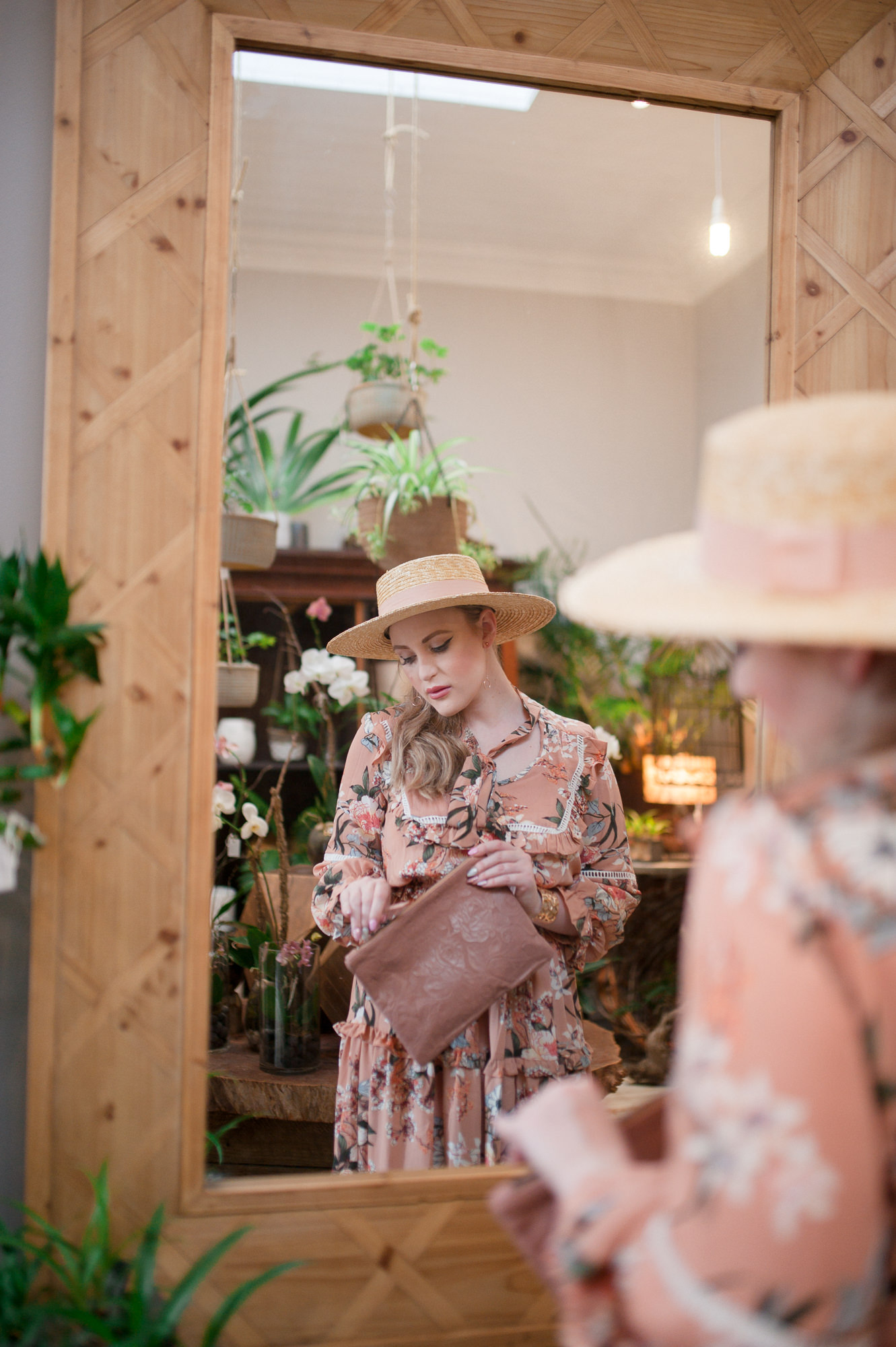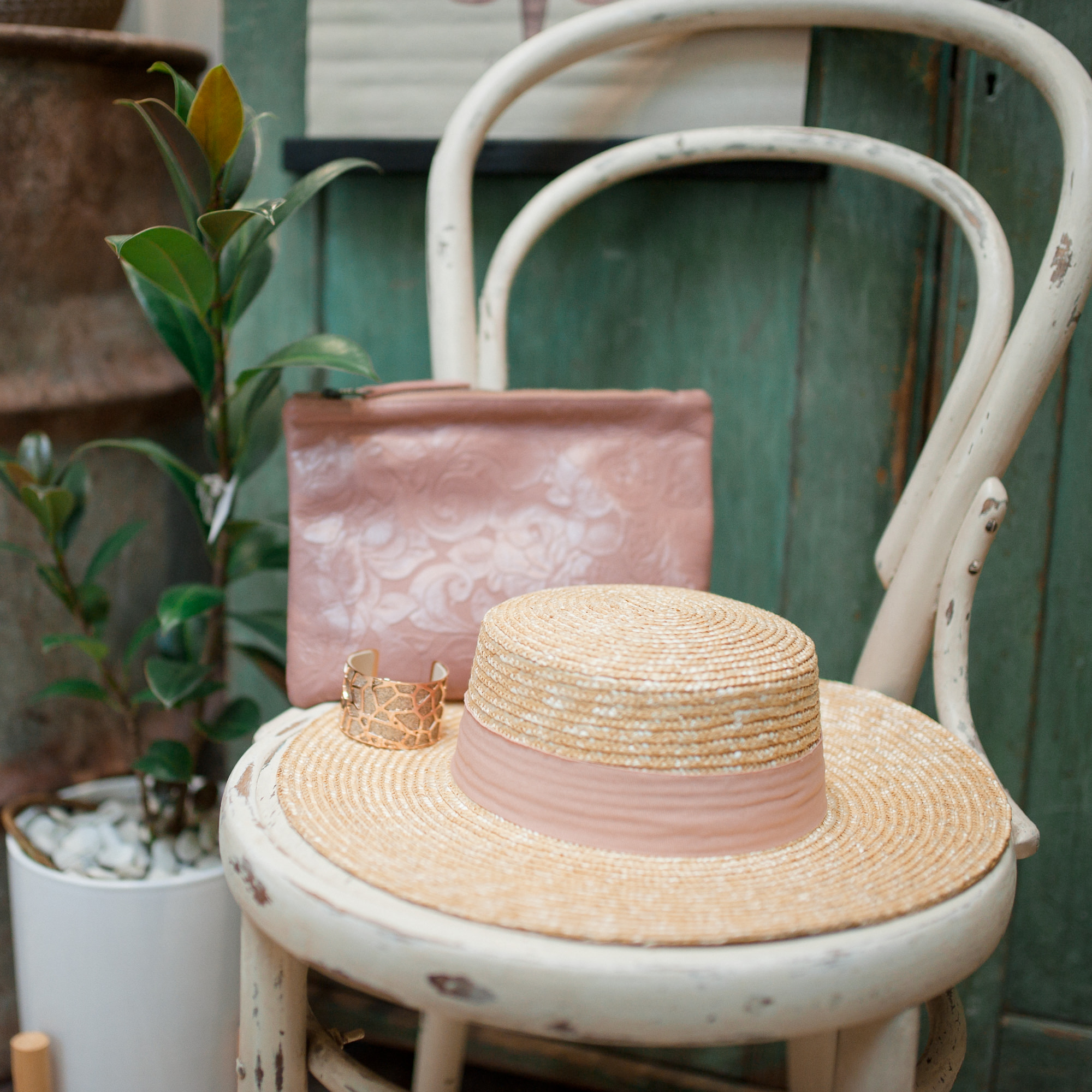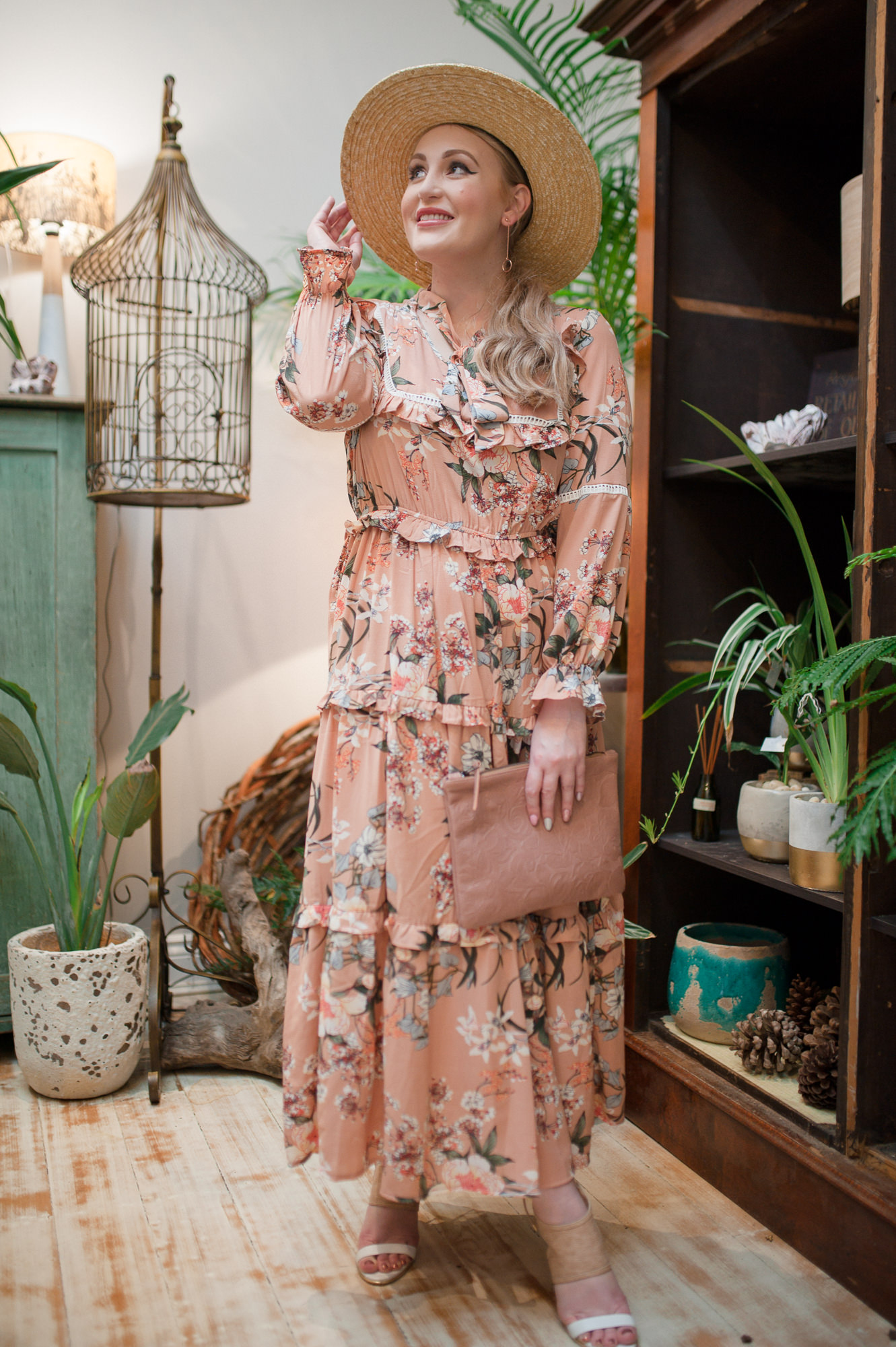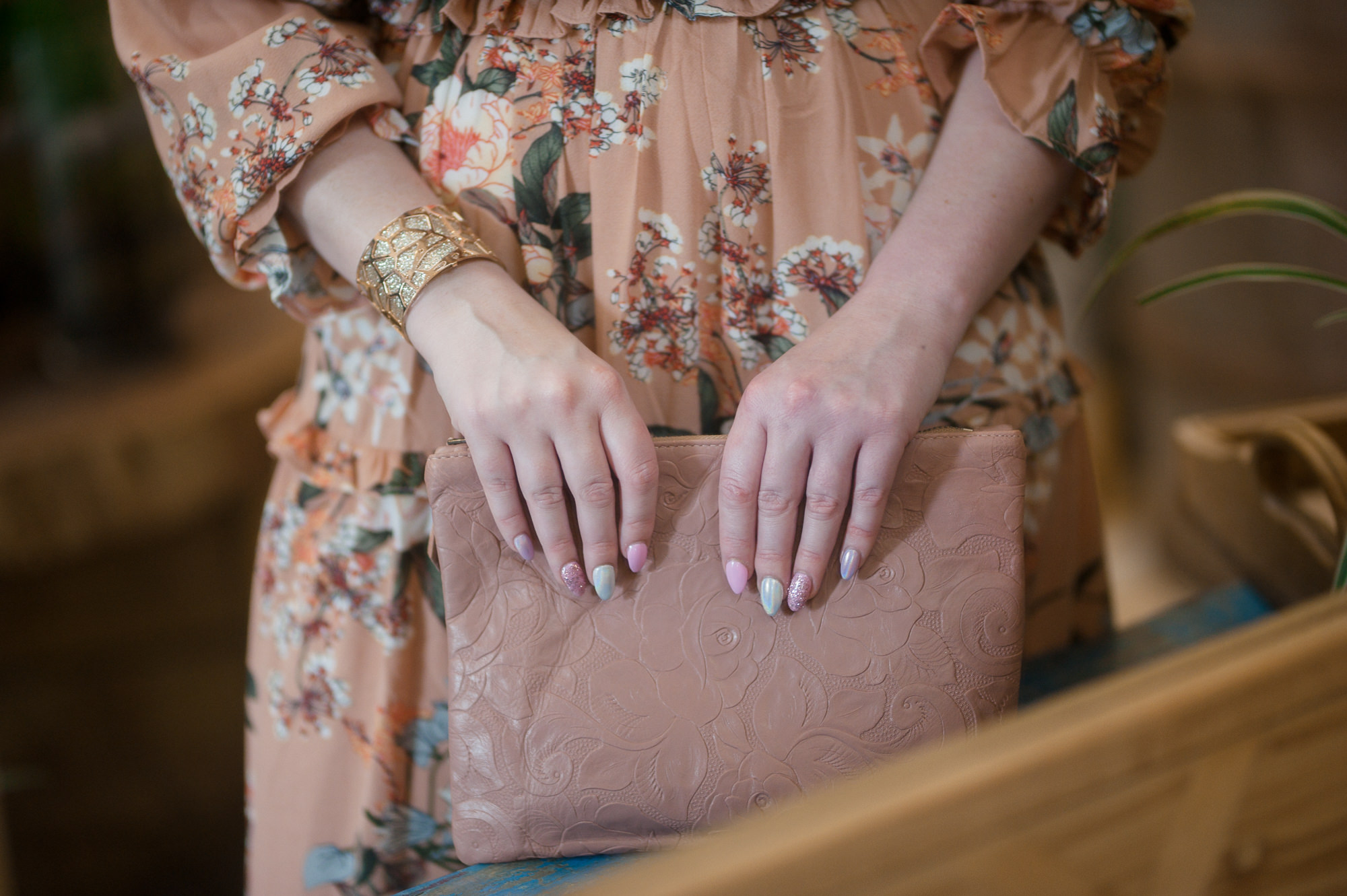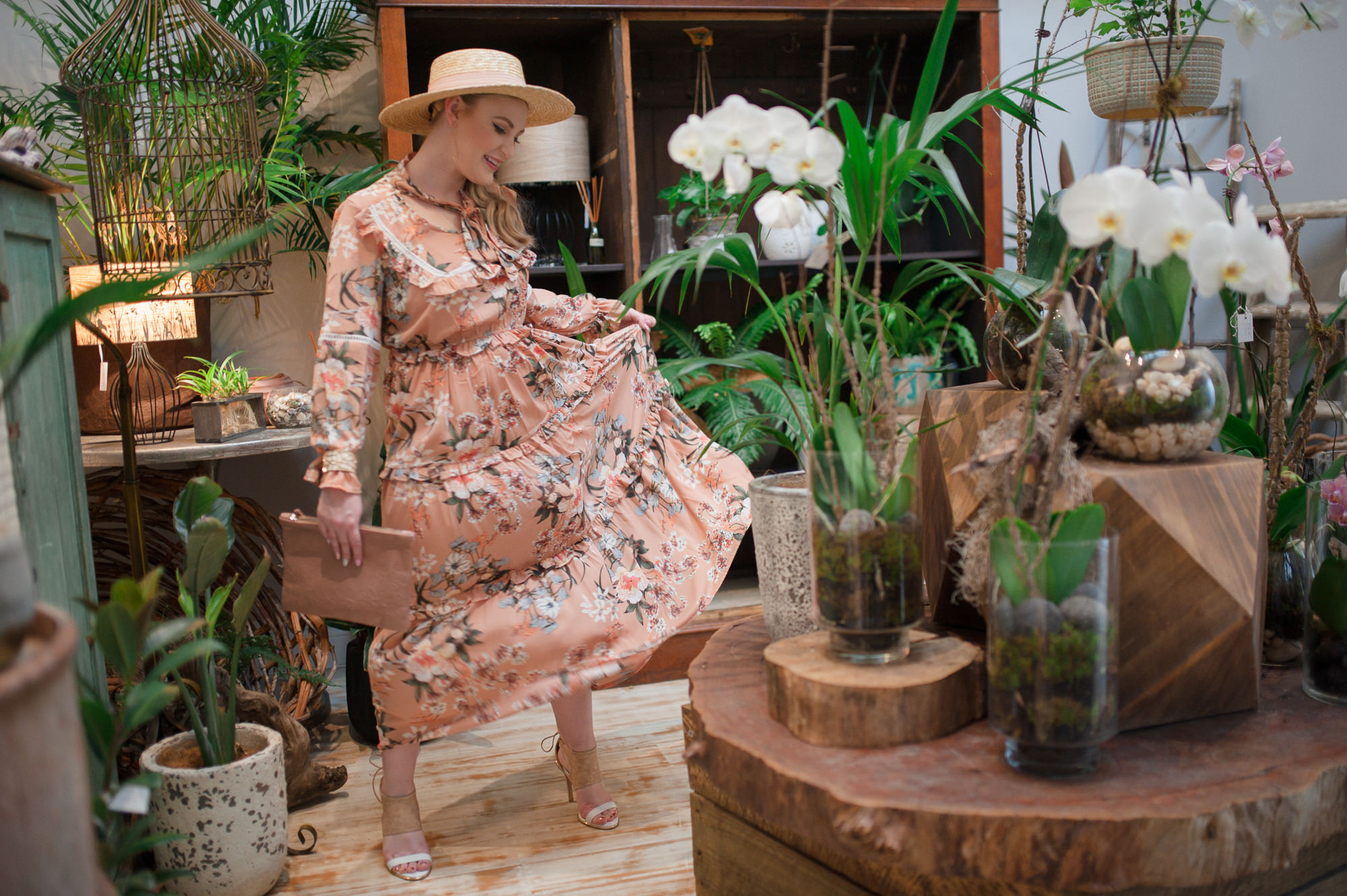 St Frock Folklore Maxi Dress, August + Delilah Shoalhaven Hat, Karmme Desert Blush Clutch, Les Georgettes Customised Bangle, Wittner Heels (similar style here).
If there was ever a colour to make my heart race, then I'm sure it comes as no surprise, it's blush pink. There's something so remarkably feminine about this soft, peachy colour and for someone that throws pink in her porcelain skin tone, it's a complimentary hue. Seeing this gorgeous St Frock garment, I fell instantly in love with the native floral print, along with the dreamy, free flowing silhouette, adorned with ruffle detail and a soft tie neck. This piece has been on high rotation since entering the TBS wardrobe, best teamed with the matching band of the August + Delilah boater, another staple available to St Frock.
One of my favourite little jewellery finds, comes from the beautiful French designer, Les Georgettes, which specialises in versatile, customised pieces. Here, you will see me wearing a beautiful creation, featuring a rose gold, giraffe casing, contrasted by a double sided cream leather and sparkle textured band. I can't explain just how special it is to wear something customised around your very own little vision.
My look is completed with the final rosy detail, seen in my Karmme clutch. Exclusive to the Desert Tales collection, this hand crafted piece features an intricate wild bloom print, embossed in a supple blush leather, inspired by the adventures of the outback.
SHOP THE POST:

Photography By Erin Smith Photography
---
Just Like Audrey
Tuesday, November 6th, 2018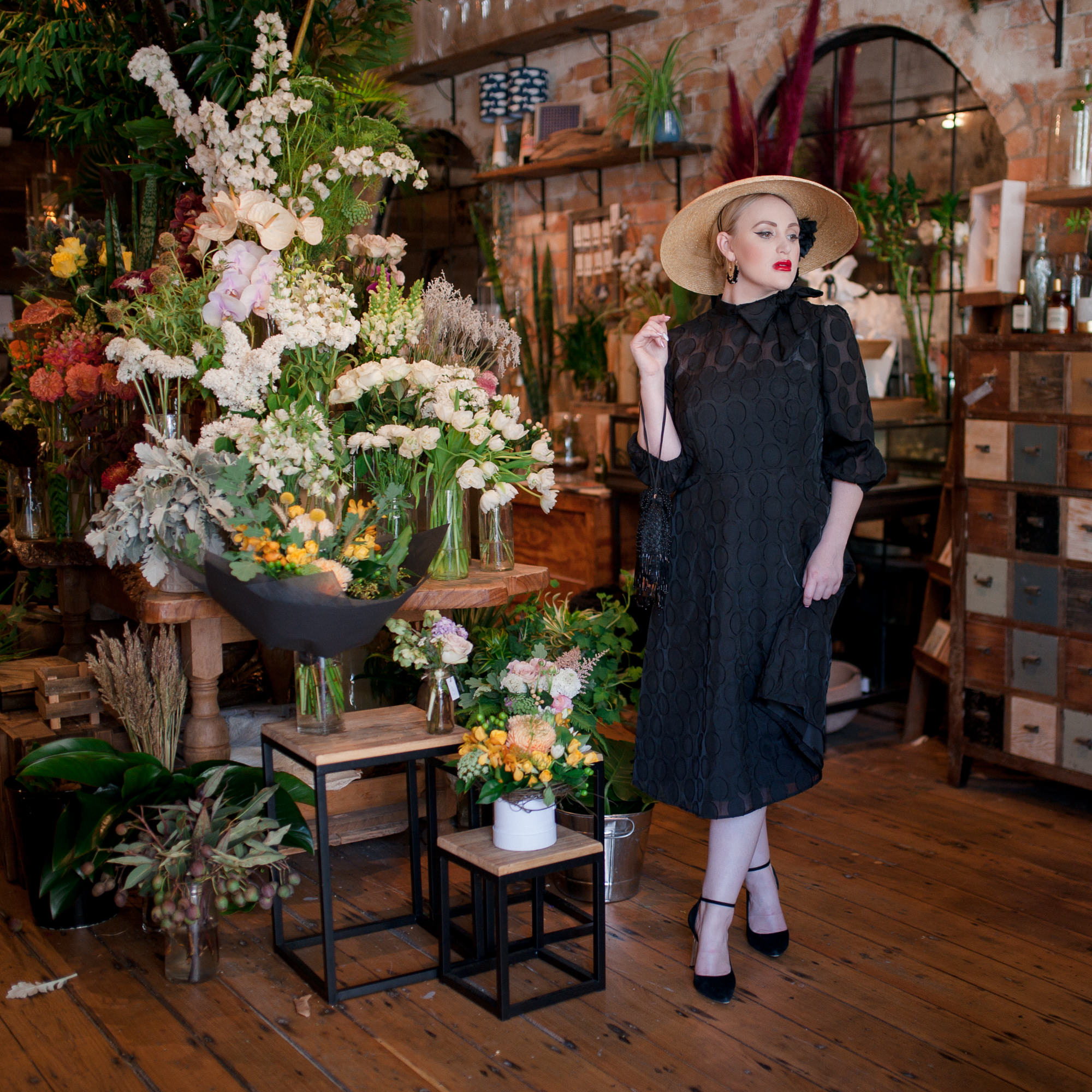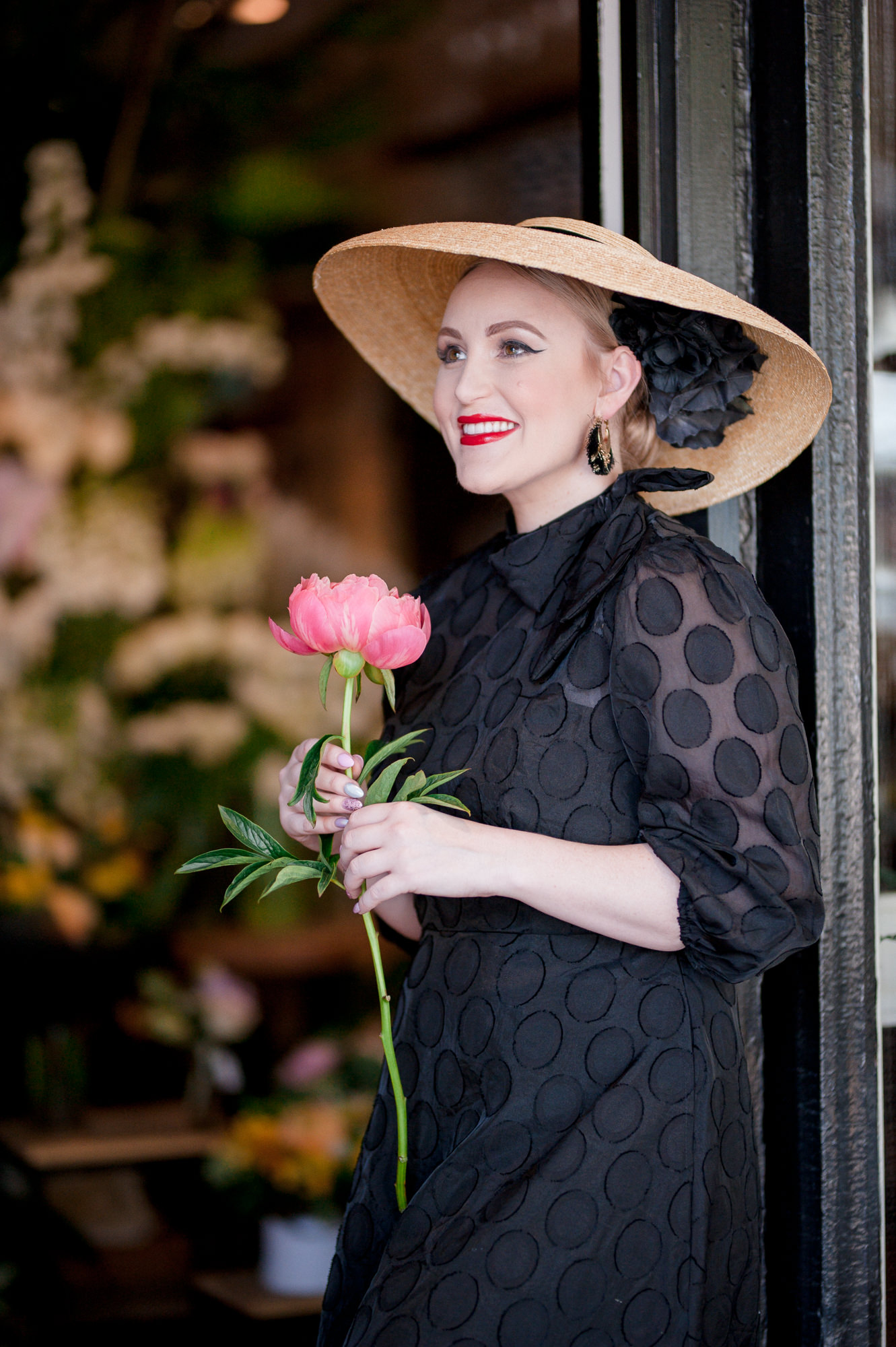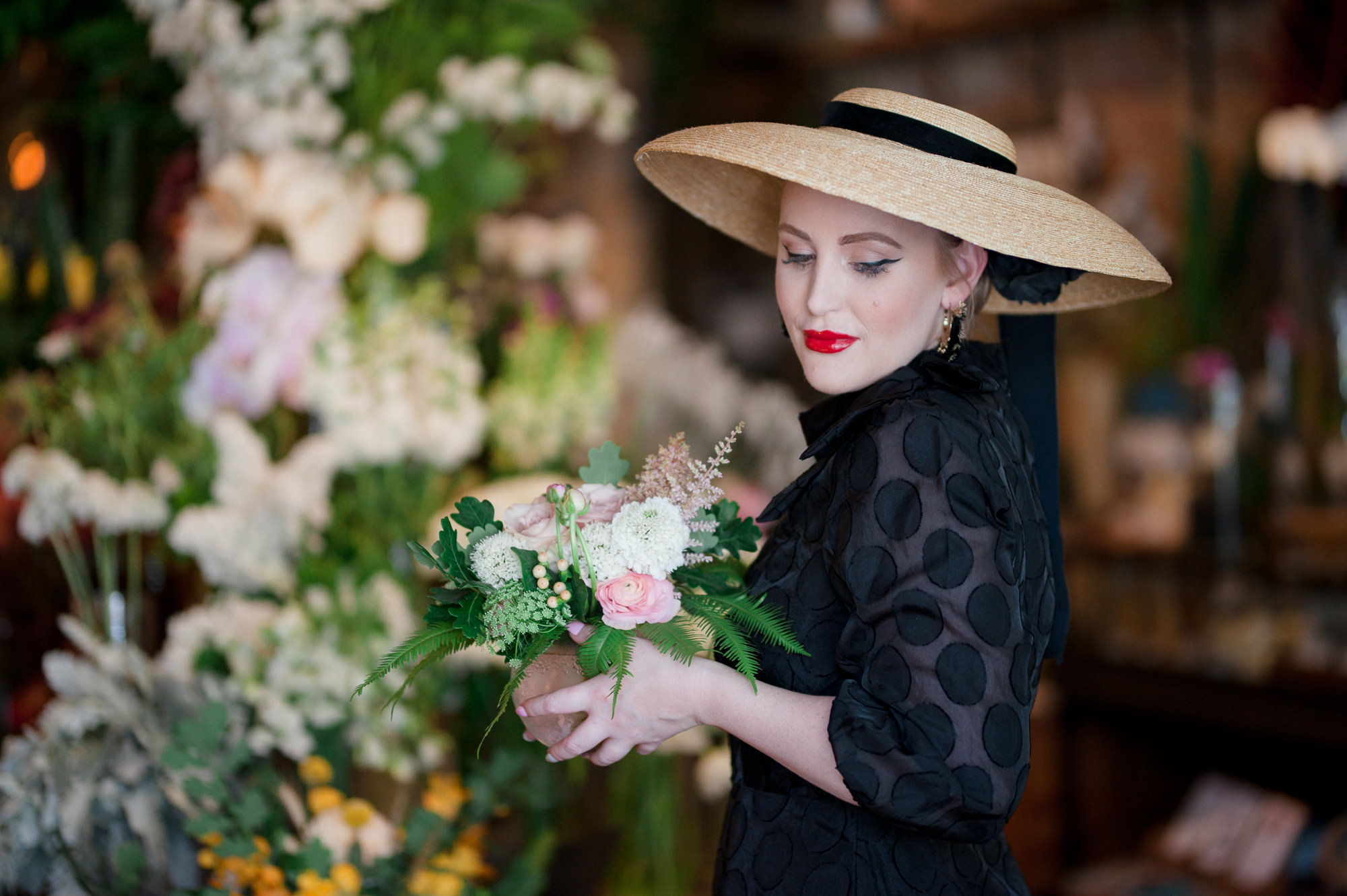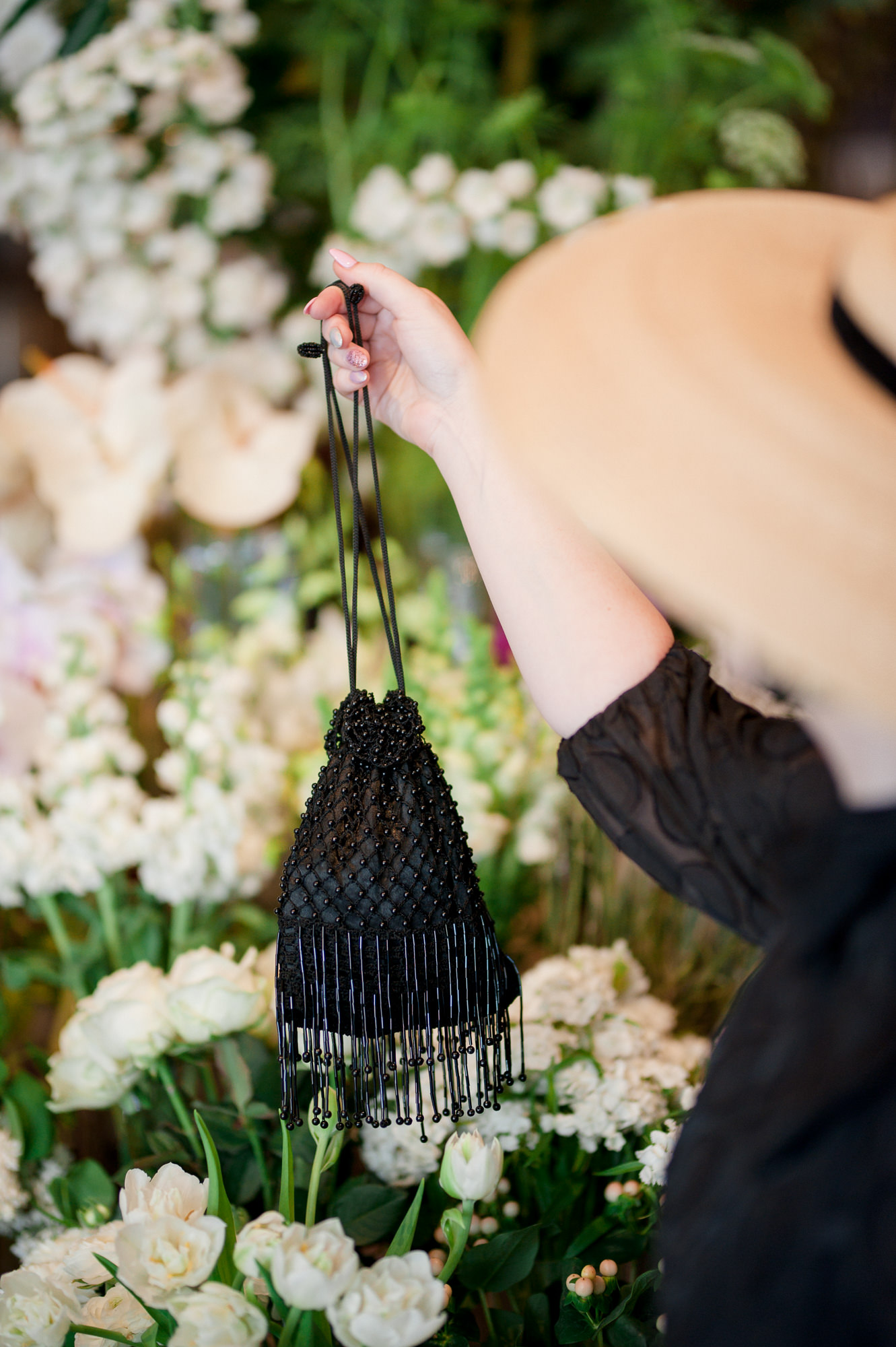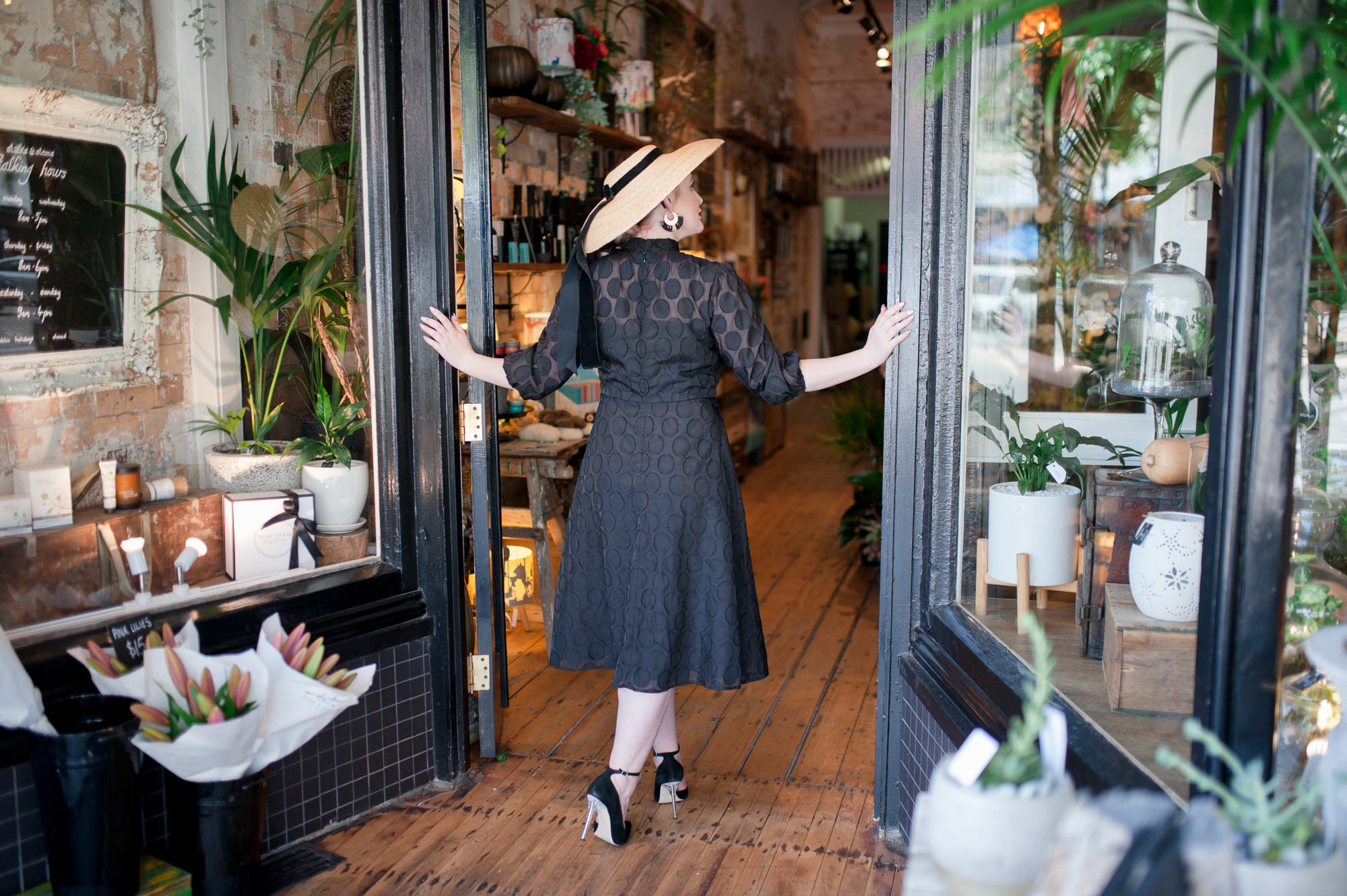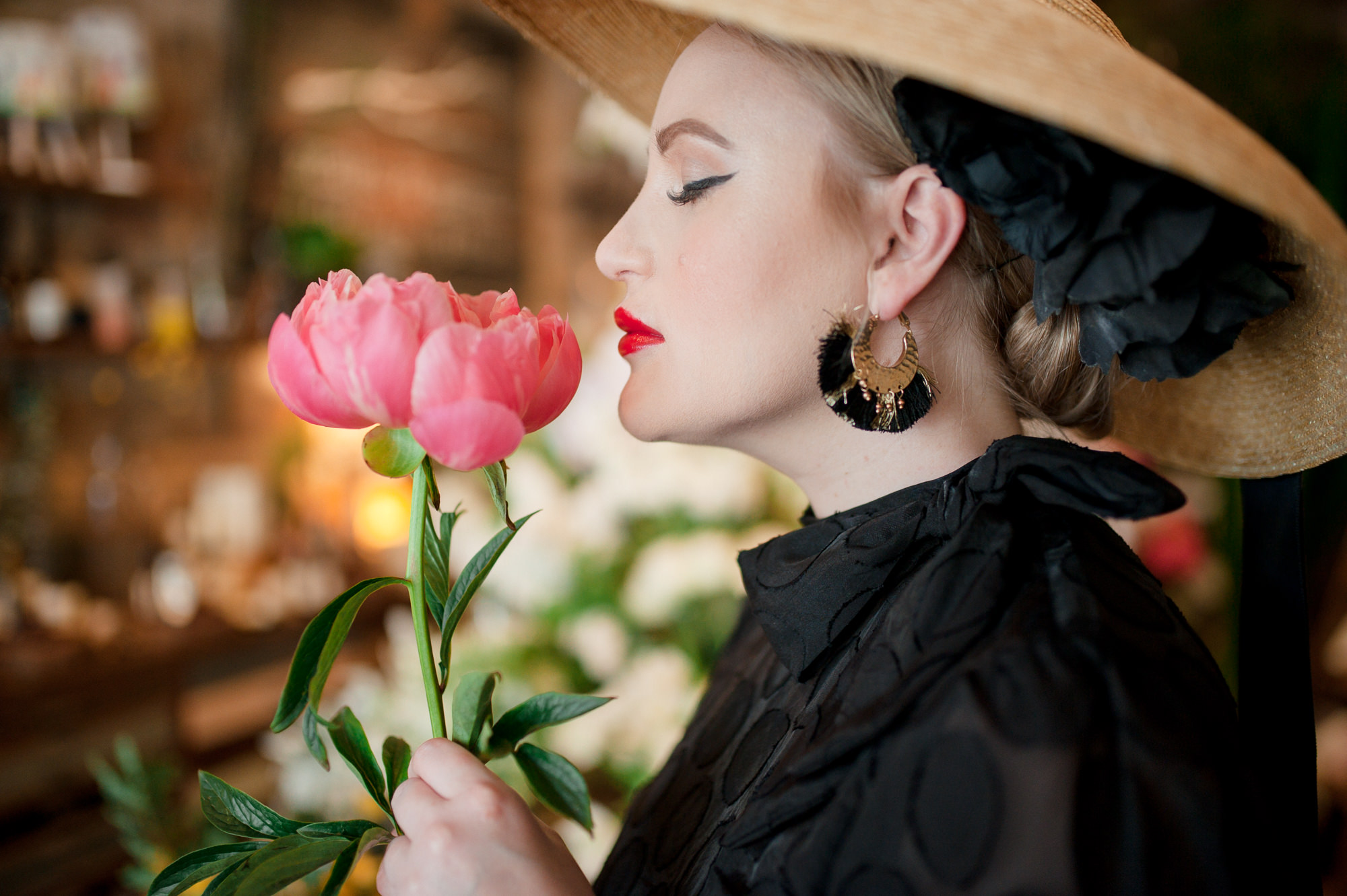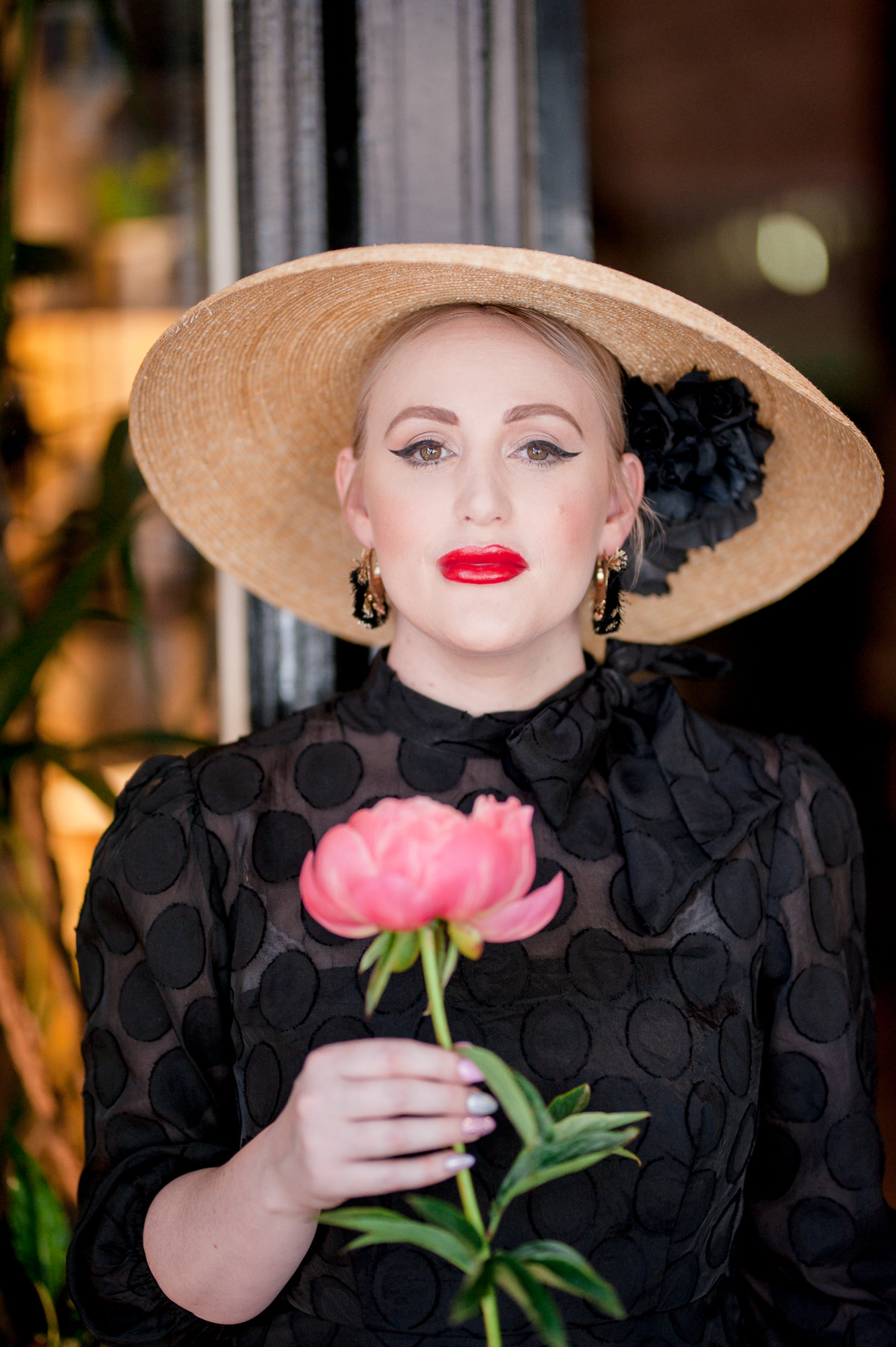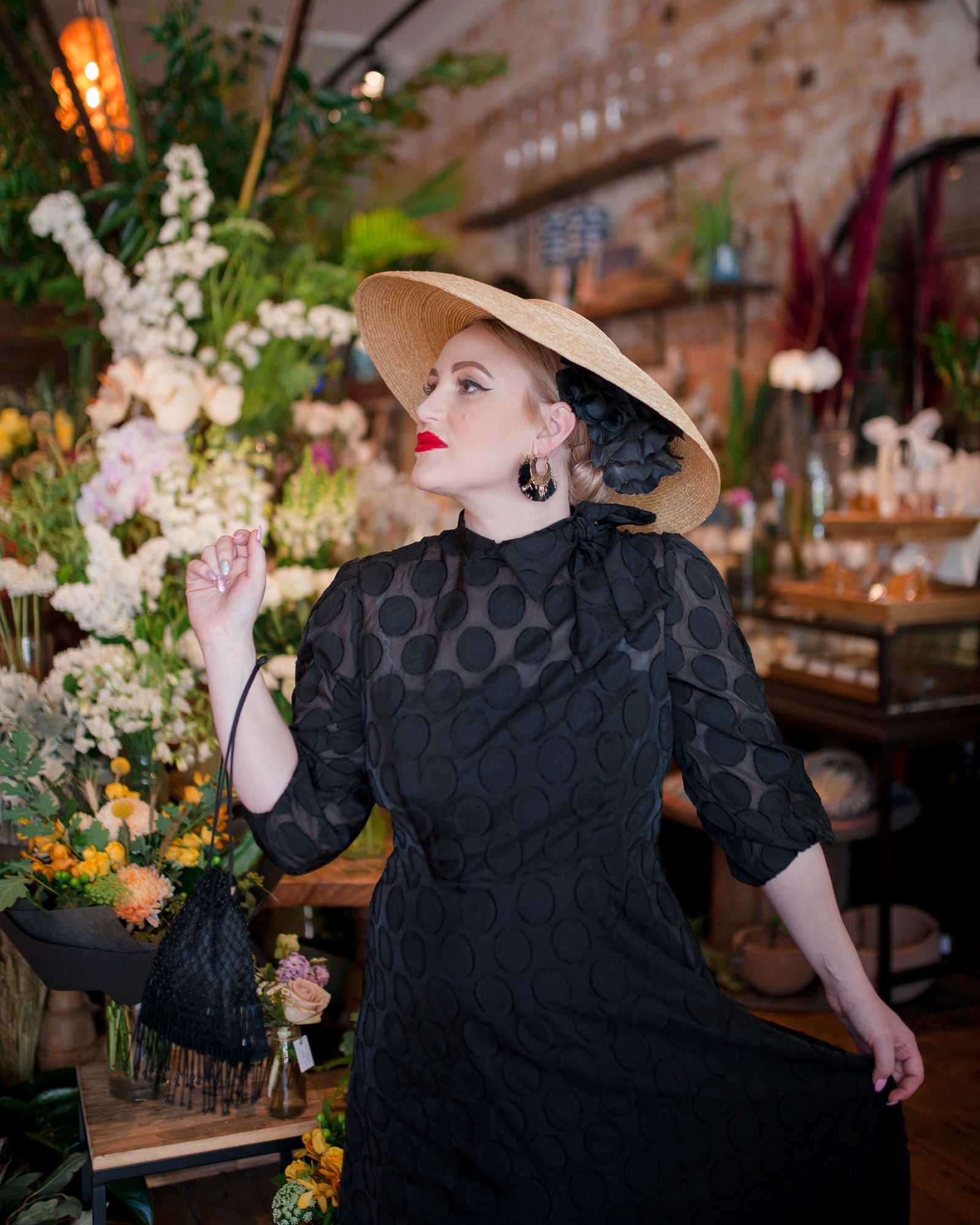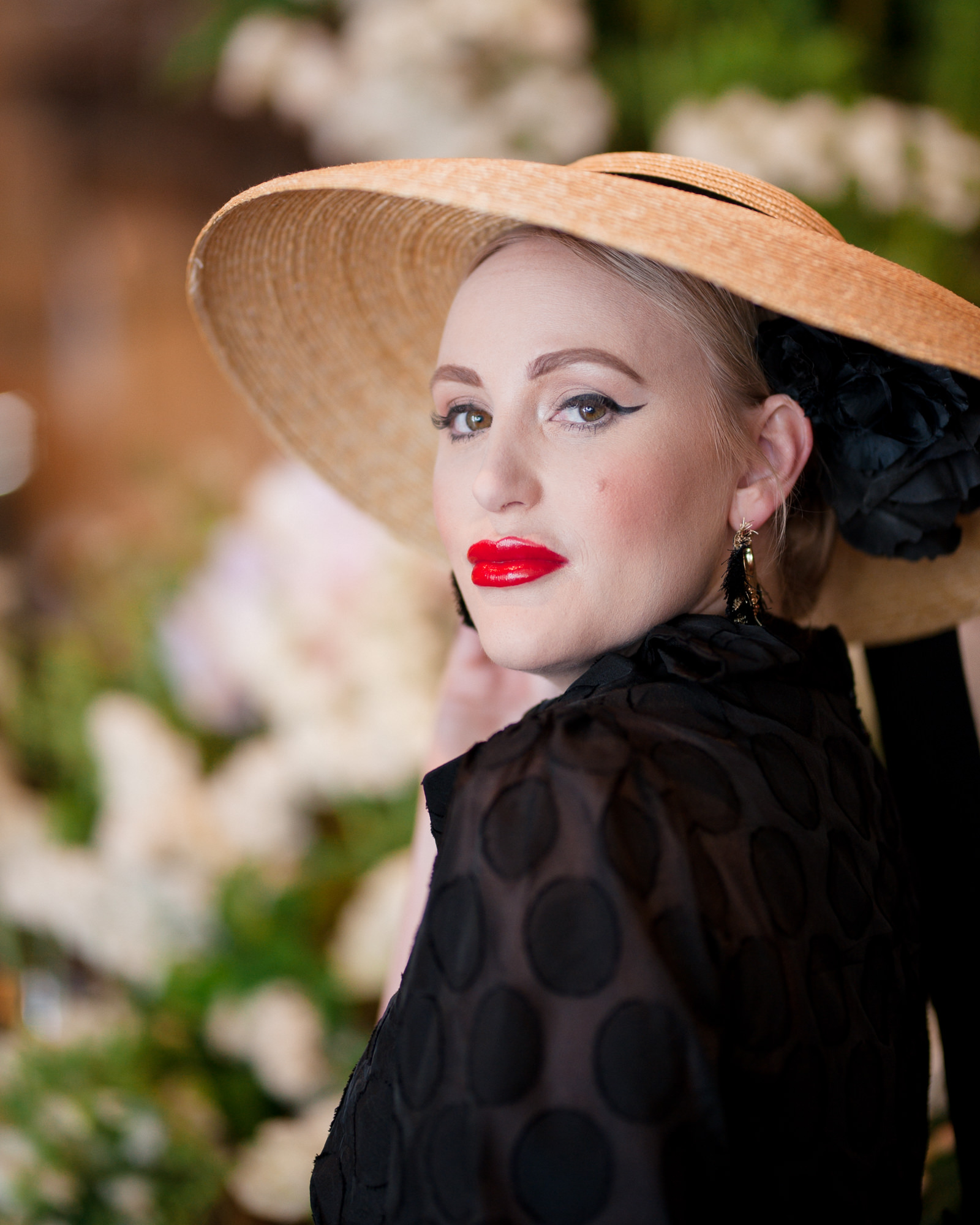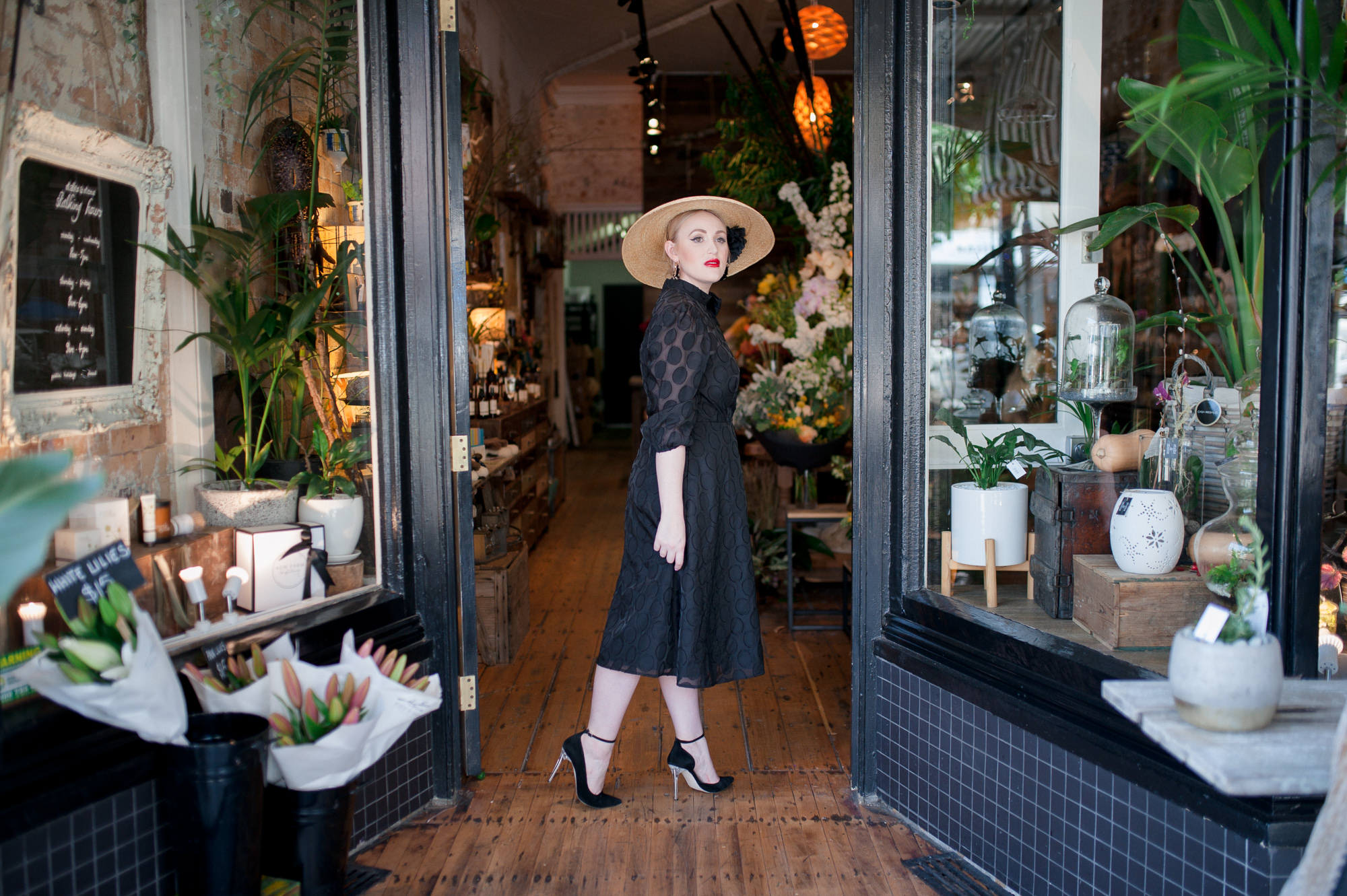 eShakti Bow Tie Polka Dot Burnout Organza Dress, Marilyn Van Den Berg Millinery, Wittner Heels (similar style here), Spanish Earrings (similar style here).
An exciting delivery arrived at The Blonde Silhouette HQ recently; a glam garment of sorts that awaited the perfect opportunity for its first debut. In the carefully wrapped parcel sat a beautiful, delicate frock, constructed from a playful, polka dot, organza fabric. It spoke a sophisticated high neckline and a voluminous A-line skirt, with a little too much sass. I was instantly reminded of the sheer timelessness and glamour of Audrey Hepburn and knew that this dress called for suitable accessories that too spoke elegance and femininity.
Just like Miss Hepburn, I favoured a statement hat, with a brim that most would envy, from none other than Marilyn Van Den Berg Millinery. Jewellery was kept simple and chic, highlighting a pair of Spanish earrings, brought back as a gift from my parent's recent trip to Barcelona. As for heels, I opted for a Mary-Jane style pump, demure for the ultimate day at the races.
Are you as smitten with this old-school Hollywood glamour as I am? Leave me a love note in the comments below! x
SHOP THE POST:

Photography by Erin Smith Photography
---