Practically Perfect Mary Poppins Style
Sunday, January 6th, 2019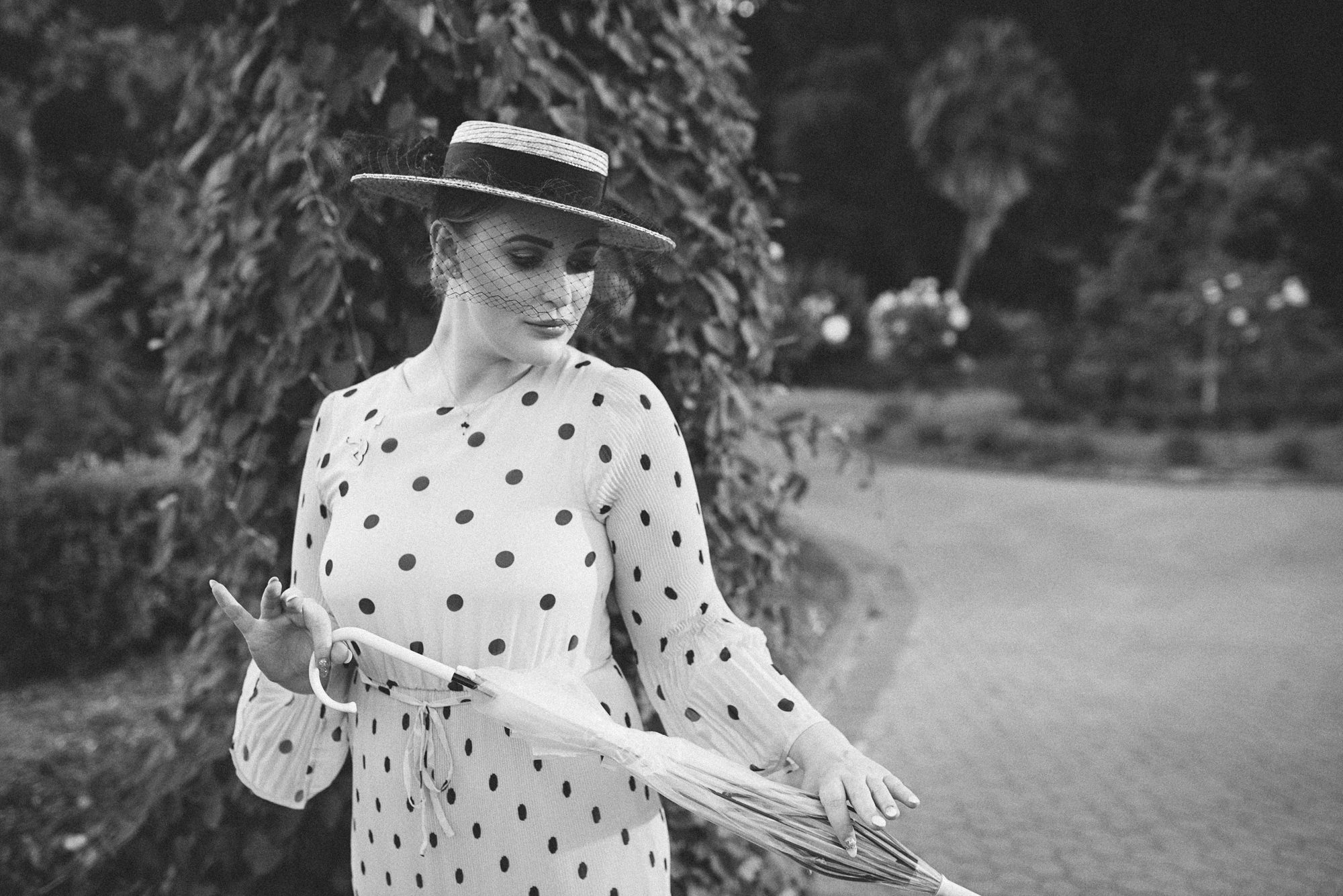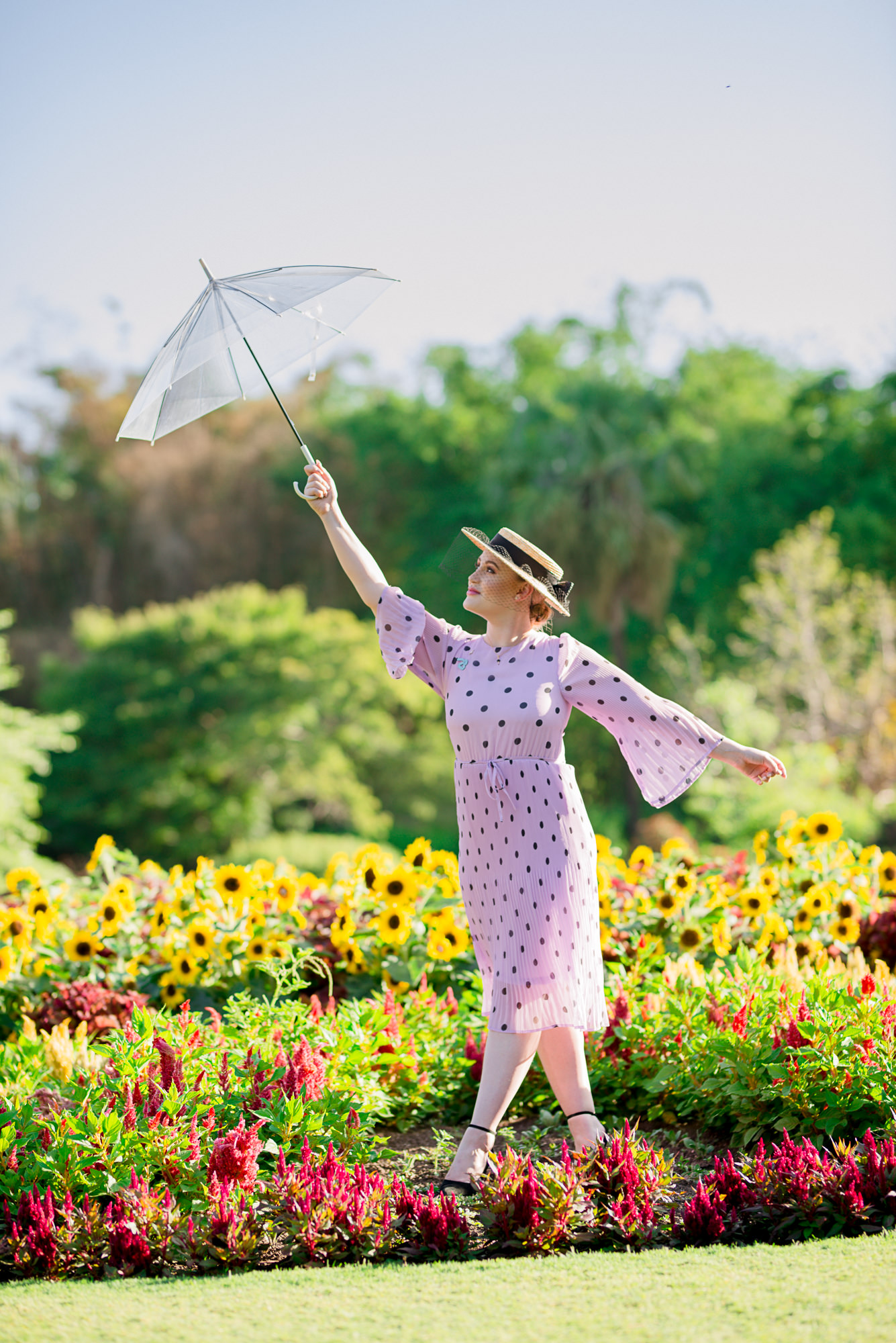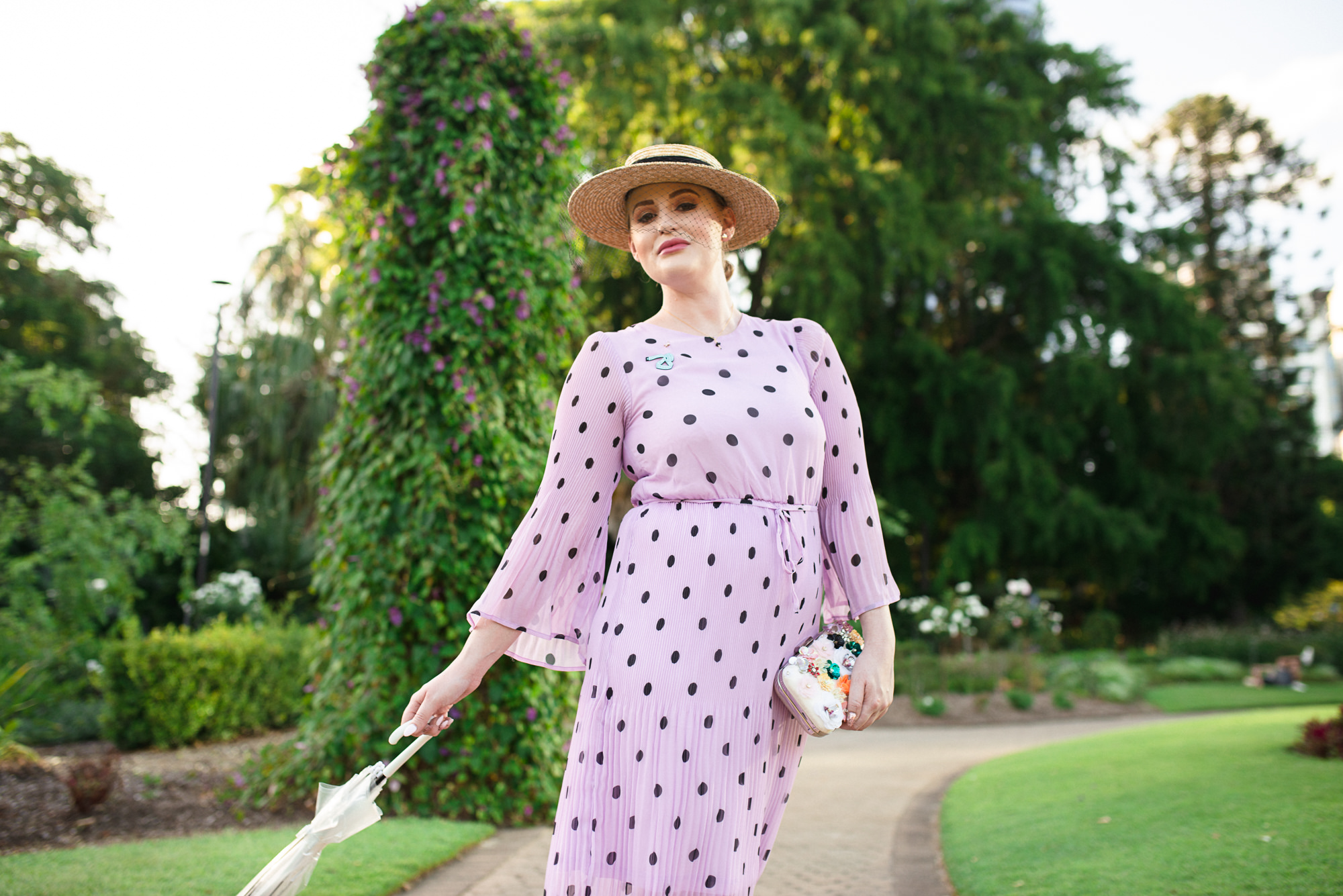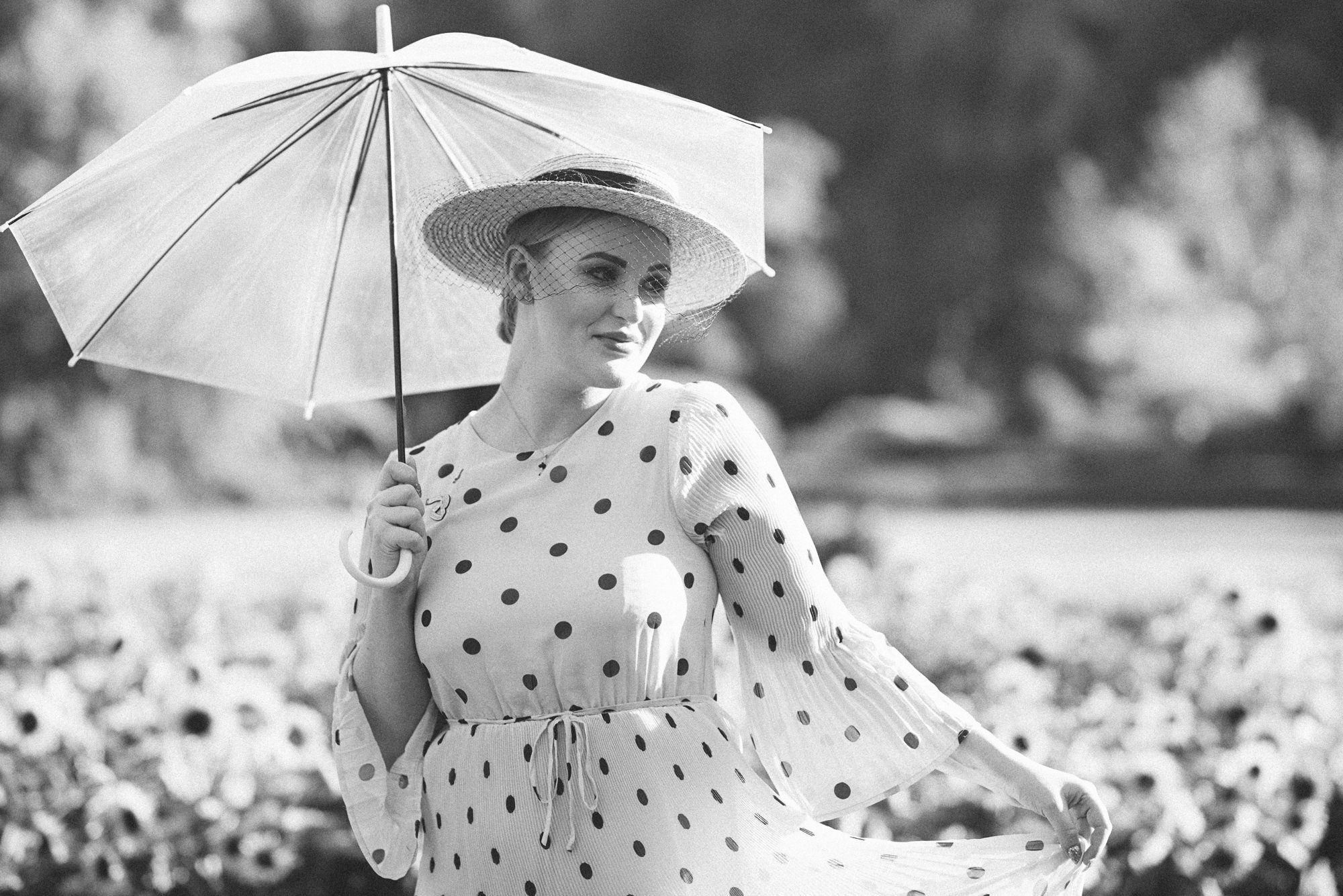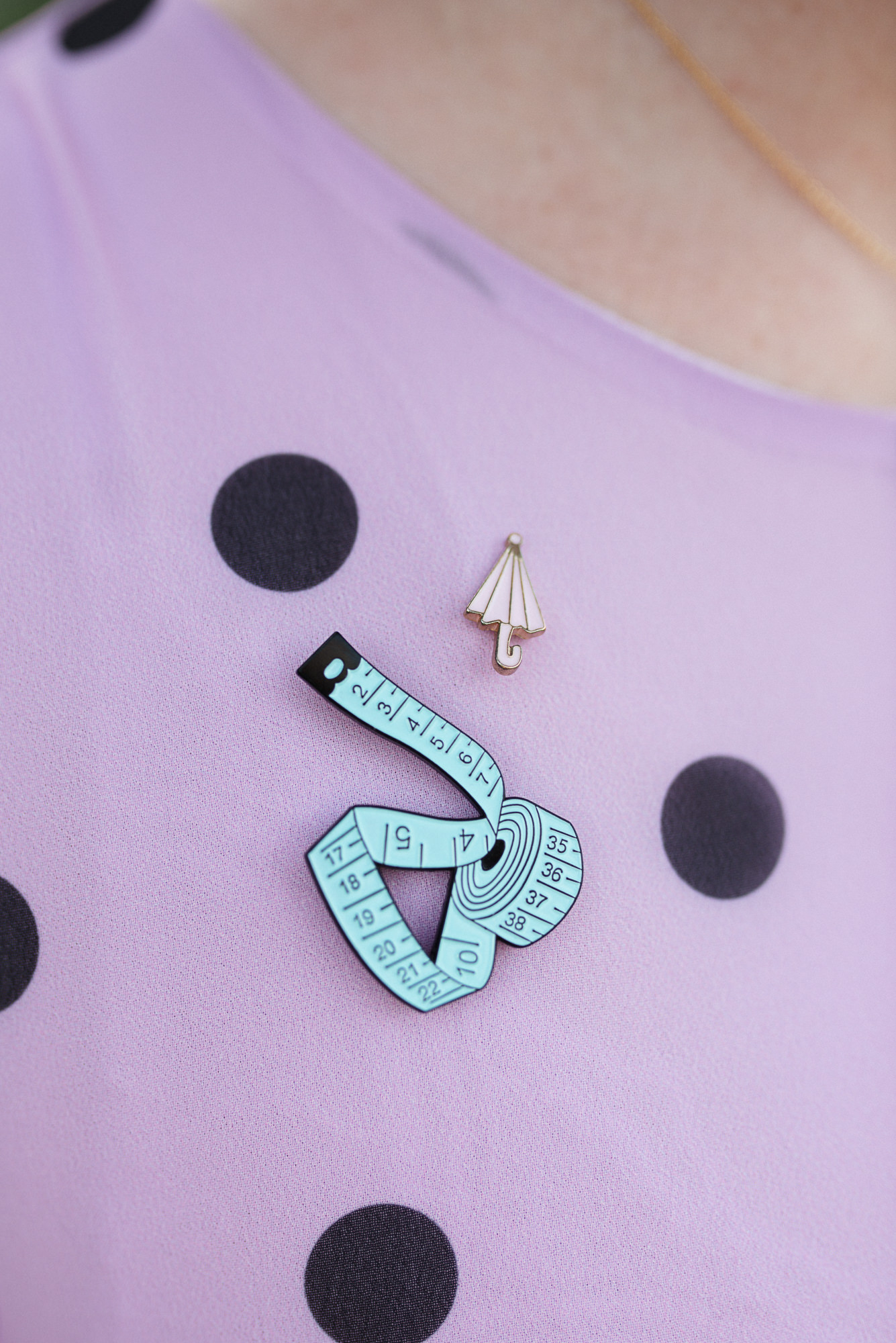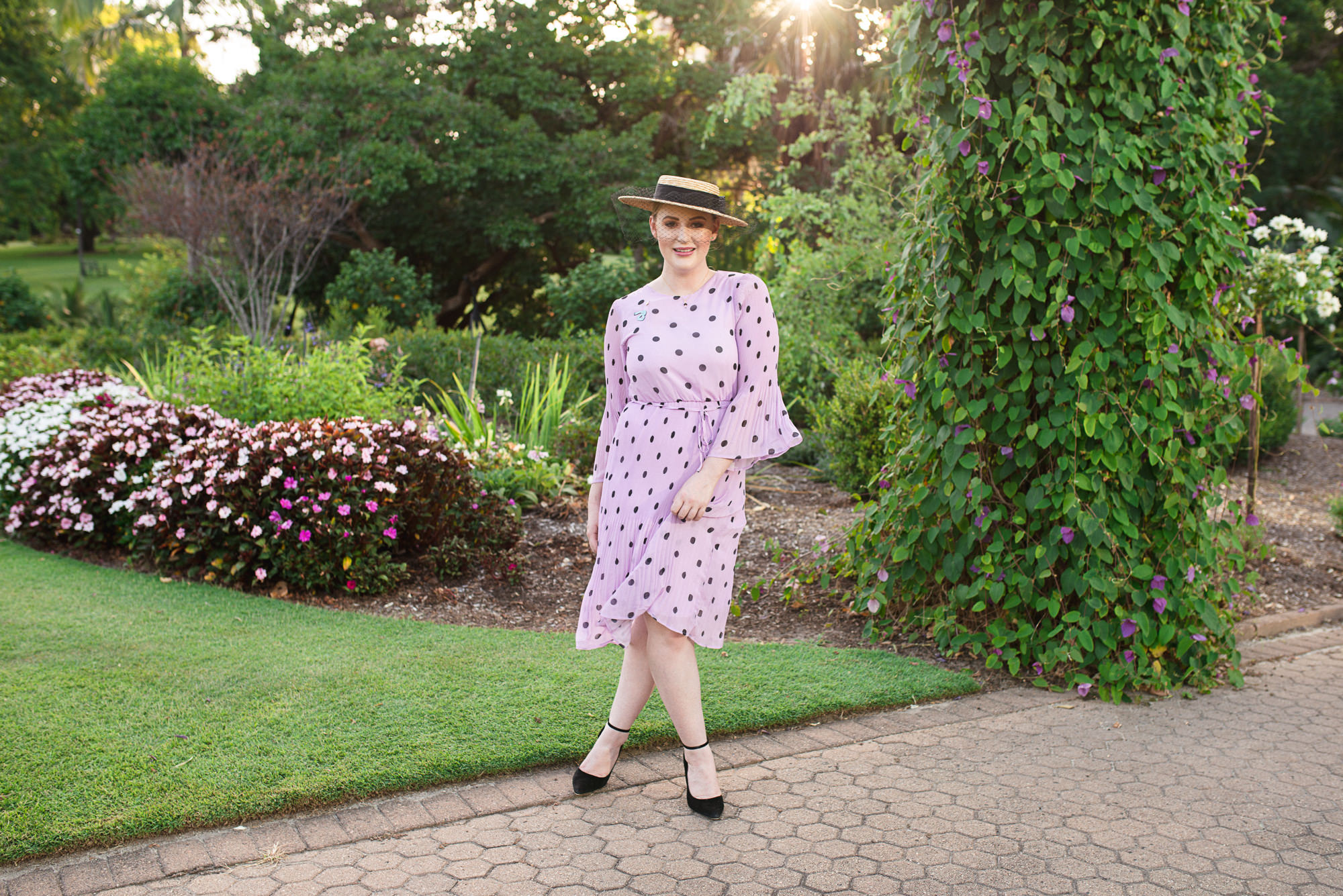 Little Party Dress Dream State Lilac Polka Dot Dress, Review Boater Hat, Adorne 3D Jewelled Flowers Structured Clutch, Origami Doll Pins, Les Nereides Black Mini Ballerina Necklace, Molten Store Star Cluster Stud Earrings, Wittner Heels (similar style here).
With an affinity for the charming, umbrella yielding nanny, known as Mary Poppins, you can only imagine just how tickled I was to experience the highly anticipated sequel Mary Poppins Returns at the request of my friends at Disney.
Providing the perfect second chapter to the story, I adored the ever so stylish Emily Blunt, who infused a little more sass back into the beloved character of Mary Poppins, whilst emulating a stylishly chic take on the enchanting muse; known for her signature style of structured coats, geometric prints, pops of polka dots and of course, a love of millinery.
Inspired by her whimsically chic style, I've put together a Mary Poppins Returns inspired ensemble, highlighting a retro polka dot dress in a playful lilac hue from Little Party Dress. With floaty bell sleeves, one could simply drift into the heavens by her very own umbrella.
In true Mary Poppins fashion, I'm teaming my frock with a sophisticated straw boater by Review, highlighting a lace netting overlay. Swapping an endless carpet bag for a cheery Adorne 3D flower clutch, helps to take this spell bounding look from day – night.
The final flourish is seen through dainty accessories, with eccentric charm, a tape measure and miniature umbrella brooch, a ballerina necklace and starry earrings.
For those seeking a magical escape to the theatre, then this Disney film is the one for you! Get your tickets to Disney's Mary Poppins Returns here!
SHOP THE POST:

Proudly sponsored and sweetened with a spoonful of sugar by Disney AUNZ
Photography By Erin Smith Photography
---
Visiting Disney: Mary Poppins Returns
Wednesday, January 2nd, 2019
Just a mere two weeks ago, I squeezed in a quick trip to Sydney to preview the highly anticipated Gala Screening of Mary Poppins Returns, as a guest of Disney. Although a short 48hr staycation, here's my highlight reel of the magical events that occurred.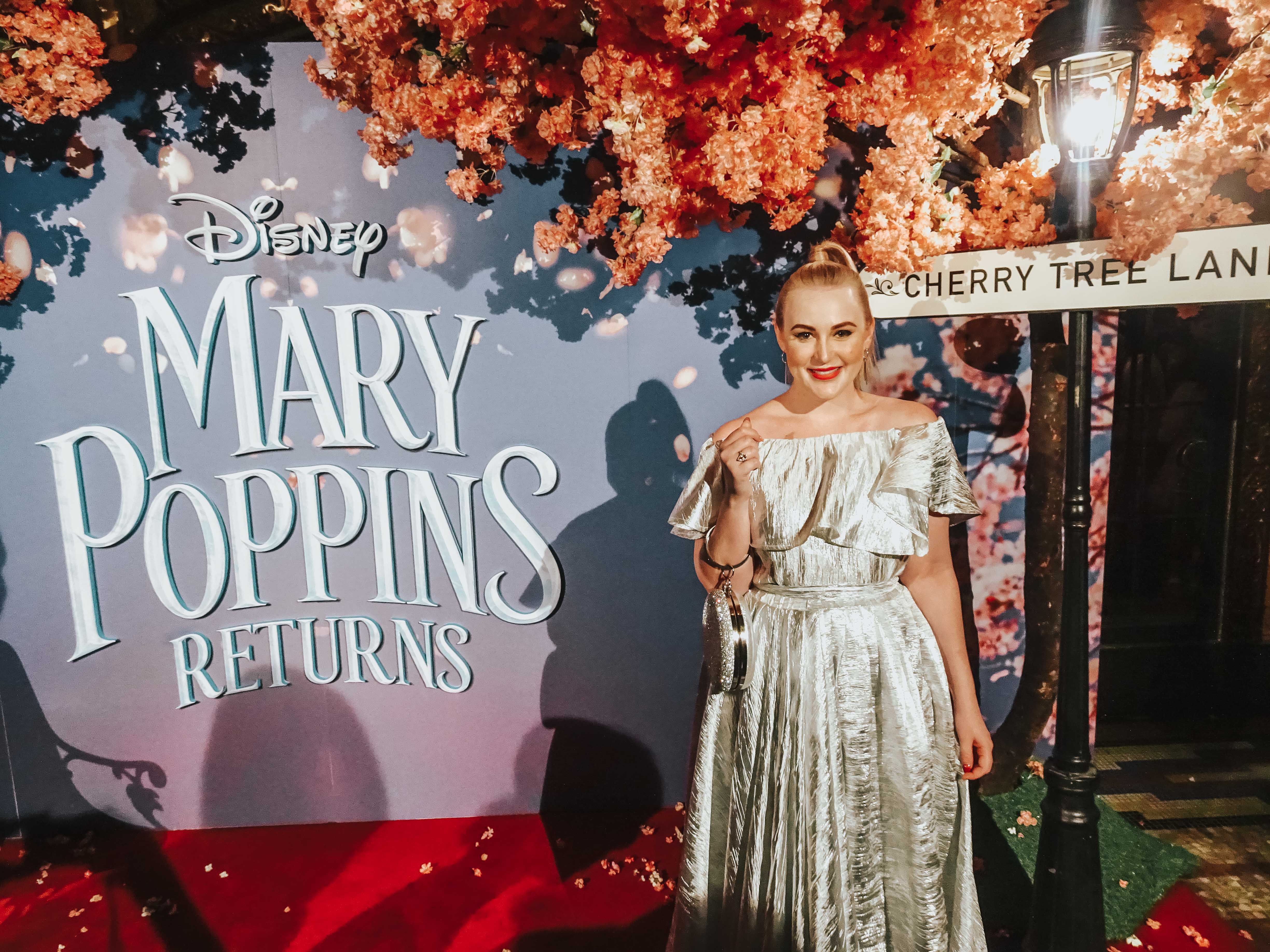 Wearing White Label Noba Sofia Skirt and Lisette Blouse, Adorne Diamante Round Ring Structured Clutch, Swarovski Earrings (similar style here).
The Gala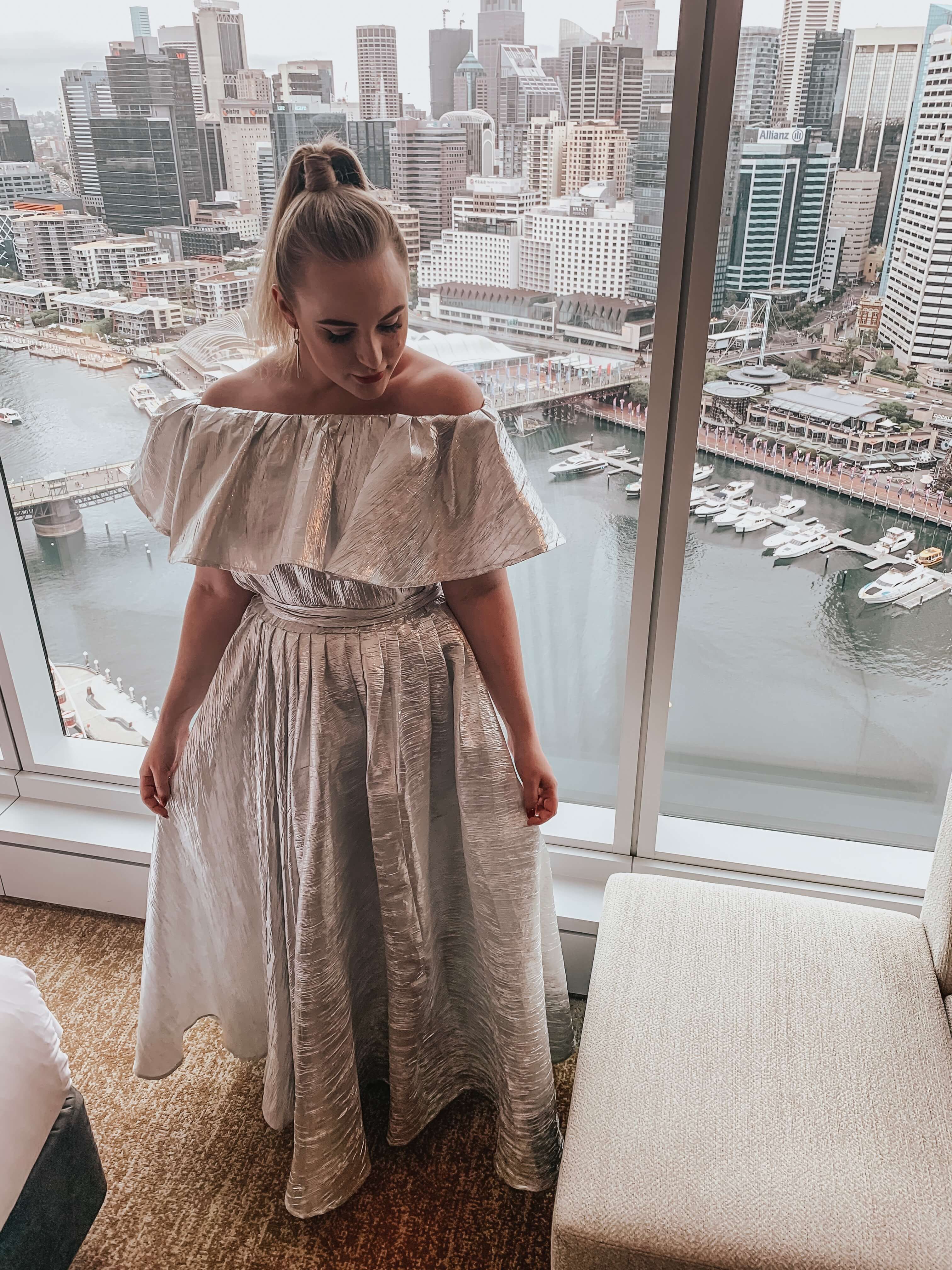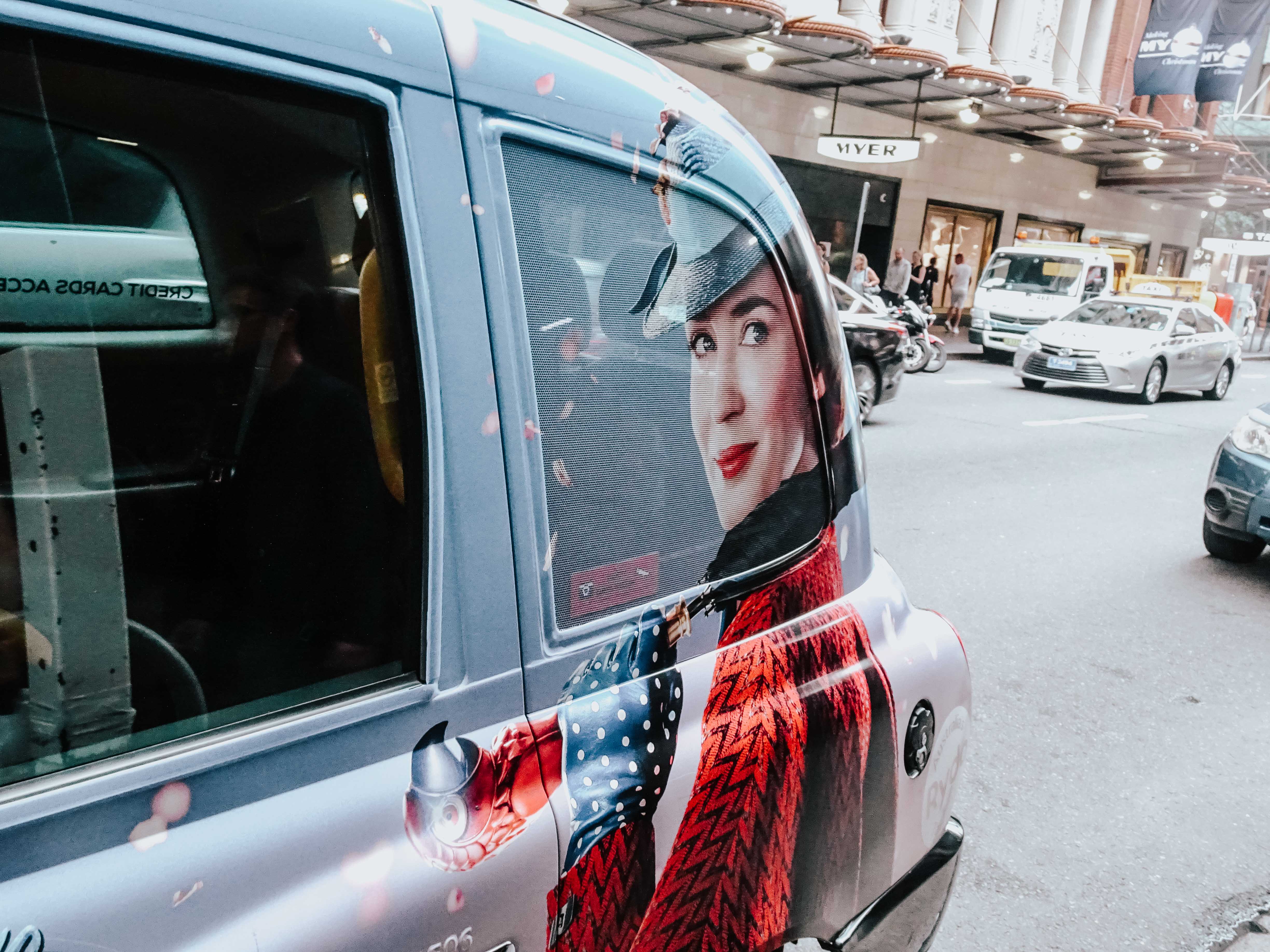 Knowing that a red carpet was imminent, a spectacular frock was needed for the occasion. My Cinderella moment was achieved in a dazzling, silvery two piece by Queensland Designer Tracey Watkins of White Label Noba. Making a grand entrance in the London style Disney cab, I really felt like a real life princess, with a gown destined to make the fairest royal totally jealous.
As for the film, it was practically enchanting in every way possible, from the impeccably styled and articulate, Emily Blunt who shone as Mary Poppins, to the whimsical cinematography and charismatic storyline. Not to mention, the score is positively charming and cheeky, quickly becoming a key feature on my Spotify playlist.
The Staycation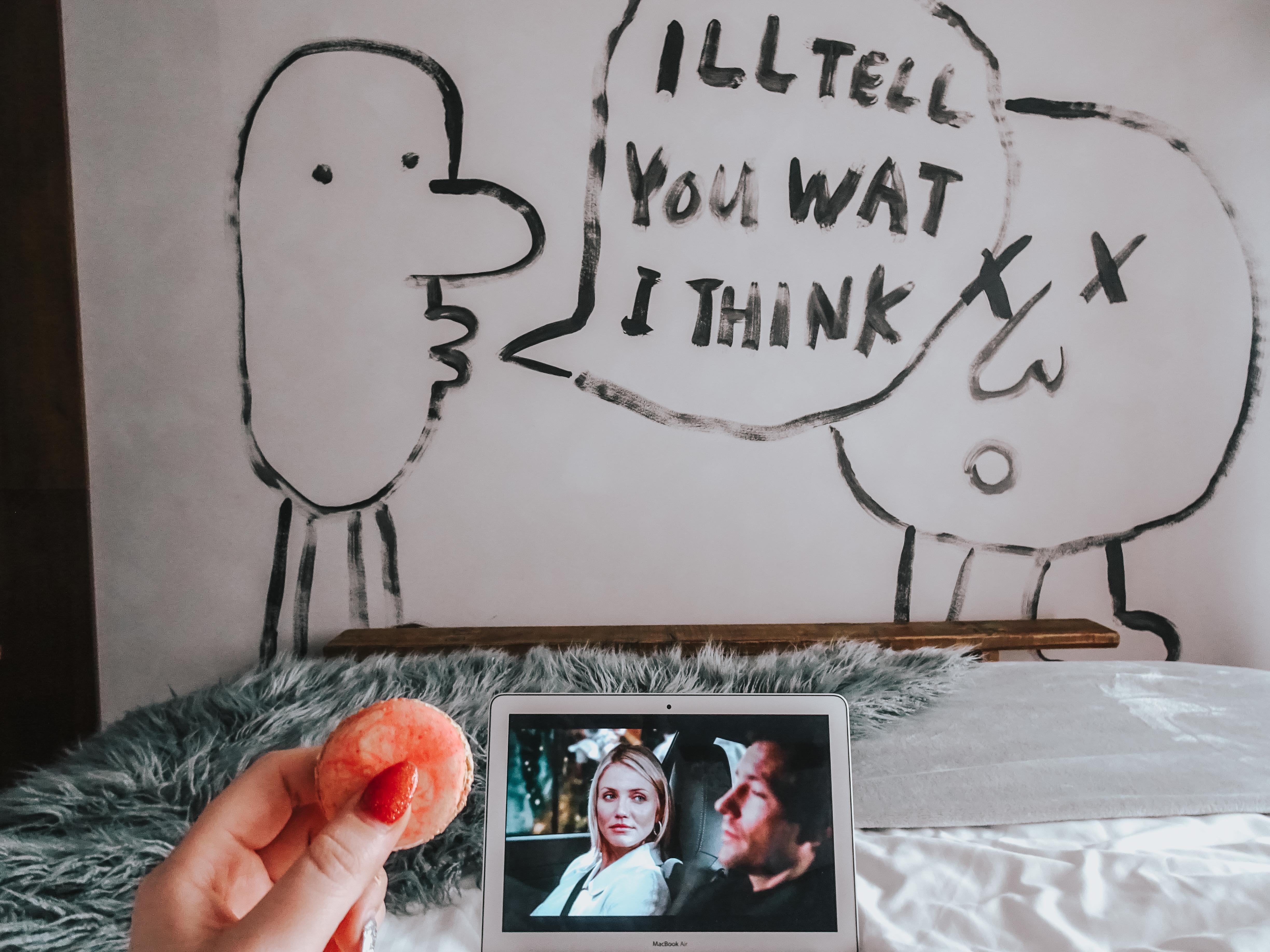 This was my first time staying in Sydney's one of a kind boutique hotel, The Collectionist and choosing my own room was the ultimate luxury. I was lucky enough to lounge in the Kyoko room, within the Artisan room series. The room was incredibly tranquil highlighting Japanese minimalism through the natural material interior and neutral colour palette. With speedy wifi readily available I was able to binge watch my favourite Christmas movies, like The Holiday.
The Grounds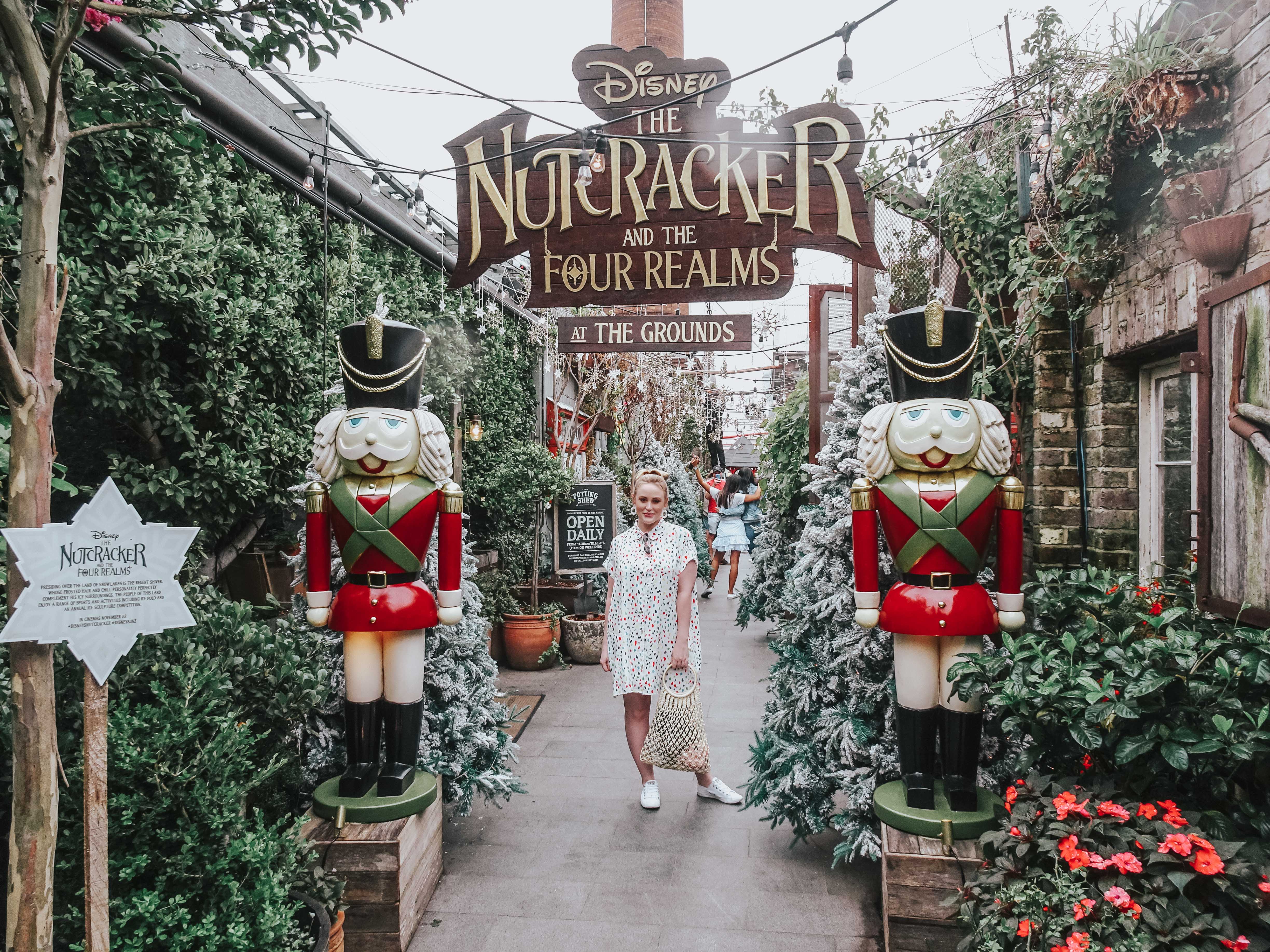 Wearing Little Party Dress Frances Confetti Print Shirt Dress, Adorne Knotted Open Weave Market Bag and Rikki Resin Oval Earrings.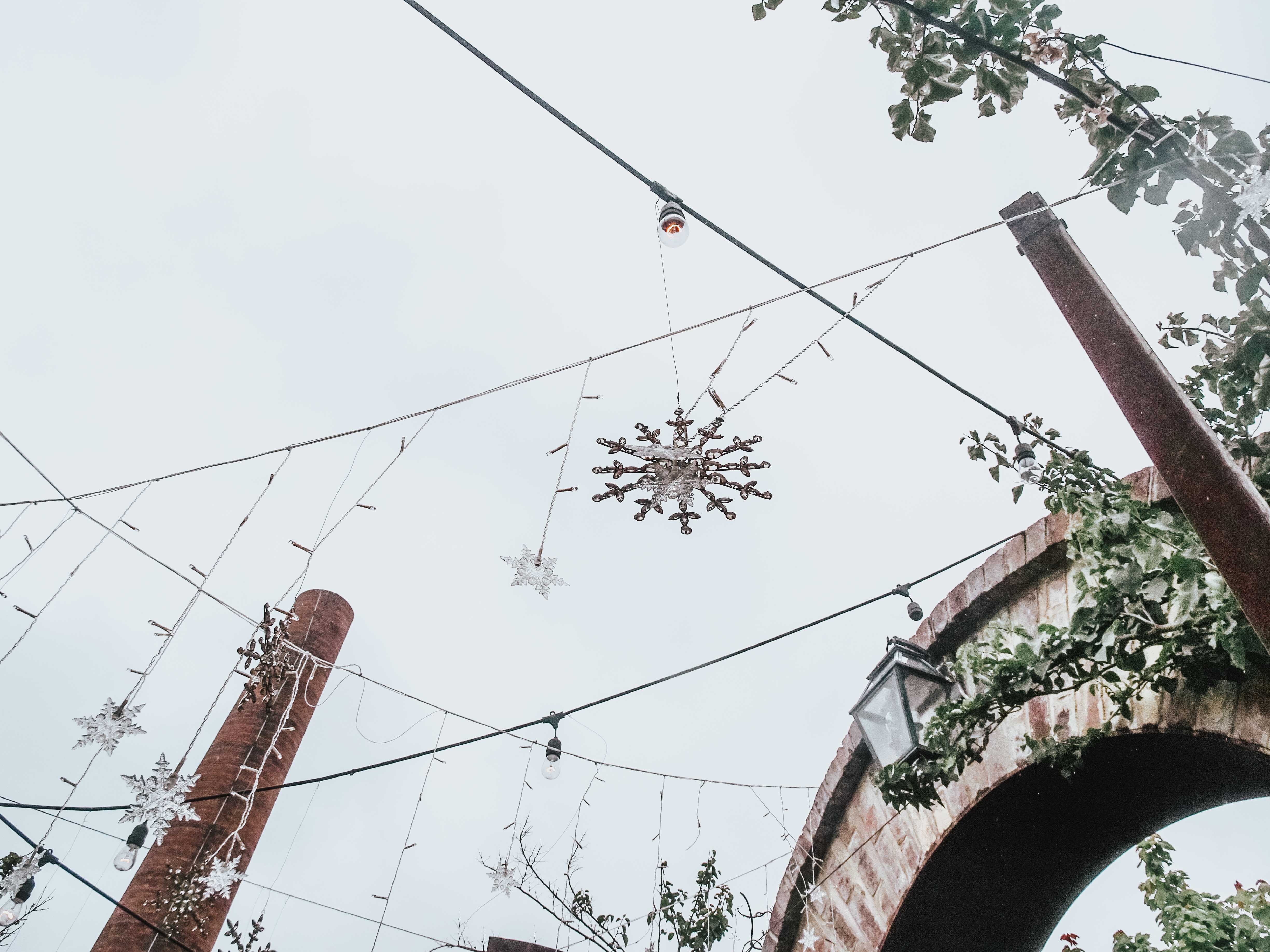 Is it even a Sydney trip without a visit to The Grounds Of Alexandria? I think not! My Christmas dreams became reality as I wandered through The Nutcracker And The Four Realms activation, which featured giant Nutcracker statues, larger than life candy canes, endless snow capped Christmas trees, lush florals and magical falling snow.
Short yet sweet, my trip to Sydney was in one word, remarkable and I look forward to returning in early 2019! In the mean time – keep any eye out for my upcoming practically perfect Disney Bounding post, inspired by Mary Poppins Returns.
---
From Me, To Me: 3 Gifts To Spoil Yourself With!
Thursday, December 20th, 2018
You've finished the Christmas shopping, garnished your final gift and ready to ring in Christmas with your nearest and dearest. Well done girlbosses! How about spoiling fabulous you? Presenting my top 3 gifts to spoil yourself with.
The Ultimate Agenda with Saint Belford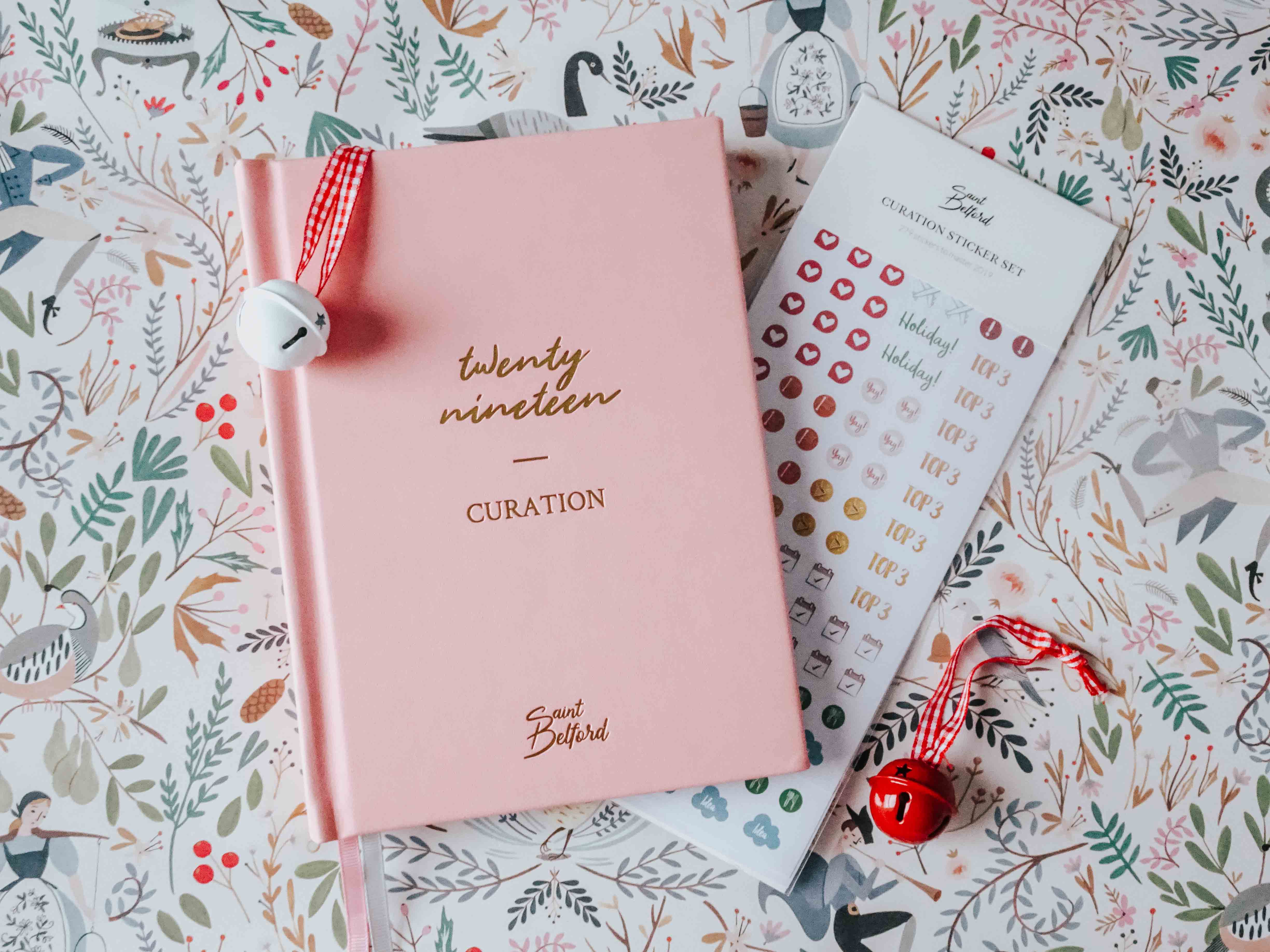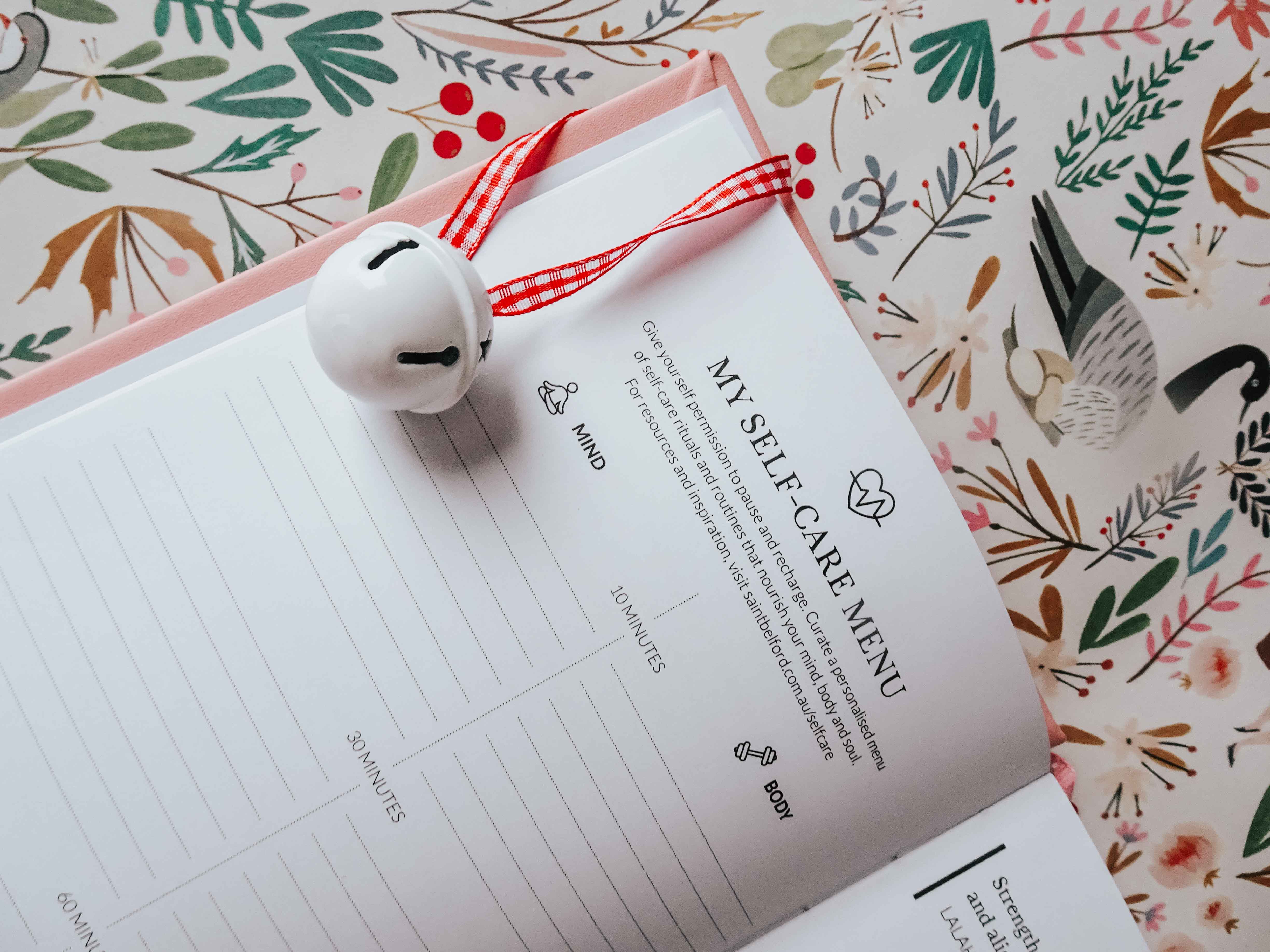 Saint Belford Curation 2019 Diary, Curation Sticker Set.
What better way to welcome the new year, then with a sparkling new planner and this blush beauty from Saint Belford has me smitten. What I'm loving about this diary are the fabulous little extras including a habit and savings curator, self-care menu and bucket list. There's never been a more perfect time to invest in a thoughtful purchase to help evolve into the most goal oriented and organised you.
Blossoming Fragrances with Crabtree & Evelyn

Crabtree & Evelyn Rose Fever Evelyn Rose Essentials.
Categorised indulgent and I couldn't agree more! The Rose Fever Evelyn Rose Essentials gift pack by Crabtree & Evelyn is a heavenly fragrance of fresh rose petals and floral notes. With a shower gel, body lotion and hand therapy, my favourite pick from the set would be the Eau de Parfum for it's luxe gold packaging and delightful scent of musk, amber, violet and of course, rose.
Clutch Heaven with Adorne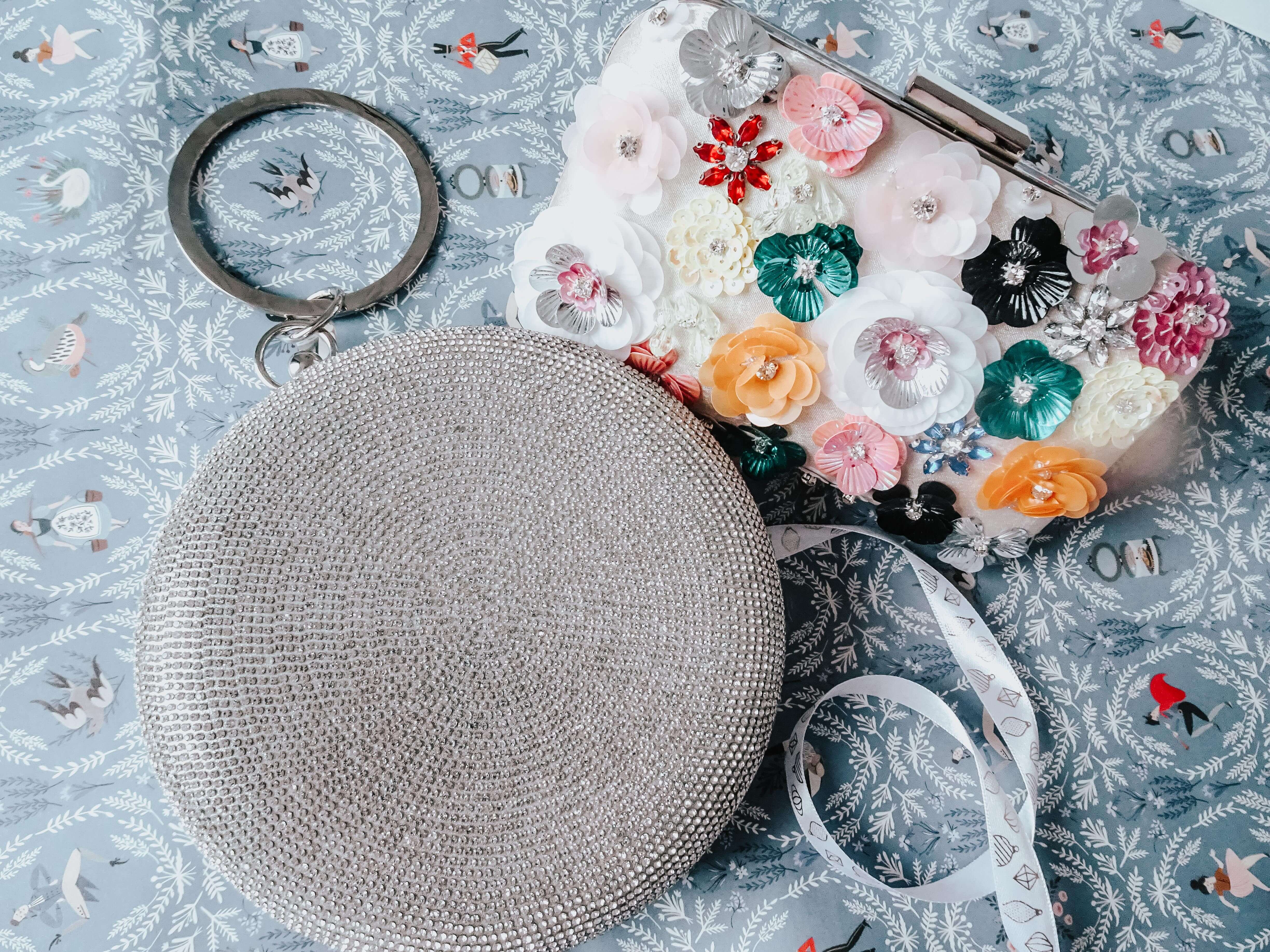 3D Jewelled Flowers Structured Clutch, Diamante Round Ring Handle Structured Clutch.
Nights out have never looked this sparkly, thanks to the gorgeous range of clutches available at Adorne. Whether it's a intimate date night with the beau, or rooftop cocktails with the squad, it's reason to bring out an enviable little accessory, preferably with some form of shimmer.
What's under your tree as a "gift for me"? I'de love to hear your indulgent purchases, in the comment section! Happy holidays! x
---
Costume Call: North By Northwest With Esther Marie Hayes
Wednesday, December 5th, 2018
Last weekend I was transported back to the 50's through the stylish pursuits of the Hitchcock original, North by Northwest, currently showing at Qpac's Lyric Theatre. With a penchant for the ever so stylish decade, I sat down with Costume Designer Esther Marie Hayes for a glimpse into the glamorous costume process. Check out our stylish Q&A below!
1. 5 Words to sum up the 50's fashion decade:
Classic, Tailored, Elegant, Glamour, and Opulent
2. What's your process when it comes to styling script to stage?
Lots of research and logistics! After reading the script a few times while making notes and sketches, I will meet with the Director (in this case, Simon Phillips) to talk through the look and style of the show. For North by Northwest, the pace of the show was to be very fast and thrilling, with the additional challenge of making it look like we had a full bustling film cast with a ensemble of 12 stage actors.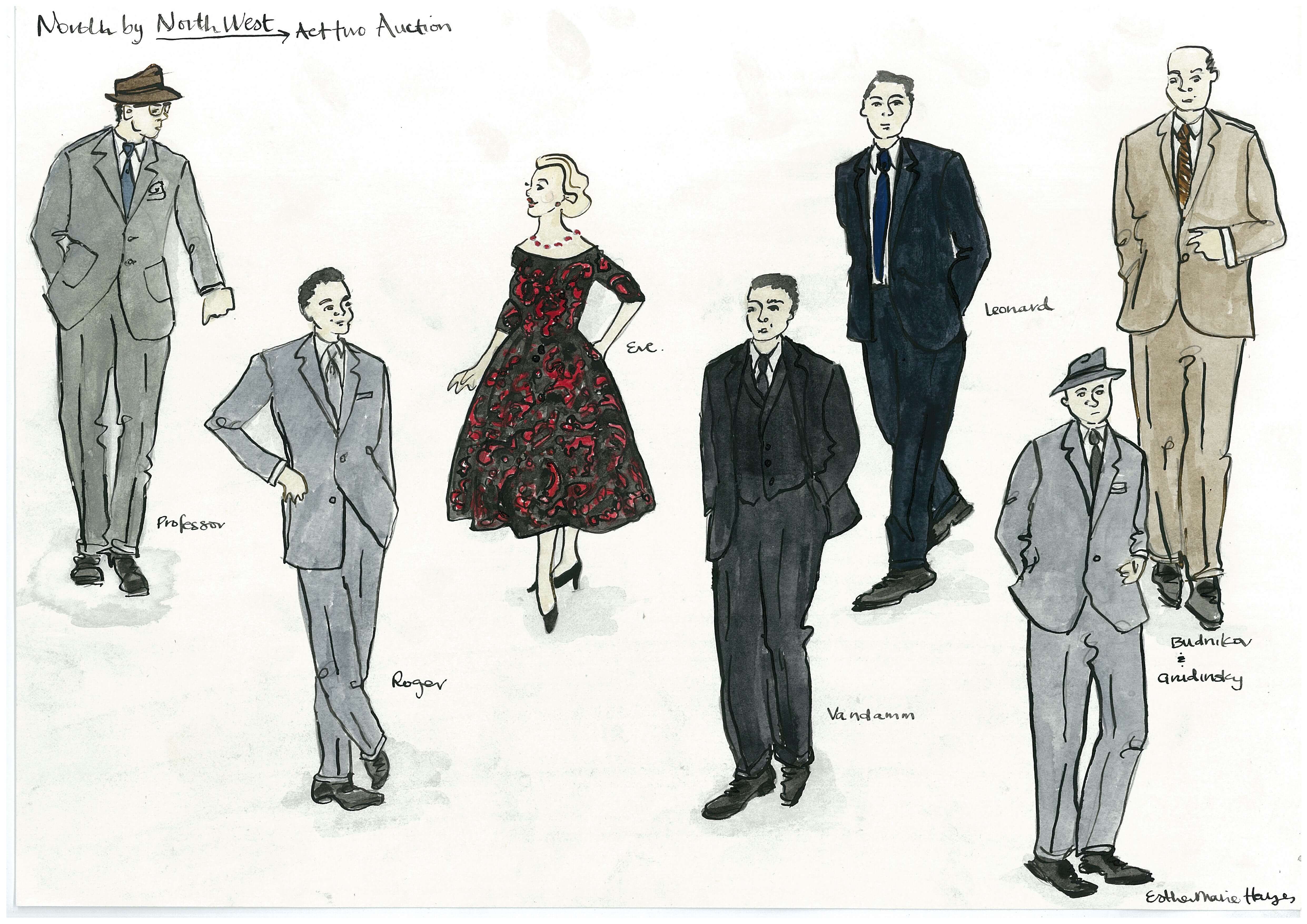 3. How are the character's quirks depicted through their attire?
Everything works together to create a character, from the choice of fabric and/or pattern in the costume, to wig styling and smaller details, such as choice of sock suspenders or matching gloves. Colour and fit also speaks a lot about a character, for example how confident or shy they are. Often it's these smaller details and unique combinations that allow you to shape a character's look and personality. This all contributes to help the actor feel comfortable in the role.
4. Which character has the most stylish wardrobe and why?
Eve Kendal, is the leading lady and her iconic sense of style oozes confidence and sensuality. From her foundation garments to the precise tailoring of her pencil skirt, Eve's wardrobe is designed to represent the familiar 'Hitchcock' blonde while maintaining a sense of mystery.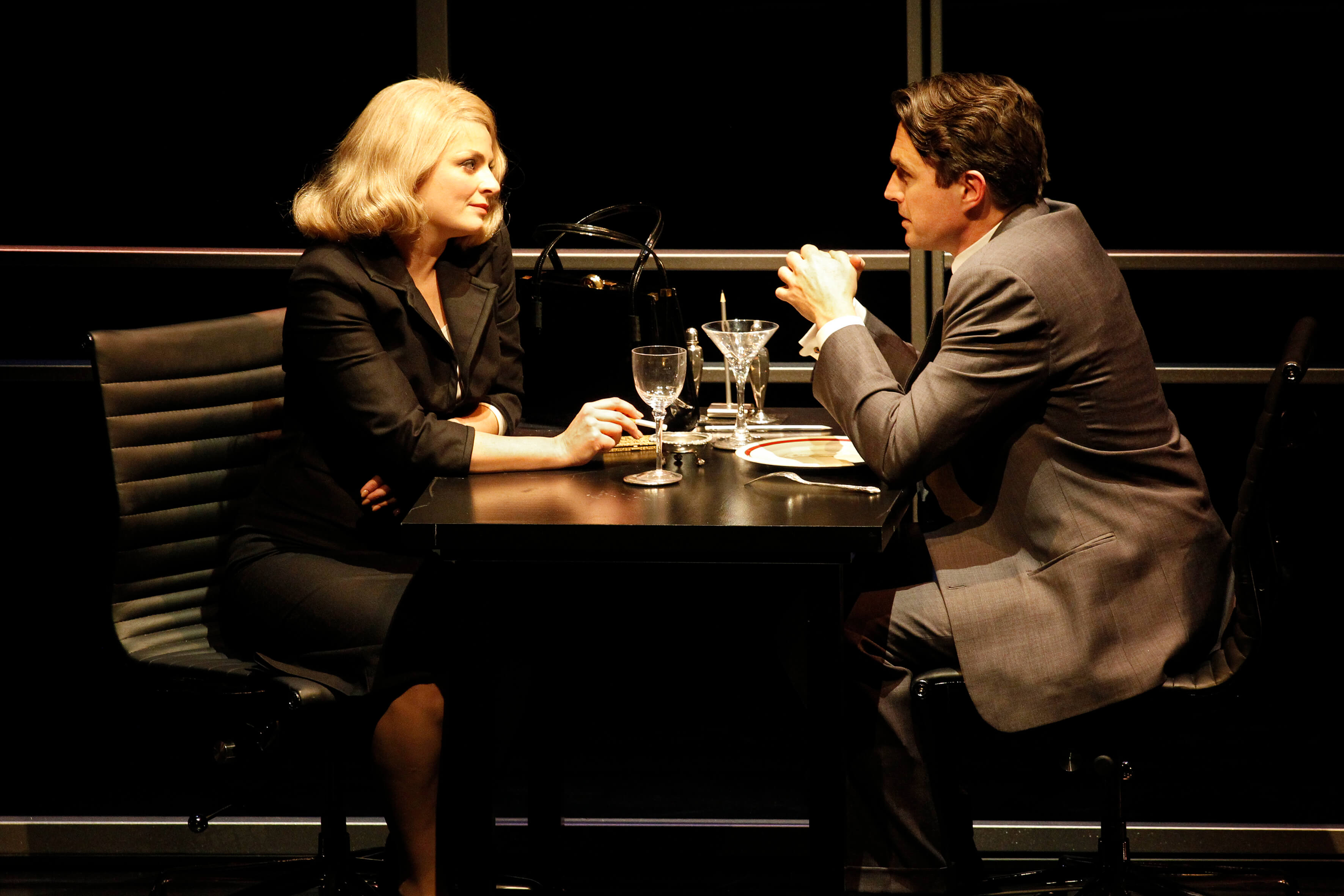 5. Fav fashionable moment on stage?
In North by Northwest, the busy crowd scenes are my favourite- particularly the train scene which has some of the quickest changes!  I also really love the Rushmore cafe scene, it's a dramatic moment in the play and I was able to have fun with colour and pattern for the bystanders in the cafe enjoying their visit to the monument.
6. The most exclusive/rare garment sourced for the show?
There are many original pieces from the 1950s sourced from the States, UK and all over Australia, as well as a few pieces from my personal vintage collection. The most exclusive items are actually the fabrics used for Eve Kendal's costumes. We searched everywhere for the iconic black and rose fabric used to recreate the dress she wears in the infamous auction scene. We found a fabric company in Germany that had beautiful jacquard silk which was almost an identical match..
Another fabric which was also hard to find was the burnt orange knit Eve wears in the final scene. We ended up finding it in one of those tiny, poky fabric stores with piles of materials that reached the ceiling. We found a roll hidden amongst piles of fabric and were very ecstatic, much to the surprise of the shop owner.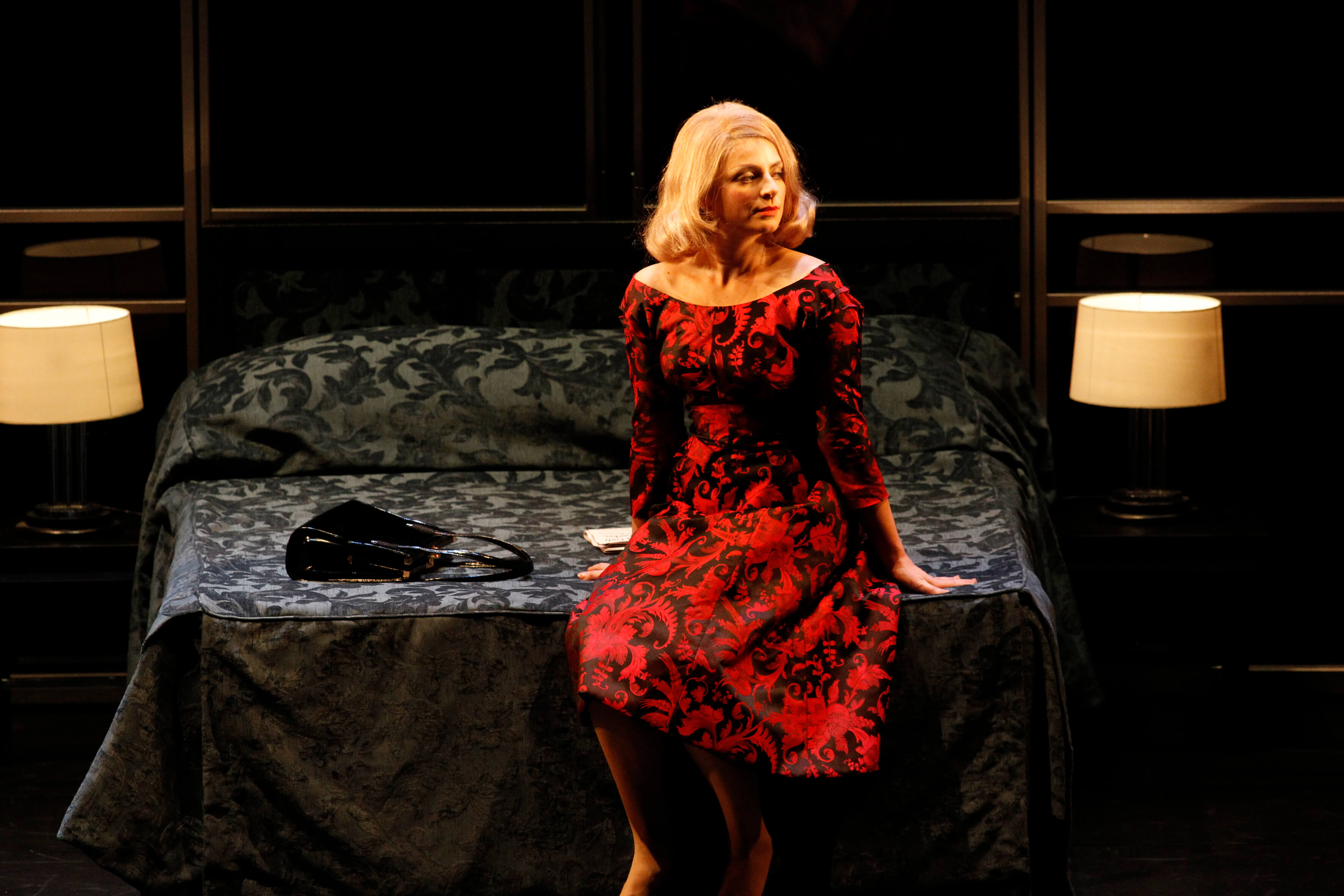 7. Tips & Tricks for those looking to integrate a 50's influence into their current wardrobe?
The 1950's is a great decade to integrate into your wardrobe, as it's such a classic look. For men, start with a clean cut, tailored look- and then focus on the little details and accessories such as pocket squares, cufflinks, hats and sunglasses. Matt Day wears a pair of tortoiseshell sunglasses from Oscar Wylee so it's easy to incorporate classic looks from modern stores.
For women, I would go with choosing classic silhouettes and fabrics. A simple blouse tucked into a pencil skirt will create the iconic 50s hourglass shape. Accessorise with a belt worn on the natural waistline, a Jaunty neck scarf, winged eyeliner and for true 50's glamour, a pair of gloves.
Brisbane, this show is an absolute must-see and will captivate you instantly with the thrilling plot, charismatic leads and stylish ensembles. If you haven't already, then snap up your tickets for the final weekend here!
---