Contour & Highlight: The 4 Palettes You NEED In Your Kit!
Friday, May 5th, 2017
Just when I think I've got the whole contour and highlight skills mastered, Napoleon Perdis drops the ultimate game changer, the Total Bae Tone It Reflective Contours.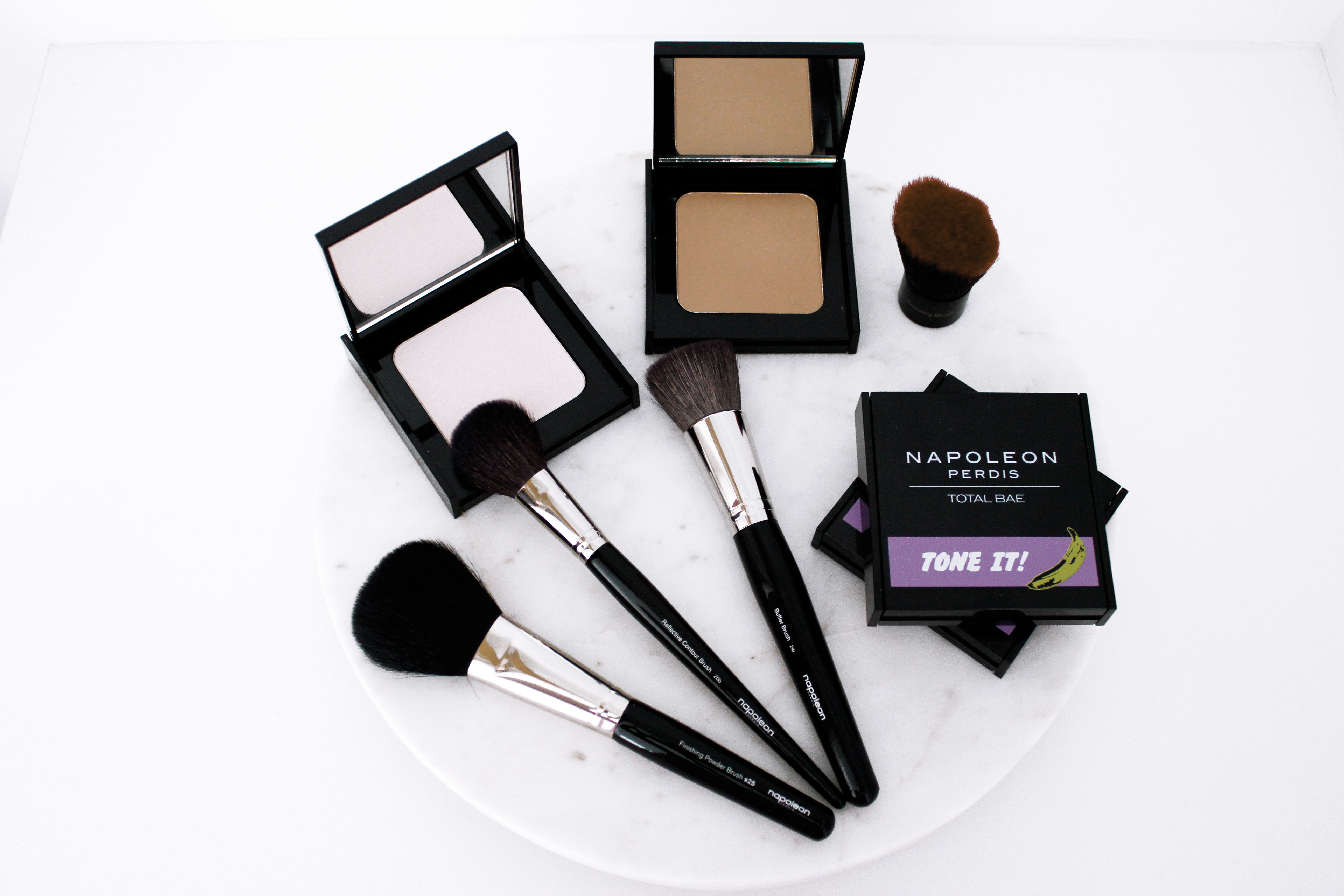 Napoleon Perdis Total Bae Tone It Reflective Contours in I've Seen The Light, Preach To Peach, Gold Seeker, Hot To Trot.
Defining and accentuating your best facial features has never been so effortless then with the velvet smooth formula of Napoleon Perdis Total Bae Tone It Reflective Contours. What's truely unique about this range, is each palette is comprised of a warm depth of colour, infused with angelic pigments that reflect and absorb light, to better sculpt and enhance your facial structure.
When it comes to correct contour and highlight application, the Napoleon Perdis Goddesses recommend,
"To tone-up your complexion, accentuate the high points of your face with a shade that is lighter than your skin tone. Then sculpt or slim with a shade darker than your skin tone."
I'm utterly obsessed with I've Seen The Light and have been using this to illuminate my high points. Every time I have worn this, I get compliments on the diamond like finish, it's absolutely flawless! On my cheekbones, you'll find me sweeping a combination of Preach To Peach and Gold Seeker to achieve that healthy, golden glow.
Of course, your best contour and highlight work is brought on by the best equipment, so upgrade your brushes today with the exquisite quality of Napoleon Perdis Brushes.
SHOP THE POST:

BTS Beauty on the Kookai AW17 Runway
Thursday, April 6th, 2017
As the Koookai AW17 Runway Show delivered the hottest seasonal trends, official makeup sponsor, Napoleon Perdis showcased flawless statement makeup and on point beauty. With a signature of coopery accents, golden highlights, warm contours, plum shadows and a burnt smokey eye makeup, Napoleon Perdis redefine the Autumn It Girl. Inspired by bronzed goddess Chrissy Teigan and easily achievable using the right product, Napoleon Perdis present a get the look guide to achieving these #makeupgoals.
PR Executive and Global Makeup Artist, Shev Kelly defined the Autumn It Girl as a fierce, beauty risk taker stating,
"This Autumn It Girl loves layering and playing with texture. She breaks the rules and loves to look modern and glamorous. She's obsessed with shimmer and shine and is never without a dusting of bronzer, no matter the season. She prefers to fake it not bake it with bronzing primers and a adding a warm faux glow to the skin. With warm contours and golden highlights she is ready for the runway, party and everything in between." 
Get The Look: The Autumn It Girl by Napoleon Perdis
STEP 1: CLEANSE 
Re-texturise the skin and begin to boost radiance with a thorough nourishing cleanse. Massage Balm Voyage Moisture Complex Cleanser and Makeup Remover all over the face, leave like a mask for 2-3 minutes, then spritz the face with Auto Pilot Moisture Mist and tissue off the excess residue.
STEP 2: HYDRATE AND PRIME 
Drench the skin with a serum that plumps the skin without leaving a physical texture on the surface; Smooth Auto Pilot Napoleon Complex Skin Renewal Serum over the face. Not to prime is a crime, so apply Auto Pilot Bronzing Primer for a fresh luminous foundation finish will last all day.
STEP 3: BROWS AND MASCARA FIRST 
Before any colour or coverage goes onto the face, start with your brows and a rich coat of mascara. These essential steps map out the rest of your look for you, telling you when to stop. With your brows done and your eyes defined with mascara, you may find you need less foundation, concealer and colour in your face, resulting in a more natural look. Define the brows with Eyebrow Pencil Pale Rider or Chocoholic and begin to build Total Bae Own It! Mascara Jet onto the top lashes.
STEP 4: PERFECT YOUR COMPLEXION
Counteract discolouration around the eye area with Mighty Concealer Pen and spot-conceal blemishes and pigmentation if needed. For an easily-applied and fused foundation finish, Auto Pilot BBB Cream over the feature focus area of the face – the centre triangle of features including the eyes, nose and chin – and build coverage as desired. Set and forget using Camera Finish Powder Foundation.
STEP 5: REFLECTIVE CONTOUR 
Out with the chocolate bars and in with reflection. To achieve this luminous look, blend Total Bae Tone It! Gold Seeker over the high-points of the face, the tops of the cheekbones, bridge of the nose, Cupid's bow and brow bone. Layer for a boost of shimmer with Loose Eye Dust.
STEP 6: SCUPLT THE EYES 
Sculpt and define the eyes with Total Bae Mark It! Expression. Blend the rust shade over the mobile lid, through the socket and along the lower lash line. Then create a modern fused finish with Mosaic Powder Bronzing to fuse the edges. Use a large fluffy brush like Sculpting Brush 10r to sweep the shadow through the socket of the eyes and along the lower lash line. Brighten the eyes with Loose Eye Dust Copper Element blending over the centre of the mobile lid. Pat and press Color Disc All That Shiraz onto the socket of the eye and outer corner of the eye and lower lash line. Make the eyes pop using Loose Eye Dust Contrary Contrary on the inner corner of the eye. Smoke out the eyes a little by smudging China Doll Gel Eyeliner Tao along the upper and lower lash lines, then finish the eyes with lashings of Total Bae Own It! Mascara Jet and Lashes Zinnia.
STEP 7: KISS THE FACE WITH COLOUR 
Like a kiss from the sun, sweep Total Bae Blush It! Risky Business over the apple of the cheeks and onto the cheekbones.
STEP 8: GO (NEARLY) NUDE
For a peachy pout, paint the lips with DeVine Goddess Lipstick SMP and finish with a slick of Luminous Lip Veil In the Flesh for a sexy, glossy finish.
Photography and editorial supplied.
Fit For A Queen ft Avon Luxe Cosmetics
Sunday, March 12th, 2017
Add a lavish touch to your beauty table, with the Avon Luxe Collection. Did I mention it's comprised of diamond and sapphire extract? Now that's the crème de la crème of cosmetics!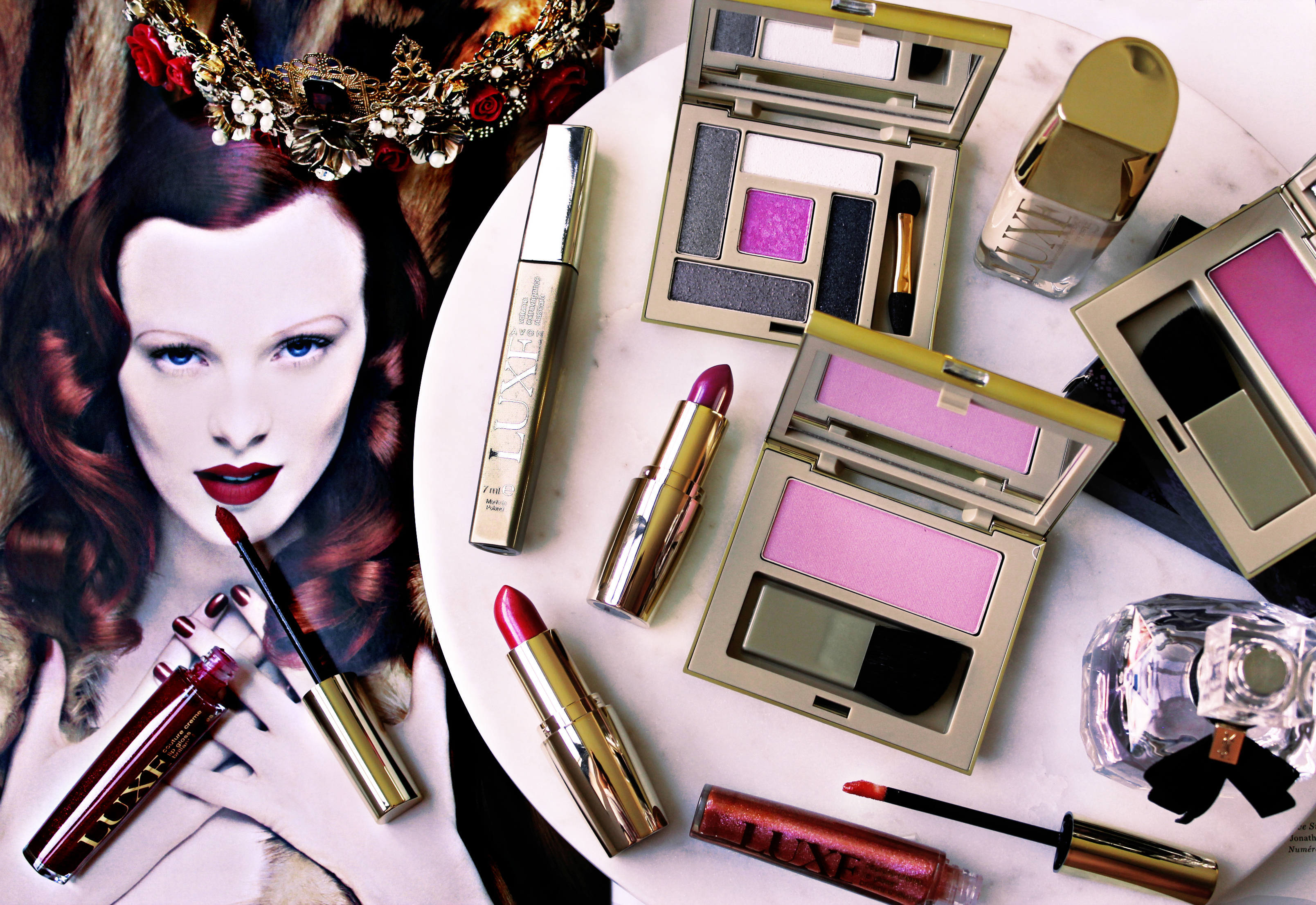 Avon Luxe Silken Foundation in Beige Linen, Avon Luxe Temptation Blush in Show Stopping Pink & Elite Mauve, Avon Luxe Cashmere Eyeshadow in Black Tie, Avon Luxe Volumising Mascara Caviar Black, Avon Luxe Couture Cremé Lipstick in Silky Apricot & Runway Plum, Avon Luxe Couture Cremé Lip Gloss in Luxurious Red & Dazzling Nude.
I'm feeling nothing short of royal as I apply the Avon Luxe cosmetic range to my beauty routine, taking in the super luxurious textures and finishes that the formula promises. This collection certainly upholds the renowned Avon reputation for crafting high quality and beautiful products, seen within the premium ingredients that have been used; white sapphire extract, black diamond powder, orchid extract and lustrous silk.
My favourite product from this collection, is the Couture Cremé Lipstick as they have the smoothest finish, having been infused with silk. The formula is super hydrating with a natural plumping agent, helping to keep my pout looking supple, plump and oh so kissable. Of course, these colours are so rich and regal, it's too easy to rule this lippy a winner.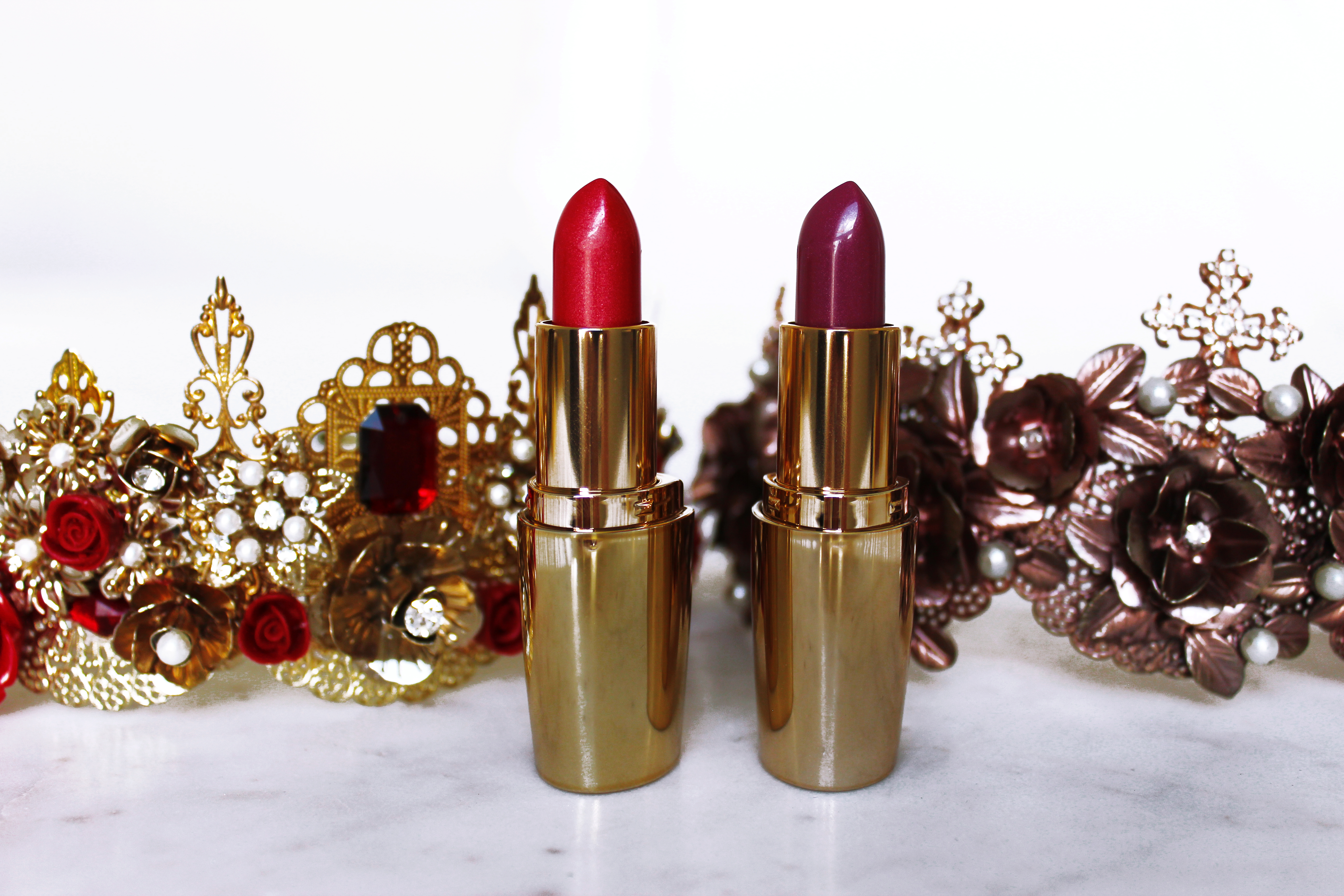 I'de also like to point out the packaging, because this liquid gold casing is just so perfect, allowing this range to live up to it's luxurious name. Have you experienced the glam that is Avon Luxe? Let me know what luxe product you are obsessed with in the comments below!
New, New Napoleon Perdis!
Thursday, February 2nd, 2017
First beauty post of the year is reserved for a little sneak peek sparkle, as I unveil an exciting drop of new beauty products! Napoleon Perdis, delivering the makeup goods as usual and helping me change my beauty game with some popping summer colours, shimmer and staples.
Napoleon Perdis Blush Patrol, Napoleon Perdis Rebirth Of Venus Skin Renewel Cleansing Oil, Napoleon Perdis Total Bae – Blush It! Cheeky,  Auto Pilot Pre-Foundation Skin Primer, Napoleon Perdis Peep Show Madame Beyond Mascara, Napoleon Perdis Neo Noir Liquid Eyeliner, Napoleon Perdis Divine Goddess Lipstick in Lynx and Erato.
I've gone into swatch mode at The Blonde Silhouette HQ, trying out the gorgeous new arrivals from Napoleon Perdis. Let's start with the most exciting part of any beauty boudoir – lipsticks, lipstains and gloss. I'm primping my pout with 2 exciting shades from the Divine Goodess range, featuring a flirtatious fuchsia, Erato and a mysteriously cool mauve,  Lynx.
Next, I'm perfecting the art of the Cat Eye, with precision using the Neo Noir Liquid Eyeliner. Having tested this little beauty for a night on the town, I can vouch that this product allows for a seemly, effortless application and the colour is so deliciously dark black. Of course, no Cat Eye is complete without a heavy set lash, and the Peep Show Madame Beyond Mascara is a game changer for those lashes.
Another favourite of mine from this drop is the Total Bae- Blush It! Cheeky. With a name so perfectly fitting, this cheeky little cheek compact features a girlish, rosy rogue to bring that girl next door beauty to life.
One thing I can always expect from my favourite beauty brand, are products so perfectly packaged they look too good to use. Take this gorgeous, marbled blush compact, Blush Patrol. Featuring highly pigmented hues with a shimmery finish, this beautiful bronzer has been garnishing my cheeks for that fresh, "I just spent my summer in the Hamptons" glow.
Love this little beauty batch? Why not check them out and more, by shopping my selects below!
SHOP THE POST:

---