Suit Up.
Sunday, April 20th, 2014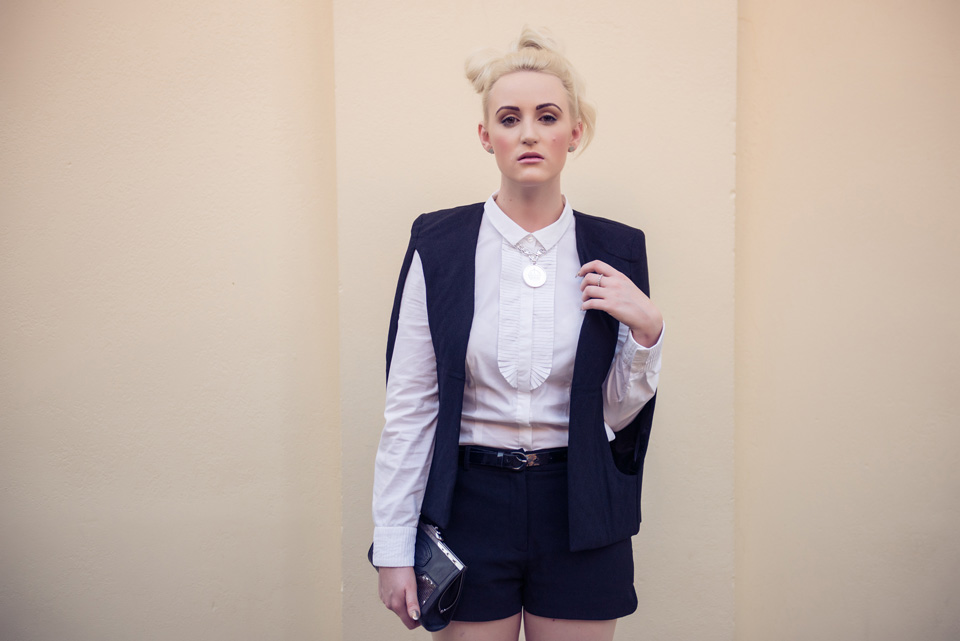 St Frock Front Row Quilted Capelette, Front Row Quilted Shorts, Cotton & Co Neckpiece, Tiffany & Co Return To Tiffany Earrings, Tiffany & Co "I Love You" Ring, Pandora Heart Ring, Jo Mercer Sublime Boot, Portmans Shirt (similar style here).
I'm bringing swagger to the blog with this two piece capelette and shorts duo from St Frock. With bold lines, quilted texture and structured detail, not to mention the most perfectly sculpted shoulder pads- I'm all over this semi-masculinity, aka "boyfriend" dressing at the moment. Throw in a monochrome colour palette and ankle booties and you have yourself a chic, minimalist, Autumn look- perfect for day or night wear.
Layering? Check! Fierce attitude? Check? Photographer in tow? Check! Erin Smith Photography playing paps while I channel a more poised side- the blinking, tripping, "awkward" photos didn't make the cut, lucky for me!
As a special Easter treat for my followers, Erin has put together a little #bts videography from this shoot with a sneak peek of what's to come! To view more of my vlogs, subscribe to my new Youtube channel.
If you haven't already, check out and subscribe to Erin's Website, follow her on Facebook and Twitter and double tap her insta @erinsmithphoto.
…and while your at it- let's socialise!
Facebook | Twitter | Lookbook | Bloglovin | Instagram
Photography and Videography by Erin Smith Photography 
---