Prep: Fall to Winter.
Tuesday, April 29th, 2014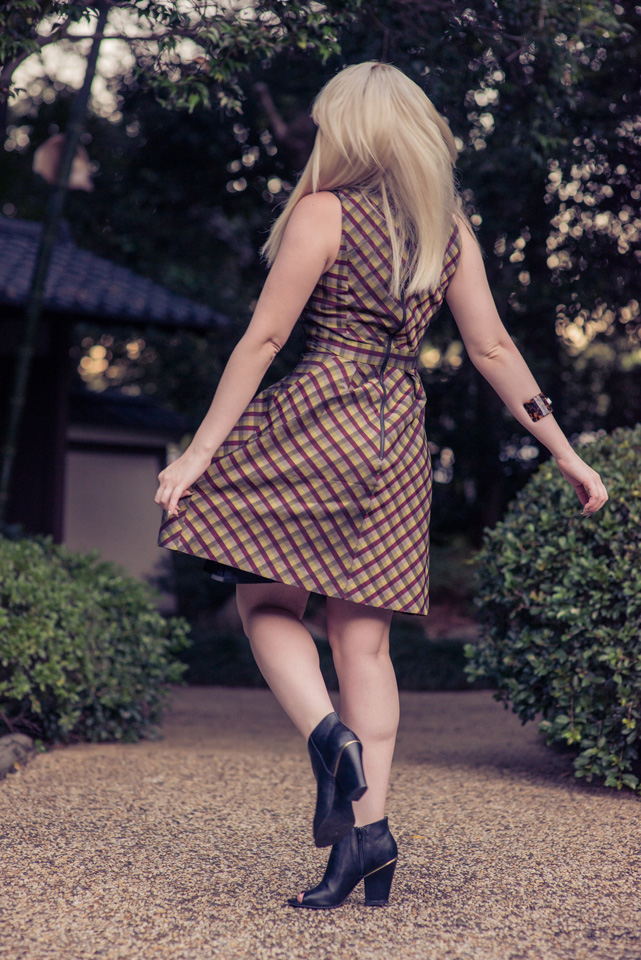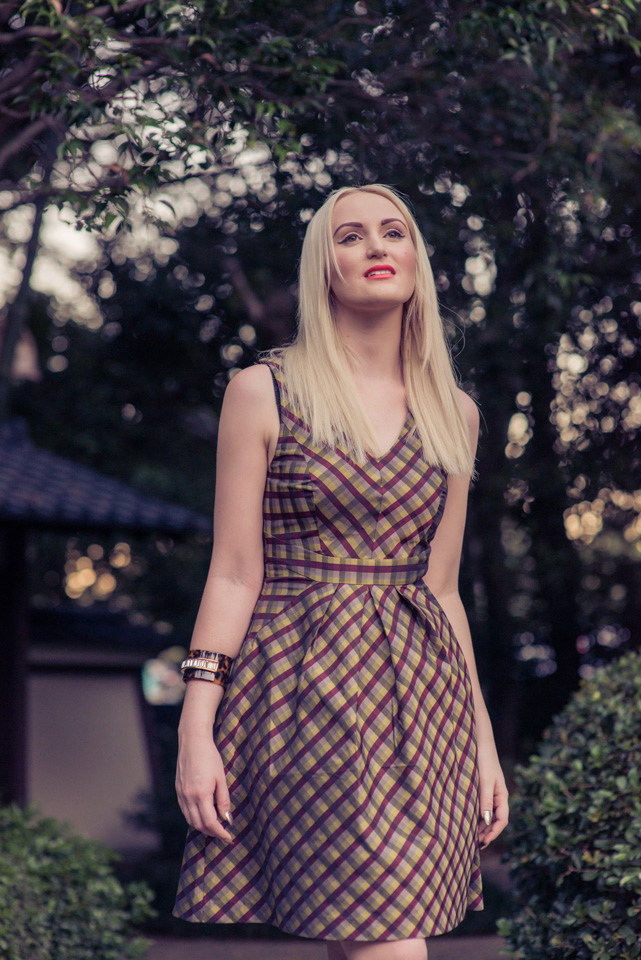 Cue Dress available at DFO Jindalee, Jo Mercer Sublime Ankle Boots, Maybelline Electric Orange Lipstick available at Cosmetics Fragrance Direct, Oroton Cuff.
If you look to the right sidebar, you'll notice a shiny new button displayed, advertising that I am an official blogger of DFO- an accomplishment I am very proud of! As a newly appointed blogger ambassador, I will be completing a monthly style challenge at both DFO Jindalee and DFO Brisbane for the next three months….Shopping, styling and more shopping, otherwise my idea of a dream job!
For the month of April, my style challenge for DFO Jindalee was to create a transitional Autumn/Winter look with an international influence. With a mid semester break filled with Gossip Girl reruns, I decided to introduce a little NYC prep to my Autumn/Winter wardrobe, highlighting a plaid inspired print from Cue.
Fall (Autumn) Styling: As the temperature in the Autumn is still relatively warm, this dress is perfect as a statement piece. Teamed with an edgy ankle boot (like my Jo Mercer Sublime Booties), a bold lip colour such as this Maybelline orange hue and an embellished cuff, this look is both effortless and chic, ideal for a cute brunch date.
Marcs Trench (similar style here), Louis Vuitton Concorde Handbag, Jo Mercer Alexandra Patent Boot.
Winter Styling: From statement status, to a solid foundation, this structured dress definitely encourages layering to accommodate a change in temperature. Highlighting the colours seen in the print, I have selected a mulberry hue trench to enhance the warmth in the colour palette. The neutral print of my Louis Vuitton monogram handbag embraces a little print clash, without detracting from the outfit. A final touch of multi texture seen in the patent boots, adds polish to the look.
Transitional pieces certainly make a valuable resource in any wardrobe- you just have to experiment with their versatility! Which look do you prefer?
Keep up with my fashion ventures as a #dfoblogger by following me via
Bloglovin | Facebook | Twitter | Instagram
A big thank you goes to DFO Jindalee and 360 Immerse Agency for providing me with such an exciting opportunity. A final thank you goes to my talented photographer, Erin Smith Photography, who despite my many awkward faces and poses- manages to capture the most perfect shots. For more DFO Jindalee happenings including current sales and trading hours, visit the website and Facebook page.
Photography by Erin Smith Photography
---