Designer Profile: Annette Cannock
Thursday, March 13th, 2014
Australia houses some of the most talented fashion designers there are to date, with no exception being the lady behind the beautiful Wish label, Annette Cannock. When I found out I would interviewing the lovely Annette about her new A/W collection, I fangirled…hard! With each collection, Annette sews a story of uniqueness, capturing the vibrant, bold personality and femininity of the Wish brand. In this interview, Annette delivers the insider details of her life as a designer, her Australian upbringing, and what Wish will bring to the A/W season.
Q: How has the Sydney scene shaped your own design aesthetic?
Annette: The Sydney fashion scene definitely has its own vibrant flavor that influences much of what I design. Not so much in terms of other designers, but more in the real girls I see on the streets of Surry Hills or Paddington – sometimes you can see the most effortless style on a lazy Sunday afternoon! Sydney itself is also such an inspiration – such a gorgeously colourful city!
Q: What's one thing about the life of a fashion designer people may not expect to know? 
Annette: Some people expect a fashion designer to be dressed head to toe in their own designs, but more often than not you'll find me wearing pieces I've picked up from all over the world! A key part of designing is always being open to new trends…plus shopping is one of my favourite hobbies!
Q: Is there a particular designer, either domestic or international that inspires you?
Annette: I'm probably more inspired by designers I see at local markets than I am by couture designers – after all, this is how I began my career! I also like to keep up to date on young emerging Australian designers – there are some amazing young designers coming through the Melbourne Fashion Festival graduate showcase this year, like Lillian Chan and Edwina Sinclair.
Q: It's believed a picture paints a thousand words; can you describe the story behind the new Autumn/Winter campaign?
Annette: This season is a story of urban life – of beauty coming out of the chaotic mess of the city. It's a story of the Wish girl standing out from the crowd, and celebrates individual style…but it's also a story of friendship, two girls finding a connection in effortless style!
Q: What Wish trends can we expect to see from this Autum/Winter seasonal collection?
Annette: Prints are a huge focus this season – winter doesn't have to be about boring basics! Think galactic and futuristic, abstract and geometric. Cut outs are making a comeback, but not in the way you're used tp – necklines and sleeves feature cute peekaboo sections and lace and mesh paneling. Leather and monochrome will continue on as a strong trend from last season – they're fast becoming a staple look!
Q: The campaign introduces the natural beauty of both Sarah Stephens and Ariel Urlich. What initially drew you to these girls and how do they capture the spirit of the Wish brand?
Annette: Sarah Stephens is actually a Wish girl from way back – she shot her first campaign for us shortly after she won Girlfriend's model search in 2006. I was initially drawn to her strong and beautiful face (and those eyebrows! Wow!).
Ariel is on her way to having the same kind of amazing career that Sarah has had – stunning, and a joy to work with! I think they show a strength and spark that is important in a Wish girl.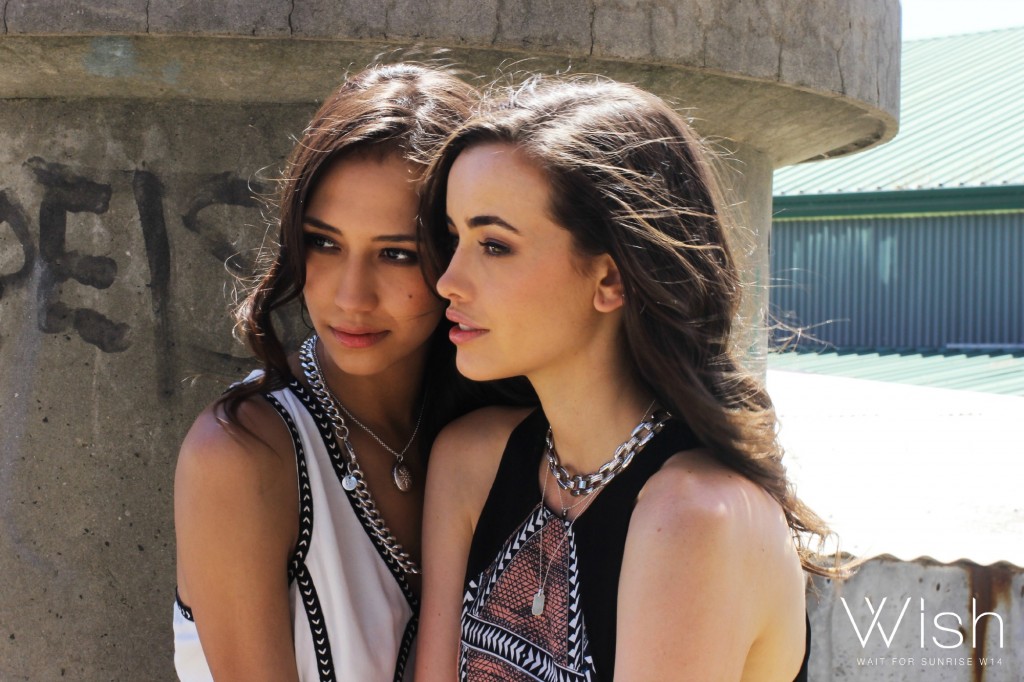 Q: Print clash, monochromatic, multi texture- what's your favourite winter trend?
Annette: I'm loving the mix of textures that winter brings – so fun to layer! This collection has some amazing lace, leather, and fur that all work really well together.
Q: How does the Wish brand capture your own personal style? Is there a particular piece from the Autum/Winter collection that speaks to you?
Annette: Wish reflects my personal style it its attention to detail. There's always a special detail to every garment that makes it unique – a button here, and embellishment there, it really makes all the difference and adds life to the garment. I always pay close attention to every element of my outfit, and I don't feel polished without a few accessories! I have been living in the Beam Pants these last few weeks – amazing print, easy to take from day to night, and so comfortable!

Ariel (left) wearing Annette's staple, the incredible Beam Pants
Q: In 5 words, describe the "Wish" girl. How will she thrive in this new collection?
Annette: Fun, adventurous, effortlessly stylish, inspiring. I think this season really gives winter a new allure – the fun doesn't have to end when summer is over! The Wish girl will still charm through the colder months by gracefully mixing edgy trends with classic chic.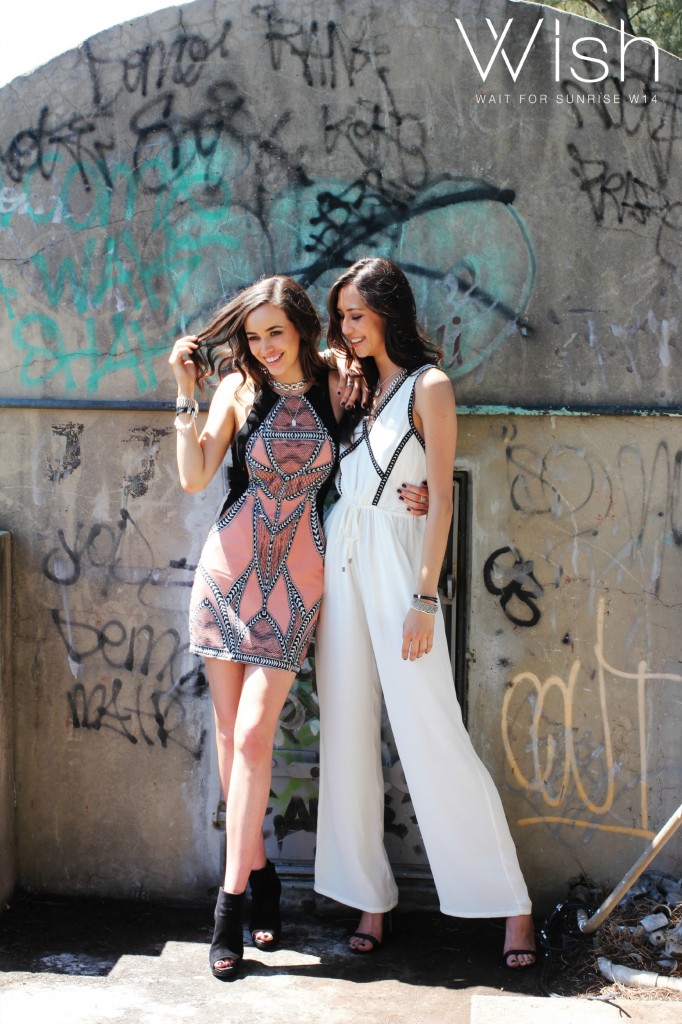 Thank you Annette for such a captivating read, I cannot wait to get my hands on the newest collection! To see the entire collection and A/W campaign visit the Wish website, Facebook, Twitter and Instagram @wishxoxo. Wishing you all a fabulous A/W season!
---