How To Look Fierce For Less Than $250
Tuesday, May 3rd, 2016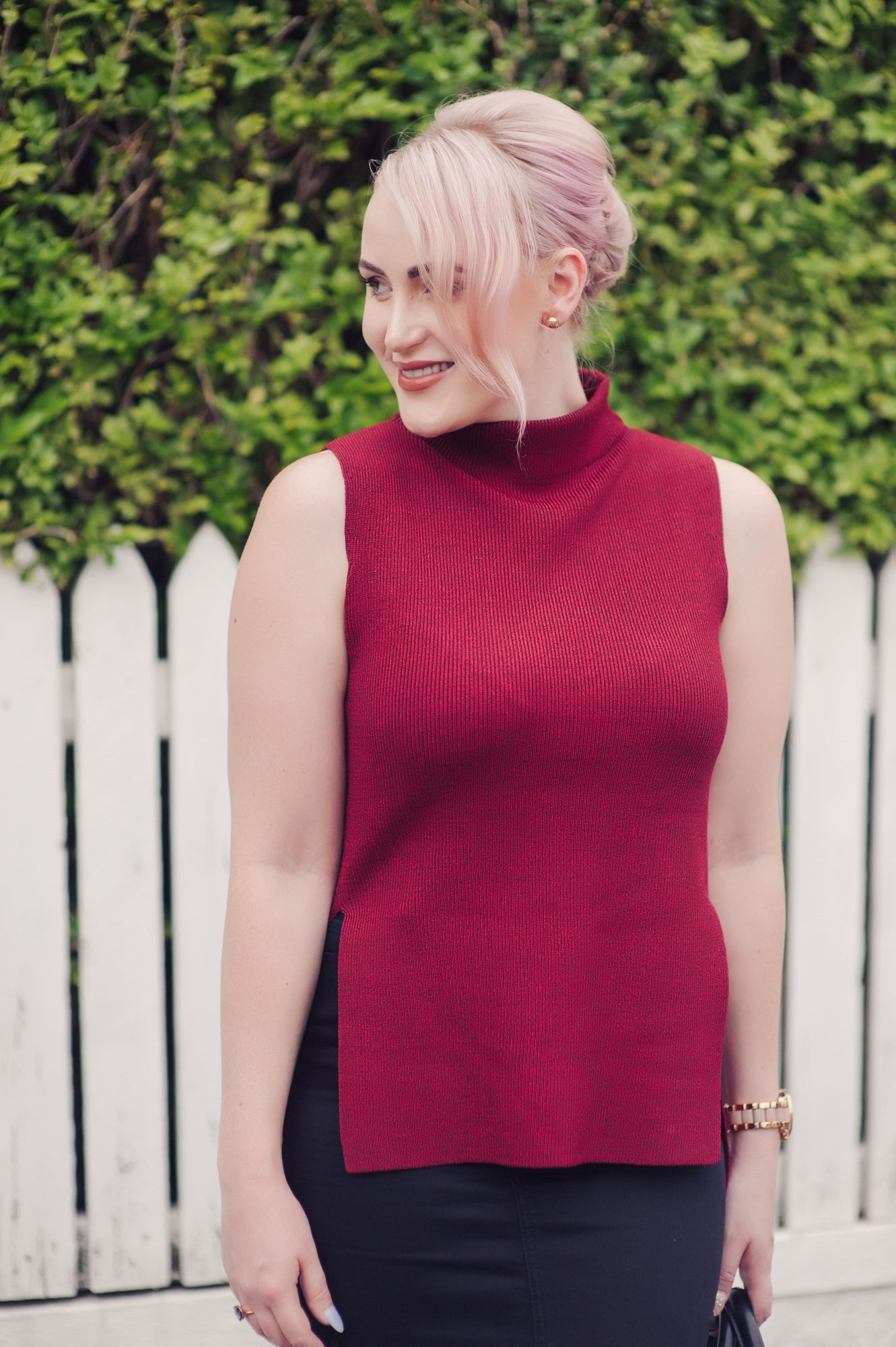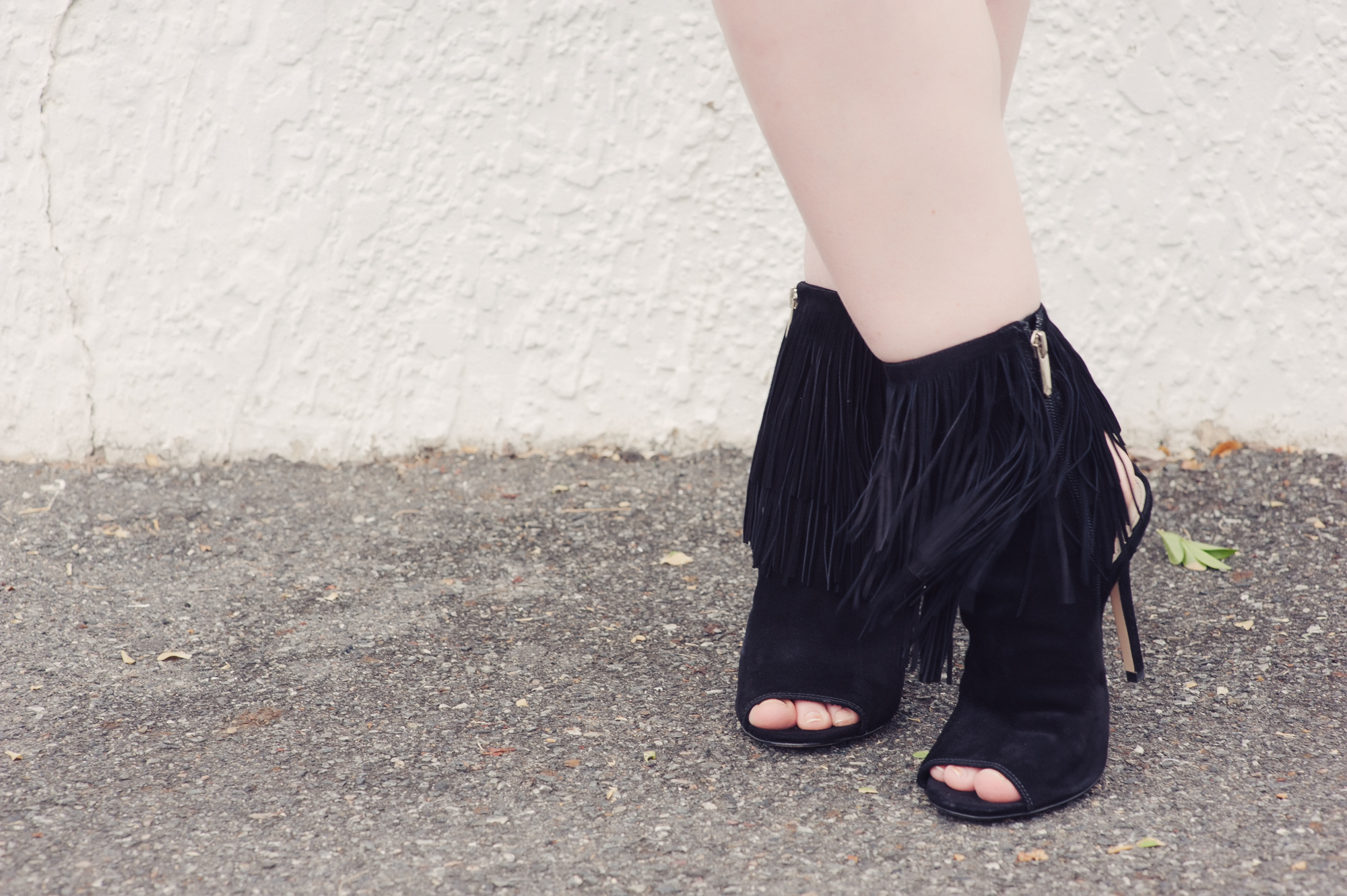 Portmans Denim Skirt (available at DFO Brisbane), Cue Top (available at DFO Brisbane), Sam Edelman Arizona Fringe Booties, Michael Kors Watch (similar style here), Swarovski Ring (similar style here), Oroton Handbag (similar style here).
As a girl that loves items of high quality, luxe fabrics and local Australian Designers, it's not often I find myself using the word 'bargain'. So imagine my excitement when I found all three at DFO Brisbane for a fraction of the price – $215 to be exact.
So what was it that caught my eye and my credit card details? After scouring the sale racks at Portmans, I came across this stylish black denim midi skirt which offers versatility to my AW wardrobe. But the best part? This little baby only set me back $45! Did I nab a bargain, or did I nab a bargain?
As for the top, it's a new season Cue so it's definitely not in the same price range, but with Cue your paying for beautiful quality and a proudly Australian owned label, so it's definitely an investment. Plus that colour totally lends itself to a sultry plum or warm nude pout, which is the most coveted beauty trend of the AW16 season.
So Brisbane fashionista's, if you haven't made the trip out to DFO Brisbane, I definitely recommend you do so. Also, make sure you are keeping an eagle eye on the Instagram of @dfobrisbane, as they will be launching an exciting little competition very soon!
SHOP THIS LOOK:
Photography by Erin Smith Photography 
---
How To Be European Chic!
Monday, April 25th, 2016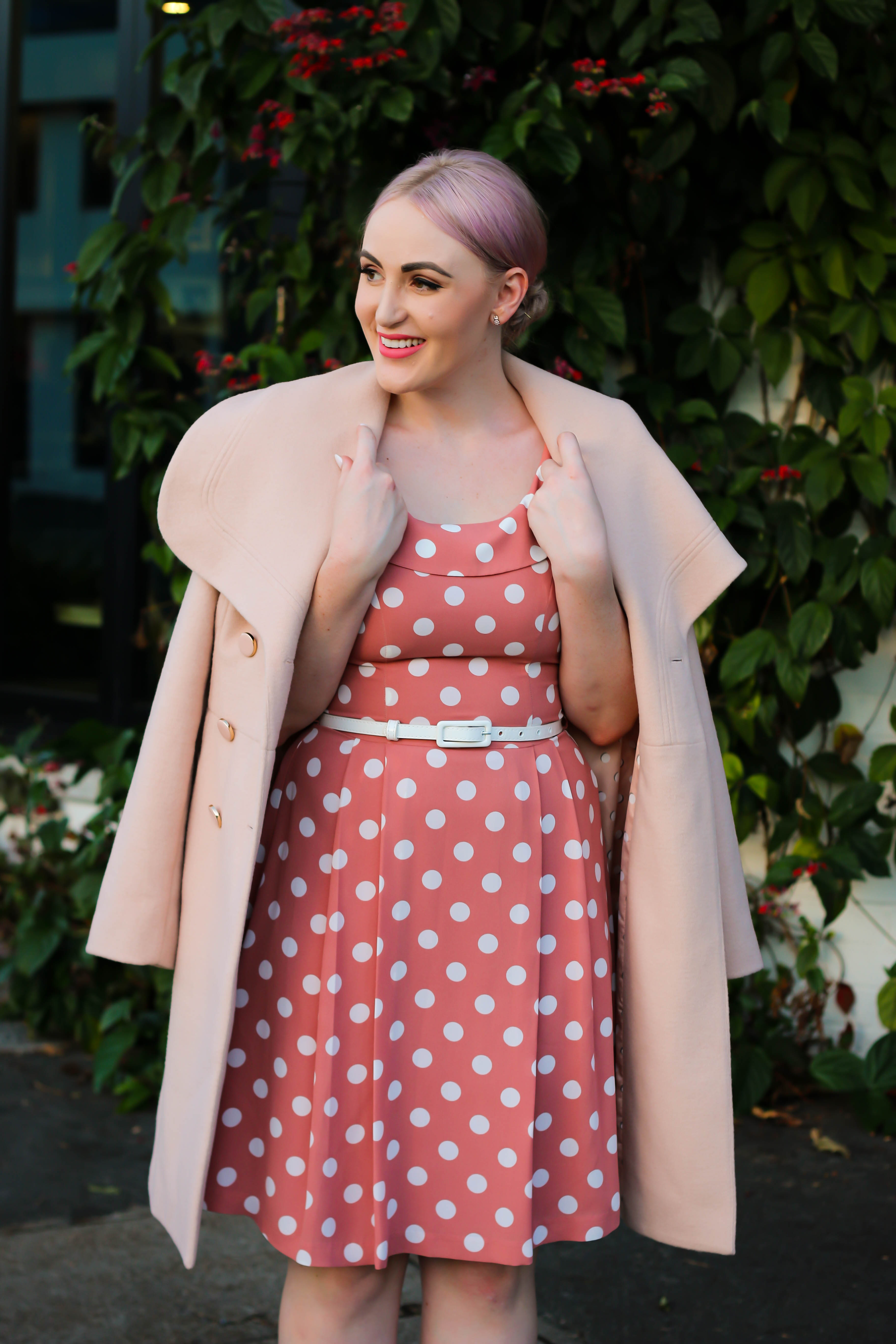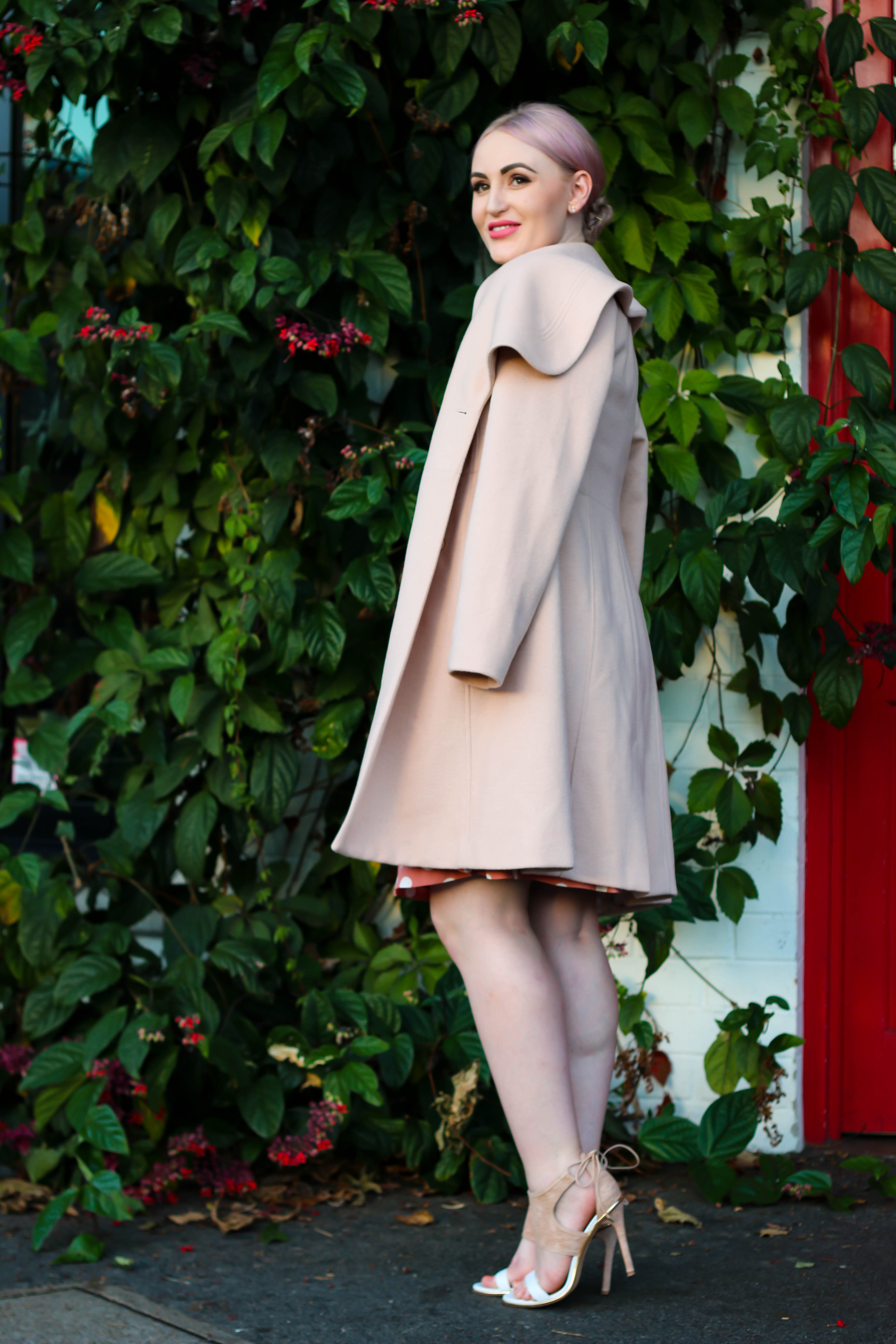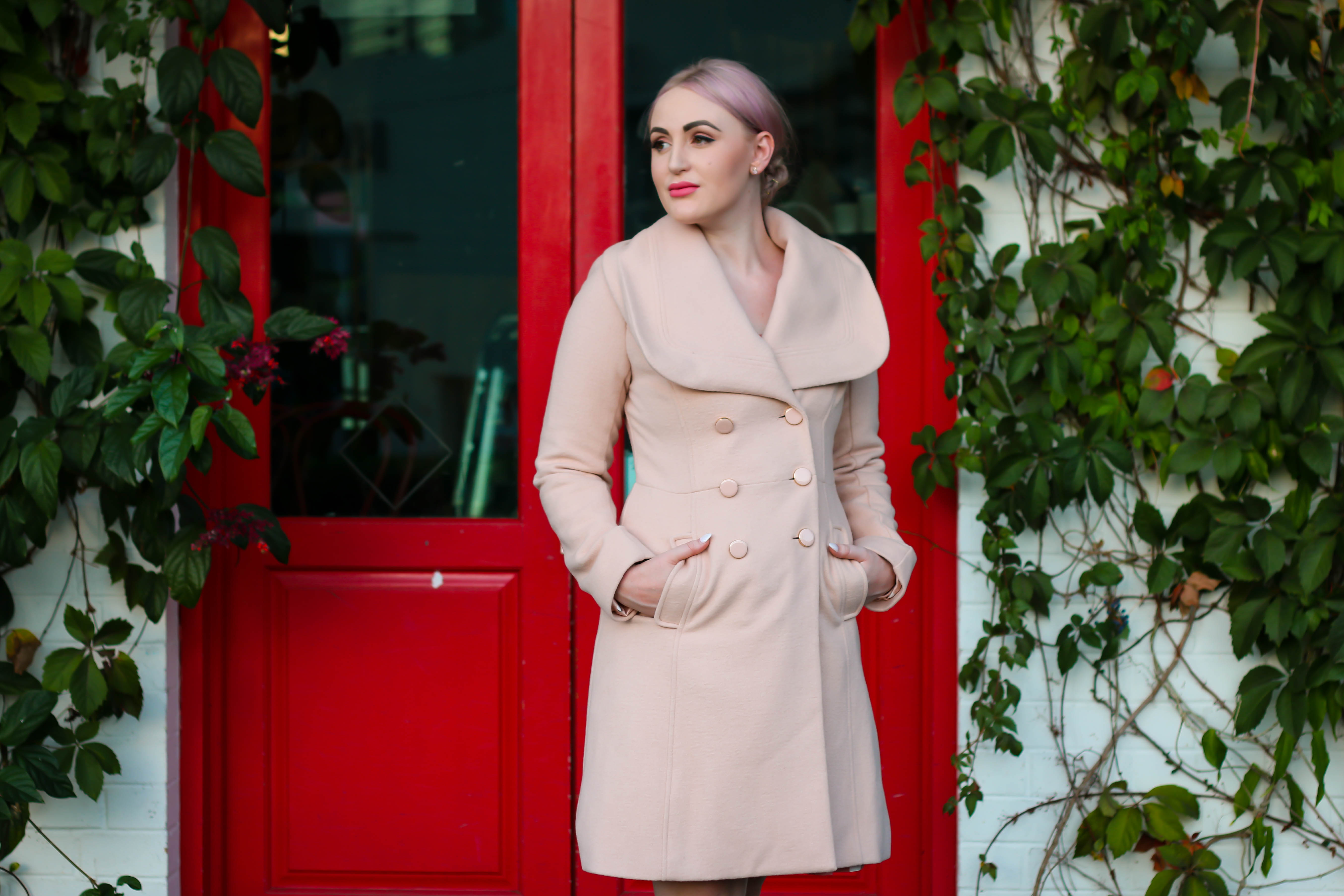 Review Delphi Coat, Review Tuscan Spot Dress, Wittner Alice Heel, Seleos Australia Billy Earrings.
It's no secret that European fashionista's have a certain sophistication, an air of elegance, a unspoken confidence seen in their exquisite sense of style. Replicating the refined and dreamy elements of Paris with a hint of Tuscany, I'm sharing my 4 Hot Tips for Looking European Chic!
1. Delicate print dresses are a must! Nothing says Roman Holiday like a delicate, ladylike print, and this Review Tuscan Spot Dress is delightfully fitting.
2. Learn how to layer. If there's one thing Europeans have down pat, it's layering like a queen. Invest in a fabulous trench to drape over your shoulders, or layer up a little Autumn number. This Review Delphi Coat, is my latest fav, as it's super stylish and toasty, roasty warm.
3. Accessories should be understated yet chic. You won't see an abundance of heavy jewels adorning European beauties, but rather minimalist pieces become statement chic. These dainty earrings from Seleos are on constant rotation, as I'm loving their floral motif and rose gold glamour.
4. Nail the neutrals. When it comes to European dressing, think less bright and more neutrals – ivory, cream, nude, navy, white, grey and black. With a love for atonal dressing, I'm colour blocking blush with blush and highlighting a coordinated ensemble, fit for a Parisian adventure.
My lovely Australian fashionista's, how are you replicating dreamy European trends? Or European fashionista's, is my ensemble on point? I'de love to hear your tips and tricks in the comments below!
SHOP THIS LOOK:
Photography by Folk and Fawn Photography
---
Show Your Pout Who's Boss: 5 Lipsticks You NEED!
Monday, April 18th, 2016
Kiss Kiss, Bang Bang! Pout your way into the AW season by adding these fierce and fem colours to your beauty routine, with the Napoleon Perdis Lipstick Range.
For the perfect pink-tan: Love her or hate her, Kylie Jenner has been slayin' the pink-tan pout for a while now, and moving into the AW season you'll never find a better everyday neutral. I adore the lush matte finish and long lasting wear of Napoleon Perdis Mattetastic Lipstick in Lauren.
For the perfect beige-cream: Proving that bare doesn't have to be boring, a creamsical lip creates a fresh, natural statement, teamed beautifully with a bronzed glow or a dramatic smokey eye. The Napoleon Perdis Divine Goddess Lipstick in Gamelia has a beautiful satin finish and hydrating formula that will keep your lips supple, plump and oh so kissable.
For the perfect rose-pink: A dusty rose is a darling choice for those that love a glam, girly pout. Best teamed with a flushed cheek and wispy lashes, a rose-pink lip creates a youthful and feminine statement. If you haven't already added the Napoleon Perdis Goddess Lipstick in Nymphe to your shopping cart, then you best do so now so that it arrives in time for Saturday brunch with the girls.
For the perfect blush-nude: Soft, subtle and sophisticated, a blush nude lipstick features a balanced combination of rose, nude and creamy tones. This hue is particularly flattering on fairer complexions, and is best teamed with a dynamic rose gold shimmer on the eyes. I love Napoleon Perdis Goddess Lipstick in Athena.
For the perfect pink lacquer: If you love delicious summery colours, and emphasising your natural beauty, then a pink lip lacquer is the perfect addition to your makeup stash. The Napoleon Perdis Silk Road Lip Rogue in Pink Empress features a highly pigmented hue and a luxe, shiny finish, perfect for a night out with the gals!
What's your favourite out of these five? Are you more of a classic neutral, or a pop of pink lip kind of gal? I'de love to hear your signature pout in the comments below!
---
Shop Rosie Huntington Whiteley's Wardrobe
Thursday, April 14th, 2016
Known for her fem and fierce, model off duty style and that fabulous quaff of blonde hair, Rosie Huntington Whiteley nails cool girl casual like nobodies business.
Creating the perfect balance of undone and done, Rosie proves that the perfect Autumn outfit starts with a classic pair of blue jeans. Needing to invest in a pair for myself, I'm looking to French Connection for my denim needs, with their selection of different fits, cuts and colours. Shop the French Connection denim range here.
A caramel coat or vest seems to be a must-have item this AW, adding a warm, earthy element to a casual getup. After shopping around I've found a few options that don't break the bank, including these styles from Seed, Wish and Asos.
Of course, a busy gal needs the perfect handbag to house her daily needs: wallet, makeup pouch, diary, phone charger etc, so I suggest a style with a little extra space, like a tote. Shopbop is delivering the leathery goods with their collection of fabulous totes, so now is the perfect time to invest fashionista's!
Add the final cool girl element with some killer accessories. Just like Rosie, I've picked a classic pair of Karen Walker sunglasses and a relaxed fedora.
What does your cool girl getup look like? I'de love to hear your must-have accessories so leave me a comment below!
SHOP THIS LOOK:
---