Brooklyn
Thursday, July 2nd, 2015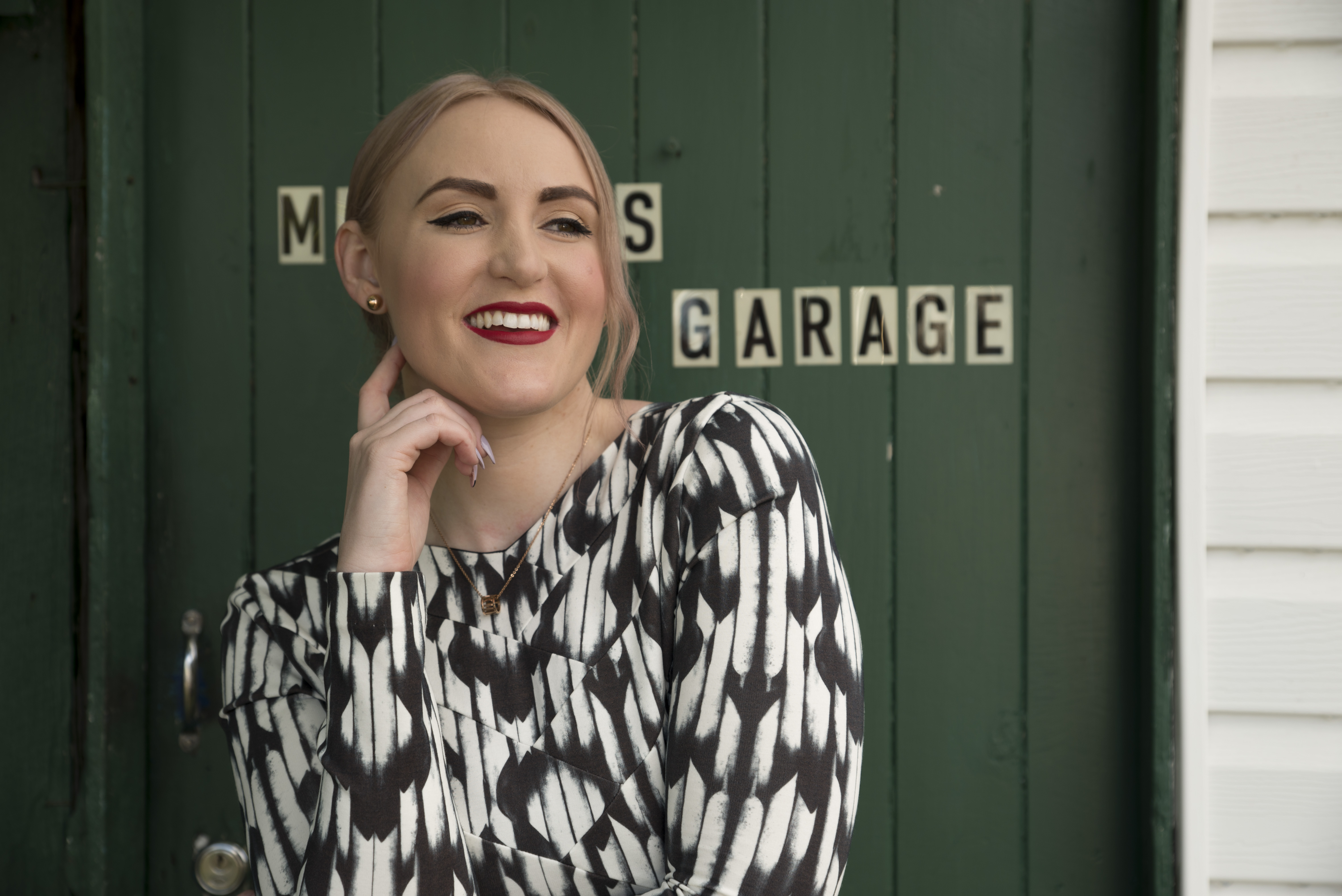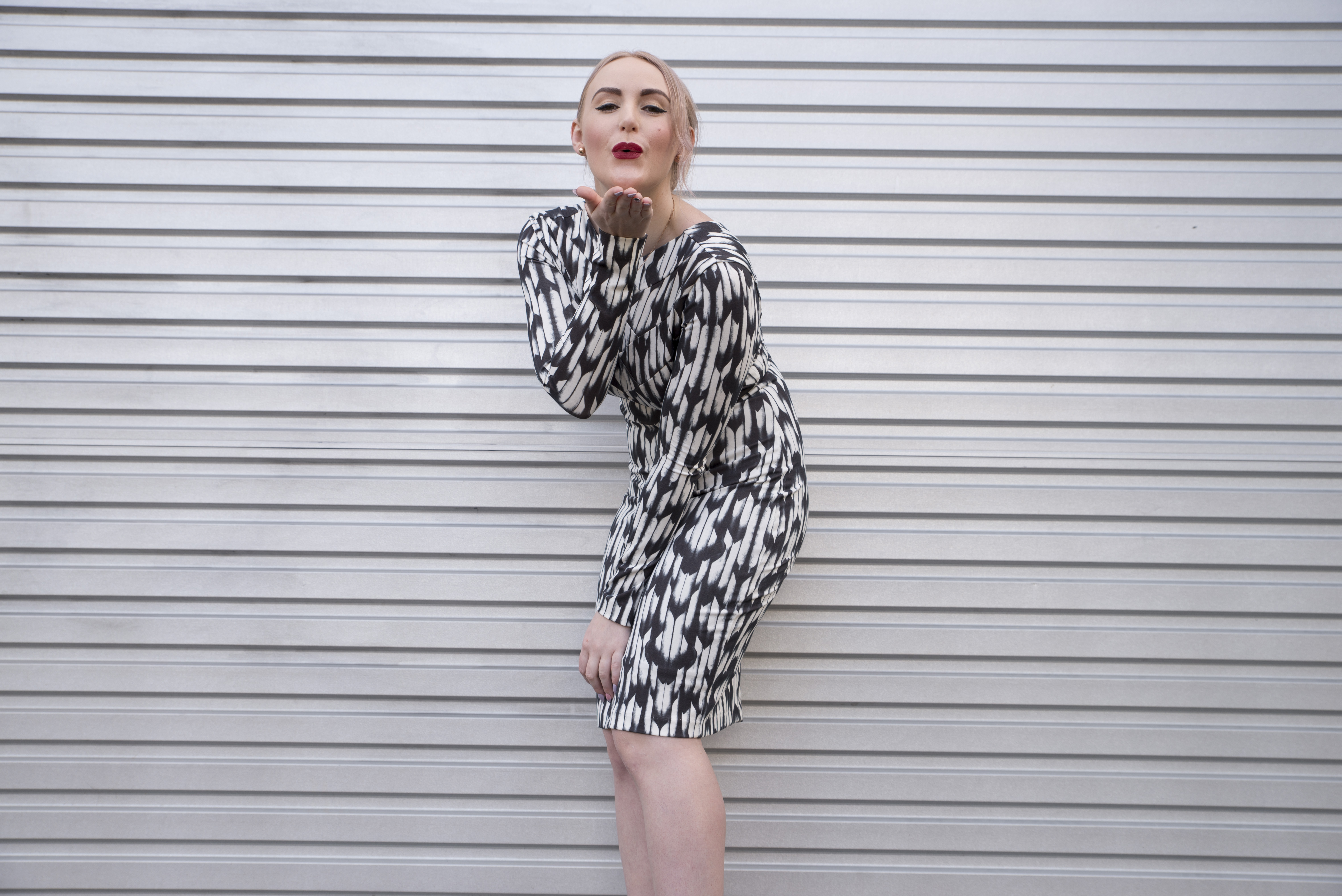 Talulah Brooklyn Dress, Jo Mercer Lockhart Heels (similar style here), Oroton Clutch (similar style here), The Peach Box Roman Express Charm Necklace, Prouds Rose Gold Studs.
A couple of weeks ago a parcel arrived at The Blonde Silhouette HQ and inside, a dynamic, monochrome printed dress from Talulah's Polar Collection was dying for its chance to be worn!
With a slim fit silhouette, high neckline and panelled detailing, the Brooklyn dress has a classic, ladylike appeal, with an sexy undertone brought about by a deep v-back.
As the print of the dress is quite dramatic, it's only wise to keep the accessories minimal and understated. Here I've teamed this fancy number with a pair of rose gold studs and a familiar pendant from The Peach Box. Of course, a bright red lip will never over do it and this Napoleon Perdis Super Lips Lipstick in Bionic has me prepped for an afternoon at the theatre.
Ready to rock my way through Dirty Dancing for the second time!
SHOP THIS LOOK:
Photography by Fallon Images
---
Sparkle, Stella & Shine – Oh my!
Friday, June 26th, 2015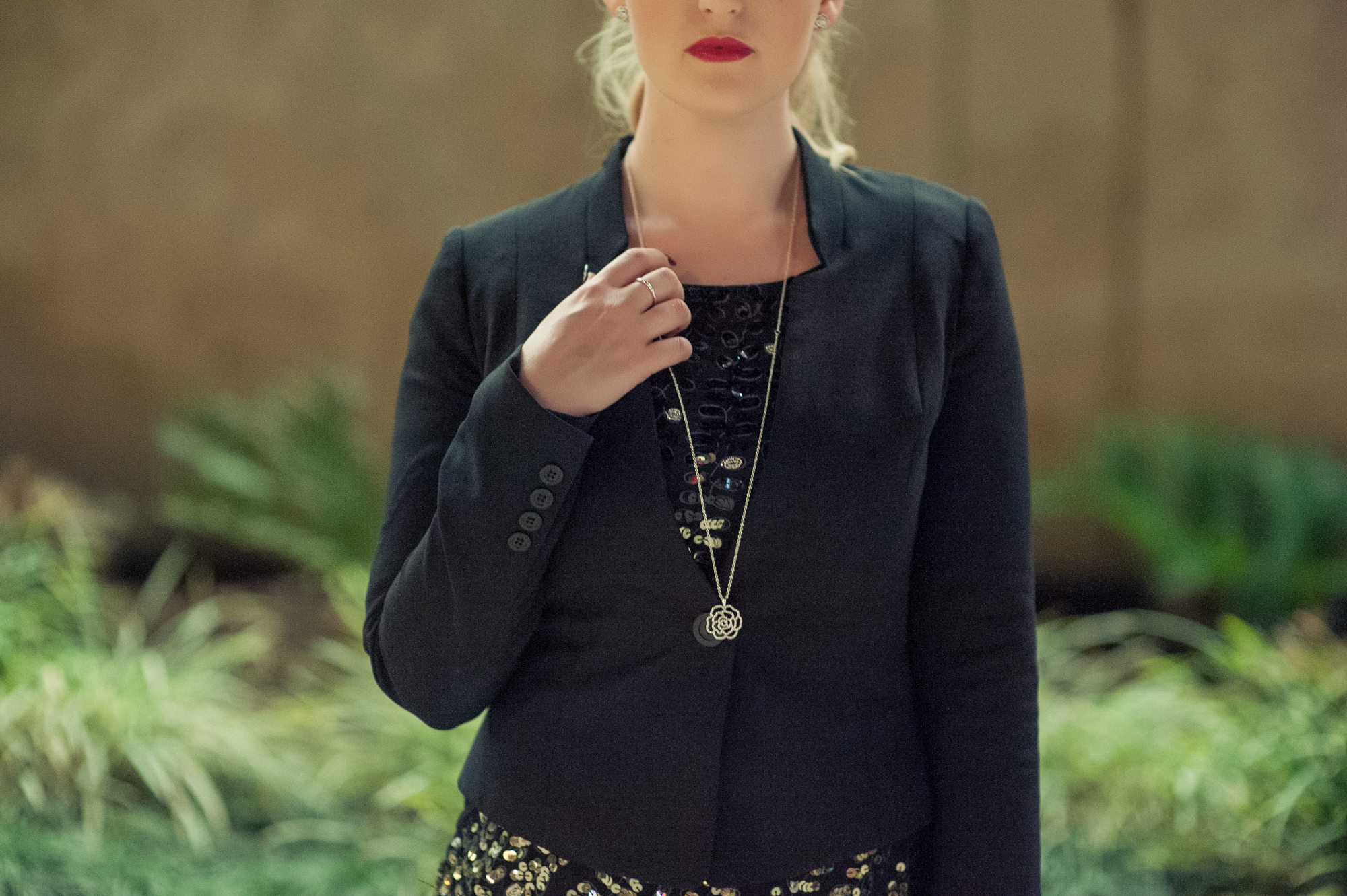 Stella McCartney Dress, Jo Mercer Lockhart Heels (similar style here), Oroton Clutch (similar style here), Cue Blazer (similar style here), Pandora Shimmering Rose Necklace, Pandora Shimmering Rose Earrings, Pandora Sparkling Droplets Ring.
As a young lady, I grew up loving music, dance and the arts, so much in fact, that I was positive I would one day be a Hollywood actor. While that ship has sailed, I cannot deny just how much I love attending the theatre. I mean, I saw Wicked 6 times and could probably perform the dialogue and songs in a one woman show…Obsessed? Just a tad 😉
So you can imagine my excitement having been invited to the opening night of Dirty Dancing The Musical, alongside my partner in crime, Erin Smith.  
When it comes to theatre attire, I always advocate to dress up and be fancy, after all – how many opportunities do we get to do just that? No need to pull out the gloves and fur, just a fabulous cocktail dress and a pair of stilettos will suffice. I would also recommend taking a blazer because there's nothing worse then chilly air-con distracting you from a plot twist in Act Two.
For this special occasion, I'm pulling out the sequins, teaming this Stella McCartney number with some shiny Pandora jewellery. Between the intricate rose detailing and the lengthy, delicate chain, there's something very classic about this necklace and I love how it falls freely against my structured Cue blazer.
Feeling super sparkly, I might just outdo Baby on the dance floor!
SHOP THIS LOOK:
Photography by Erin Smith Photography 
---
Too Pure To Be Pink!
Monday, June 22nd, 2015
French Connection Polka Dot Dress, Gorman Pink Leather Jacket, Wittner Sabino Flats, Karen Walker One Meadow Sunglasses, Oroton Metier Mini Bag, Lack Of Color The Midnight Muse II Hat, Pandora Rings, Michael Kors Darci Watch.
One of my favourite one-liners from Grease. It appears the Pink Ladies were onto something because pink has never looked so delicious, then with a serving of attitude, a touch of edge and a dash of monochrome. That's how the cool kids are wearing it 😉
---
Vintage Barbie
Thursday, June 18th, 2015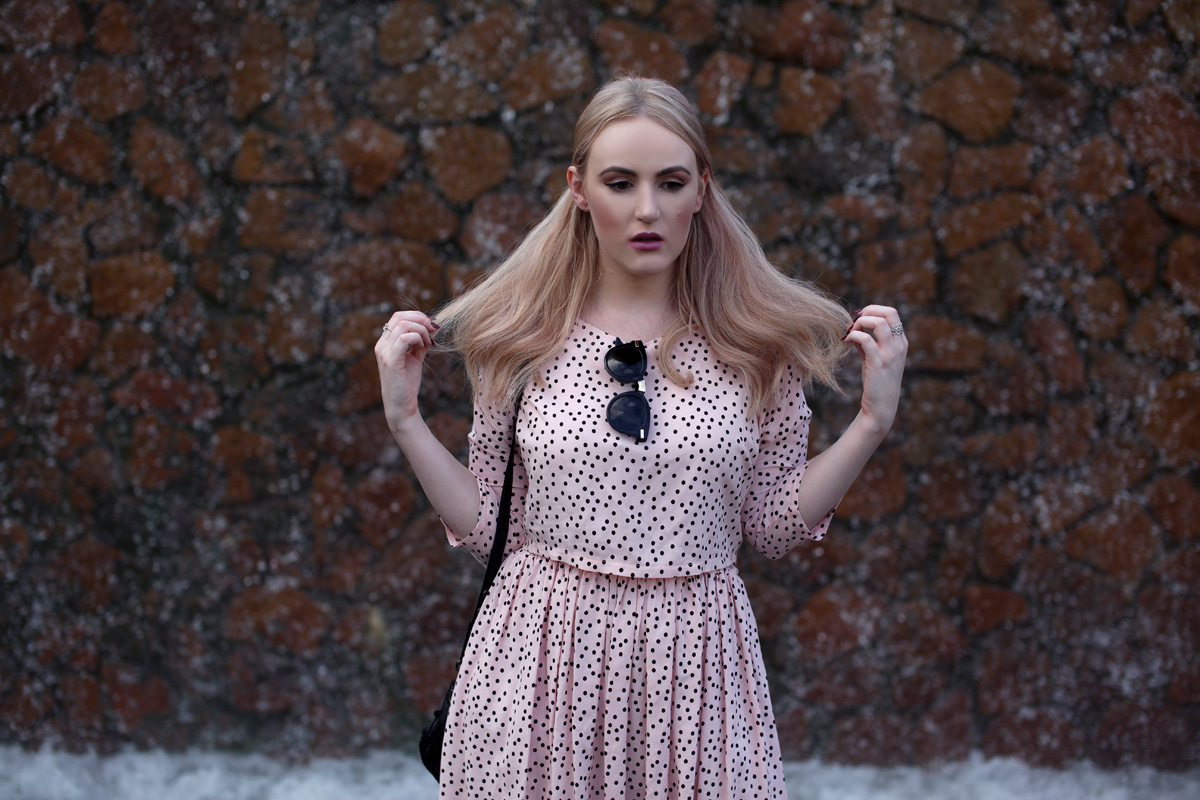 Thirty8Birds Vintage 80's Polka Dot Crop Top & Skirt, Pandora Dazzling Daisy Ring, Pandora Dazzling Daisy Chain Ring, GlassesShop Champigny Round Sunglasses, Mimco Sequin Pouch (similar style here).
Vintage Barbie, the exact phrase that entered my mind upon finding this gorgeous little two piece from Thiry8Birds… Forget the evening gown, this doll is ready to rock and roll in an 80's inspired ensemble! All that's missing is a pair of leg warmers and a boom box – perhaps these items are sold separately?
And much like Barbie, I come accessorised with a kicky pair of platforms and some silver stackable rings from Pandora. Because no outfit is complete without a bit of bling!
You may remember the shades I'm wearing from my previous post, but let me remind you darlings I have a coupon code "GSHOT50″ for GlassesShop, where you'll receive a generous 50% off either eyeglasses or sunglasses with free lenses. What are you waiting for girls – get shady!
SHOP THIS LOOK:
Photography by Offbeat Imaging
---