Forever 21 Brisbane Launch
Sunday, October 19th, 2014
'
Wearing: French Connection Pleated Dress, Saba Belt, Jo Mercer Tanessa Heels (similar style here), French Connection Silver Clutch, Thomas Sabo Pearl Bracelet.
When I first heard the news that Brisbane would soon be home to the first Australian Forever 21 store, I experienced a #tbt to 2009, where I spent November holidaying in California. Surrounded by effortlessly cool Cali girls, I embraced the american IT girl lifestyle and took a little Californian flavour back to my Brisbane life, with some fast fashion pieces from Forever 21.
Now 5 years later and I'm treated to a VIP media tour of the gleaming multi-storey retailer in Queen Street's prime position and watching the shiny yellow ribbon being cut my model/actress/blogger Alli Simpson.
Offering a delicious start to my Thursday morning, the event began with a breakfast spread including individual bircher muesli bowls, mini ham and cheese croissants, pastries and fresh fruit, catered by Lennon's Restaurant in Brisbane's newest luxury hotel, Next Brisbane. We were then escorted on a private tour of store, imprinting our footsteps on the new floor before any other shopper- a little bit special indeed!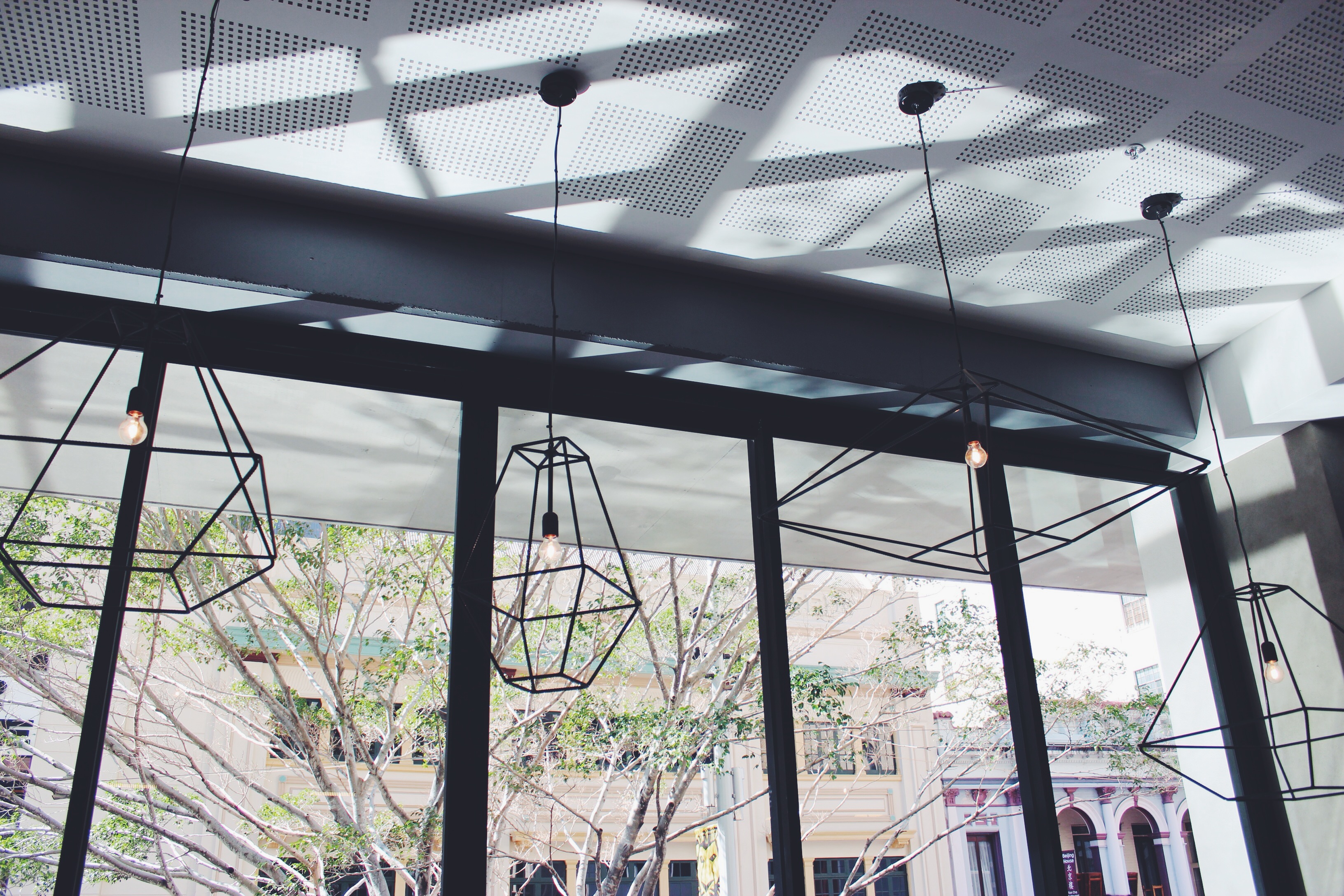 Blogger Clique: @itsconnieyeah, @zestfashionblog and @thefashionheist
Homegrown brand ambassadors Lisa Hyde from The Bachelor 14 and blogger/model Alli Simpson
With an appreciation for an organised layout, I particularly loved how the store is divided into themes, with denim trends and luxe boho/festival fashion merchandised separately, creating a clear yellow brick road for any fashionista. Other highlights included the chic mannequins with their dip-died candy coloured tresses and the girly ambience of the change rooms featuring a pastel pink and mint colour theme.
Offering an extensive summer collection divided over two whole floors, with each pieced priced to suit a minimal budget, I walked away with a little yellow bag of goodies including two contrasting print dresses and a handful of girly toiletries (@theblondesilhouette), with the best part being this little haul came to only $100!
Wearing a lemon hue, teamed with monochromatic and metallic accessories, I certainly blended in with the store's colour palette which highlights a bright yellow seen in the merchandising. It seems neon was the popular choice among other guests, with the blogger clique dressing brightly for the occasion, while being snapped in store.
A big thank you goes to the girls at The Red Republic for hooking me up with the ultimate insider experience! To my lady following, I would definitely suggest checking out this new fashion hotspot for accessible and affordable style!
SHOP THIS LOOK:
---
Supernova
Tuesday, October 14th, 2014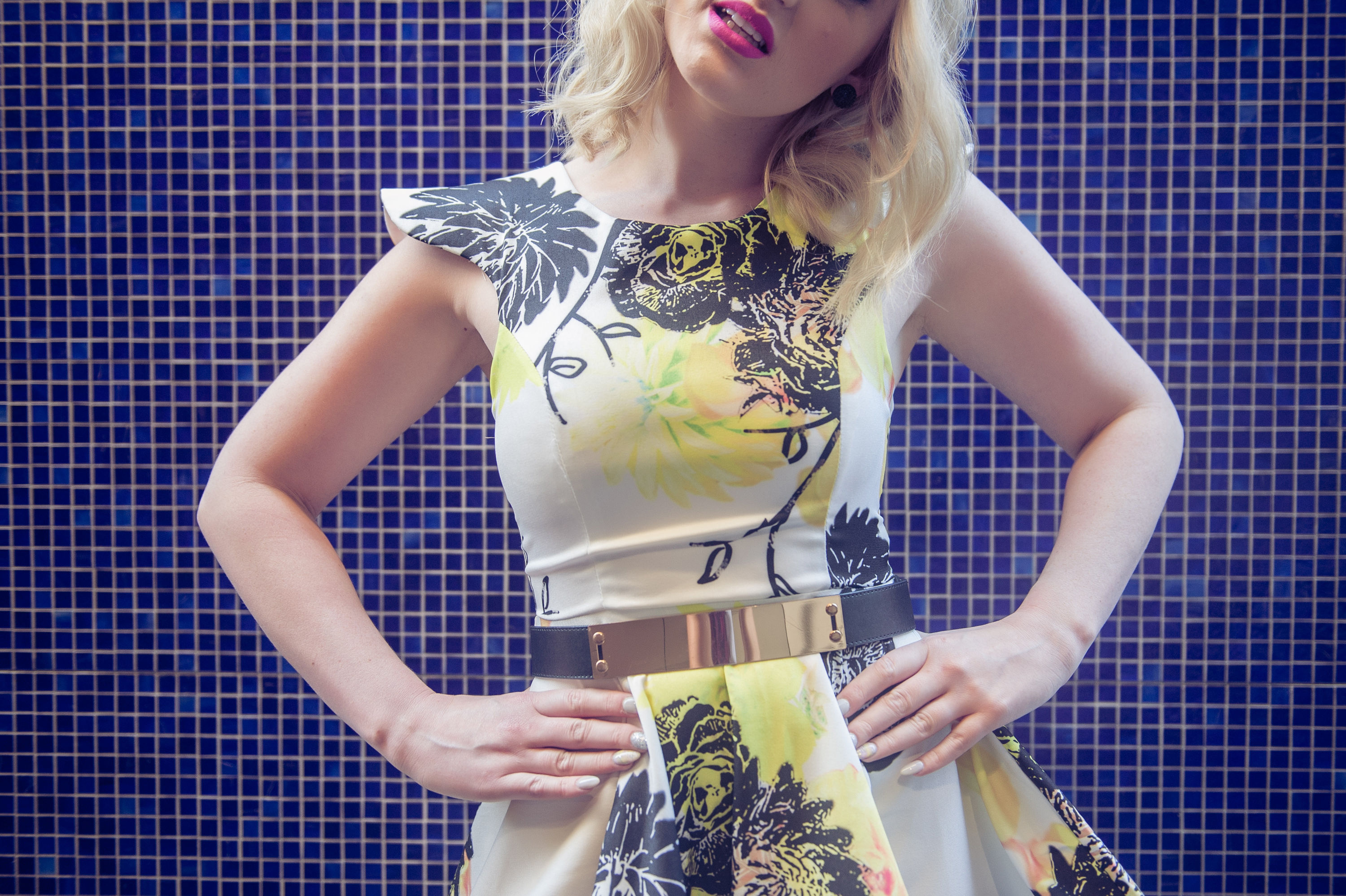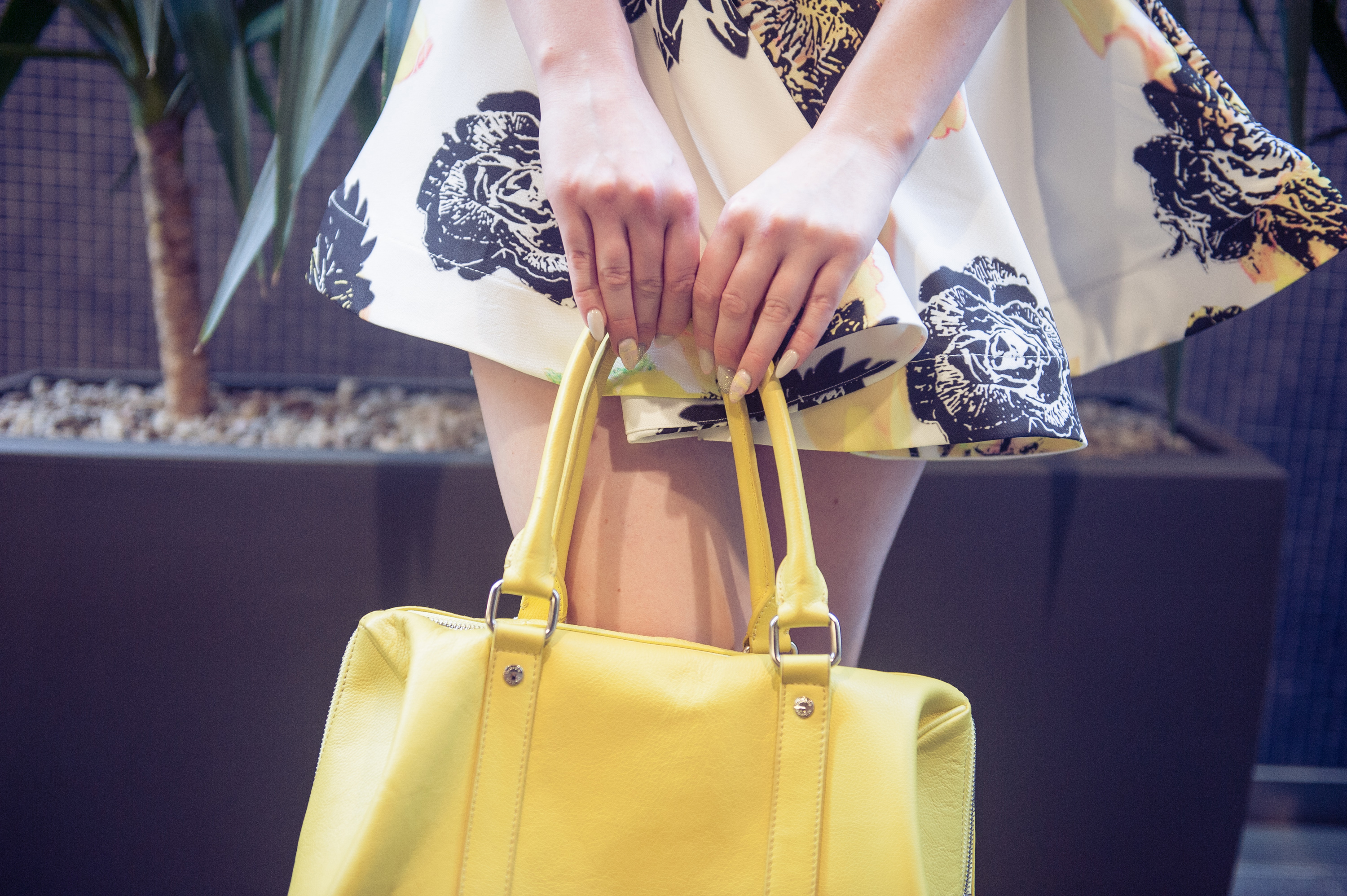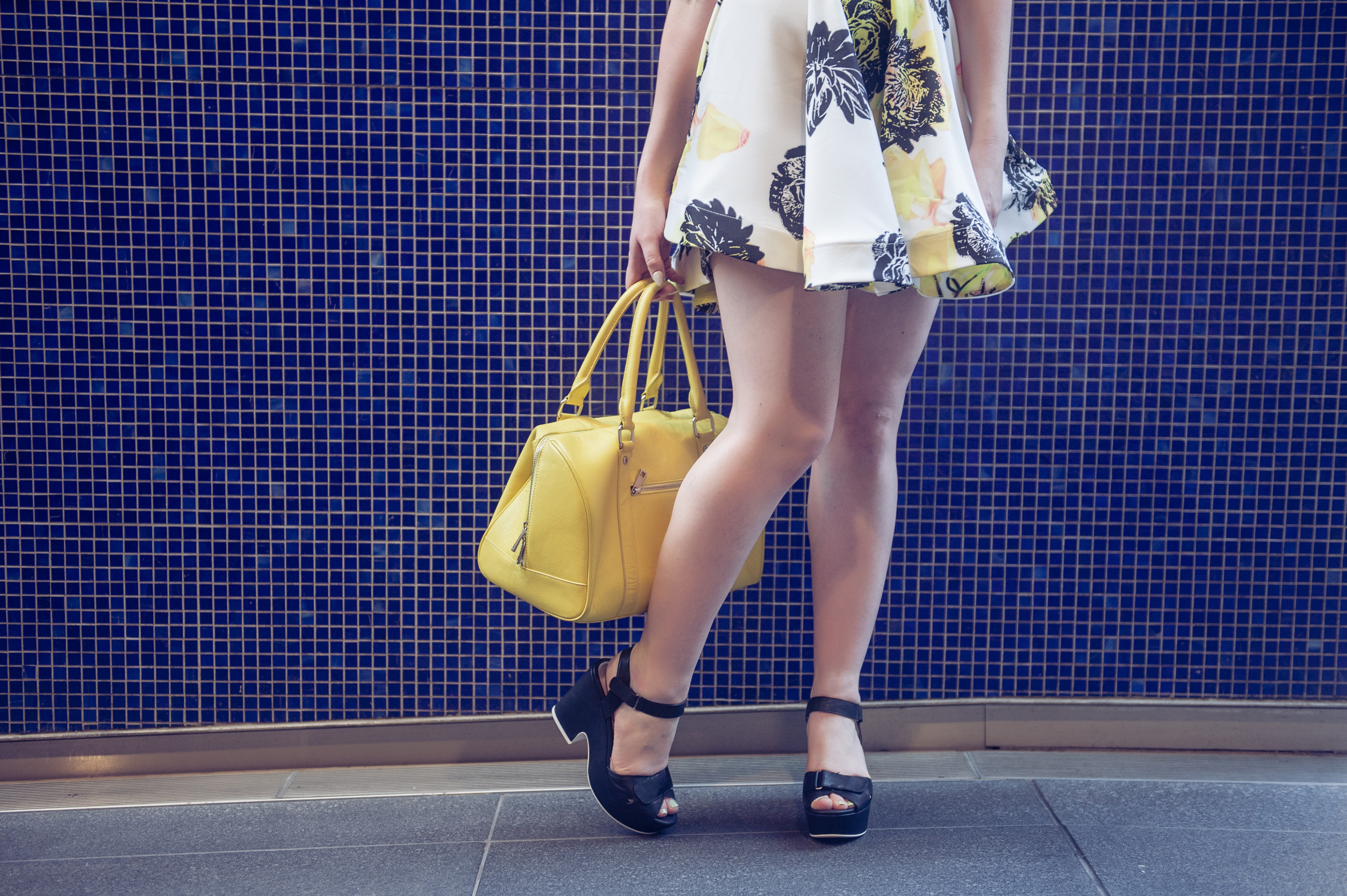 St Frock Supernova Swing Dress, Jo Mercer Devious Heels, Marcs Handbag (similar style here), Sportsgirl Belt (similar style here).
Some mornings I wake up and dress myself according to my mood. Today I'm feeling bright, bubbly and exploding with energy, so naturally I gravitate toward a vivid lemon, black and white floral pattern, replicating the perfect sunny weather awaiting outside for me. So I'm wearing my inner aura on my…sleeve whilst showing off the summer themed new arrivals from St Frock! Ps, this dress is named Supernova- rather fitting isn't it!
If I wasn't immediately sold by the whimsical nature of the floral print, then this structured swing skirt would be a close second, as I am loving the playful movement of this silhouette!  And while we are on the topic of playfulness, this flirty shade of lipstick, Candy Yum-Yum by Mac is really just as much a treat for the eyes as it is for the lips! Too bad it's not edible!
With a pair of platforms so comfy they should be called air walker, I'm in full flight, powering through my errands and window shopping (with the occasional sneaky purchase!) Photographer in tow, Erin Smith Photography and I are in search of some bright coloured locations to contrast against our sunny colour palette. Swapping our usual bright red wall for something a little cooler, this deep blue backdrop definitely has our attention. For now, you'll find us chilling!
SHOP THIS LOOK:
Photography by Erin Smith Photography
---
The "Ms Clooney"
Wednesday, October 8th, 2014
French Connection Cross Over Jumpsuit, Jo Mercer Devious Heels, Sheike Riviera Belt, Oroton Clutch (similar style here), Swarovski Sheena Earrings. 
There is no denying it; Amal Alamuddin is the most envied female right now. Aside from winning the heart of George Clooney and turning him from eternal bachelor to hubby status, she is a paragon of brains and beauty combined, with a wardrobe that can only be described as incredibly chic.
As much as I love bridal couture (and that Oscar de la Renta custom gown is particularly stunning), it is the two piece pantsuit by Stella McCartney that I'm lusting over. So much so, that recreating this timeless look was priority number this week.
This French Connection jumpsuit is the closest I have come to finding the most perfect streamline white ensemble. The draped v neckline and cinched waist creates a very flattering silhouette, while the relaxed pant adds some serious comfort factor. Eager to add a little monochrome sheik to this look, I have teamed this piece with a wide buckled belt and matching platform wedges. As I love fine detail, a simple Swarovski drop earring is seen as my only sparkle, excluding the glomesh panel on my favourite Oroton clutch.
With a bold, red kisser featuring my newest MAC addition, Ruby Woo, I'm ready to pout for any paparazzo that crosses my path. In this instance, it's my girl Erin Smith Photography that's pointing the flash in my direction, but a girl can dream yes?
…Who knows, I might attract a Clooney while I'm channeling Amal!
SHOP THIS LOOK:
Photography by Erin Smith Photography
---
Live Color Fully
Sunday, October 5th, 2014
SEPHORA COLLECTION Fall Into Luxury Baked Eye and Face Palette, MAC Candy Yum-Yum Lipstick, MAC Ruby Woo Lipstick, MAC Heroine Lipstick, Kate Spade Live Color Fully eau de parfum.
I feel there may be a few perplexed expressions as the title of this post is read by my fellow Australian fashionistas, but to set the story straight, I have not forgotten my Australian citizen status in favour of La America! That being said, I have acquired a nice little collection of beauty goodies fresh from the states, courtesy of my parents, who last month made America-a-go-go their own.
Reminding me that beauty ain't a crime, I've been spoilt with the gift of colour, seen in a selection of bold MAC lipsticks and a shimmery palette of Sephora eyeshadow. With the party season only a whisper away, I'm very excited at the prospect of pulling out some smokey eyes in my makeup routine. Accompanied with an unusual purple lip like MAC's Heroine, I'm bound to make a statement. Hey- if it's Lorde's signature shade then you know it's special!
Of course no beauty regime is complete without summer's hottest scent and Kate Spade's Live Colour Fully is just plain delicious! Flirty with laces of florals and fruit, this scent confirms one thing, this summer is going to be magical!
SHOP THIS LOOK:
---