The Breeze Caught My Kimono
Monday, September 15th, 2014
Pictured: Flocksy The Breeze Caught My Kimono Scarf

In the full swing of spring, I'm embracing multi tones of pink, pastels and florals…groundbreaking, I know! An extension of the cherry blossom print seen in The Wind Whipped My Canopy scarf, this silky statement by Flocksy paints a pale blue sky, scattered with floating cherry blossoms, illustrated by Sharon Hendy-Moman.
Paying tribute to my favourite colour, I have clashed three different shades of pink: pastel, fuchsia and electric, into a mishmash of girly meets glam. Whipping out my treasured, vintage find, a retro high-waisted Harry Who skirt, with a featured split and adorning buckles, I'm playing the conservative lady card of the season celebrating a great midi length. Tucking in a soft sheer top and accessorising with a pair of metallic pumps, I'm ready to start my girly day with a deluxe manicure before a spot of gelato with the girls.
With a ladylike garden stroll, parasol in hand, Erin Smith Photography and I present the last part of the Flocksy spring lookbook to complete the oriental story. Starting down the garden path, it is time to click my metallic pink heels and return to The Blonde Silhouette HQ. But be warned my pretties, this is not the last you've seen of Flocksy! We'll keep you posted, @theblondesilhouette @erinsmithphoto and @flocksyfashion.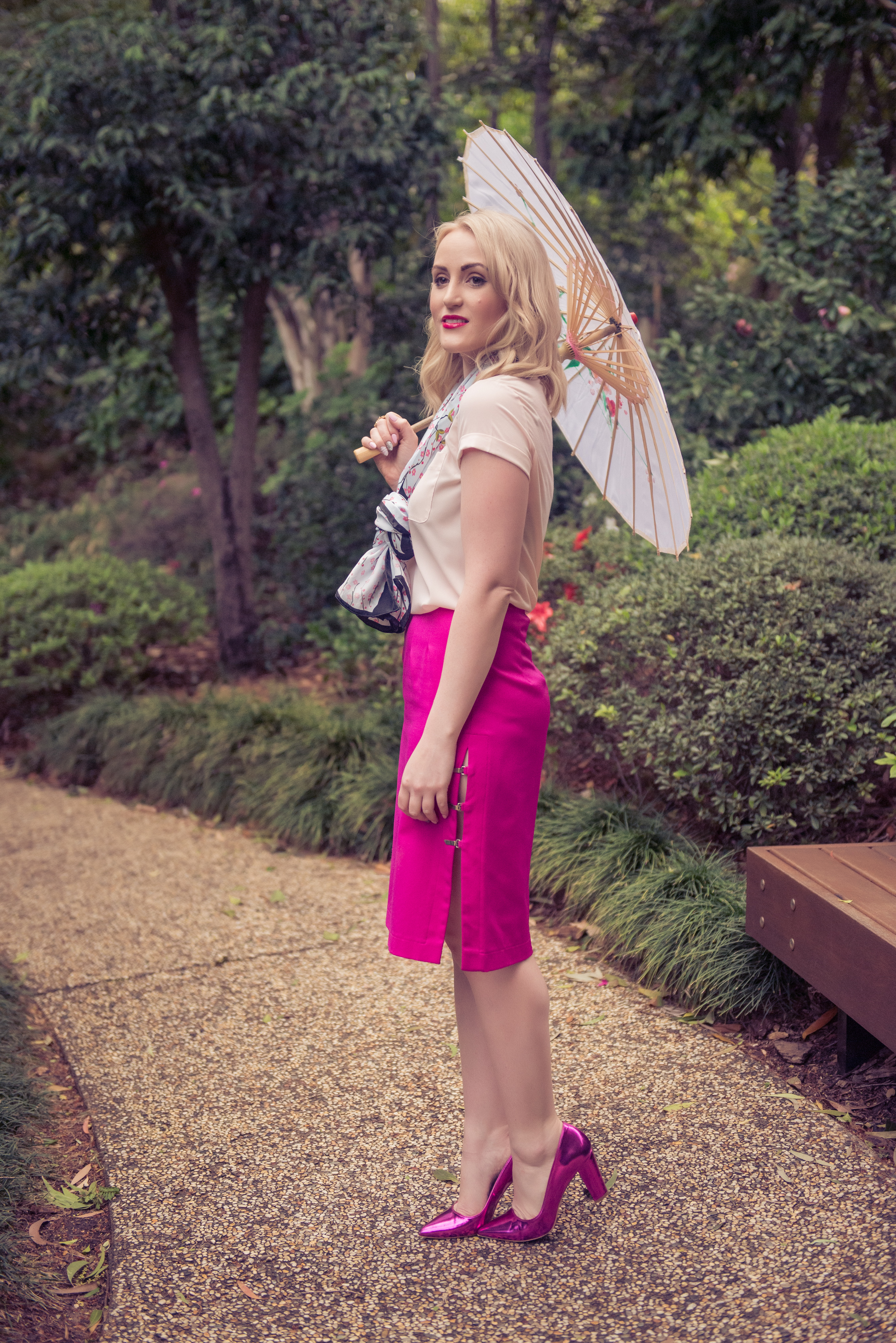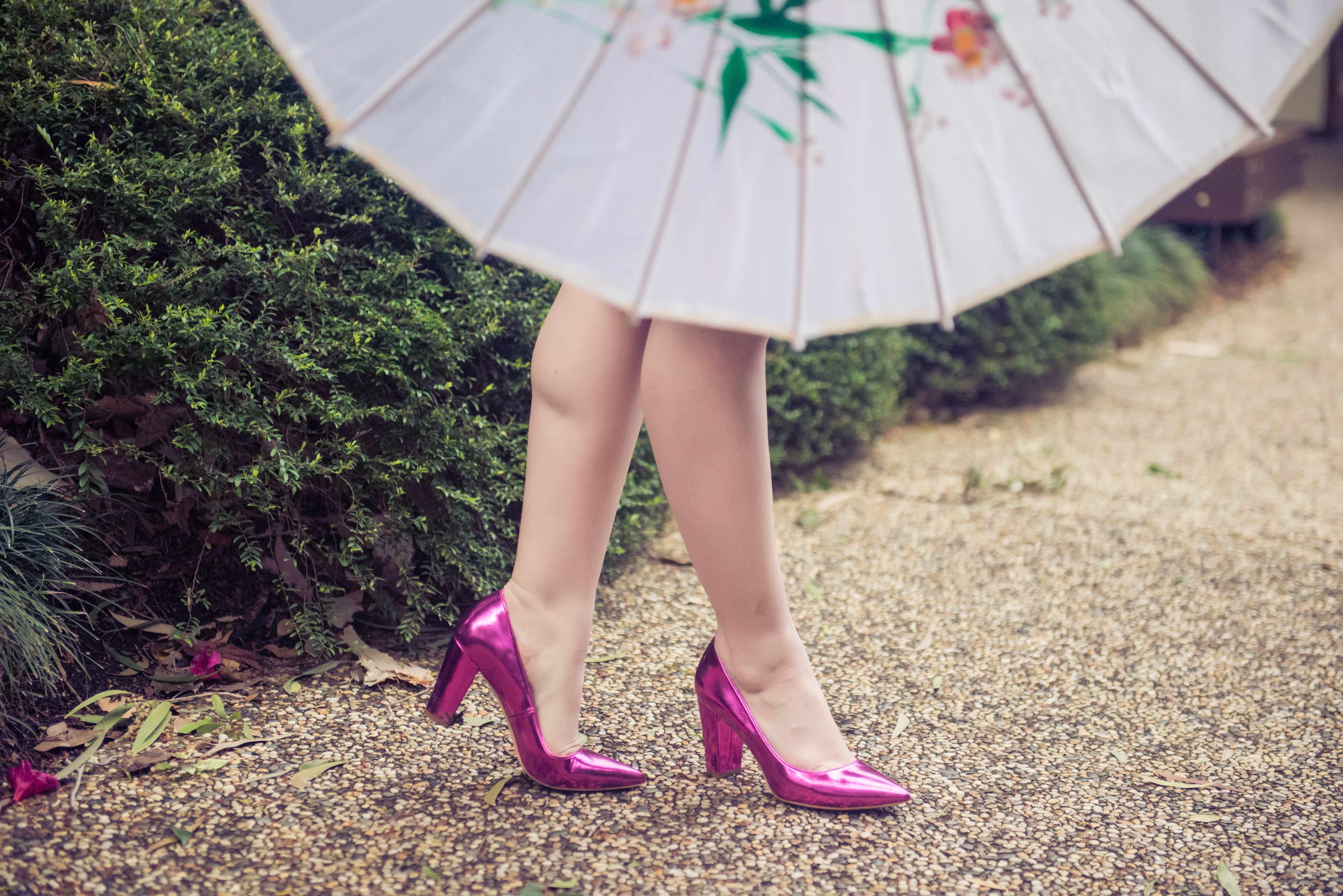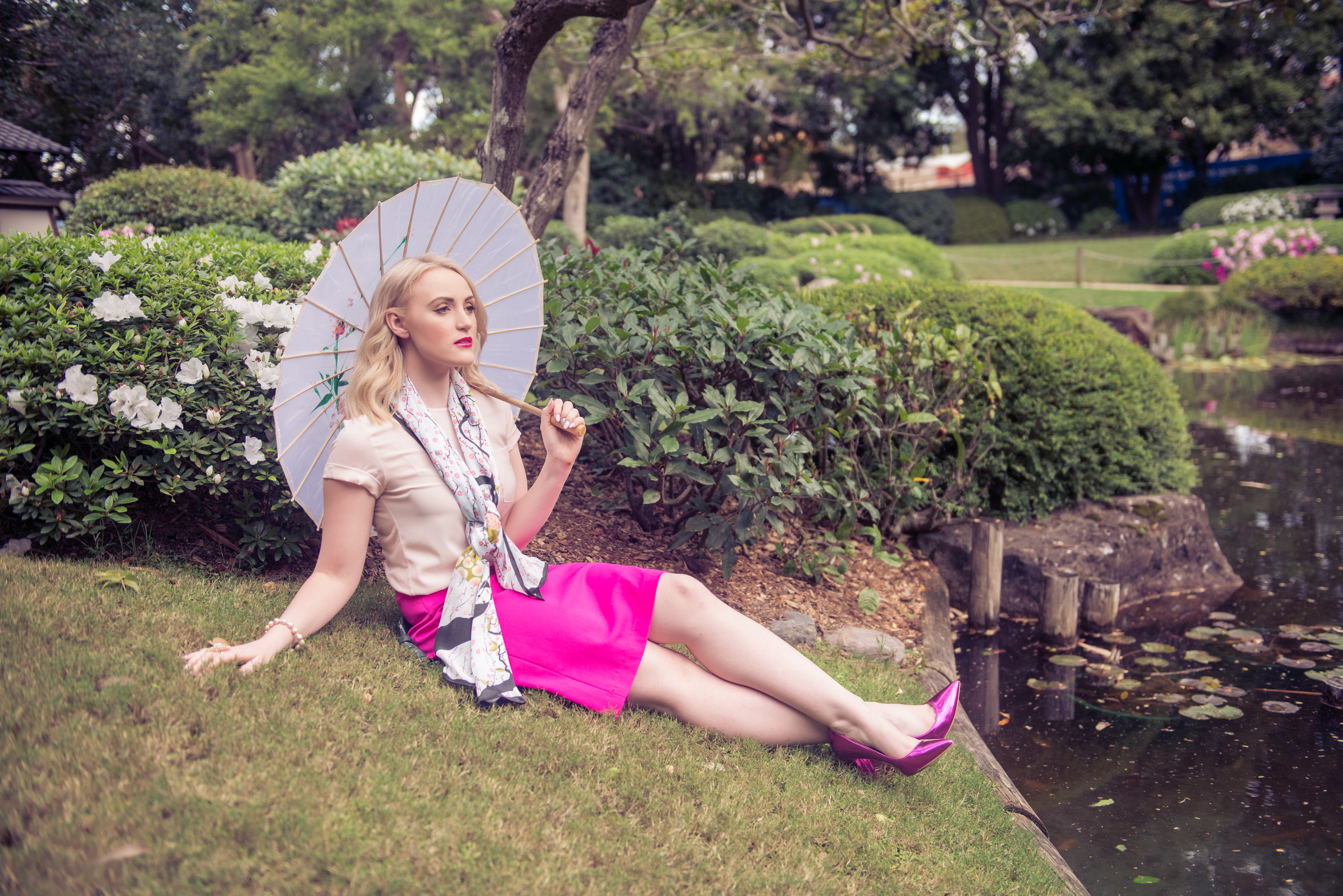 Flocksy The Breeze Caught My Kimono, Vintage Harry Who Skirt, French Connection Woven Sleeve Top, Mimco Simple Math Pump, Bowerhaus Fleur Bracelet, Peep Toe Ring.
SHOP THIS LOOK:
Photography by Erin Smith Photography
---
The Wind Whipped My Canopy
Wednesday, September 10th, 2014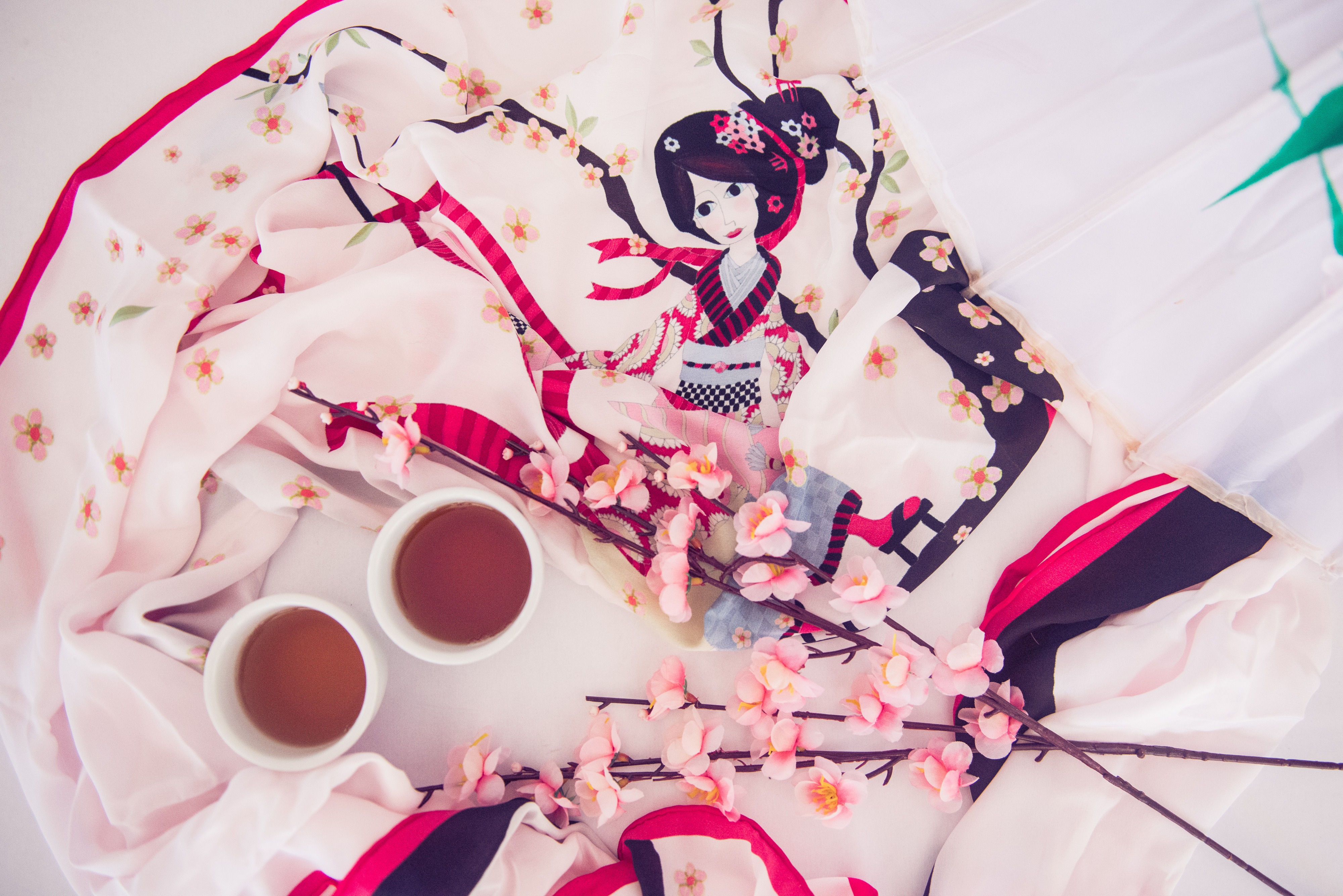 Pictured: Flocksy The Wind Whipped My Canopy Scarf
Continuing my new found adoration for silk scarves, I'm adoring this perfect cherry blossom print by Sharon Hendy-Moman, seen in my Flocksy limited edition scarf, as it floats gently in the afternoon breeze. Featuring decadent shades of pink and cherry red, this piece reminds me of the fragrant beauty that is the blossoming season of spring….if only we too could celebrate a Cherry Blossom Festival much like Japan!
Originally, I intended to style this scarf in an all white ensemble, touching upon the white on white trend that is seriously on point this season. However, with such a soft pink base, I was worried this piece would be lost against such a similar shade. So goes my decision to swap the stark white for a touch of monochrome. Teamed with a simple black stiletto and bright red lip, this look makes a classic statement, perfect for after five cocktails with the girls.
Part two of the Flocksy spring lookbook, captured by Erin Smith Photography, ends on a dreamy note, with the sun setting on the quaint little bridge nearby and the afternoon breeze kissing both my rosy cheeks…
…And while we are on the subject, why not send some love and kisses to the Flocksy Facebook Page and Instagram. With a final Flocksy feature to come, you won't want to miss any of the magic in this collection.
Flocksy The Wind Whipped My Canopy Scarf, French Connection Neoprene Stripe Dress, Cue Blazer (similar style here), Jo Mercer Tanessa Heel (similar style here), Mimco Crystal Dome Stud,
SHOP THIS LOOK:
Photography by Erin Smith Photography
---
The Tempest Drew Me Skyward
Friday, September 5th, 2014
Pictured: Flocksy "The Tempest Drew Me Skyward" Scarf
This spring, I'm declaring the oriental flavour stamped upon my style passport, seen in the Japanese influence injected into my wardrobe, courtesy of the lifestyle brand Flocksy.
Imprinted onto a luxurious silk fabric is a magical evening told in rich colours of plum, fuchsia, coral and marigold. Two figures wearing traditional Japanese costume; kimono's in varying shades of pink, are enjoying a mystical evening in the heart of the woods. Skilfully illustrated by artist Sharon Hendy-Moman, this decorative accessory is part of a limited edition silk scarf collection, exclusive to the Flocksy brand. With three distinct parts to the oriental story, this pieces introduces a vibrant start to the whimsical chapters that follow.
In terms of styling this piece, I have selected a neon pink base to allow for contrast against the intricate print. I find it important to still remain consistent in the colour palette, which is why I have chosen a similar shade of pink and encourage this rule when styling a printed scarf. Simple in structure, this dress creates a great foundation for the styling of a scarf, minimising the possibility of detracting from the statement accessory and allowing for versatility on how the scarf is tied. Aiming for a preppy undertone, I have fashioned my Flocksy scarf in a bow tie style, doubling the material around my neck before tieing a small bow with the remainder of the fabric. Teamed with an embellished nude pump and a vintage Vuitton, this look would create a little competition for Blair Waldorf, with the added bonus of a cultural style infusion!
A feminine and functional brand, Flocksy serves fashionista's with chic, ready to wear clothing and accessories, featuring unique designs and high quality, luxurious fabrics. With the success of their seasonal scarves, I for one am excited to see an expansion of the collection, especially knowing that swimwear is on the cards! Ladies, if you would love to get your hands on this exclusive, limited edition print, then make yourself acquainted with the Flocksy Facebook page and Instagram.
In the mean time, enjoy the latest collaboration, brought to you by Flocksy x The Blonde Silhouette x Erin Smith Photography.
A special mention goes to my star photographer, Erin Smith Photography, who's artistry captures the most perfect visual moments in  their colourful and whimsical form.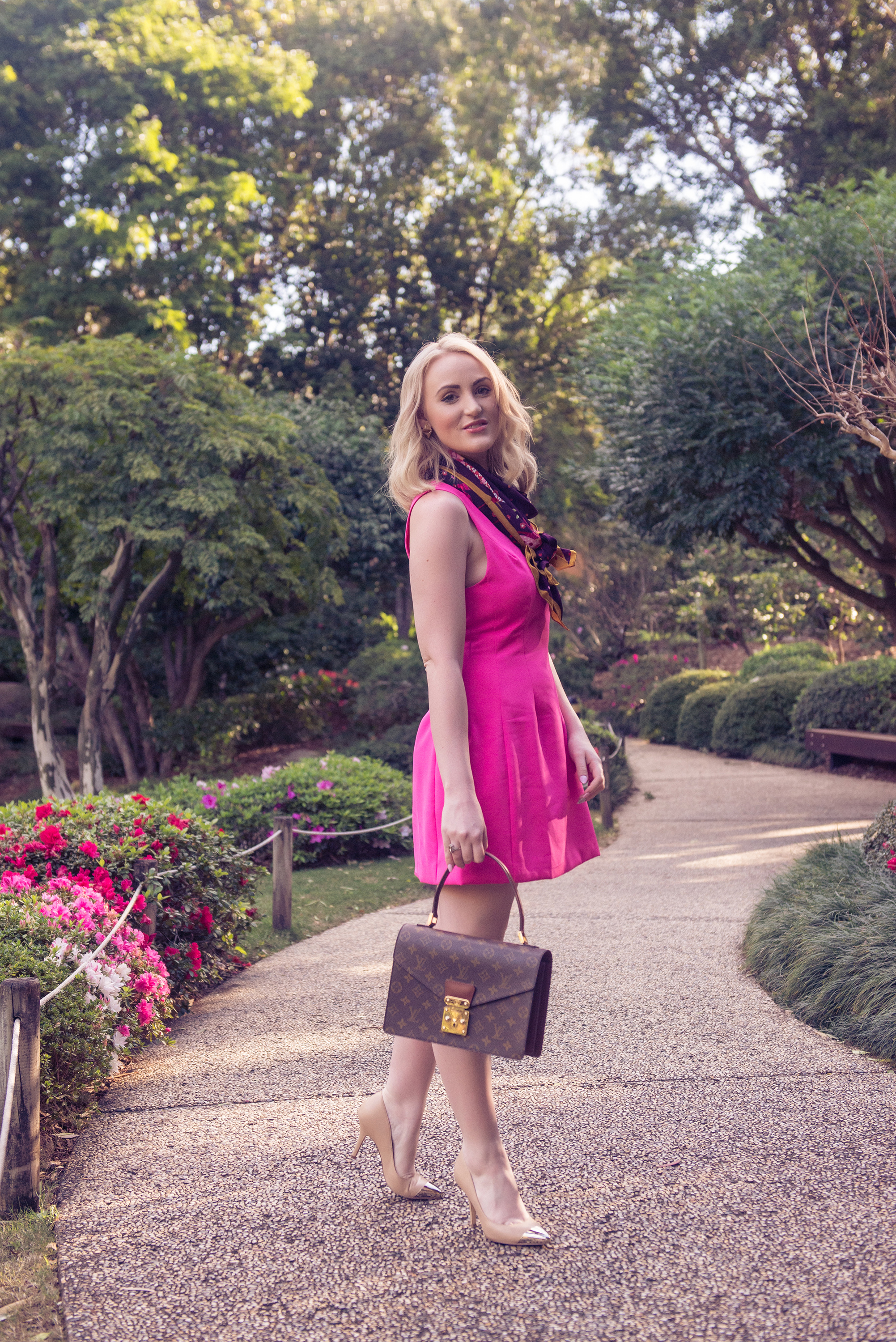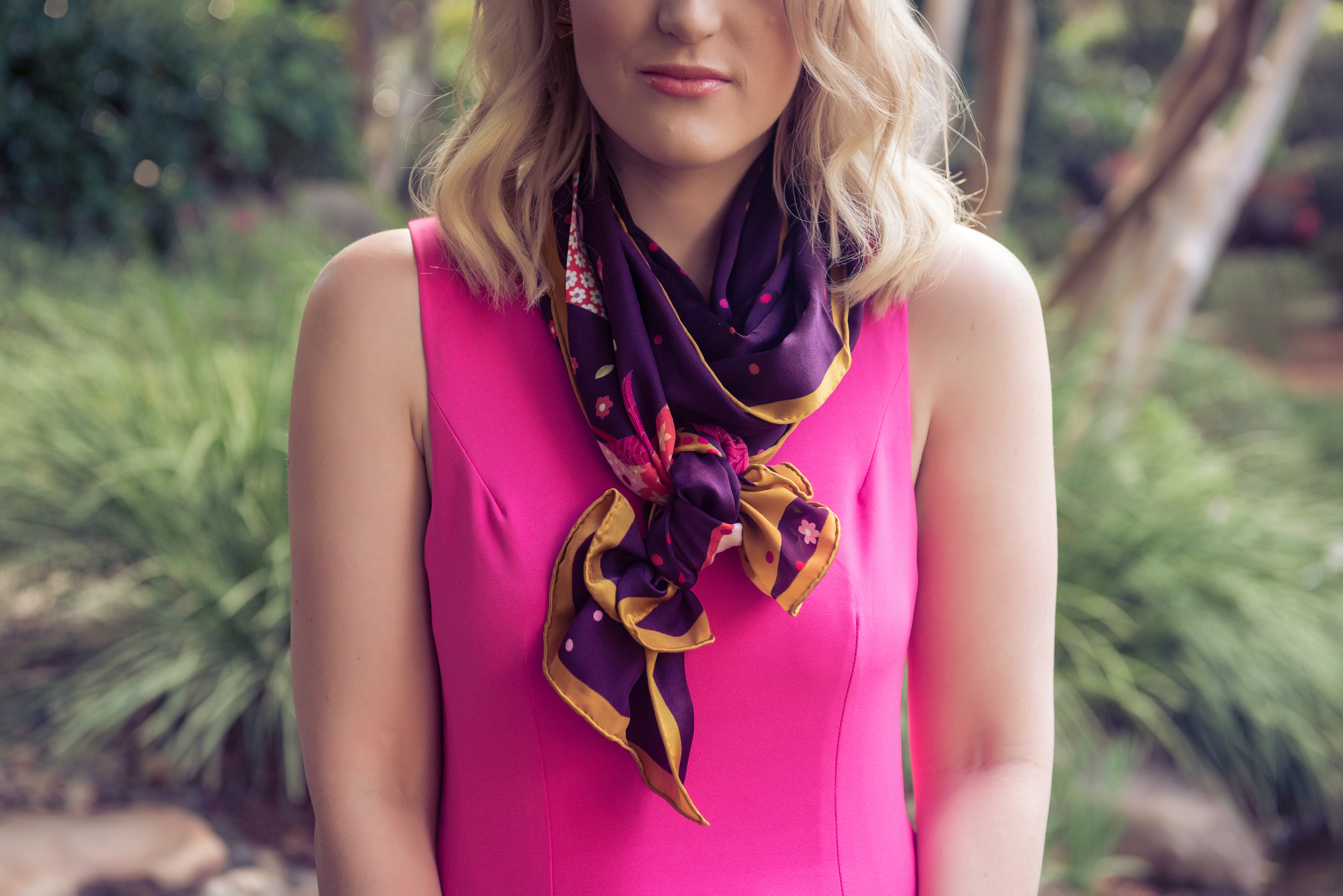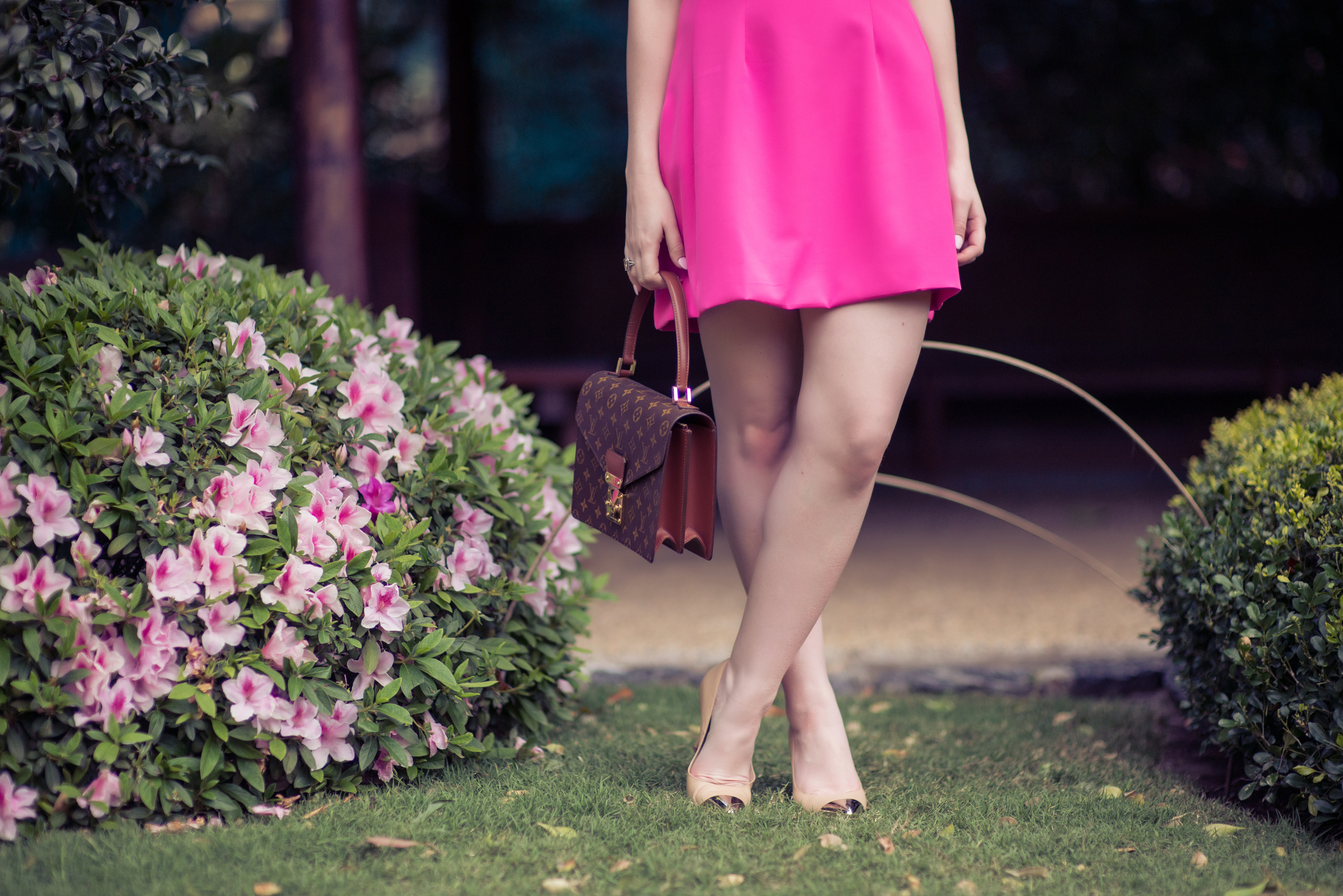 Flocksy The Tempest Drew Me Skyward Scarf, St Frock Equilibrium Dress, Jo Mercer Dita Heels, Mimco Gold Studs (similar style here), Louis Vuitton Concorde Bag, Michael Hill Teardrop Ring.
SHOP THIS LOOK:
Photography by Erin Smith Photography
---
Emerging Talent & Tutu's
Thursday, September 4th, 2014
Pictured: Cleopatra Jackson, designer of A Jacksonian Era and model
Adding a youthful playfulness to the runway, The Emerging Designer Show brought to light the talent of new gen designers showcased at Mercedes-Benz Fashion Festival Brisbane, including Begitta,  Otim Ajalia, Anna Hulm, A Jacksonian Era, Emu Designs, Peony Swimwear, Suzii K, Stokes Thompson Design and Erin Hassall.
From Swan Lake to the runway, Begitta opened the show with a theatrical selection of ballerina inspired gowns, appropriately matched with pointe shoes. Following a graceful exit, the runway saw elements of bold colour, wild prints, flowing fabrics, feathers and a hint of mystery, seen in a dramatic masquerade.
In prime position, Erin Smith Photography snapped up the most incredible looks from the runway, capturing detailed close ups and mid action strides of the leggy models. Below are a selection of our favourite runway moments from the Emerging Designer Show.
Begitta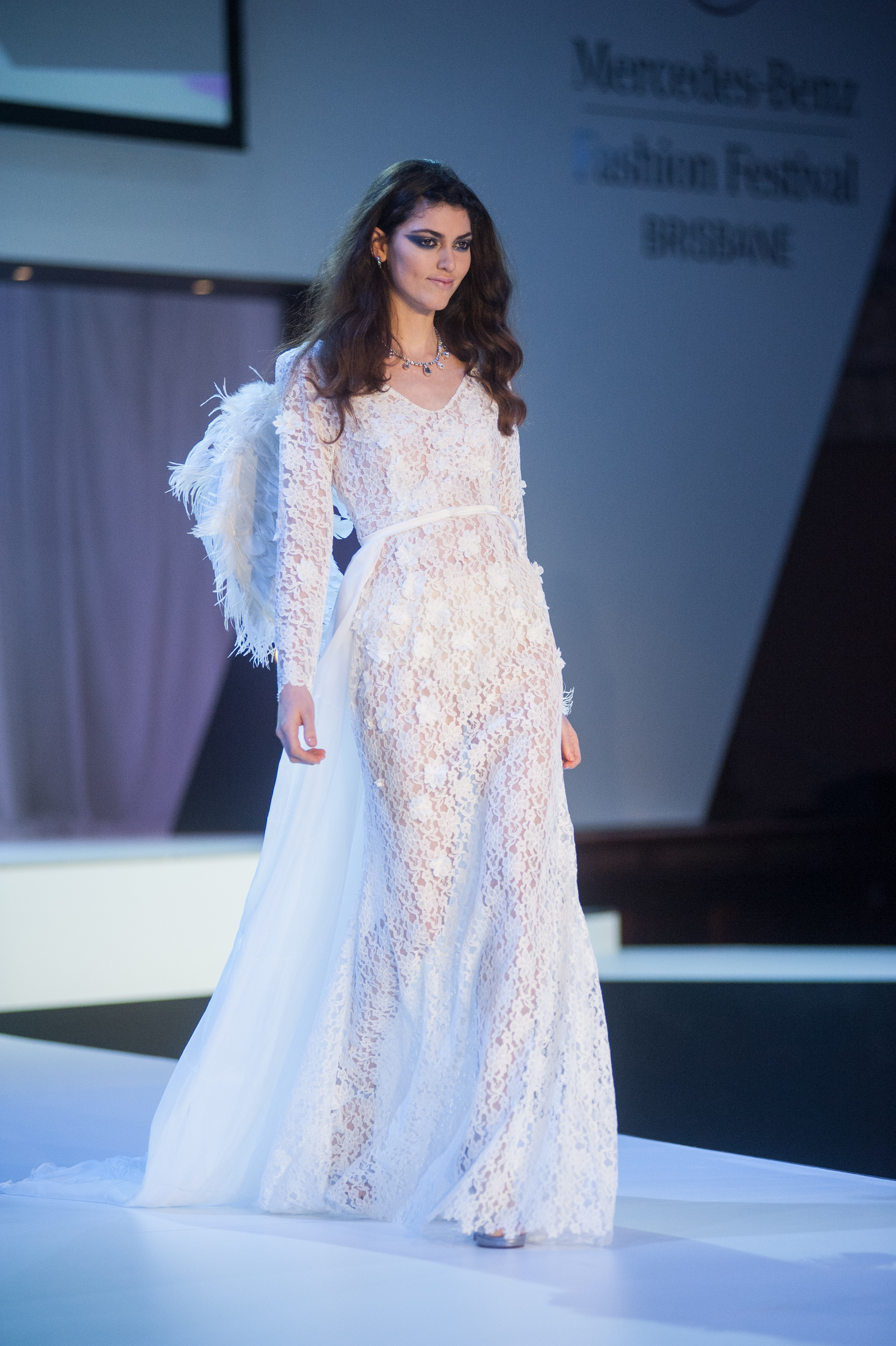 Otim Ajalia 
Anna Hulm
A Jacksonian Era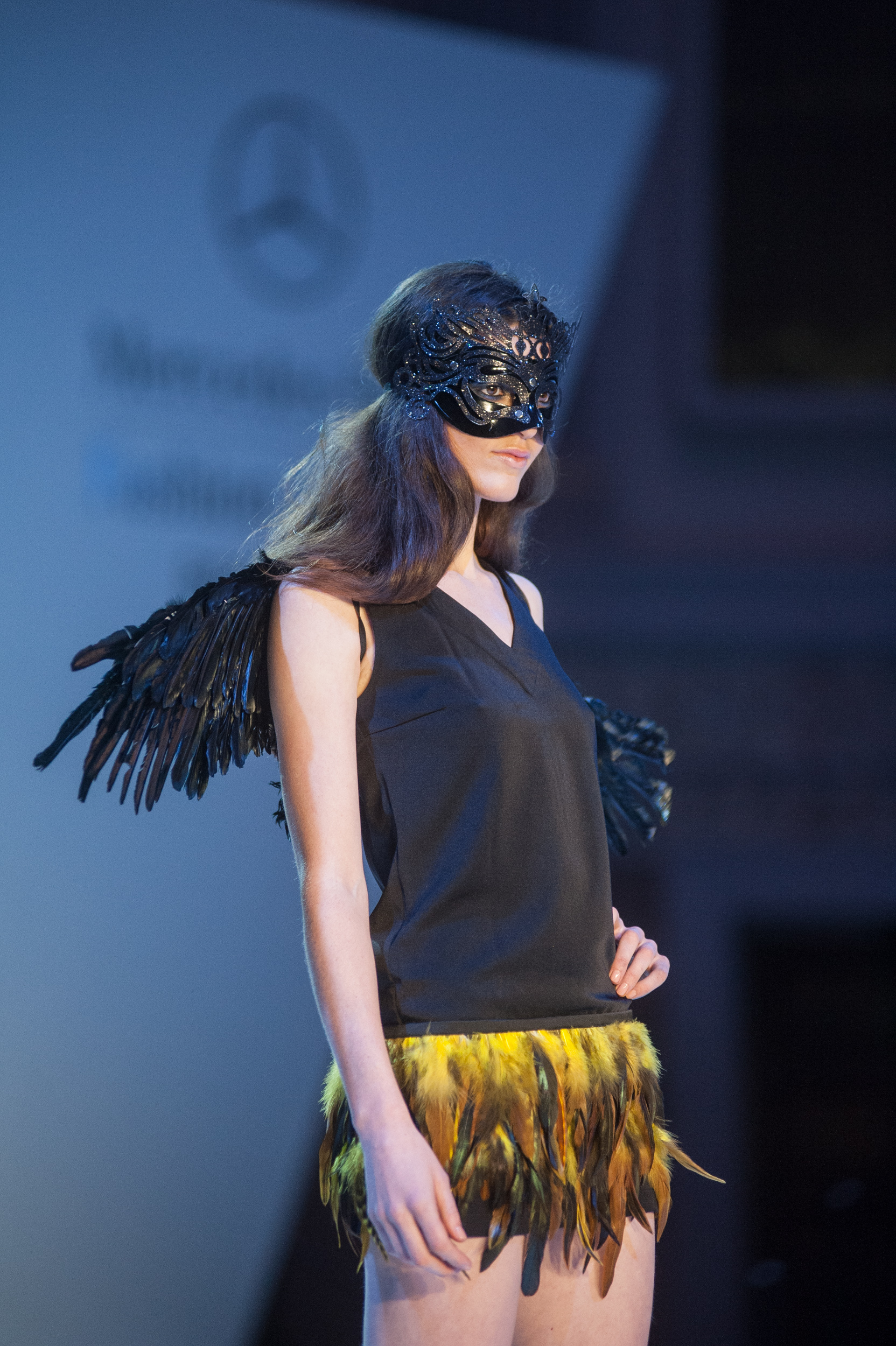 Emu Designs
Peony
Suzii K
Stokes Thompson Design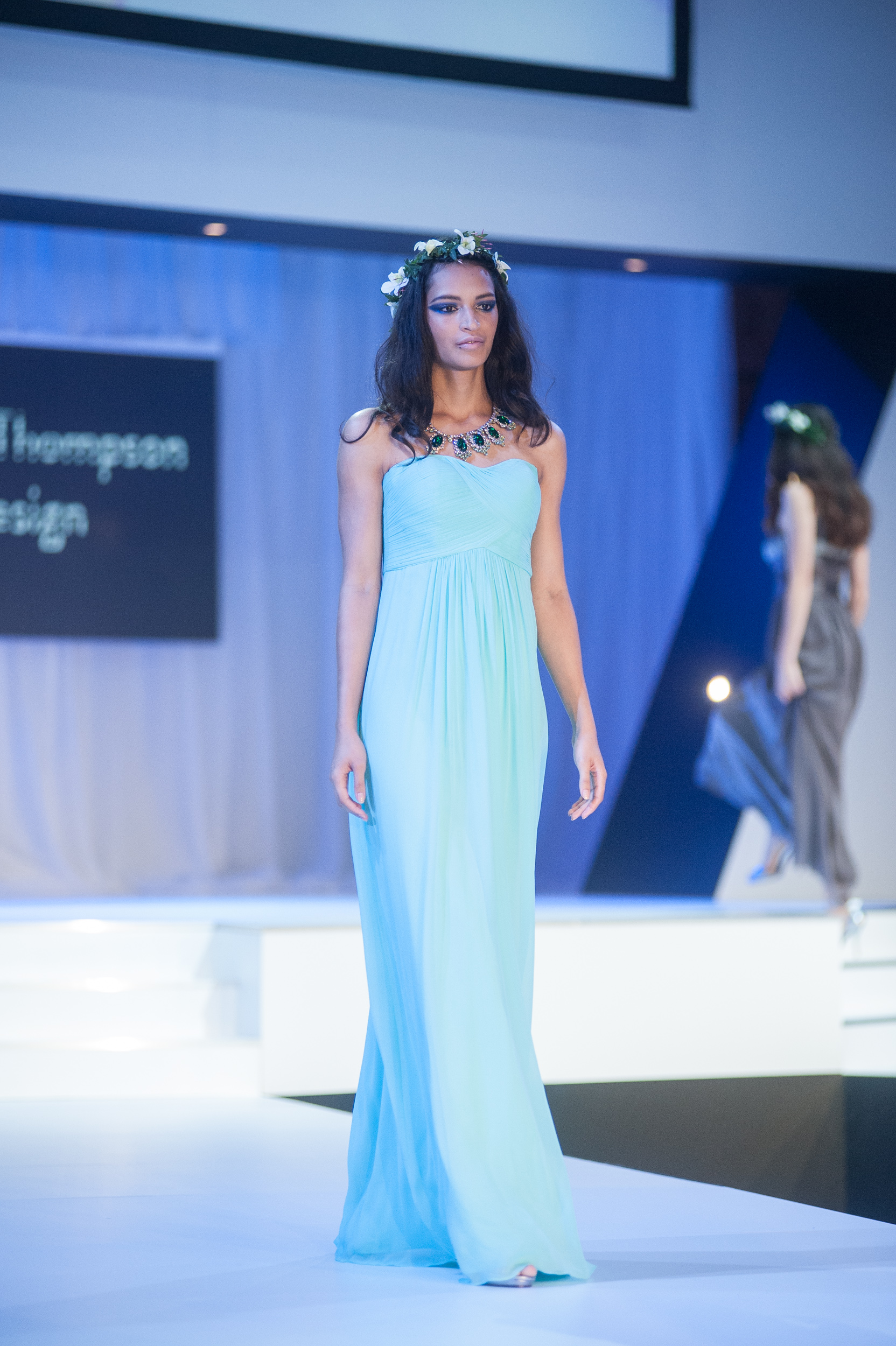 Erin Hassall
Photography by Erin Smith Photography
---