Girl Interrupted in C/MEO Collective
Monday, March 20th, 2017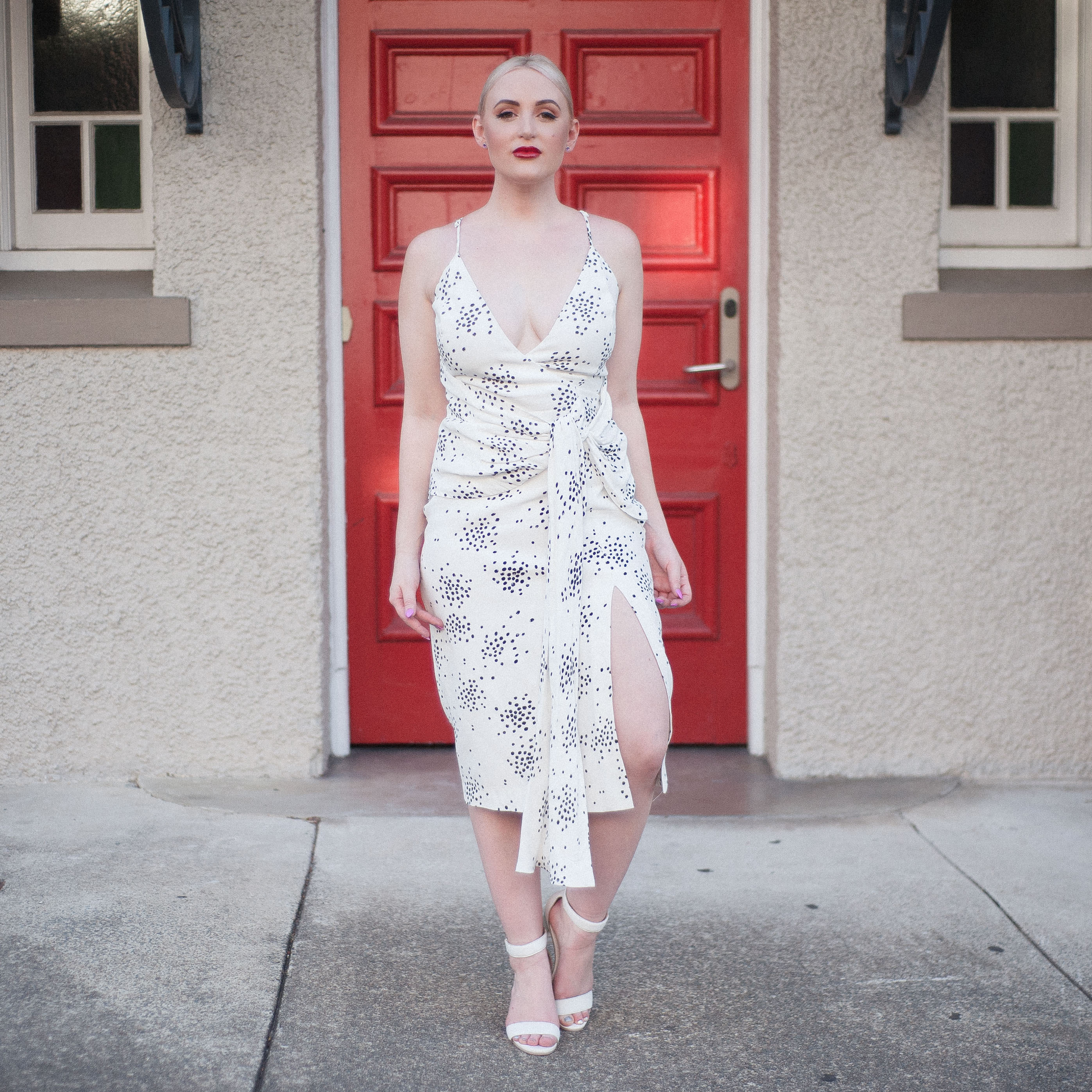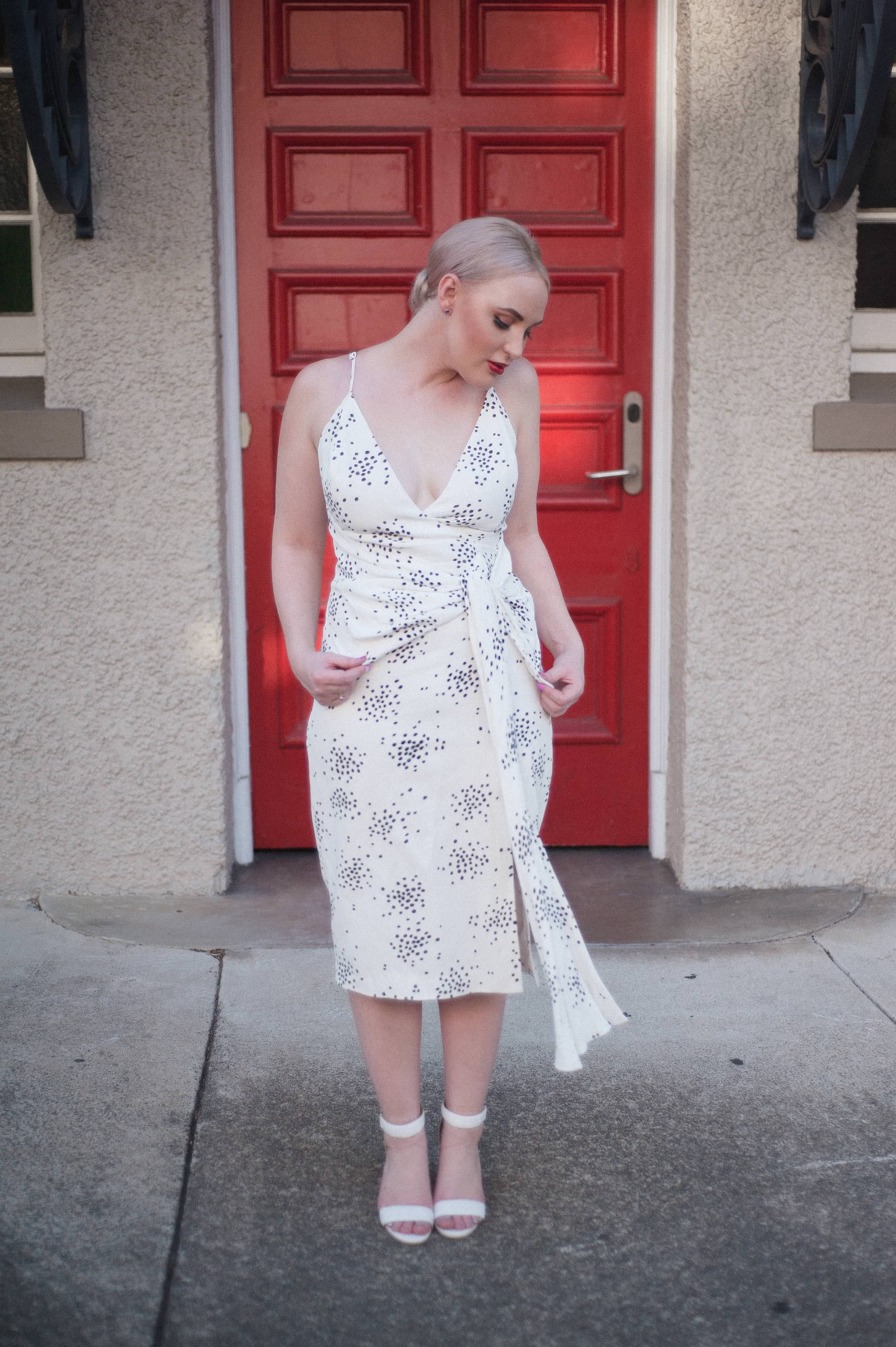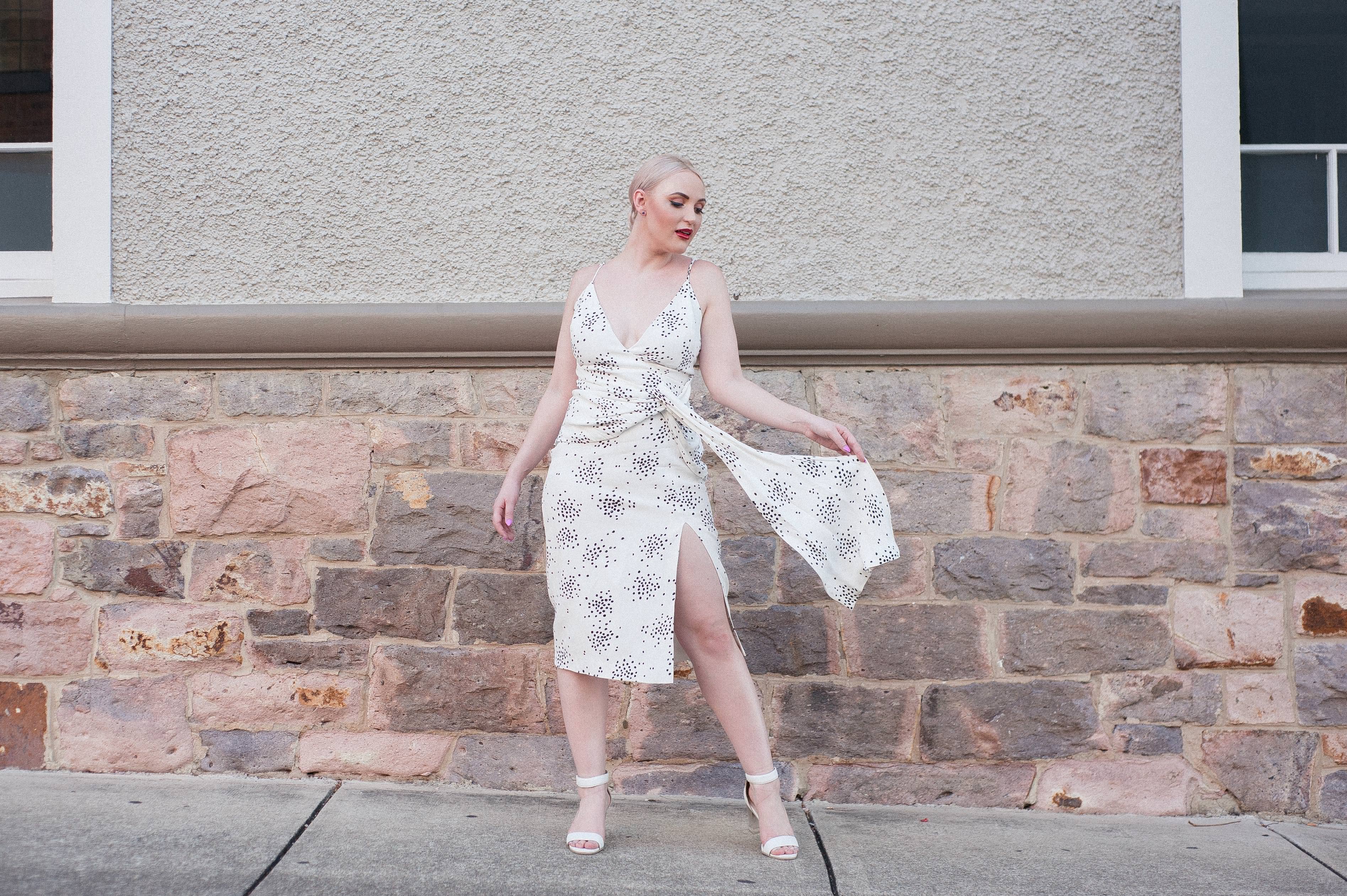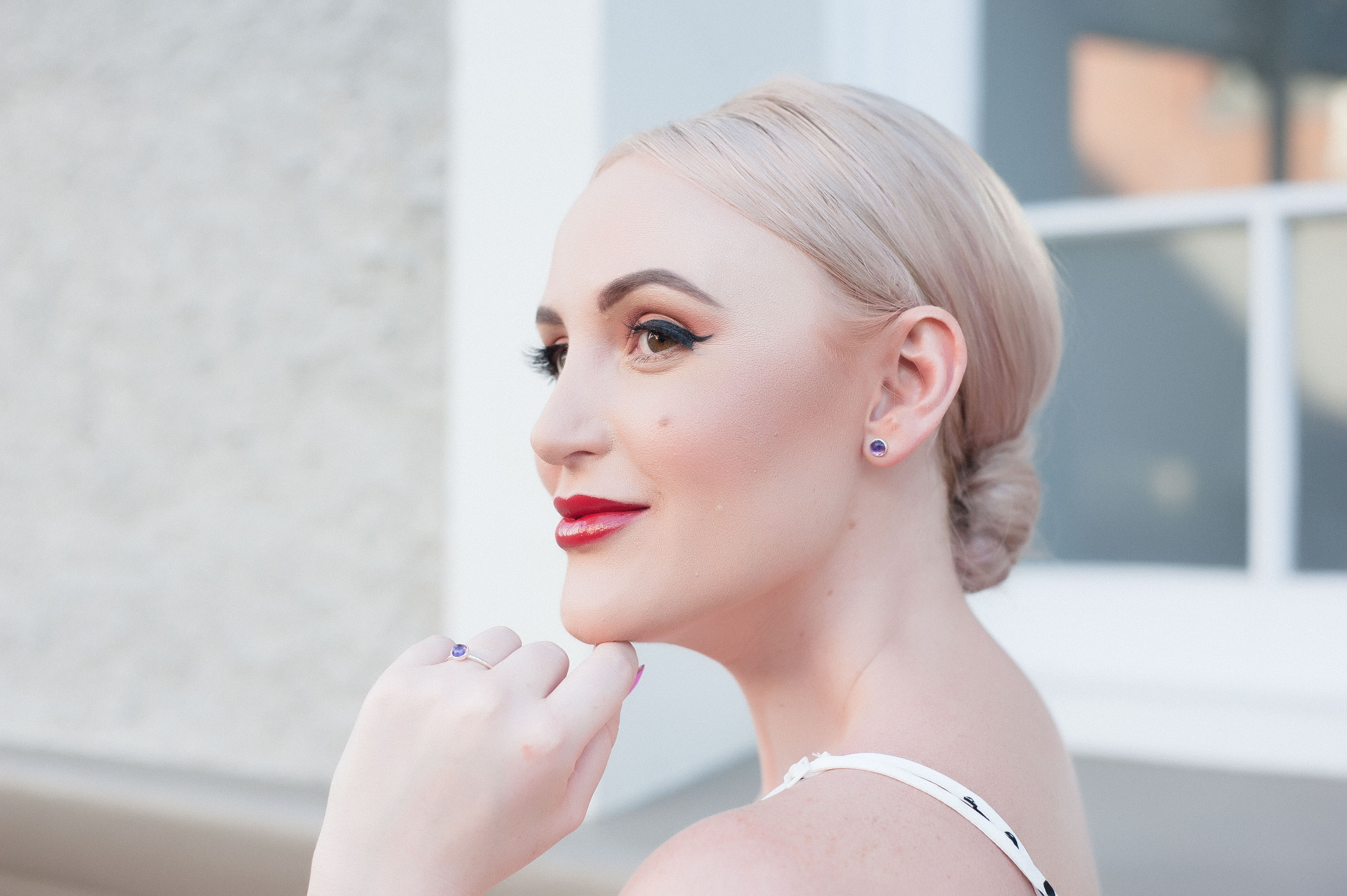 C/MEO Collective Interrupt Dress, Wittner Otto Heels, Pandora February Droplet Ring, Pandora February Droplet Earrings.
It's not often I find myself in a midi length dress, mostly due to the awkward length on my petite 163cm frame, however this C/MEO Collective frock is my current go-to! I absolutely love the detail seen in this slip dress, from the drapey structure, to the gathered waist tie. Of course, it's only necessary to pop that leg like Angelina Jolie when embracing such a fabulous side front split as this. #WERKITGIRL!
There's something very fresh about the monochromatic, confetti print and yet it's versatile enough to style as a transeasonal piece, teamed with a pair of ankle boots and layered with a leather jacket. But for today, I'm strolling along in a pair of cute heels and a bold red lippy, because Mondays need a side of glam!
SHOP THE POST:
Photography by Erin Smith Photography
---
Fit For A Queen ft Avon Luxe Cosmetics
Sunday, March 12th, 2017
Add a lavish touch to your beauty table, with the Avon Luxe Collection. Did I mention it's comprised of diamond and sapphire extract? Now that's the crème de la crème of cosmetics!
Avon Luxe Silken Foundation in Beige Linen, Avon Luxe Temptation Blush in Show Stopping Pink & Elite Mauve, Avon Luxe Cashmere Eyeshadow in Black Tie, Avon Luxe Volumising Mascara Caviar Black, Avon Luxe Couture Cremé Lipstick in Silky Apricot & Runway Plum, Avon Luxe Couture Cremé Lip Gloss in Luxurious Red & Dazzling Nude.
I'm feeling nothing short of royal as I apply the Avon Luxe cosmetic range to my beauty routine, taking in the super luxurious textures and finishes that the formula promises. This collection certainly upholds the renowned Avon reputation for crafting high quality and beautiful products, seen within the premium ingredients that have been used; white sapphire extract, black diamond powder, orchid extract and lustrous silk.
My favourite product from this collection, is the Couture Cremé Lipstick as they have the smoothest finish, having been infused with silk. The formula is super hydrating with a natural plumping agent, helping to keep my pout looking supple, plump and oh so kissable. Of course, these colours are so rich and regal, it's too easy to rule this lippy a winner.
I'de also like to point out the packaging, because this liquid gold casing is just so perfect, allowing this range to live up to it's luxurious name. Have you experienced the glam that is Avon Luxe? Let me know what luxe product you are obsessed with in the comments below!
---
Wine & Dine Me ft Ministry Of Style
Wednesday, March 1st, 2017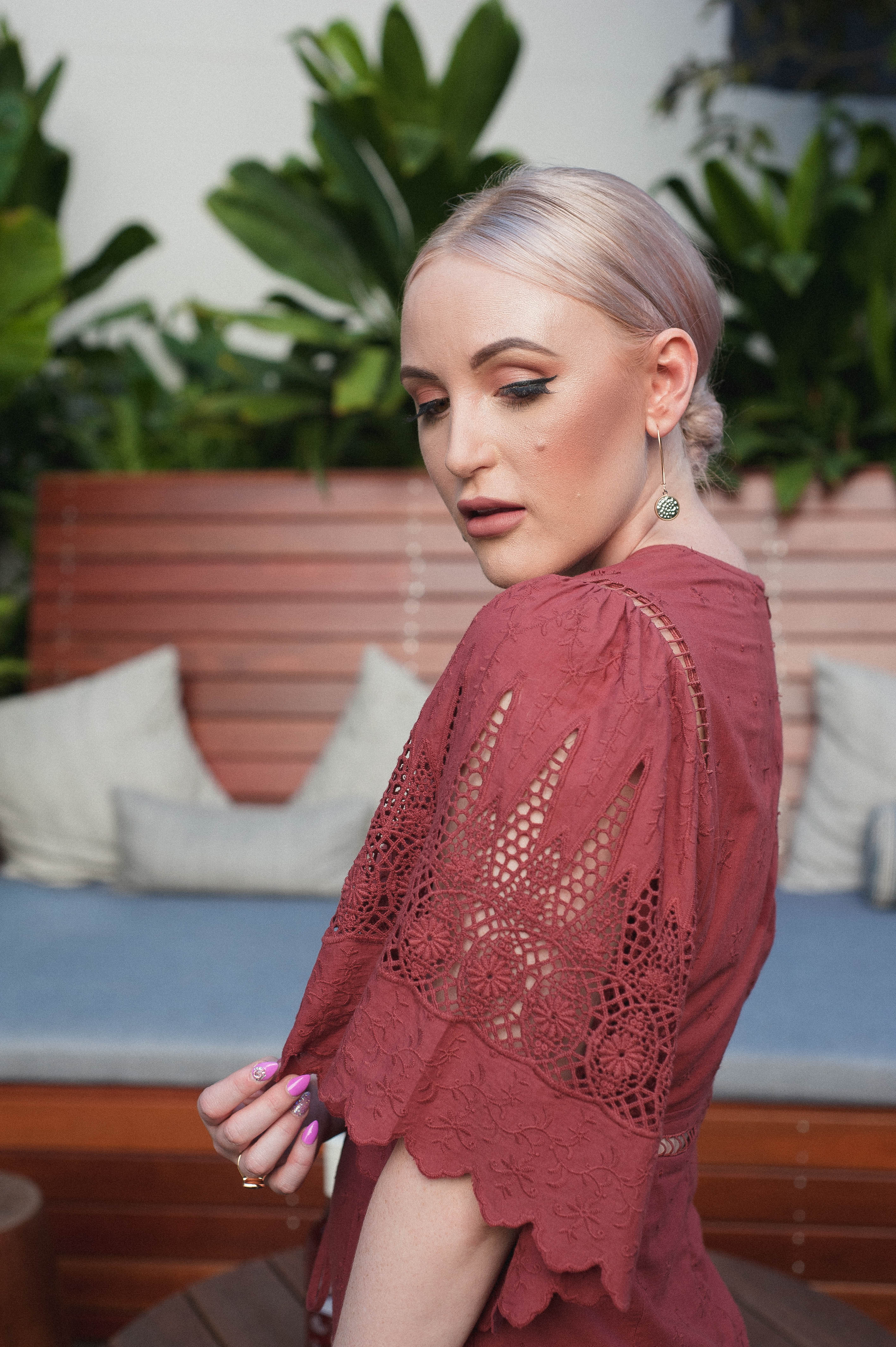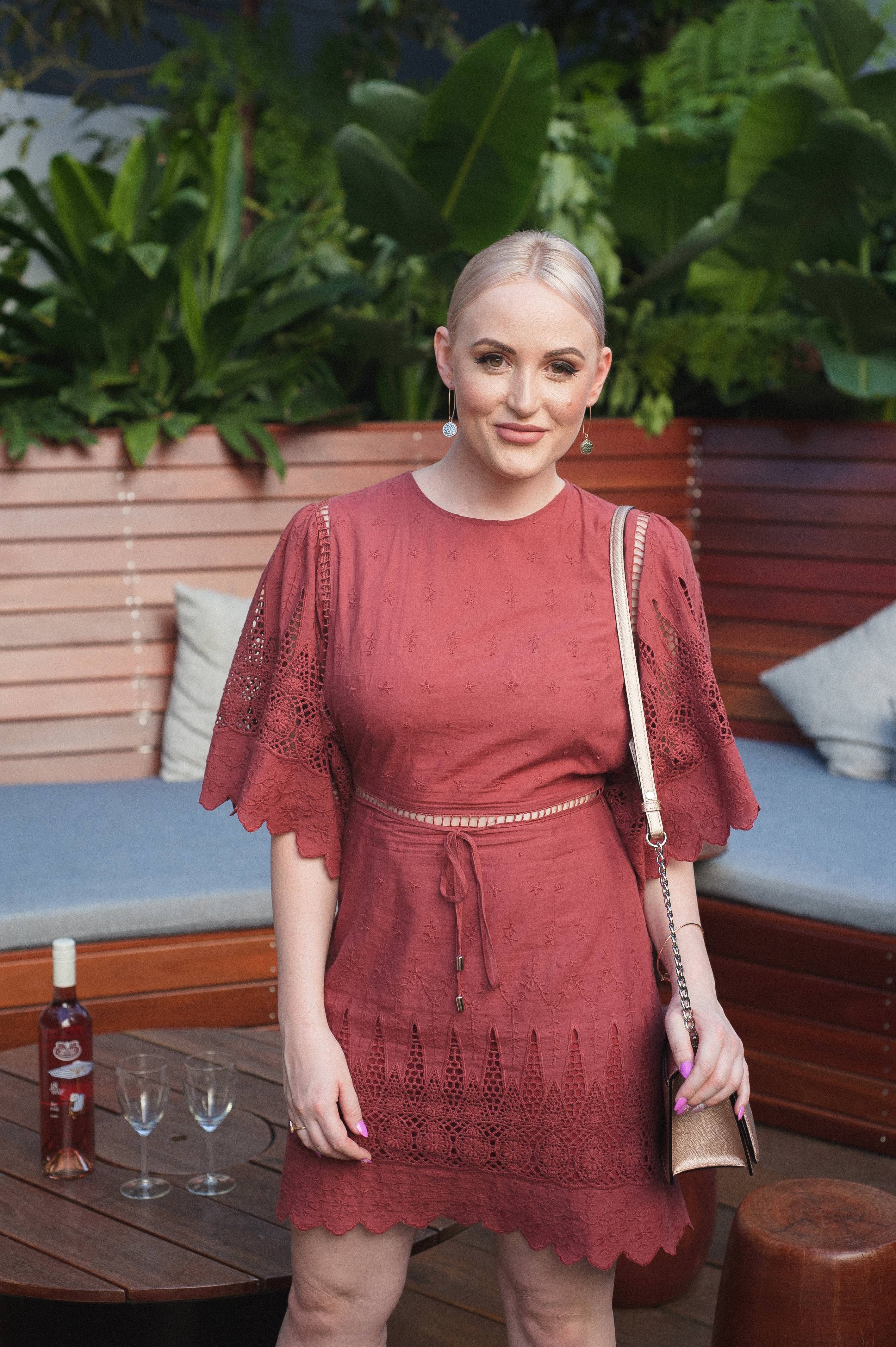 Ministry Of Style Twilight Dress, Tony Bianco Kala Heel, Oroton Forte Bag Clutch Bag, Wallace Bishop Earrings & Bracelet, Swarovski Ring.
Shake up date night by swapping your LBD for a seductive swatch, like this delicious wine hue seen in this Ministry Of Style number. As today marks the first day of Autumn, there has never been a more perfect moment to add to your earthy colour palette. Not only do I love it's colour, but this frock features such gorgeous detailing, from the flared sleeve and scalloped hemline, to the delicate fagoting that gently traces the waistline.
In line with a date night dress code, I'm teaming this piece with metallic accessories, finding that rose gold looks particularly luxe against this warm hue. Just how gorgeous are these two-tone, drop earrings and matching bangle set from Wallace Bishop? I find they provide just enough sparkle without detracting from the detailed broderie anglaise seen in the dress. Of course no date night look is complete without a killer pair of heels and these laced Tony Bianco stilettos create instant pins #goals!
I'de love to hear what makes your date night ensemble special? Leave me a comment below! x
SHOP THE POST:
Photography by Erin Smith Photography
---
7 Pieces For Your Smart Casual Wardrobe
Tuesday, February 21st, 2017
Do you ever find yourself questioning what a smart casual dress code entails? Well ladies, you are not alone, as I too have stumbled when styling this specific ensemble. A birthday brunch, an engagement soiree, an anniversary with the bae – the stylistic tone remains the same, favouring chic, clean lines and classic accessories. To make things easier, I'm sharing my Top 7 Pieces For Your Smart Casual Wardrobe.
French Connection Mozart Knit 2IN1, Witchery Side Panel Joggers, Lack of Color Ivory Fedora, Loeffler Randall Winnie Tassel Slippers, Samantha Wills Jasmine & Fleetwood Drop Earrings, Furla Bubble Keyring Moonstone, Mimco Supermicra Pouch.
A Pair of Tailored Pants
Cigarette, capri or joggers – I believe any fabulous female should always have a crisp, tailored pant at the ready. Look for neutral colours that will provide versatility with the rest of your wardrobe. I absolutely love these ivory panelled joggers as they are simple yet chic, perfect for a relaxed outdoor setting, or an intimate dinner with riverside views.
A Sleeveless Knit
This item is the perfect transeasonal piece, to be worn by itself in the warmer months and layered delicately in winter. This French Connection piece is a fabulous combination of sexy and sophisticated, with it's classic high neckline and split back detail with sheer panelling. Not to mention, it's black so it will go with everything in your wardrobe!
A Metallic Clutch
Because a tote is not always practical for those cheeky Espresso Martini's in a crowded riverside bar. Metallics help to elevate even the most neutral colour palette, taking you from desk to dance floor in seconds.
A Fabulous Pair of Loafers
Comfortable and totally on trend, a girl needs a pair of loafers as part of her shoe-robe and who can resist these metallic, tasseled slippers? If Cinderella had a pair of these perhaps she wouldn't have needed to leave the ball so promptly, amiright?
A Chic Hat
I recently found myself at a spectacular little picnic for the launch of UberEATS. Relaxed setting – tick! Delicious treats – tick! Chic, casual style – tick! The only thing that was missing, was a classic hat like this effortless Lack of Color Fedora. Need I remind you how fabulous Amal Clooney looks in a hat? Inspo!
A Pair Of Drop Earrings
There's nothing quite so sophisticated as a statement drop earring, especially when paired with an effortless nape of the neck hairstyle. Samantha Wills is delivering the goods with this simple pearl design and rose gold hardware. Divine!
A Bag Pom
Perhaps the cheekiest little accessory you'll ever own! I've just added my third bag pom to my collection (thank you Ted Baker) and I'm not about to stop until I own one in every pastel colour! Adding just the right amount of playfulness to an outfit, a bag pom highlights a flair for accessorising – talk about goals!
 SHOP THE POST:
---