Singin' In The Rain Opens In Brisbane
Sunday, September 25th, 2016
Weather forecast: keep those brollies handy, because Brisbane's in for a spot of rain! Last Friday evening involved frocking up for the red carpet roll out, for opening night of Singin' In The Rain.
Wearing Cue. Photographed by Erin Smith Photography.
Growing up within a musical family, I was constantly introduced to the best of the silver screen and stage, developing an early love for musicals. As a fan of the original movie, I was so excited to hear that Singin' In The Rain would soon tour Australia, arriving at my local theatre Qpac in September.
I will admit I was a little broken hearted in the lead up, to hear that Adam Garcia would no longer be headlining as Mr Don Lockwood, however his replacement Rohan Browne did not disappoint. He was utterly charming, bold, handsome, had a beautiful voice, and boy, could he move! Unsurprisingly he wins over the beautiful Kathy Selden, portrayed by talented Gretel Scarlett, and a beautiful love story unfolds.
My favourite character throughout the show was none other than SYTYCD champion Jack Chambers. Playing Cosmo Brown, he injected a colourful character on stage, wowing the audience with his effortless dancing and comical flair. Make Em Laugh did just that, leaving the audience in stitches as Chambers delivers hilarious choreography, quickly becoming a highlight of the show. What can I say, I can't resist a man with a great sense of humour.
As a whole, the show was spectacular, from the high energy seen in the initial Hollywood scene, to the final splash and dance number. I was particularly impressed by the ensemble, who brought the hustle and bustle of the movie industry alive, while in tune and in sync, and dressed impeccably in 1920's fashion.
As for the iconic, titled scene, well – I won't spoil that for you. But I will say if you're sitting within the first 3 rows be sure to bring a poncho!
One of my favourite trips to the theatre, this show is a MUST-SEE! Don your best LBD and head to Qpac pronto for a magical stage and screen experience. Click here to book your tickets to Singin' In The Rain. In the mean time, enjoy this cheeky sneak peek from the Australian Cast. 
*Note Adam Garcia does not appear as Don Lockwood, due to an injury he sustained mid tour.
---
Tres Bien! Why I'm Loving Breton Stripes
Sunday, September 18th, 2016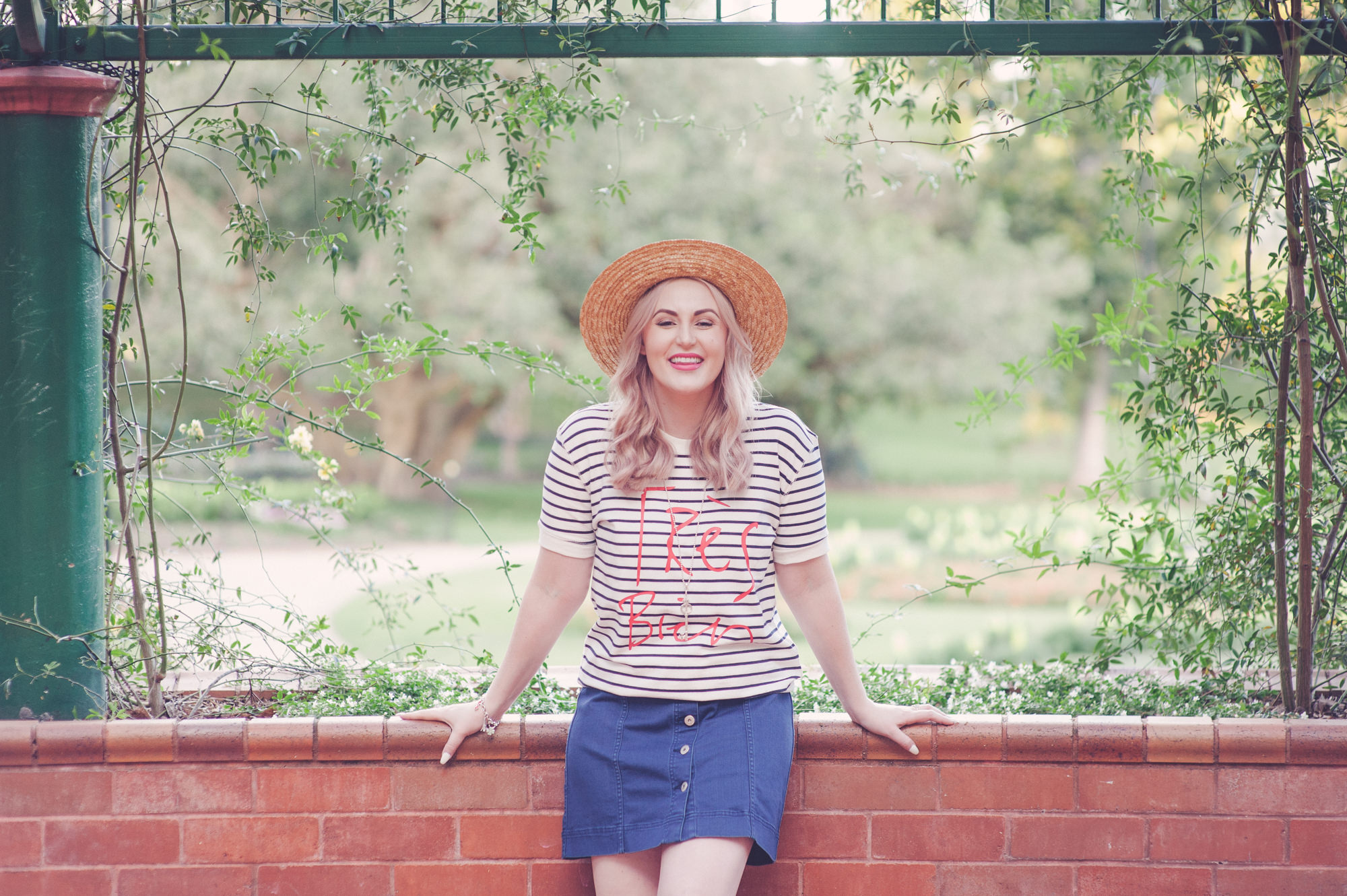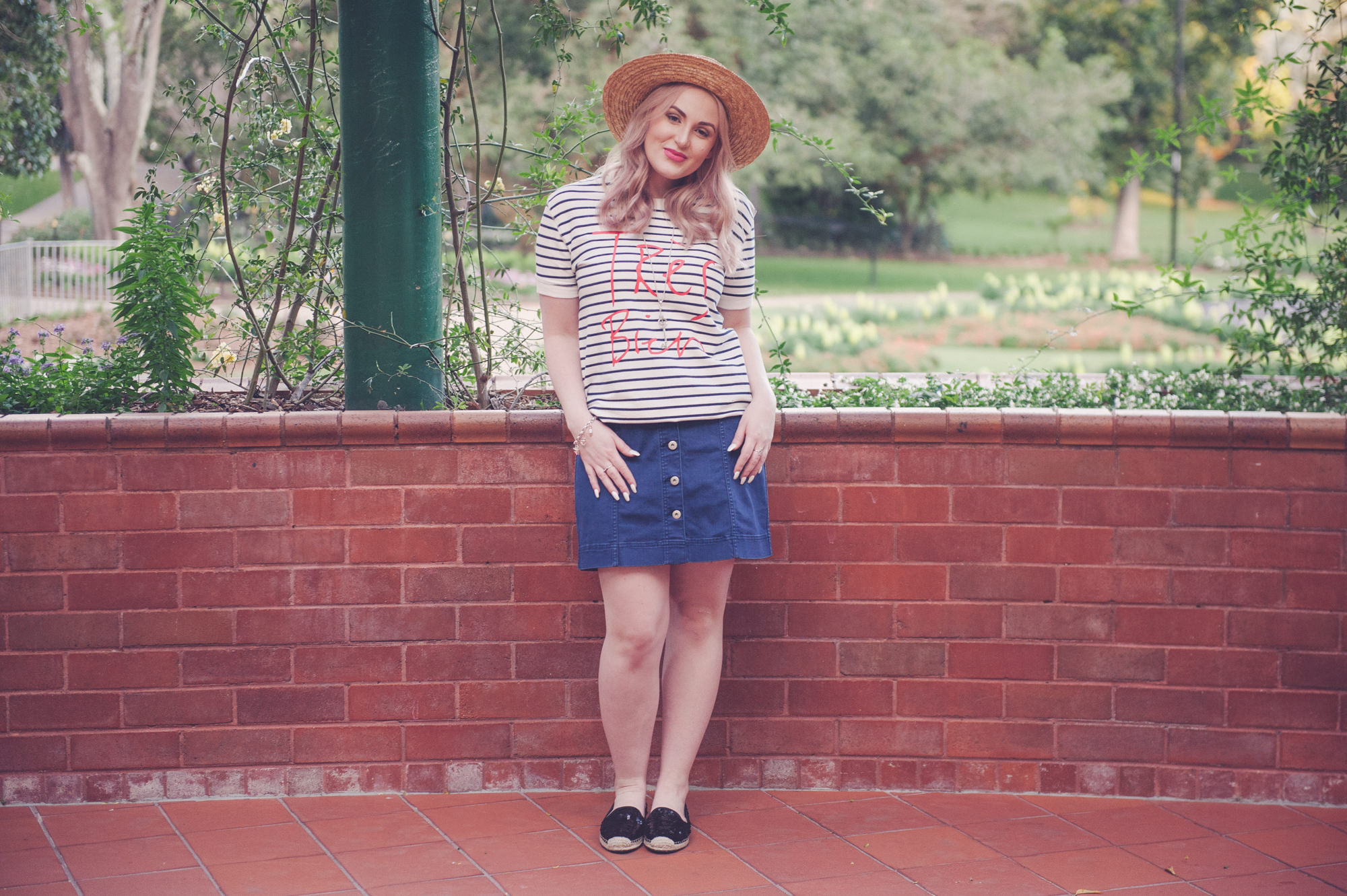 Witchery A Line Denim Skirt, CHRLDR Tres Bien Breton Stripes Tee (similar style here), Wittner Energi Loafer, Lack Of Color The Spencer Boater, Thomas Sabo Key Pendant (similar style here), Thomas Sabo Charm Bracelet.
If there's one stylish detail that I cannot resist, it's a bold print. Floral, animal, aztec or abstract, I've found nothing creates a more striking look than a bold print. As it so happens, I'm particularly partial to breton stripes, as I love how this pattern is synonymous with chic Parisian style.
I'm teaming my new jersey tee casually with a denim skirt – totally practical for the warm spring weather in Brisbane. A pair of sequinned espadrilles and a boater straw hat are the perfect accessories for my little Parisian getup, and a stroll in the sunshine. Au Revoir!
SHOP THIS POST:
Photography by Erin Smith Photography
---
Wireless Beats With Sudio Sweden
Sunday, September 11th, 2016
Where pristine sound quality meets stylish Scandinavian design, these Sudio Sweden headphones are a must-have for any tech enthusiast.
Sudio Sweden Vasa BLA Pink Headphones.
Amongst the excitement of the announcement of the iPhone 7, are some concerns around the missing headphone jack. However, I'm ready for the upgrade, now that I've added a pair of wireless headphones to my collection of tech gadgets, courtesy of Sudio Sweden.
When it comes to technology, Sudio VASA Bla delivers studio quality, elegant design and up to 8 hours of wireless freedom. I've never heard a clearer sound, as these headphones feature a carefully tuned driver and amplifier to separate the sound of every instrument recorded on the track. The result offers a studio experience – it's like listening to Selena Gomez live as I type this very post.
As for aesthetics, these headphones are exquisite and stylish, available in a range of colours and metallic hardware. Naturally, I couldn't go past the pastel pink option with gold hardwear and a matching pink leather case. With a minimalist design, these Sudio Sweden headphones are super light weight and fit conveniently in even the most compact clutches.
For extra treat, I've got a special discount with your name on it, enter the code THEBLONDESILHOUETTE for a cheeky 15% off your order! For more details visit the website here!
---
Wearing White At Night
Sunday, September 4th, 2016
Up until only recently I had always thought of white as more of a day colour, due to it's light and fresh aesthetic. With the exception of the time I purchased clogs, this has to be one of my most foolish, fashion faux pas. Get up to date with a blanc dress code, and see why you need a LWD (little white dress) as part of your evening wardrobe.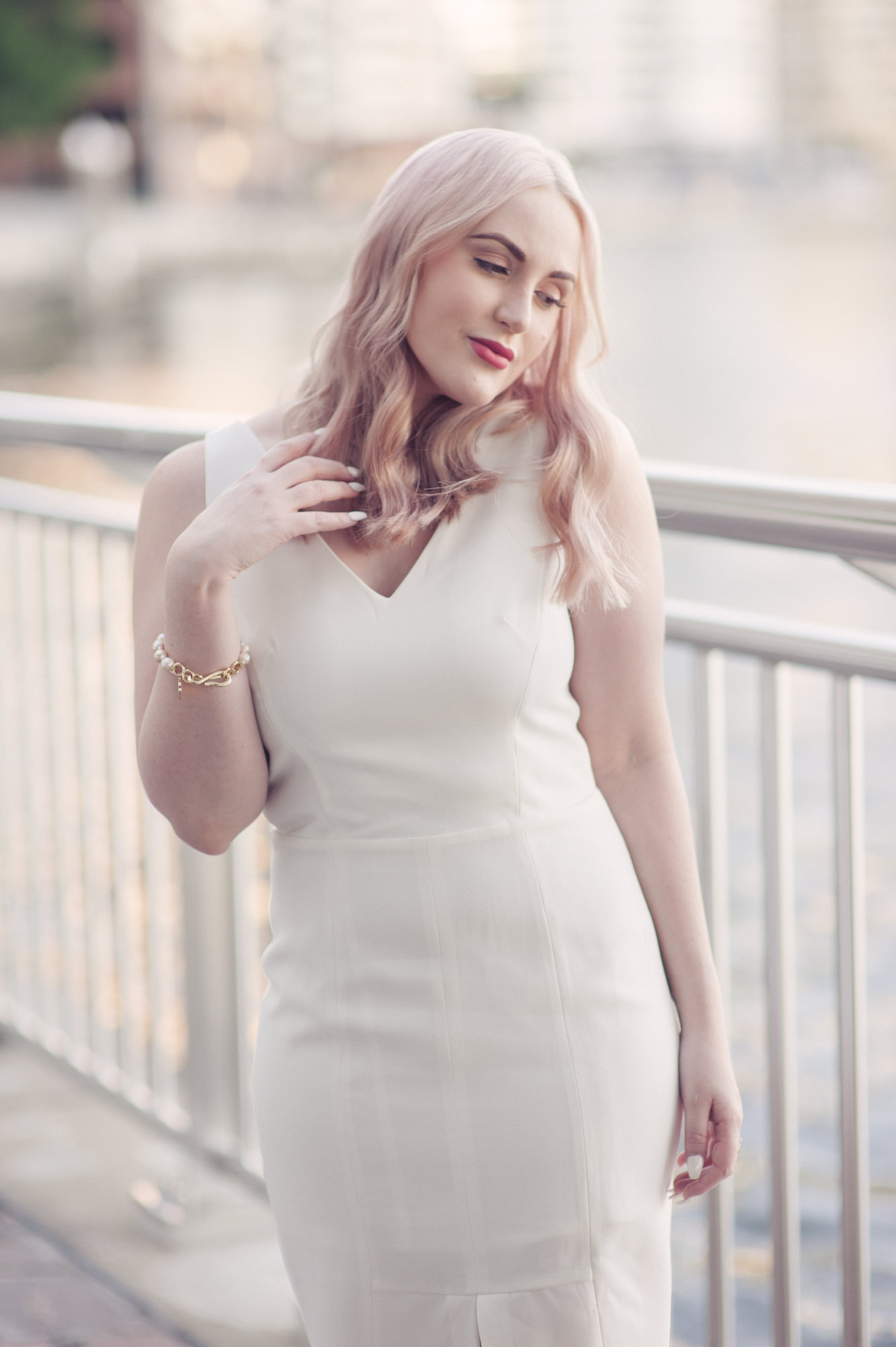 Honey & Beau Isabella Fitted Dress, Wittner Alice Heel, Mimco Clutch (similar style here), Bowerhaus Pearl Bracelet.
Whether you're attending Diner en Blanc, or an intimate date with the bae, there's no denying that a simple white frock looks incredibly striking against a starry sky. What I love about wearing white, is the endless versatility of styling such a neutral colour with options like monochrome, tonal, pastel or chrome.
As for me, I'm going for glam, by teaming this fitted Honey & Beau Isabella Dress with a pair of two-toned, open toe stilettos, a sequin encrusted clutch and a combination of gold and pearl jewellery.
While being a little more high maintenance than darker hues, I recommend in keeping to clear liquids like Cristal, and being very careful with your dinner etiquette. After all, earing your food on a crisp white canvas is never ok!
How are you styling your all white evening wear? I'de love to hear your tips and tricks in the comments below! If you haven't already, I'de love my darling followers to sign up to my fortnightly style guide by subscribing in the top menu! That way you'll never miss a beat in Miss Silhouette's life!
SHOP THIS LOOK:
Photography by Erin Smith Photography
---