7 Pieces For Your Smart Casual Wardrobe
Tuesday, February 21st, 2017
Do you ever find yourself questioning what a smart casual dress code entails? Well ladies, you are not alone, as I too have stumbled when styling this specific ensemble. A birthday brunch, an engagement soiree, an anniversary with the bae – the stylistic tone remains the same, favouring chic, clean lines and classic accessories. To make things easier, I'm sharing my Top 7 Pieces For Your Smart Casual Wardrobe.
French Connection Mozart Knit 2IN1, Witchery Side Panel Joggers, Lack of Color Ivory Fedora, Loeffler Randall Winnie Tassel Slippers, Samantha Wills Jasmine & Fleetwood Drop Earrings, Furla Bubble Keyring Moonstone, Mimco Supermicra Pouch.
A Pair of Tailored Pants
Cigarette, capri or joggers – I believe any fabulous female should always have a crisp, tailored pant at the ready. Look for neutral colours that will provide versatility with the rest of your wardrobe. I absolutely love these ivory panelled joggers as they are simple yet chic, perfect for a relaxed outdoor setting, or an intimate dinner with riverside views.
A Sleeveless Knit
This item is the perfect transeasonal piece, to be worn by itself in the warmer months and layered delicately in winter. This French Connection piece is a fabulous combination of sexy and sophisticated, with it's classic high neckline and split back detail with sheer panelling. Not to mention, it's black so it will go with everything in your wardrobe!
A Metallic Clutch
Because a tote is not always practical for those cheeky Espresso Martini's in a crowded riverside bar. Metallics help to elevate even the most neutral colour palette, taking you from desk to dance floor in seconds.
A Fabulous Pair of Loafers
Comfortable and totally on trend, a girl needs a pair of loafers as part of her shoe-robe and who can resist these metallic, tasseled slippers? If Cinderella had a pair of these perhaps she wouldn't have needed to leave the ball so promptly, amiright?
A Chic Hat
I recently found myself at a spectacular little picnic for the launch of UberEATS. Relaxed setting – tick! Delicious treats – tick! Chic, casual style – tick! The only thing that was missing, was a classic hat like this effortless Lack of Color Fedora. Need I remind you how fabulous Amal Clooney looks in a hat? Inspo!
A Pair Of Drop Earrings
There's nothing quite so sophisticated as a statement drop earring, especially when paired with an effortless nape of the neck hairstyle. Samantha Wills is delivering the goods with this simple pearl design and rose gold hardware. Divine!
A Bag Pom
Perhaps the cheekiest little accessory you'll ever own! I've just added my third bag pom to my collection (thank you Ted Baker) and I'm not about to stop until I own one in every pastel colour! Adding just the right amount of playfulness to an outfit, a bag pom highlights a flair for accessorising – talk about goals!
 SHOP THE POST:
---
Crushing On Coral
Tuesday, February 14th, 2017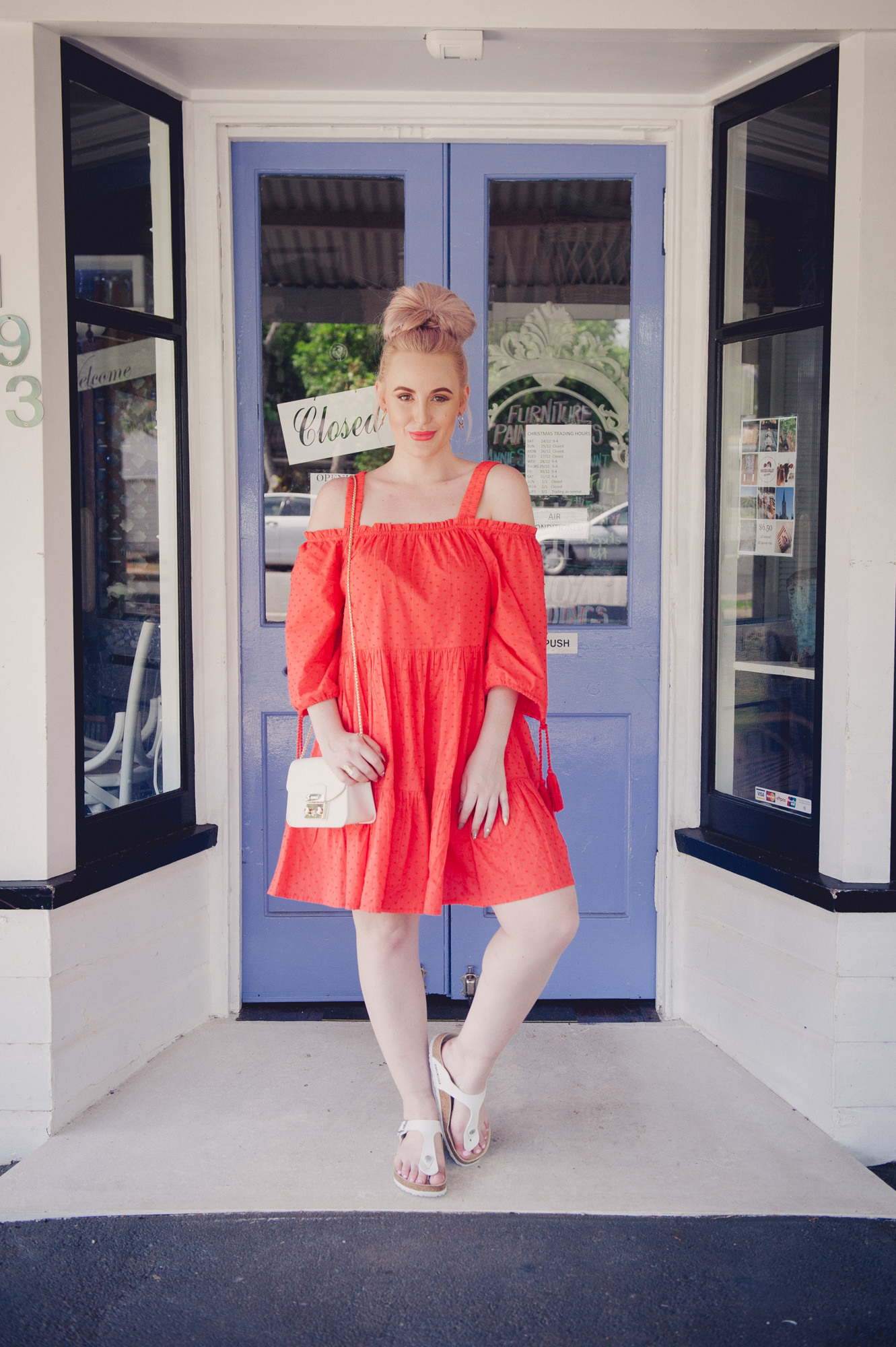 Seed Heritage Dress (similar style here), Birkenstocks Gizeh Birko – Flo White, Furla Metropolis Mini Bag (similar style here).
Cute summer romps throughout Brisbane's best antique spots call for a bold, bright colour – coral to be exact! This fun little number is from Seed Heritage and features a relaxed, shift structure with a ruffled OTS (off the shoulder) neckline. I love the texture seen in the polkadot print of the fabric and the playful tassels adoring the sleeves.
I'm teaming this piece with my faithful Birkenstocks (remember my styling post here) for casual yet chic getup. Because the colour is so vibrant, I'm keeping my accessories tame with Furla bag and a pair of gold earrings.
What colour are you obsessing over this summer and how are you styling this? Let me know in the comments below!
SHOP THE POST:
Photography by Erin Smith Photography
---
Top Tips To Throwing A Stylish Birthday Soiree
Tuesday, February 7th, 2017
When it's your special day, you deserve to be spoilt like the Queen you are. So get ready to celebratory #slay with my top tips for a spectacular and stylish birthday soiree.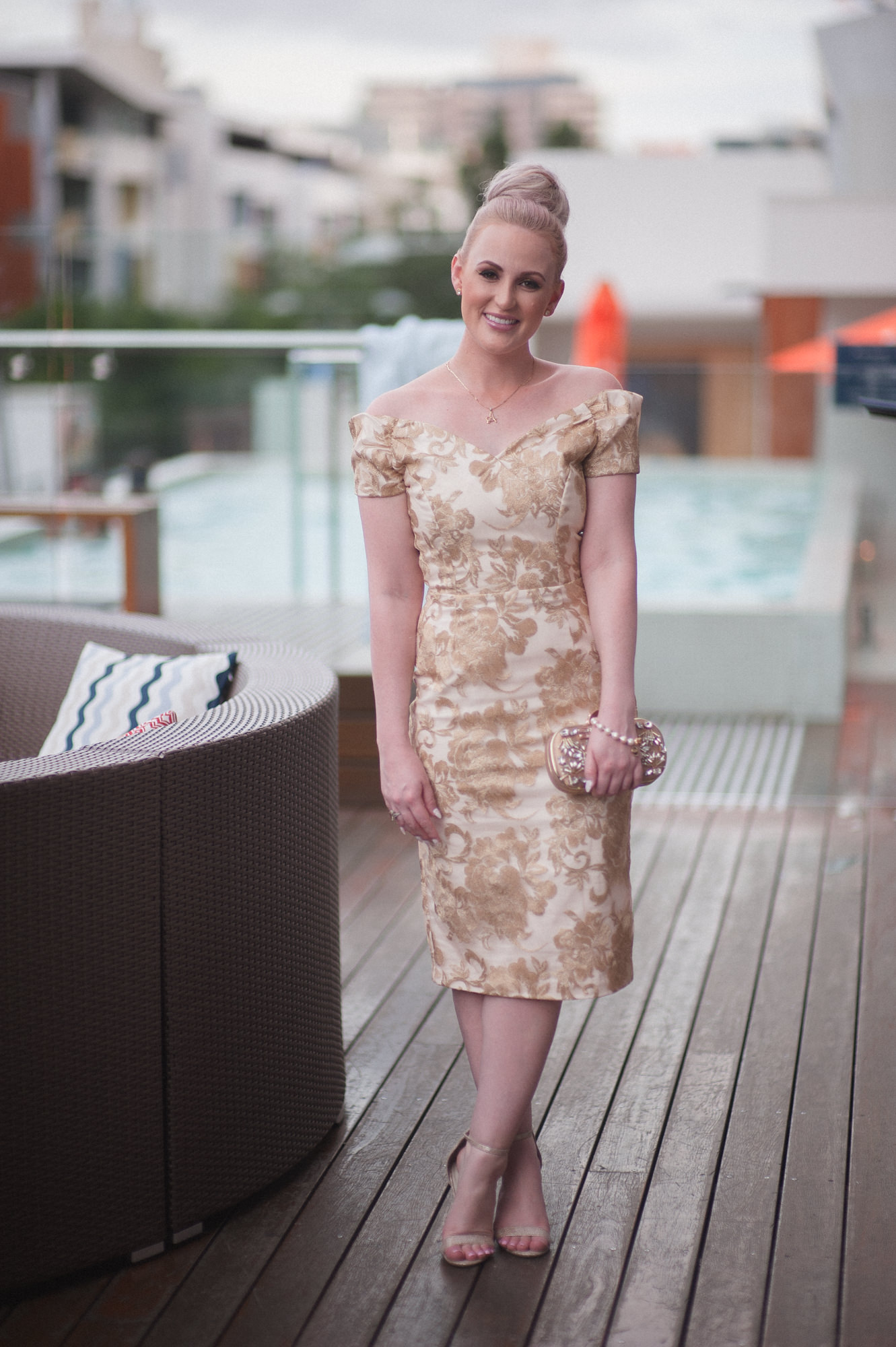 That Shop Fantale Pencil Dress, Sachi Heels, Mimco Clutch (similar style here), Bowerhaus Fleur Pearl Bracelet, Swarovski Earrings (similar style here).
The Dress
Feeling like the Belle of the Ball in my special birthday dress from That Shop. Inspired by the Baroque Period, this stunning frock highlights an ornate lace brocade overlay, a striking feature against the soft, blush base. The delicate, off-the-shoulder neckline sits beautifully on, while the pencil skirt helps to create an elegant shape. I'm teaming this golden gown with metallic accessories; a sparkly, statement clutch and shimmery stilettos.
The Glamour
For such a special occasion I decided to have makeup to match, dropping in for some cosmetic pampering at Napoleon Perdis on Edward Street. I had the incredibly talented MUA Prita Astarto create my birthday makeup, which consisted of a flawless, cashmere base, sculpted contouring, precision cat eye and a sparkly outer liner. If you have a fabulous event coming up, make sure you book in to have your makeup done by the amazing Napleon Perdis girls!
The Venue
Of course, to throw a spectacular soiree, one has to find the perfect venue. An A-List guest list deserve a space that is nothing but luxury, inclusive of a fabulous view and a cocktail menu that speaks decadence and deliciousness. There's no other place I would rather sip on an Espresso Martini, than by the rooftop pool at the glamorous Soleil Pool Bar.
Located on the Podium Level of the Rydges Hotel, Soleil Pool Bar boasts an impressive view of the South Bank skyline and hosts a fancy entertaining area equipped with a LED screen that projects a stunning cosmic sky.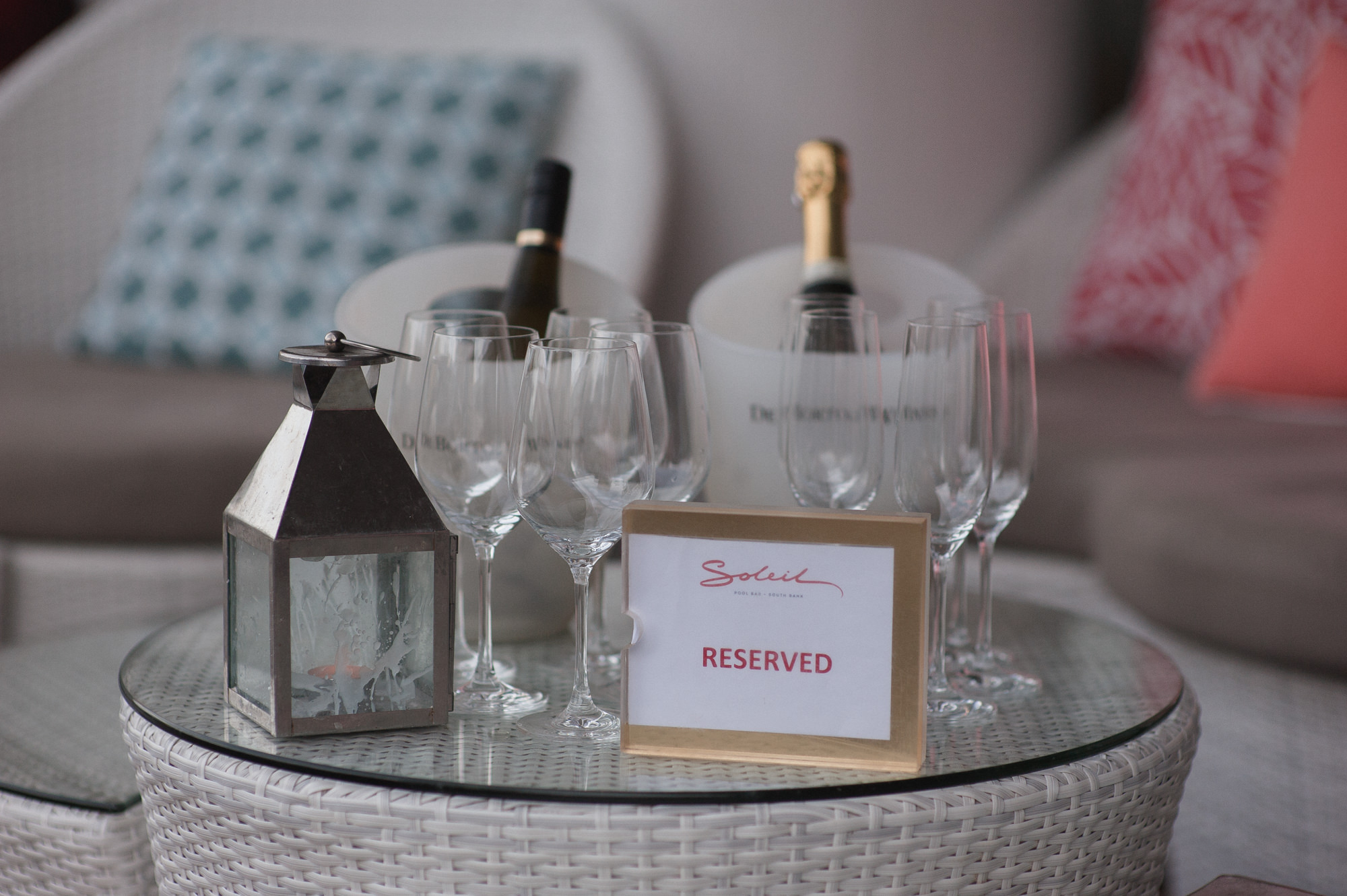 We were treated with glasses of Prosecco and Sauvignon Blanc before moving our way down the extensive cocktail menu, taste testing exotic punches through to the specialty martinis. Familiarise yourself with the fabulous Soleil Pool Bar drinks menu here!
Alongside our sparklies, we enjoyed a delightful selection of tapas including my favourites of the evening, Peking Duck Spring Rolls, Arancini Olives and a delicious Polenta appetiser (pictured).
The Guest List
The best part of a birthday soiree, is achieving squad on fleek status with a killer guest list. I recommend keeping things fairly intimate to allow for quality time with the creme de la creme of your social circle. Calling all besties, sissys, main squeezes and soul mates.
Of course, my squad certainly know how to bring the heat with their smouldering selfies, impeccable style and general sophistication. Not to mention, they know how to spoil this birthday girl with the most fabulous treats, trinkets and gifts – I am one lucky lady!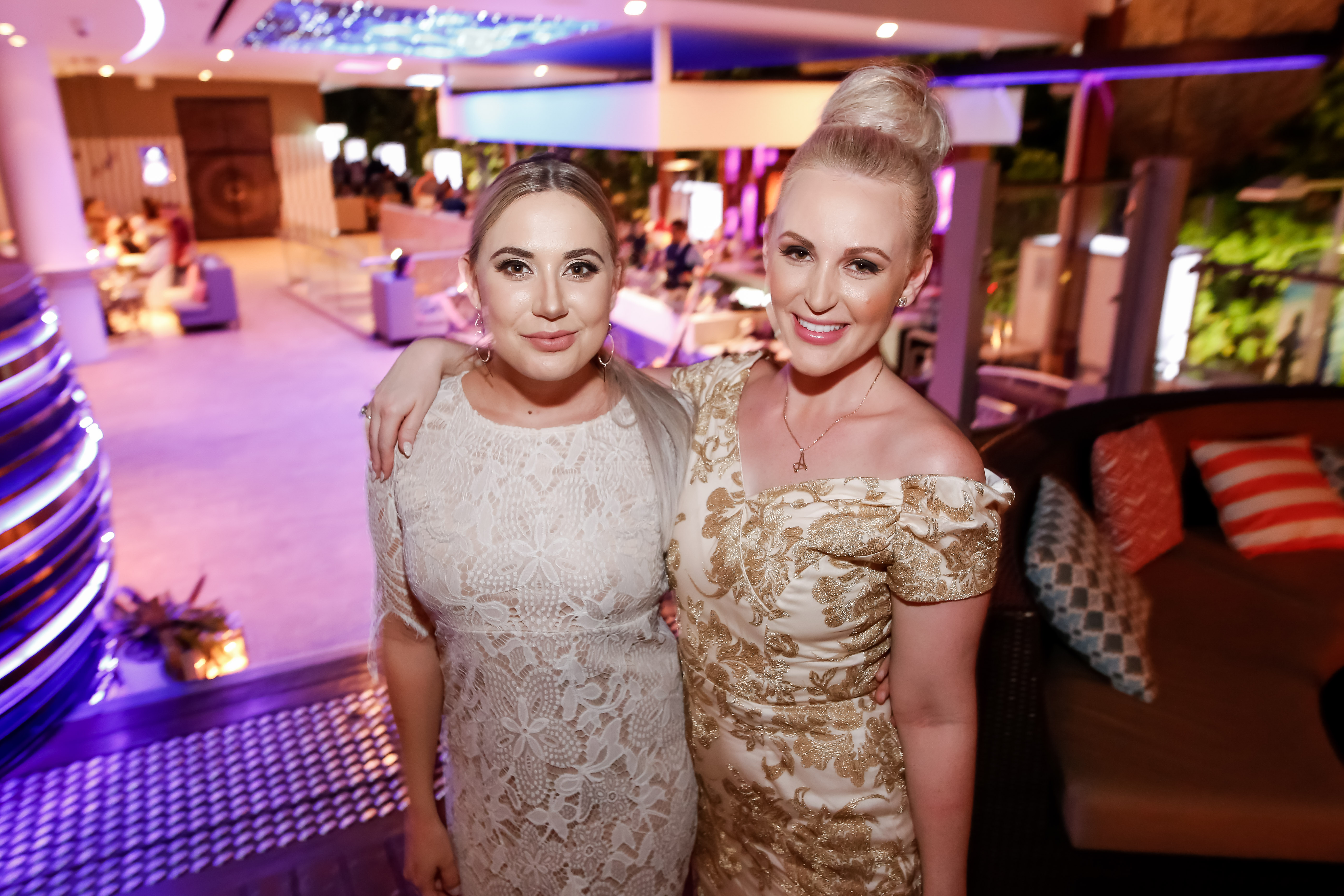 I'de like to wrap this post up with a massive thank you to the events staff at Soleil Pool Bar, who treated my fabulous friends and I to a stellar evening, one I certainly won't forget anytime soon! Here's to reining in 28 with absolute style.
SHOP THE POST:
Photography by Erin Smith Photography & Jared Vethaak Photography
---
New, New Napoleon Perdis!
Thursday, February 2nd, 2017
First beauty post of the year is reserved for a little sneak peek sparkle, as I unveil an exciting drop of new beauty products! Napoleon Perdis, delivering the makeup goods as usual and helping me change my beauty game with some popping summer colours, shimmer and staples.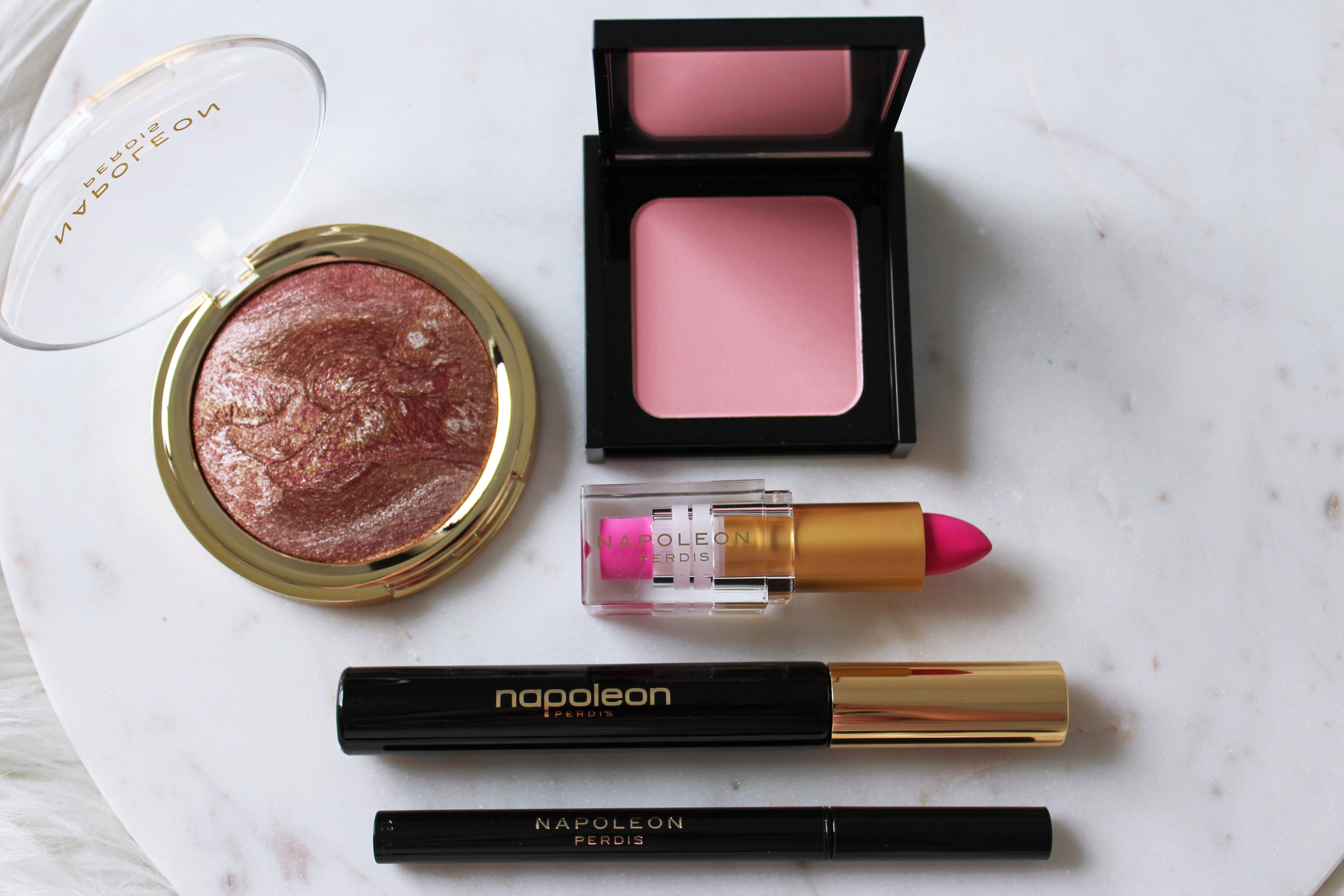 Napoleon Perdis Blush Patrol, Napoleon Perdis Rebirth Of Venus Skin Renewel Cleansing Oil, Napoleon Perdis Total Bae – Blush It! Cheeky,  Auto Pilot Pre-Foundation Skin Primer, Napoleon Perdis Peep Show Madame Beyond Mascara, Napoleon Perdis Neo Noir Liquid Eyeliner, Napoleon Perdis Divine Goddess Lipstick in Lynx and Erato.
I've gone into swatch mode at The Blonde Silhouette HQ, trying out the gorgeous new arrivals from Napoleon Perdis. Let's start with the most exciting part of any beauty boudoir – lipsticks, lipstains and gloss. I'm primping my pout with 2 exciting shades from the Divine Goodess range, featuring a flirtatious fuchsia, Erato and a mysteriously cool mauve,  Lynx.
Next, I'm perfecting the art of the Cat Eye, with precision using the Neo Noir Liquid Eyeliner. Having tested this little beauty for a night on the town, I can vouch that this product allows for a seemly, effortless application and the colour is so deliciously dark black. Of course, no Cat Eye is complete without a heavy set lash, and the Peep Show Madame Beyond Mascara is a game changer for those lashes.
Another favourite of mine from this drop is the Total Bae- Blush It! Cheeky. With a name so perfectly fitting, this cheeky little cheek compact features a girlish, rosy rogue to bring that girl next door beauty to life.
One thing I can always expect from my favourite beauty brand, are products so perfectly packaged they look too good to use. Take this gorgeous, marbled blush compact, Blush Patrol. Featuring highly pigmented hues with a shimmery finish, this beautiful bronzer has been garnishing my cheeks for that fresh, "I just spent my summer in the Hamptons" glow.
Love this little beauty batch? Why not check them out and more, by shopping my selects below!
SHOP THE POST:
---