In The Kitchen with TBS!
Tuesday, March 24th, 2015
Wheel & Barrow Oven Mitts (similar style here), Yesteryear Baking Co Spatula (similar style here), Mug Cakes by Mima Sinclair, Measuring Spoon Set (similar style here), Measuring Cup Set (similar style here).
Just call me Martha Stewart as I've developed a bit of sweet tooth for baked treats! While I'm not usually a whiz in the kitchen, I'm really starting to get my hand around a spatula and working through a recipe for Rocky Road Mug Cake is totally worth it!
Of course half the fun aside from the taste testing (and devouring), is shopping for cute homewares and naturally, I couldn't go past an all pink colour theme. If you too are looking for some adorable kitchenware, then head straight Wheel & Barrow for your one-stop shop of baking essentials including:
Spatulas,
Measuring Cups,
Measuring Spoon Set,
Oven Mitts (and matching apron),
Recipe Book.
Do you have a favourite baking recipe or perhaps something sugary you've invented? I'de love to hear it below. Otherwise, happy baking!
---
Starry Eyed
Saturday, March 21st, 2015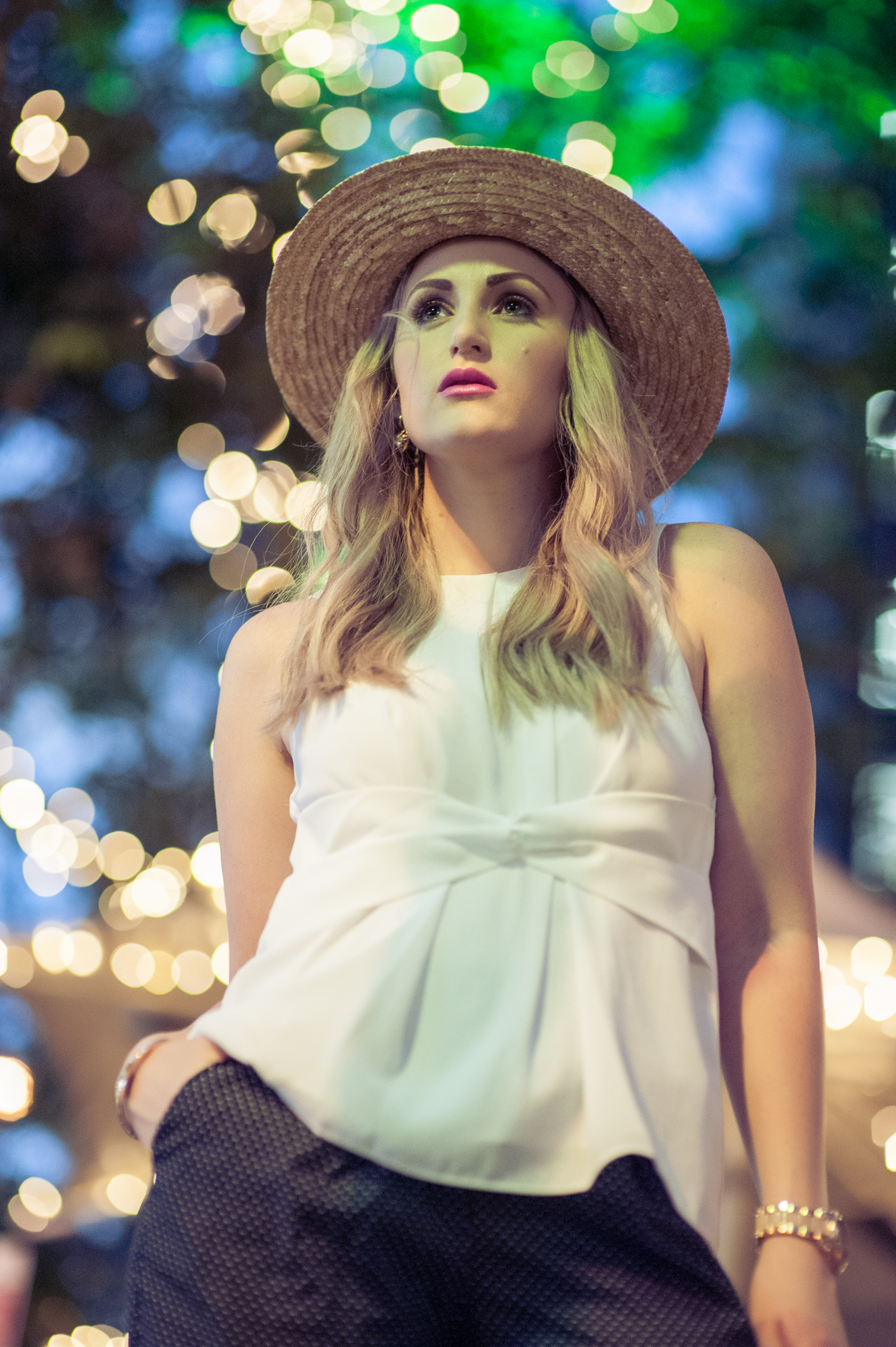 Karen Walker Pants (similar style here), Cue Top (similar style here), Lack of Color The Spencer Boater, Wittner Avril Heels, Michael Kors Blair Pave Watch, Fossil Bangles, Swarovski Earrings (similar style here).
As you may have noticed, I don't have a huge range of pants in my closet. As a very girly spirit, I find myself drawn to ultra feminine pieces, notably A-line dresses, skirts with volume, anything with a flirty hemline basically. That is not to say that trousers are unfeminine in any means, in fact pants offer a super sexy silhouette, highlighting a woman's natural curves and elongating those pins.
Of course, upon spying these spotted Karen Walker pants, I just knew they belonged in my wardrobe. Suddenly my credit card is in the eftpos terminal and I'm walking away with an oversized bag and smile to match.
Enhancing their playful nature, I've enjoyed teaming them with casual accessories, my new favourite hat, The Spencer Boater and a simple sheer top, like this Cue staple. There's something a little french chic about this print and if people mistake me for European…well that's a mistake I'll happily wear!
SHOP THIS LOOK:
Photography by Erin Smith Photography
---
Lead The Field Hosted by Indooroopilly Shopping Centre
Saturday, March 14th, 2015
As a blogger, I receive some pretty exciting invites; from intimate store openings, to large scale media showcases, I've attended some stellar events! That being said, I was very excited to receive an exclusive invite courtesy of Scenestr, to Indooroopilly Shopping Centre's Lead The Field event, comprising of a sit down dinner and runway spectacular, showcasing the Autumn Winter fashion trends for the racing season.
Needing no time to mull it over, my fabulous guest/photographer Erin and I snapped into style mode, brainstorming the perfect outfit for the occasion…I mean, what does one wear to such a prestigious event with a celebrity guest list, MC'd by Kate Waterhouse no less? It's times like these I wonder when my fairy godmother will appear, new season Manolo Blahnik's in hand and wand at the ready.
Channeling a sophisticated ensemble, I opted for a new season Cue dress, which features a high neck and dainty flared hem. I just love the contrast seen in the printed floral pattern, interspersed with metallic jacquard panelling and rose gold hardware. Keeping accessories simple with a pair of black stilettos and minimal jewellery, I left the statement to the dress and hit the runway before the models made their entrance.
Cue The Modernist Crepe Dress, Jo Mercer Jagger Heels, Oroton Glomesh Clutch (similar style here), Fossil Rondel Wire Bracelet, Fossil Bangle (similar style here), Michael Kors Blair Pave Watch, Swarovski Brief Earrings.
If you follow me on Instagram, you'll already know I met the cast of Fashion Bloggers, including Zanita Whittington, Kate Waterhouse and newly appointed, Nadia Fairfax – which I have to say is the highlight of my blogging journey thus far. Not only did they look amazing in their designer threads, they were unbelievably humble and down for a chat.
Naturally, I stopped for a quick browse, taking in the gorgeous new season collections hitting the designer stores.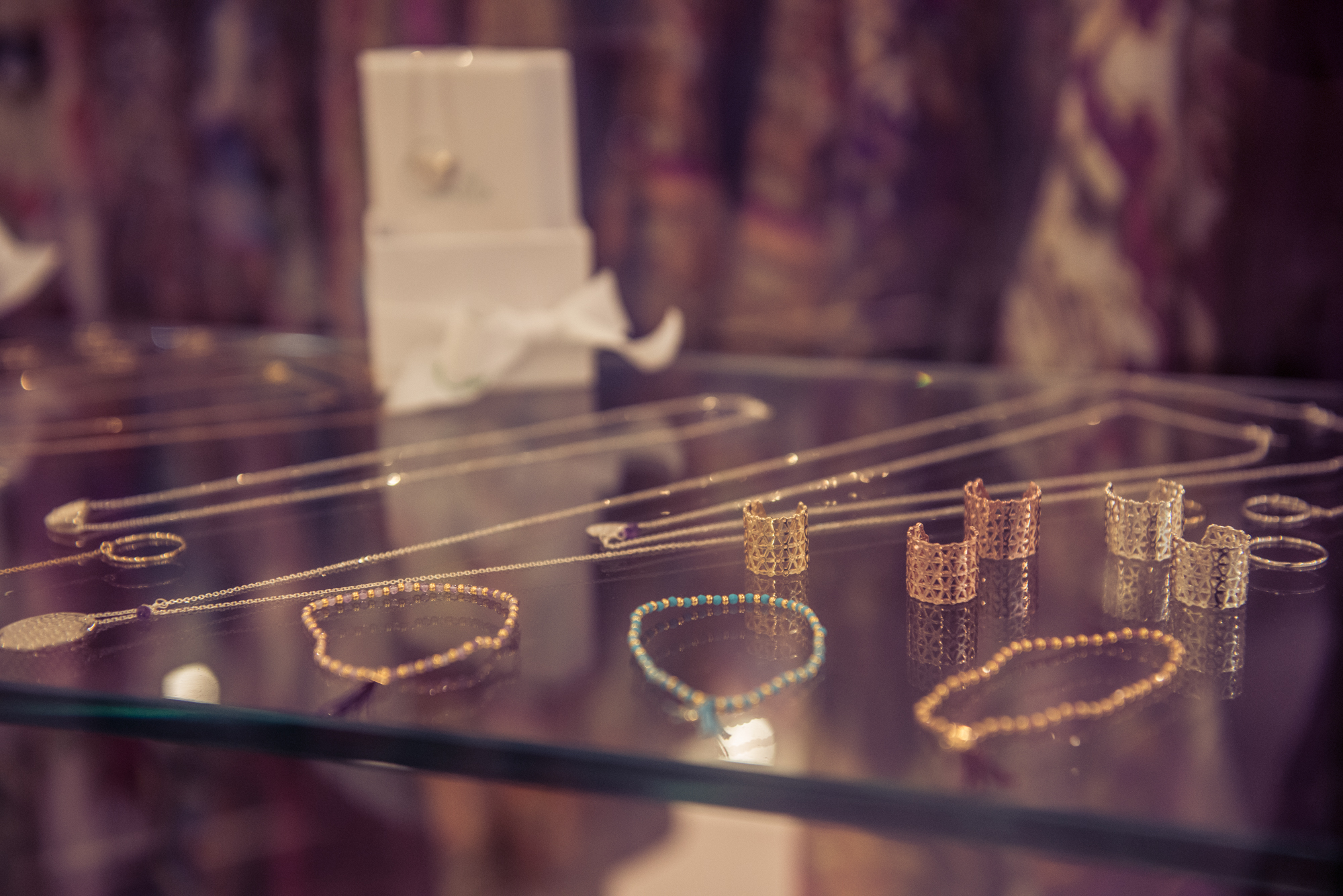 When it came to the runway, I was dazzled by the exquisite fabrics and rich colour palettes. In my opinion, Autumn/Winter fashion is the best season for style, allowing for luxe layering, divine interest fabrics like suede, velvet and fur and opportunities to dress like the Duchess of Cambridge accessorising cloche hats and trench coats…not to mention gentlemen look far more handsome in a suit, scarf and gloves.
Here are my highlights from the runway…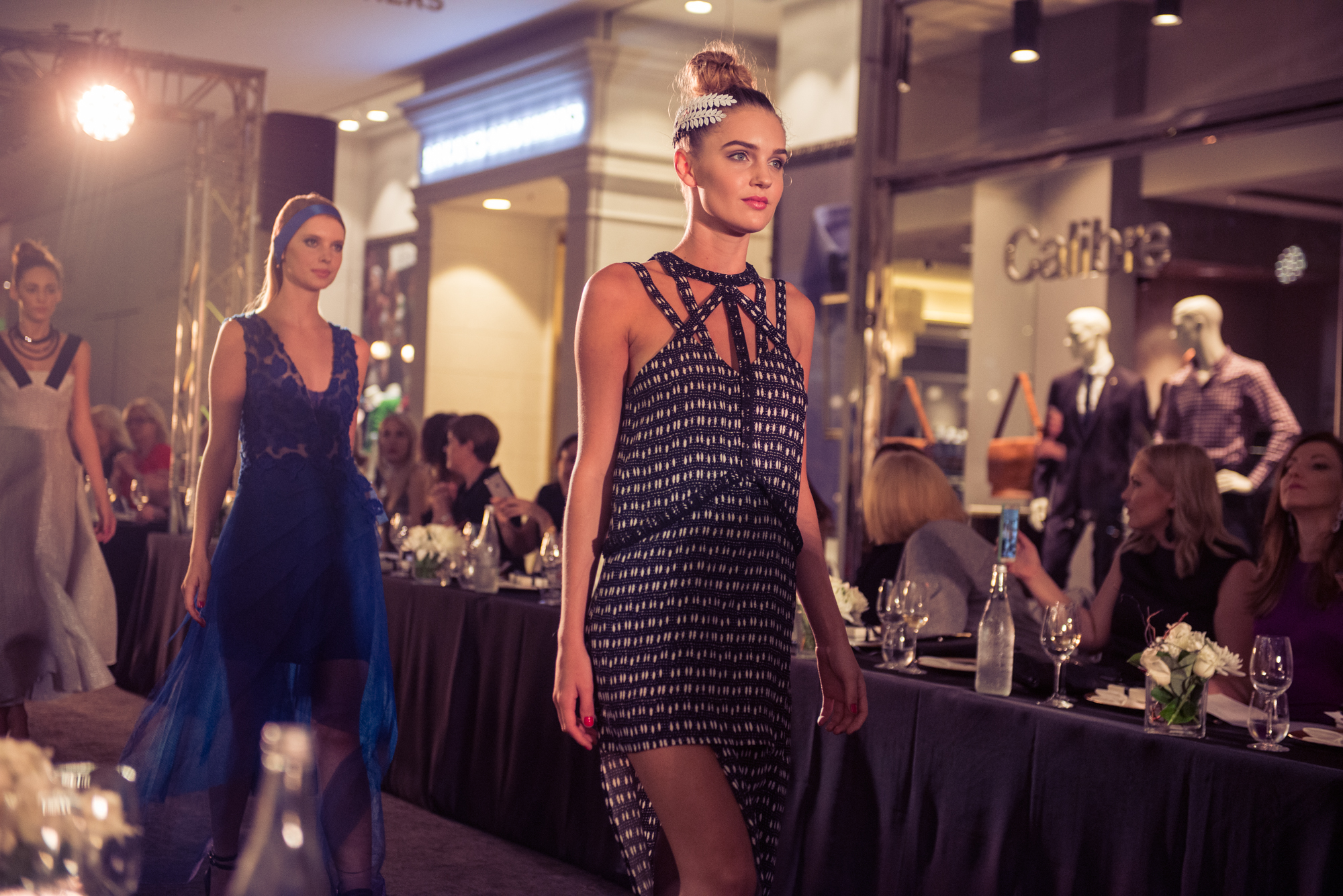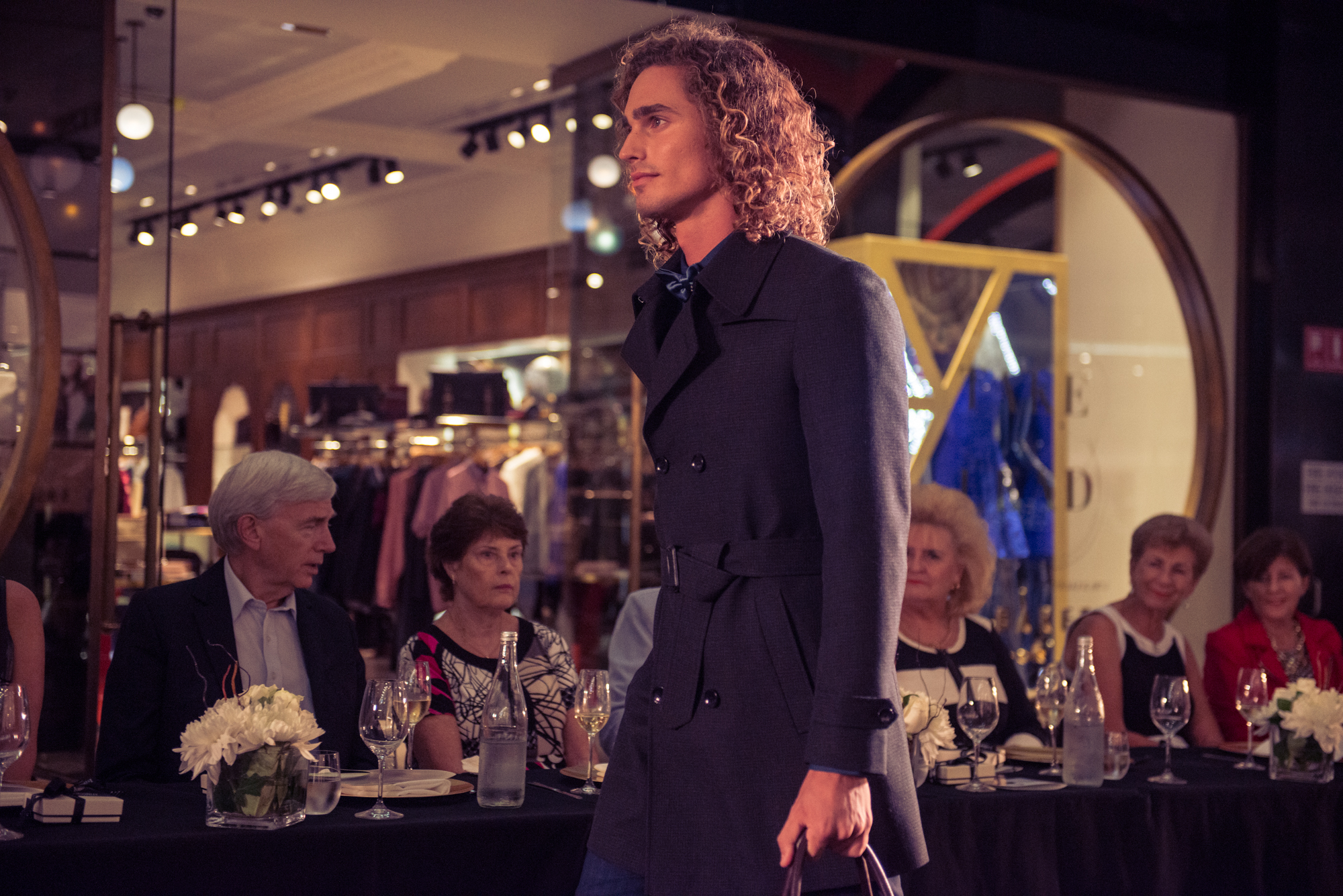 Full full access and details of the evening, check out my feature on Scenestr. I love to hear your feedback and requests, so if you have something on your mind, drop me a comment below!
Photography by Erin Smith Photography
---
Khaki Kind of Gal
Monday, March 9th, 2015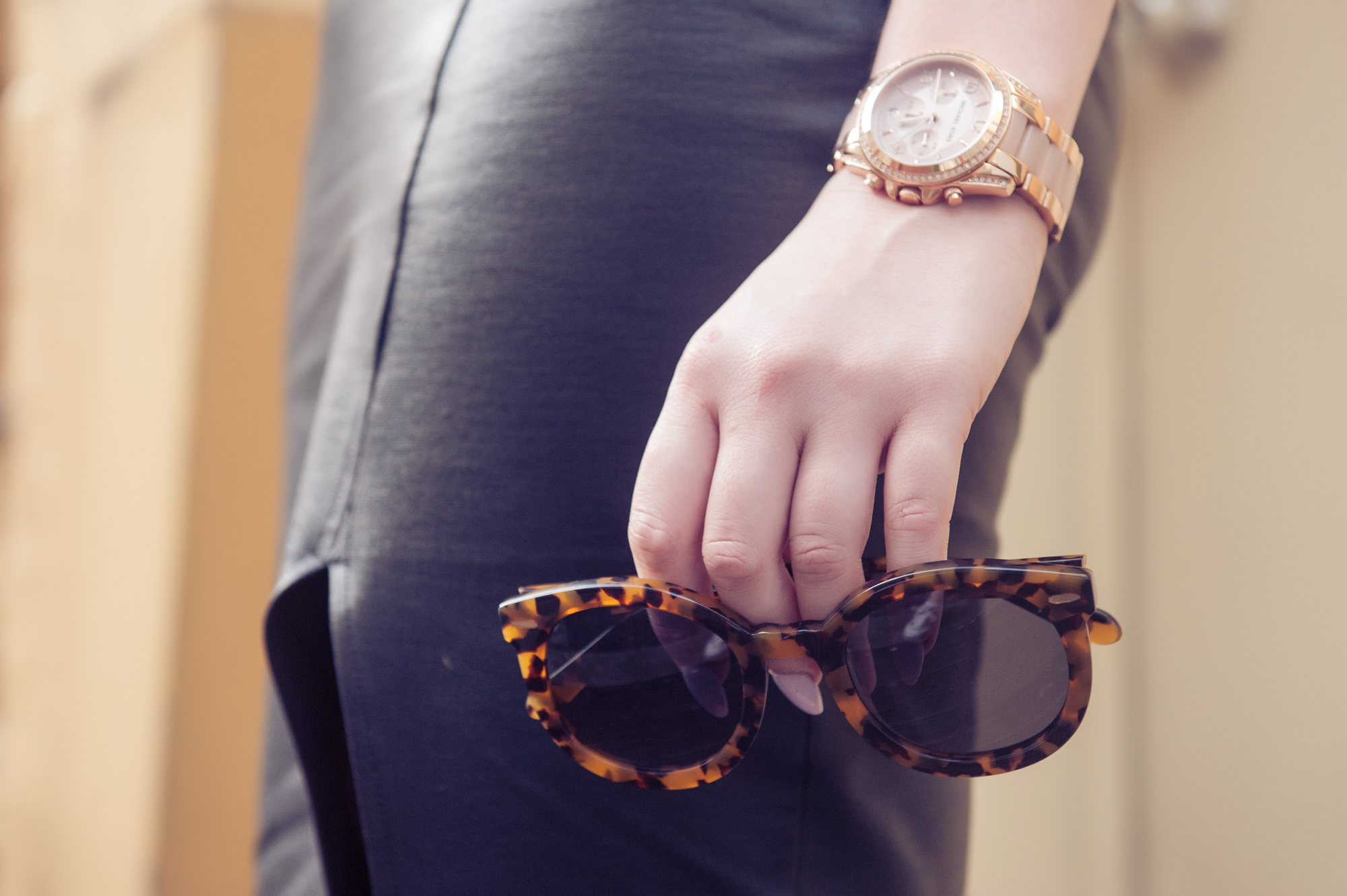 French Connection Cross Over Shirt, French Connection Leather Look Side Split Skirt, Louis Vuitton Neverfull Tote, Jo Mercer Sublime Booties, Karen Walker Super Duper Strength Sunglasses, Michael Kors Blair Pave Rose Gold Watch, Fossil Rondel Wire Bracelet, Fossil Bangle (similar style here), Swarovski Earrings.
I've always thought of khaki as a very masculine colour, having always associated this shade with a military context and consequently, I've always ruled khaki out of my stylistic choices. That was until my eyes fell on this gorgeous French Connection shirt…and I was won over. The juxtaposition between the  masculine khaki tone is balanced beautifully against the feminine, sheer draping  seen in its structure.
Embracing an earthy colour palette, I'm enhancing the strong khaki colour with rich brown shades, seen with my classic Louis Vuitton Neverfull Tote and the tortoiseshell print of my Karen Walker frames. Mirrored with my makeup, I've featured a soft bronzed shadow and peachy nude lipgloss in today's beauty regime.
I'll be honest, I'm really loving that sexy, vampy vibe at the moment, which is why I've teamed this shirt with a luxe, leather look skirt and peep toe booties. Alternatively a crisp pair of white or ripped blue jeans would make a chic, casual ensemble.
Lastly, I'm finishing on a high note with a little sparkle and a splash of rose gold…. After all, a little extravagance never hurt no one!
SHOP THIS LOOK:
Photography by Erin Smith Photography
---