My Top 4 Tips To Wearing A Puffer Vest
Monday, July 18th, 2016
Remember my recent puff piece on Winter's coolest staple, the Puffer Vest? Get ready to layer up girlfriends, I'm sharing my 4 top tips to styling this bad boy below.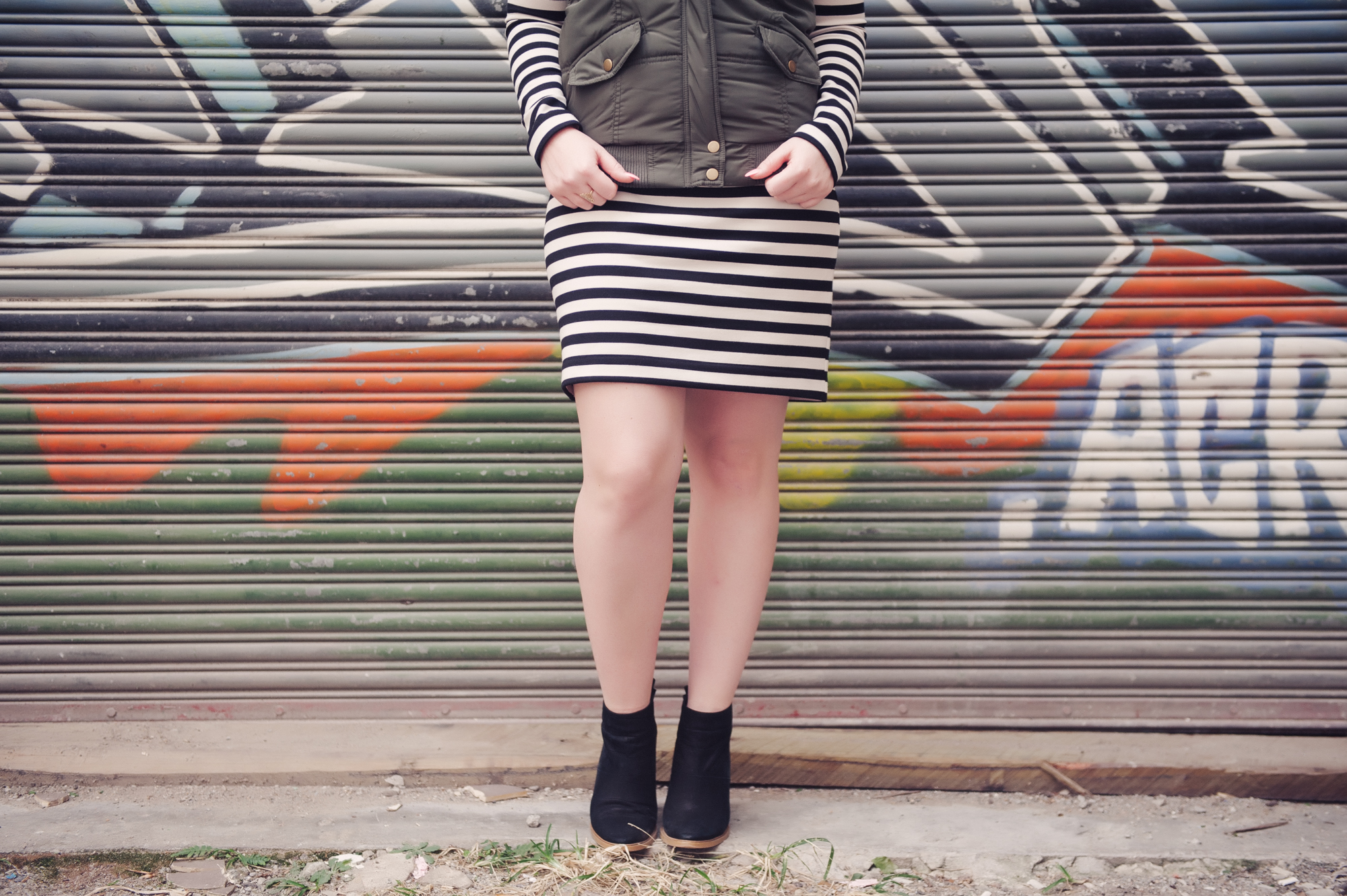 Piper Stripe Pointe Dress, Miss Shop Puffa Vest, Jo Mercer Alona Croc Booties.
1. Team with a fitted number. Perhaps the most important rule when styling a puffer, is to team it with a tailored or fitted basic. Why you ask? The fit of a puffer is generally oversized and to highlight excess fabric, will not be flattering on any figure – that's why I've opted for a fitted mini dress.
2. Style with a bold print. The best part of working with a neutral colour like khaki, is being able to build upon it with bolder detail – like the horizontal stripe of this monochrome dress. Not to mention, the puffer vest will add a little edge to girly patterns – think polka dots, stripes, animal print etc.
3. Emphasis clean lines. Layering done right means clean lines for total chicness – crisp fabrics, symmetrical edges and simplistic designs.  Now's not the time to team your puffer with garments that feature rouging, ruffles and ornate structure. Remember the saying: keep it simple, sweetie!
4. Make your accessories matter. Classic not cluttered, leave the arm candy at home and instead opt for staple accessories. As for me, I'll choose my leather band watch and a statement ring over bulky bling.
What are your tips for wearing a puffer vest – let me know in the comments below and if you haven't already make sure you sign up for my fortnightly style guide in the top menu for sneak peeks and other fabulous things!
SHOP THIS LOOK:
Photography by Erin Smith Photography
---
Layer Up With The Puffer Vest
Sunday, July 10th, 2016
This winter has brought out a love in me of layering, different lengths, multi-texture and more importantly, the garment that involves all three – the puffer vest!
Hardly a stranger to the fashion world, puffer vests have always remained a must-have accessory for the cooler months, with their cool and casual aesthetic making a chic statement on the MBFW runway this year. A puffer vest is the perfect winter staple, thrown effortlessly over a knit for a sport luxe vibe, or styled with a white button up and jeans for a more classic look.
This season, French Connection, Country Road and Seed Heritage are producing the goods, offering a selection of puffer vests in the black, white, grey and khaki variety. Gold and rose gold hardware, faux fur trim, hood – I've rounded up my favourite options for you to shop below!
SHOP THIS POST:
---
Be Your Own #GIRLBOSS With These 4 Lifestyle Hacks
Sunday, July 3rd, 2016
What better way to kick off the new financial year, than with a little reminder of how to be your own girlboss? Now I'm not talking about immediate six figure salaries, or snapping up a city view apartment, but I am throwing out four SIMPLE lifestyle hacks to help you channel your inner #girlboss.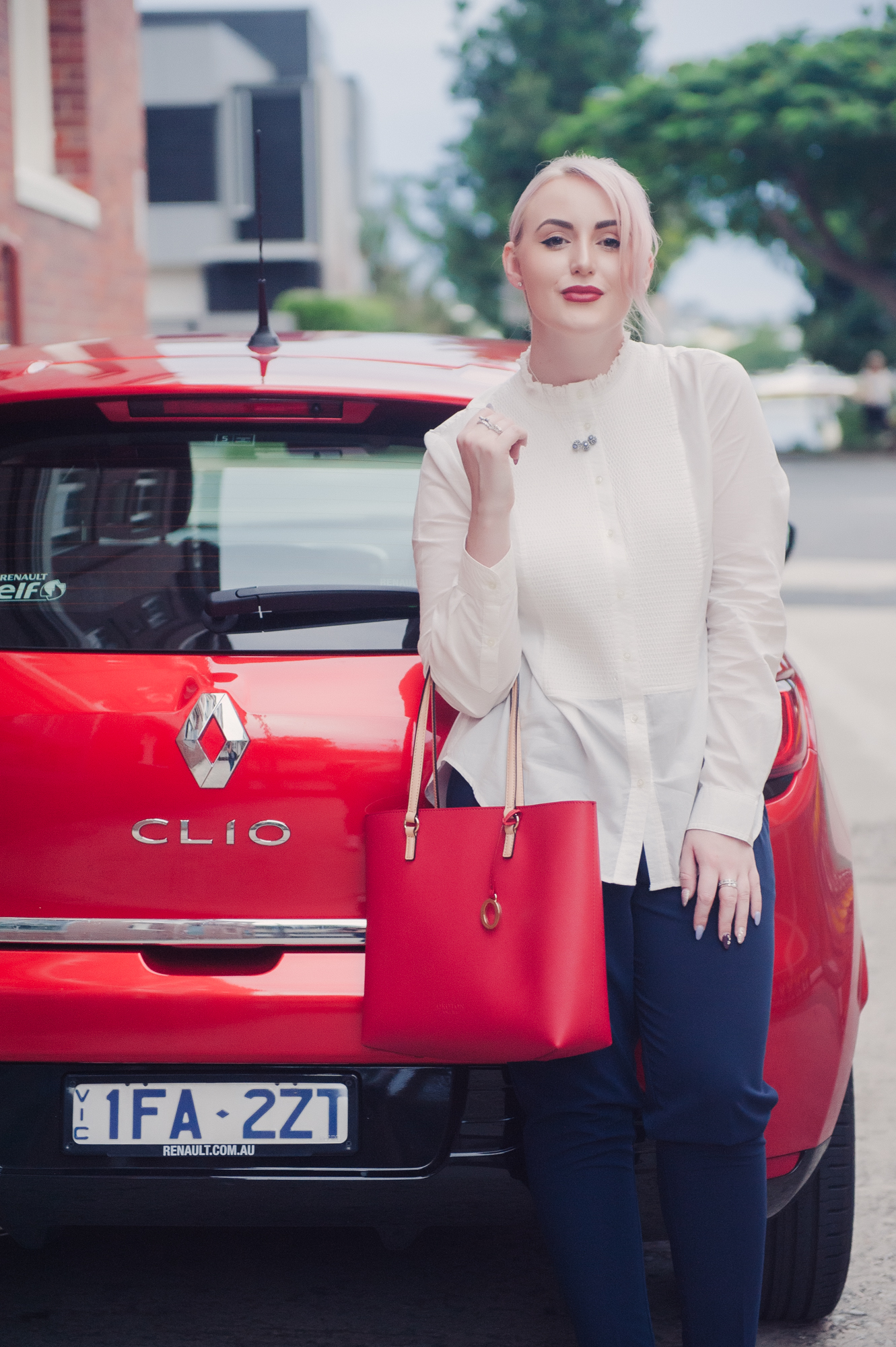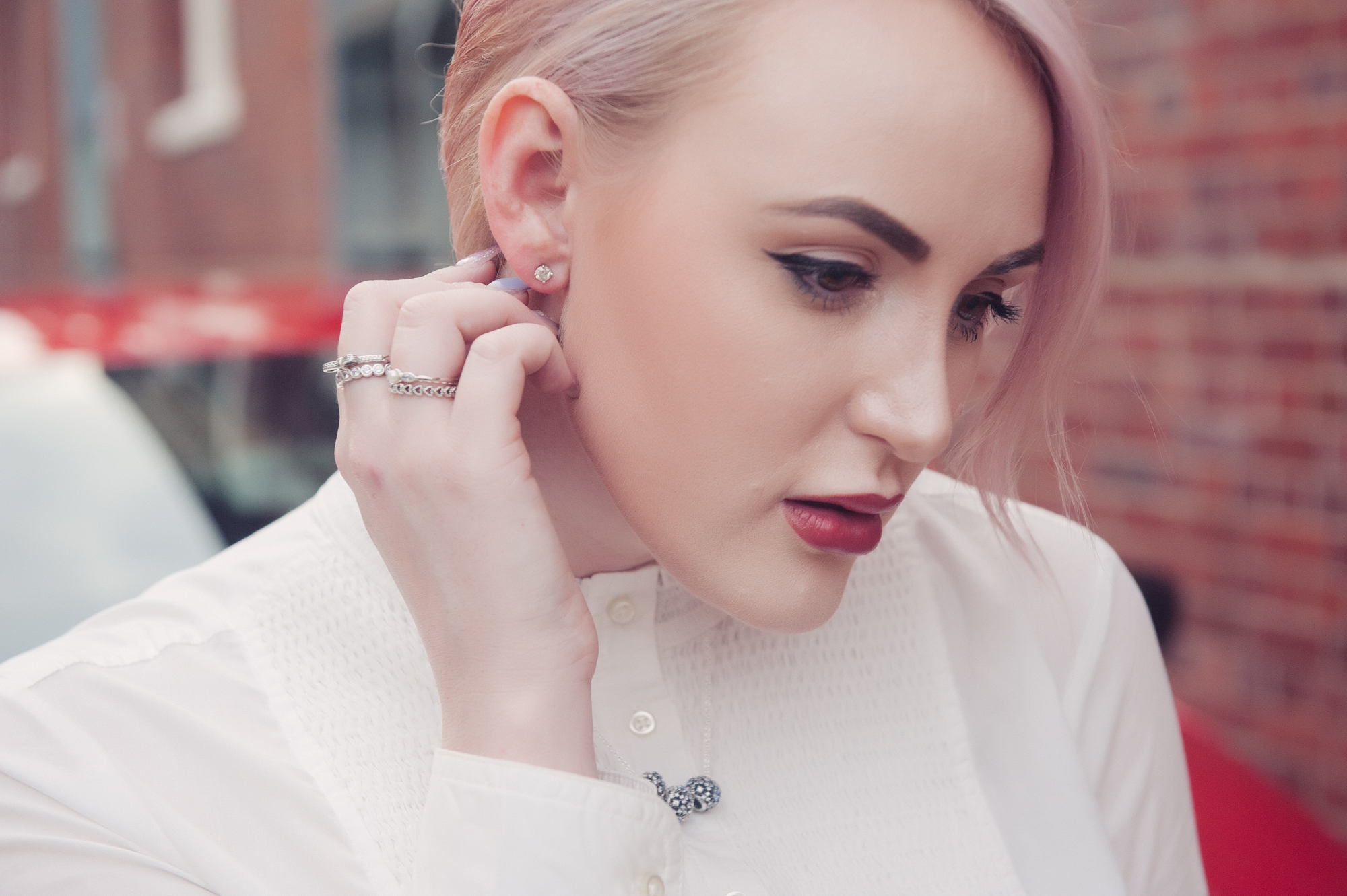 French Connection Straight Leg Trousers (similar styles here), Country Road Shirred Bib Shirt, Jo Mercer Rapid Heel (similar style here), Pandora Disney Cinderella's Wish Openwork Charm (worn as a pendant), Pandora Luminous Leaves Ring, Pandora Sparkling Silver Bow Ring, Pandora Linked Love Ring, Pandora Alluring Large Brilliant Cut Ring, Le Specs Flashy Frames, Oroton Estate Tote.
Cull the time-wasters in your life
Perhaps the most important lesson I have learnt so far, is that you are the average of your five closest friends/people you spend your most time with. With this being said, you want to make sure you surround yourself with company that inspires you, challenges you and encourages your success.
I juggle a full plate (working full time, blogging, networking, exercising, mentoring) and one thing I'm really conscious of/value is my time. Last year I was stuck in a rut with my friendship circle, bending over backwards for "friends" that didn't value my time or friendship – to the point where one particular friend confused me for a taxi service! This year, I only make time for people who bring the same effort, energy and loyalty to the table that I do – and I encourage you to do the same.
Connect with other Girl Bosses
I don't need to spell out the advantages of networking, but I will say that girlbosses make fantastic professional connections, fabulous friends and quality company. Believe it or not, but there are so many established groups dedicated to bringing together successful women and boss chicks in fun environments.
Last year my bestie and I attended our very first girlboss conference, lead by the League of Extraordinary Women. We left the full day conference feeling excited, inspired, and with some beginning friendships that have only continued to blossom. I can recommend League of Extraordinary Women and Business Chicks as two notable girlboss groups that you should totally check out!
Make choices that liberate you
There's no better feeling in the world, then feeling empowered. We often get wrapped up in mundane routines; the nine to five grind, domestic ruts, stale relationships, forgetting that there's an exciting, technicolour world out there waiting for us. Sometimes it's worth taking some time out, getting to know ourselves and what makes us generally excited about life.
This month I've signed up to a six week self defence course – something I've always wanted to do for strength and confidence. There's something so liberating about being able to channel Charlie's Angels in a sticky situation – although let's hope it never has to come to that!
Reward yourself once in a while
You never have to justify little ways to reward yourself, because you work hard for it! Whether that's spoiling yourself with a new pair of Valentino Rockstuds, or upgrading your old car to the flash Renault Clio (seriously ladies – this is the perfect girlboss car), a little splurge now and then isn't a bad thing.
*Sponsored by Renault Australia
SHOP THIS LOOK:
Photography by Erin Smith Photography
---
Seduce x Disney: The Wonderland Collection
Wednesday, June 29th, 2016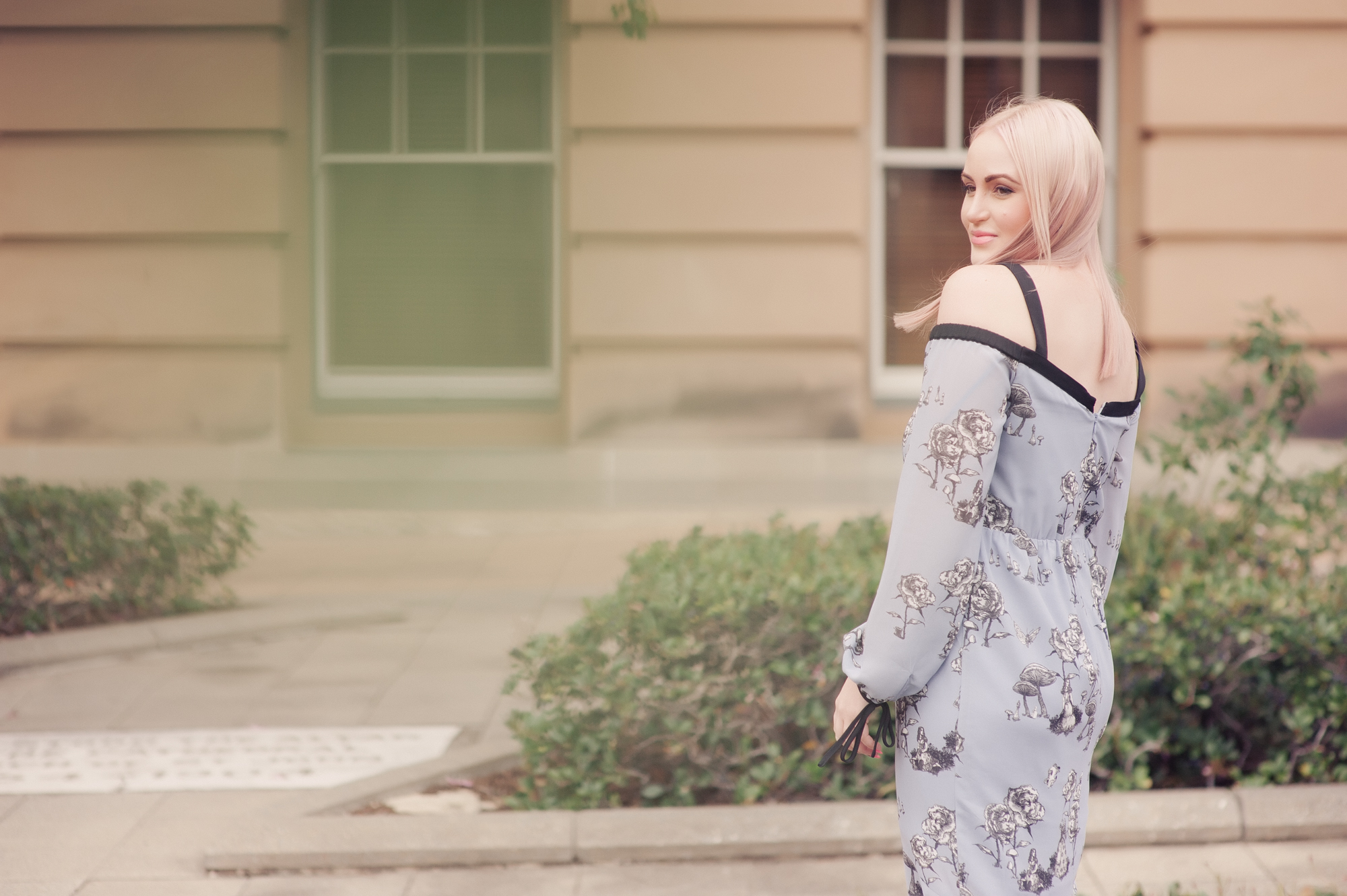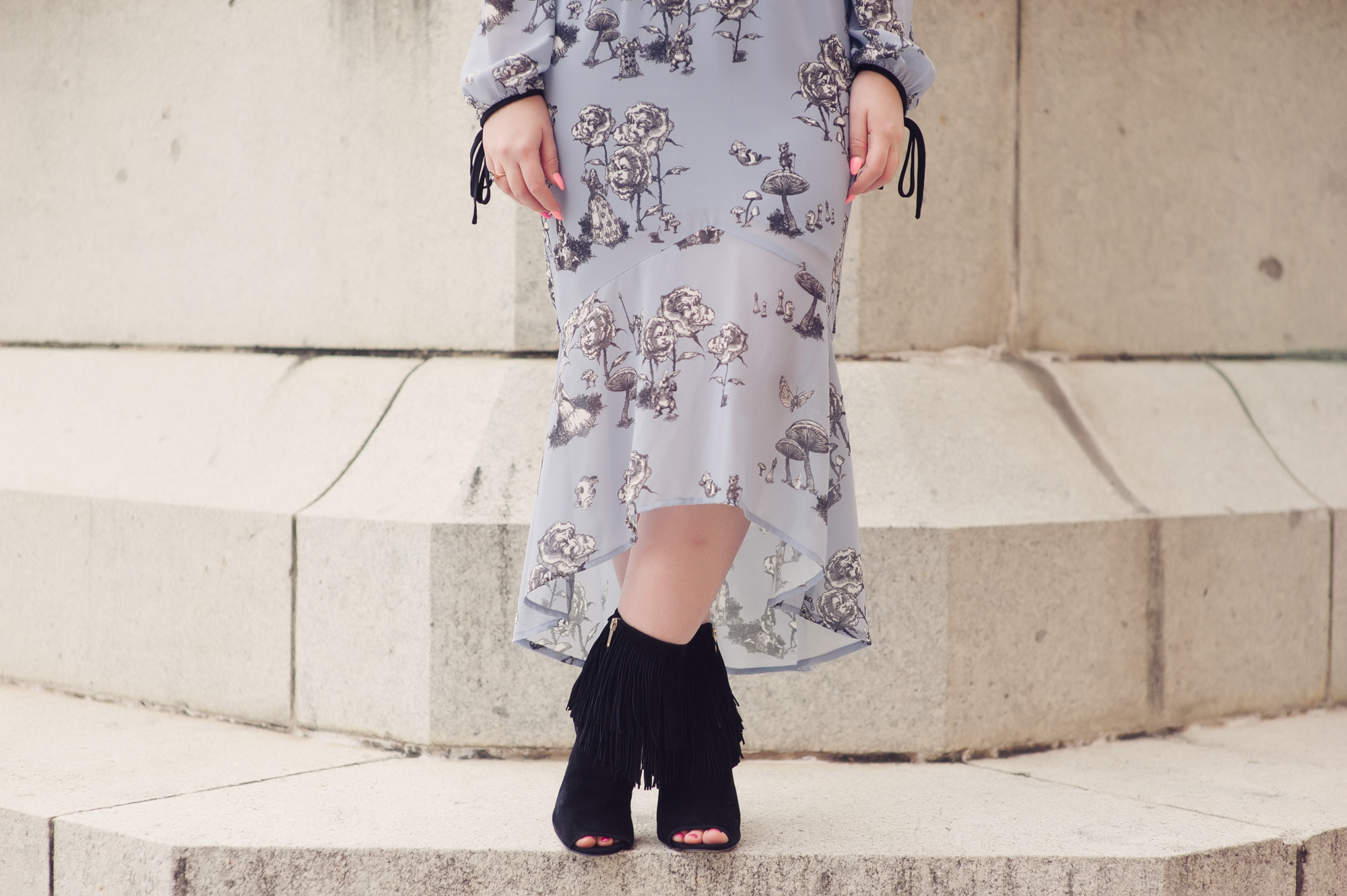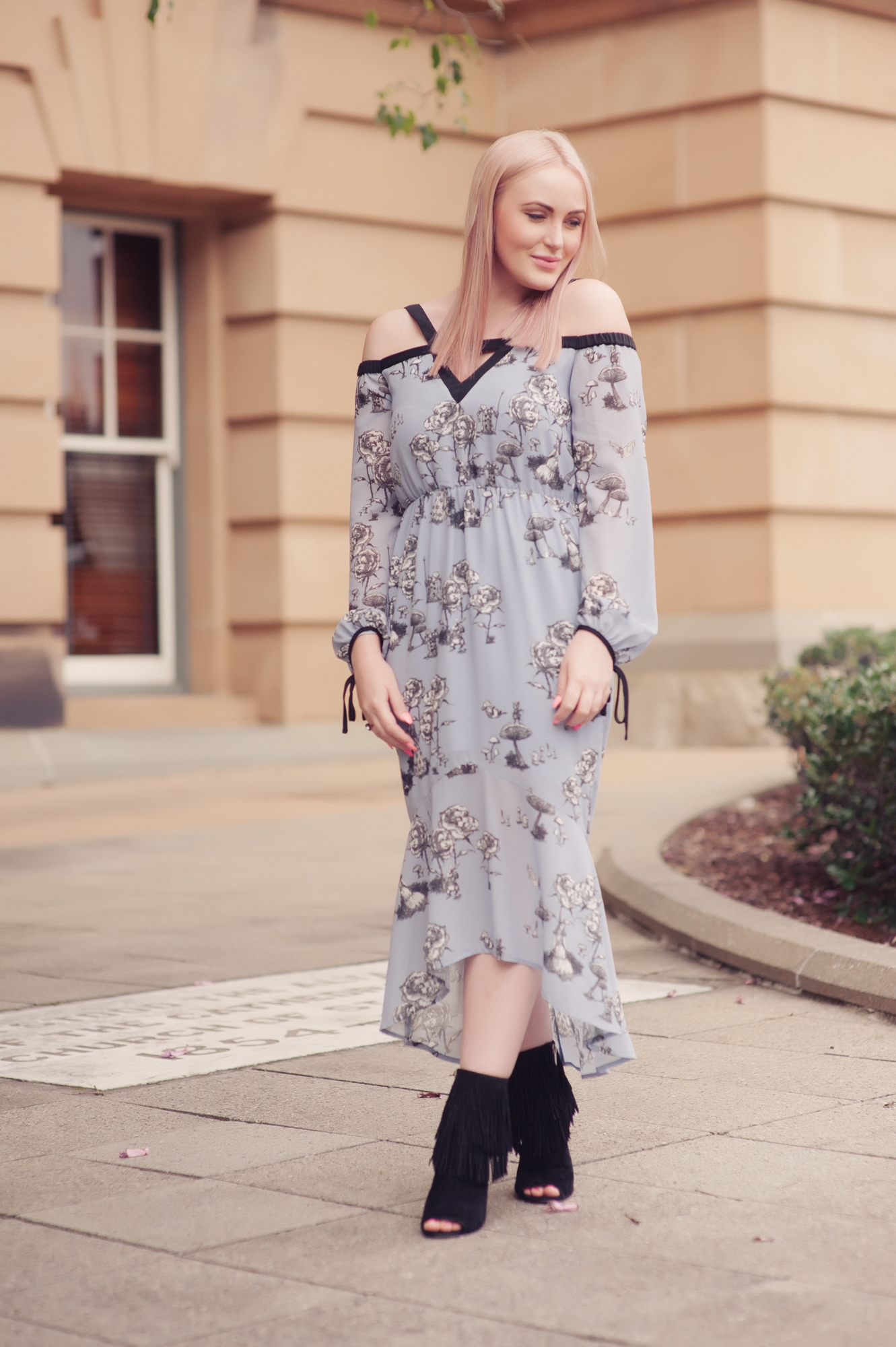 Seduce x Disney Curiouser & Curiouser Dress, Sam Edelman Arizona Fringe Booties, Swarovski Earrings (similar style here), Swarovski Ring (similar style here).
Cue the madness of a deranged tea party and a croquet game with the queen, I'm ready to travel down the rabbit hole to join Alice and her kooky gang, in this divine Disney collection Lost In Wonderland by Seduce x Disney. Coinciding with Tim Burton's theatrical sequel, Alice Through The Looking Glass, the exquisite collection paints a beautiful and familiar story of the curious blonde girl who finds herself in a magical world, chasing a white rabbit.
It's a magical pairing, one that I have been very excited for since the memo appeared mysteriously on the Seduce Insta back in May. Captured by the talented Margaret Zhang, the campaign itself is hauntingly beautiful featuring opulent spaces, a decadent tea party setting and dreamy florals. See the campaign lookbook here.
As for the garments, the collection features delicate fabrics, floating silhouettes and ornate prints, all inspired by the Disney original. The very piece I'm wearing features a charming, whimsical print of the familiar characters; the talking roses, the cards, The White Rabbit, Cheshire Cat and Alice, which contrasts delicately against the 'Alice Blue' shade of the gown. It's name is fitting, as I find myself Curiouser & Curiouser about the adventure I'm about to begin!
Do you love this modern Disney collection? Which pieces are on your wish list? Leave your thoughts in the comments below!
SHOP THIS LOOK:
Photography by Erin Smith Photography
---