Step Up With A Pump!
Thursday, October 30th, 2014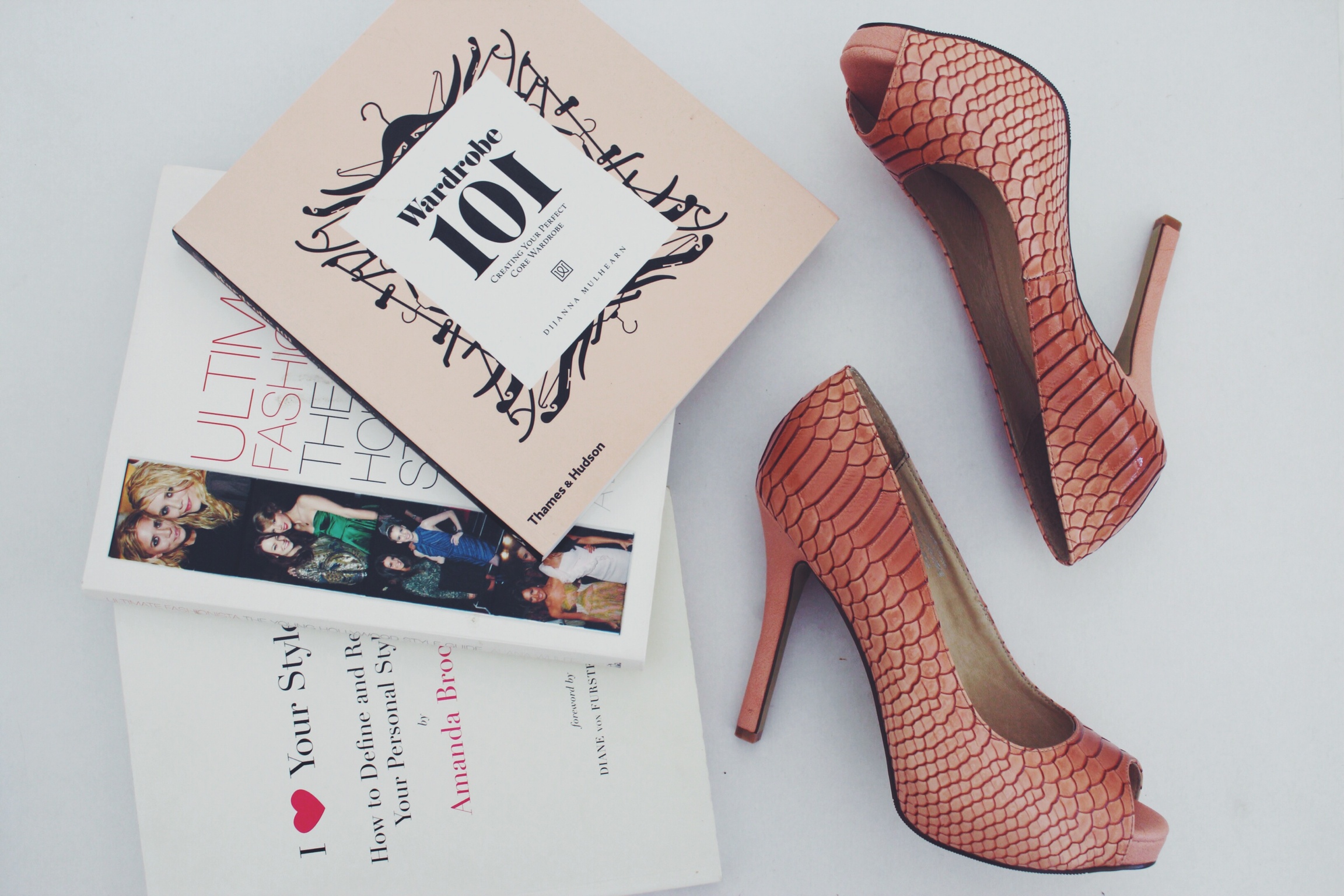 As a girl who looks for any opportunity to embrace her femininity and dress up, it will come as no surprise that I adore the Spring Racing Carnival! While I may be watching the Flemington Racecourse on the big screen, regardless I still watch it in luxury, dressed in my finest and celebrating with my girlfriends at a fabulous high tea.
If there's one thing that's certain, it's that the wrong choice of footwear can ruin a raceday quicker than you can say "Black Caviar!" Let's face it, there's no room for flats at Fashions on the Field, but crippled by pain while destroying those dainty, strappy stilettos is equally unglamourous. So this year, I'm ditching my beloved stilettos in favour of something more supportive, more elongating, more…textured, with a platform, peeptoe pump by Scarletto's.
Launching a brand dedicated to delivering women with exquisite taste, a lavish pair of heels both comfortable and of high quality, Scarletto's new season Peeptoe collection, has me hooked. Amongst a sea of neutral coloured shoes, Scarletto's creates a colour palette both daring in nature while remaining versatile, that any women can colour block her way to fashionista status. For me, it's often a statement over sensibility situation and with the soft coral- pink seen in this Preston heel, I'm suddenly visualising a pastel perfect getup for Melbourne Cup. Aside from the gorgeous colour, the interest material is a stunning feature, with the intricate scaled pattern adding a little multi texture to an ensemble. It's all about the details girls!
Aesthetics aside, this shoe is a dream to wear. Having experience working in footwear means I'm super picky when it comes to the the quality and sustainability of my heels. Upon slipping into the first pump, my foot was cushioned by a soft, padded leather insole and leather lining, which straight away tells me that this shoe will be durable throughout my raceday plans. The last, features a comfortable inbuilt platform- which helps to alleviate the pressure felt on the balls of the feet, reducing the incline of the tapered 8cm heel. As an additional perk, this platform style is super flattering to wear, elongating the leg and creating the illusion of leggy, supermodel status by an affordable means. On behalf of all petite 5ft fashionistas, thank you Scarletto's.
Girls, if I haven't convinced you already, then I stress this point, the beautiful colouring, patterning and diversity of slingback and pump styles in Scarletto's new season collection is well worth a visit, especially if you are yet to sort out your raceday footwear. Check the website | Facebook | Twitter | Pinterest for the latest news on this lavish brand.
In the mean time, don't click too far away- you've yet to see how I style this Preston heel in a gorgeous Melbourne Cup attire. Coming soon and as always, keeping it classy! x
---
Chambray For Days
Monday, October 27th, 2014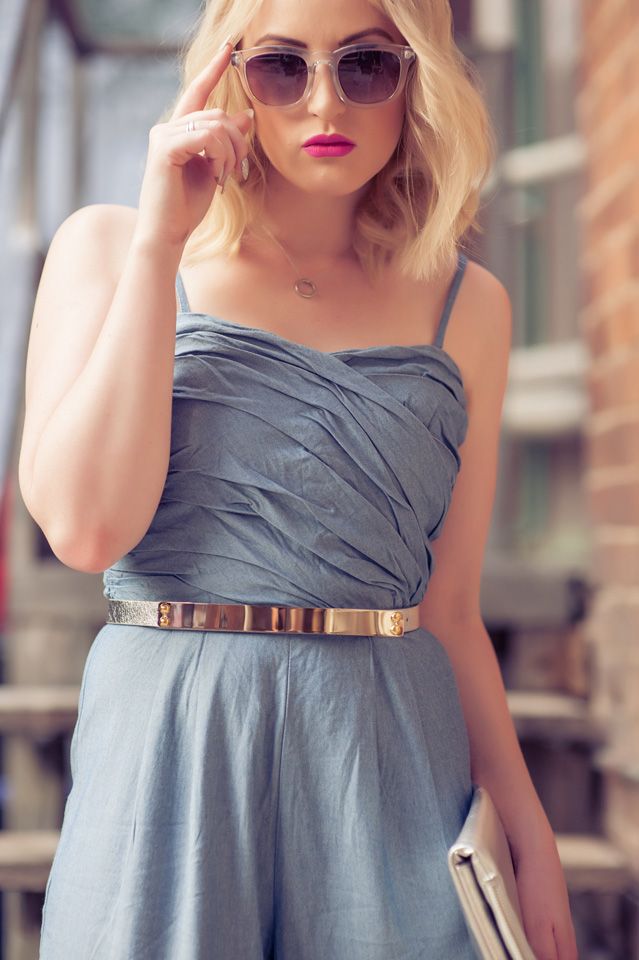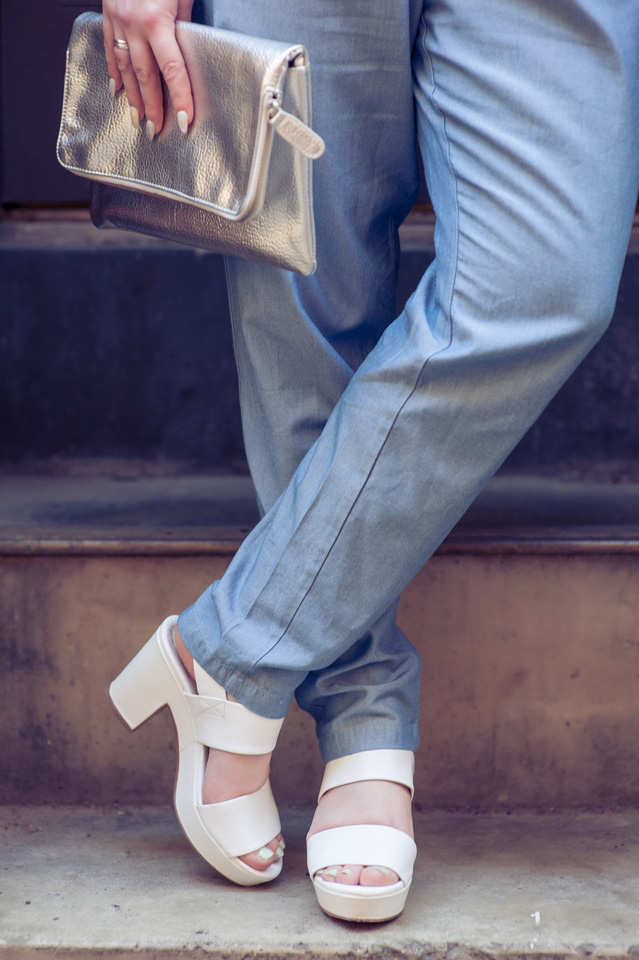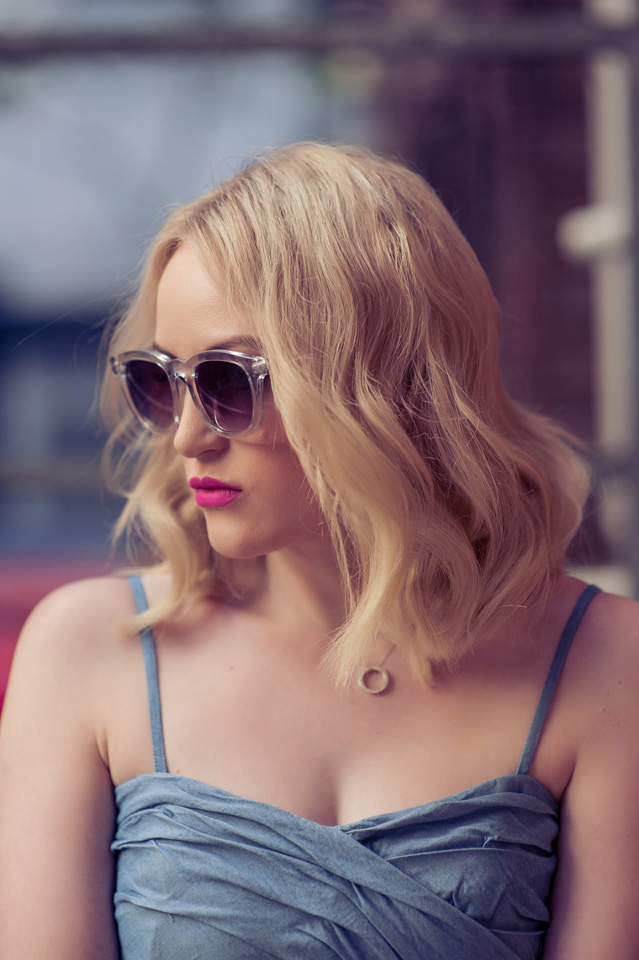 French Connection Chambray Jumpsuit, Jo Mercer Erika Platforms, French Connection Fold Over Clutch, Tiffany & Co Circle Pendant, Le Specs Noddy Sunglasses (similar style here), Pandora Heart Ring, Tiffany & Co Stacked Rings.
Let's be frank, there's no other fabric as effortlessly cool as chambray. Often mistaken for denim and worn more frequently in the form of a relaxed button up, I'm super excited to add a unique chambray flavour to my wardrobe with this French Connection chambray jumpsuit, aka my idea of summer's little one-piece.
Despite being a mix of cool and casual, I love how this piece remains completely feminine in form with a structured bodice, sweetheart neckline and relaxed pant. The lightweight nature of the chambray offers a breathable fabric perfect for those steamy Brisbane temperatures. Best accessorised with a chunky platform like these Jo Mercer Erika heels and splash of metallics, seen in a two tone belt, jewellery and foiled French Connection clutch, I'm taking over summer with some serious swag.
Not the usual hangout that's for sure, but Erin Smith Photography and I love the juxtaposition of girly meets grunge and this forgotten, graffiti covered alleyway makes the perfect backdrop. Capturing a summer that's nothing if not imaginative….
SHOP THIS LOOK:
Photography by Erin Smith Photography
---
Forever 21 Brisbane Launch
Sunday, October 19th, 2014
'
Wearing: French Connection Pleated Dress, Saba Belt, Jo Mercer Tanessa Heels (similar style here), French Connection Silver Clutch, Thomas Sabo Pearl Bracelet.
When I first heard the news that Brisbane would soon be home to the first Australian Forever 21 store, I experienced a #tbt to 2009, where I spent November holidaying in California. Surrounded by effortlessly cool Cali girls, I embraced the american IT girl lifestyle and took a little Californian flavour back to my Brisbane life, with some fast fashion pieces from Forever 21.
Now 5 years later and I'm treated to a VIP media tour of the gleaming multi-storey retailer in Queen Street's prime position and watching the shiny yellow ribbon being cut my model/actress/blogger Alli Simpson.
Offering a delicious start to my Thursday morning, the event began with a breakfast spread including individual bircher muesli bowls, mini ham and cheese croissants, pastries and fresh fruit, catered by Lennon's Restaurant in Brisbane's newest luxury hotel, Next Brisbane. We were then escorted on a private tour of store, imprinting our footsteps on the new floor before any other shopper- a little bit special indeed!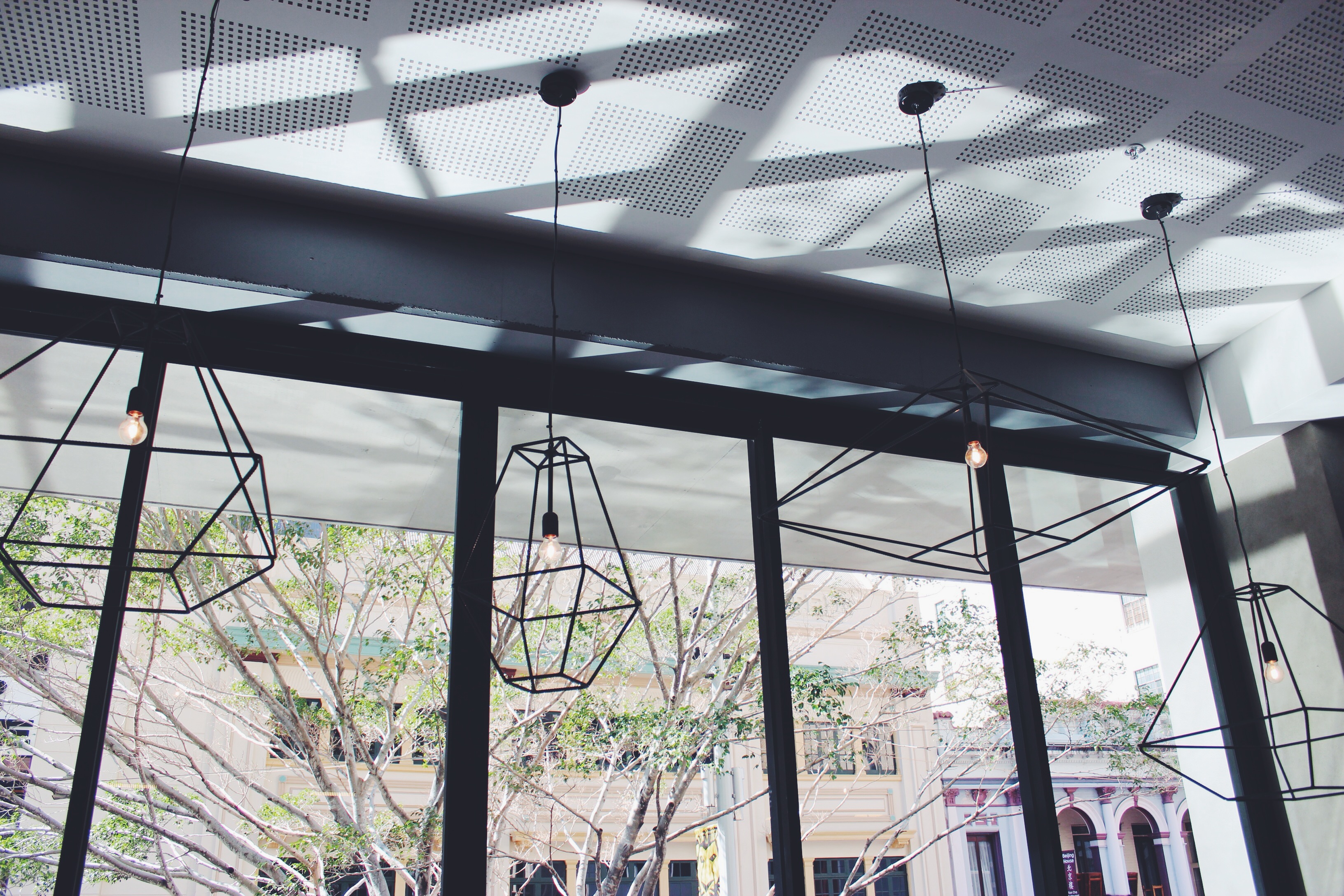 Blogger Clique: @itsconnieyeah, @zestfashionblog and @thefashionheist
Homegrown brand ambassadors Lisa Hyde from The Bachelor 14 and blogger/model Alli Simpson
With an appreciation for an organised layout, I particularly loved how the store is divided into themes, with denim trends and luxe boho/festival fashion merchandised separately, creating a clear yellow brick road for any fashionista. Other highlights included the chic mannequins with their dip-died candy coloured tresses and the girly ambience of the change rooms featuring a pastel pink and mint colour theme.
Offering an extensive summer collection divided over two whole floors, with each pieced priced to suit a minimal budget, I walked away with a little yellow bag of goodies including two contrasting print dresses and a handful of girly toiletries (@theblondesilhouette), with the best part being this little haul came to only $100!
Wearing a lemon hue, teamed with monochromatic and metallic accessories, I certainly blended in with the store's colour palette which highlights a bright yellow seen in the merchandising. It seems neon was the popular choice among other guests, with the blogger clique dressing brightly for the occasion, while being snapped in store.
A big thank you goes to the girls at The Red Republic for hooking me up with the ultimate insider experience! To my lady following, I would definitely suggest checking out this new fashion hotspot for accessible and affordable style!
SHOP THIS LOOK:
---
Supernova
Tuesday, October 14th, 2014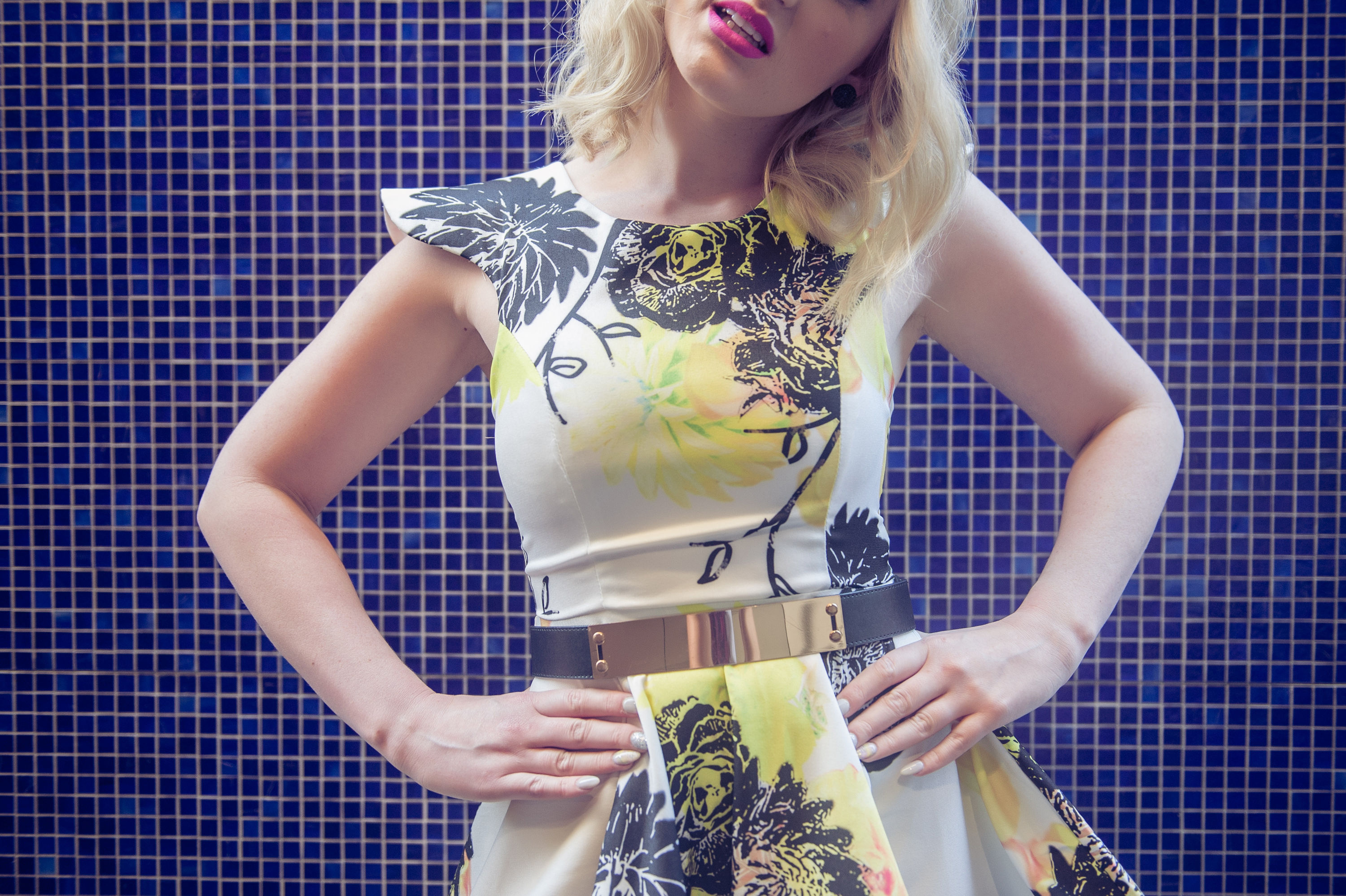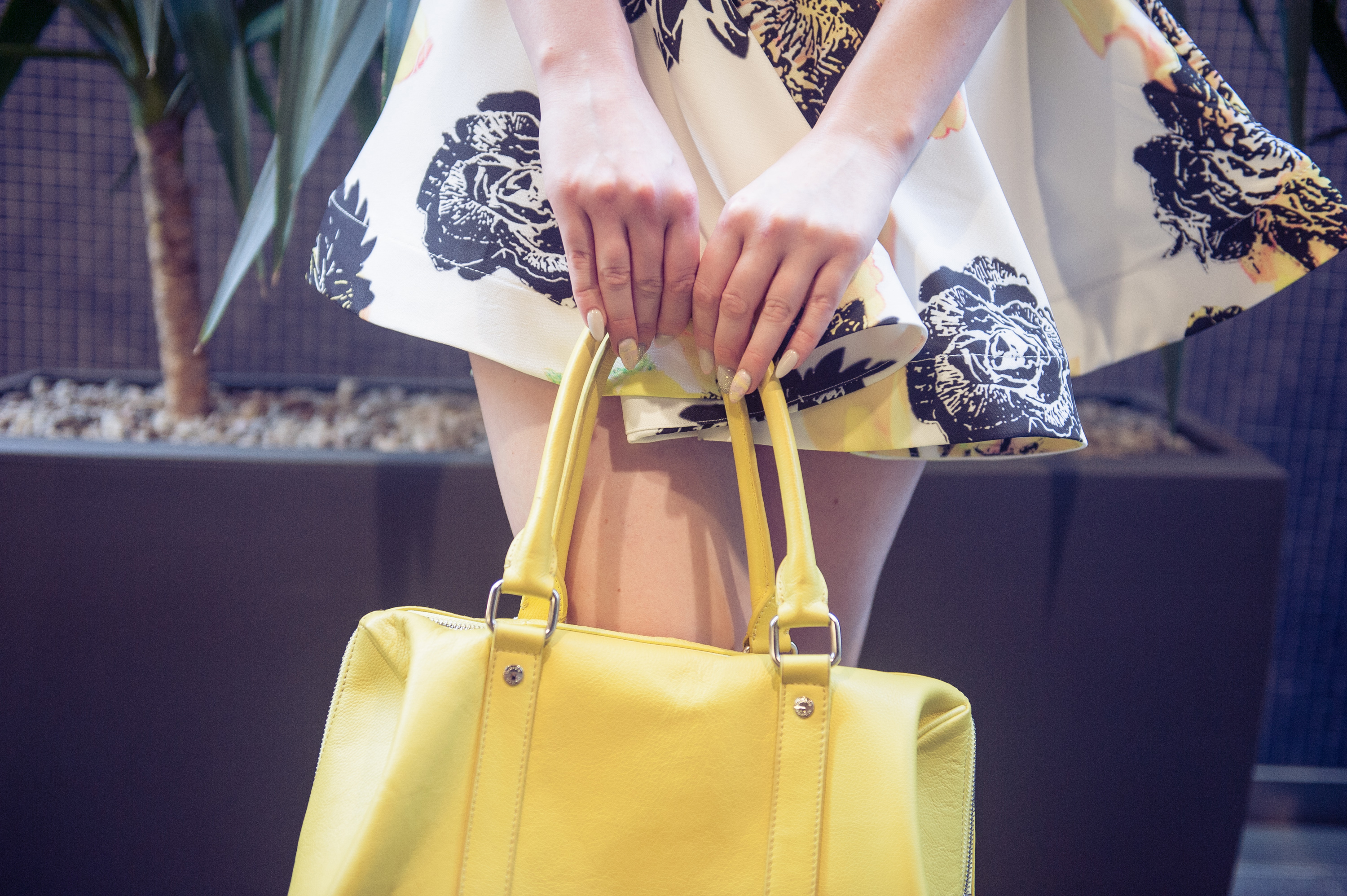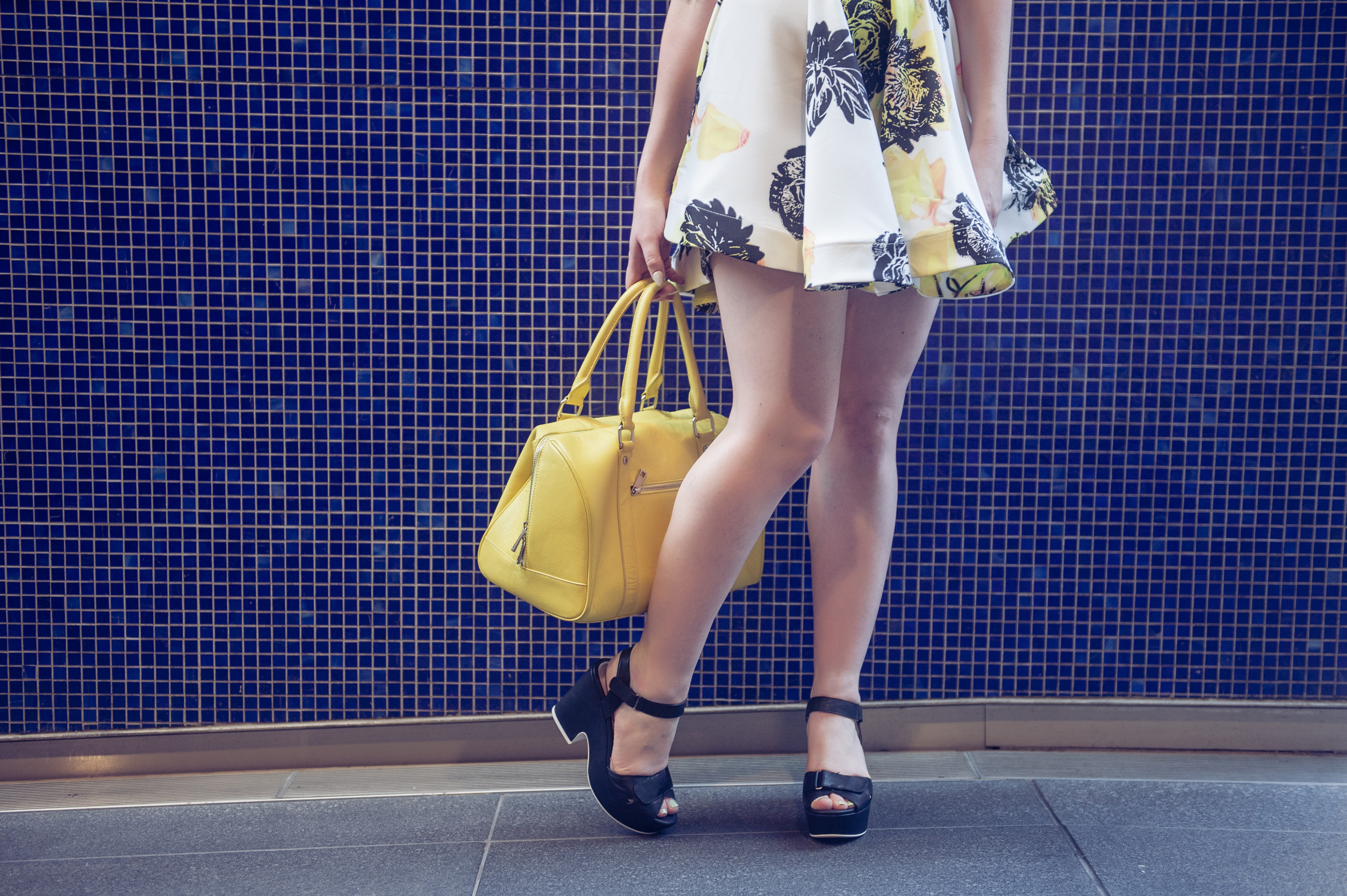 St Frock Supernova Swing Dress, Jo Mercer Devious Heels, Marcs Handbag (similar style here), Sportsgirl Belt (similar style here).
Some mornings I wake up and dress myself according to my mood. Today I'm feeling bright, bubbly and exploding with energy, so naturally I gravitate toward a vivid lemon, black and white floral pattern, replicating the perfect sunny weather awaiting outside for me. So I'm wearing my inner aura on my…sleeve whilst showing off the summer themed new arrivals from St Frock! Ps, this dress is named Supernova- rather fitting isn't it!
If I wasn't immediately sold by the whimsical nature of the floral print, then this structured swing skirt would be a close second, as I am loving the playful movement of this silhouette!  And while we are on the topic of playfulness, this flirty shade of lipstick, Candy Yum-Yum by Mac is really just as much a treat for the eyes as it is for the lips! Too bad it's not edible!
With a pair of platforms so comfy they should be called air walker, I'm in full flight, powering through my errands and window shopping (with the occasional sneaky purchase!) Photographer in tow, Erin Smith Photography and I are in search of some bright coloured locations to contrast against our sunny colour palette. Swapping our usual bright red wall for something a little cooler, this deep blue backdrop definitely has our attention. For now, you'll find us chilling!
SHOP THIS LOOK:
Photography by Erin Smith Photography
---