20 Hairstyles For Fine Hair!
Monday, October 5th, 2015
When it comes to hair, we lady's always want what we can't have. As for me, I experience major #hairenvy when I see girls with luxurious, thick, curly hair – basically the exact opposite of what I was blessed with. For years, I have wished for volume, body and fast-growing locks and unfortunately my very fine, dead straight hair has never delivered! Luckily, the hair industry is always developing new little tricks to transform even the finest hair into fabulous hair! Never shy of trying a new style, I have found the following twenty styles to be particularly volume deceiving for those with fine hair, whilst creating some serious #hairspo!
1. The Bouffant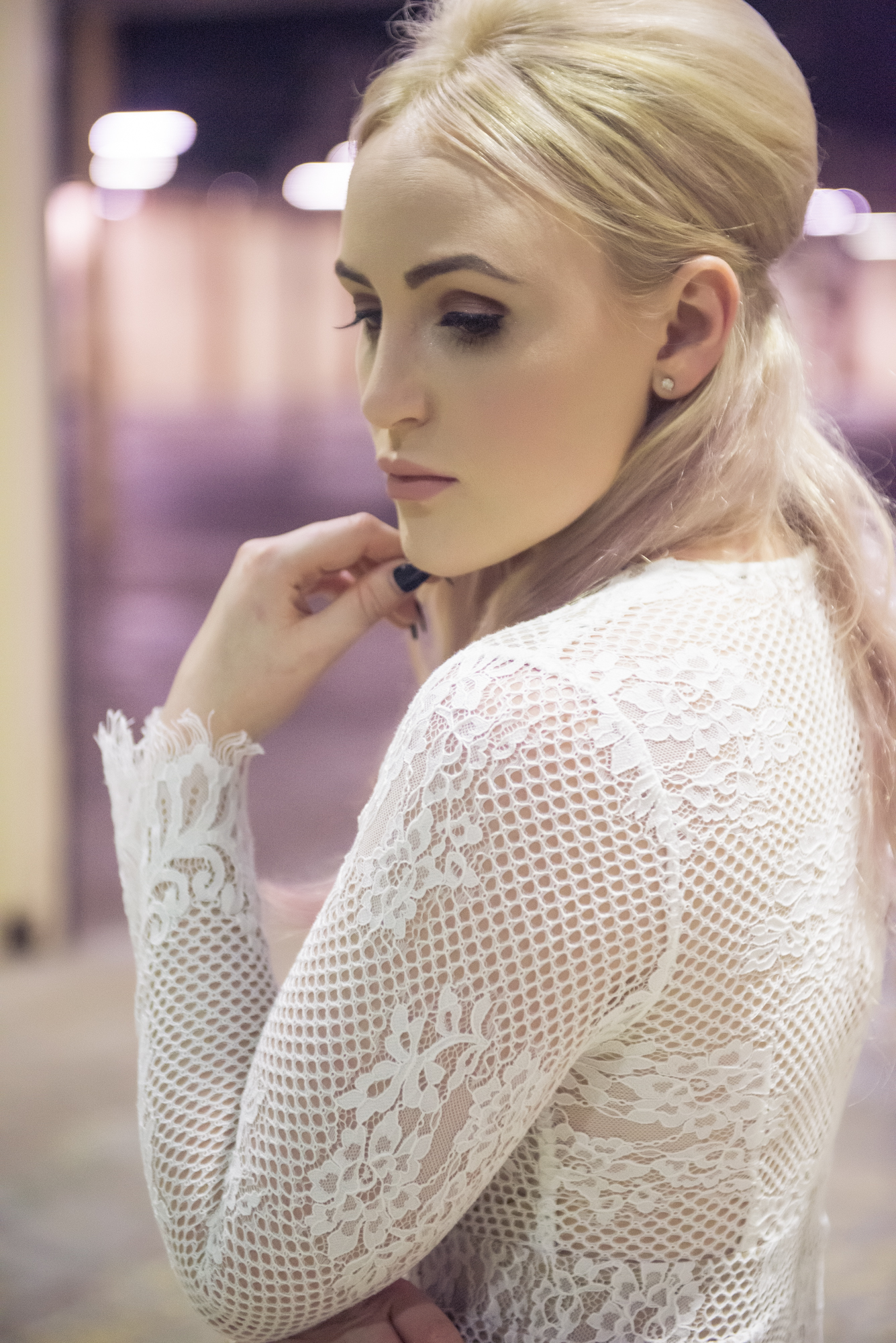 A modern spin on a 60's classic.
The "Bouffant" is a ladylike hairstyle comprised of volume, volume, volume!
2. The High Pony

Nothing says sophistication quite like the classic high pony tail.
3. Double Buns
While very Miley esque, double buns create a quirky and bold statement, just like the twerking that follows!
4. The Braided Crown
The quickest way to crown yourself a Bohemian Queen is with a whimsical braided crown.
5. Side Swept Waves
Retro glam factor on fleek!
6. The Ballerina Bun
No tutu's necessary with this angelic hairstyle. Why not try a bun donut for a more structured and dynamic bun!
7. The Messy Braids
A young girl wearing braids once clicked her ruby heels while a magical sequence unfolded before her. Surely the same thing will happen whilst wearing this enchanted hairstyle.
8. Corkscrew Curls
Curly by nature! This style is fun, flirty and feminine – perfect for the gal about town!
9. The Messy Low Bun
An effortless, elegant style, highlighting the nape of the neck.
10. The Top Knot
Emphasise height and sophistication with this larger than life hairstyle.
11. Girl Next Door Waves

Soft, flowing waves, for that sweet, girly charm!
12. The Fishtail Braid
A hairstyle that is quite simple in execution, but appears rather elaborate. Add texture and depth to a high ponytail, with a loose fishtail braid.
13. Sleek & Straight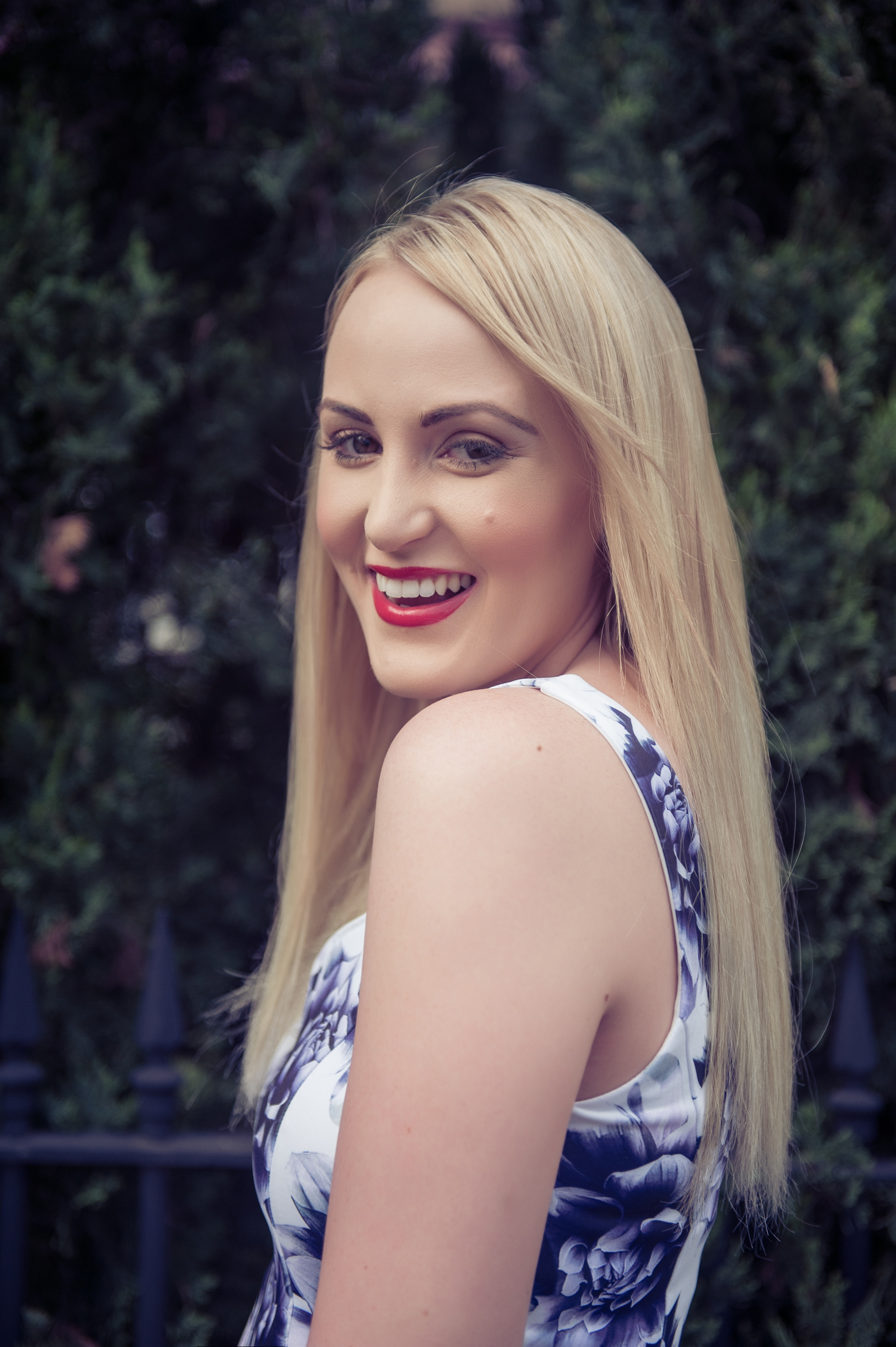 Totally understated!
14. Waves
Add bounce to your main mane with gentle waves.
15. The Volumed Updo
Volume at the front, party at the back.
16. The Low Pony
Classic & chic- the #girlboss do!
17. The Ariana Grande
The iconic half up, half down combo.
18. The Preppy Pony
If Gossip Girl taught us anything, it's that a preppy do relies on; sky high pony tails and bouncy curls.
19. The Loop

Not quite a bun, the "Loop" offers an polished and practical hairstyle, perfect for work or play.
20. The Side Plait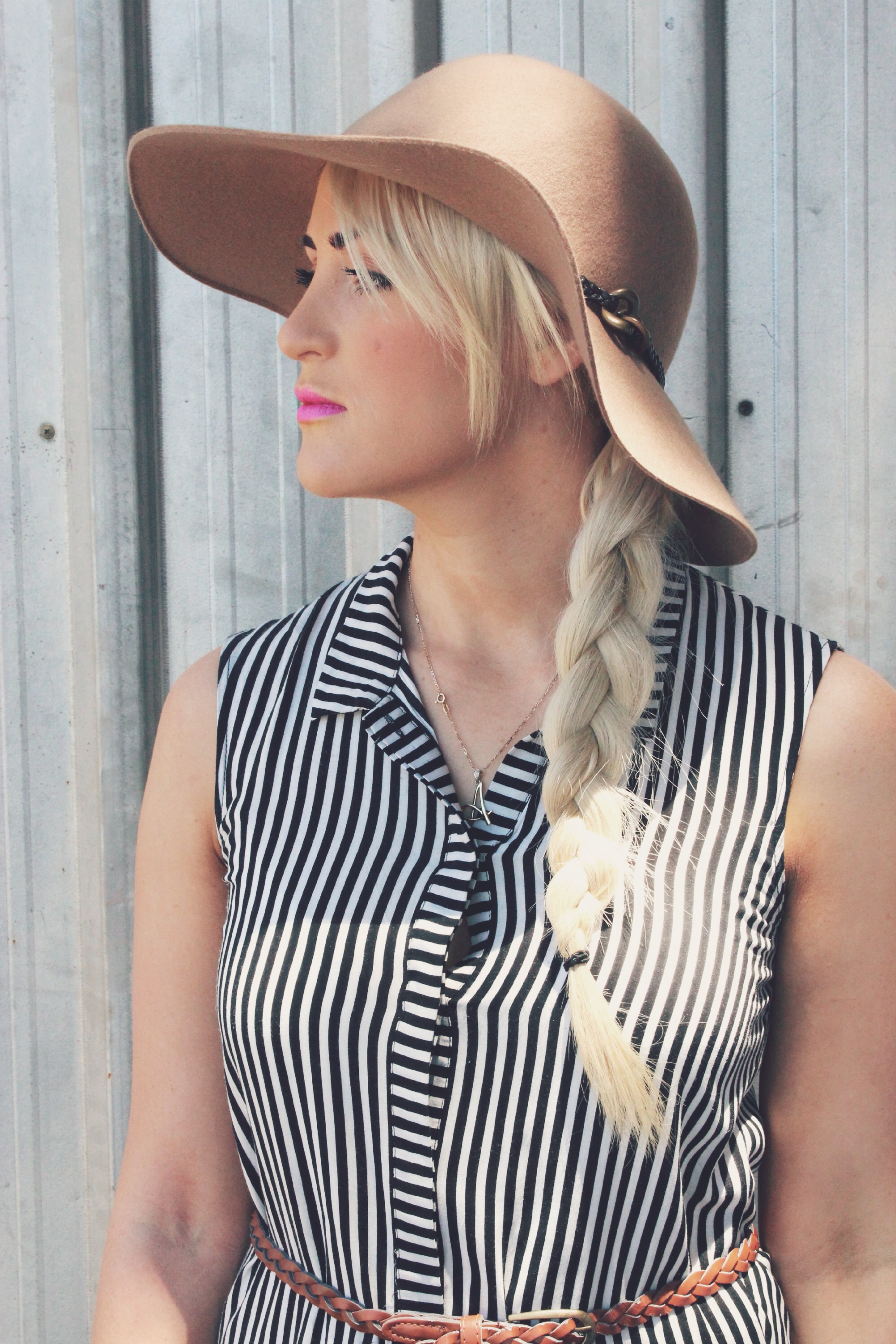 The quick side plait, effortless at it's best.
SHOP MY HAIR NECESSITIES:
Photography by Erin Smith Photography, Ryan Salisbury Photography, Offbeat Imaging, BNEStyle, Polkadot Passport, Fallon Images.
---
Infinity
Monday, September 28th, 2015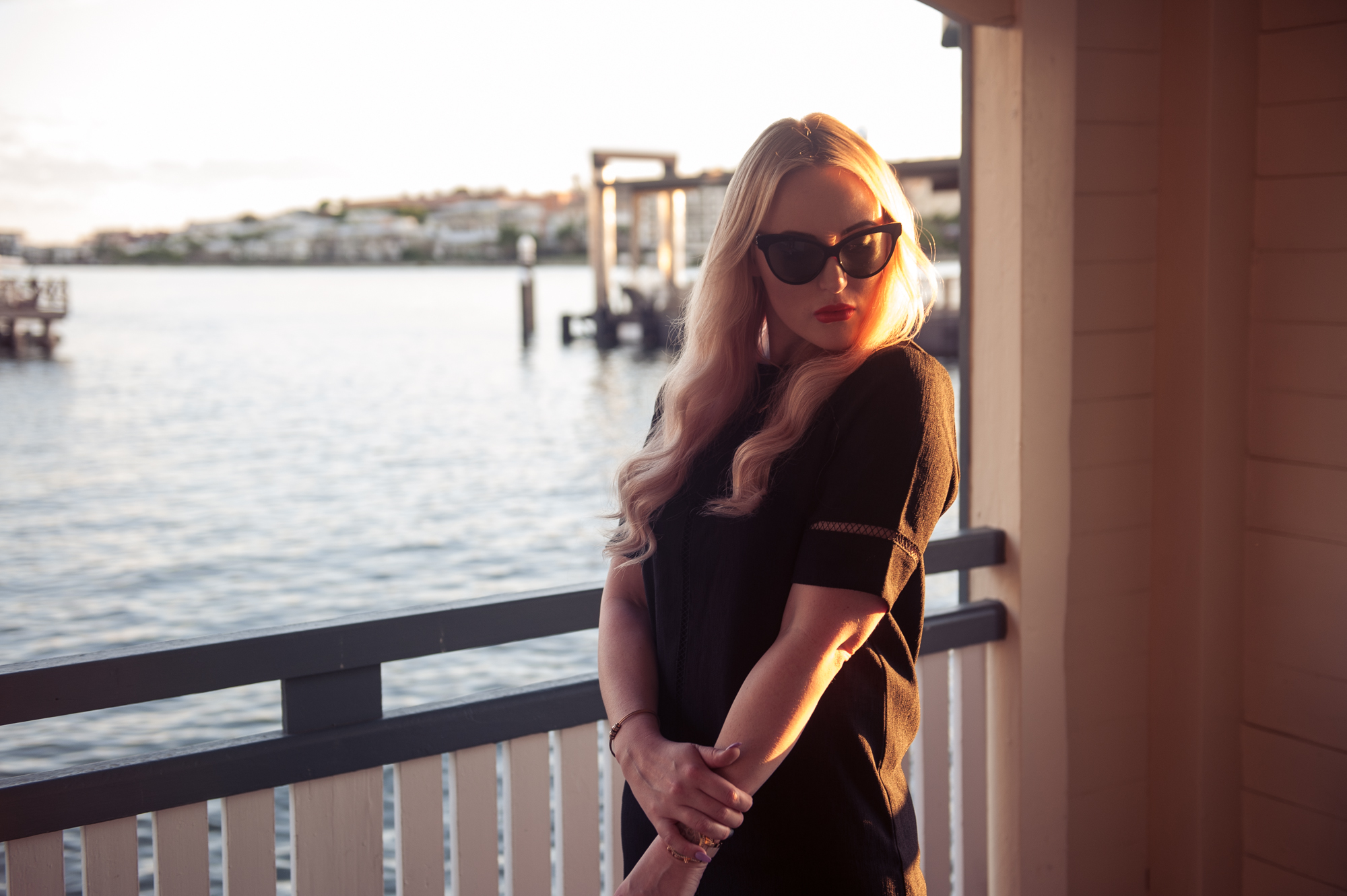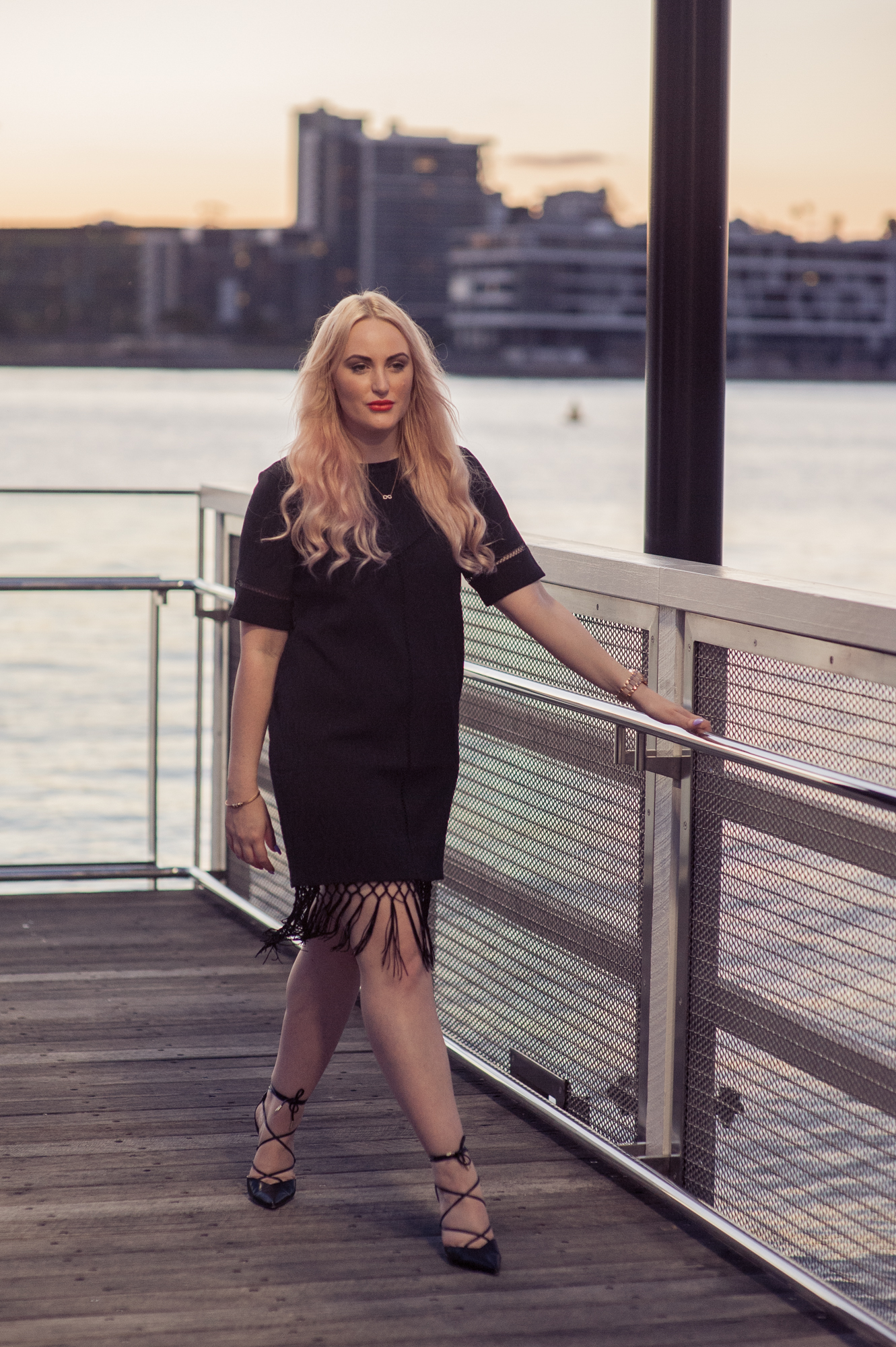 Endless Rose Fringe Mini Dress (available at Shopbop), Wittner Rover Heels, Secret Shhh Minimal Infinity Necklace (available at Indooroopilly Shopping Centre), Michael Kors Blair Pave Watch (similar style here), Oroton Handbag (similar style here), Fossil Bracelet (similar style here), Royal Aquamarine Hepburn Sunglasses.
It's been a very busy couple of weeks at The Blonde Silhouette HQ, but after a weekend of some much needed rest and relaxation, I'm back with black, wearing this new fringe mini dress from Shopbop. I love the playful movement seen in the tassels as they flutter in the gentle breeze of this spring sunset, it's truly magical. If you haven't already, incorporate fringing into your wardrobe, by means of a simple LBD, or the classic fringe miniskirt.
Of course, you may be momentarily distracted by the glistening sparkle of my new rose gold, Infinity Necklace from the new Minimal Collection at Secret Shhh. If like me you love delicate and dainty jewels, then you will adore the understated and sophisticated nature of the Minimal Collection, which highlights fine chains and statement pendants in gold, rose gold and silver metals. Of course this beautiful necklace is best teamed with a classic timepiece, like this Michael Kors Rose Gold Watch and bangle.
Now to make the most of this romantic sunset! x
SHOP THIS LOOK:
Photography by Erin Smith Photography
---
Navy, Gold & a splash of PINK!
Sunday, September 13th, 2015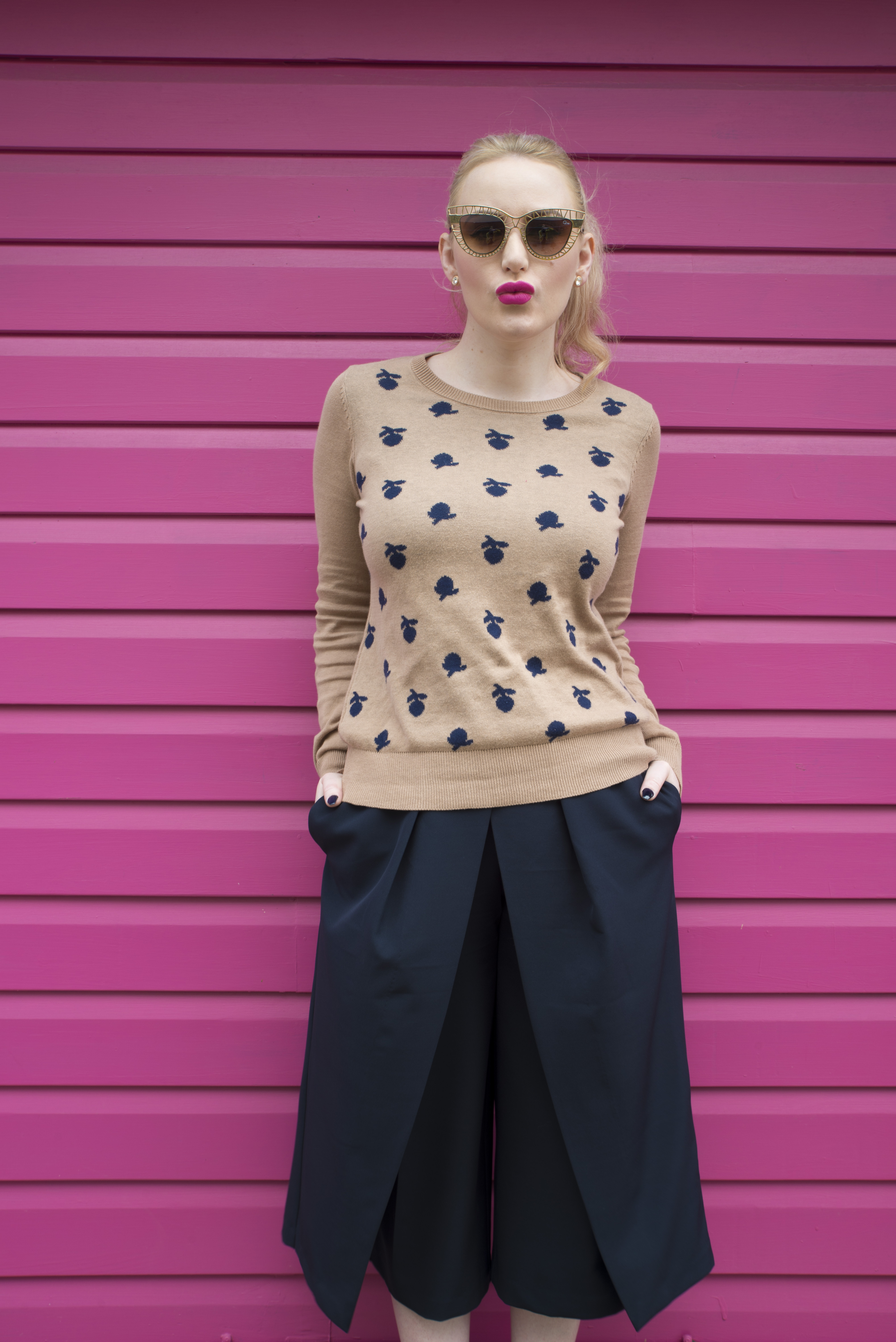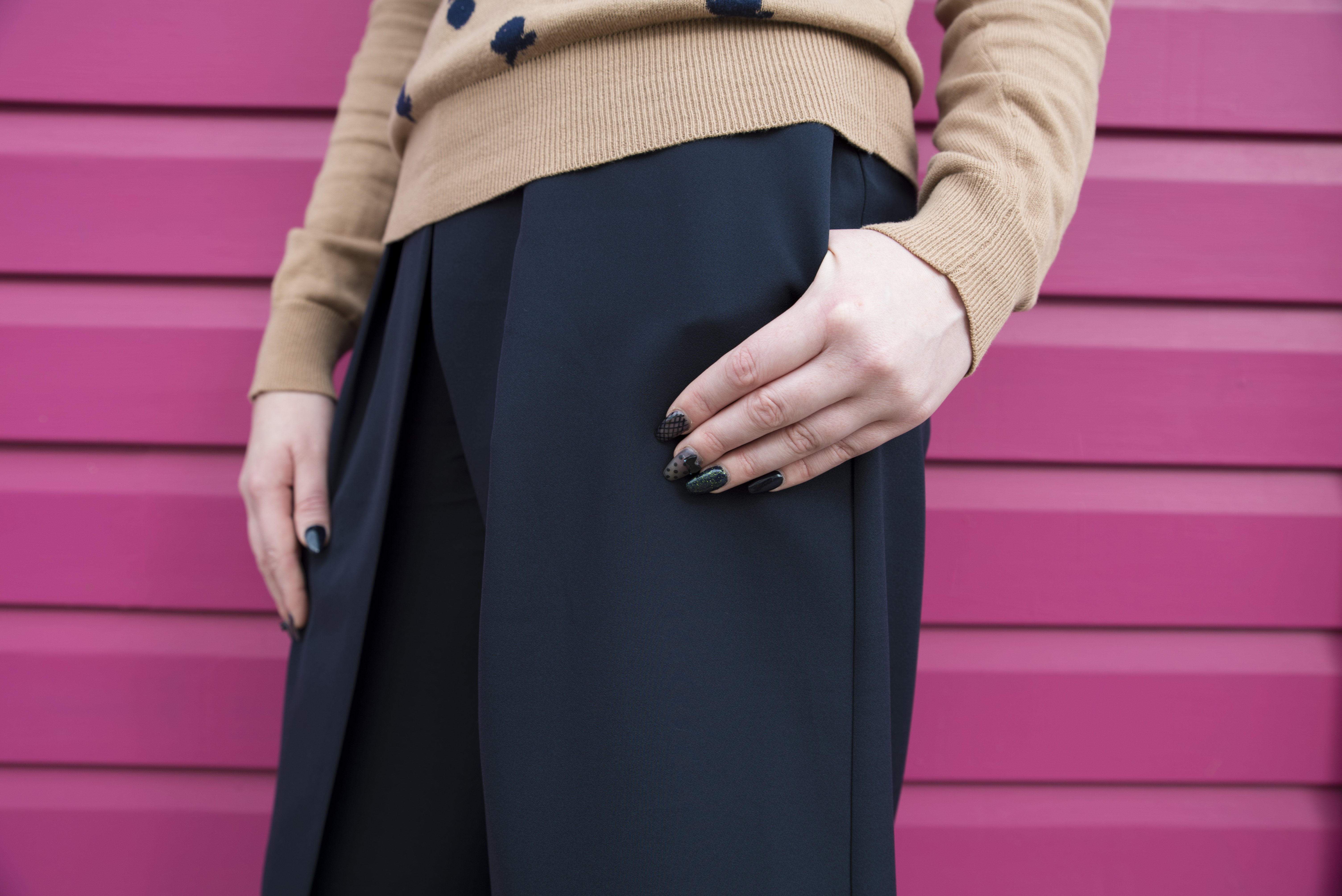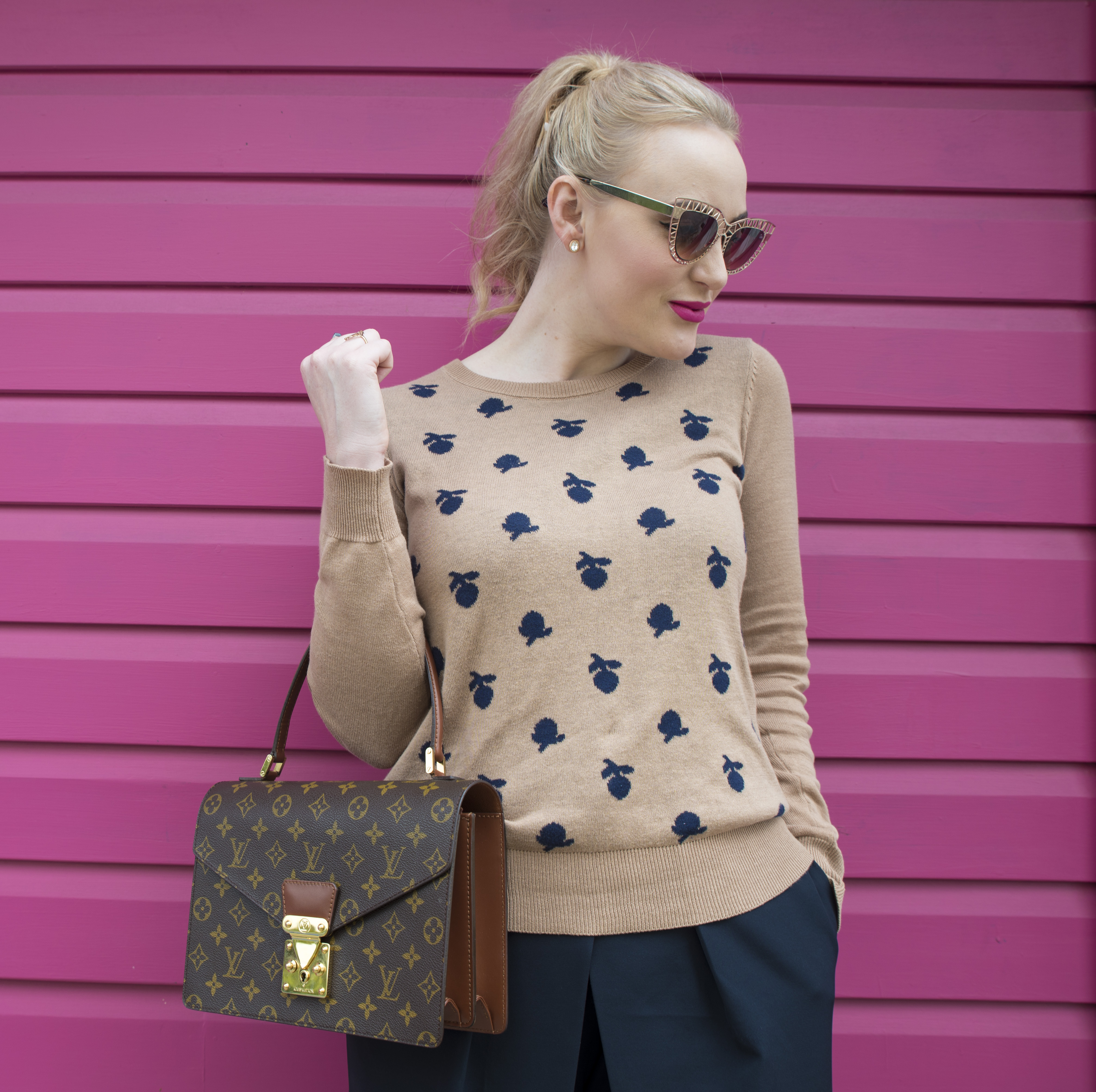 Hi There Karen Walker Navy Culottes (similar style here), Hi There Karen Walker Knit (similar style here), Jo Mercer Rae Ankle Boot, Quay Eyewear Steel Cat Eye Gold Shades (available at Pure Moda), Louis Vuitton Concorde Handbag, Swarovski Arrive Earrings.
It may be technically spring, but we've had some of the most overcast and chilly days in Brisbane as of late. It's definitely worth having a light sweater at the ready and this Karen Walker embroidered knit is not only super cute, but super toasty!
Emulating a chic, "model off-duty" look, I'm teaming my relaxed knit with a pair of tailored navy culottes. These culottes have become a great basic for my corporate wardrobe, but also have the versatility to be worn dressed down in a casual ensemble, as I've done here.
Of course, no outfit is complete without a bit of bling, and if you follow me on Instagram you'll notice I've developed a bit of an obsession with gold hardware. For this reason, I just HAD to add these Quay Eyewear Steel Cat Eye Shades to my sunglass collection! If I'm ever looking for a hot new outfit or killer accessories, I head straight to one of my favourite online boutiques, Pure Moda. Stocking a fabulous array of Australian and International designers including, Talulah Label, Elliatt, Keepsake The Label, Samantha Wills and more, Pure Moda is the perfect place for fashionista's to snap up the latest trends at an affordable price! Don't believe me? Why not visit the website and have a sneaky browse! You'll thank me later 😉
SHOP THIS LOOK:
Photography by Fallon Images
---
Romance & Lace
Sunday, September 6th, 2015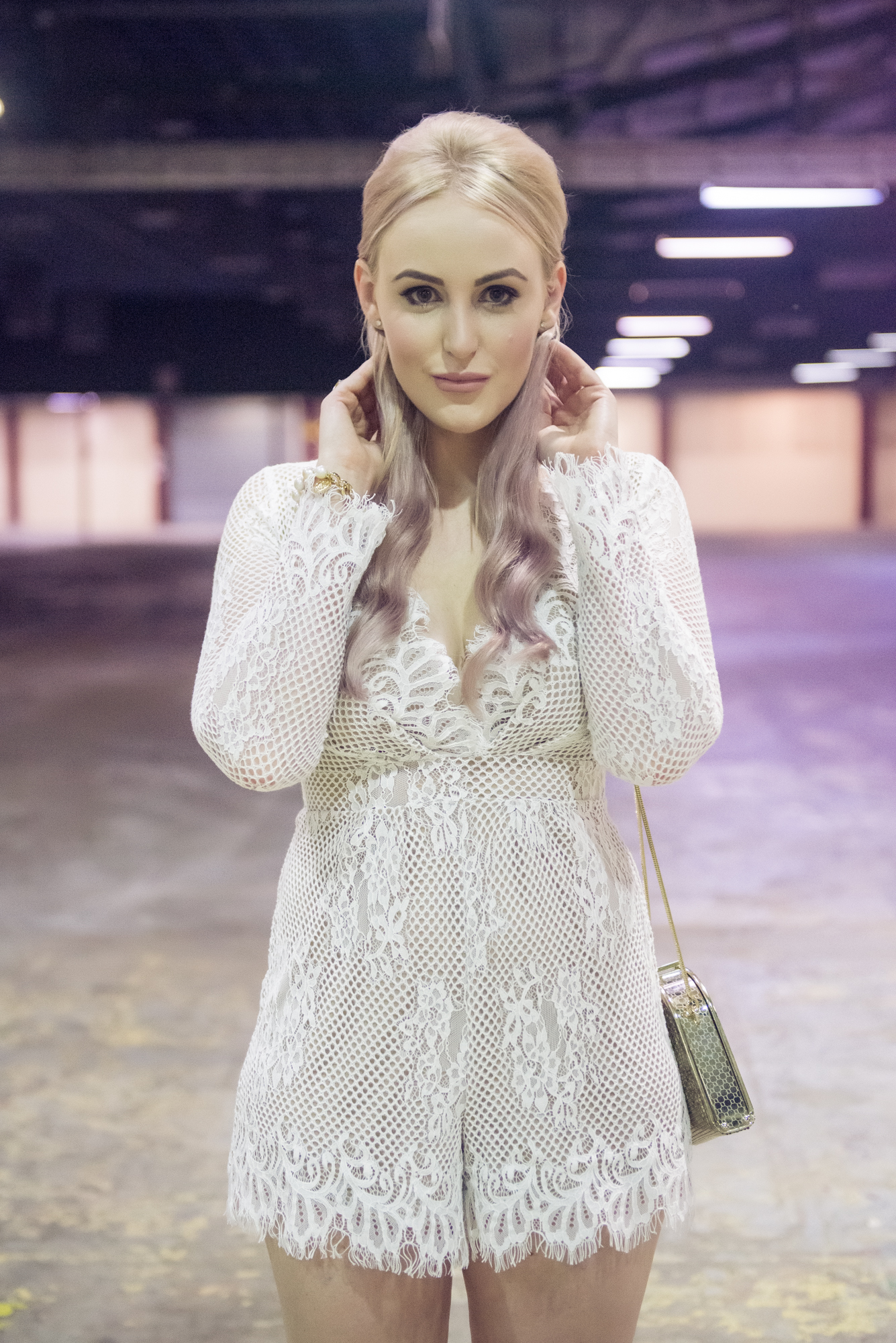 Sheike Romance Lace Playsuit, Sachi Erica Heels (similar style here), Oroton Glomesh Clutch (similar style here), Bowerhaus Fleur Bracelet, Michael Hill Diamond Stud Earrings.
Rule One: You should never wear white to a wedding….
But no one said anything about wearing white to a bridal fashion show! I'm showing off my something new – an ivory, lace playsuit from Sheike, for the MBFF QC Bridal Group Show. I definitely love a statement playsuit and this delicately laced, long sleeve, plunging neckline number is the perfect combination of sexy and sophisticated.
Channeling my inner 60's vixen, I'm reviving the Brigitte Bardot inspired bouffant and adding some much needed height to my petite 163cm frame. While some have killer pins, I have volumiser, a curling wand and a hundred bobby pins.
You might not believe me when I say this, but I've just added my first pair of nude strappy sandals to my growing shoe collection. I know, I'm definitely late to the party, but I really struggle when it comes to finding a nude shade that works on my porcelain skin. I can now call off the search party, because these Sachi Erica Heels are just the right balance between beige and blush, not to mention they are super comfortable, making them a perfect choice for a fashion event.
The only thing that makes me more excited then a fabulous pair of heels, is finding a empty, rustic shed to capture my #ootn (outfit of the night) with my photographer friend, Erin Smith Photography.
#WERKITGIRL
SHOP THIS LOOK

Photography by Erin Smith Photography
---