Lilac Skies
Sunday, November 23rd, 2014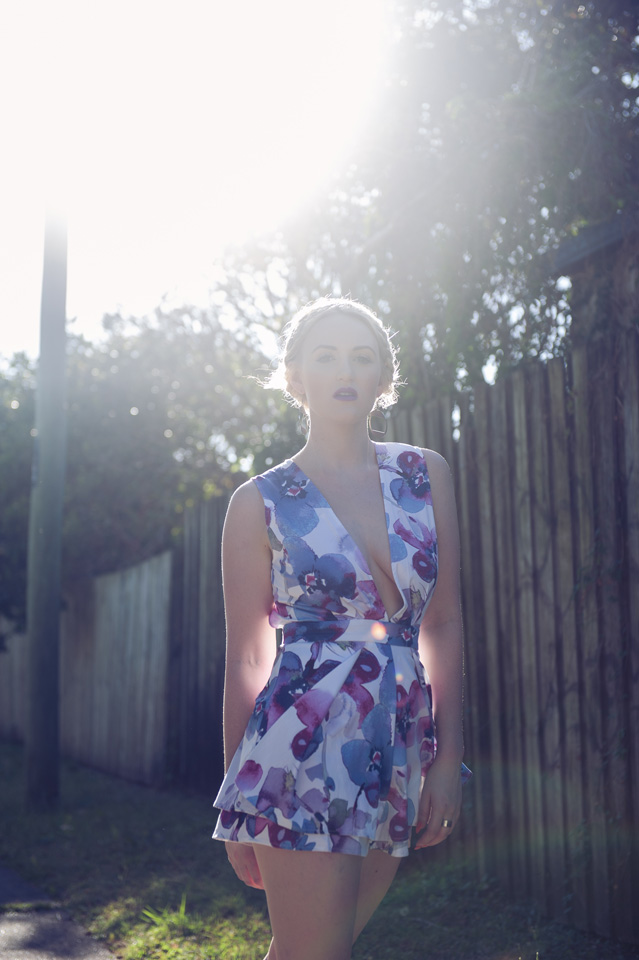 St Frock Lilac Skies Playsuit, Wittner Avril Heels, Joshua Hall Orbis Hoop, Joshua Hall Prism Band, Joshua Hall Watermelon Band.
There's no two ways about it, I'm usually a very conservative dresser, perhaps you've noticed? Don't get me wrong I love summer and bright prints, shorter lengths and cute bikini's totally excite me! Plunging necklines, cut-a-way features however….well, that's pushing it. Stepping outside of my little conservative bubble, I'm showing some skin in my St Frock Lilac Skies Playsuit. While the statement cleavage is a little risky for me, I do love the floral print on the white background, the panelled structure below the waistline and the pinky-purple colour palette. Not to mention, it gives me the excuse to show off my new Mac Lipstick, Lorde's signature shade, Heroine.
Creating a storyboard of summer essentials seen in each little shoot, Erin Smith Photography and I are having a blast discovering Brisbane's location hotspots. We are even more excited to share that we have been published in this month's Fashion issue of Yolo Magazine, discussing "Spring's Most Wanted", a trend report including those lust-have pieces. Take a little time out and refresh for a stylish 5 minutes and read our article here (page 57). In the meantime, keep cool, keep hydrated and treat yourself to a popsicle or sorbet! Fresssshhhh…
SHOP THIS LOOK:
Photography by Erin Smith Photography
---
Daisy Girl
Wednesday, November 19th, 2014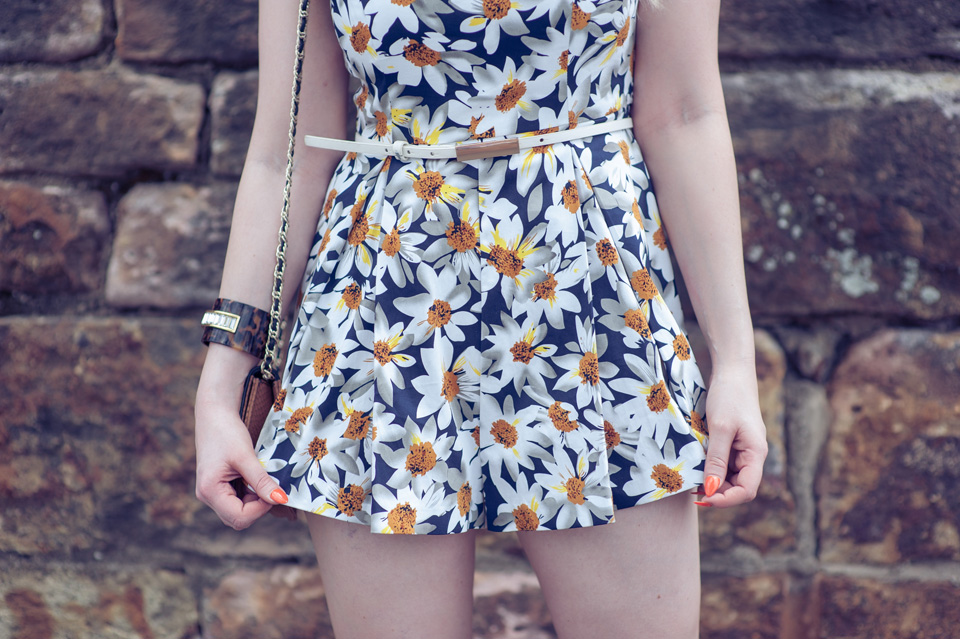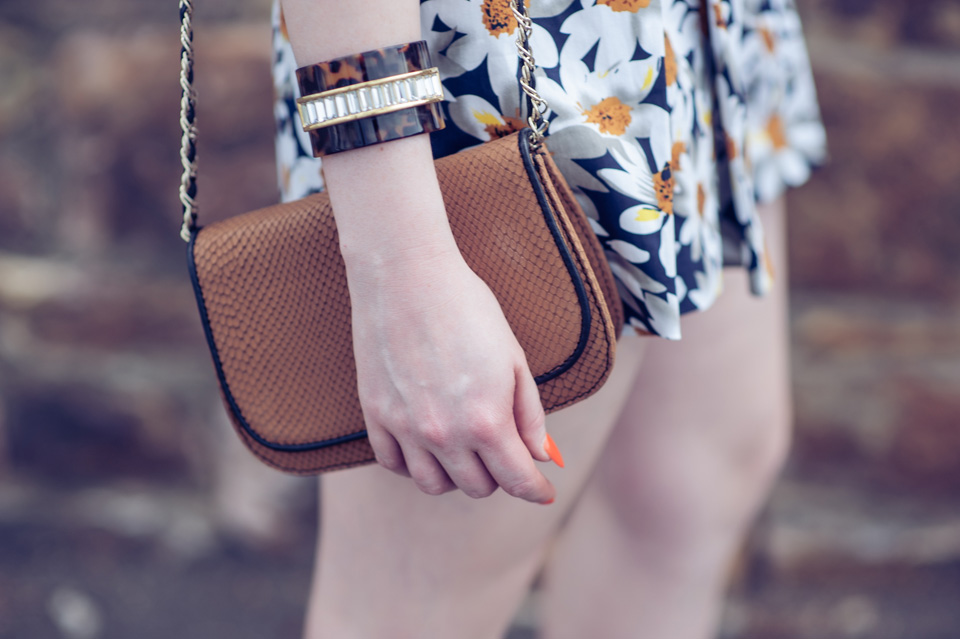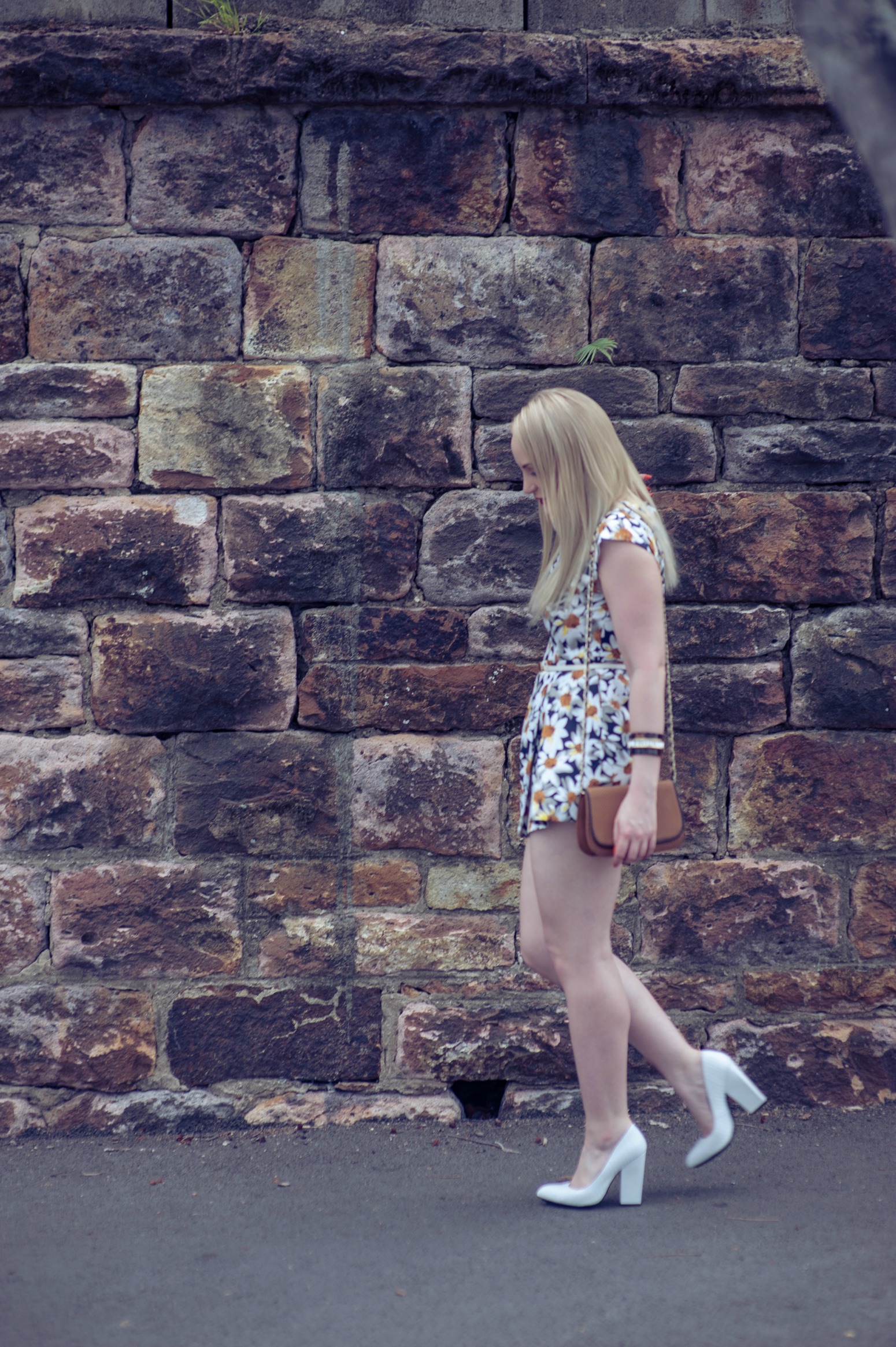 Quirky Circus Daisy Girl Playsuit, Wittner Avril Heels, Oroton Clutch (similar style here), Oroton Cuff (similar style here), Swarovski Sheena Earrings.
I have the spirit of a sunshine queen as I wear my new Quirky Circus Daisy Girl Playsuit, in this balmy 30 degree Brisbane heat. Simply made for a cheeky summer getaway, this piece is perfect to romp around the beach in, as it's lightweight fabric is very summer friendly. If that isn't enough reason to have this piece in your life (and packed neatly into your suitcase), then imagine just how adorable this print will look in all those polaroid pictures! There certainly is a happy vibe that stems from a daisy and I cannot help but smile while wearing it!
Keeping things fresh, I'm enhancing the white colour palette with a classic white point, my favourite little Wittner bargain! Did I mention these little bad boys are on sale? Looking to keep accessories neutral and to a minimum given the vibrant print, I gravitate to my two favourite Oroton staples, a textured, tanned clutch and a tortoise-shell cuff; two timeless pieces that are constantly on rotation due to their versatility…
And speaking of versatility, how incredible is my girl Erin Smith Photography, that can take any location and transform it into an architectural art piece? Observe, a textured backdrop of this 6-foot suburban wall, otherwise  now looking very "street style chic!" Keep up to date with our little fashion escapades via our Instagram @theblondesilhouette @erinsmithphotography as we will be bringing you something special and stylish this christmas!
SHOP THIS LOOK:
Photography by Erin Smith Photography
---
Walk The Line
Friday, November 14th, 2014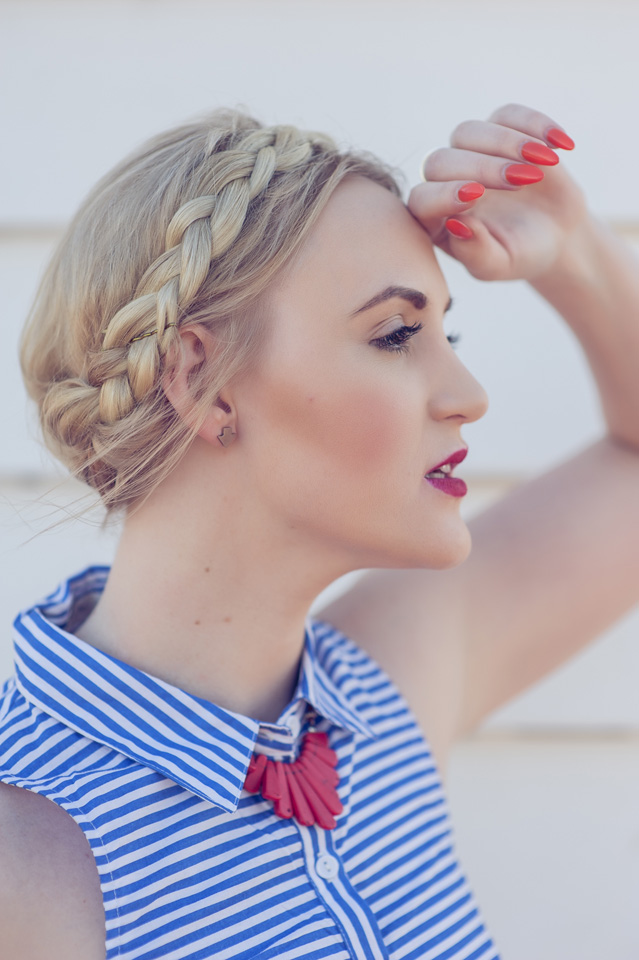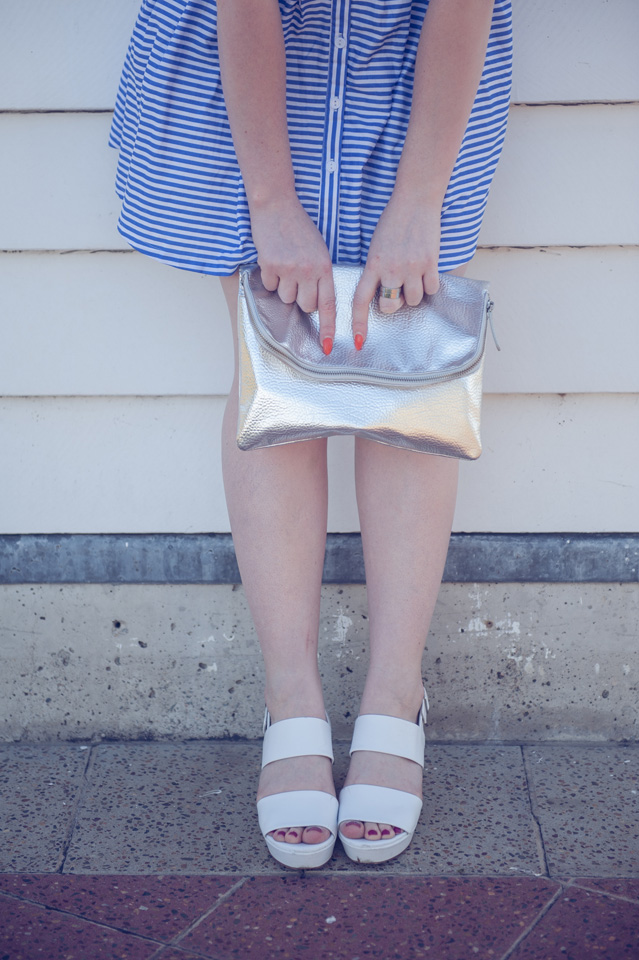 Quirky Circus by Minkpink Walk The Line Dress, Jo Mercer Erika Platform, Closet Chronicles CORA Necklace, Joshua Hall Voter Stud, Joshua Hall Watermelon Ring, Joshua Hall Prism Band.
Ironic isn't it, that such a straight laced expression is the very name of a such a playful, flirtatious dress. Despite it's rather transparent title, it is only fitting to style this piece with a carefree braided updo, bold lip and jewellery to match.
As I evaluate my wardrobe, a sea of geometric, animal, floral and colourful stories suggest that I am in fact, a real print enthusiast. Never discriminating against a bold, statement print, I have welcomed the horizontal stripe detailing of this Quirky Circus number into my summer wardrobe. Often thought of as an unflattering print, this petite horizontal pattern is the foundation to an extremely flattering fit and flare dress, complete with a pleated skirt- super girly indeed! With a collar that can be worn either buttoned up or down, I have chosen to accentuate the nautical undertone, styling the high neck with a pop of red, seen in this Closet Chronicles necklace. Ahoy matey's!
As a little perk for my lovely followers, Closet Chronicles are offering a 20% discount for your next purchase. Expiring on November 30th, make sure you quote the discount code BLONDIE20, thank me later! Make sure you check out the website | Facebook | Instagram for the launch of a new seasonal collection coming very soon.
Keeping the shoes simple, I'm teaming this playful dress with a chunky, white platform, otherwise a sensible addition to my seaside stroll with Erin Smith Photography. Under the shade of an iconic bayside lighthouse, we watched a gorgeous sunset; the perfect end to a delightful, summers day!
SHOP THIS LOOK:
Photography by Erin Smith Photography
---
Indigo Girl
Monday, November 10th, 2014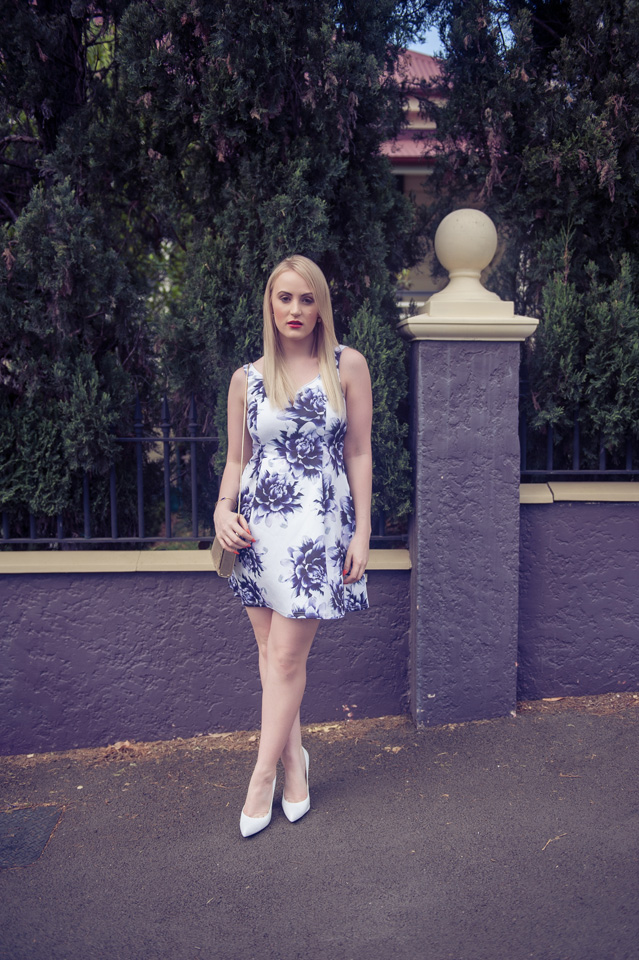 Paint It Red Smokey Bloom Flare Dress, Wittner Avril Heels, Oroton Bangle (similar style here), Oroton Glomesh Clutch (similar style here), Swarovski Sheena Earrings.
White..if that isn't summer's best friend then the combination of this fresh colour and an indigo floral print certainly is. Camouflaging against the deep purple exterior of this little slice of suburban paradise, Erin Smith Photography and I are trading our usual city slicker status for a more stepford scene. Minus the range rover and a matching sweater set, our crisp whites are still a shoe in!
Not the usual colour combination you would expect from a floral pattering, I'm loving the dramatic contrast between the white and purple seen in this Paint It Red Smoke Bloom Flare Dress. Matched with a point toe block heel and a flicker of gold in my accessories, I'm feeling a little Hampton's holiday inspo setting in, which is fitting given the Christmas holidays will be soon approaching…So where does everybody summer?
SHOP THIS LOOK:
Photography by Erin Smith Photography
---