The Red Queen
Tuesday, April 18th, 2017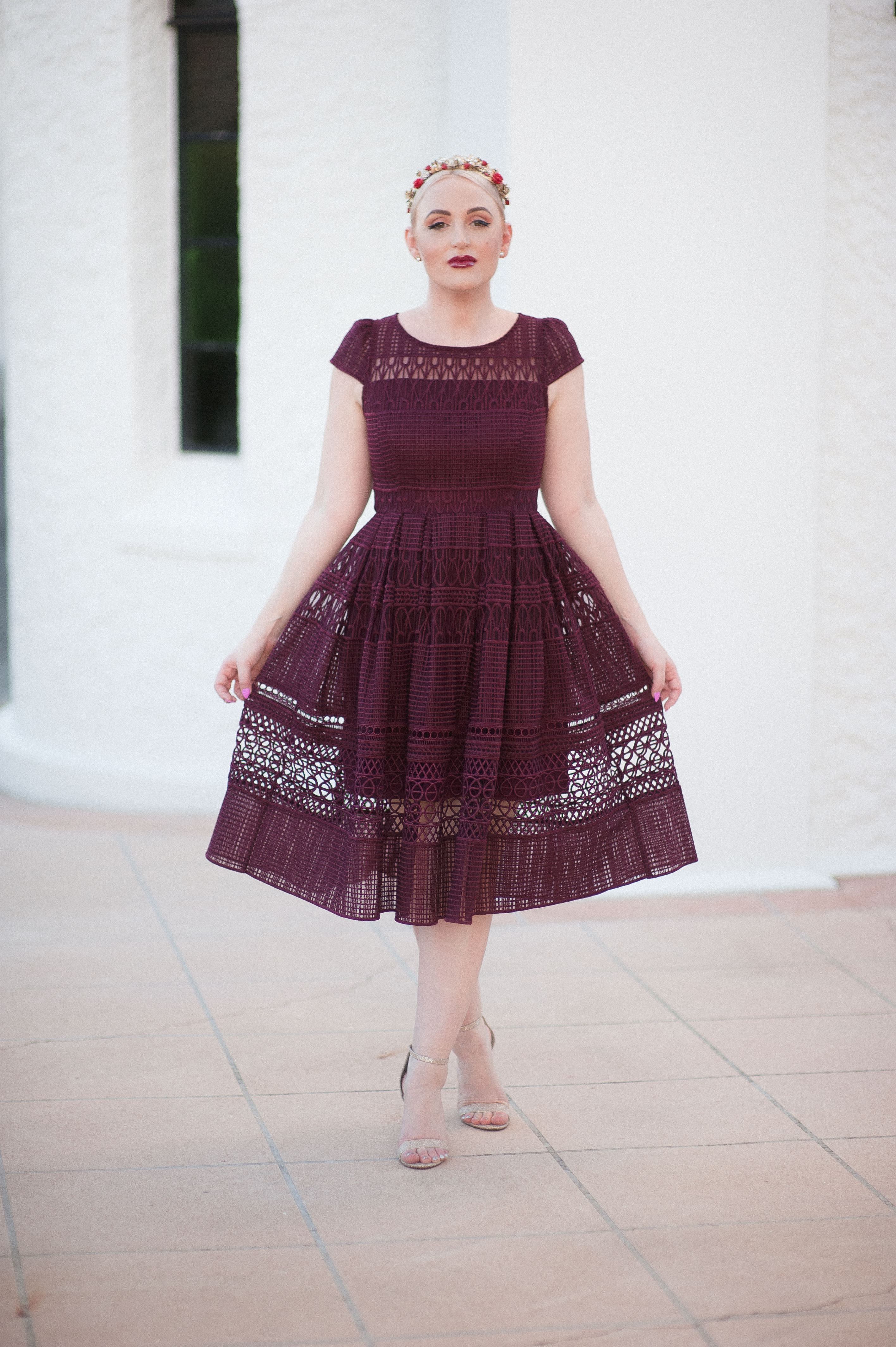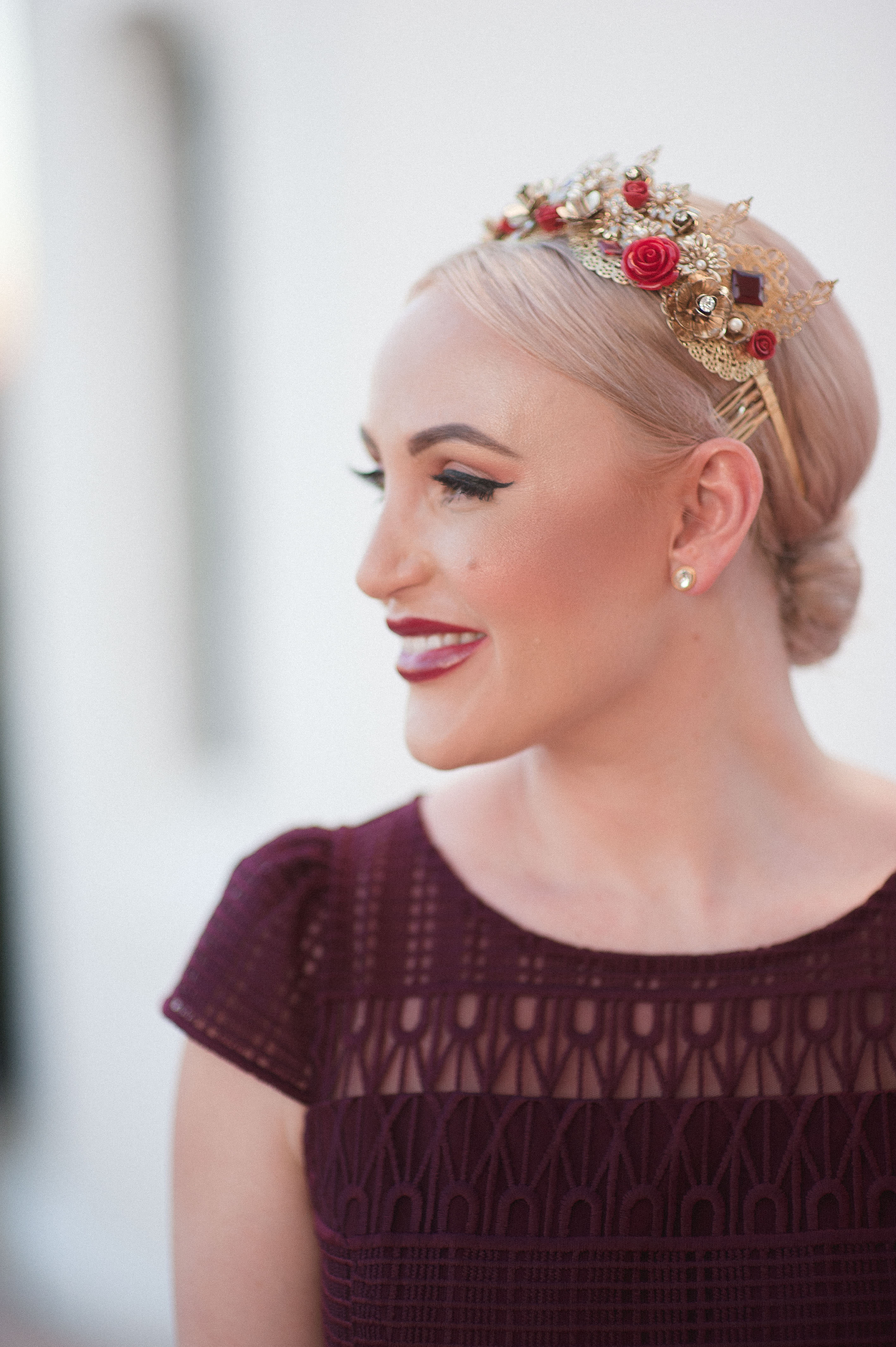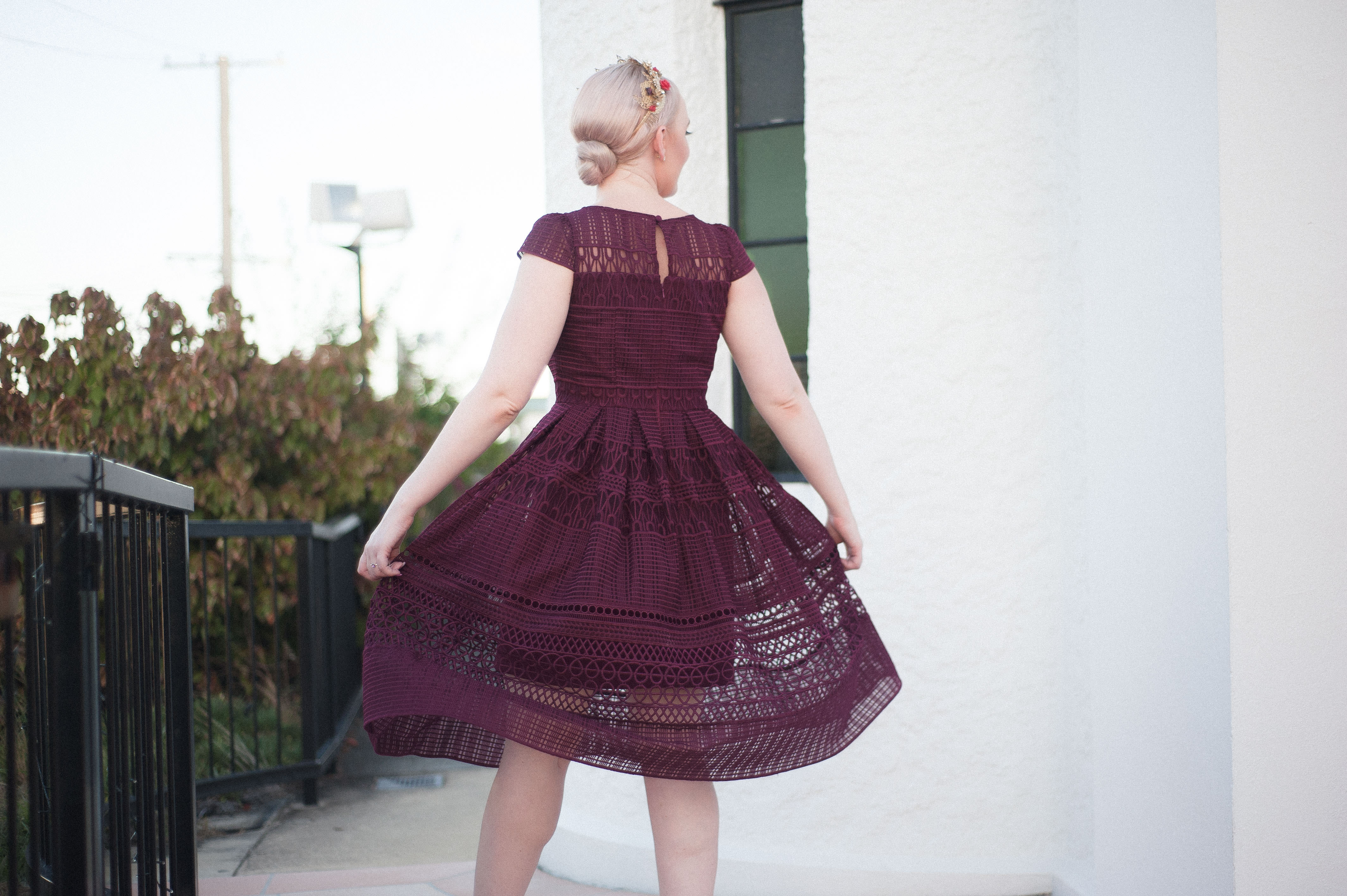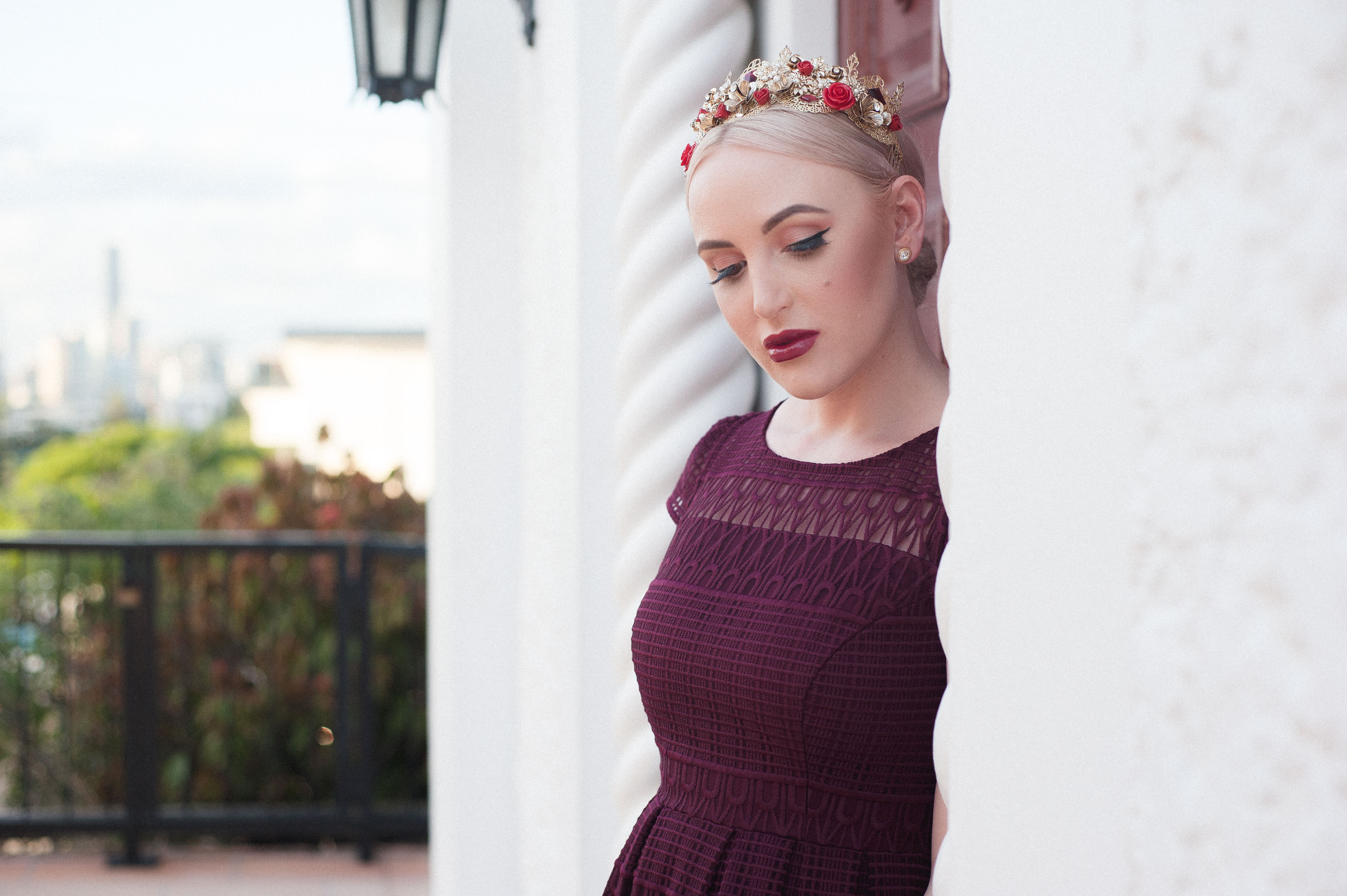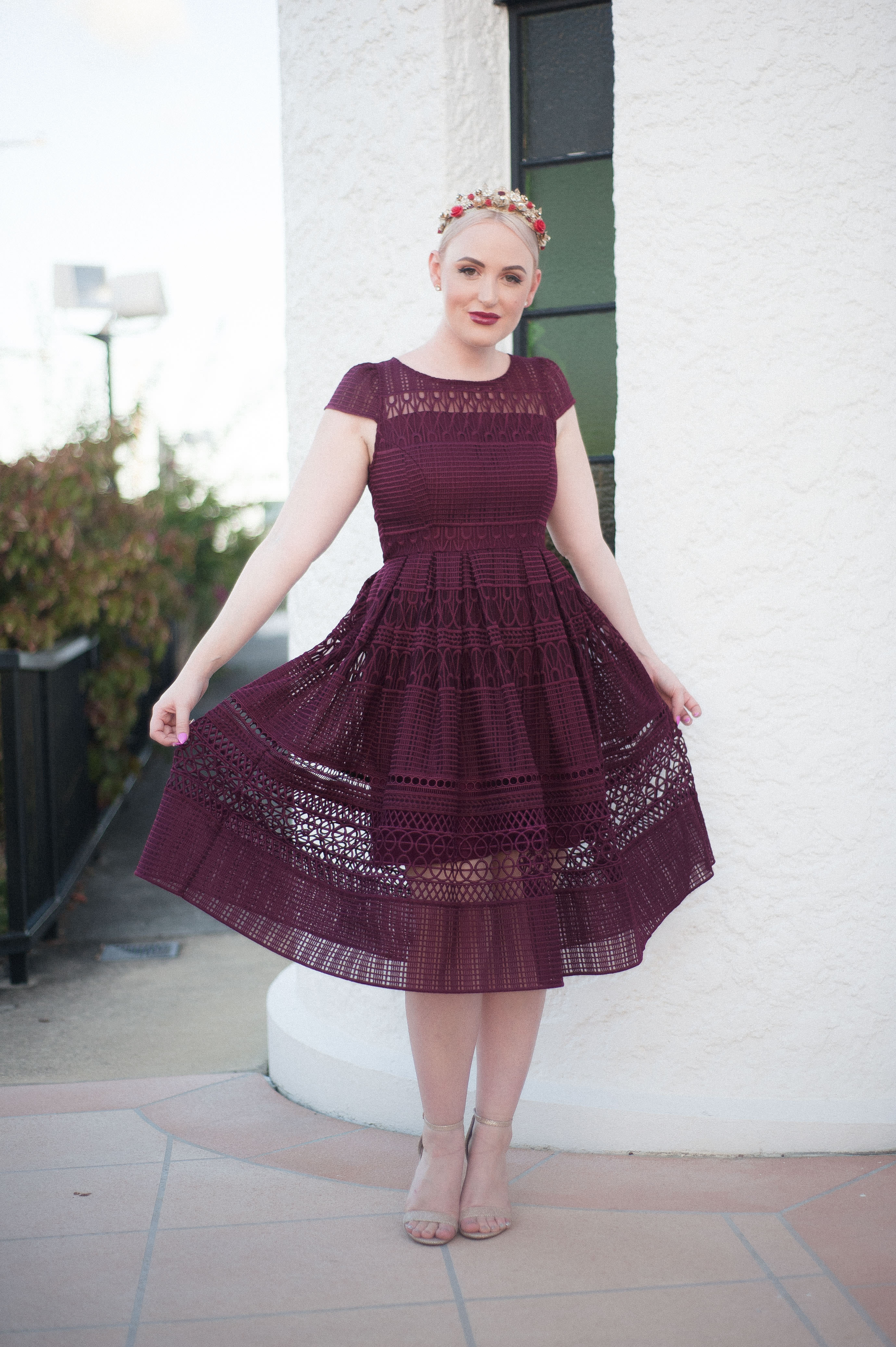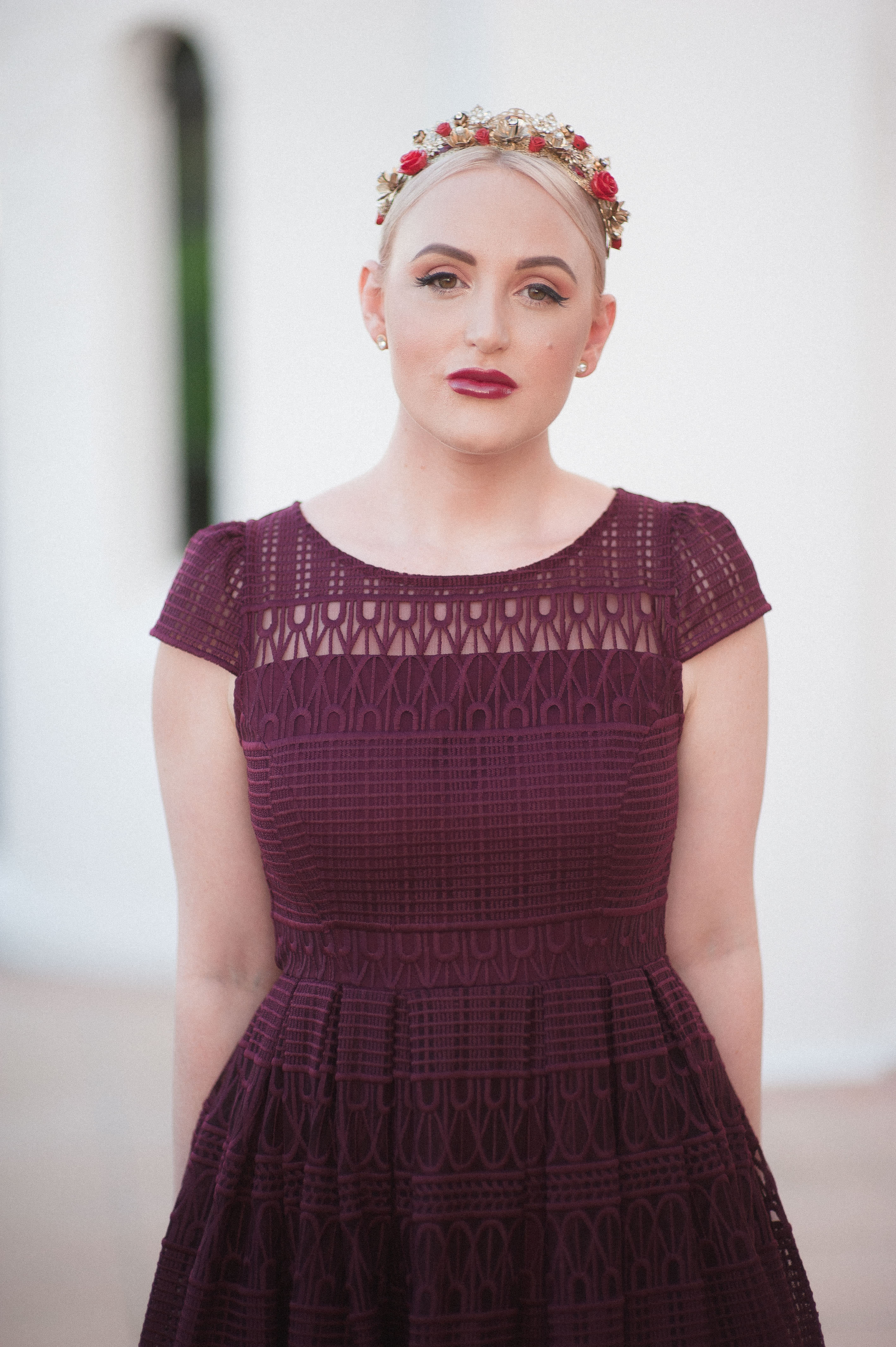 Review Dress (similar style here), Marilyn Van den Berg The Red Queen Crown, Sachi Shoes (similar style here).
It's impossible not to feel those queen vibes while wearing such a rich and opulent colour as this seductive wine shade. Branching out from their signature floral and feminine fabrics, Review are serving up a statement with this bold, geometric lace dress. Unsurprisingly this little piece sold like hotcakes and is no longer available to purchase (tear!) however there are some absolute gems amongst the new arrivals! 
SHOP THE POST:
Photography by Erin Smith Photography
---
1 Dress 2 Ways: Casual vs Chic
Tuesday, April 11th, 2017
Fashion Myth: printed pieces don't have the same stylistic opportunities as block basics.  Now that's certainly not the case for this starry number by Marcs, as I see plenty of versatility to dress up or dress down this piece with just the right accessories. Presenting a quick how to style 1 dress 2 ways, from casual to chic.
Marcs Silk Star Cluster Shirtdress, French Connection Block Swoop Blazer, Oroton Forte Mini Clutch, Larsson & Jennings Lugano Watch, Mimco Perfect Pear Stud, Jo Mercer Candice Dress Heels, Seed Heritage Leather Jacket, Prada Round Sunglasses, French Connection Large Sequin Bucket Bag, Wittner Honesty Ankle Boot, Samantha Wills Heart Wonder Ring, MAC Cosmetics Velvet Teddy Lipstick.
Casual
1. Dress down the elaborate print of this piece with the ultimate "cool girl" accessory – a buttery, leather jacket. I tend to favour a cropped cut as it appears more feminine when layered over your favourite shift dress.
2. Team with a pair of ankle boots, like these Wittner booties. Never have I seen a more practical purchase with it's sensible, stacked, block heel – perfect for endless roaming and shopping.
3. A bucket bag is the perfect choice for day to day wear, allowing for effortless storage possibilities and a cool, sling over your shoulder statement.
4. Accessories are best kept simple, understated with a touch of glam. There's nothing I love more than a statement, stone ring like this Samantha Wills find, teamed with a pair of luxe Prada shades.
Chic
1.  A tailored blazer is the perfect way to layer this frock, whilst evaluating to chic status. I'm loving styles that offer a little extra length like this French Connection find. Not to mention, the lapels offer an elegant touch.
2. Swap the booties for a cleaner style, like a sleek Mary Jane in suede.
3. Emphasise the metallic strands throughout this dress with a matching, metallic clutch. This mini Oroton clutch is the perfect little accessory for a fabulous night out with the girls, storing your essential makeup items for sneaky touch ups, phone, keys and keycard. As George Gershwin once sung, "who could ask for anything more!"
4. Nothing says ultimate sophistication like a pair of pear shaped, crystal studs and naturally, Mimco is delivering the goods! Team with a classic time piece, like this Larsson & Jennings mesh strap watch.
SHOP THE POST:
---
BTS Beauty on the Kookai AW17 Runway
Thursday, April 6th, 2017
As the Koookai AW17 Runway Show delivered the hottest seasonal trends, official makeup sponsor, Napoleon Perdis showcased flawless statement makeup and on point beauty. With a signature of coopery accents, golden highlights, warm contours, plum shadows and a burnt smokey eye makeup, Napoleon Perdis redefine the Autumn It Girl. Inspired by bronzed goddess Chrissy Teigan and easily achievable using the right product, Napoleon Perdis present a get the look guide to achieving these #makeupgoals.
PR Executive and Global Makeup Artist, Shev Kelly defined the Autumn It Girl as a fierce, beauty risk taker stating,
"This Autumn It Girl loves layering and playing with texture. She breaks the rules and loves to look modern and glamorous. She's obsessed with shimmer and shine and is never without a dusting of bronzer, no matter the season. She prefers to fake it not bake it with bronzing primers and a adding a warm faux glow to the skin. With warm contours and golden highlights she is ready for the runway, party and everything in between." 
Get The Look: The Autumn It Girl by Napoleon Perdis
STEP 1: CLEANSE 
Re-texturise the skin and begin to boost radiance with a thorough nourishing cleanse. Massage Balm Voyage Moisture Complex Cleanser and Makeup Remover all over the face, leave like a mask for 2-3 minutes, then spritz the face with Auto Pilot Moisture Mist and tissue off the excess residue.
STEP 2: HYDRATE AND PRIME 
Drench the skin with a serum that plumps the skin without leaving a physical texture on the surface; Smooth Auto Pilot Napoleon Complex Skin Renewal Serum over the face. Not to prime is a crime, so apply Auto Pilot Bronzing Primer for a fresh luminous foundation finish will last all day.
STEP 3: BROWS AND MASCARA FIRST 
Before any colour or coverage goes onto the face, start with your brows and a rich coat of mascara. These essential steps map out the rest of your look for you, telling you when to stop. With your brows done and your eyes defined with mascara, you may find you need less foundation, concealer and colour in your face, resulting in a more natural look. Define the brows with Eyebrow Pencil Pale Rider or Chocoholic and begin to build Total Bae Own It! Mascara Jet onto the top lashes.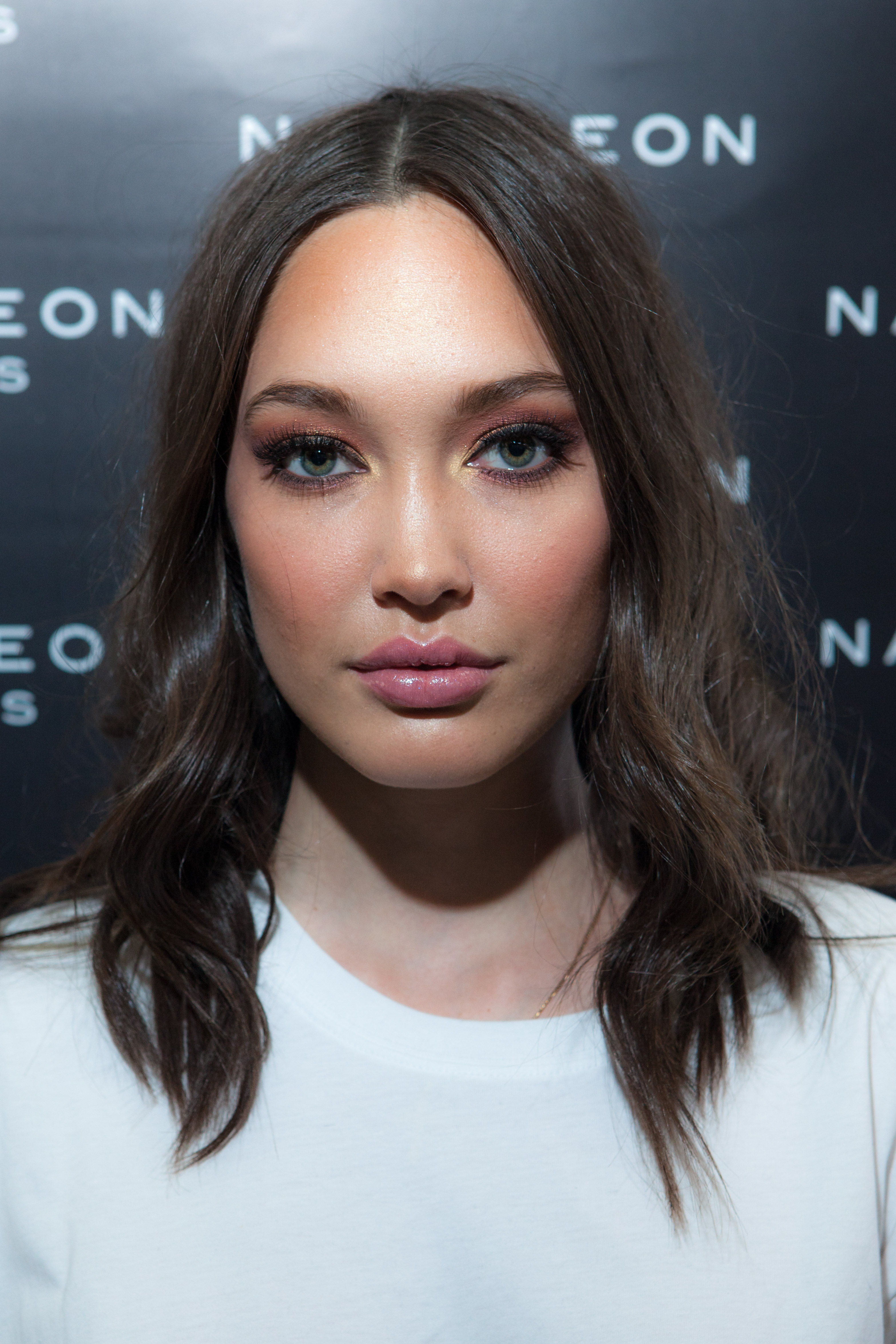 STEP 4: PERFECT YOUR COMPLEXION
Counteract discolouration around the eye area with Mighty Concealer Pen and spot-conceal blemishes and pigmentation if needed. For an easily-applied and fused foundation finish, Auto Pilot BBB Cream over the feature focus area of the face – the centre triangle of features including the eyes, nose and chin – and build coverage as desired. Set and forget using Camera Finish Powder Foundation.
STEP 5: REFLECTIVE CONTOUR 
Out with the chocolate bars and in with reflection. To achieve this luminous look, blend Total Bae Tone It! Gold Seeker over the high-points of the face, the tops of the cheekbones, bridge of the nose, Cupid's bow and brow bone. Layer for a boost of shimmer with Loose Eye Dust.
STEP 6: SCUPLT THE EYES 
Sculpt and define the eyes with Total Bae Mark It! Expression. Blend the rust shade over the mobile lid, through the socket and along the lower lash line. Then create a modern fused finish with Mosaic Powder Bronzing to fuse the edges. Use a large fluffy brush like Sculpting Brush 10r to sweep the shadow through the socket of the eyes and along the lower lash line. Brighten the eyes with Loose Eye Dust Copper Element blending over the centre of the mobile lid. Pat and press Color Disc All That Shiraz onto the socket of the eye and outer corner of the eye and lower lash line. Make the eyes pop using Loose Eye Dust Contrary Contrary on the inner corner of the eye. Smoke out the eyes a little by smudging China Doll Gel Eyeliner Tao along the upper and lower lash lines, then finish the eyes with lashings of Total Bae Own It! Mascara Jet and Lashes Zinnia.
STEP 7: KISS THE FACE WITH COLOUR 
Like a kiss from the sun, sweep Total Bae Blush It! Risky Business over the apple of the cheeks and onto the cheekbones.
STEP 8: GO (NEARLY) NUDE
For a peachy pout, paint the lips with DeVine Goddess Lipstick SMP and finish with a slick of Luminous Lip Veil In the Flesh for a sexy, glossy finish.
Photography and editorial supplied.
---
Lead The Way, Flower Child!
Sunday, April 2nd, 2017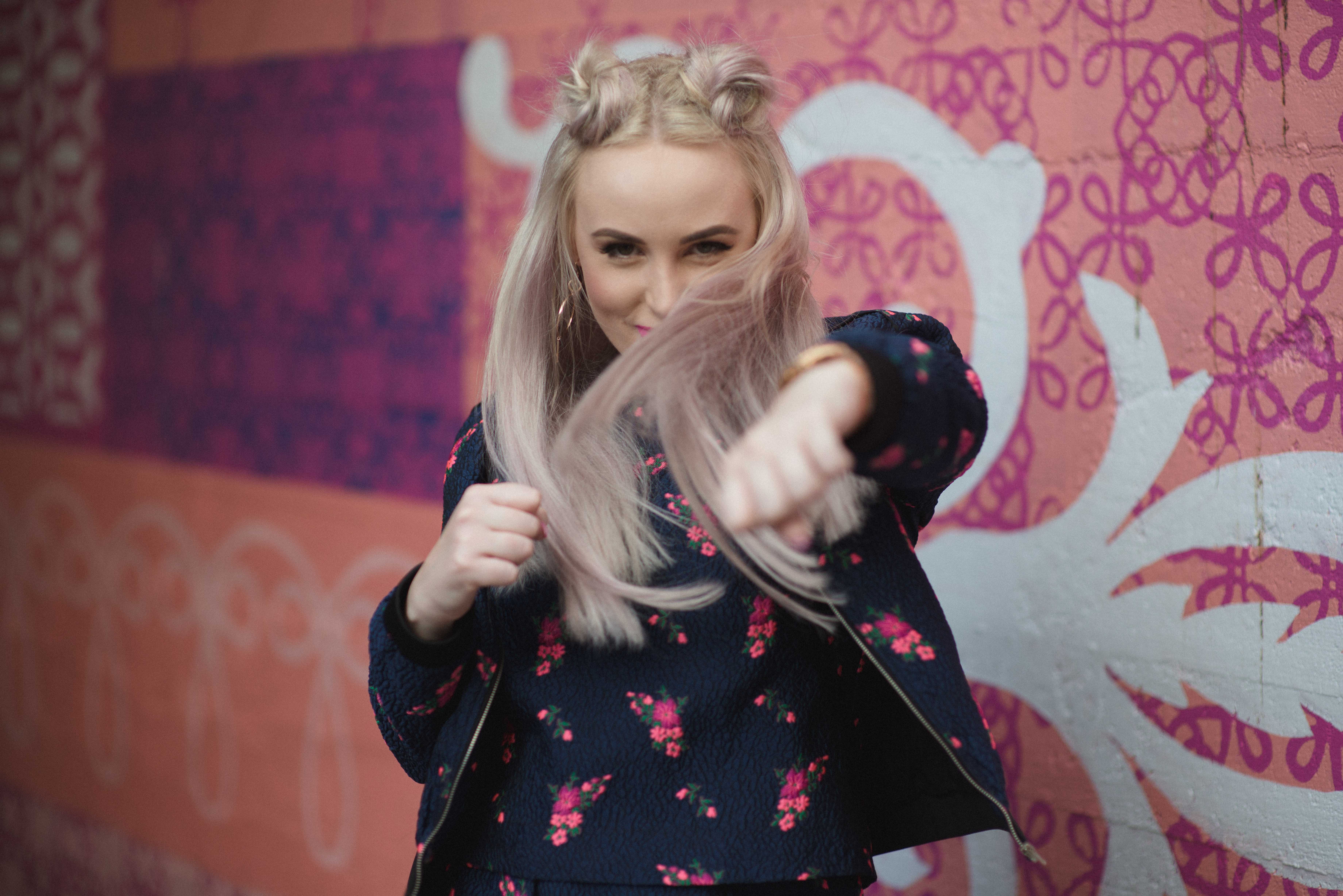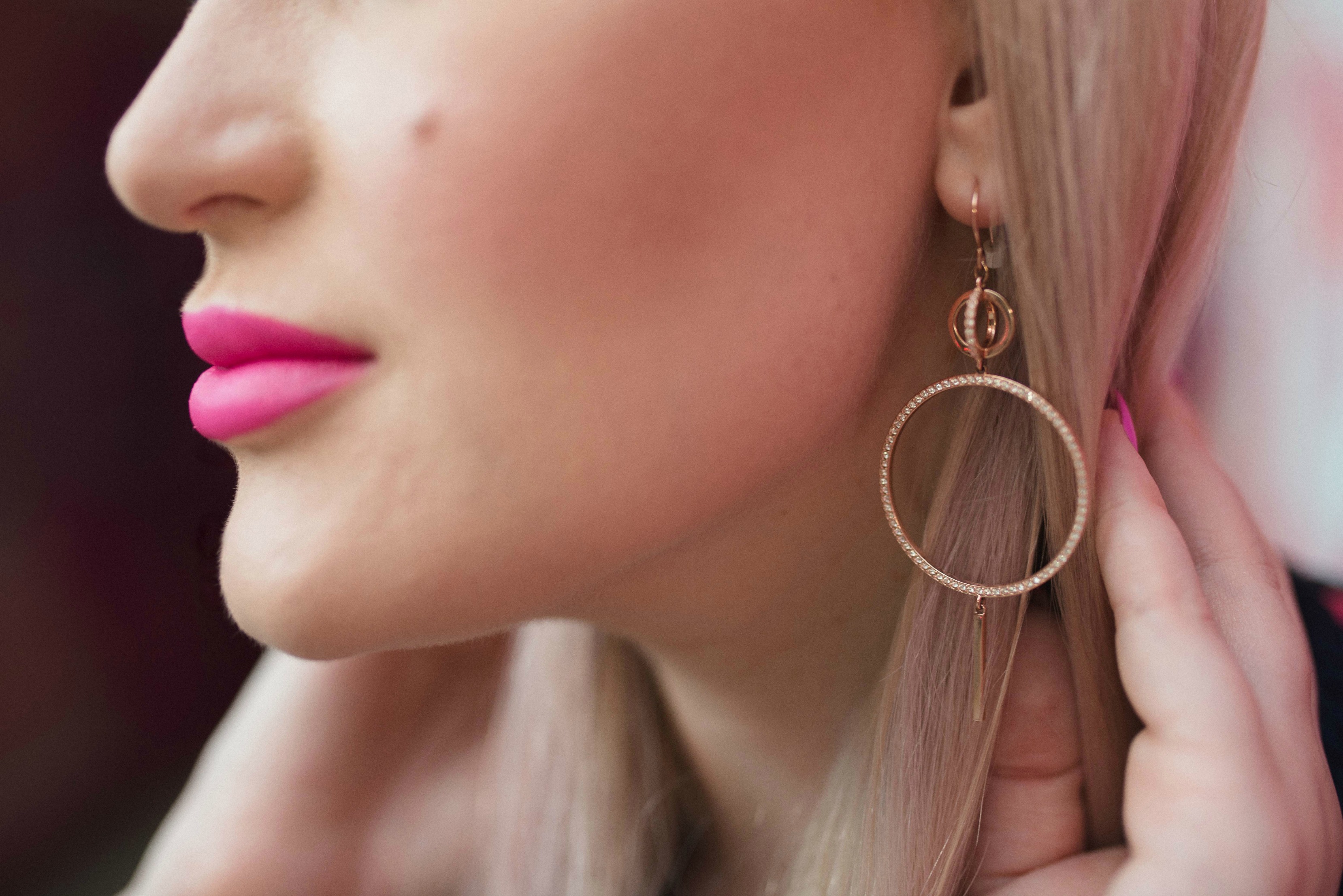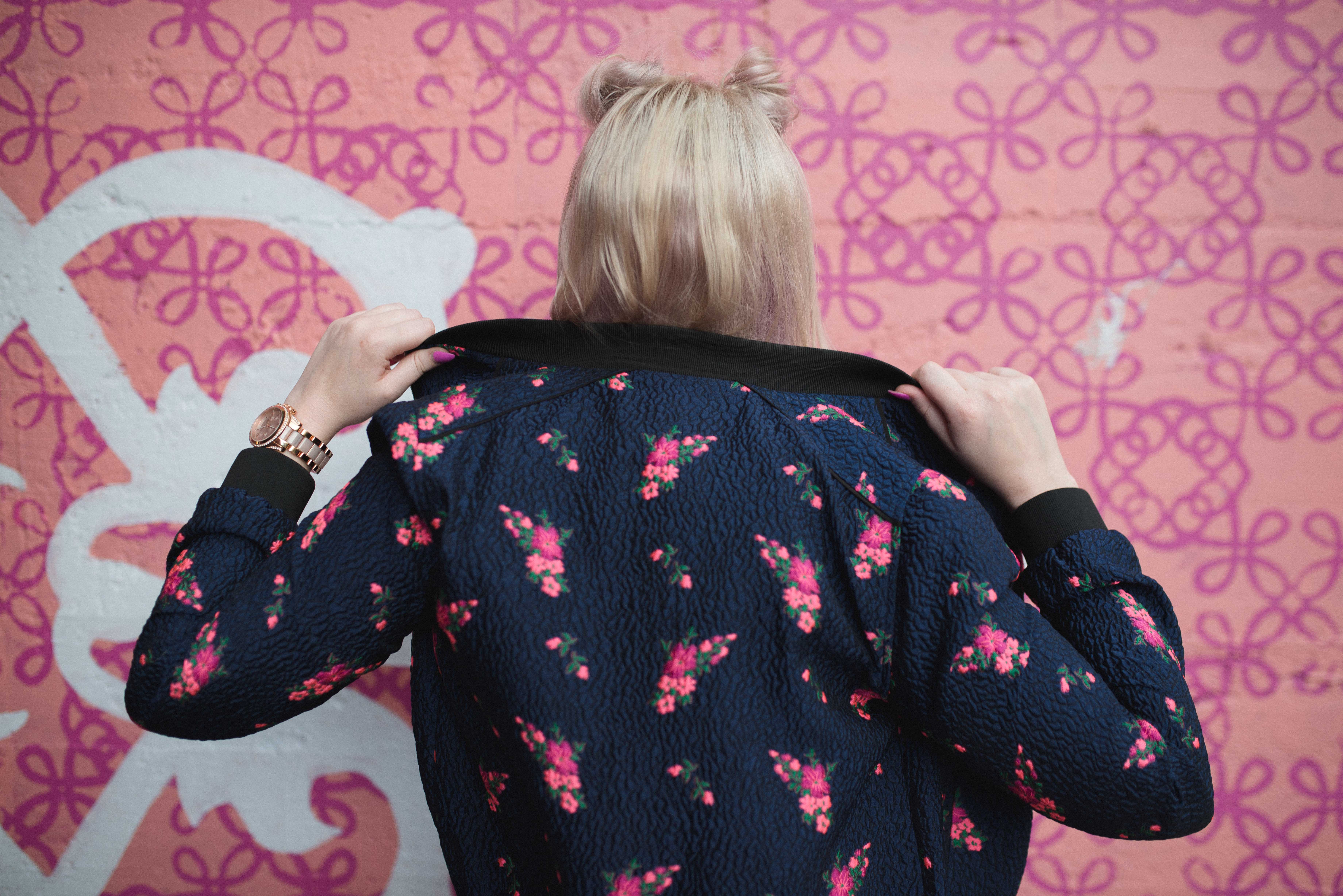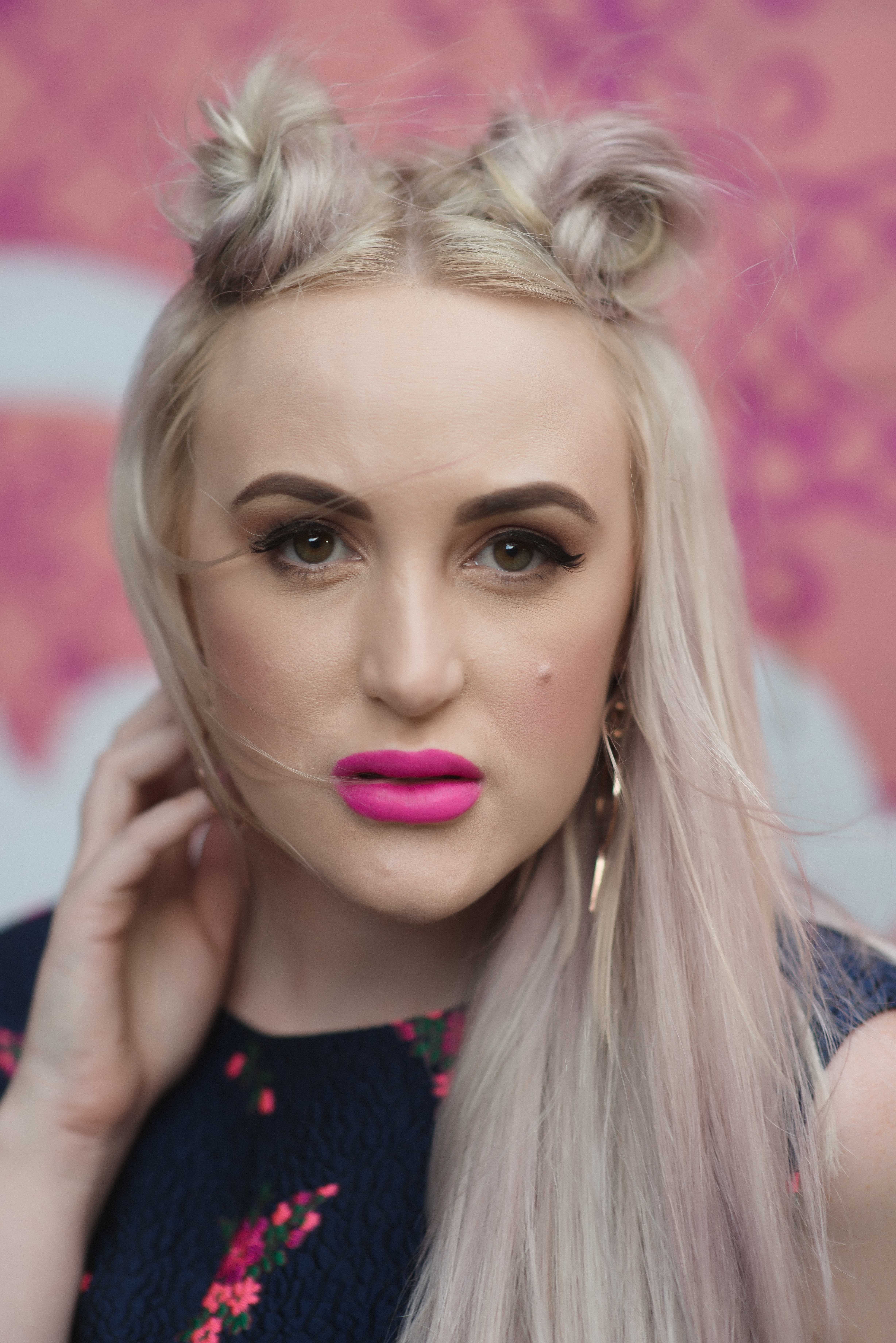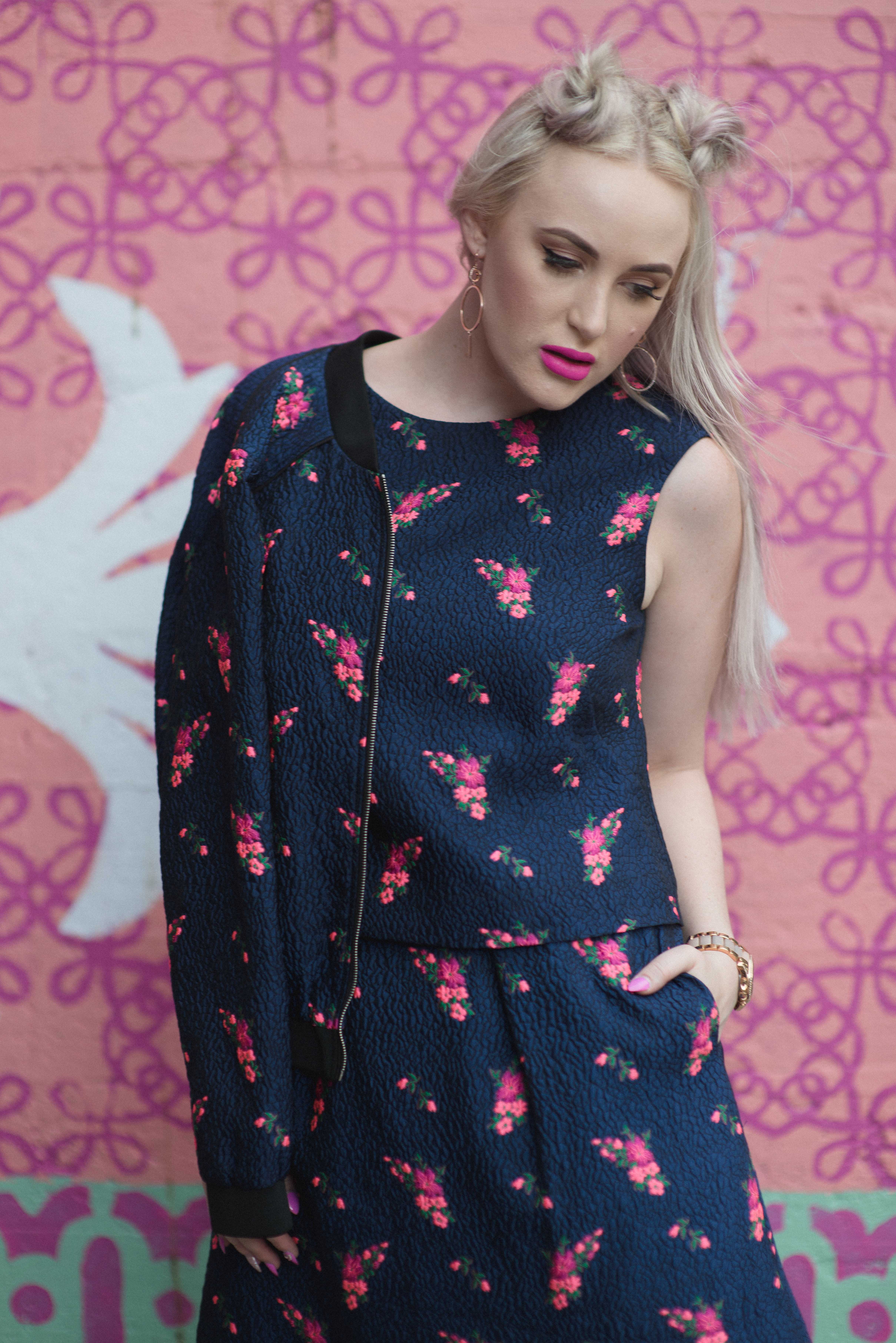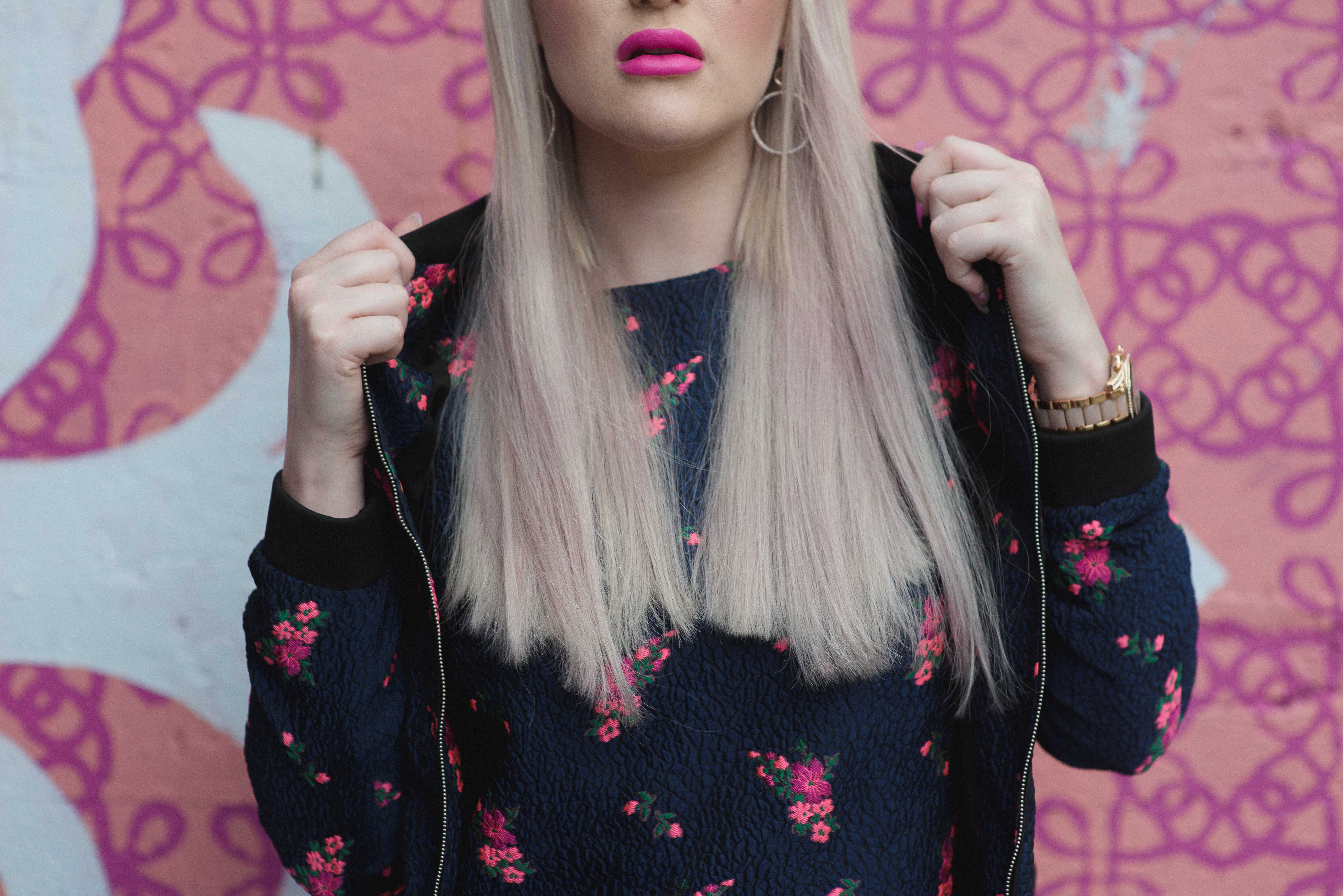 Marcs Madeline Floral Jacquard Top, Marcs Madeline Floral Jacquard Skirt, Marcs Madeline Floral Jacquard Bomber Jacket, Marcs Lead The Way Chain Strap Shoulder Bag, Nine West Sasha Heels, Swarovski Flash Pierced Earrings.
Oh Marcs – you sure know how to WOW with print! I instantly fell in love with this three piece floral jacquard ensemble and I'm sure you can see why. It's vibrant, playful and kind of hints on a 90's vibe with it's retro bomber jacket, neon and navy hues and embroidered floral design. While each piece looks fabulous styled individually, I like the bold statement created by styling together as a head-turning suit. I've always had a thing for matchy matchy outfits, check out this blast from the past post, highlighting my little tips and tricks for styling a matched set.
When it comes to beauty, I'm channelling barbie with a double bun hairstyle and a fuchsia pout – flirty, girly with a touch of quirky! I'm thinking of doing a tutorial on this hairstyle – if this is something you would like to learn, please comment below cuties!
Finally, I'm complimenting this ensemble with a touch of rose gold sparkle, seen with a twinkling pair of Swarovski earrings and pavé watch from Michael Kors. Simple and elegant accessories, to keep the attention on that gorgeous, matching floral suit.
I'd love to hear your thoughts on this look, please leave me a little love note in the comments! x
SHOP THE POST:
Photography by Erin Smith Photography
---