Them Boots Were Made For…
Sunday, June 26th, 2016
I've been strutting around Brisbane in a little pair of booties and my tootsies have never been so toasty, roasty warm. Ankle boots are a wardrobe staple, a necessity for winter and if you haven't dipped your toes in a pair yet, then start by checking out my little Shopbop edit. Style them up with a comfy knit dress and a trench, or pair them down with a pair of boyfriend jeans and a bomber jacket. Did I mention these styles are under $250?
SHOP THIS POST:
---
Mornings at Brisbane Marriott!
Monday, June 20th, 2016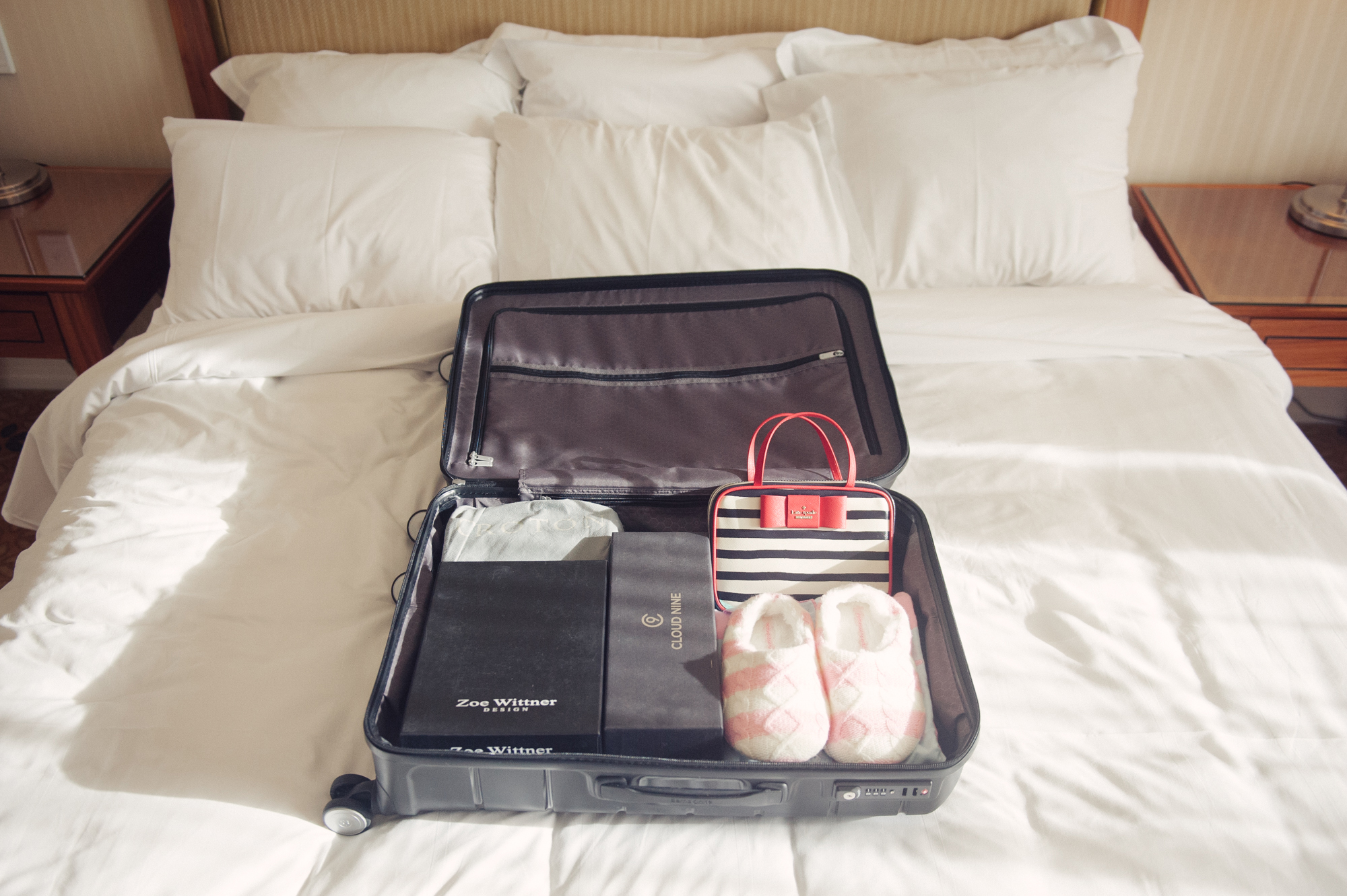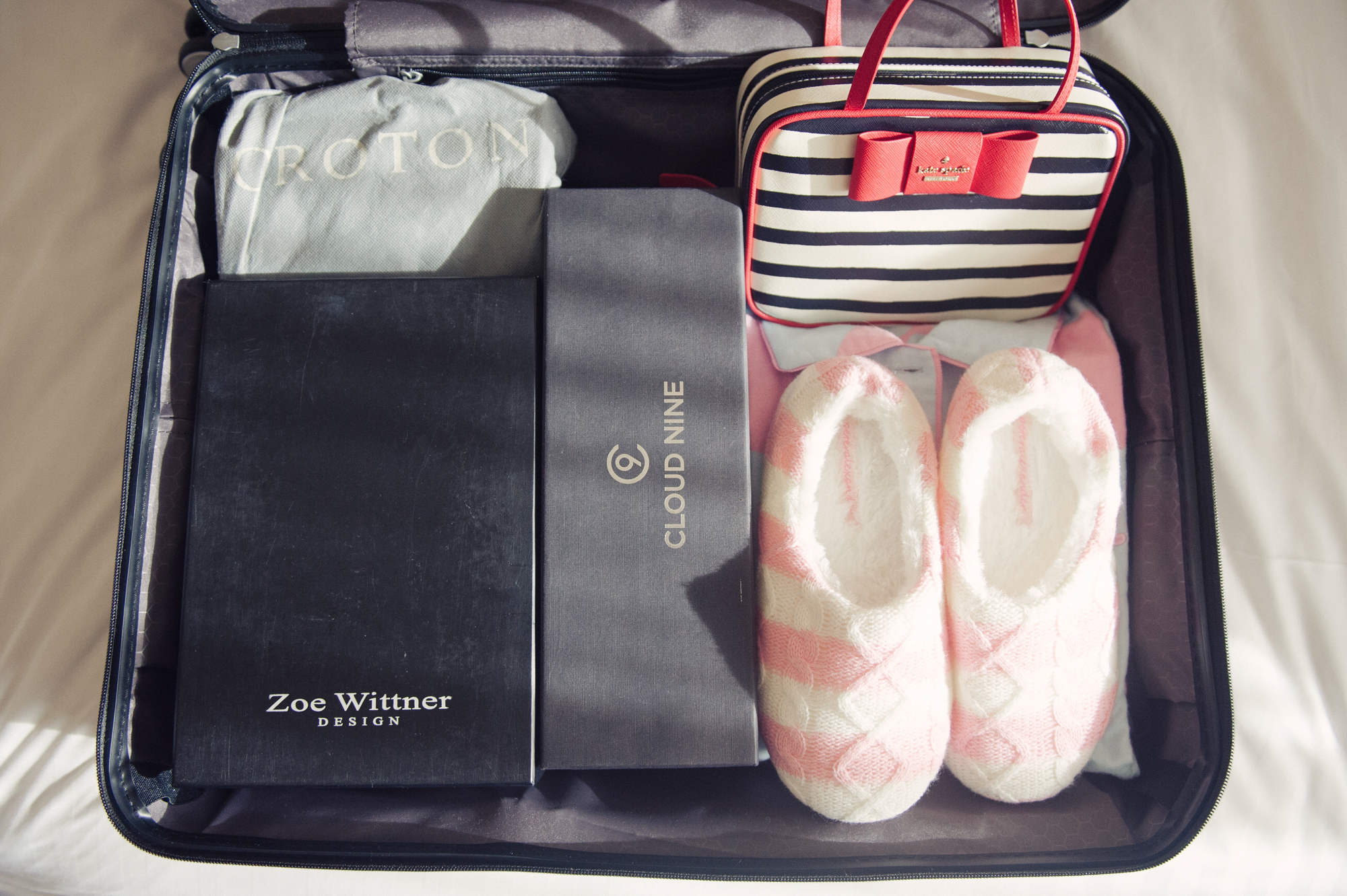 Peter Alexander Ladies Stripe Knit Scuff, Peter Alexander PJ Set (similar styles here), Peter Alexander Eye Mask (similar styles here), Samsonite Octolite Large Spinner Suitcase.
There's nothing like waking up in a nice big bed, comforted by a warm, feathery duvet – it's like winter wonderland beneath the sheets! I've been talking about stylish staycations lately, after upgrading my travel game with this luxe Samonsite travel port from Bags To Go. Packing my overnight staples, I'm swapping the bayside waterfront for the CBD, checking into the iconic Brisbane Marriott.
Waking up in an executive suite (did I mention fancy!) to a beautifully lit room filled with natural light, is exactly what I had in mind for a weekend of relaxation. First activity of the day includes breakfast in bed – a spread of fresh fruits and breakfast pastries. Of course this is accompanied by a little light reading of the fashion kind – the latest issue of Harpers Bazaar.
Fellow Brisbanites if you are looking for a luxurious stay to escape the realities of a 9-5 grind, then check out the Brisbane Marriott, as they serve up the best stay in Brisbane with their exceptional service and exquisite facilities.
Where do you like to unwind on your staycation? Leave me a note in the comments below and if you haven't already then subscribe to my fortnightly style guide in the menu above for an early glimpse as to what's coming to TBS and other fashionable things!
SHOP THIS POST:
Photography by Erin Smith Photography
---
Shop Like Gigi Hadid
Thursday, June 16th, 2016
I think we can all agree that Gigi Hadid nails that oh so casual "model off duty" vibe like nobodies businesses. This time she's taking fierce strides in a casual combination of denim and basic white layering. Steal her style with the following must-haves!
Denim: Channel Gigi's effortlessly cool vibe in a pair of light washed denim like these Off White Distressed Skinny Jeans.
Cami: A basic white cami is the perfect staple for your wardrobe all season round. This Blugirl Sheer Cami Top will do the trick.
Coat: Layer up in a cool white trench like this Forte Forte Belted Overcoat and leave open to show off those Gigi esque pins.
Shades: Nothing says cool like a fierce pair of shades. Gigi favours a rounder style like the Illesteva Millan III Mirrored Sunglasses.
Heels: Add instant height with the help of a classic pump like the Nina Armando Chevonne Heel.
SHOP THIS LOOK:
---
Stylish Staycations with Bags To Go!
Sunday, June 12th, 2016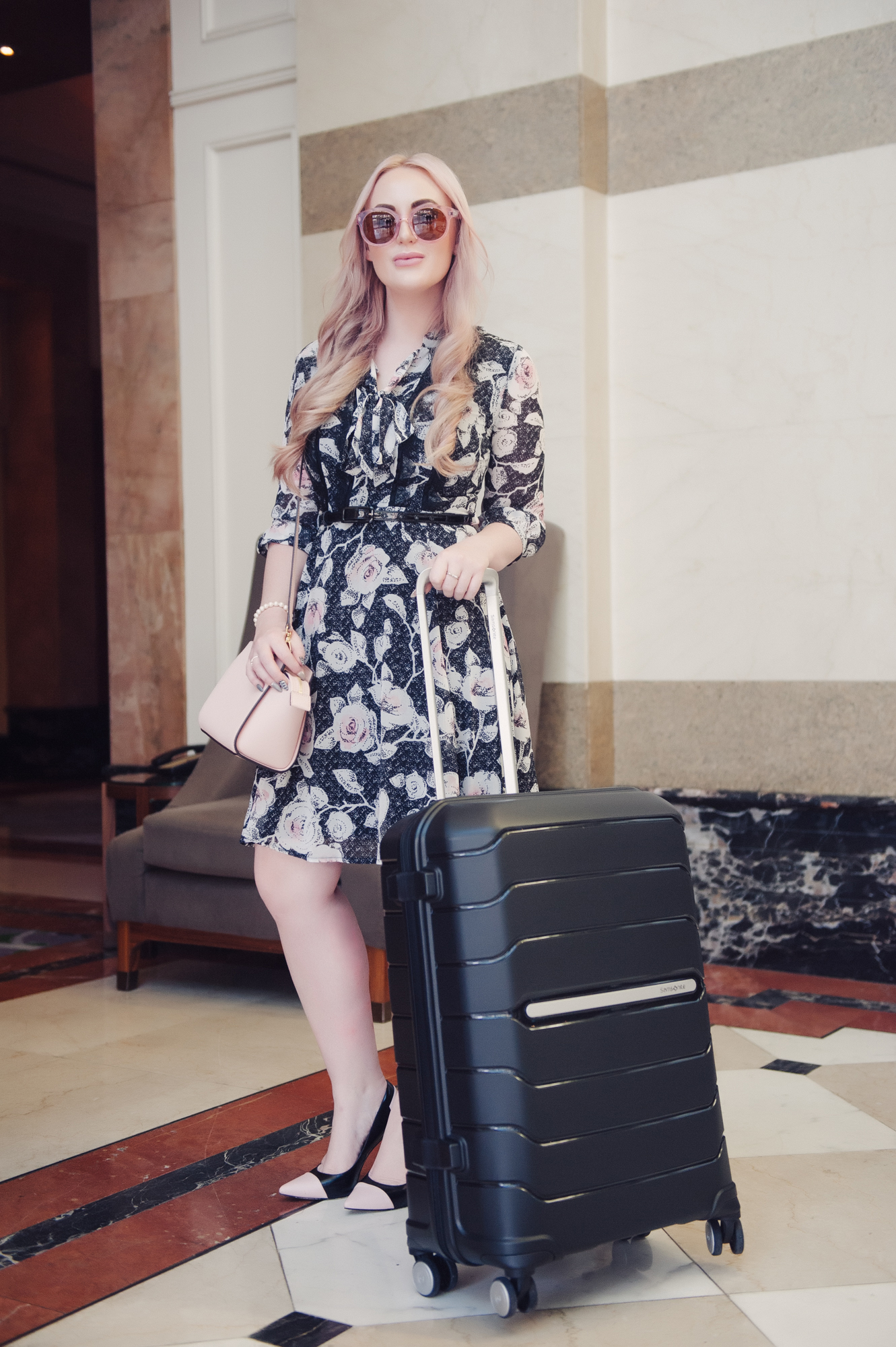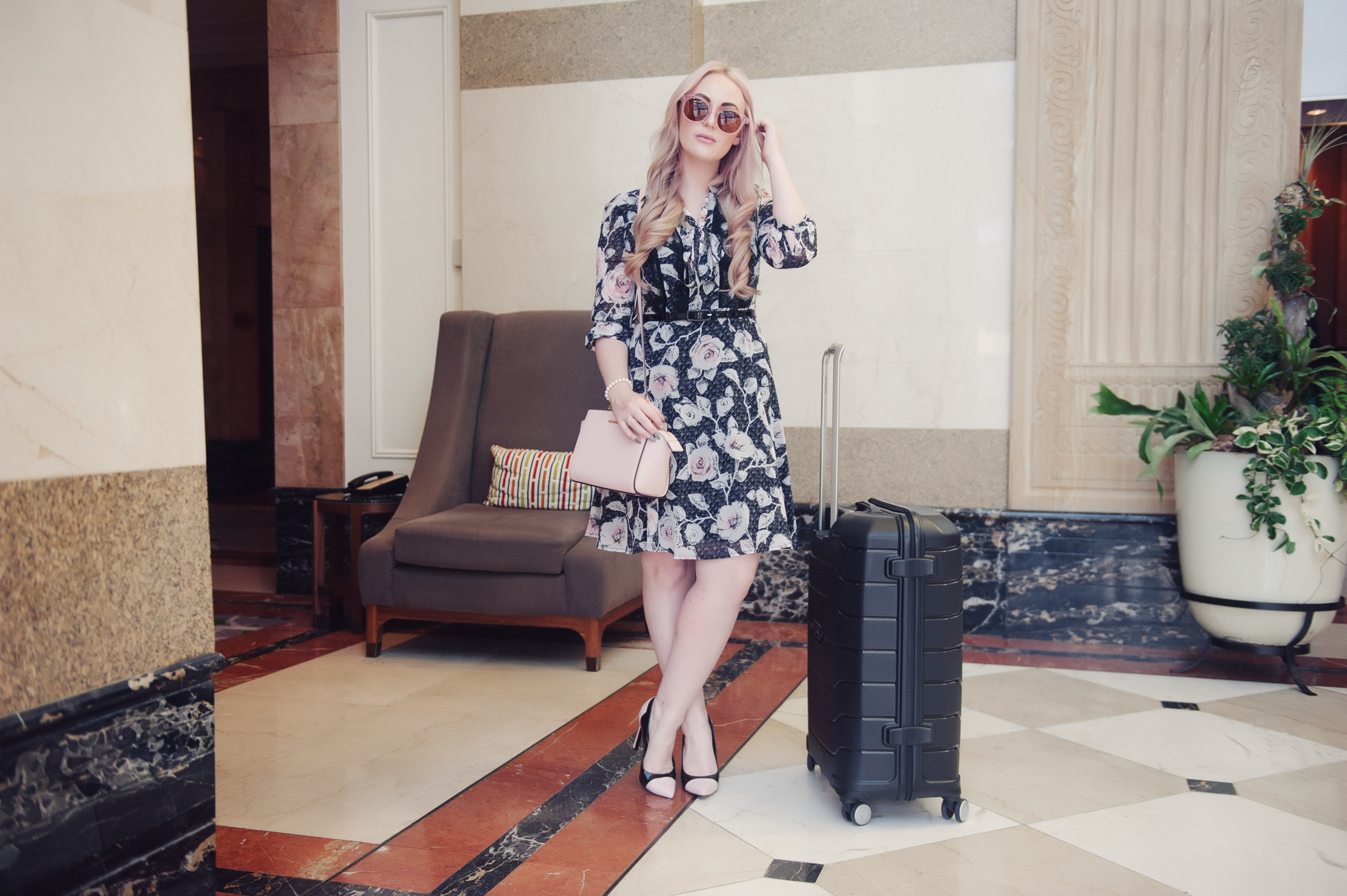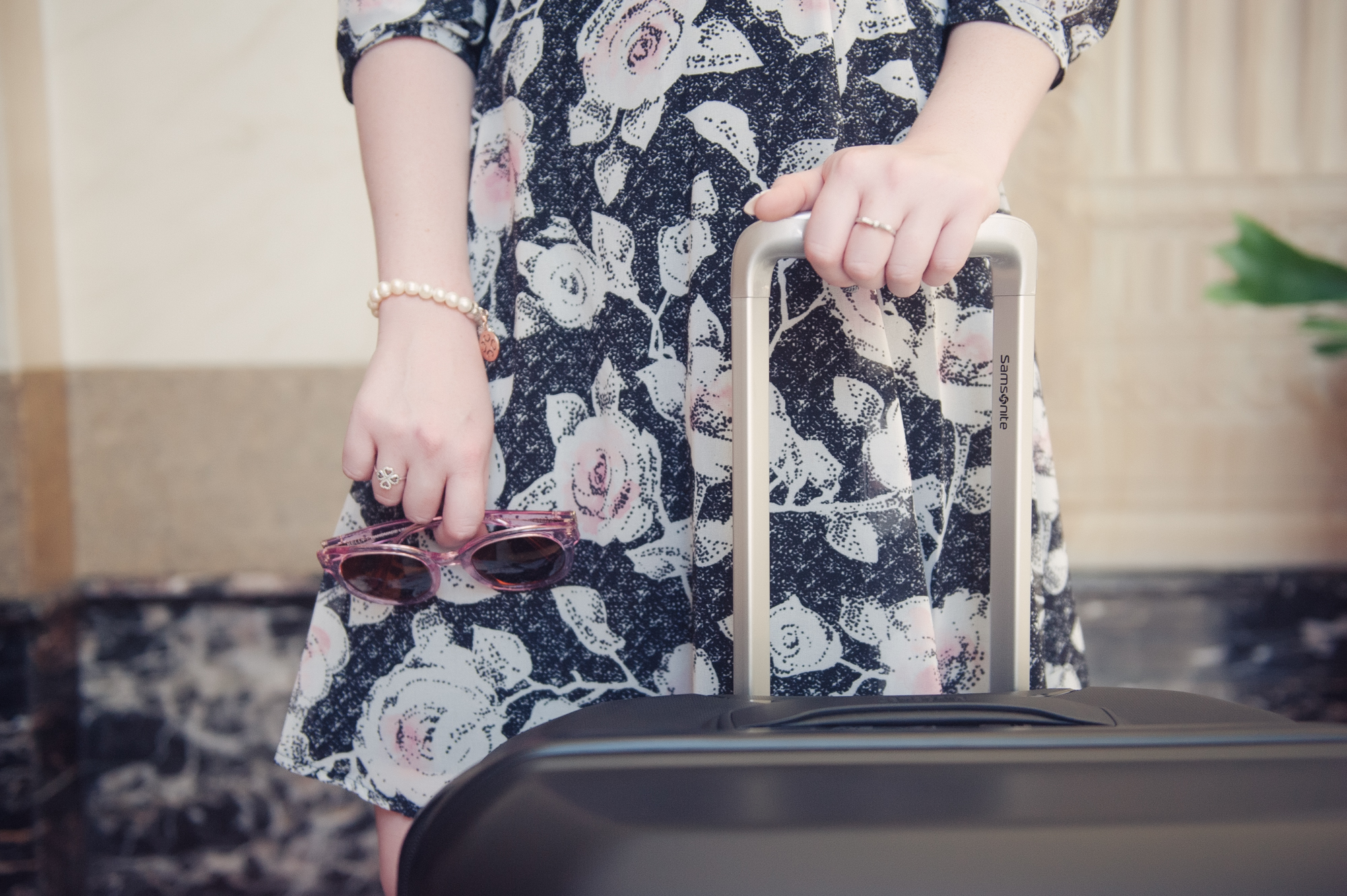 Review Speckled Rose Dress, Wittner Heels (similar style here), Michael Kors Selma Messenger Bag (similar style here), Royal Aquamarine Kelly Sunglasses, Pandora Petals of Love Ring, Pandora Sparkling Silver Bow Ring,  Samsonite Octolite Large Spinner Suitcase.
If there's one thing I've decided I need to do more of, it's finding the time to relax and refresh outside of my own little bubble. Whether this involves planning a much needed holiday abroad, or packing a suitcase for a night away in the city, I'm really into treating myself to stylish staycations.
The hardest thing when it comes to a staycation is the packing situation, and while I'm someone who enjoys an organised life, even I find this process a little perplexing. I mean, how does one fit the necessities; pjs, toiletries, clothes, LBD, heels, makeup, straightener, jewellery and clutch into a small overnight bag? This kind of problem solving is simply impossible… That is until I found myself with the perfect luggage solution from the online factory outlet Bags To Go.
Offering an affordable array of top of the range luggage, including American Tourister, Antler, Hartmann, Paklite and more, I found myself scrolling through a fabulous selection of suitcases to help upgrade my travel game to a seasoned and stylish traveller. Before I knew it, I was adding a classic Samsonite port to my shopping cart.
What I love about the Octolite is it's super light design – because there's nothing worse than lugging around a heavy port. Inside the suitcase, you'll find a very generous interior, including multi pockets to divide up your delicates. While it's functionality ticks all the right boxes, I think it's important to note that this suitcase ticks all the aesthetic boxes also. The matte black case and chrome hardware is the perfect combination of classic and cool, creating a modern statement for the gal that likes to travel stylishly. If you haven't already, make sure you check out Bags To Go for all your travel necessities.
First stop, the Brisbane Marriott Hotel for a luxurious stay in an executive suite – watch this space for part 2.
SHOP THIS LOOK:
Photography by Erin Smith Photography
---