Cherry Blossom (Birthday) Girl
Thursday, February 4th, 2016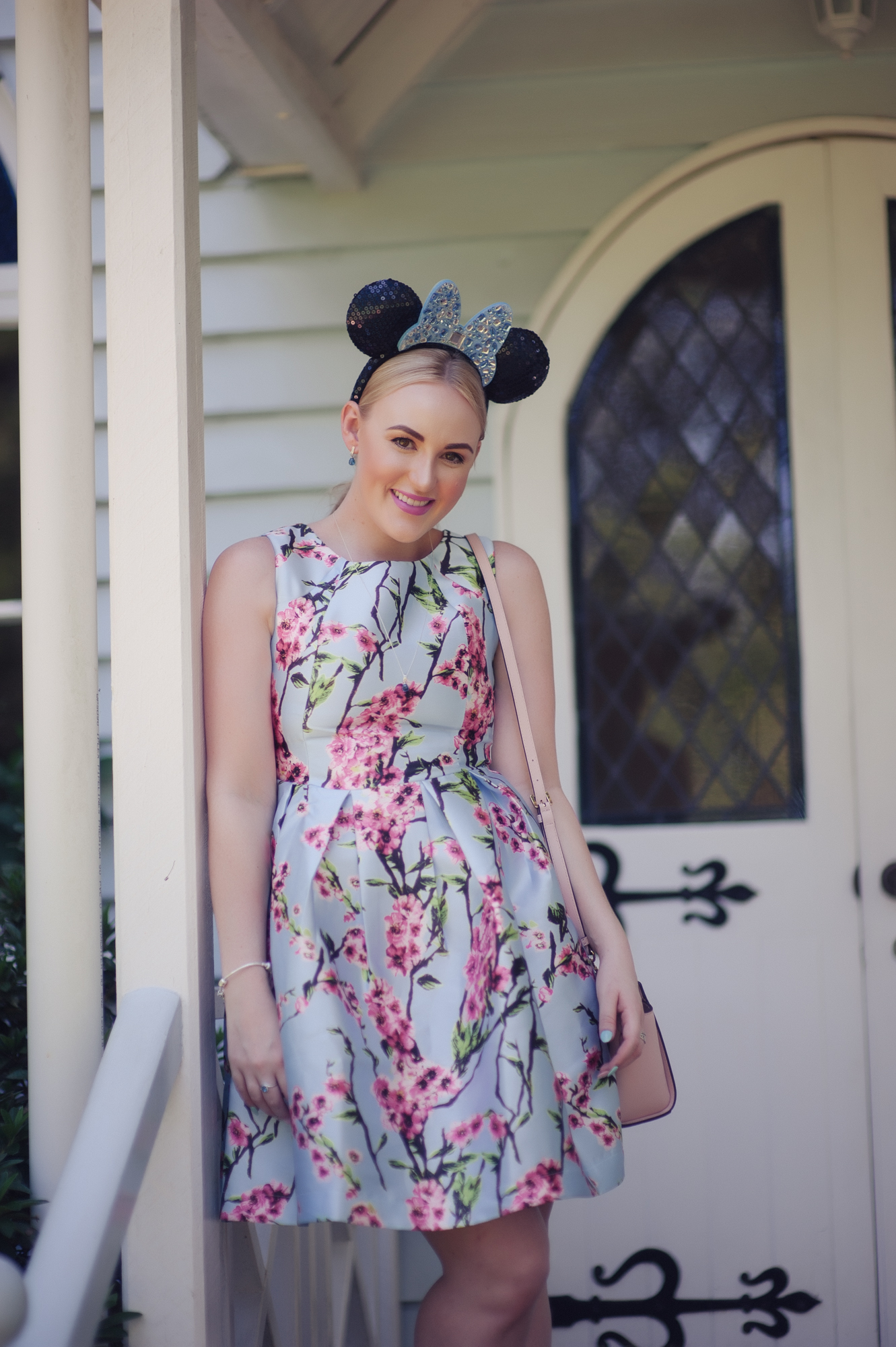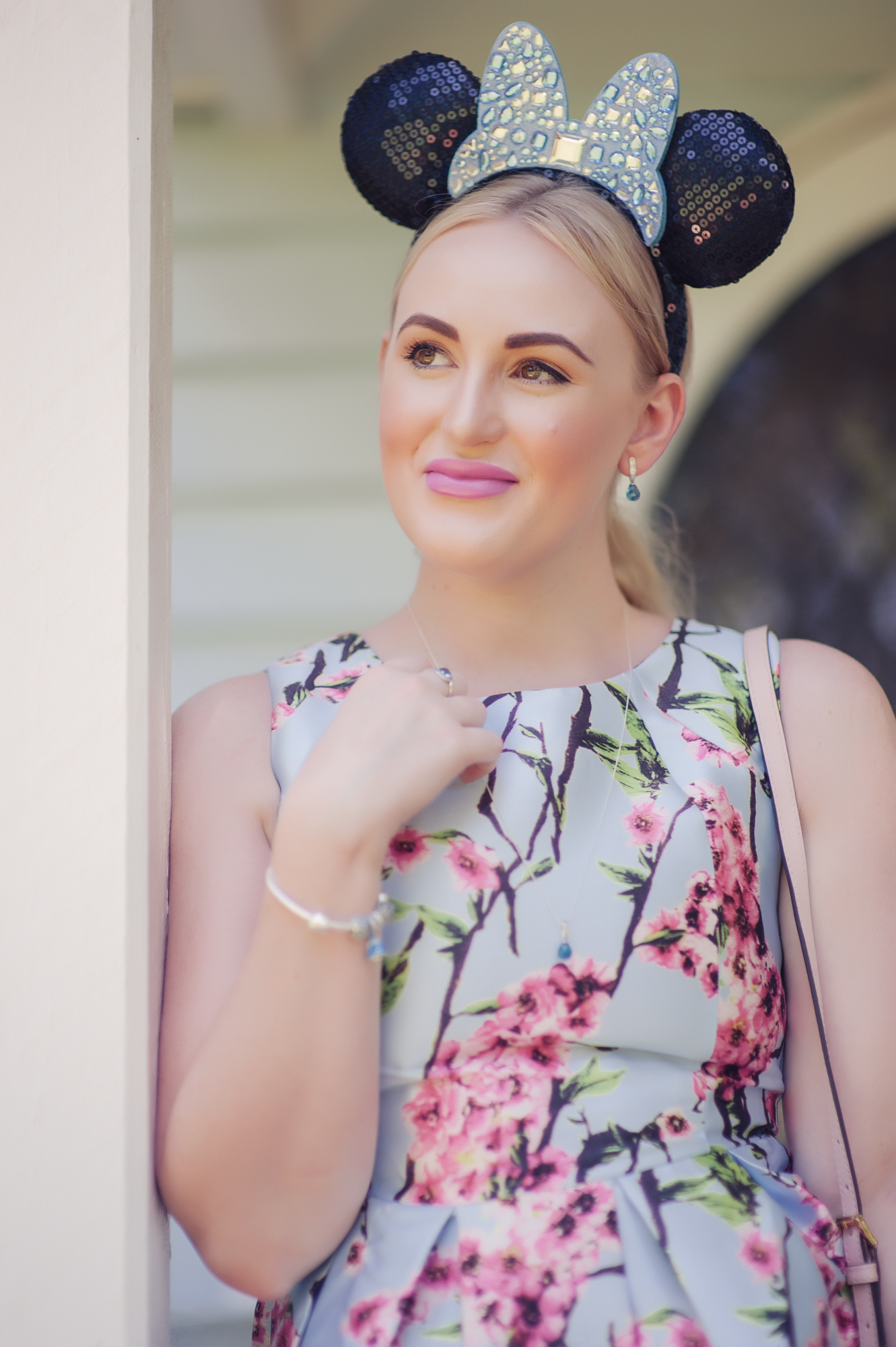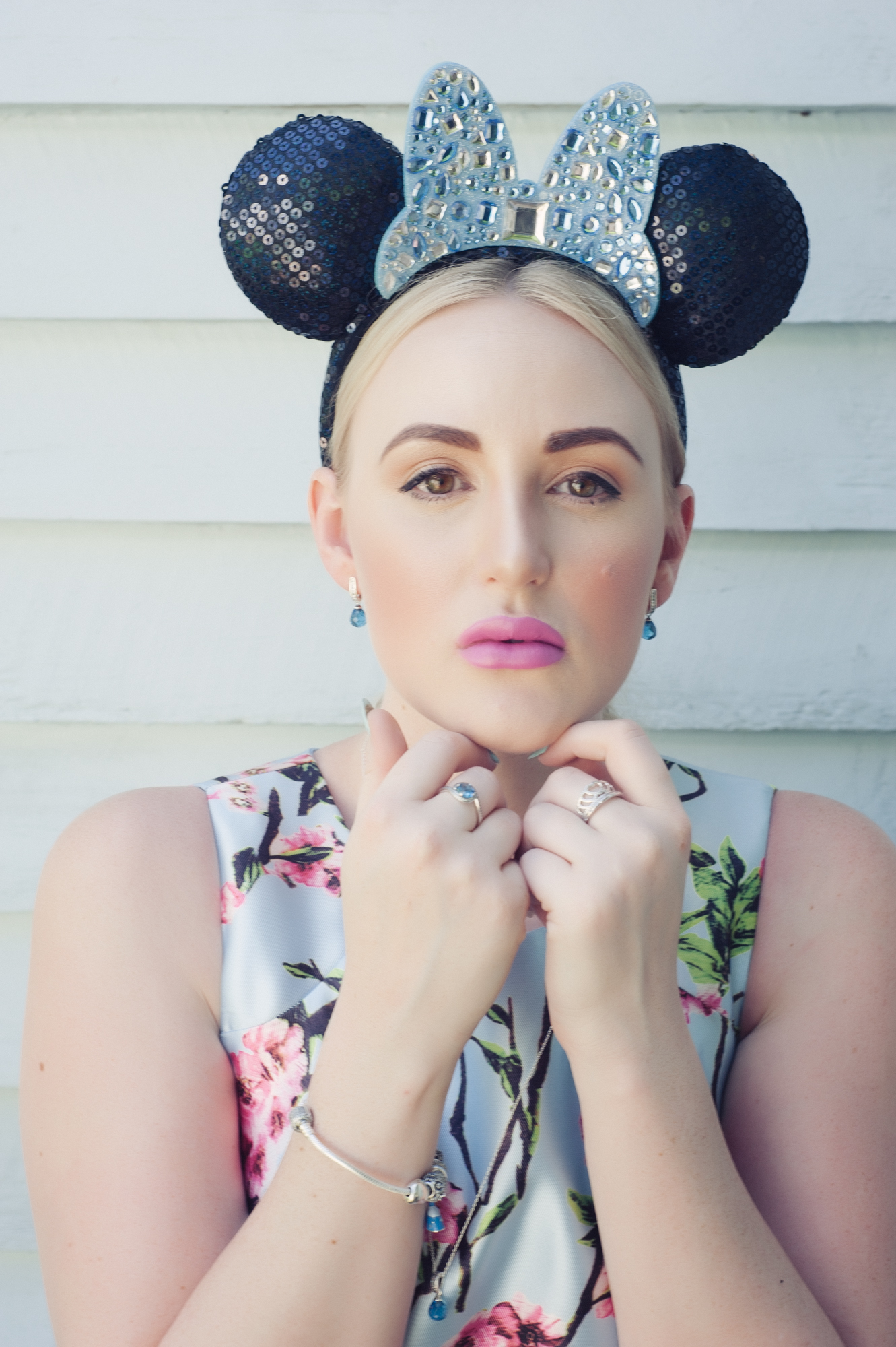 St Frock Chasing Kate Alice Dress, Pandora Frosted Droplets Hanging Earrings, Pandora Frosted Droplets Necklace, Pandora Skye Blue Radiant Embellishment Ring, Pandora Hearts Tiara Ring, Pandora Sparkling Droplets Ring, Pandora Bracelet with Disney Cinderella's Dress Charm, Crystallised Snowflake Charm, Pave Inspiration Spacer, Wittner Heels (similar style here), Michael Kors Selma Messanger Bag (similar style here).
Today I'm channelling a modern day princess, while celebrating being a birthday princess. That's right lovelies, this aquarian gal will be spending her day enjoying a pancake breakfast, a half day in the office, a fancy dinner and a serving (or two) of cake.
And what's on The Blonde Silhouette birthday wish list, you may ask? Why I'de happily take any pieces from the Pandora Disney Collection! Of course this Frosted Droplets Earrings and Necklace Set is a delightful gift, especially when styled with my new party dress, the Chasing Kate Cherry Blossom Dress. As I always say, it's not a birthday without a fancy frock and a tiara or in this case, limited edition Disney Mouse Ears, courtesy of my gal pals at Pandora.
Do excuse me ladies as I have some celebrations to attend to and candles to blow out! But thank you for dropping by, I couldn't be more excited to spend my special day with you (virtually or otherwise) x
SHOP THIS LOOK:
Photography by Erin Smith Photography
---
A little romance…a little Date Night Inspo!
Monday, February 1st, 2016
Welcome to February lovers! It's a special month for me as it marks my birthday, a short and sweet 28 day calendar and of course, Valentines Day. Let's be honest, Valentines Day can be a bit depressing for single ladies, especially when one has to endure countless scrolling through rose filled Facebook feeds. But I'm not putting away the bon bon's just yet. This year I'm totally on board the love train and ready to celebrate Gal-entines; the romance of friendship! So whether you are a taken lady or a single miss, prepare yourself for the romance that awaits you, on The Blonde Silhouette!
Of course most little romances, start with dinner, dessert or cocktails. So, what goes into an outfit? Depending on the hotspot, I start with an eye-catching cocktail dress in a flirtatious hue! This coral
Karen Millen
number is bound to turn heads with it's bold shade and fit and flare structure. As a golden rule, a perfect dress is nothing without a perfectly paired heel, and these metallic
Michael Kors points
are nothing if not fierce! Carry those credit cards and makeup must-haves in a delicate clutch and team with matching, golden jewellery. Finally, pop the Champagne and toast a fabulous evening with your gorgeous man, or wonderful besties.
SHOP THIS LOOK:
---
Summer Frocks and Garden Frolics
Wednesday, January 27th, 2016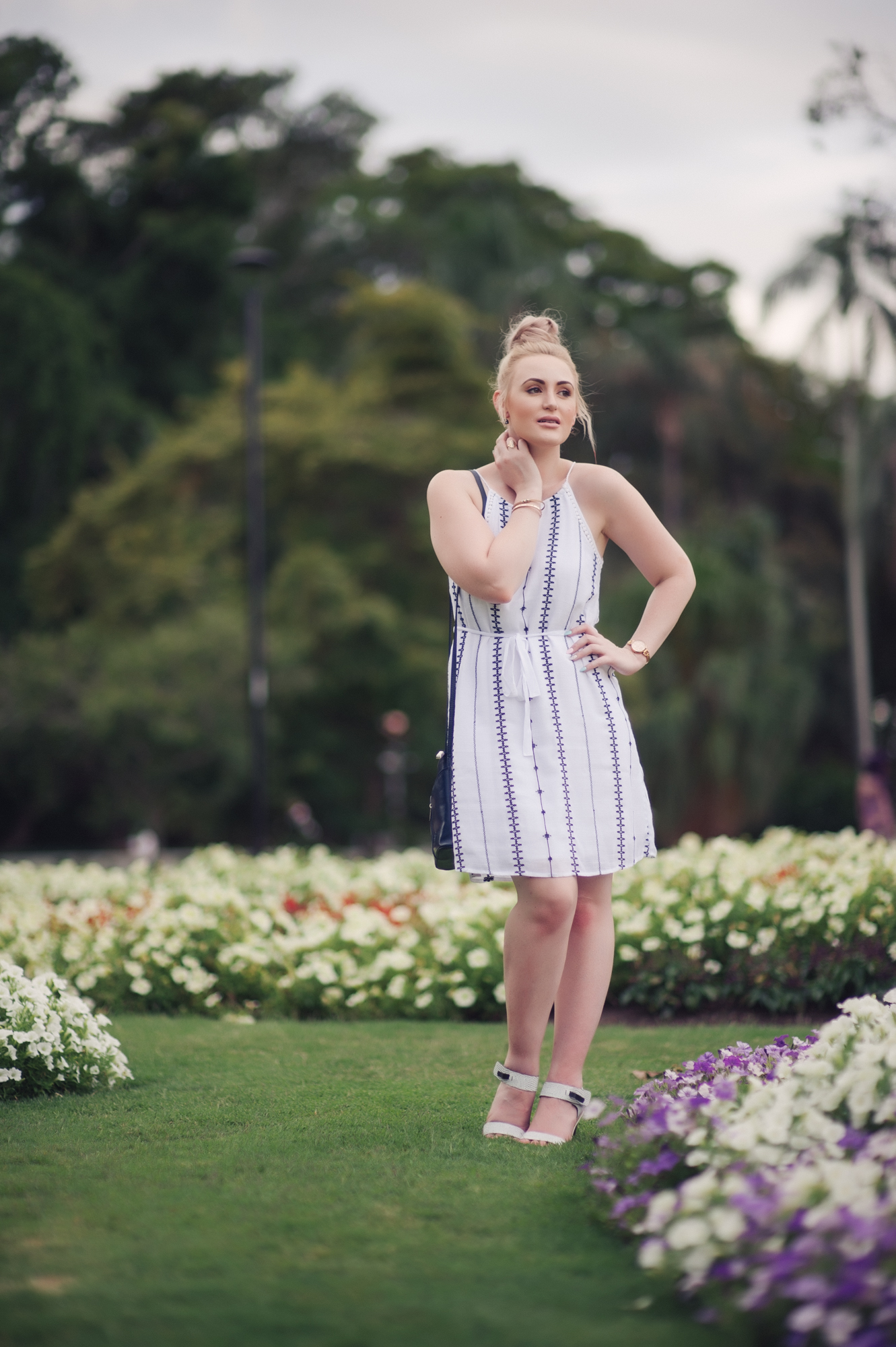 Jeans West Dress (similar style here), Jo Mercer Erin Sandal, Fossil Georgia Watch, Swarovski Brief Earrings, Fossil Bracelets (similar style here and here).
Steamy temperatures call for light summer frocks, especially when you are spending the day outside in the sunshine. I'm taking in my daily Vitamin D while wearing this whimsical, crisp white and navy patterned dress, a little piece that caught my eye whilst window shopping.
If you're wondering what makes this little shift the perfect summer dress, then I can provide you with it's three pro's!
The lightweight cotton is extremely breathable and light, not to mention it feels soft against my skin.
The relaxed neckline and tie back makes this style super comfortable to wear.
The tie waist creates shape within this shift, making it a flattering style.
If you haven't already, it's about time you added a little white frock with some sort of variation to your wardrobe. Don't forget to team it with some block heels and a cross body bag for that effortless yet chic vibe.
SHOP THIS LOOK:
Photography by Erin Smith Photography
---
Chester Street Treats #MarcsStreetView
Friday, January 22nd, 2016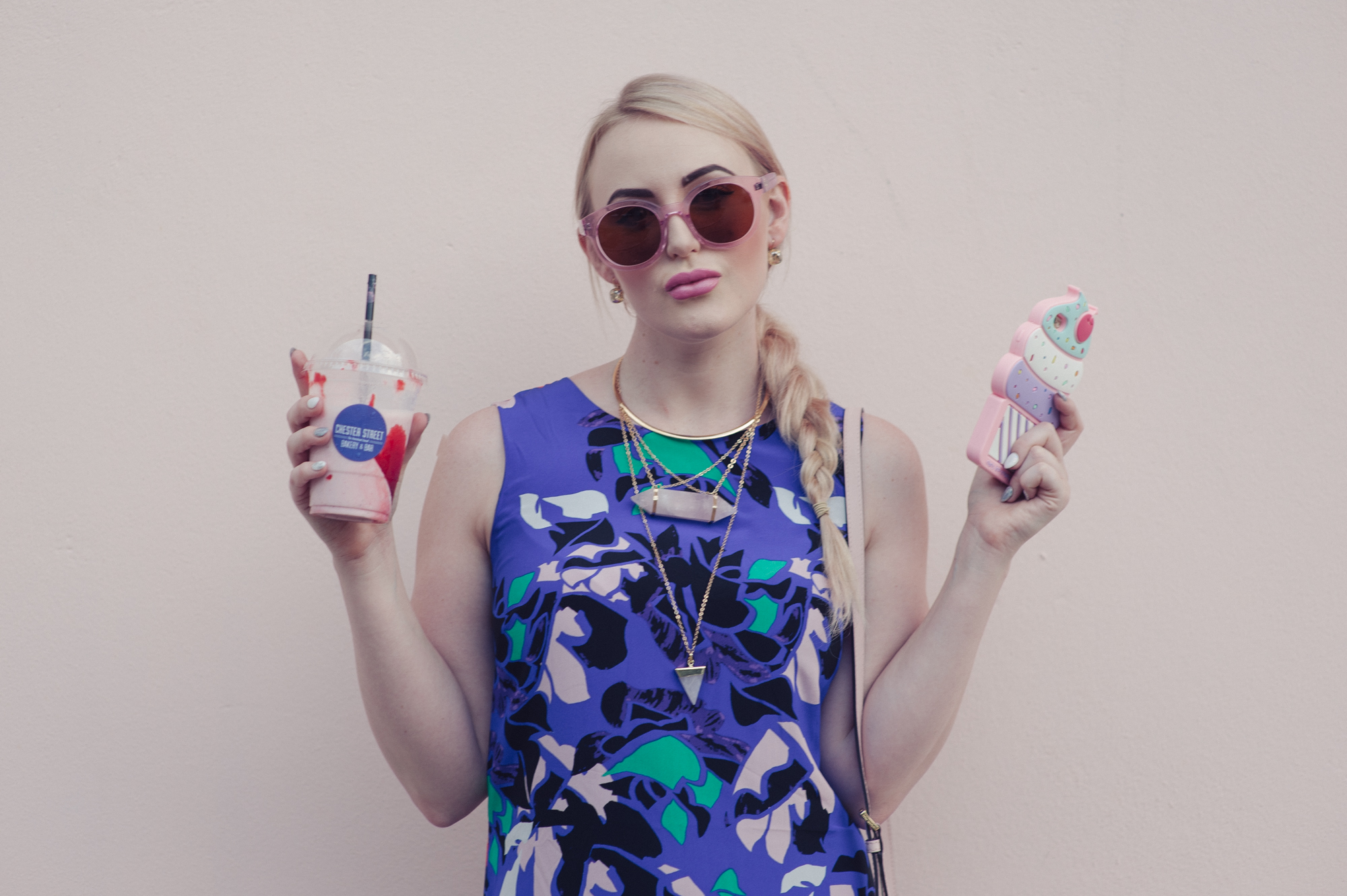 Marcs Silk Rose Print Dress, Elle Louise Gold Triangle Crystal Pendant, Elle Louise Cross-over Stone Choker, Royal Aquamarine Kelly Sunglasses, Michael Kors Handbag (similar style here), Wittner Heels (similar style here), Swarovski Earrings (similar style here).
Days off call for sweet treats and delicious things, as we all need a little reward after the working week! As for my little sweet tooth, there's one particular hotspot I visit to get my sugar fix – Chester Street Bakery. Located off James Street Precinct, the award winning dessert parlour is lined with cake cabinets, displaying the most decadent desserts. From a rich Nutella Pavlova, to a deliciously nutty Chocolate & Pretzel Peanut Butter Brownie, Chester Street Bakery is a delectable haven, perfect for a sneaky snack or an after dinner treat. As a busy gal on the go, I sipped on a classic Strawberry Milkshake, the perfect remedy for a scorching hot day!
My little adventure gave me the perfect opportunity to test out the NEW #MarcsStreetView platform, which allows you to snap, share and navigate your city's most stylish hotspots, available to Sydney, Melbourne and Brisbane. As one of the Brisbane contributors, you too can visit my favourite hangouts where I indulge in (and snap) my favourite cuisine, by checking out my profile on #MarcsStreetView! For those interstate readers, see where other Australian Bloggers are checking into, by clicking here! Find out how you can put your lifestyle on the map by clicking here!
Shakes for days with @erinsmithphoto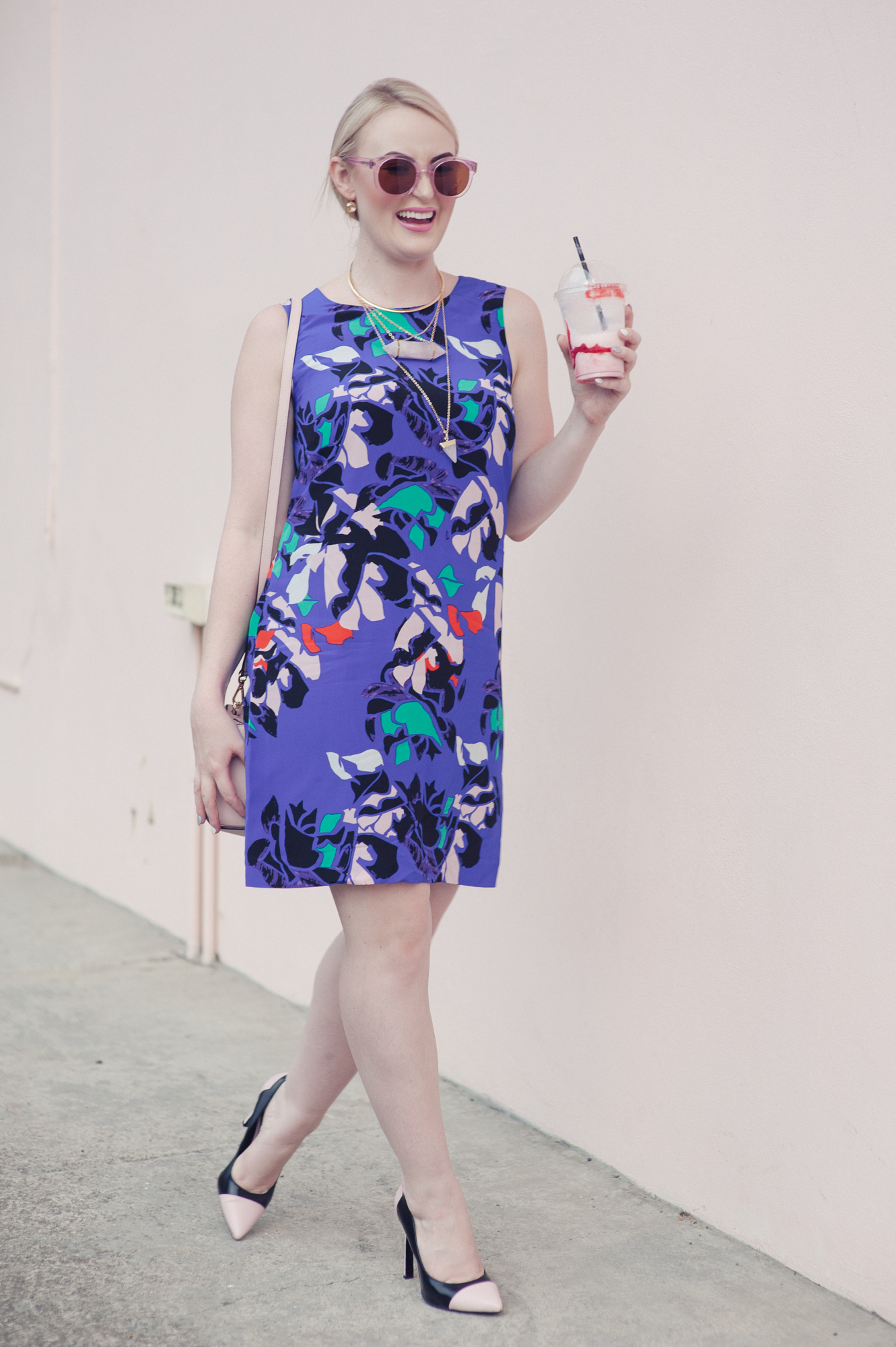 Of course, this trendy hotspot calls for an outfit to match, so I'm styling a beautiful silk, mosaic rose print shift, as part of Marcs' summer collection. It seems I'm totally coordinating my accessories with my milkshake, opting for pink, pink, pink! What can I say – it's my signature colour!
Time to dash off for the weekend! Don't forget to check out Marcs Street View platform, follow @marcs_clothing and the trending hashtag #MarcsStreetView. See you on the map!
SHOP THIS LOOK:
Photography by Erin Smith Photography
---