The Golden Hour.
Sunday, July 20th, 2014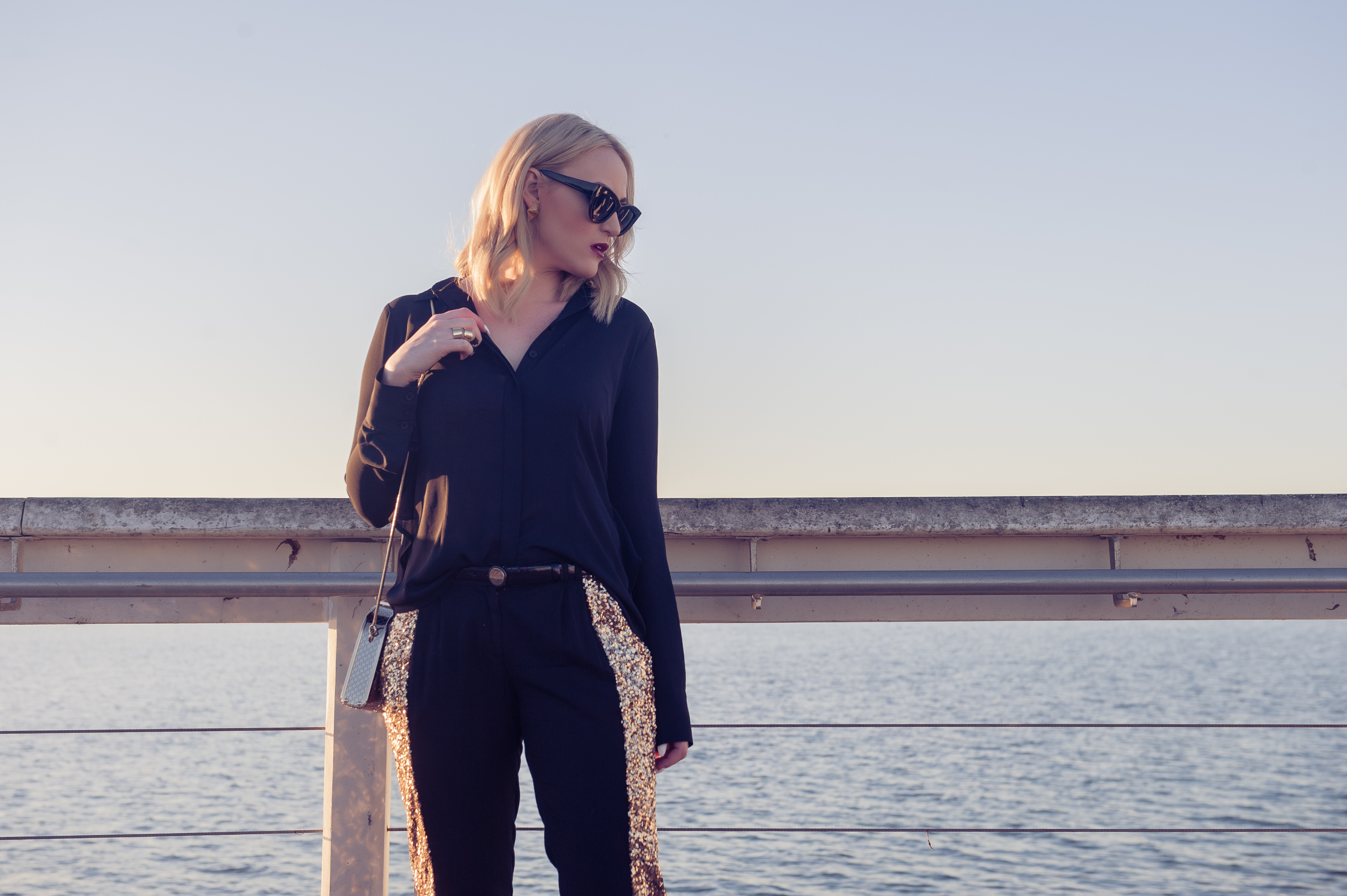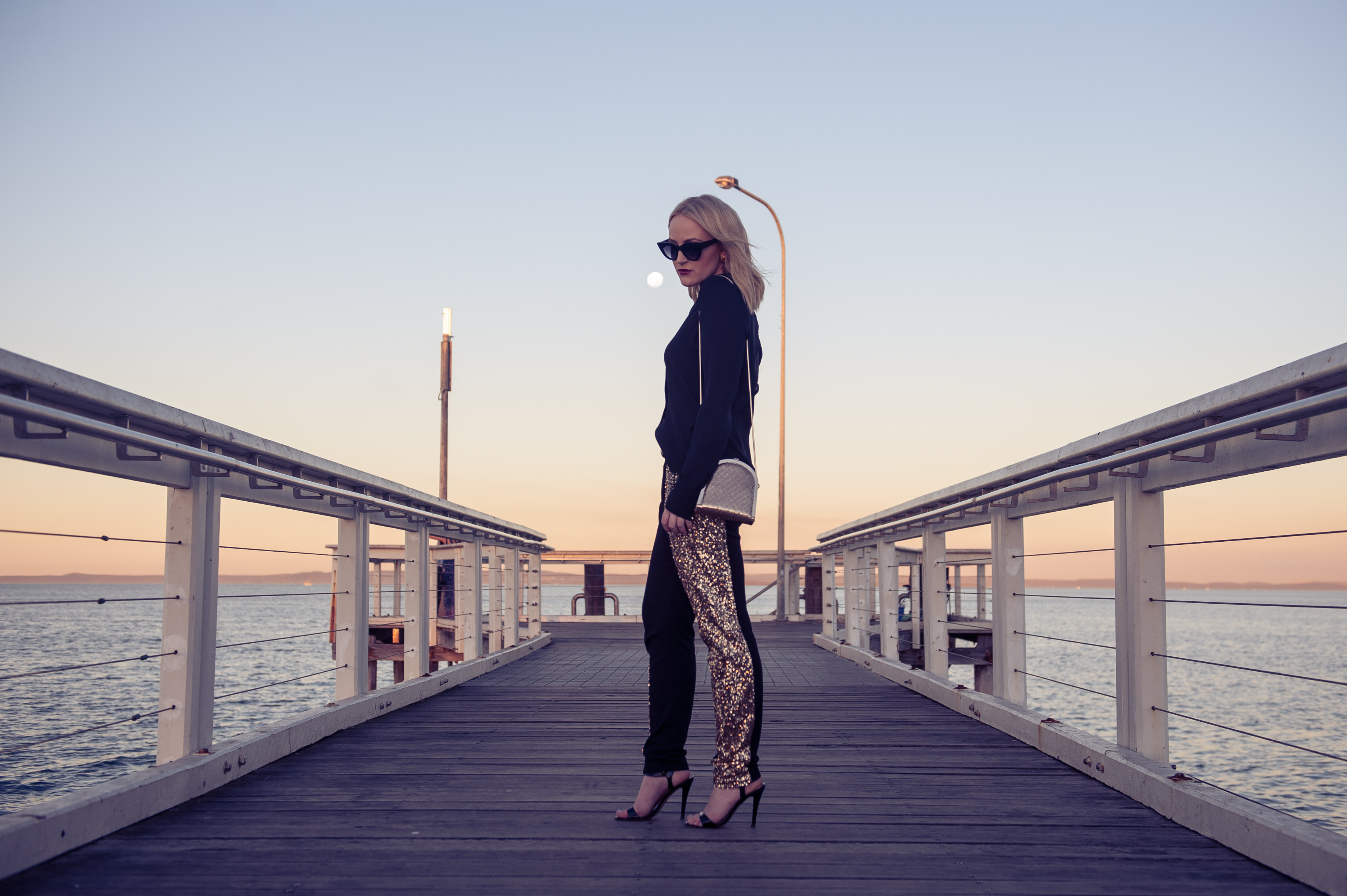 sass & bide Sequin Pants (similar style here), Cue In The City Sheer Shirt, Oroton Scent Mesh Bag (available at DFO Brisbane), Sportsgirl Mistress Sunglasses, Mimco Earrings (similar style here), Lovisa Ring, Jo Mercer Tanessa Heel, Oroton Metropolis Belt.
Where the sequins meet the sea. I'm pulling out a sass & bide statement for the sunset, teamed perfectly with my shiny new Oroton clutch. Gold upon gold upon black, as Sam Sparro says, I'm doin' it right!
With a keen eye for multi texture, I'm am loving the combination of glomesh, sequins and patent leather, which adds some serious depth to the predominately dark colour palette seen in this look. A light touch of sheer adds a final dimension, helping to balance out the three heavier fabrics.
The dreamy sunset recaptured the gorgeous summer that was, painting a lovely backdrop for my photographer, Erin Smith Photography. Playing with shadows, sequins and sun flare, we left our creative footprints in the sand!
Thank you to DFO Brisbane who have served up the shiny goods, in the form of this gorgeous Oroton Scent Mesh Bag. This delicate beauty will not be leaving my side anytime soon! Visit the DFO website and Facebook page for any fashion news and savvy specials!
SHOP THIS LOOK:
Photography by Erin Smith Photography
---
Golden Girl.
Wednesday, July 16th, 2014
Oroton Gold Clutch (similar style here) available at DFO Brisbane, Wittner Ricky Boot.
A little golden glomesh is about to make my evenings out a whole lot more special. I found this little treasure at the Oroton store in DFO Brisbane and just like a magpie adoring any type of sparkle, I naturally HAD to have it. With the perfect outfit in mind, I cannot wait to style this piece and for a little hint of what you can soon expect of this little clutch, I will be highlighting some gorgeous multi texture and playing with some luxe designer pieces. Excited? – you should be! Pop back soon for some serious sparkle!
Thank you to DFO Brisbane for adding this shining statement piece to my wardrobe - I'll treasure and wear her proudly. Girls, make sure you keep up to date with all the DFO Brisbane fashion by subscribing to the website and liking the Facebook page.
SHOP THIS LOOK:
---
Blue Jeans.
Saturday, July 12th, 2014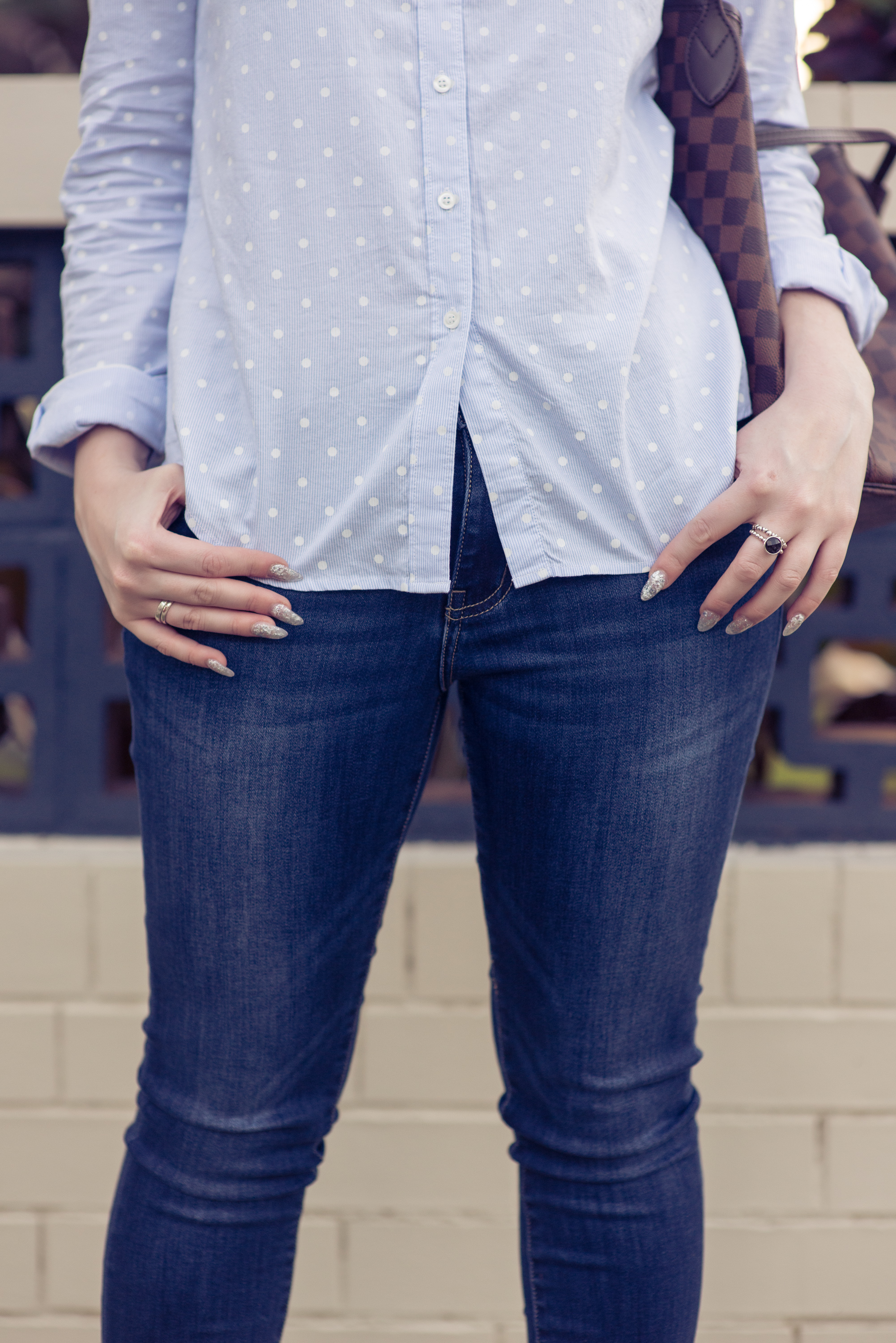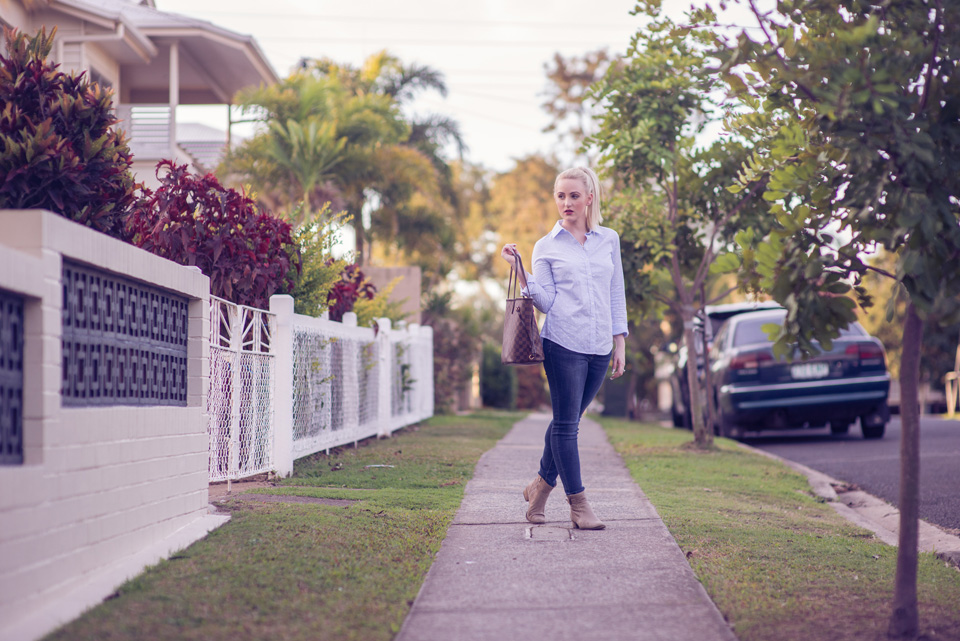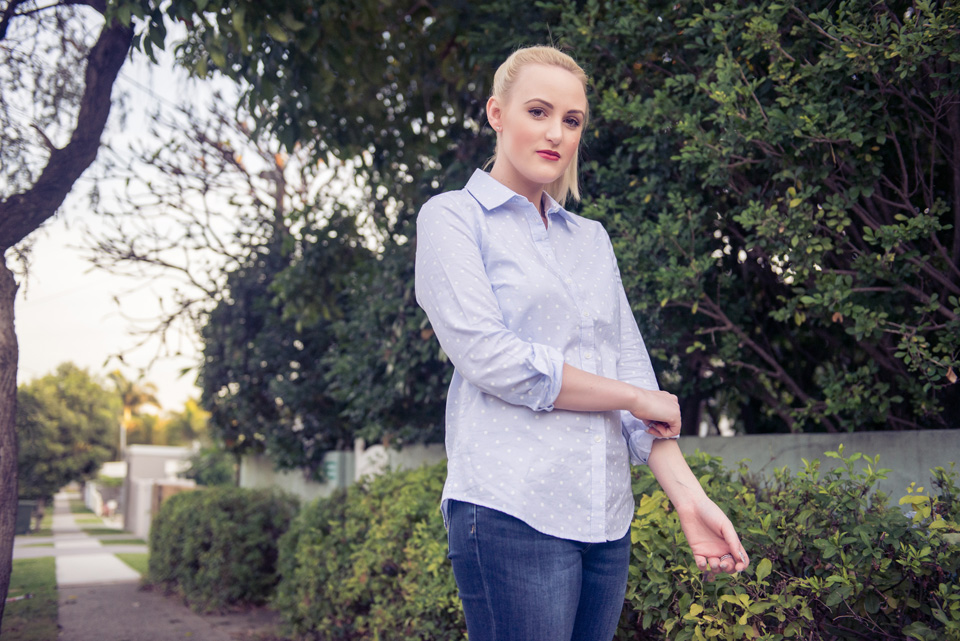 Sportscraft Sarah Oxford Shirt, Just Jeans Skinny Ankle Crop Jeans (available at DFO Jindalee), Louis Vuitton Neverfull MM Tote, Skagen Snowflake Pendant, Pandora Heart Ring, Pandora Tourmalinated Quartz Ring, Tiffany & Co. I Love You Ring, Tiffany & Co. Love Ring.
Old blue jeans; a faithful fashion omen and the newest addition to my winter wardrobe. Hardly a denim enthusiast, I spend 99% of my life in ultra feminine pieces, structured skirts and free flowing dresses (with the occasion splash of leather leggings),but never have I felt so comfortable strolling the quaint suburban streets in denim.
All of my denim inhibitions were suddenly ruled out in last month's DFO style challenge, as I pushed my boundaries styling the perfect winter denim. With a little prior research (Pinterest) and wearing my comfortable heels, I set off to conquer my kingdom (DFO Jindalee).
Just Jeans definitely provided a selection of fabulous denim in every shape, shade and style you could imagine. With five styles, narrowed down to one, I strolled out with a pair of skinny fit, cropped ankle jeans, bottled excitement and my trusty Kate Middleton does denim snap, or otherwise my source of inspo. After all, you know you've chosen a royal winner when the Duchess of Cambridge is rocking skinny denim.
Keeping it chilled, I've teamed my denim with a relaxed button down, in a playful polka dot print. A neutral taupe boot and the chocolatey tones of my Louis Vuitton Neverfull Tote, add a little chic to the casual ensemble- perfect for brunch!
A warm thank you to the fabulous team at DFO Jindalee who keep my shopping and style challenges fresh and exciting. Another warm thank you goes to my fabulous photographer, Erin Smith Photography, expert style snapper and blogger paparazzi.
Read my extended Denim Diaries, now published on Style Magazines, here! For more DFO Jindalee fashion, head straight to the website and Facebook page. Happy Shopping!
SHOP THIS LOOK:
Photography by Erin Smith Photography
---
Breakfast with Beginning Boutique & Brisbane Bloggers
Monday, July 7th, 2014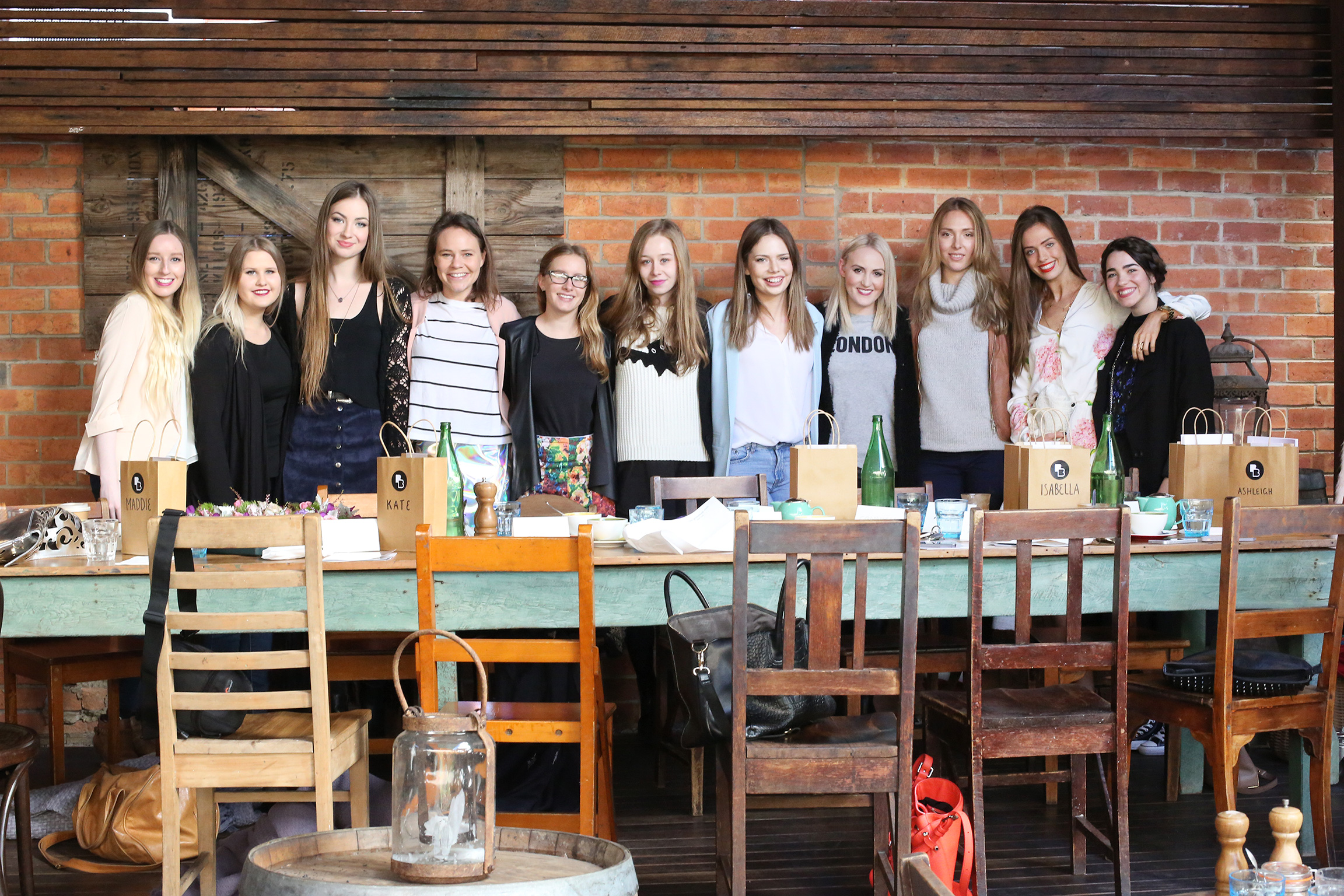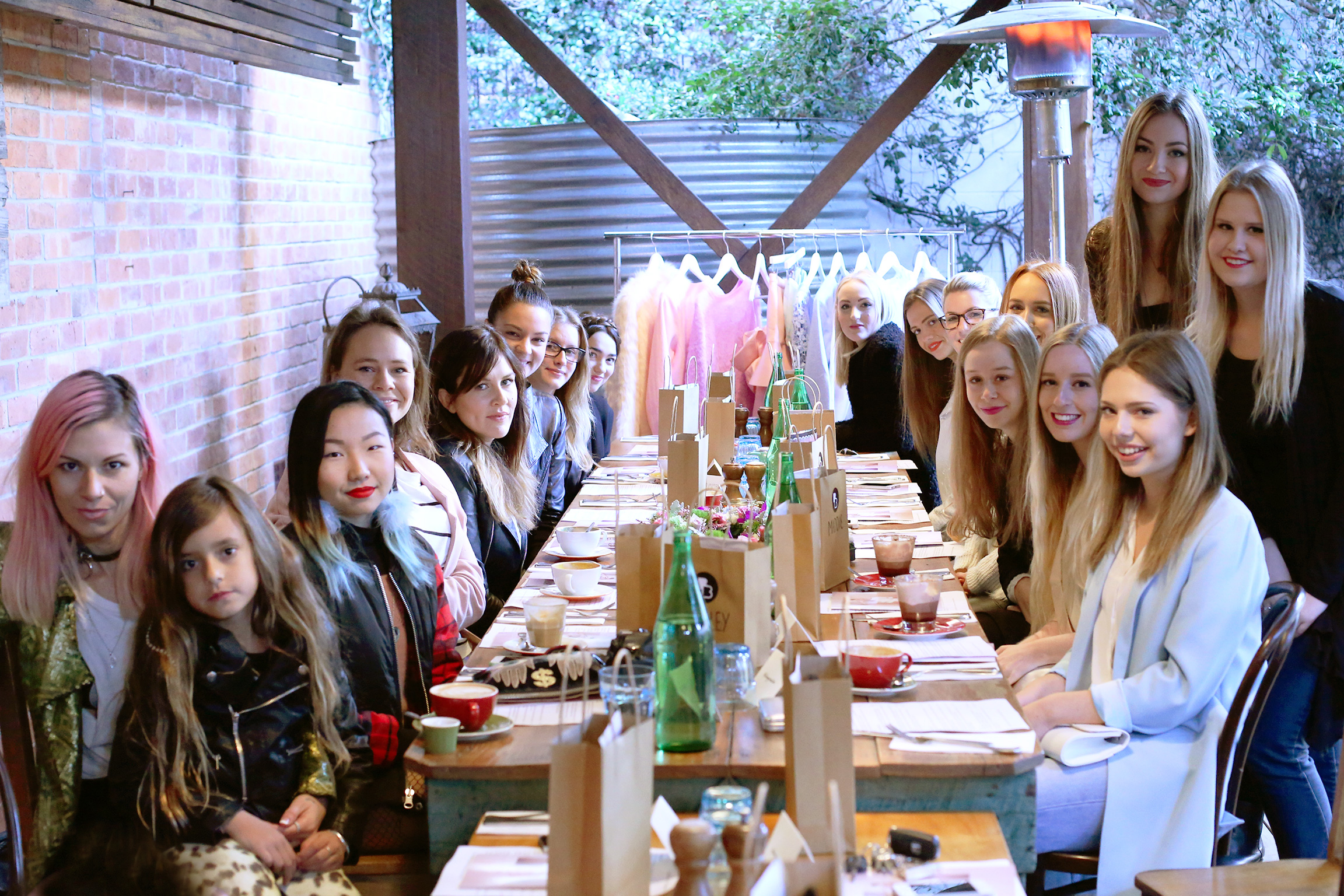 I'm wearing St Frock Madison Square Leggings, French Connection London T-shirt (similar style here), Cooper St Faux Fur Jacket (similar style here).
Starting my day with a steamy chai, poached eggs and greens, with a side of fashion at the Beginning Boutique Bloggers Breakfast. To be greeted with such stylish faces so early in the morning was an additional perk alongside the gorgeous goodie bag that was provided by Beginning Boutique. Fangirling over our exclusive printed Sweet Nothing Lookbook, we swapped digits and snapped food pics (check out #bbbloggersbreakfast)- otherwise a pretty perfect morning.
Endless hugs and kisses go out to the team at Beginning Boutique for organising such a delicious catch up! Thank you for having me! Ladies make sure you check out the exciting new arrivals at Beginning Boutique and follow the BB Facebook, Twitter and Instagram.
SHOP THIS LOOK:
---