Au Revoir Summer!
Sunday, March 1st, 2015
Quirky Circus Blue Floral Crop and Midi (available at Myer), Lack Of Color The Spencer Boater, Wittner Avril Heels, Michael Kors Blair Pave Rose Gold-Tone Watch, Fossil Bangles.
After 90 days of sizzling hot temperatures, it appears summer is finally over! With a love for the cold, I couldn't be more excited for winter's arrival and the prospects of warm roasty nights near the fireplace, layering and many hot chocolates (marshmallows please!)
Nevertheless, on the 90th day of summer I said Au Revoir to the fabulous season just been while wearing a flirty floral crop and midi duo by Quirky Circus- one of my favourite Australian brands! As I love a little Parisian/European influence, I teamed this ladylike ensemble with my brand new boater hat from Lack of Color. Not usually one to wear hats, I couldn't go past this little accessory, given its stylish and sun safe appeal. After all, I have to protect my porcelain skin and if it means looking chic while doing so, then it's a win win as I see it!
With an afternoon spent in an impeccably manicured corner of the city, Erin Smith Photography and I watched the final summer sunset, starting our brainstorming for the chilly season ahead and while excitement brims creativity, I can confidently say….keep your eyes firmly set on this page, coz baby we'll be bringing the fire!
SHOP THIS LOOK:
Photography by Erin Smith Photography
---
Flower Bomb
Monday, February 16th, 2015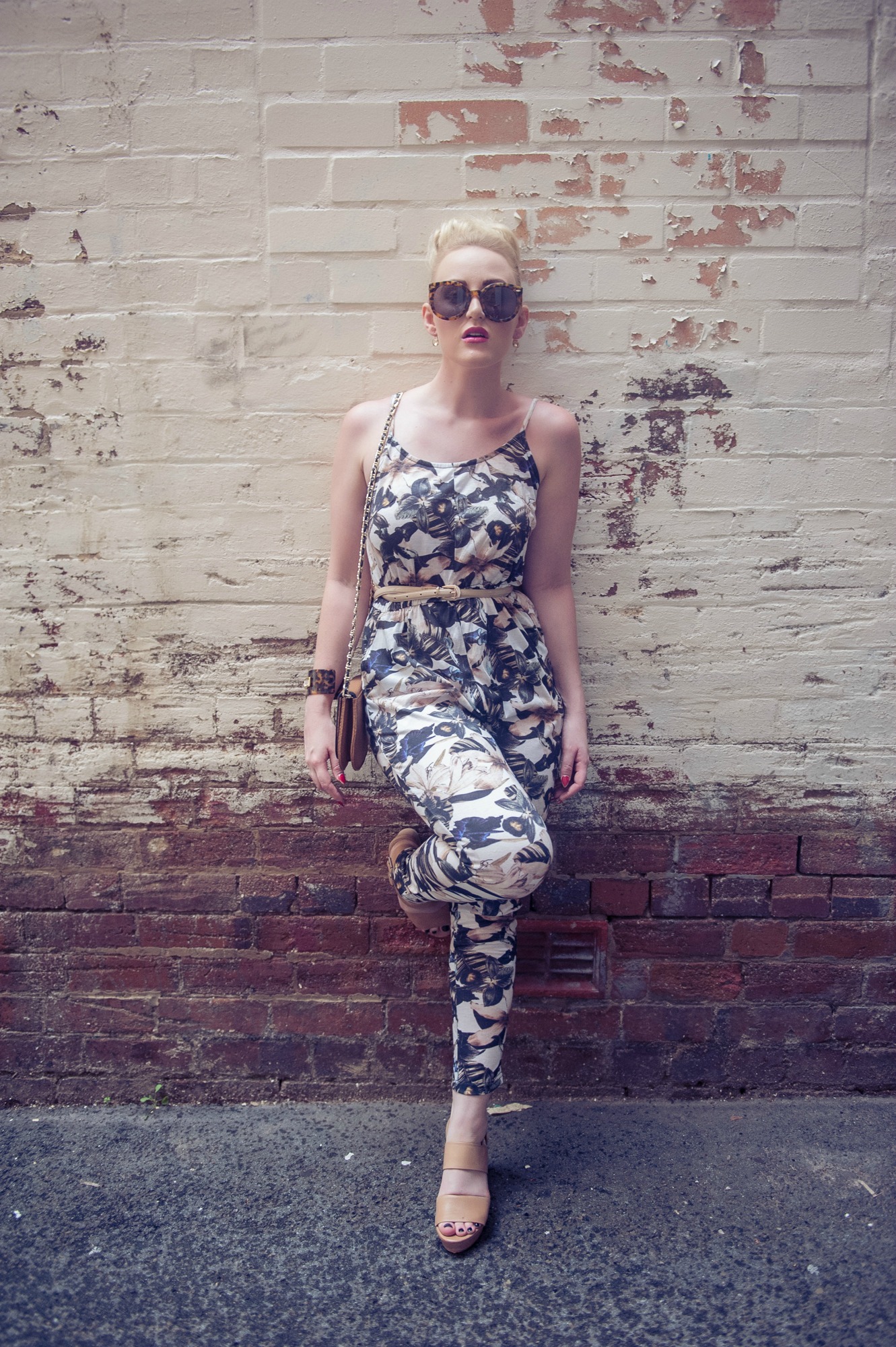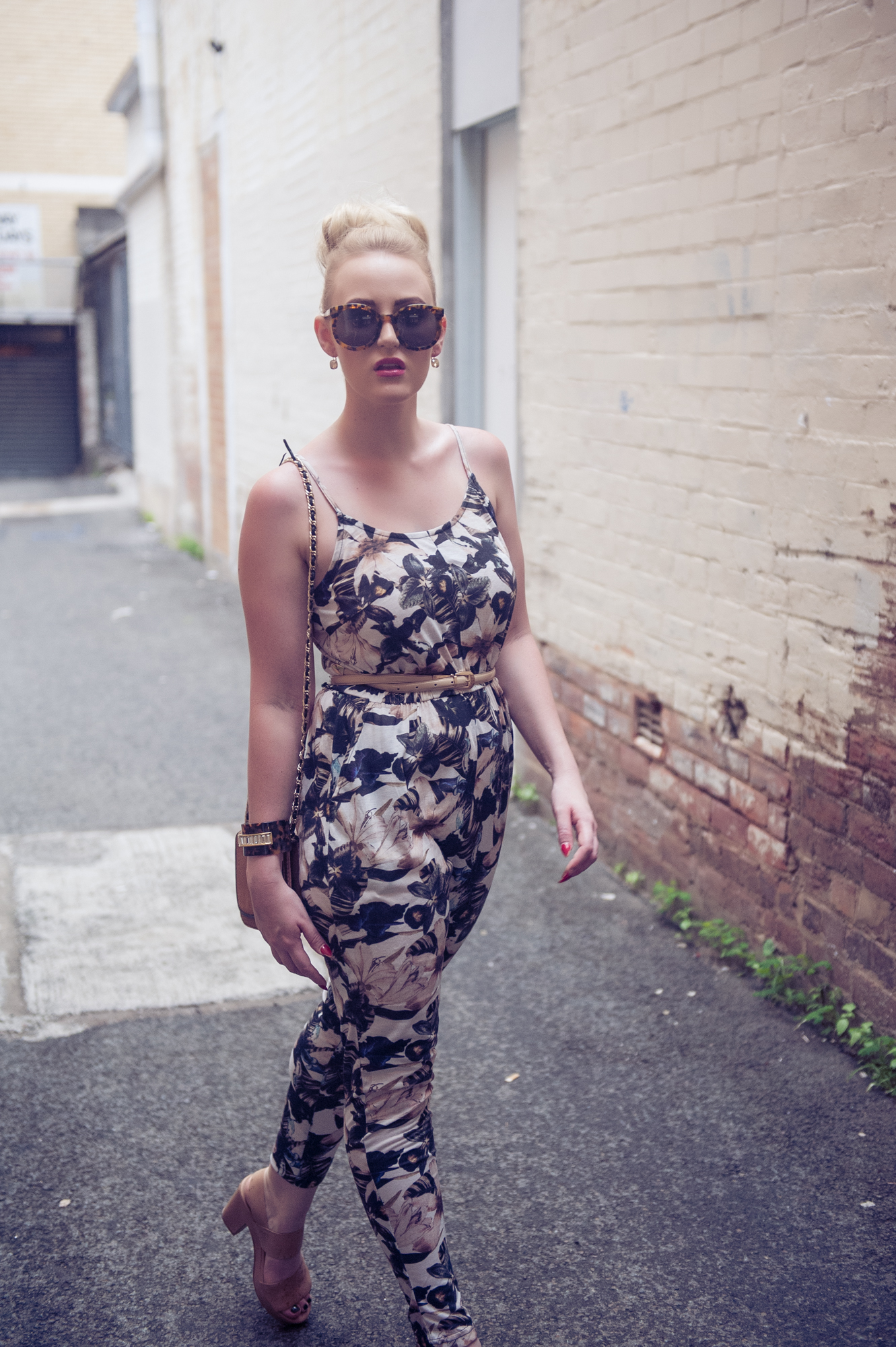 St Frock Flower Bomb Pantsuit, Jo Mercer Erika Platforms, Karen Walker Super Duper Strength Sunglasses, Swarovski Sheena Pierced Earrings, Oroton Cuff (similar style here), Oroton Mini Bag (similar style here).
Flower Bomb- I really couldn't think of a better name for this St Frock jumpsuit, as it literally is an explosion of flora! There's no mystery as to why this piece caught my eye, as my style clearly advocates that I am a lover of colour and print – a self-proclaimed Print Queen if you will. With an earthy colour palette highlighting green, cream, beige and tan, this piece adds a little uniqueness to what's otherwise a tropical floral print.
A jumpsuit (in my opinion) has the potential to look very effortlessly cool, especially when paired with the right accessories. Channeling a laid-back getup, I'm teaming this statement piece with some casual platform sandals and a pair of killer shades (thank you Karen Walker!)
To finish this look, I've added some finer details (and a little sparkle) seen in my choice of cuff, earrings and textured clutch.
Would you believe that just as we found this little alleyway, Erin Smith Photography and I got caught in a rainstorm? Lucky we are so in sync as we managed to wrap up this shoot in 5 minutes and finish early for dessert. It doesn't get much sweeter than that!
SHOP THIS LOOK:
Photography by Erin Smith Photography
---
Va Va Valentines
Tuesday, February 10th, 2015
Saba Sophia Sculpt Dress, Claire Vivier Rose Gold Clutch, Michael Kors Catlin Watch, Swarovski Brief Pierced Earrings, MAC Lipstick, Tony Bianco Ambrose Heels.
Because it's not a Valentines #datenight without a little scarlet fever….
SHOP THIS LOOK:
---
Princess Pink
Friday, February 6th, 2015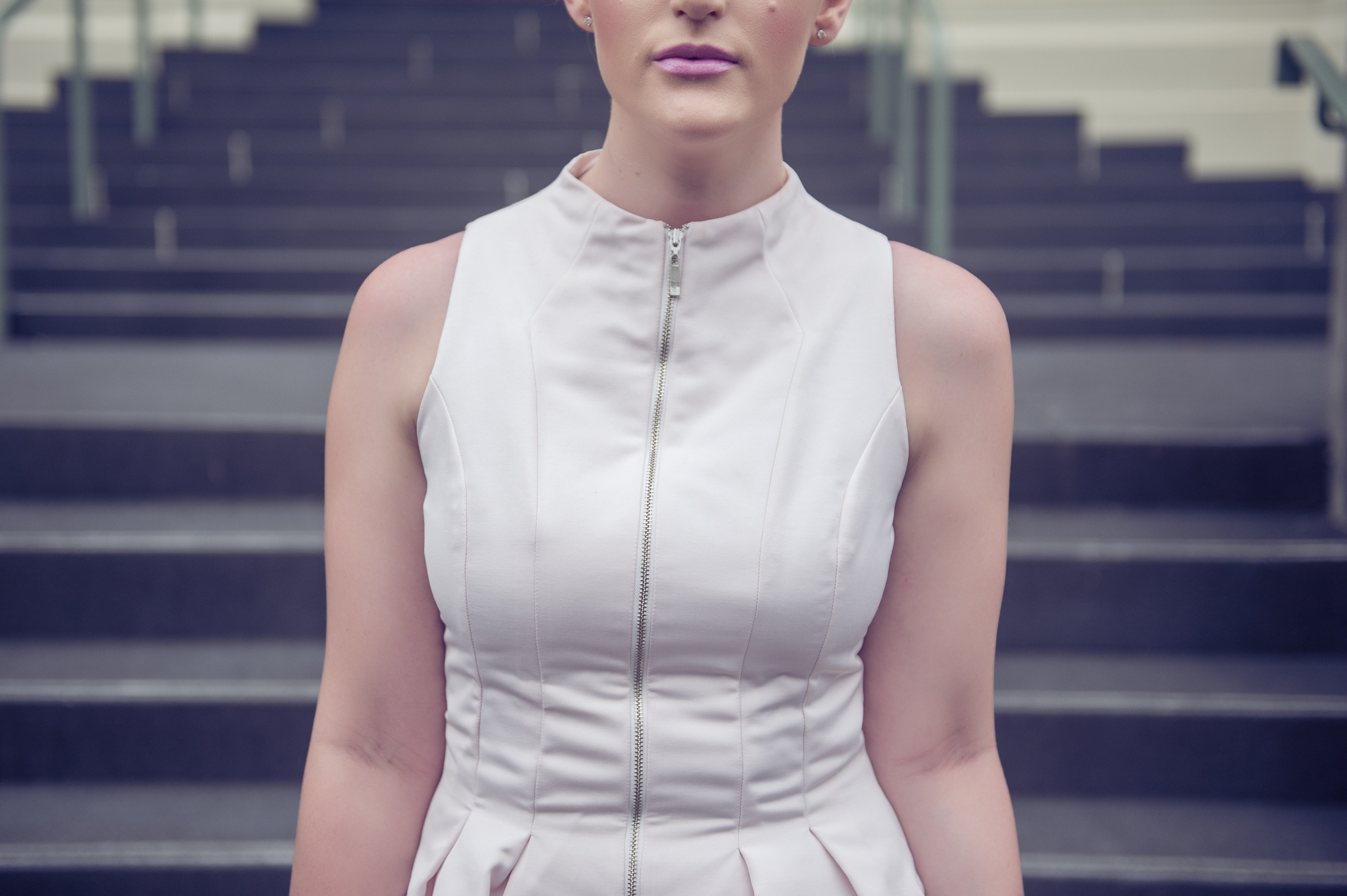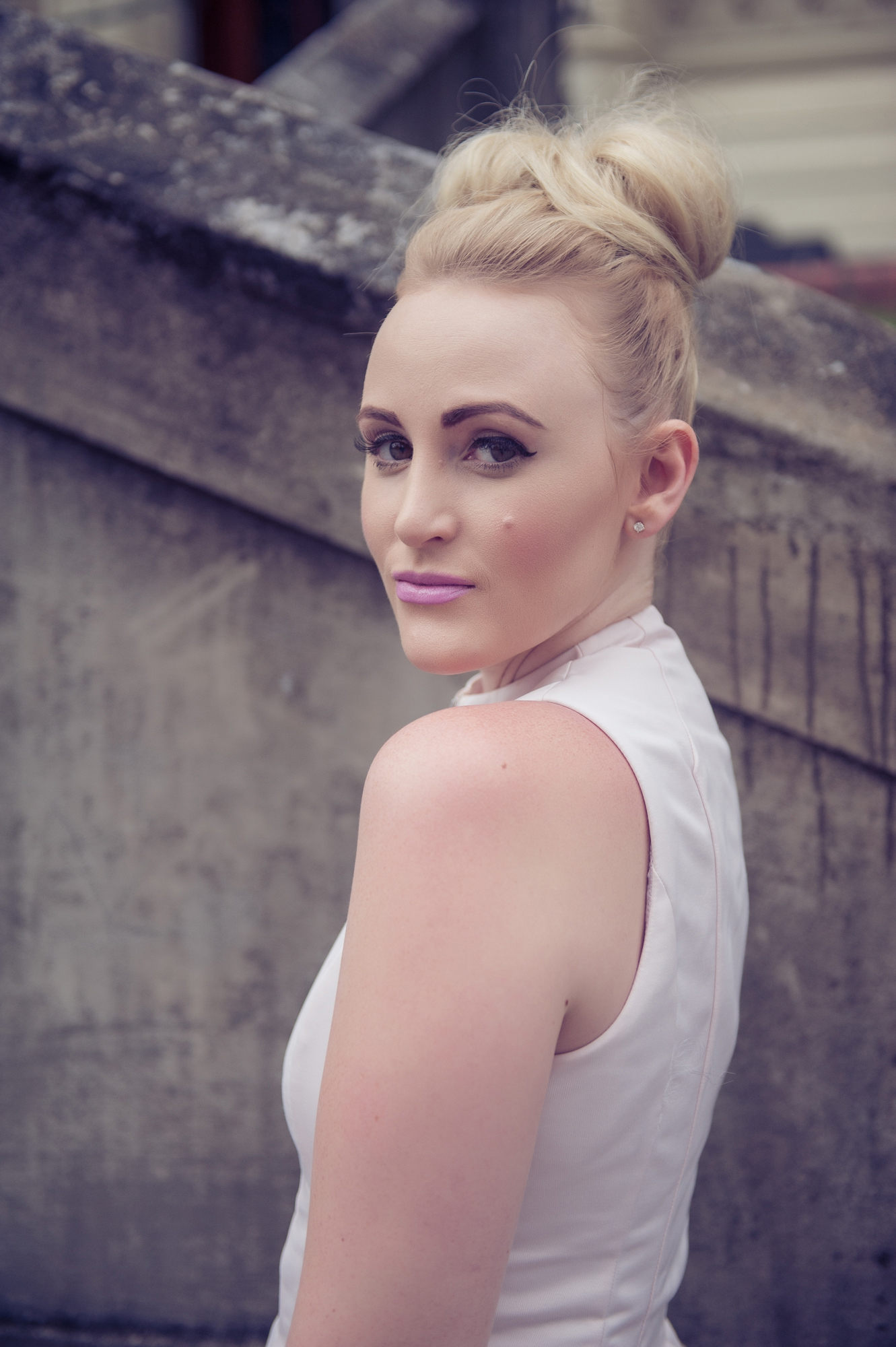 Cue Dress (similar style here), Jo Mercer Rio Heel, Olga Berg Clutch (similar style here), Bowerhaus Fleur Baroque Bracelet (similar style here), Michael Hill Amber Ring, Michael Hill Diamond Earrings.
Sometimes a girl just needs to escape reality, only for a moment or so, just to relive her fairytale dreams. While Prince Charming is yet to be found, I'm certainly feeling like Cinderella in this perfectly pink princess dress and sequinned slippers. After all, if they were made of glass, as the original story suggests, they would be rather impractical- would they not?
Back to reality, I celebrated my 26th birthday on the Wednesday just been. While I was feeling some nervous butterflies at the thought of turning 26, being spoilt with beautiful trinkets, surprised with decadent cakes and dining at my favourite Italian restaurant certainly sweetened the deal….and once again I'm a princess, a birthday princess…for the rest of the week that is!
SHOP THIS LOOK:
Photography by Erin Smith Photography
---