A Tropical Christmas
Wednesday, December 17th, 2014
Skin Hot Loving Heels (available at Style Tread).
Amidst a tropical Christmas season in sunny Queensland, I'm feeling the jungle fever – with my animal prints on constant rotation. This time the Style Tread team have hooked me up with a little zebra heel, featuring an edgy monochrome pattern printed on textured leather….that contrast is just so sharp!
Never one to worry about a heel height (and as a 5ft fashionista, I say the higher, the better!) I am loving the practicality of this shoe- as the solid block heel allows for speedy shopping, while the ankle strap ensures stability. As I explain to any male, it's functionality- this heel will get me from A to B and all the while I'll look like a fierce, jungle queen! It's a win, win situation as I see it!
If you too are wanting to get your hot little hands on these heels, pop on over to Style Tread and browse the amazing new arrivals! With all this holiday gift giving, it really is important to spoil your number one- you! That's my little mantra. Stay tuned to see how I style these babies and don't forget, if you haven't already, make sure you enter my current giveaway I'm promoting on Instagram.
---
From Me To You!
Thursday, December 11th, 2014
It's beginning to look a lot like Christmas and yet I'm still sitting by my laptop, only a quarter of a way through my Christmas shopping- call crowd control, this weekend I'm due for some serious shopping.
In the spirit of giving, I'm teaming up with one of my favourite e-boutiques, Pinnacle Runway, to host a Christmas Giveaway! One lucky lady will be gifted a $100 e-voucher to spend at Pinnacle Runway on the garment of her choice. While I would love to reward each and every one of my followers, this Giveaway represents a token of my appreciation for your ongoing support and love. As a cherry on top, we are making the entry super easy, please see the terms and conditions below.
Terms and Conditions
Australian residents only
Follow @theblondesilhouette and @pinnaclerunway on Instagram
Repost the official Giveaway image and #tbsxpinnaclerunway
Tag 2 of your friends!
Competition closes 20th December at 10pm AEST
Good Luck Girls! xx
---
A Rose Amongst A Storm
Sunday, December 7th, 2014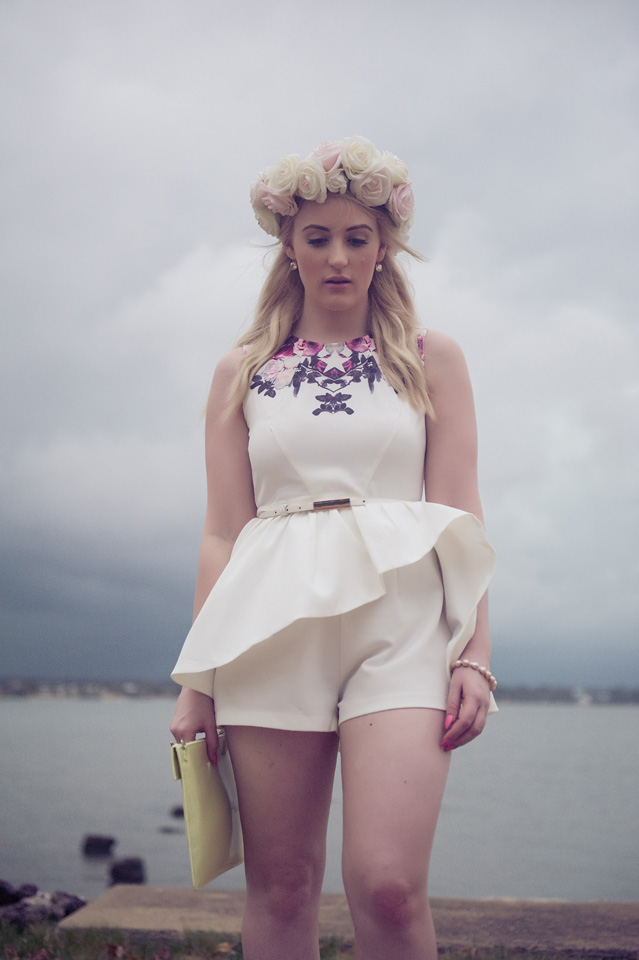 Pinnacle Runway Playsuit, Jo Mercer Scarlet Heels, Jo Mercer Johansson Clutch, Swarovski Sheena Earrings, Peep Toe Ring, Bowerhaus Baroque Pearl Bracelet (similar style here).
Creating a juxtaposition between mother nature's dramatic temper and my inherent adoration of florals and femininity, has coined a new ending to the classic expression, "A Rose Amongst A….Storm"….because a garden background is just so cliche.
Always delighted by particularly feminine pieces, it's the details seen in this Pinnacle Runway playsuit that I absolutely adore. Having formed a slight obsession with whites this summer, I'm welcoming the slight shade diversion on the colour wheel, adding a splice of cream to my wardrobe. Not to mention this hue appears less stark on my porcelain skin and given that I am minus 1 spray tan, that's a huge bonus! I can't decide whether I am more drawn to the floral neckline or the ruffled overlay, but there's something very unique about this little piece, that creates a certain exclusivity to the Pinnacle Runway brand.
If you identify as a mega girly-girl/ floral enthusiast then I definitely recommend a sneaky shop at Pinnacle Runway, as I have never seen such a splash of beautiful colours and prints in a new arrivals drop! Follow with a follow via the Pinnacle Runway Facebook | Twitter | Instagram. Happy blossoming!
SHOP THIS LOOK:
Photography by Erin Smith Photography
---
White Christmas
Wednesday, December 3rd, 2014
A White Christmas Wish List (via Polyvore).
December has arrived and not a moment too soon… My festive spirit has awakened and this year I'm creating my own "White Christmas", with glistening snowflake baubles and scents of cinnamon and gingerbread. Here's a little #inspo for the home and for the foodie in you.
DECK THE HALLS:
---