How To Get Over Toned Pastel Hair
Sunday, August 21st, 2016
I've been making boysenberry hair my signature since 2015, and I'm not about to change my lavender locks anytime soon! If you are ready to add a touch of pastel to your main mane without making a trip to the salon, then here's what you need to know!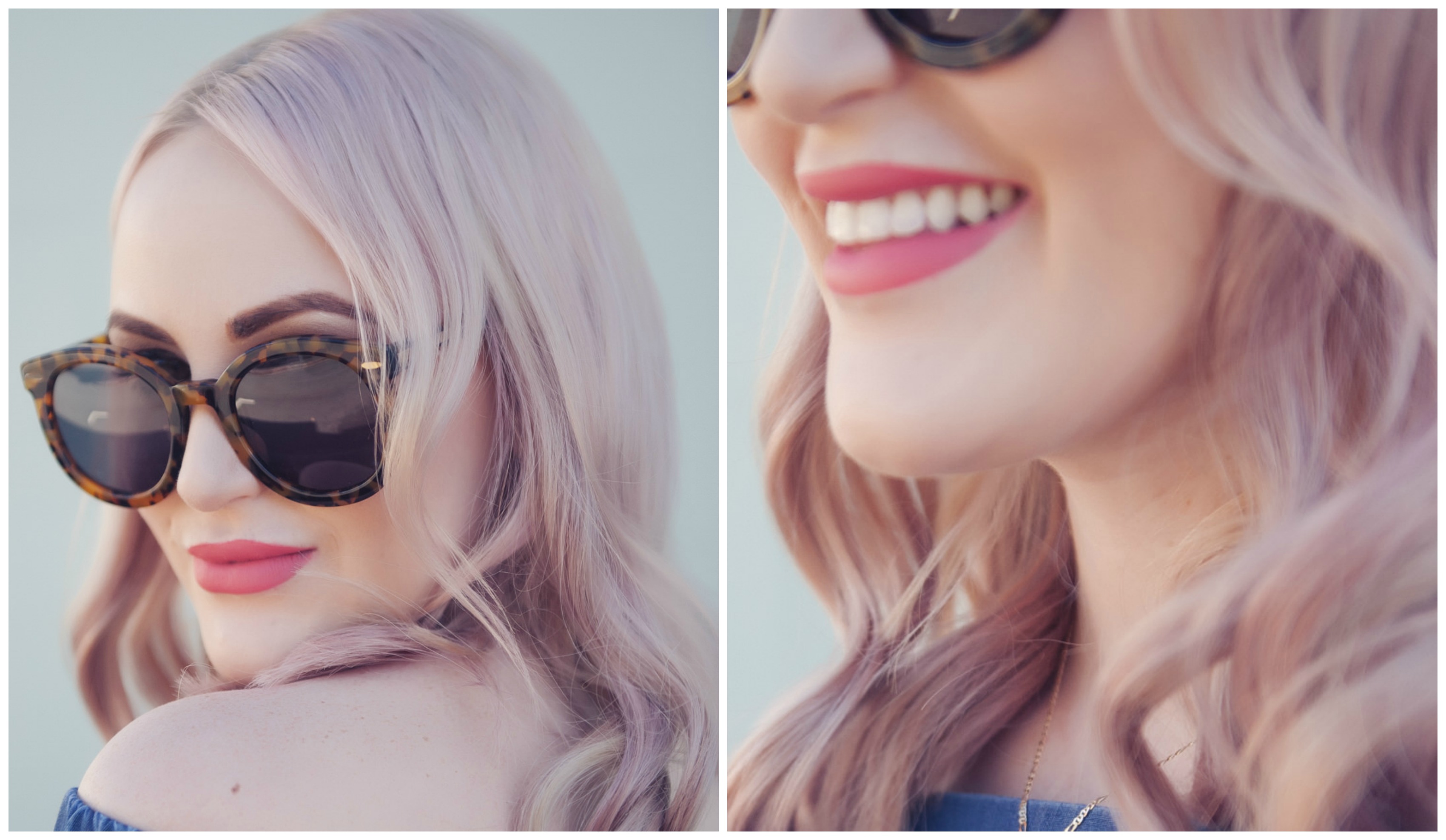 I just want to preface this little read by saying that I am not hairdresser, nor an expert on hair, however, I am using a salon recommended product to achieve my over toned pastel hair – a De Lorenzo Rosewood Shampoo to be exact.
Most blondes will be familiar with toning products, and similar to any purple based shampoo, the De Lorenzo Rosewood Shampoo reduces brassy shades of blonde, while reflecting pastel, lavender hues. But the best thing about this shampoo, is that you can control the intensity of your over toned tresses. For my lilac locks, I leave this product on for a good 2-3 minutes to create a soft, pastel shade. However, if your hair is more statement then subtle and you're after a more striking, violet hue, then you'll want to let this shampoo simmer for 5+ minutes.
De Lorenzo NovaFusion Rosewood Shampoo.
Before you start dreaming about unicorn hair, here's a few little tips and tricks from a fellow unicorn queen.
Tips:
Apply Rosewood shampoo with a paintbrush to ensure a consistent pastel tone throughout your tresses.
Combine with regular shampoo for a more subtle effect.
Repeat as necessary, as this pastel finish will fade and wash out in time.
Wash hands immediately after use, as this toner will stain your nails (trust me, I've learnt the hard way!)
When using throughout hair extensions, do lather and emulsify with water as quickly as possible to avoid patchy pastel shades.
Do continue to condition hair as per normal, for a silky shiny mane.
Tricks
Don't emulsify the product when washing your own hair, as this breaks down the colour of the product.
Don't use an exfoliating or deep cleanse shampoo after using the De Lorenzo Rosewood Shampoo as this will dull the colour.
Wash product thoroughly out of hair.
Are you coveting this over toned pastel hair trend? Have you tried the De Lorenzo Rosewood Shampoo before? Let me know what you think in the comments below!
SHOP THIS POST:
---
Weekend Essentials: The Stripe Shift Dress
Tuesday, August 16th, 2016
You know your becoming responsible with your savings when you start selecting items based on their versatility… and a navy stripe shift dress is a must have piece for your weekend wardrobe, regardless of season!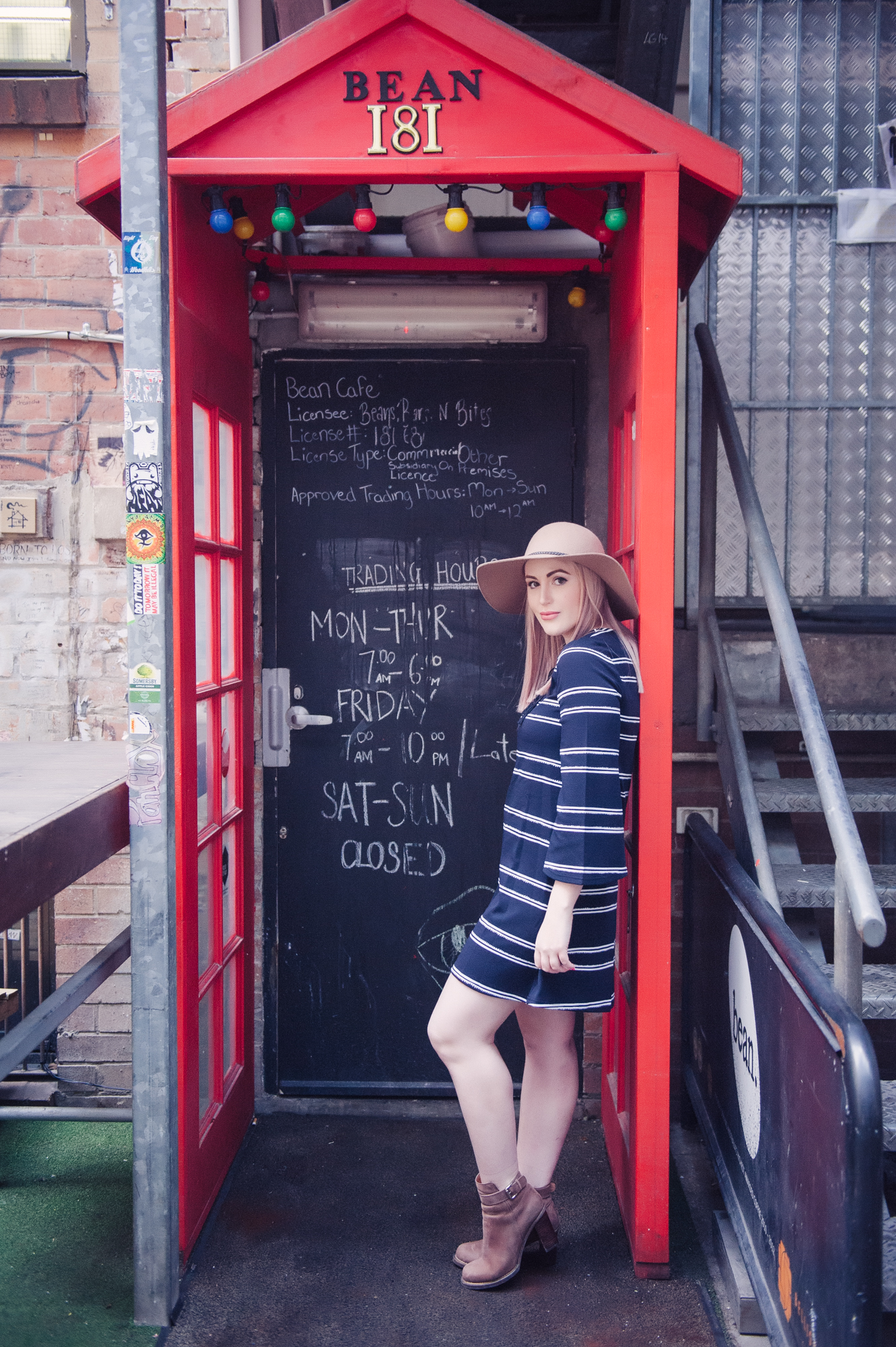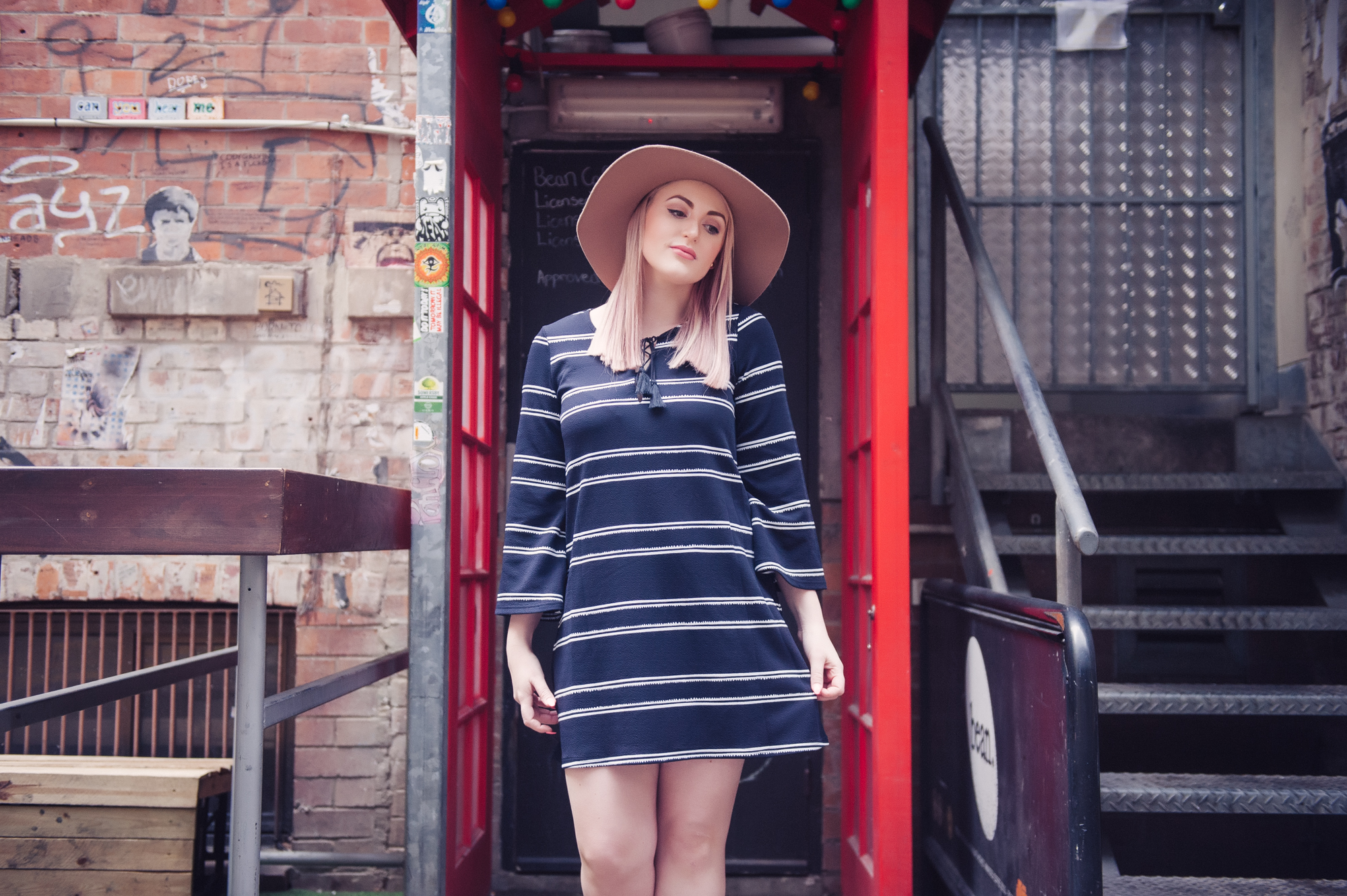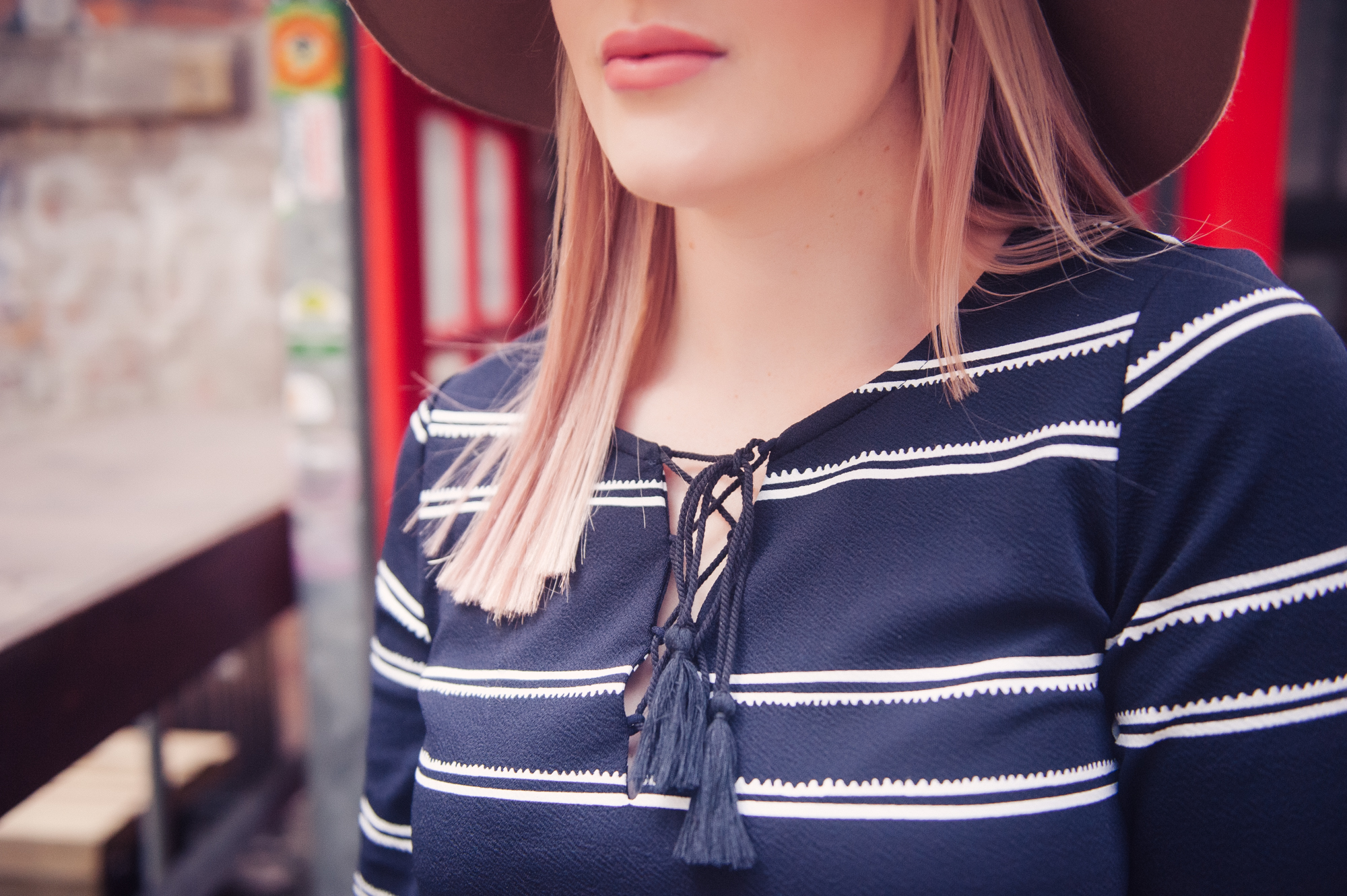 Miss Shop Dress (similar style here), Jo Mercer Rae Boot, Portmans Floppy Hat (similar style here).
There's nothing quite as fresh, as the clean lines seen in a stripe print, especially when the print involves a classic, neutral colour scheme like navy and white. I've been living in this little number all season – having styled it with a denim jacket on particularly cool days, or leaving it to it's own devices and teaming it with neutral accessories.
Of course it was the perfect choice on this particular morning, which called for coffee in the mid morning sunshine. Styling with a little pair of tan ankle boots and a matching floppy hat, I'm really loving it's effortless, casual vibe and relaxed fit – the perfect weekend outfit!
SHOP THIS POST:
Photography by Erin Smith Photography
---
Get The Carrie Bradshaw Look
Thursday, August 11th, 2016
Who could forget in the sixth and final season of Sex And The City when Carrie Bradshaw stepped out of a cab, and onto the streets of Paree dressed in the chicest, monochrome ensemble. Twelve years on, and that Carrie Bradshaw style remains timeless and sophisticated – and totally enviable to any aspiring fashionista. This post is totally dedicated to replicating Carrie's Parisian Look – prendre plaisir (that's french for enjoy!)
The Ensemble: Carrie debuts a classic, monochrome ensemble – perfect for the Parisian fashion scene. She boldly clashes stripe with stripe, as teams a horizontal striped knit with an opposing vertical striped midi skirt. Surprisingly, the combination of stripe prints really balance out against one another, creating the perfect asymmetrical statement.
The Accessories: One thing I love about Carrie is her eye for detail and killer accessories. Whether that involves a pair of Manolo Blahniks or a vintage purse – the girl knows how to accessorise! Carrie's Parisian outfit involves pieces of a sophisticated and ladylike manner – a pair of leather gloves and a bolero hat. How very chic!
The New York Girl Sass: While you can take the girl out of New York, you can't take New York out of the girl, especially when your still embracing a little NYC tradition. Throughout all six seasons, Carrie sips on her favourite beverage, a Cosmopolitan, while she dines with her squad. If you haven't already – order yourself one the next time you are out and about – as they are quite delicious. And don't forget the style bible, Carrie's favourite glossy – Vogue!
SHOP THE POST:
---
Tickled Pink
Sunday, August 7th, 2016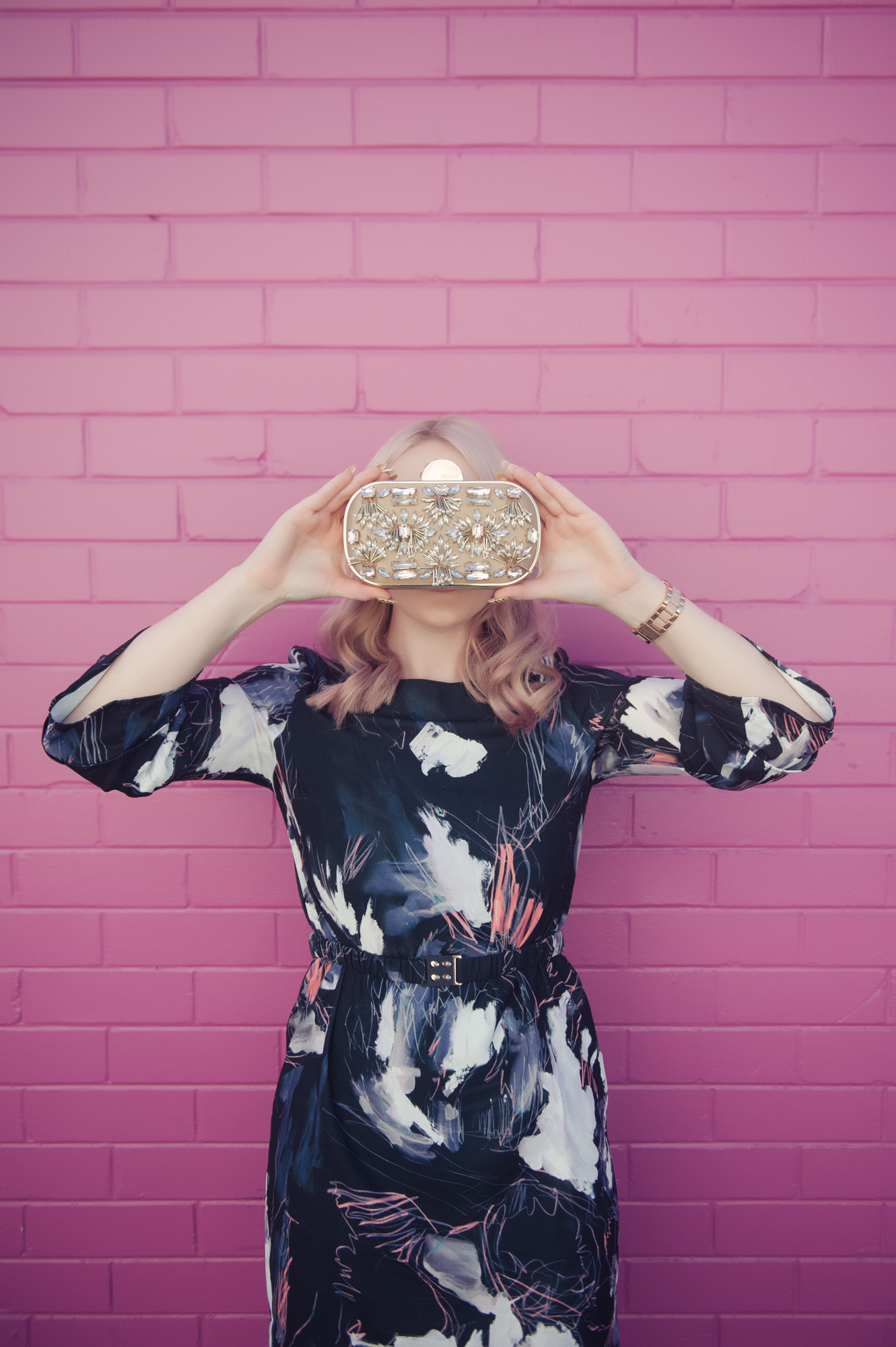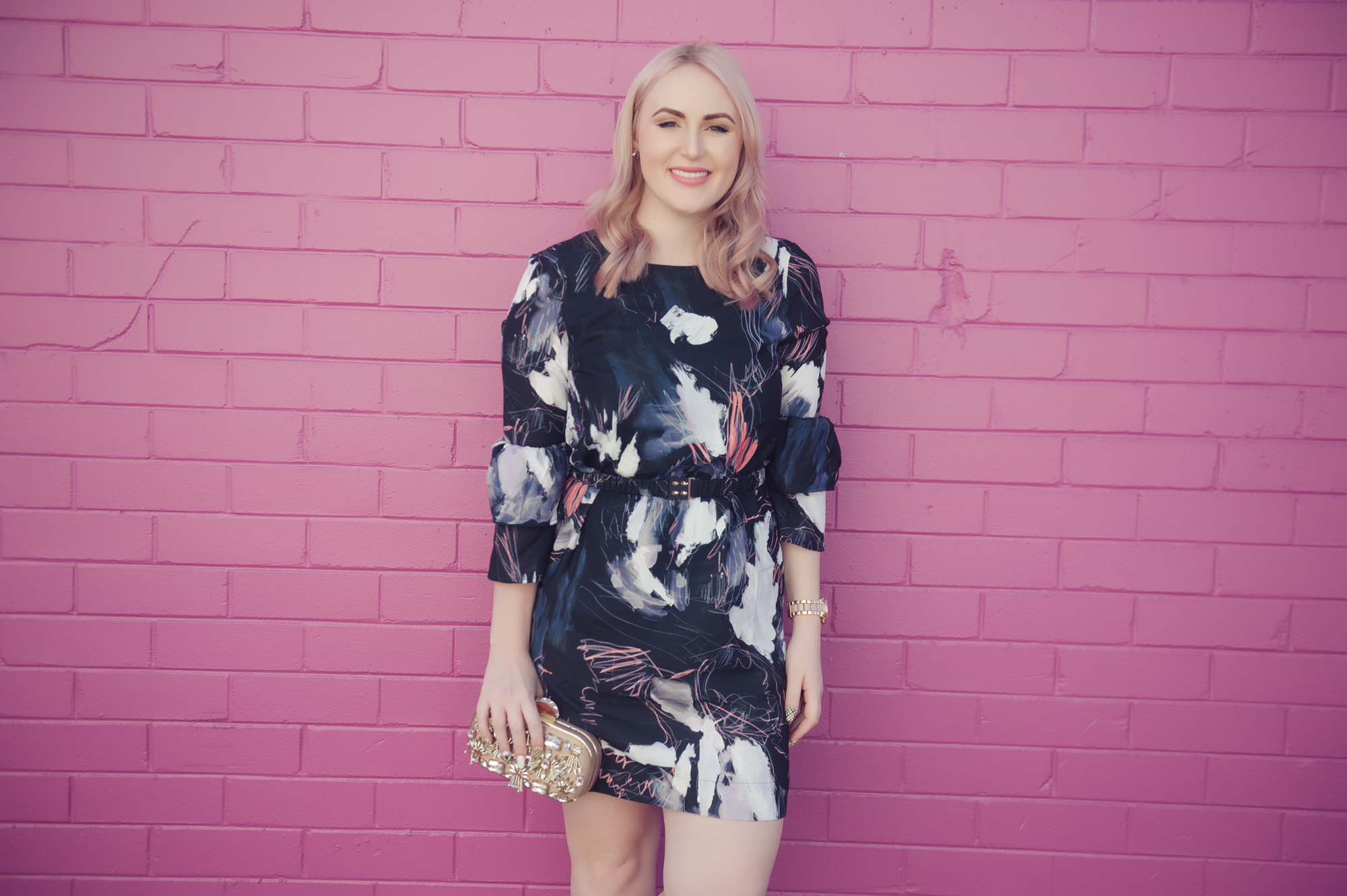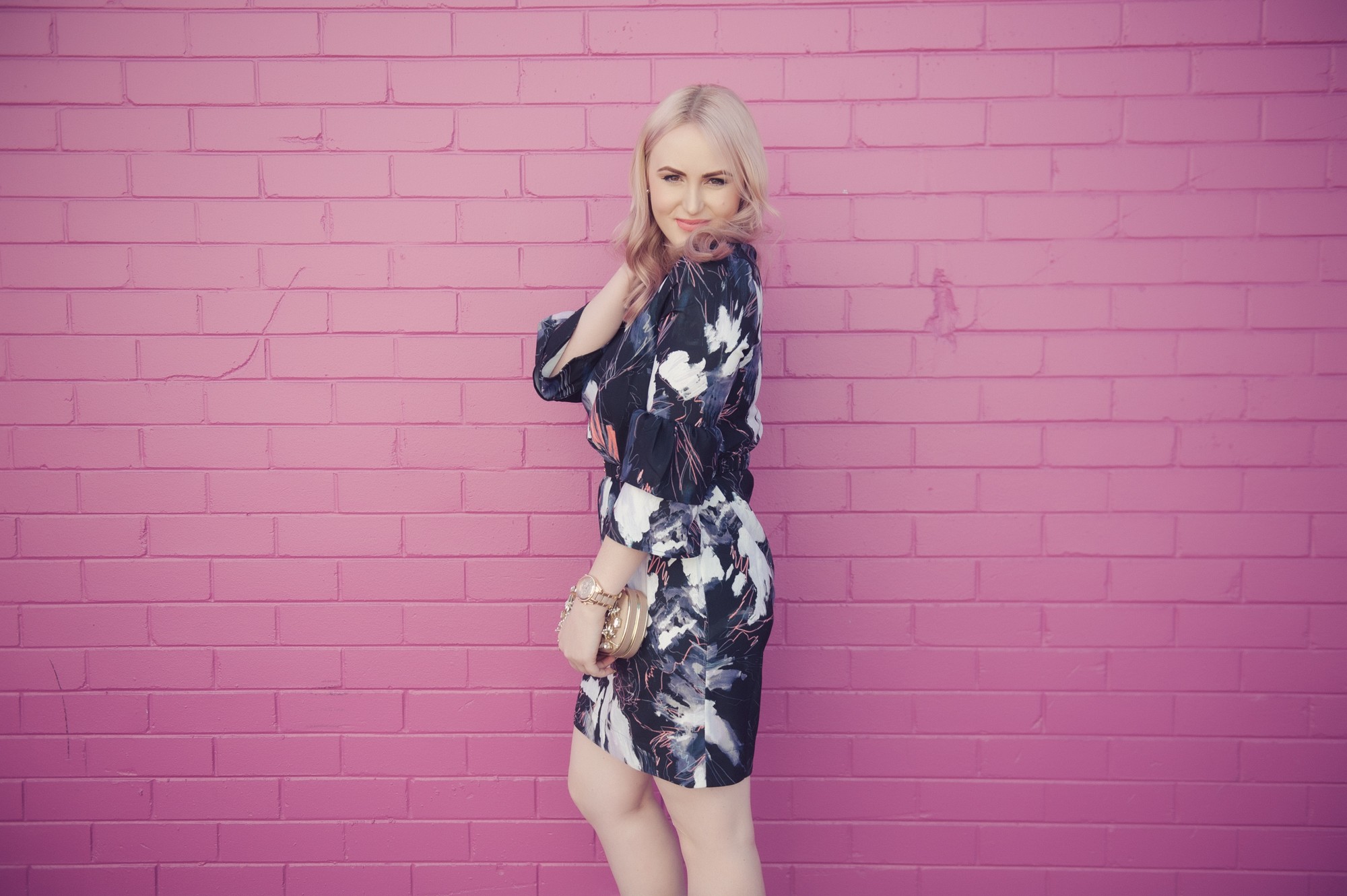 Cooper St On My Own Long Sleeve Dress, Mimco Clutch, Wittner Otto Heels, Michael Kors Blair Pave Watch (similar style here).
I love an LBD as much as just about anyone, but my heart beats for shades of pink! Particularly pastel if we're getting technical – but really any pink hue will do! So when I stumbled across this gorgeous wall, in my favourite suburb (New Farm) – I just knew that things were about to get a little…girly!
If there's something else I love, it's to get frocked up – I do it often and I do it well! That involves finding the perfect little number, and right now this Cooper St On My Own Long Sleeve Dress has me completely smitten! I'm not sure whether it's the abstract, pastel print set against the dark background, or the tiered, ruffle sleeves, or perhaps both, but either way I'm having a special little moment while wearing it!
I'm teaming this dress with some luxe accessories, a sparkly little Mimco clutch that found it's way to me this Christmas, and my favourite Michael Kors watch. Keeping my jewellery  at a minimum, I'm letting this dress speak for itself, as it's far too fabulous to play second fiddle against OTT accessories.
I'de love to hear what's on your love list? Leave me a little note in the comments below!
SHOP THIS POST:
Photography by Erin Smith Photography
---