MBFF Brisbane QC Bridal Show
Wednesday, September 2nd, 2015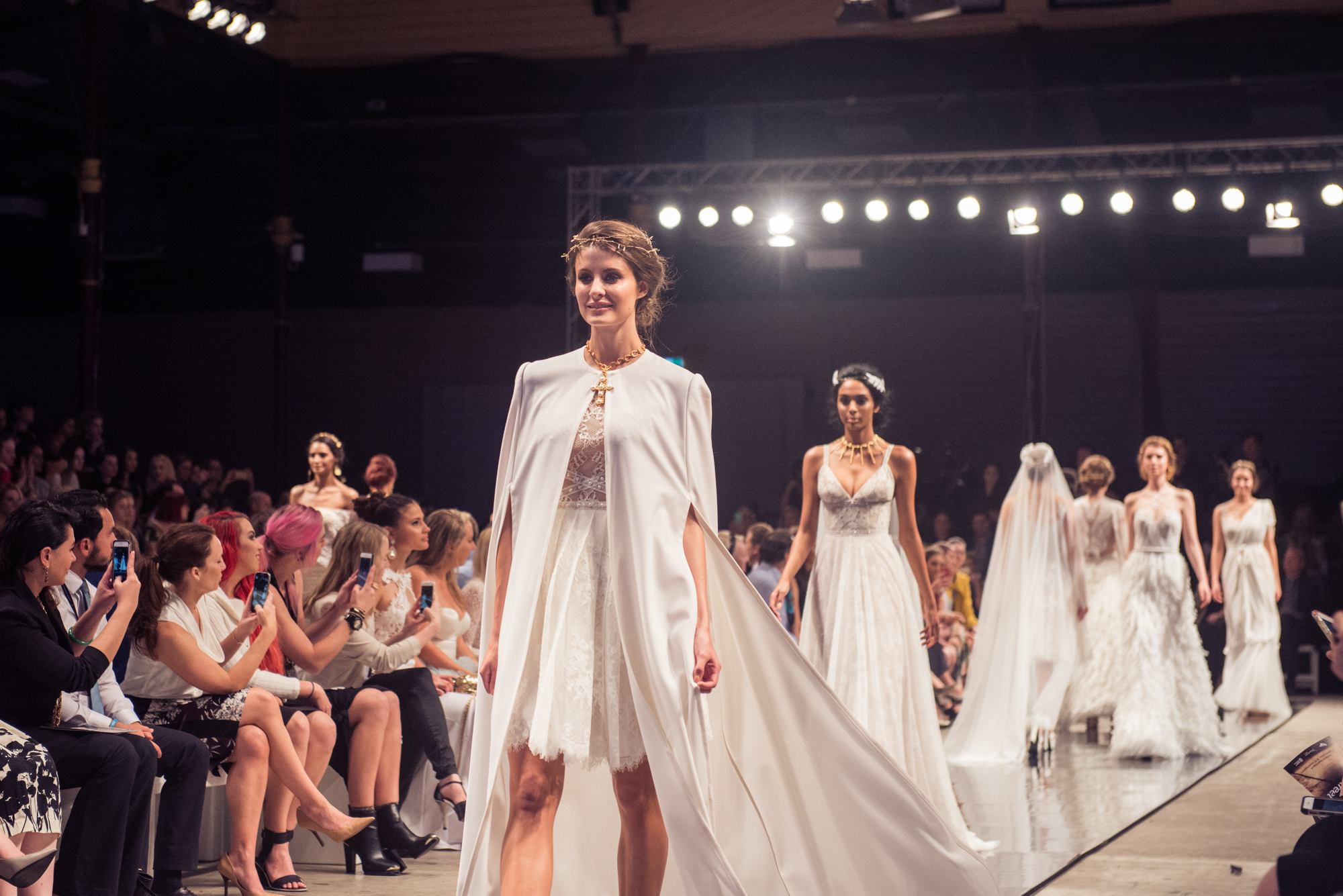 George Wu closing the runway
Every time I watch a bridal show, I am always mesmerised by the dreamy, cascading fabrics of tulle, silk, satin and lace, as they delicately float down the runway. It's like watching angels descend from heaven…only these angels are swapping their robes for couture – smart move I say!
My lovely photographer Erin and I were treated to front row seats to the MBFF Brisbane QC Bridal Show, courtesy of our friends at Azahara Wines. The show itself was spectacular, featuring breathtaking designs by Elizabeth De Vara, Paul Hunt, George Wu, Jack Sullivan Bridal, Brides Desire by Wendy Sullivan, Alter Ego Brisbane and Jordana Regan Couture.
One thing I loved about this show, was that the designers really pushed the boundaries of typical wedding couture, showcasing new silhouettes like the wedding jumpsuit, cropped bodice and skirt combination and capes. It may not be traditional, but as I look back at my highlights from the runway, I can't help but think how amazing it would be to say "I Do" in a jumpsuit!
Presenting my favourite gowns from the runway.
Elizabeth De Varga
Jordana Regan Couture
Brides Desire by Wendy Sullivan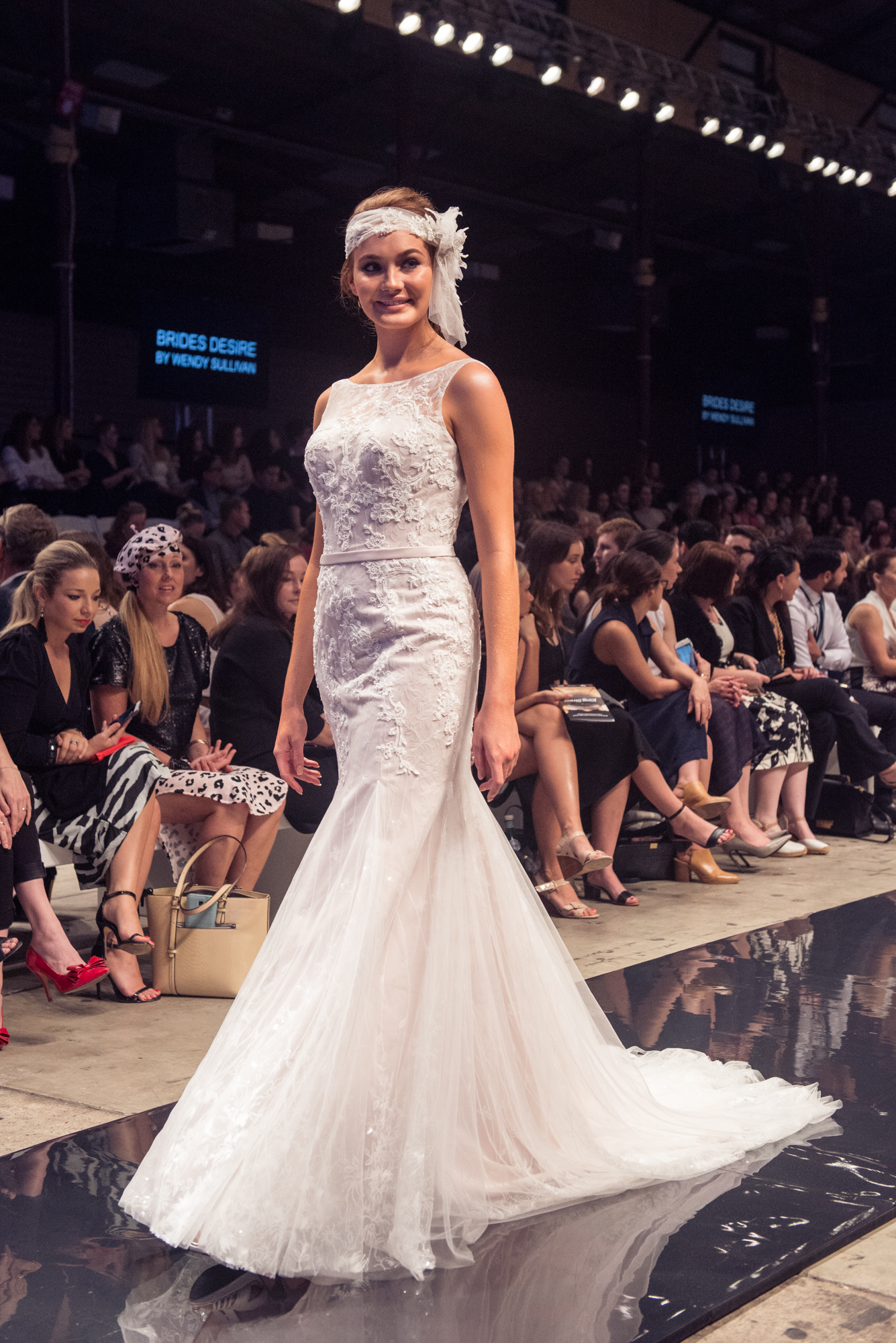 Alter Ego Brisbane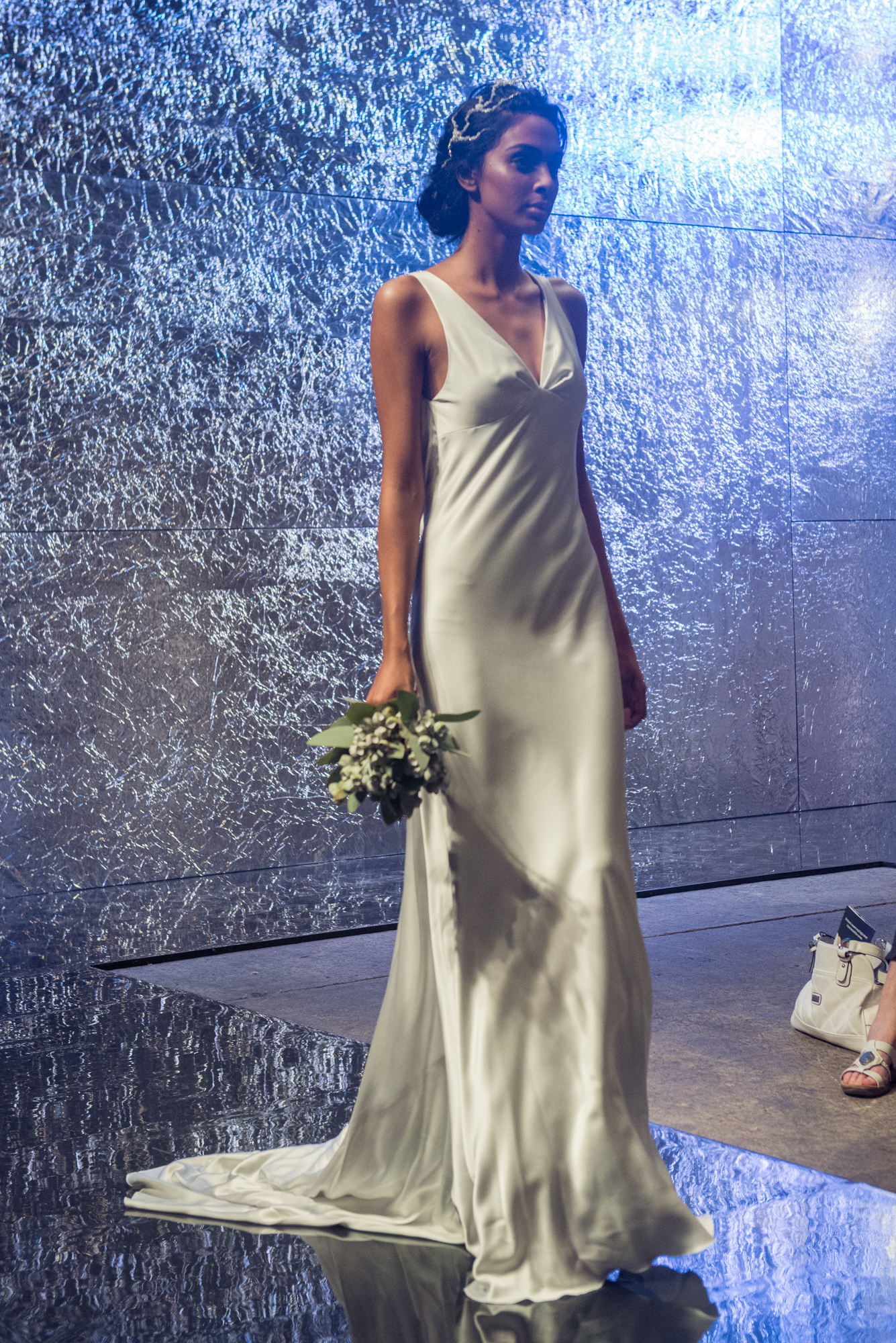 Jack Sullivan Bridal
Paul Hunt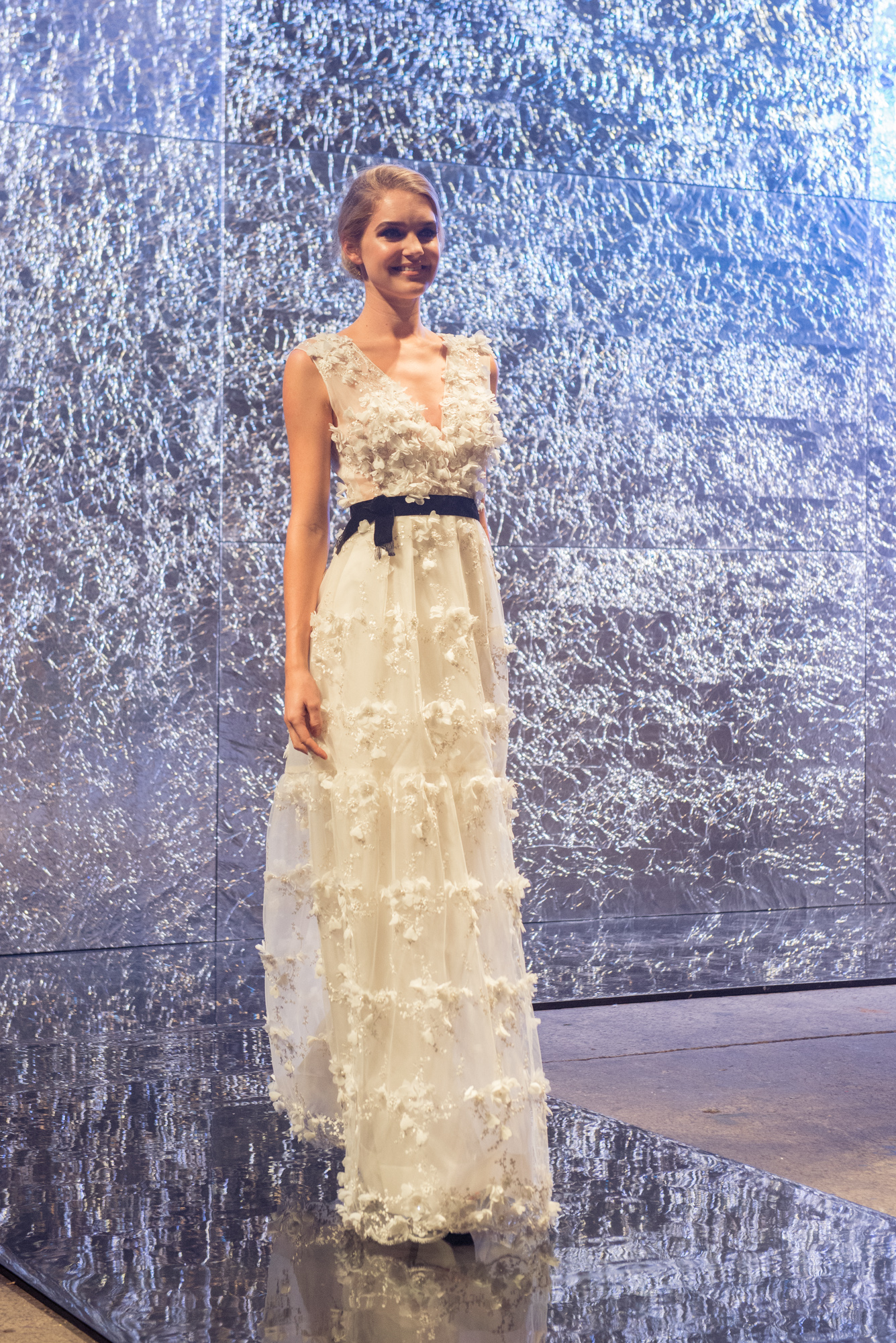 George Wu
Photography by Erin Smith Photography
---
MBFF Brisbane Myer SS16 Show
Sunday, August 30th, 2015

The 10th anniversary of the Mercedes-Benz Fashion Festival Brisbane kicked off with a bang, as Jennifer Hawkins opened the Myer Spring Summer 16 Show, powering down the runway in a stunning Alex Perry lace pencil dress. The face of Myer was accompanied on the runway by Myer ambassador Kris Smith, who looked chiselled and dapper in his tailored M.J Bale suit.
Like any fabulous runway event, the front row was filled with fashion A-listers including Alex Perry, Adrian Norris and Edwina Robinson of Aje, Emma and Amy Sheppard and this season's Bachelor evictee Jasmine Brown.
This show was my favourite from the week, as it showcased Myer's new Spring Summer 16 collection from the top Australian designers including Alex Perry, Tony Maticevski, Aje, Acler, Cozi, Cue & more. If there's one thing I'm certain of, it's that I'll be hitting up Myer to snap up my favourite pieces before they sell out.
Presenting my favourite runway moments, captured by my fashion partner in crime, Erin Smith Photography.
Alex Perry
Cue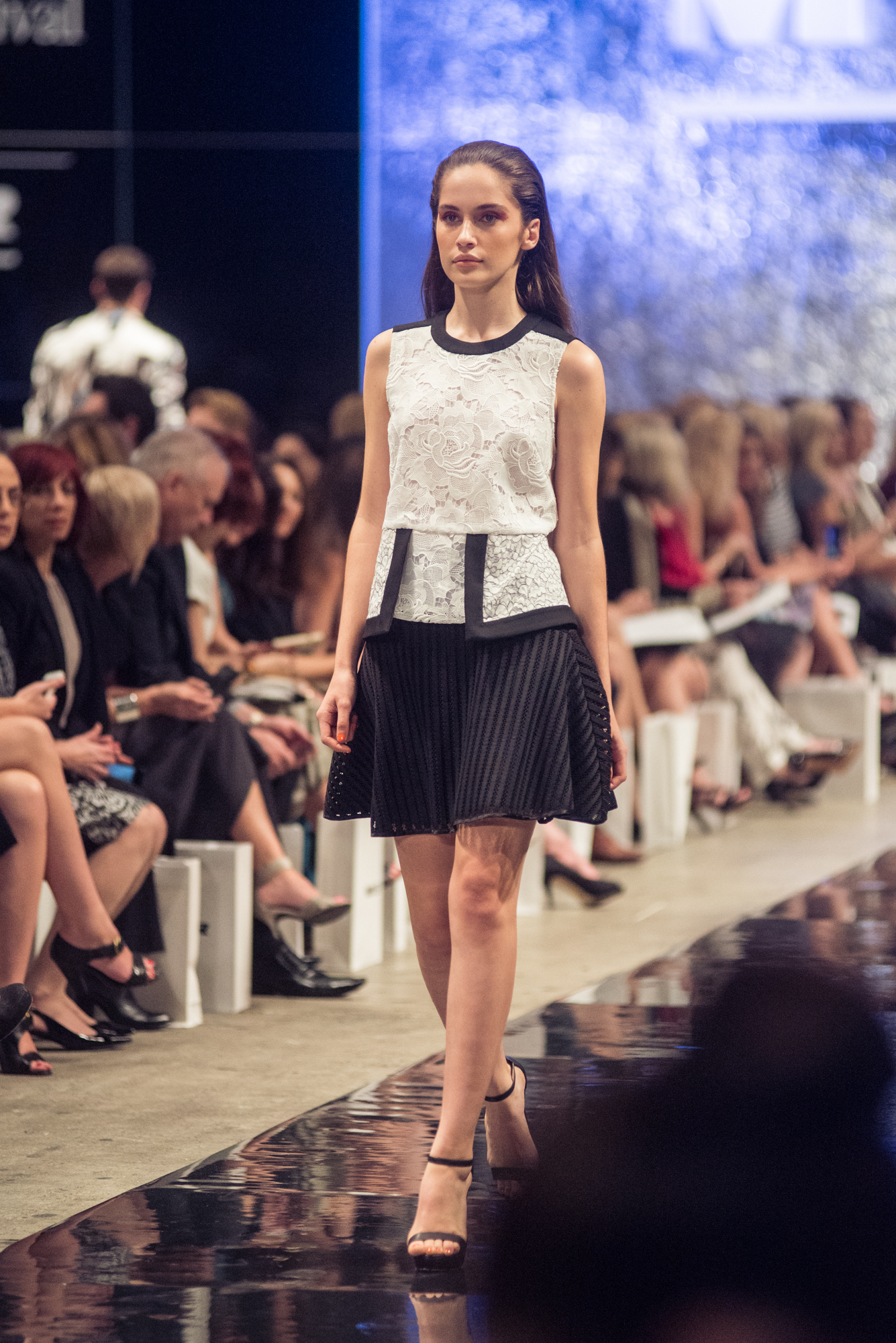 Sylvester by Kate Sylvester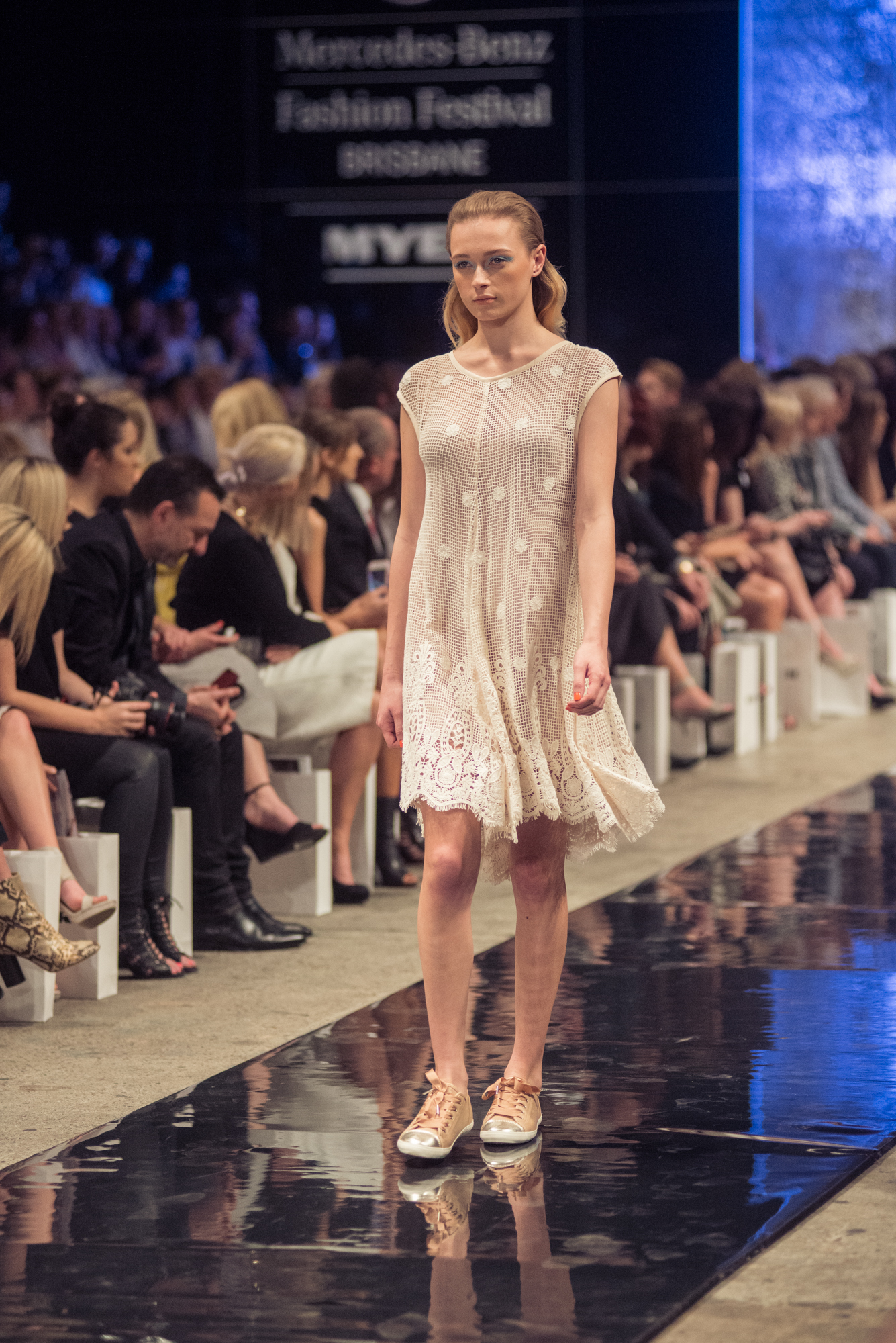 Seafolly
Yeojin Bae
By Johnny
French Connection
COZI
Jack & Jones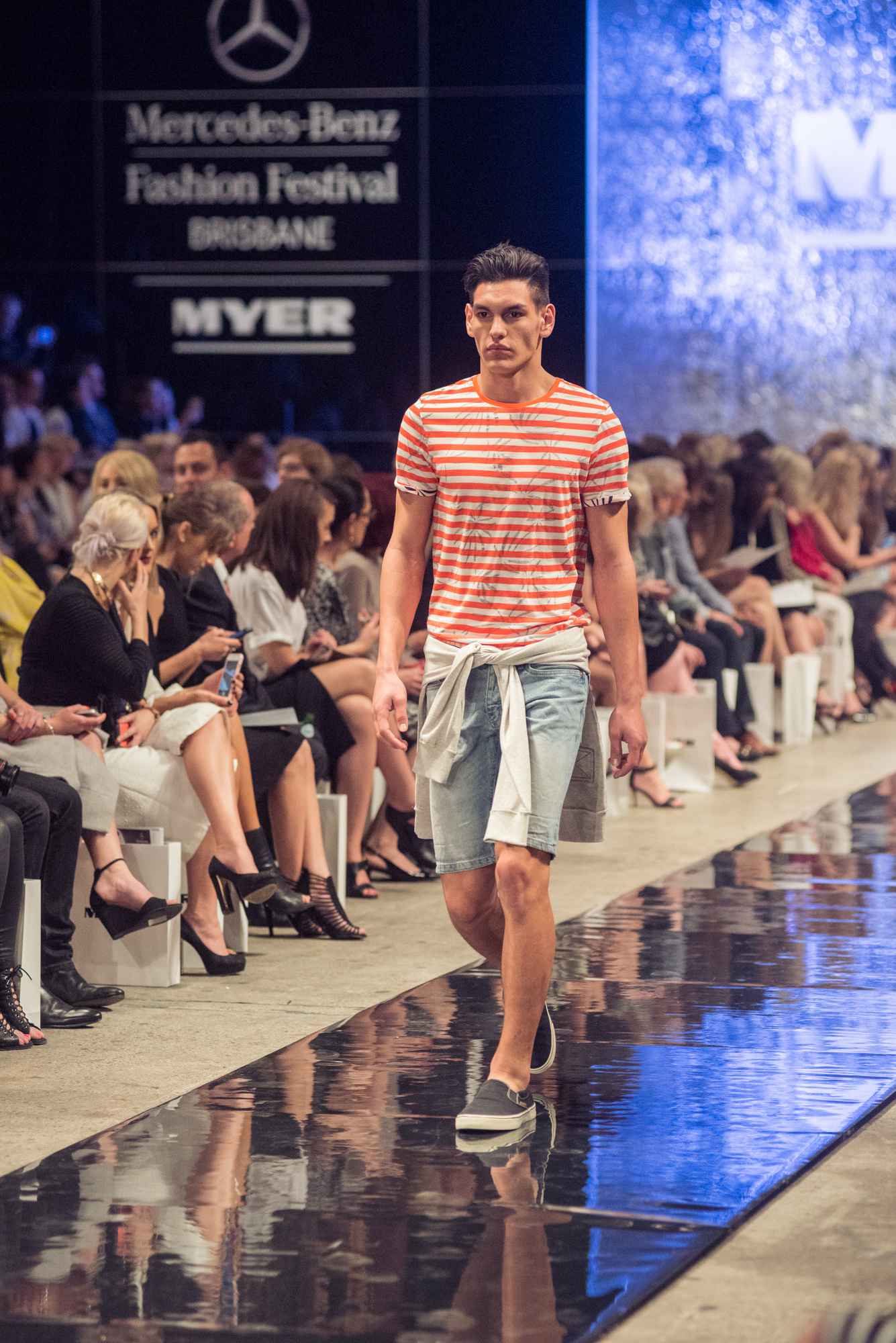 Kenzo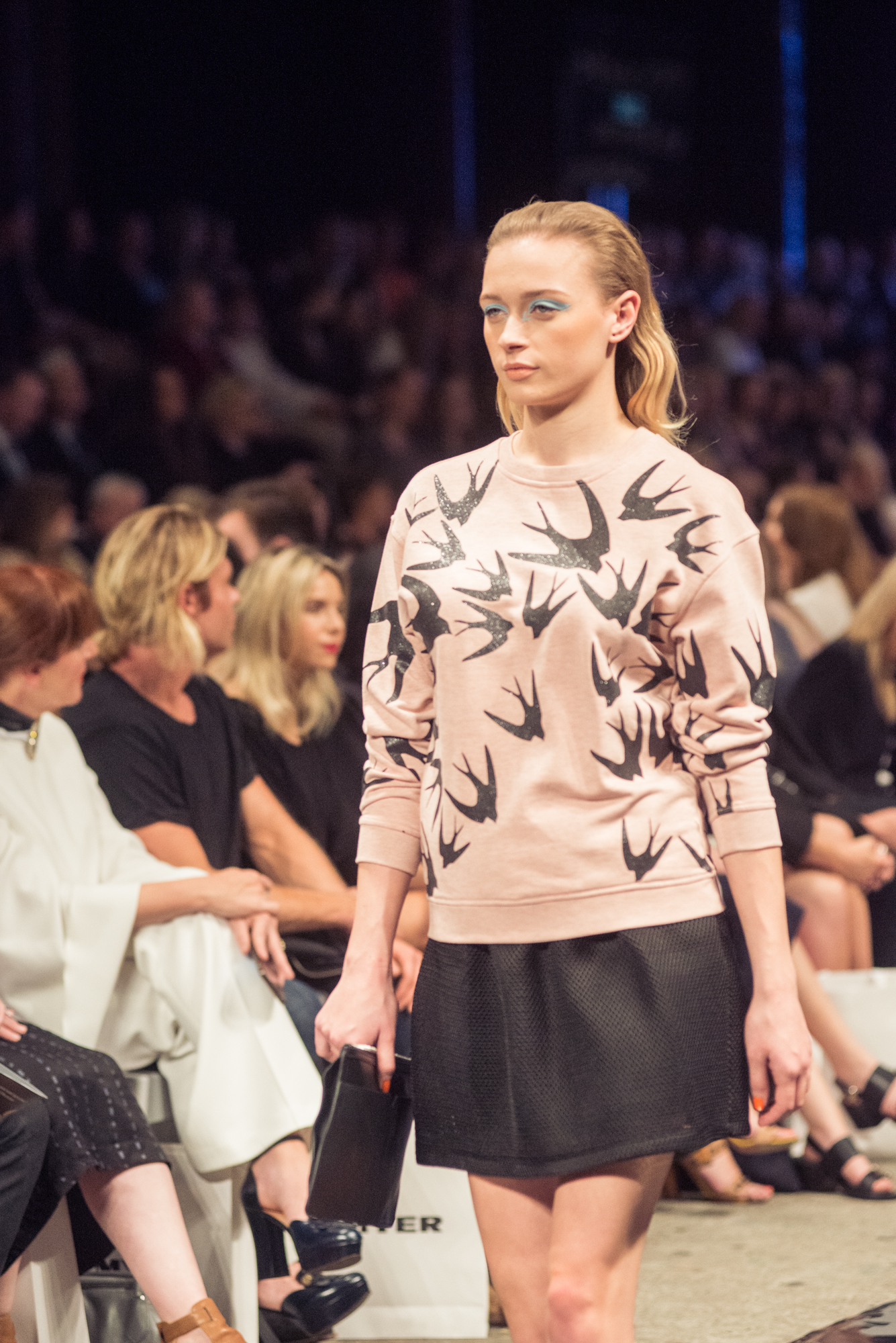 Maticevski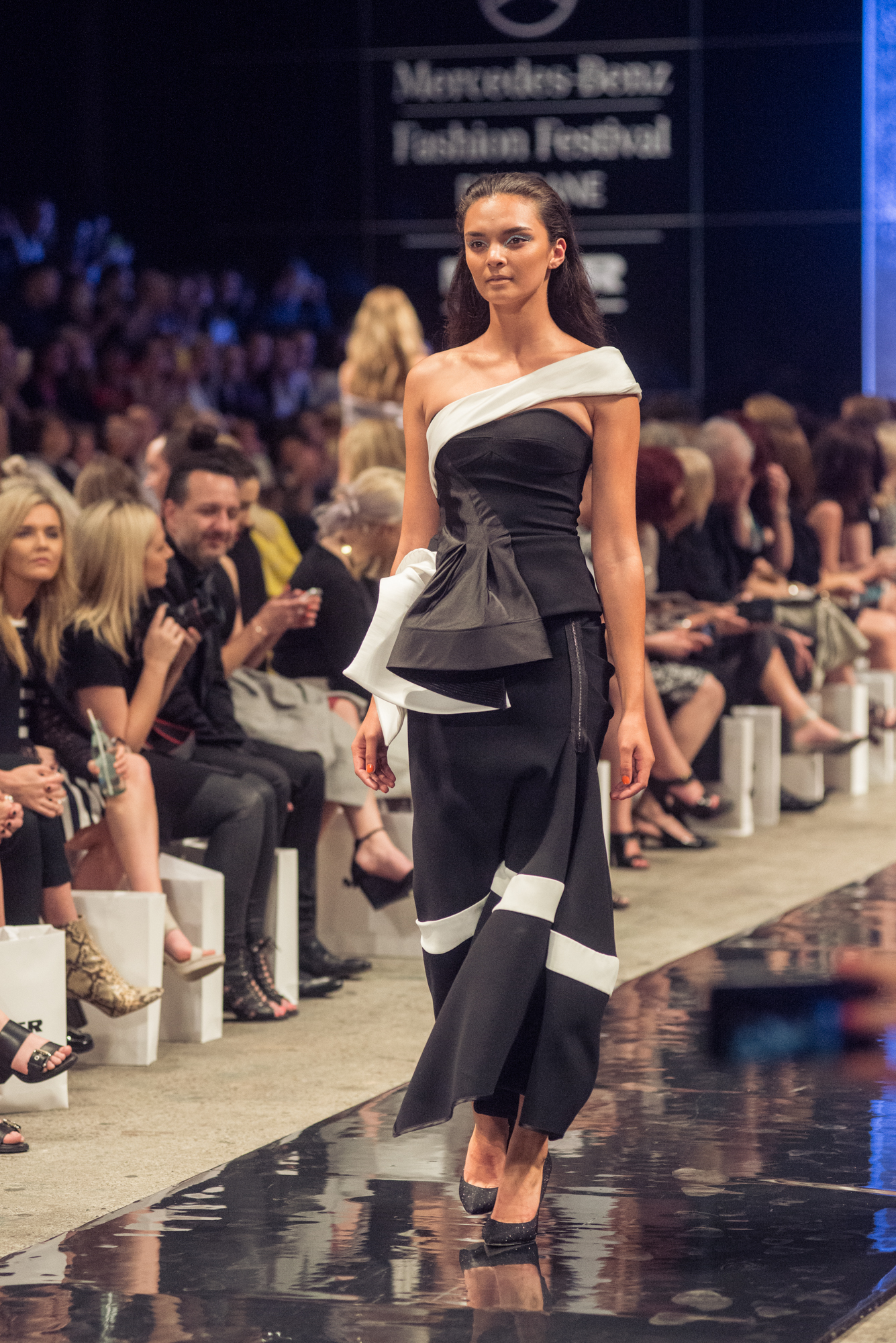 Scotch & Soda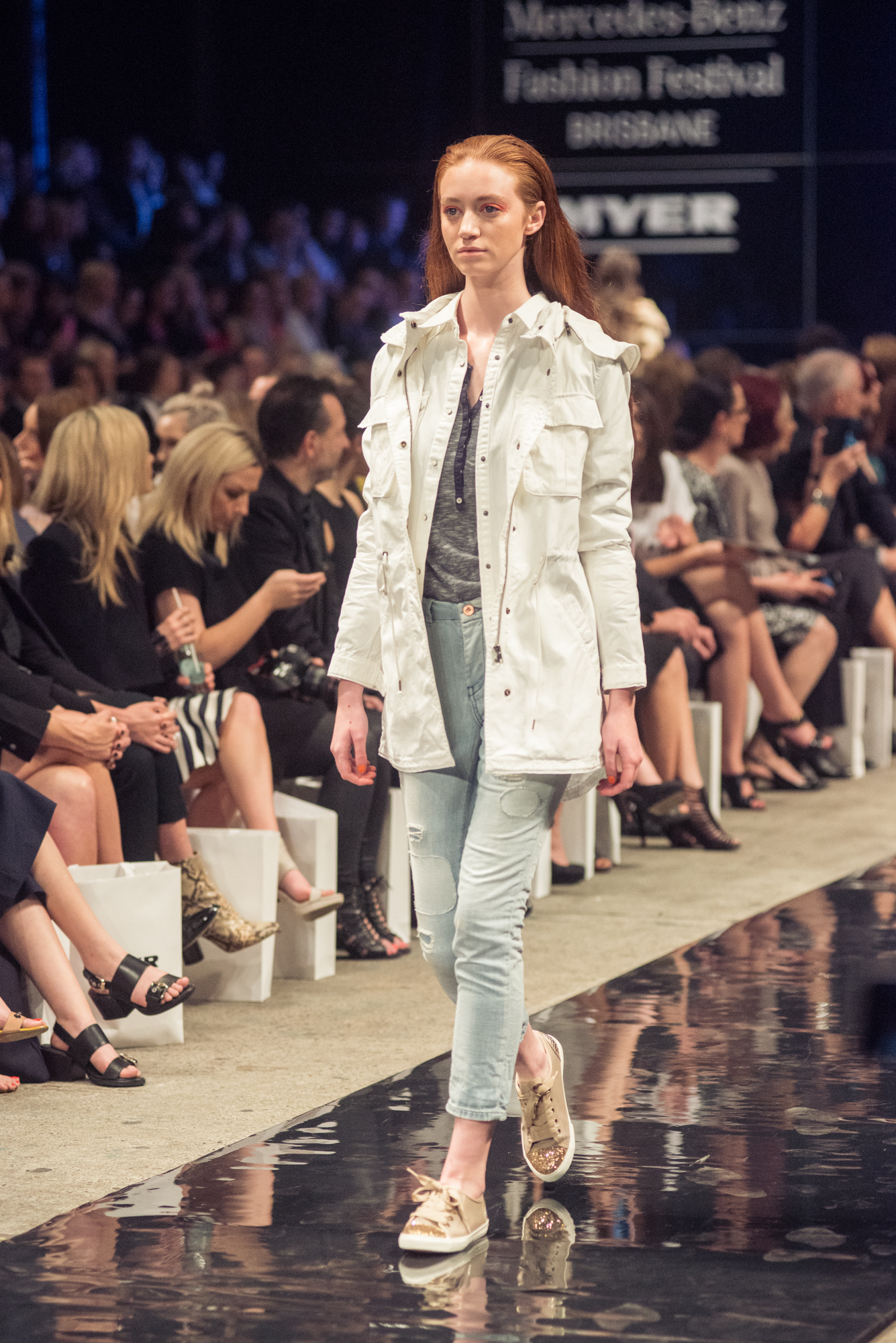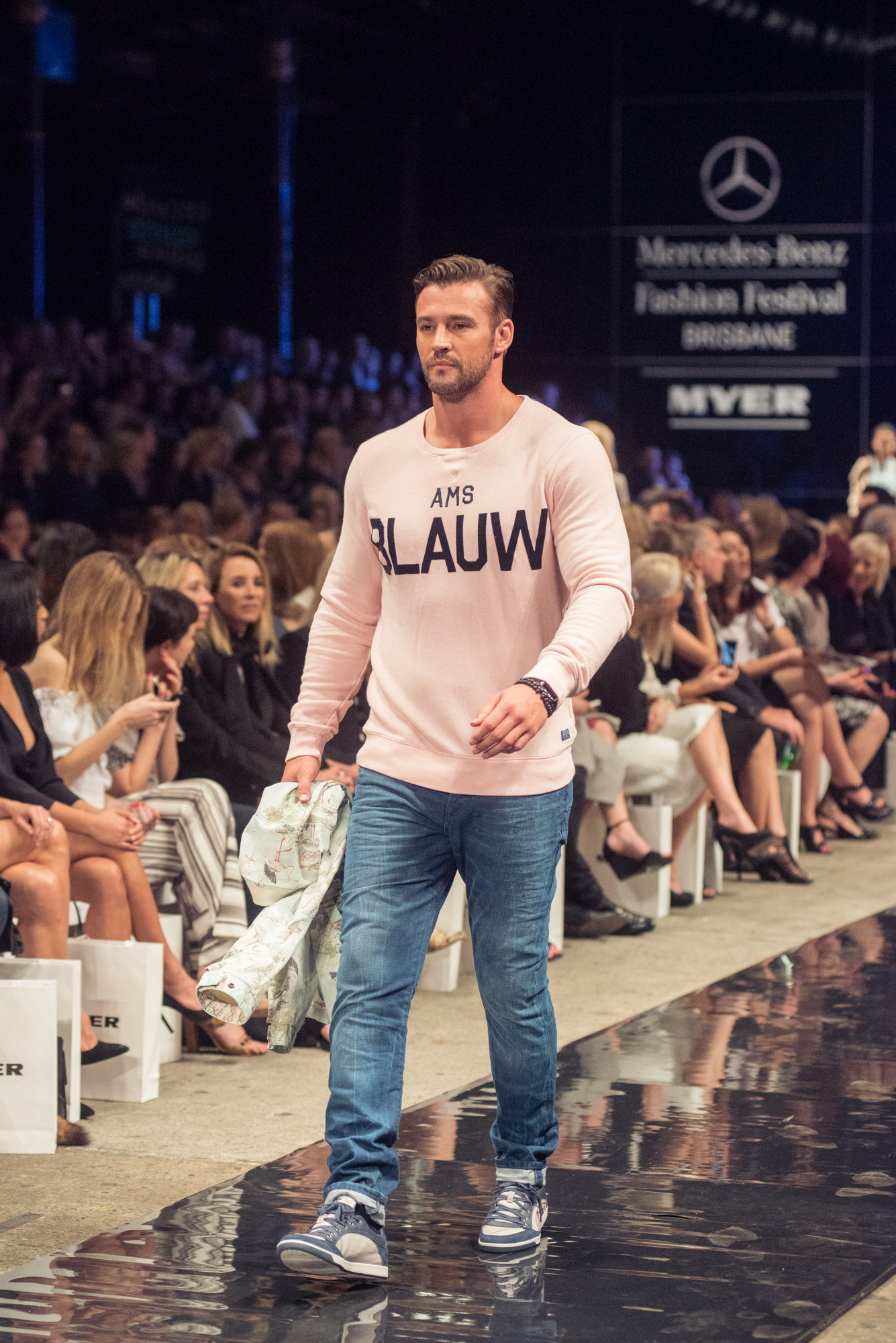 Seed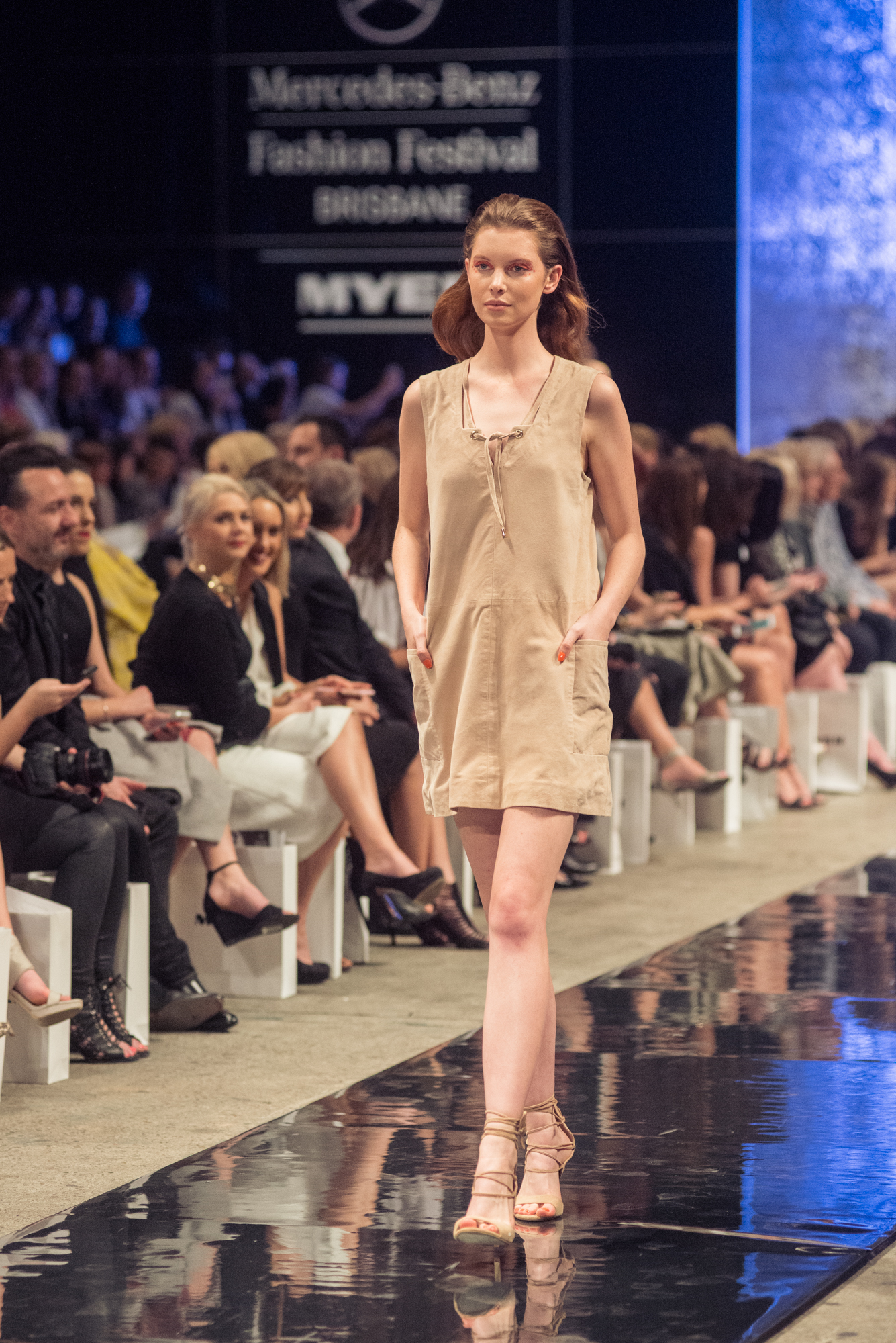 ACLER
AJE
Photography by Erin Smith Photography
---
Hello, Coco!
Saturday, August 29th, 2015
Bec & Bridge Coco Dress, Wittner Rover Heels, Swarovski Brief Earrings, Fossil Rondel Bracelet, Fossil Bevel Glitz Bangle, Oroton Clutch (similar style here).
The week before the Mercedes-Benz Fashion Festival hits Brisbane, I'm in prep mode, strategically organising my outfits to coordinate with the theme of each show I'm attending. Being the 10th anniversary of Brisbane's premier fashion event, my wardrobe had to be on fleek all week, starting with a fabulous outfit for the opening Myer SS16 Show. What better way to start the week, then with an edgy lbd?
I'm suddenly out of my conservative comfort zone and into a Bec & Bridge cocktail dress, featuring an allover sporty mesh fabric and sheer panelled neckline. I'm not sure whether it was the fitted form or the deep v neckline (or both), but I felt feminine and sexy showing off my curves. I'm also loving the structure of this fluted skirt!
Rocking a black on black ensemble right down to the footwear, I'm breaking in my new Wittner heels which feature the fierce lace up design that's heavily on trend this season. Now to emulate the ladyboss strut of Jennifer Hawkins as she hits the MBFF runway…watch this space!
SHOP THIS LOOK:
Photography by Erin Smith Photography
---
Peppa & Pearls
Sunday, August 23rd, 2015
Tyson And Peppa – the name on every Brisbane fashionista's lips, is a trendy little boutique just off Brisbane's James Street precinct. It's owner, the fabulous Josh Kilroy has devoted his life to fashion, from styling editorials to runway, lookbooks and high profile fashionistas. His latest entrepreneurial venture sees him stocking leading Australian designers like Zhivago, Michael Lo Sordo, Casey Tanswell and more.
I stepped into the newly launched boutique last week and was instantly transported into a more personal working space rather than a storefront, enveloping Joshua's aesthetic of classic minimalist and luxury.
After scouring the rack of beautifully organised designer labels, (all done whilst mid chat with the lovely Joshua), I headed straight for the mirrored table of shiny goods and fell instantly in love with this Amber Sceats Pearl Duo Necklace. Delicate in nature, this gorgeous pieces has a very timeless appeal with its drop pearl design and dainty 18ct gold plated chain. This piece has come into my life at a perfect time, as MBFF starts this evening and I have a new outfit in mind that need some accessorising! I'll be teaming this statement necklace with my new Tyson And Peppa Pearl Cuff for a little extra glam!
Keen to see more Tyson And Peppa perfection? Find yourself following on Facebook | Twitter |Instagram.
For MBFF updates and to glimpse my #ootd, make sure you are following my gram @theblondesilhouette and snapchat @tbsilhouette.
Amber Sceats Pearl Duo Necklace (available at Tyson And Peppa), Tyson And Peppa Pearl Cuff.
SHOP THIS LOOK:
---