The Girl With The Sparkly Party Dress
Wednesday, November 25th, 2015
Parker Parker Black Petra Dress, Mimco Metallic Heels (similar style here), Hearts of Pandora Collier Necklace, Forever Pandora Studs, Shimmering Leaves Pandora Ring, Timeless Elegance Pandora Ring.
Seasons Greetings fashionistas! With Christmas only a mere month away and work parties on the planner, now's the time to add at least one killer party dress to the closet! And there's no better time like the present, because Shopbop has just kicked off a Buy More Save More Sale! From now till November 30 (11.59 PT), you can get 15% off all orders over $250, 20% off all orders over $500 and a generous 25% off all orders over $1000! Just make sure you drop the codeword GOBIG15 at the checkout for your discount. Restrictions do apply, for full details on this sale, click here!
As a girl with an eye for sparkle, I'm shimmering my way through this year's Christmas party wearing my new favourite Parker Black Petra Dress, a show stopping party dress complete with multi coloured sequins, embellishment and shine! If you too are looking for a party dress with a little extra sparkle, then I recommend adding these three to your shortlist: BB Dakota Elise Sequin Dress, Alice + Olivia Kalia Beaded Slip Dress, MLV Kari Beaded Open Back Dress. Happy shopping! x
SHOP THIS LOOK:
Photography by Erin Smith Photography
---
DAILIES TOTAL1: #MoreContactTime
Monday, November 23rd, 2015
It's been a whirlwind weekend, as I made my way down to Sydney to take part in an exciting project sponsored by DAILIES TOTAL1.
While I spend majority of my day peering through bold Prada frames, I'll admit there are some activities that just don't suit specs. So I'm swapping my frames for a 5 Day Challenge of the NEW DAILIES TOTAL1 Water Gradient Contact Lens, the first ever water based disposable lenses. From a late night movie session, to a gruelling gym class, I'm planning to get the most out of these contacts, so expect to hear more about my experience using DAILIES TOTAL1 in the next few weeks!
After a quick flight from Brisbane to Sydney, I attended an afternoon fitting with the optometrist, where I had my eyesight assessed and prescription recommended. Dashing through Pitt Street Mall and Strand Arcade, I made my way back to the hotel to get ready for an exclusive dinner with the DAILIES TOTAL1 team and the B.E. (blogger entourage).
From left to right; Jenelle from Inspiring Wit, Joanne from Bam It's Joanne, myself and Jo from Lost In The Haze. Missing from the snap is Keira Lala Meow from Last Daze who kindly played paparazzi. Thanks girl x
Three courses and one decadent dessert later, we were briefed on the new technology, learning that DAILIES TOTAL1 is the first disposable lens approaching 100% water at the outermost surface, designed for those who love to get the most out of their day. For more information about the formula of the lens, check out the DAILIES website. Their soft and malleable form is extremely comfortable, allowing for extended daily wear and #MoreContactTime to do the things you love. For me, that's dining with my girlfriends and enjoying delicious food and sparkling champagne with a side of gossip – essentially this very evening.
Having worn my new contacts throughout the dinner, I found them to be very comfortable and itch free, whilst giving my eyes the support they needed. At the end of the night, after I said goodbye to my fabulous new friends, I simply popped the used lenses in the bin – a far more convenient ending for the gal on the go!
Cheeky snap by Lost In The Haze
For those wanting to trial or purchase the DAILIES TOTAL1 experience, head on over to www.morecontacttime.com. As an extra incentive, I am hosting an Instagram competition on my channel @theblondesilhouette, where you can win 1 of 5 $20 The Iconic Gift Cards. Keep an eye on the gram for more deets x
---
Ivory, Off White & Cream: Summer's Colour Palette!
Sunday, November 15th, 2015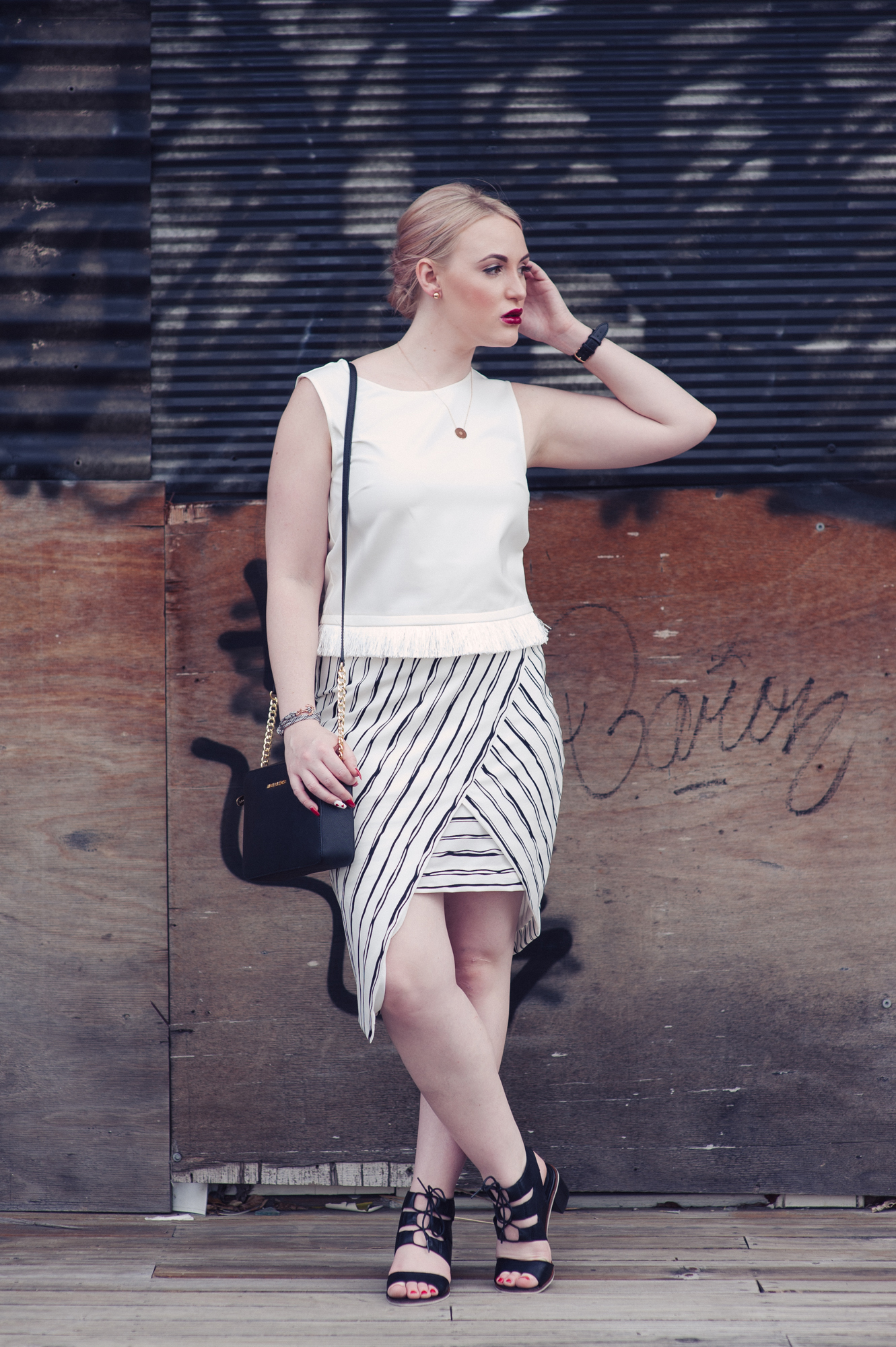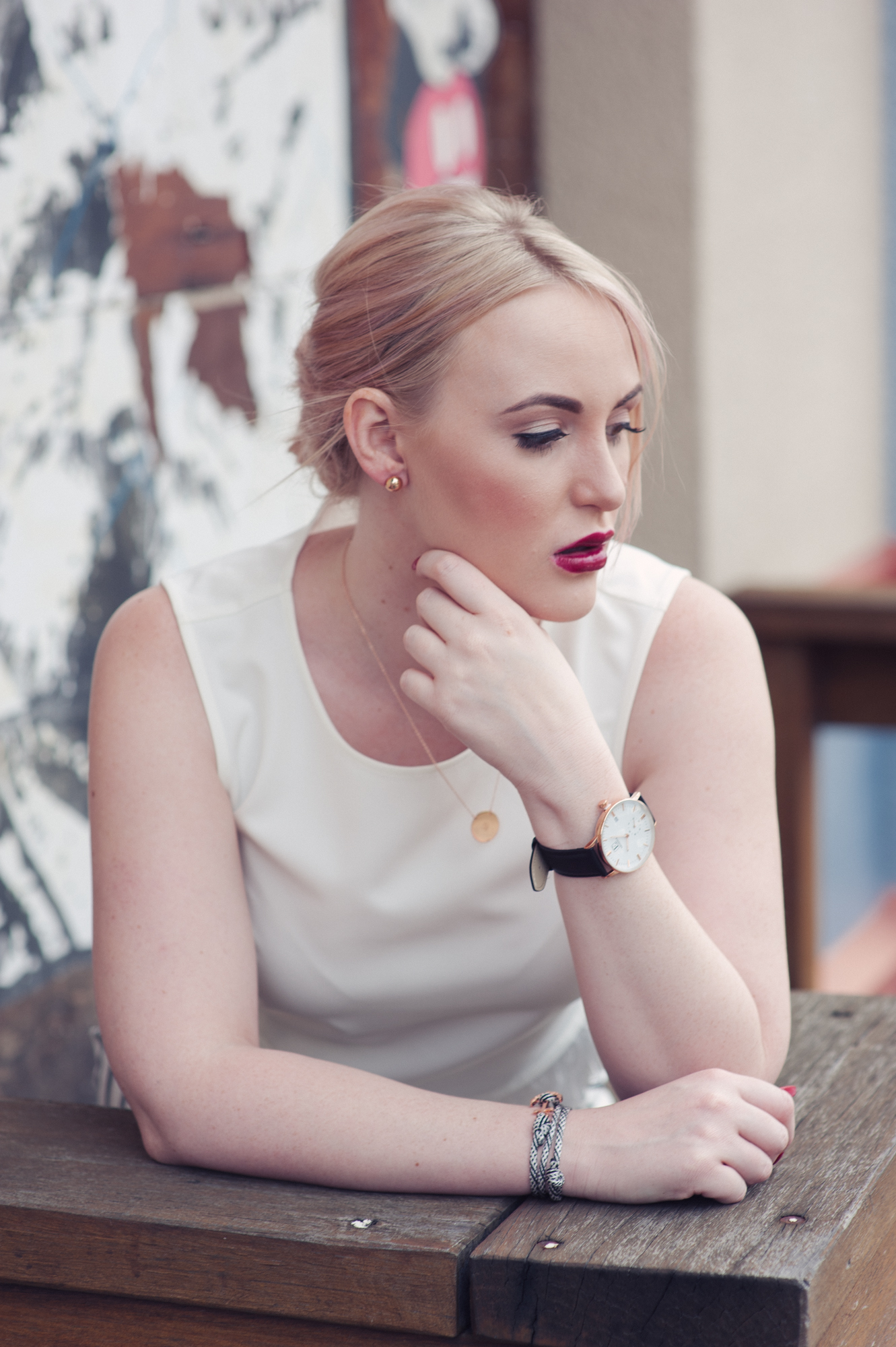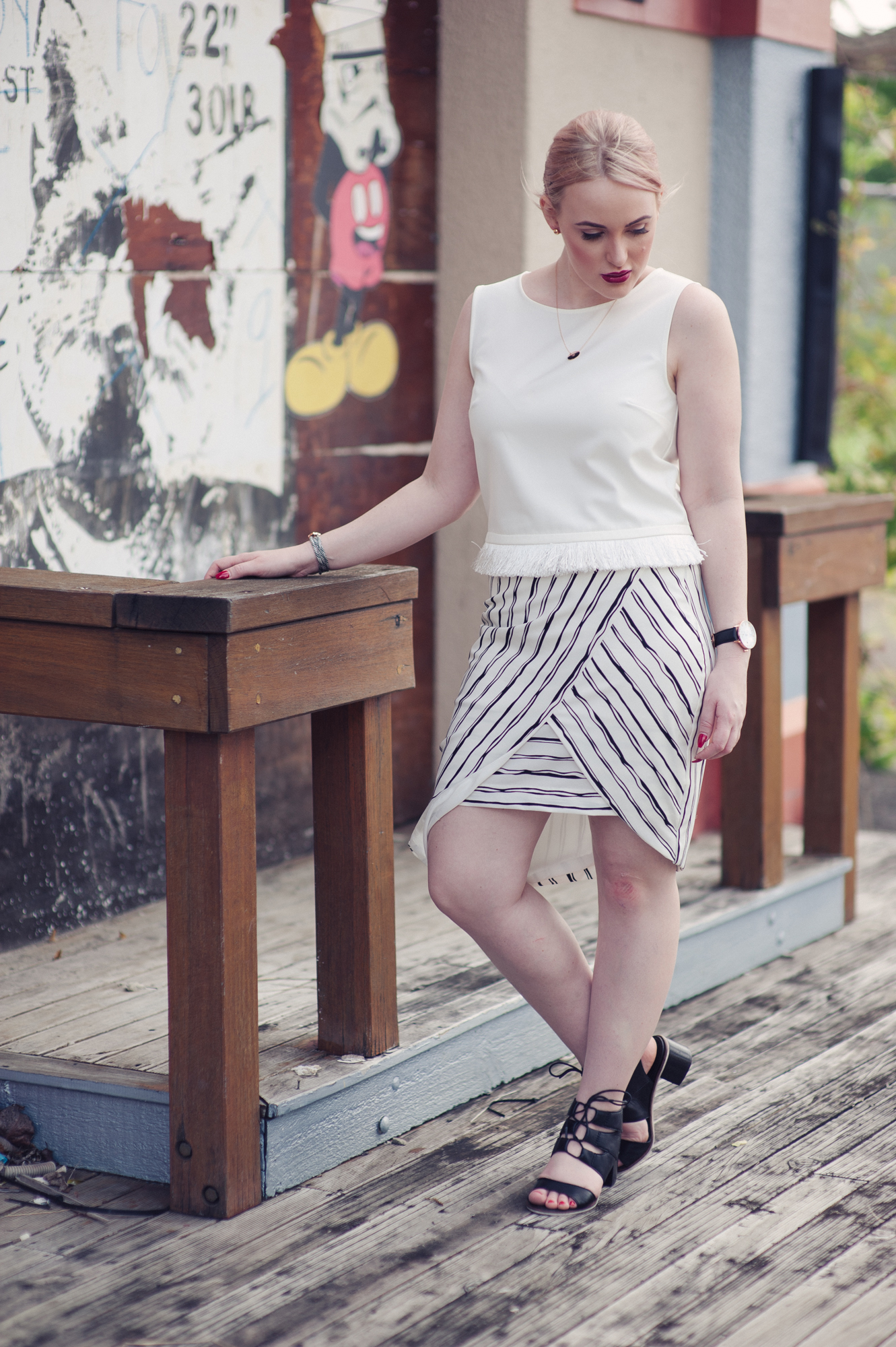 Wish Focus Skirt, Piper Fringe Crop Top, Jo Mercer Ember Sandals, Samantha Wills Necklace (similar style here), Eminence Collection Classic Rose Gold Watch, Eminence Collection Anchor Bracelet, Prouds Rose Gold Studs (similar style here), Michael by Michael Kors Jet Set Cross Body Bag.
It doesn't take a genius to spot that I have a bit of an obsession with neutrals at the moment, particularly within the "off white" category. With ivory, off white & cream outfits on high rotation, I'm finding the warmer tones more flattering on my fair skin than stark white – a realisation most porcelain beauties can relate to.
When it comes to the basics, I cannot go past a versatile skirt with a fitted form, and this Wish Focus Skirt definitely ticks the right boxes. To help out my lady friends, I've done a style comparison, finding some great alternatives to this piece, in slightly different cuts, patterns and pricing. I recommend this asymmetrical skirt, horizontal stripe split skirt, and this pencil skirt.
Because I love uniformity, I'm teaming my striped skirt with an ivory top to create a matched set. I'm loving the revival of fringing and have added three fringed finds to the wish list, courtesy of Shopbop: J.O.A. Fringe Crop, Emma Cook Mia Top, Rebecca Taylor Silk Fringe Crop Top.
For ivory, off white & cream outfits, I always accessorise with a deeper colour, and find the combination of rose gold and black leather, as seen in this Eminence Collection Timepiece a perfect choice. On my other wrist, I've added a bold, monochrome anchor bracelet, also from Eminence Collection, which introduces a subtle nautical theme. Keeping the rest of my jewellery simple, I've gone with a delicate Samantha Wills circular pendant, matched with rose gold studs.
Do you have a little tip for when styling ivory, off white & cream outfits? If so I'de love to hear it in the comments below. Here's to an exciting summer ahead! x
SHOP THIS LOOK:
Photography by Erin Smith Photography
---
Lips, Cheeks & Peepers: Summer Makeup Edit
Tuesday, November 10th, 2015
If there's one thing I love about summer beauty, it's achieving that healthy, shimmery glow! I've been doing some legit "makeup research" by experimenting with a new beauty routine and adding new, exciting products to my makeup kit! Whether you are after the perfect sun kissed bronzer, or a pink lippy that pops, here's a bunch of summer makeup products you simply NEED!
For Eyes
Prepare to see a return of the shimmer! I've developed a bit of a metallic quad obsession, highlighting shimmery nudes, pastels and charcoals. With the rise in nude lip looks, I'de recommend putting a little more emphasis on the peepers with a classic, shimmery, smokey eye. You'll see me blending:
 Scout Cosmetics Mineral Eye Shadow; Ice Baby, & Becca Ultimate Eye Colour Quad; Night Star.
For Lips
I never thought I'de say this, but I'm really into the whole Kylie Jenner nude lip, so much so that I've been on the hunt for the perfect nude lipstick to enhance my fair skin. I'm officially calling of the search party because I've found the most flattering pink-base nude lippy from Stefan. *Insert praise emoji*
Of course, I haven't forgotten my signature colour – pink, and I've added two new shades to the collection, with a slick gloss and lip shine!
Becca Ultimate Colour Gloss; Flamingo Crush, Dusty Girls Argyle Pink Mineral Lip Shine, Stefan Professional Lipstick; Nude.
For Cheeks
Now that I've mastered the contour and illuminating process, I'm concentrating on the apples of my cheeks, favouring warm terracotta bronzers and soft, subtle blushes, to get that glow! Check out my favourite mouses, powders, and shimmers below! For more fabulous makeup essentials check out the entire Becca collection available at Adore Beauty.
Dusty Girls Sunshine Natural Mineral Bronzer, Becca Beach Tint Shimmer Souffle; Watermelon/Moonstone, Sigma Blush; Mellow & Peaceful.
Of course the finesse of your makeup application is only improved by using good quality tools, so naturally I'm showing off these beautiful brushes by Sigma Beauty. Not only do they come in a vibrant shade of pink but they hold the product beautifully and are so soft against my skin. Check out the Sigma Beauty Color Pop Brush Kit and transform your beauty routine!
---