Fierce in the Forest
Monday, July 27th, 2015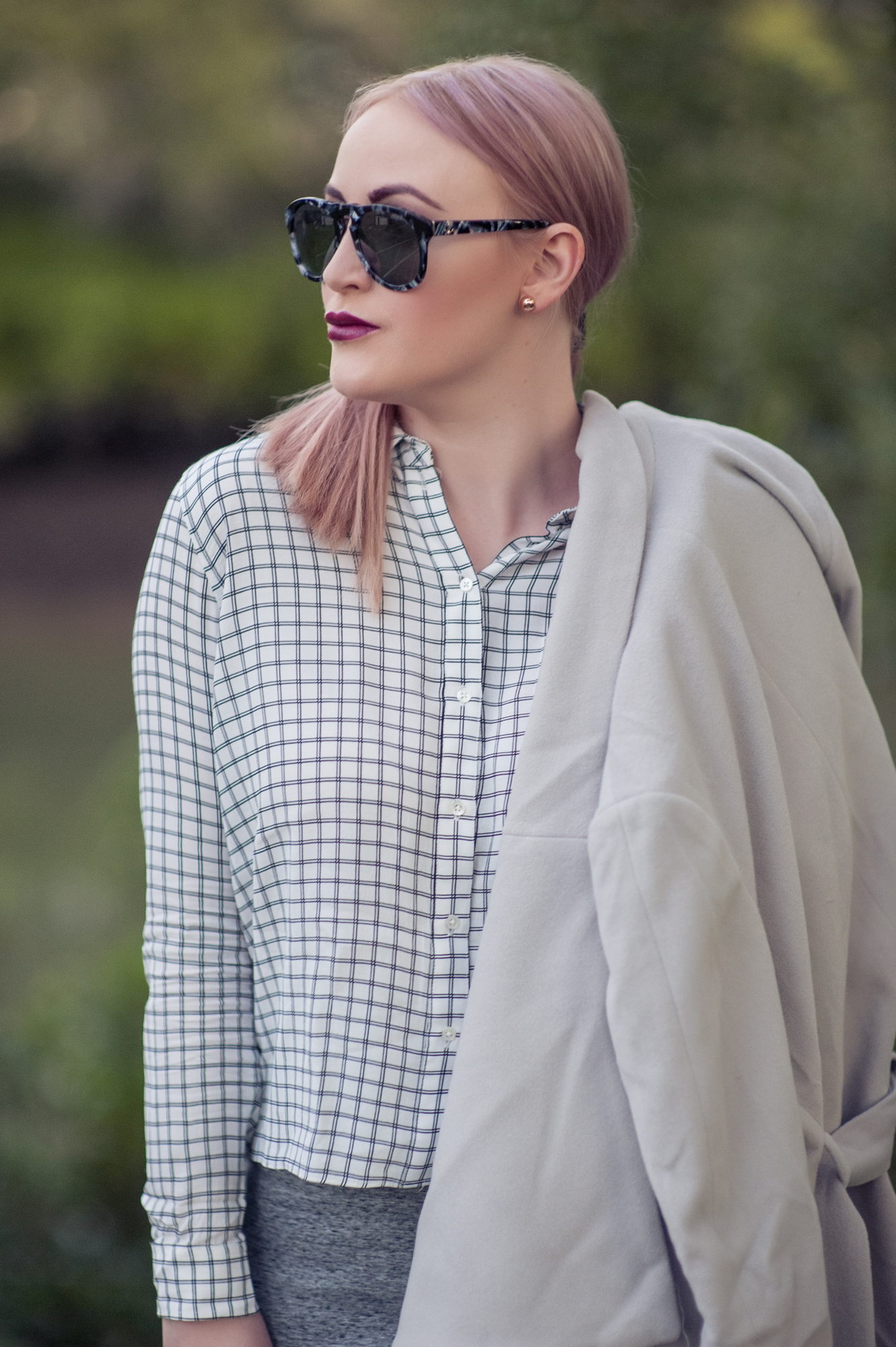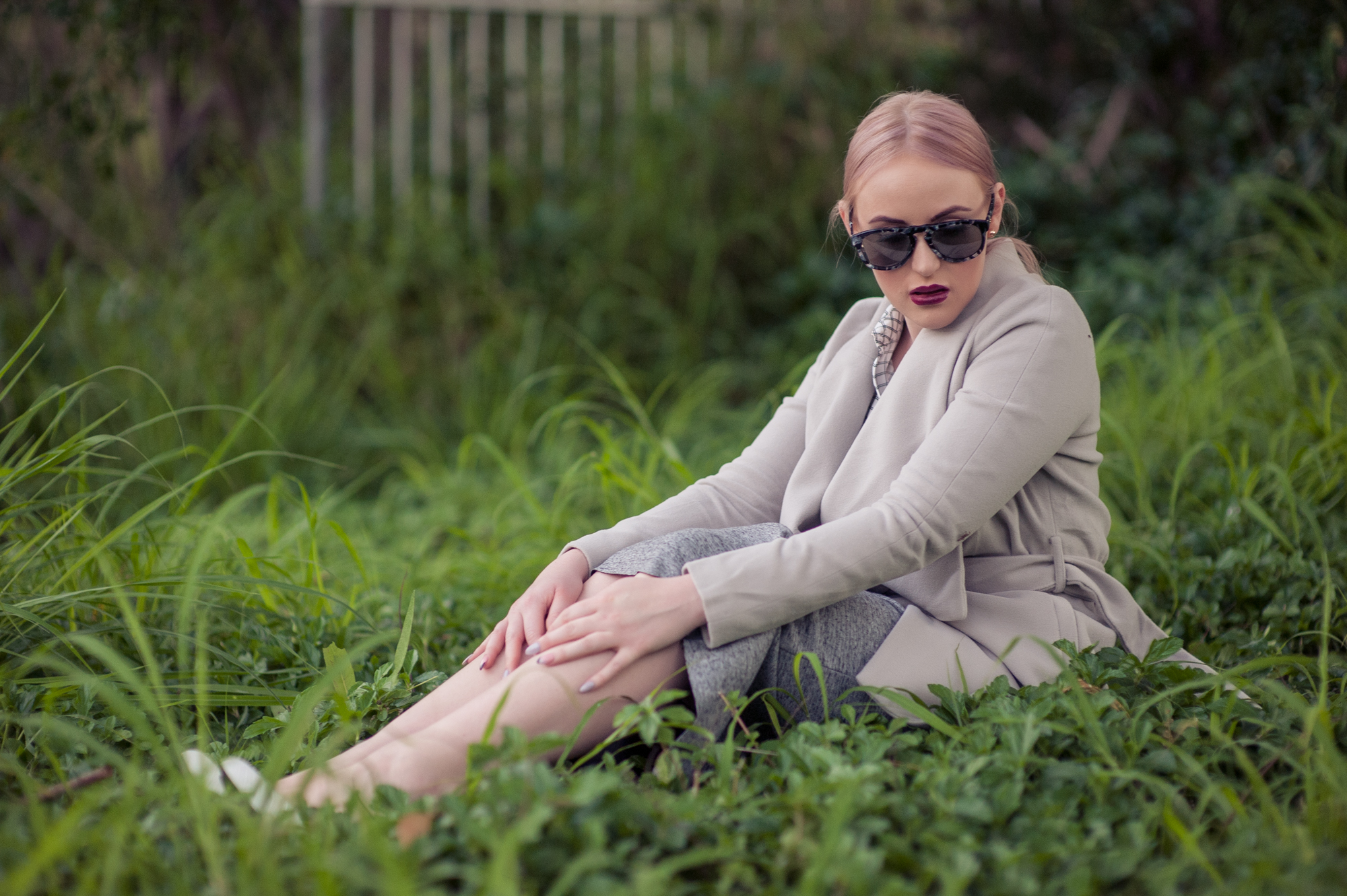 Country Road Skirt, Country Road Grid Print Shirt, St Frock Lioness Time Square Coat (similar style here), Royal Aquamarine McQueen Sunglasses in Monochrome Marble, Wittner Avril Heels,  Prouds Rose Gold Studs (similar style here).
It's not everyday I find myself in a secluded woodland haven, with a little bridge leading to greener pastures, so I'll happily embrace a more ethereal spirit.
When exploring into the forest, one should definitely find herself wrapped up in a warm coat, especially if she's likely to find herself covered in clover, whilst in a blissful slumber, upon a mossy garden bed. This draped collar coat from St Frock makes the perfect choice, creating a relaxed "model off duty" vibe.
Layering with complimentary grey tones, I'm teaming this warm grey coat with a cool grey base seen with a Country Road midi skirt. A little pop of monochrome print, keeps this look colour consistent and chic, a lovely juxtaposition to my earthy surrounds.
Now in search of a rabbit hole! x
SHOP THIS LOOK:
Photography by Erin Smith Photography
---
The Hepburn
Monday, July 20th, 2015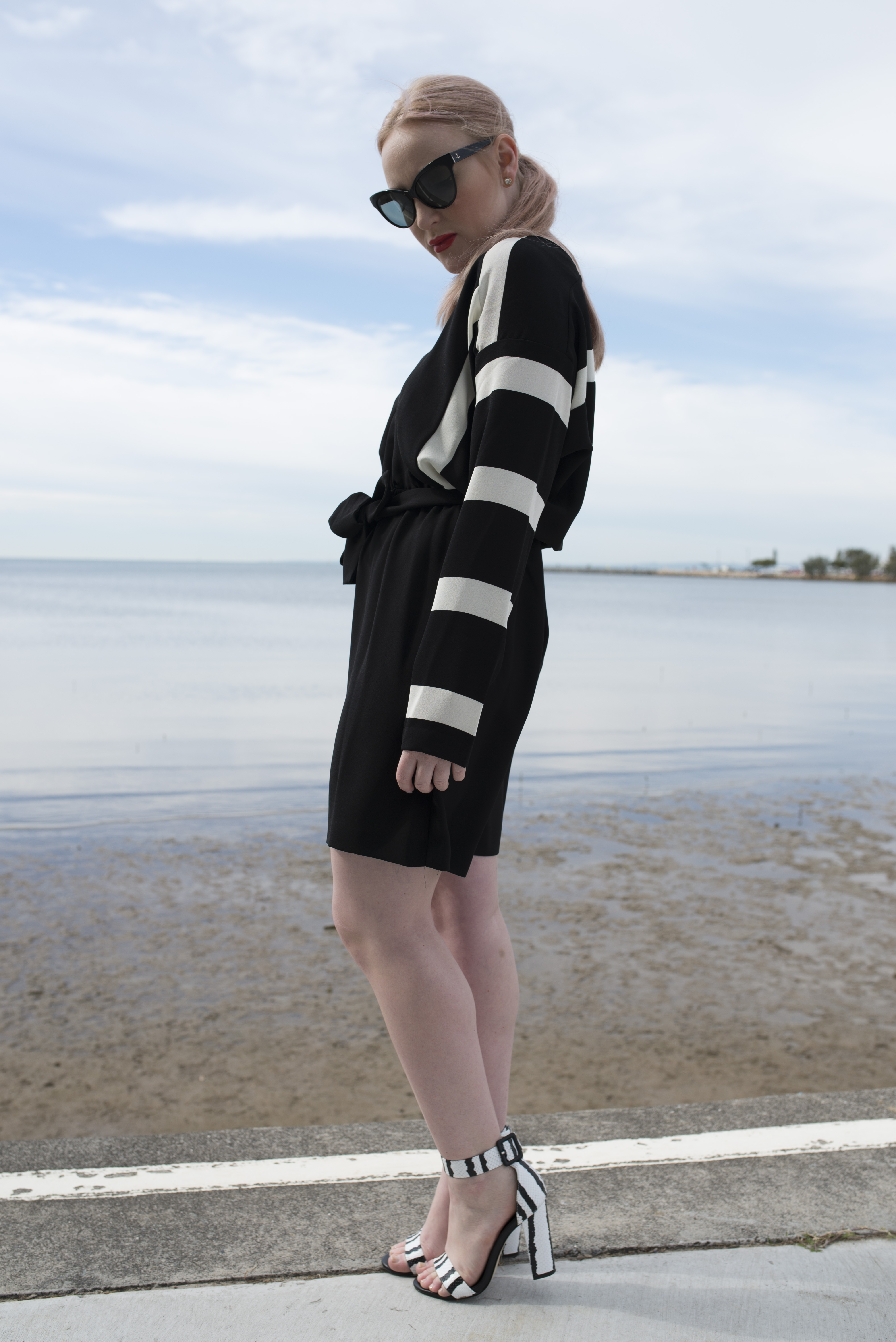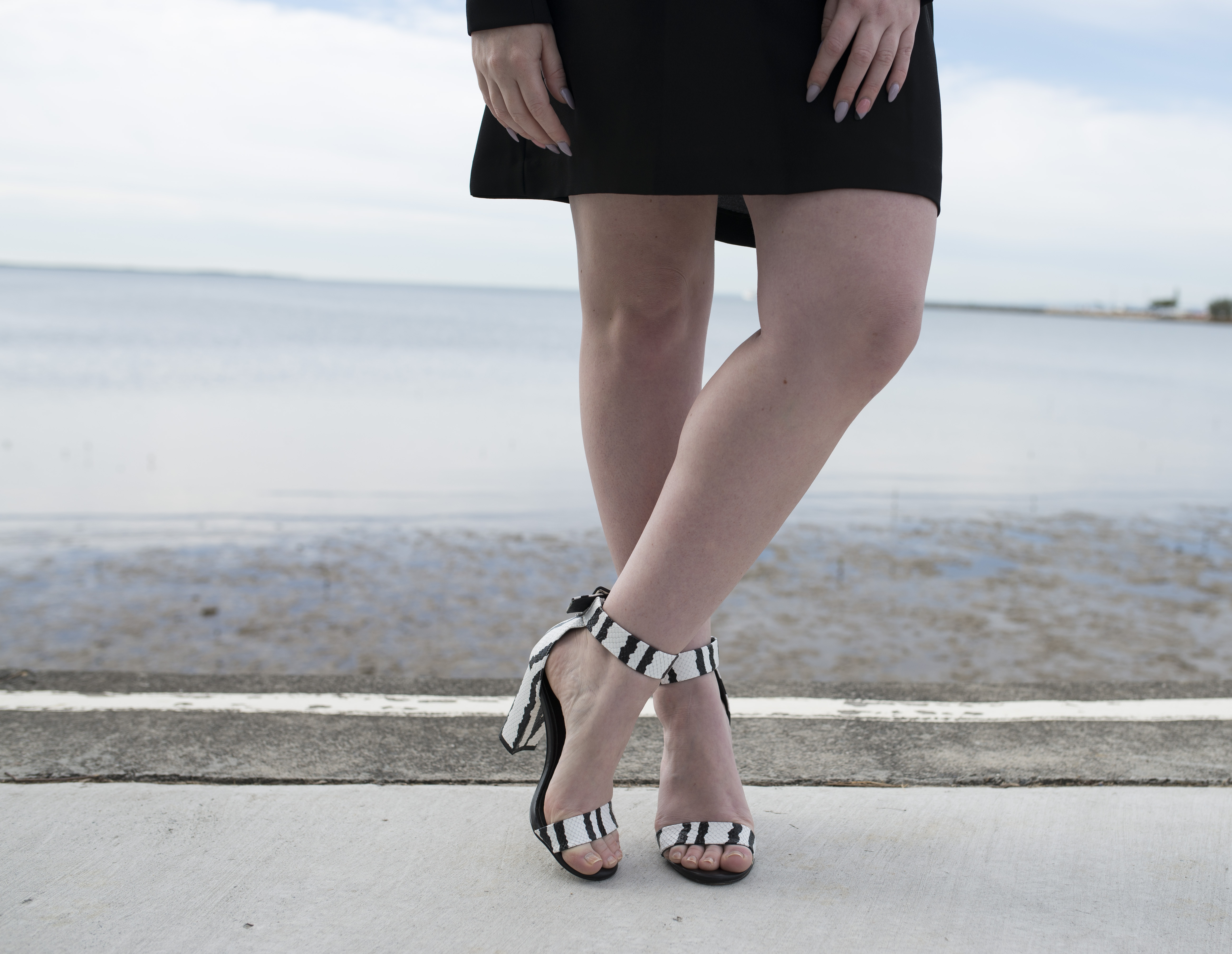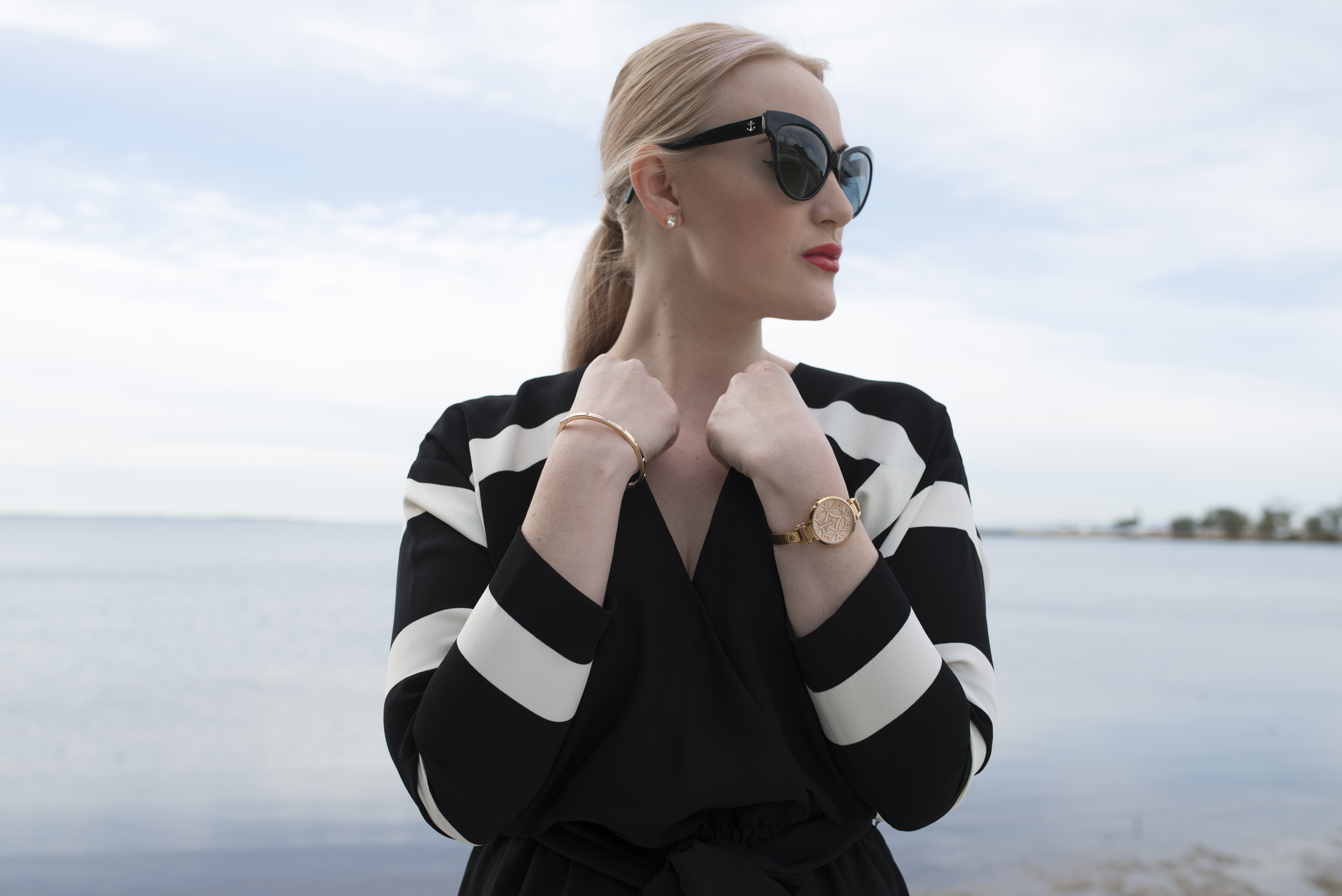 Witchery Bold Stripe Wrap Dress, Skin Hot Loving Heels, Royal Aquamarine Hepburn Sunglasses, Swarovski Arrive Earrings, Fossil Bevel Glitz Bangle, Michael Kors Blair Pave Rose Gold Watch.
If history taught us anything, it's that trends are fleeting, but the classics are forever! When it comes to timeless style, there's one particular name that instantly springs to mind- Audrey Hepburn. Queen of the silver screen, Audrey revolutionised the fashion world with her classic LBD, statement pearls and sophisticated cigarette holder. I'm taking a leaf out of Audrey's stylish book and bringing back the classics, one stiletto at a time.
I'm loving the simplicity of this monochrome wrap dress as it offers a practical but flattering shape, perfect for the office, or a casual stroll across the seaside with a leading man.Teaming with a pair of monochrome block heels, I'm adding a touch of interest material to the mix, creating a delightful print clash because I'm all about the drama!
Of course, it wouldn't be a tribute to Audrey without a fabulous pair of frames and these Royal Aquamarine Hepburn Sunglasses are totally fitting. Remember ladies, I've got a 20% discount off your next Royal Aquamarine purchase – use the codeword 'TBSROYAL' at checkout. Looking glam! 
SHOP THIS LOOK:
Photography by Fallon Images
---
TBSROYAL
Thursday, July 16th, 2015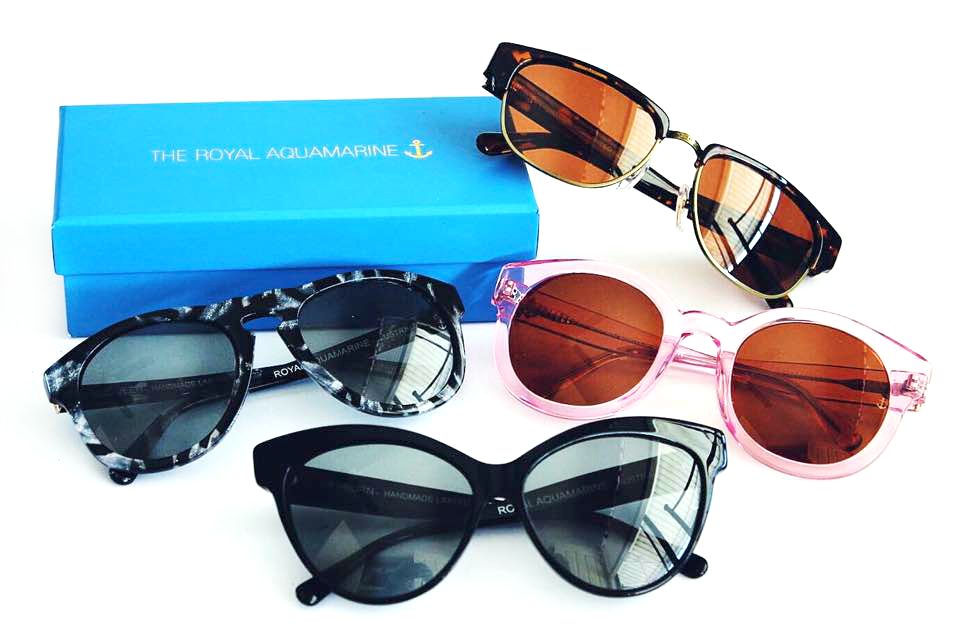 From left to right: Royal Aquamarine Dean Sunglasses, Royal Aquamarine McQueen Sunglasses, Royal Aquamarine Kelly Sunglasses, Royal Aquamarine Hepburn Sunglasses.
If you follow my gram, you'll notice I've acquired quite the collection of killer shades from my new favourite eyewear label, Royal Aquamarine. Royal Aquamarine are ticking all the right boxes when it comes to production, limiting their distribution to 100 frames per year to ensure the highest quality and exclusivity. After all, there's nothing unique about wearing the same frames as every fashionista on the block.
While extremely stylish in design, these sunglasses offer utility, with each lens made from mineral glass to allow for optical clarity and 100% UV protection. Not to mention, these lenses are scratch resistant, which is definitely practical if your the kind of gal who recklessly throws her glasses into her LV (definitely not something I recommend). The frames are made from an Italian Cellulose Acetate, a high quality material derived from 100% renewable cotton fibres and wood pulp, which creates a stain resistant finish. Skilful craftsmanship can be seen in the details, with each right lens featuring a laser hand etched logo and a royal Japanese gold temple engraving on the arms of each frame.
When it comes to aesthetics, Royal Aquamarine are known for their classic shapes and cutting edge designs, from oversized frames in fairy floss pink, to a demur cat eye, they cater for any face shape and style.
If your looking for your next statement eyewear, then checkout the Royal Aquamarine website and follow them on Facebook and Instagram.
And for the cherry on top, they are giving my lovely readers a very generous 20% discount to use on your next purchase! Simply enter the codeword 'TBSROYAL' at checkout, effective till December 31st 2015. Enjoy x
SHOP THIS LOOK:
---
Barbie Girl
Saturday, July 11th, 2015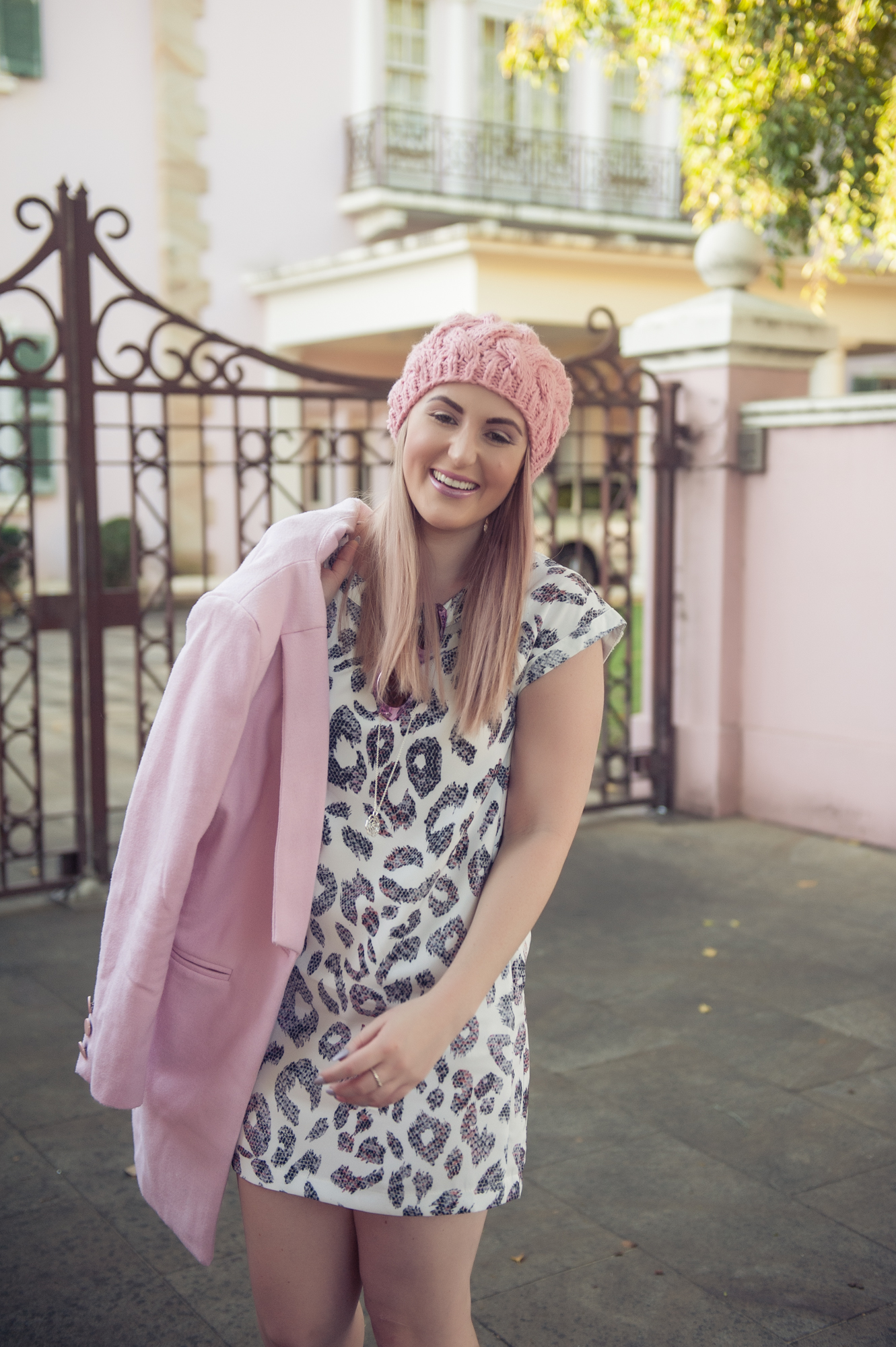 St Frock Lioness Your Call Coat, St Frock Layla Shift Dress, St Frock Lulu Beanie, Royal Aquamarine Kelly Sunglasses, Pandora Shimmering Rose Necklace, Pandora Silver Ring, Pandora Silver Heart Ring, Wittner Avril Heel, Instax Mini 8 Instant Camera.
Meet new age Barbie, the quirky, slightly flirtatious doll who's traded in her cardboard box for a perfectly pink dream house. Styling a winter ensemble, she wears a pink trench coat, over a wild, animal print dress. With matching accessories, she styles a pastel pink beanie on top of her pastel toned hair and comes with a pair of statement pink sunglasses. Like any girl, she loves her jewellery and has teamed a Pandora pendant with a collection of stackable rings. While many barbies before her couldn't keep track of their footwear, this Barbie will never loose her heels!
Equipped with a pink, polaroid camera, this Barbie has perfected her posing and pouting. With no Ken in sight, she's queen of her castle, ruler of her mansion, a total #girlboss. Long live Queen B.
This one's certainly not suitable for children 😉
SHOP THIS POST:
Photography by Erin Smith Photography
---