Beauty Unveiled: The China Doll
Sunday, May 24th, 2015
There was once a time I never went a week without a spray tan. In fact the thought of going out of a weekend without one absolutely terrified me. It wasn't until two years ago when I started exploring the world of fashion, that I found a new adoration for porcelain skin. Fair skin offers a very classic beauty trend and looks fabulous against a bold, red lip. Of course there are influential beauty icons like Cate Blanchett and Nicole Kidman who are admired for their milky complexions…after all, if a fair complexion can entice Keith Urban, then call me a porcelain doll!
Embracing my fair skin, I'm creating a very porcelain doll inspired beauty look, comprised of a matte porcelain coverage, angelic eyes and a soft pink pout. *Note when it comes to beauty I'm definitely a high maintenance kind of gal, so if your looking for a 5 minute makeup lesson, this probably isn't the look for you!
Step One: Apply The Base!
Starting with a pea sized amount of Etude House BB Cream, I spread an even coverage over my face. I then use my Napoleon Foundation Stick (Look 2), to go over the light layer of BB Cream. A beige-pink concealer targets troubled areas like my chin, nose and the dark areas under my eyes. As I prefer a matte finish, I lightly dust my Napoleon Perdis Camera Finish Powder over my foundation to seal the coverage.
SHOP MY PICKS:
Step Two: Define those Cheekbones!
Next, I use a contour palette to add a little depth (and instant cheekbones!). Starting with a shimmering highlighter, I lightly dust just above the checkbone, the bridge of my nose, my chin and middle forehead. Using the darker contouring colour, I highlight right on the check bone, blending thoroughly to avoid obvious lines. Using the smile technique, I brush a light, rosy pink blush over the apples of my cheeks.
 SHOP MY PICKS:
Step Three: Enhance the Brows!
After combing my brows into place, I lightly pencil in the gaps with my Napoleon Perdis Eyebrow Pencil. With a super easy application and no sharpening required, this product is the definition of low maintenance and creates envy worthy brows. To enhance the arched shape, I apply a shimmery, pearl eye shadow just underneath the brow bone for extra oomph!
 SHOP MY PICKS:
Step Four: Flirty Flicks!
When it comes to eyeliner, I always use a combination of liquid and gel to achieve that flirty, cat-eye flick. First I'll apply my Napoleon Liquid Eyeliner along my lash line as a base and finish with the Napoleon China Doll Gel Eyeliner, as I find the creamy, smooth texture allows for control and intricate detailing. After coating my lashes in a volumised mascara like Maybelline's The Colossal, I apply a strip of flirty, thick Napoleon Perdis Lashes, to emphasise my peepers.
 SHOP MY PICKS:
Step Five: Pose and pout!
For a perfect pout, I start by outlining my lip line with a soft pink pencil, like Napoleon Perdis's Pink Slip. Next I apply my lipstick to the plump part of my lips, avoiding the edges to minimise bleeding. After blotting the excess, I finish with a extra shiny lipgloss. Kiss kiss!
SHOP MY PICKS:
I would love to hear any suggestions you may have regarding beauty looks and tutorials! Leave me a comment below and connect with me via my Instagram, Facebook and Twitter. Big love to all you beautiful girls! x
Photography by Erin Smith Photography
---
Designer Profile: Jack Sullivan Bridal
Sunday, May 17th, 2015
When it comes to bridal couture, Brisbane based bridal designer, Jack Sullivan is leaving a spectacular train of success on the isle of the wedding industry, since launching his label in 2012! Proving the apple doesn't fall far from the tree, Jack is the son of renowned, award winning bridal designer Wendy Sullivan and has inherited Wendy's artistry and attention to exquisite detailing. At just 26 years old, Jack is the youngest and first Australian designer to show his beautiful designs at the London White Gallery – a prestigious trade event showcasing leading UK and international designers. I recently caught up with Jack to chat about the bridal industry and he gave me a fabulous insight into bridal trends, the life of a designer and his distinct bridal style.
Q: Your bridal couture presents a combination of old-fashioned elegance and modern-day playfulness, talk us through the shapes and fabrics you like to play with!
JS: The shapes and fabrics really do change depending on trends, availability and what I like at the time really. I am never really locked into one or two fabrics or shapes. I like to try and change the silhouettes regularly, so I am not a designer that is just known for doing one particular shape.
Q: Your calling as a designer came to be, after your own bridal sketch was found. Describe this iconic gown!
JS: This gown was the first gown I ever worked on with mum. It was a little different, the bodice was 1/3 lace and 2/3 pleated ivory tulle over pleated chiffon. The skirt was soft ivory tulle over champagne chiffon. Then a few hundred Swarovski crystals for detail on the bodice. It was a really fun and exciting experience. Six months later, it is was on the cover of Queensland Brides magazine.
Q: How has your style evolved since launching your own label in 2012?
JS: My style has changed a lot! When I first started I was so concerned about being considered a "Diet Wendy Sullivan" and looking like I was just doing versions of my mum's gowns-which have always been known for their dramatic lace embellishment and detail, that I went completely the other way, and used exceptionally clean lines and minimal detail. I was probably a bit too cautious at the time, still finding my feet as a designer and was worried about the comparison of my mother's label. Also I had poured every cent I had into the set up of the label, so I couldn't really afford any nice laces!! Now I am able to put how much lace and detail into the designs, as I know mum and I have different styles naturally and we always end up designing gowns that look different anyway.
Q: What does a day in the life of a wedding designer entail?
JS: My days change, there is no "normal" day in my life. Since the start of the year I haven't spent more than 4 days in the same city and I am constantly travelling. So it may entail flying to Perth, meeting brides and showing them the new collection. It could be doing boring paperwork and logistics for an upcoming show (my least favourite), or spending all day and night doing hand finishing on new gowns (definitely my favourite).
Q: What are the top trends for AW15 bridal wear?
JS: The trends are ever changing, however, gowns that sit "on the waist " are still really popular, along with the "drop waist" look. Lace is still very in, however, there is definitely a move away from the silver Swarovski crystals and tending to go towards stronger and bolder laces with some pearl detailing.
Q: Designing bridal couture certainly sounds glamorous! What's the most unglamorous part of being a designer?
JS: The most unglamorous part of my job…There are so many! I would say, packing gowns constantly and paperwork.
Q: What's the most timeless trend seen in bridal couture?
JS: Timeless is tough, I really like the look of the gowns that sit on the waist- it gives a very classic look that I love.
Q: You must see your fair share of fashion no-no's, what's the ultimate fashion faux pas when it comes to bridal style?
JS: Fashion no no's in bridal…probably going trendy not timeless.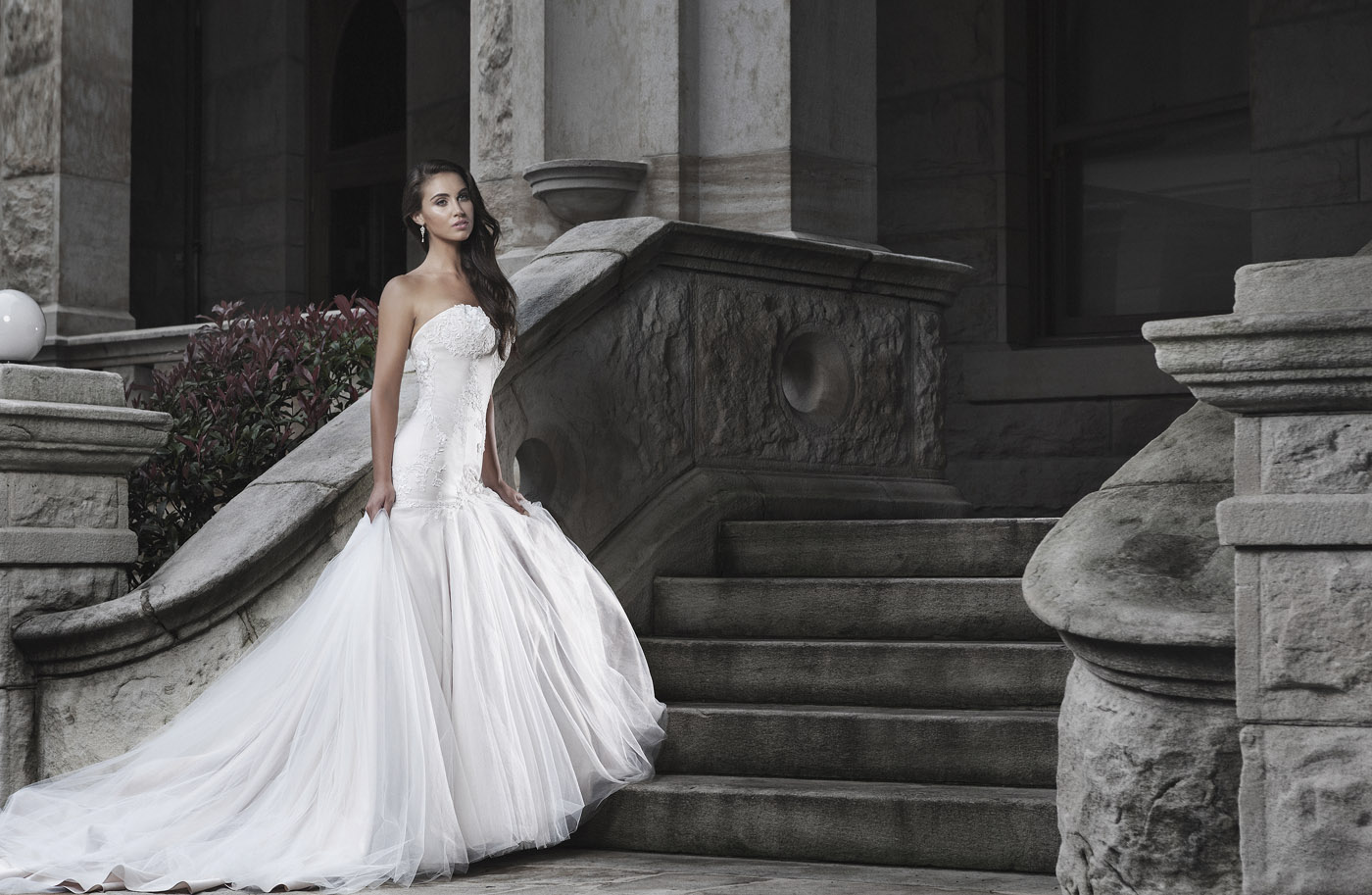 Q: What's your favourite part in the production process?
JS: My favourite part of the production process is most definitely the hand finishing and detailing- it is really fun.
Q: How do you feel about non-traditional wedding dress colours? Any chance of a champagne pink gown in the next collection? 😉
JS: I love them! Great for shoots and catwalks. I use a lot of traditional colours (ivory and white) layered over champagnes and silvers.
….and Quickly
Q: Lace or Chiffon?
JS: Lace bodice, chiffon skirt haha.
Q: White or Ivory?
Q: Strapless or Sleeved?
JS: Sheer strap.
Q: Vera Wang or Oscar De La Renta?
Q: Veil or Headpiece?
JS: Depends on the gown and the bride.
For more information about Jack Sullivan's stunning designs, you can visit his website or Facebook Page and follow him on Instagram @jacksullivandesigns.
Photography supplied
---
Silent Movie
Thursday, May 14th, 2015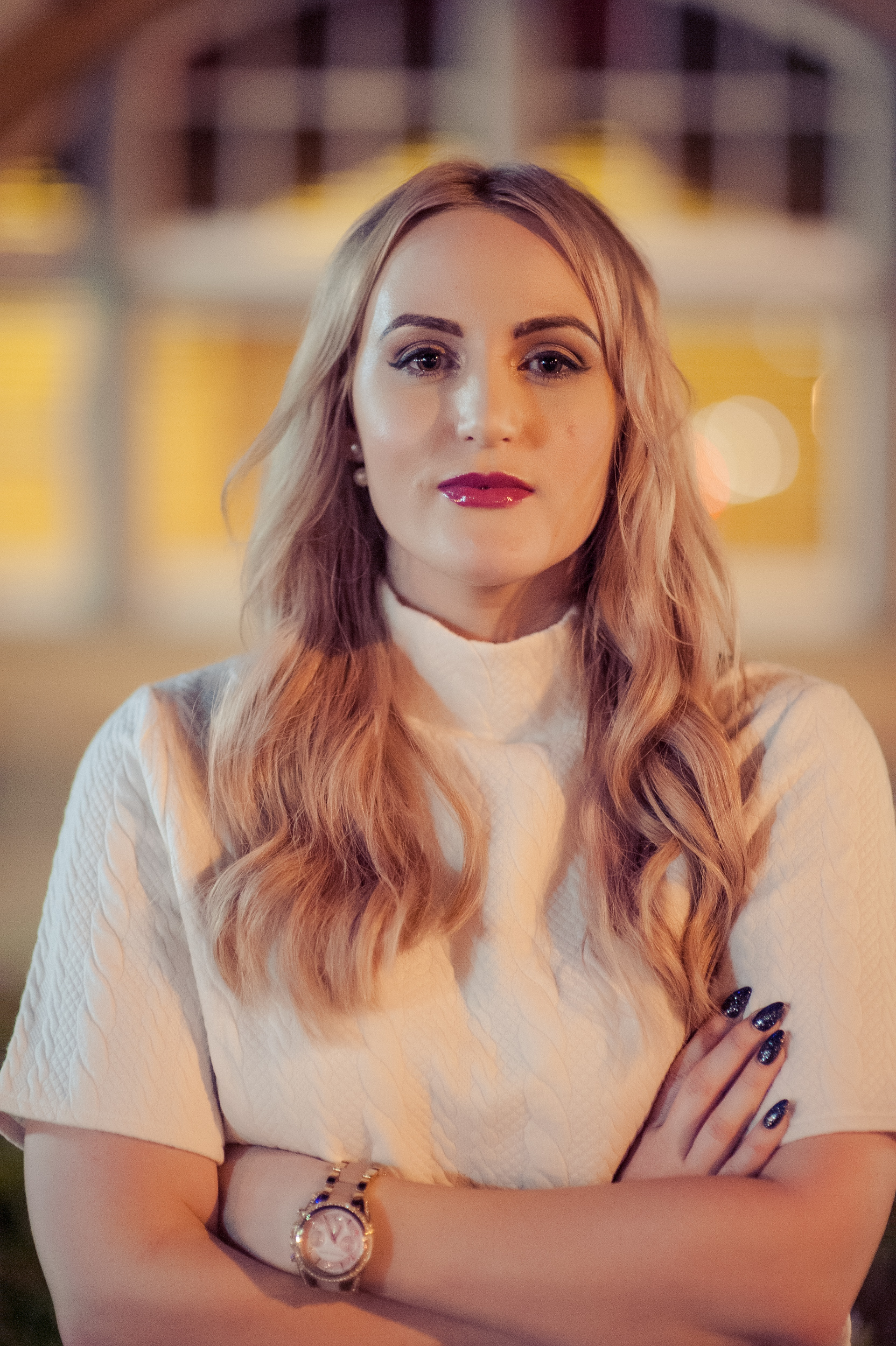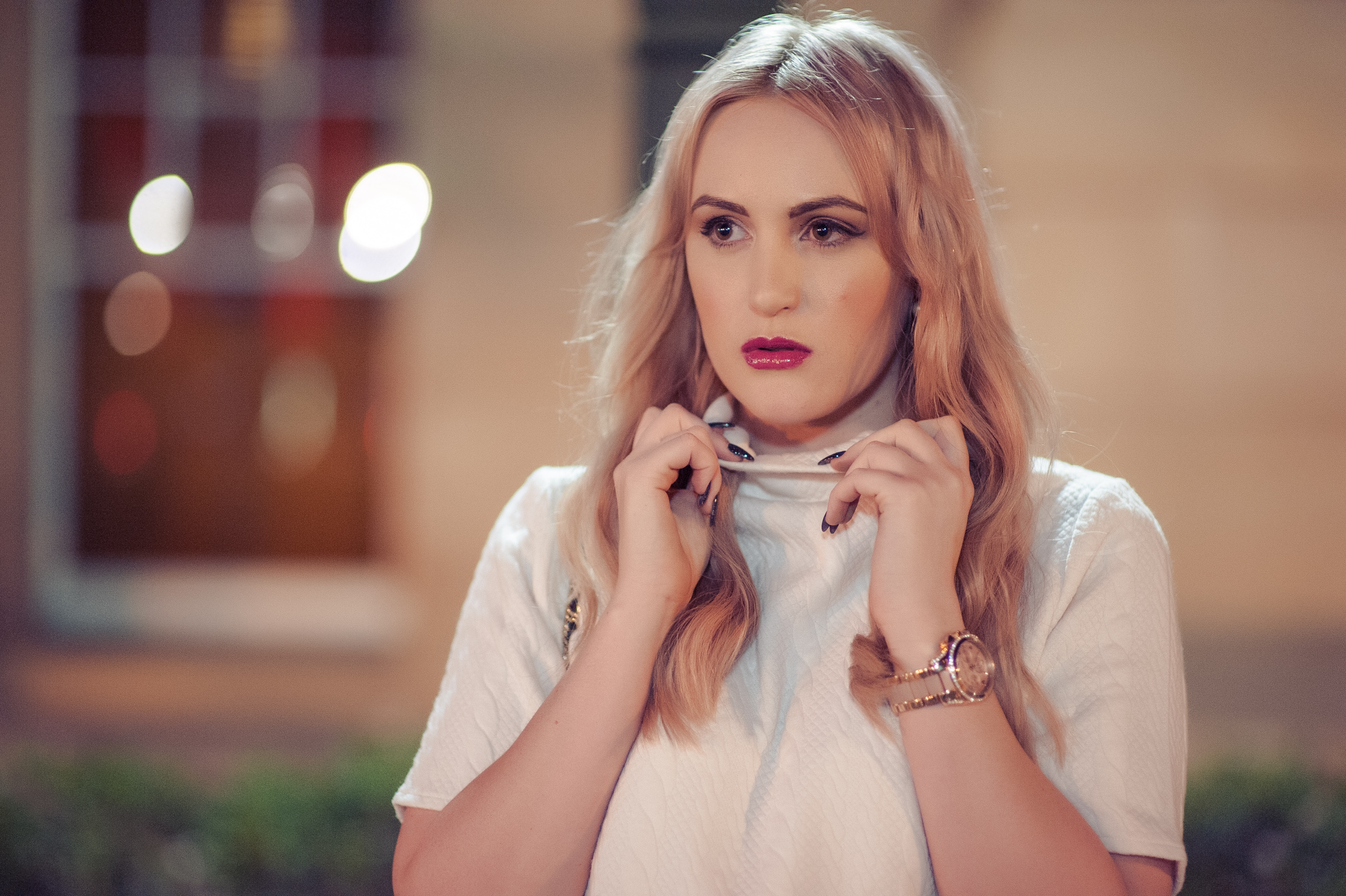 Seed Heritage Wrap Skirt, Seed Heritage Crop Roll Neck Tee, Jo Mercer Rapid Heels, Oroton Textured Clutch (similar style here), Michael Kors Blair Pave Rose Gold Watch, The Peach Box Audrey Pearl Swing Earrings.
It's amazing to think that you can live in one town your whole life, walk by the same spot and remain blissfully unaware of the beauty around you. It's something I'm sure we are all guilty of. I recently watched one of my favourite movies, "Singing In The Rain" and suddenly, I'm fixating upon this gorgeous little courtyard in the Brisbane CBD. I see a lamppost, a moonlit path (sadly no Gene Kelly) and suddenly I feel like I too am in a dreamy, silent movie.
Of course, I have prepared for the occasion with a sophisticated ensemble; high necks and longer hemlines remain consistent with the classy women of the silver screen. My pointy stilettos, while they don't resemble a tap shoe, make a soft click clack on the pavement…a fashionable beat indeed!
SHOP THIS LOOK:
Photography by Erin Smith Photography
---
Stefan Professional Makeup
Monday, May 11th, 2015
Stefan Professional Makeup Pulp Lipstick, Stefan Profesional Makeup Night Eyeshadow Palette, Stefan Professional Makeup Mars Cheek Blush.
When it comes to makeup, I'm all about the bold! This aligns with my style mantra, as I believe a girl should be remembered for her impeccable style and her fabulous choice in lipstick.
Never one to shy away from neons, I couldn't be more excited to coat my kisser in this feisty fuchsia lippy from Stefan Professional Makeup. With a hydrating formula, combining special ingredients of bees wax and moisture wax complex, this lippy keeps your pout plump and delicious. I mean did we expect anything less from the leaders in the #hairgame?
That's not all I'm excited about! This shimmery eyeshadow palette provides the tools to create a sensational smoky eye using rich metallic hues. I'm actually prepping my peepers as we speak!
This little package has arrived at just the right time as I've been on the lookout for the perfect blush. Have my prayers been answered? You'll have to wait and see…Watch this space x
---