Blue Jeans.
Saturday, July 12th, 2014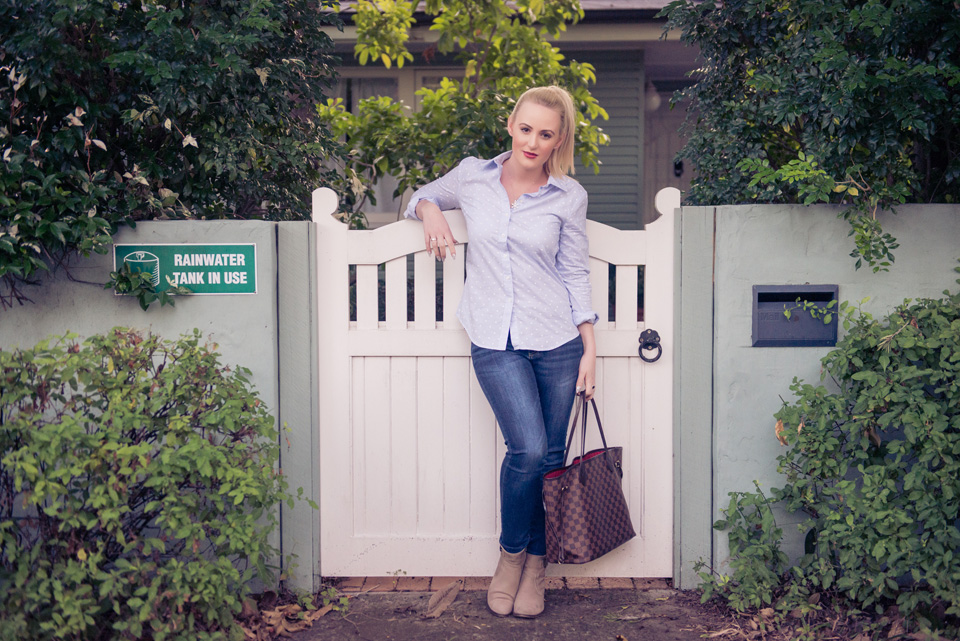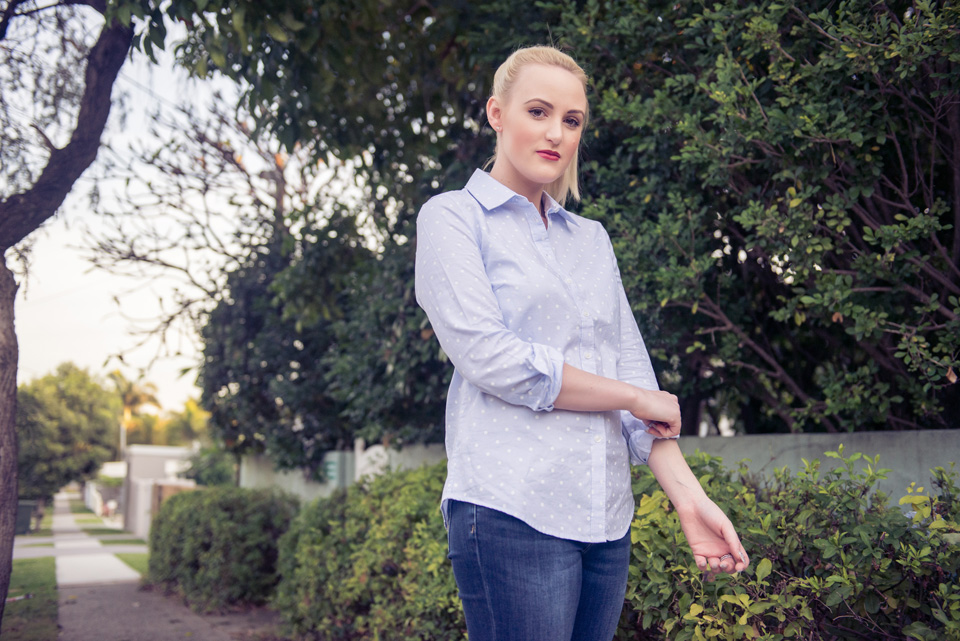 Sportscraft Sarah Oxford Shirt, Just Jeans Skinny Ankle Crop Jeans (available at DFO Jindalee), Louis Vuitton Neverfull MM Tote, Skagen Snowflake Pendant, Pandora Heart Ring, Pandora Tourmalinated Quartz Ring, Tiffany & Co. I Love You Ring, Tiffany & Co. Love Ring.
Old blue jeans; a faithful fashion omen and the newest addition to my winter wardrobe. Hardly a denim enthusiast, I spend 99% of my life in ultra feminine pieces, structured skirts and free flowing dresses (with the occasion splash of leather leggings),but never have I felt so comfortable strolling the quaint suburban streets in denim.
All of my denim inhibitions were suddenly ruled out in last month's DFO style challenge, as I pushed my boundaries styling the perfect winter denim. With a little prior research (Pinterest) and wearing my comfortable heels, I set off to conquer my kingdom (DFO Jindalee).
Just Jeans definitely provided a selection of fabulous denim in every shape, shade and style you could imagine. With five styles, narrowed down to one, I strolled out with a pair of skinny fit, cropped ankle jeans, bottled excitement and my trusty Kate Middleton does denim snap, or otherwise my source of inspo. After all, you know you've chosen a royal winner when the Duchess of Cambridge is rocking skinny denim.
Keeping it chilled, I've teamed my denim with a relaxed button down, in a playful polka dot print. A neutral taupe boot and the chocolatey tones of my Louis Vuitton Neverfull Tote, add a little chic to the casual ensemble- perfect for brunch!
A warm thank you to the fabulous team at DFO Jindalee who keep my shopping and style challenges fresh and exciting. Another warm thank you goes to my fabulous photographer, Erin Smith Photography, expert style snapper and blogger paparazzi.
Read my extended Denim Diaries, now published on Style Magazines, here! For more DFO Jindalee fashion, head straight to the website and Facebook page. Happy Shopping!
SHOP THIS LOOK:

Photography by Erin Smith Photography
---