Baroque Fleur
Sunday, December 22nd, 2013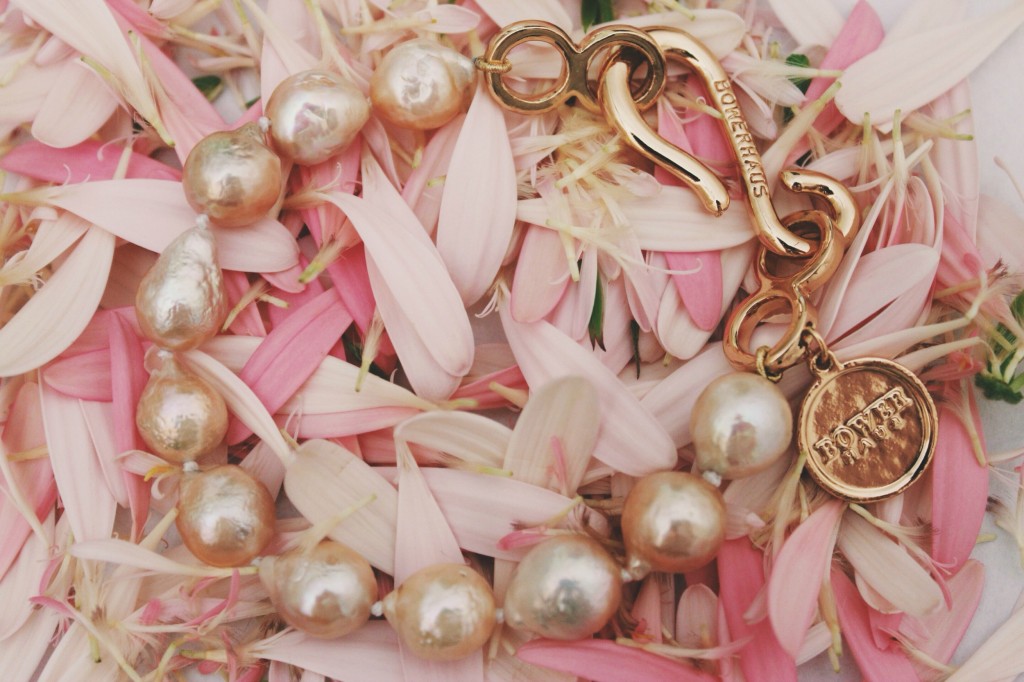 Bowerhaus Champagne Baroque Fleur Bracelet (white baroque pearl here).
Opening this beautiful package from Bowerhaus, I felt like a modern day Daisy Buchanan acquiring a love gift from Jay Gatsby. Concealed in a metallic grey giftbox and adorned with a perfectly tied pearl white bow, my Bowerhaus parcel exuded luxury, elegance and the grace of finer things. After all, there's nothing as special as receiving a parcel that's been lovingly hand wrapped and I certainly felt the personal message delivered with the Bowerhaus brand.
Derived from the spirit of the Bowerbird, Bowerhaus envisions prestigious jewellery pieces fashioned from elite materials: metals, golds and finely curated pearls sourced throughout beautiful places world wide. Formed by the creative vision of fashion savvy sisters, Shen-Tel and Elizabeth Lee, the brand reflects an Australian/Malaysian influence, enriched with personal family memoirs.
"Beautiful trinkets from all over the world…inspired by their father's vintage coins and mother's pearls they design with materials that they source from all over the globe. Old world charm and understated confidence are all the hallmarks of Bowerhaus"
The Baroque Fleur Bracelet (pictured) is from the decadent BH Pearl collection featuring champange freshwater pearls and an ornate 18K gold plated clasp. The piece is of exquisite quality and spectacular in design. The clasp is also highly practical with secure fastening around the wrist, otherwise perfect for a night of dancing! With many distinctive and elegant collections, Bowerhaus offers beautiful, luxury pieces, specialising in delicate pendants and necklaces and ornate bracelets. Visit the Bowerhaus website, Facebook, Twitter and Instagram channels @bowerhaus and put in your special order today!
Tomorrow, I provide an exclusive guide to styling the luxurious Champagne Baroque Fleur Bracelet. You can definitely expect to see a very feminine colour palette, exquisite fabrics and a dreamy, delicious location….Au Revoir!
---