Stylish Staycations with Bags To Go!
Sunday, June 12th, 2016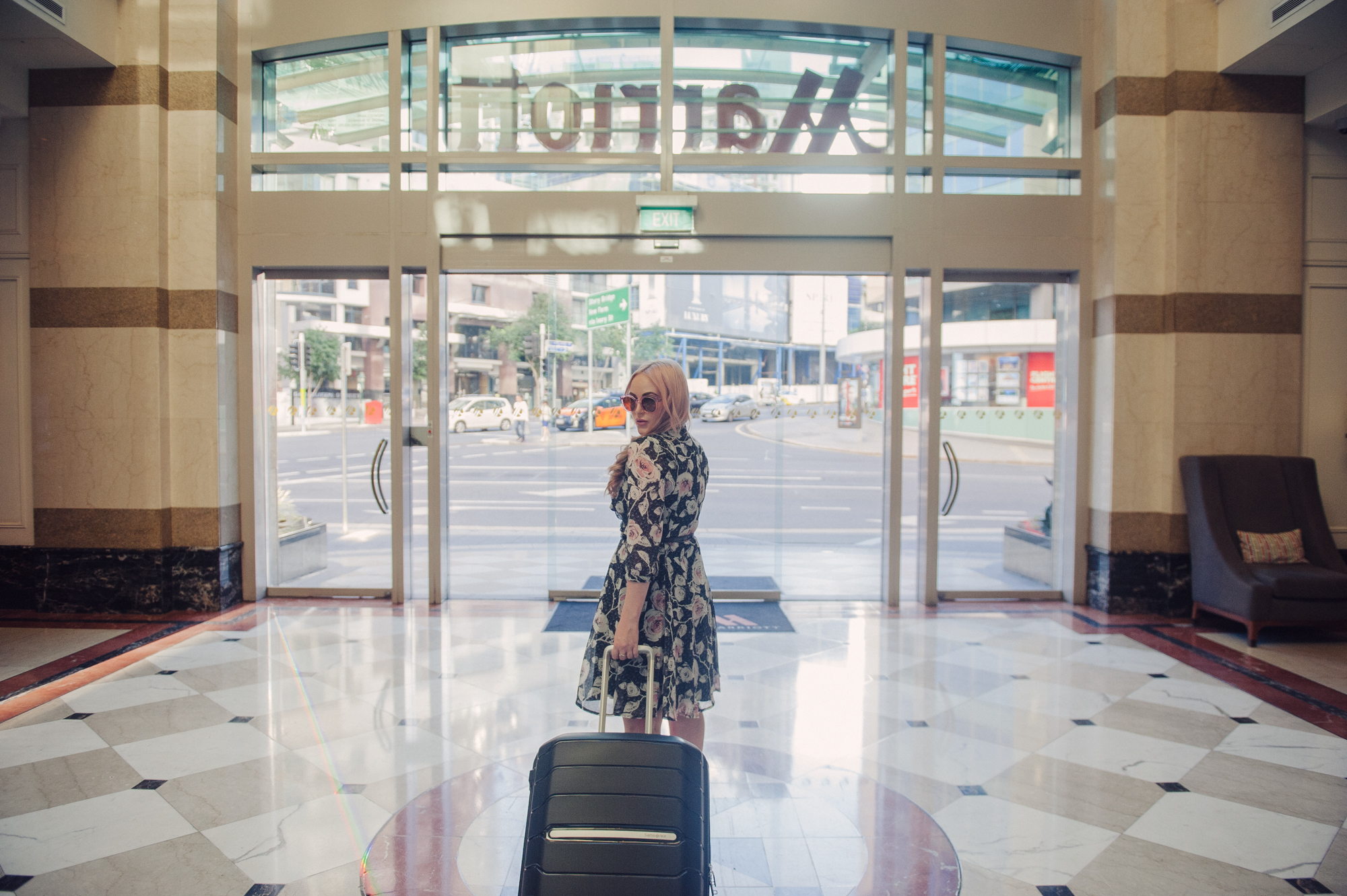 Review Speckled Rose Dress, Wittner Heels (similar style here), Michael Kors Selma Messenger Bag (similar style here), Royal Aquamarine Kelly Sunglasses, Pandora Petals of Love Ring, Pandora Sparkling Silver Bow Ring,  Samsonite Octolite Large Spinner Suitcase.
If there's one thing I've decided I need to do more of, it's finding the time to relax and refresh outside of my own little bubble. Whether this involves planning a much needed holiday abroad, or packing a suitcase for a night away in the city, I'm really into treating myself to stylish staycations.
The hardest thing when it comes to a staycation is the packing situation, and while I'm someone who enjoys an organised life, even I find this process a little perplexing. I mean, how does one fit the necessities; pjs, toiletries, clothes, LBD, heels, makeup, straightener, jewellery and clutch into a small overnight bag? This kind of problem solving is simply impossible… That is until I found myself with the perfect luggage solution from the online factory outlet Bags To Go.
Offering an affordable array of top of the range luggage, including American Tourister, Antler, Hartmann, Paklite and more, I found myself scrolling through a fabulous selection of suitcases to help upgrade my travel game to a seasoned and stylish traveller. Before I knew it, I was adding a classic Samsonite port to my shopping cart.
What I love about the Octolite is it's super light design – because there's nothing worse than lugging around a heavy port. Inside the suitcase, you'll find a very generous interior, including multi pockets to divide up your delicates. While it's functionality ticks all the right boxes, I think it's important to note that this suitcase ticks all the aesthetic boxes also. The matte black case and chrome hardware is the perfect combination of classic and cool, creating a modern statement for the gal that likes to travel stylishly. If you haven't already, make sure you check out Bags To Go for all your travel necessities.
First stop, the Brisbane Marriott Hotel for a luxurious stay in an executive suite – watch this space for part 2.
SHOP THIS LOOK:

Photography by Erin Smith Photography
---