Sensation Sass & Bide
Tuesday, March 19th, 2013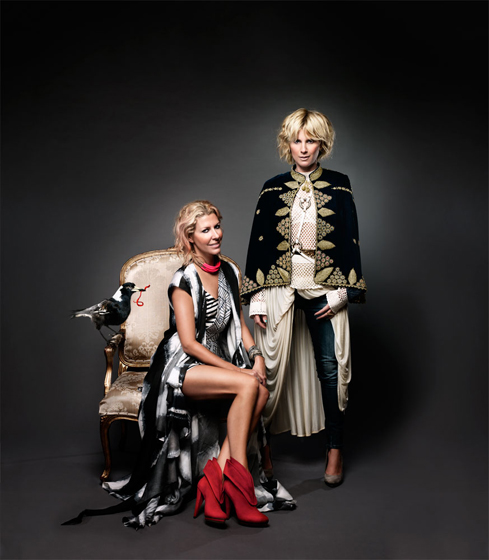 Photo credit: Alexia Sinclair
Sarah-Jane Clarke and Heidi Middleton; otherwise known as the leading ladies of Australian fashion empire, Sass & Bide, are set to reclaim their throne at the L'Oreal Melbourne Fashion Week of 2013.
The international success of the label recognizes the dynamic duo, a former accountant and advertising art director as innovators of the Australian fashion landscape; paving the path, one high-end piece at a time.
Initially operating as a small boutique in the London markets by selling customized, vintage jeans to trendy locals, Sass & Bide eventually expanded and became known for their signature denim collection in the late 90's.  A decade later and the noughties bring Sass & Bide to the fashion forefront- the runways of Australia, New York and London fashion week. With 18 boutiques located in 20 countries and a combined net worth of $36 million, their partnership will only continue to thrive and conquer the fashion industry.
Just as a paparazzo can distinguish a celebrity, a true fashionista can easily spot a Sass & Bide piece, based on its distinctive nature and authenticity. Endorsed by the Hollywood in crowd of A-grade celebrity IT girls, including Whitney Port, Olivia Palermo, Kate Bosworth and Elle Macpherson, Sass & Bide have even designed one off pieces for Sex and the City, worn by the infamous Ms. Carrie Bradshaw herself. Always dressed impeccably in their decadent pieces, one can only assume that the former high school BFFs exerted the same enviable style in school. A raw vision springs to mind of the two style queens influencing and dictating the trends of the schoolyard, in a way that is perhaps similar to the earlier seasons of gossip girl…without the hierarchy of course!
This year, a showcase runway spectacular will dazzle attending fashionistas, featuring their most iconic pieces from the A/W13 collection. With embellishment, multi-textures, intricate prints and highly structured pieces being a prominent theme this season, the collection retells the central Sass & Bide story, "a dedication to the strong, the obscure and the beautiful".
Photo credit: David Goudie
---