Khaki Kind of Gal
Monday, March 9th, 2015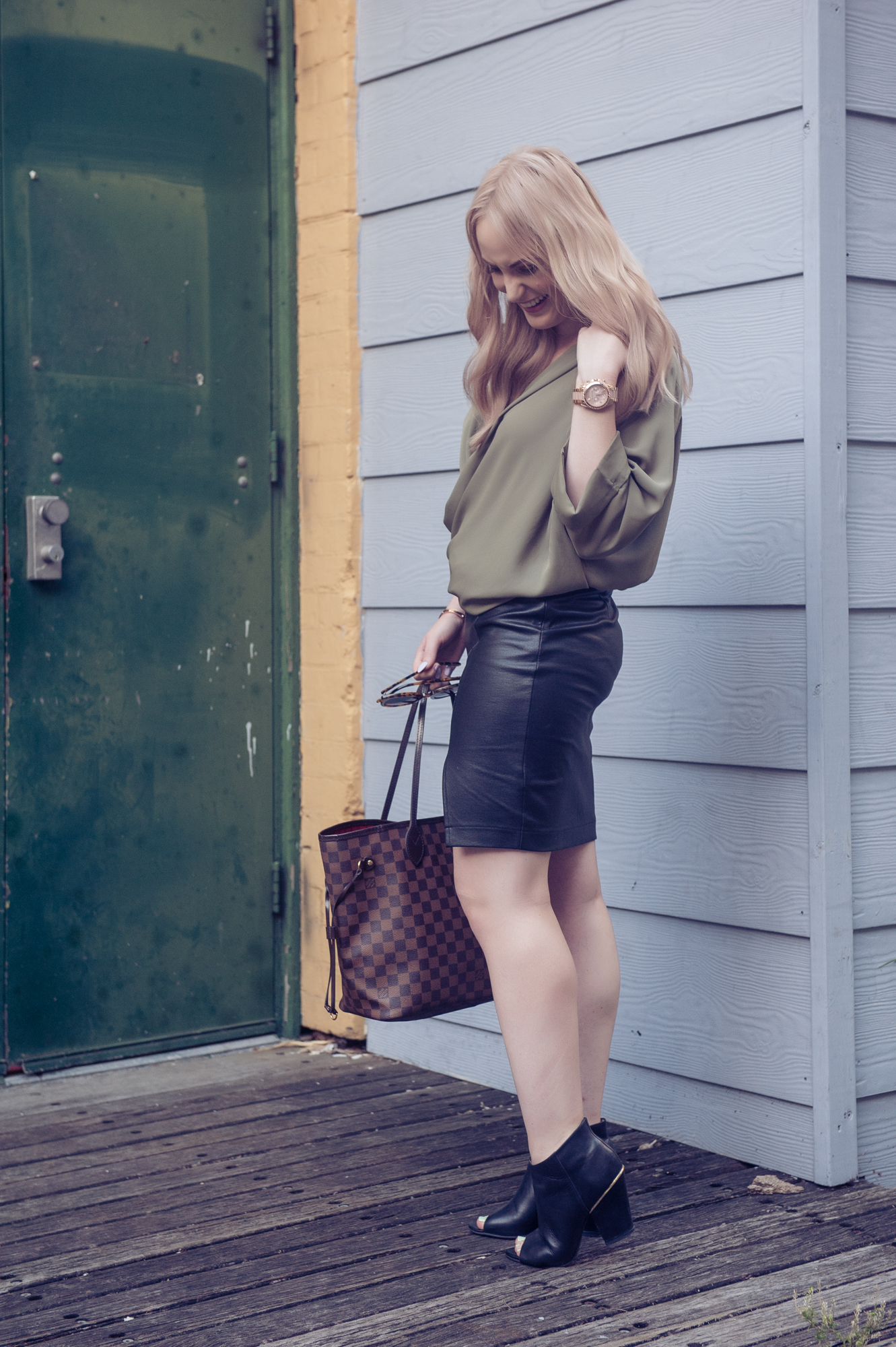 French Connection Cross Over Shirt, French Connection Leather Look Side Split Skirt, Louis Vuitton Neverfull Tote, Jo Mercer Sublime Booties, Karen Walker Super Duper Strength Sunglasses, Michael Kors Blair Pave Rose Gold Watch, Fossil Rondel Wire Bracelet, Fossil Bangle (similar style here), Swarovski Earrings.
I've always thought of khaki as a very masculine colour, having always associated this shade with a military context and consequently, I've always ruled khaki out of my stylistic choices. That was until my eyes fell on this gorgeous French Connection shirt…and I was won over. The juxtaposition between the  masculine khaki tone is balanced beautifully against the feminine, sheer draping  seen in its structure.
Embracing an earthy colour palette, I'm enhancing the strong khaki colour with rich brown shades, seen with my classic Louis Vuitton Neverfull Tote and the tortoiseshell print of my Karen Walker frames. Mirrored with my makeup, I've featured a soft bronzed shadow and peachy nude lipgloss in today's beauty regime.
I'll be honest, I'm really loving that sexy, vampy vibe at the moment, which is why I've teamed this shirt with a luxe, leather look skirt and peep toe booties. Alternatively a crisp pair of white or ripped blue jeans would make a chic, casual ensemble.
Lastly, I'm finishing on a high note with a little sparkle and a splash of rose gold…. After all, a little extravagance never hurt no one!
SHOP THIS LOOK:

Photography by Erin Smith Photography
---