Forever 21 Brisbane Launch
Sunday, October 19th, 2014
'
Wearing: French Connection Pleated Dress, Saba Belt, Jo Mercer Tanessa Heels (similar style here), French Connection Silver Clutch, Thomas Sabo Pearl Bracelet.
When I first heard the news that Brisbane would soon be home to the first Australian Forever 21 store, I experienced a #tbt to 2009, where I spent November holidaying in California. Surrounded by effortlessly cool Cali girls, I embraced the american IT girl lifestyle and took a little Californian flavour back to my Brisbane life, with some fast fashion pieces from Forever 21.
Now 5 years later and I'm treated to a VIP media tour of the gleaming multi-storey retailer in Queen Street's prime position and watching the shiny yellow ribbon being cut my model/actress/blogger Alli Simpson.
Offering a delicious start to my Thursday morning, the event began with a breakfast spread including individual bircher muesli bowls, mini ham and cheese croissants, pastries and fresh fruit, catered by Lennon's Restaurant in Brisbane's newest luxury hotel, Next Brisbane. We were then escorted on a private tour of the store, imprinting our footsteps on the new floor before any other shopper- a little bit special indeed!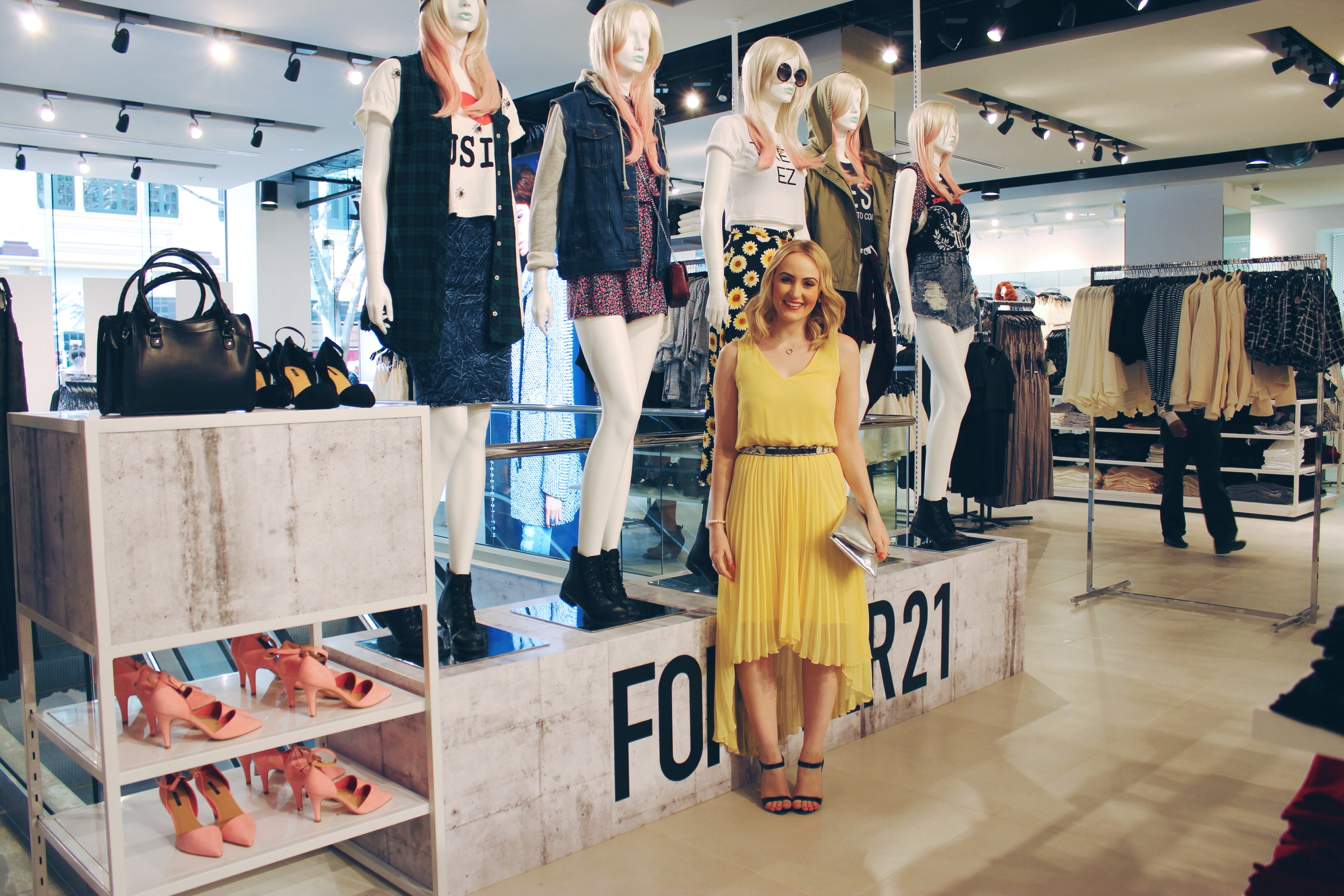 Blogger Clique: @itsconnieyeah, @zestfashionblog and @thefashionheist
Homegrown brand ambassadors Lisa Hyde from The Bachelor 14 and blogger/model Alli Simpson
With an appreciation for an organised layout, I particularly loved how the store is divided into themes, with denim trends and luxe boho/festival fashion merchandised separately, creating a clear yellow brick road for any fashionista. Other highlights included the chic mannequins with their dip-died candy coloured tresses and the girly ambience of the change rooms featuring a pastel pink and mint colour theme.
Offering an extensive summer collection divided over two whole floors, with each pieced priced to suit a minimal budget, I walked away with a little yellow bag of goodies including two contrasting print dresses and a handful of girly toiletries (@theblondesilhouette), with the best part being this little haul came to only $100!
Wearing a lemon hue, teamed with monochromatic and metallic accessories, I certainly blended in with the store's colour palette which highlights a bright yellow seen in the merchandising. It seems neon was the popular choice among other guests, with the blogger clique dressing brightly for the occasion, while being snapped in store.
A big thank you goes to the girls at The Red Republic for hooking me up with the ultimate insider experience! To my lady following, I would definitely suggest checking out this new fashion hotspot for accessible and affordable style!
SHOP THIS LOOK:

---