Designer Profile: Jack Sullivan Bridal
Sunday, May 17th, 2015
When it comes to bridal couture, Brisbane based bridal designer, Jack Sullivan is leaving a spectacular train of success on the isle of the wedding industry, since launching his label in 2012! Proving the apple doesn't fall far from the tree, Jack is the son of renowned, award winning bridal designer Wendy Sullivan and has inherited Wendy's artistry and attention to exquisite detailing. At just 26 years old, Jack is the youngest and first Australian designer to show his beautiful designs at the London White Gallery – a prestigious trade event showcasing leading UK and international designers. I recently caught up with Jack to chat about the bridal industry and he gave me a fabulous insight into bridal trends, the life of a designer and his distinct bridal style.
Q: Your bridal couture presents a combination of old-fashioned elegance and modern-day playfulness, talk us through the shapes and fabrics you like to play with!
JS: The shapes and fabrics really do change depending on trends, availability and what I like at the time really. I am never really locked into one or two fabrics or shapes. I like to try and change the silhouettes regularly, so I am not a designer that is just known for doing one particular shape.
Q: Your calling as a designer came to be, after your own bridal sketch was found. Describe this iconic gown!
JS: This gown was the first gown I ever worked on with mum. It was a little different, the bodice was 1/3 lace and 2/3 pleated ivory tulle over pleated chiffon. The skirt was soft ivory tulle over champagne chiffon. Then a few hundred Swarovski crystals for detail on the bodice. It was a really fun and exciting experience. Six months later, it is was on the cover of Queensland Brides magazine.
Q: How has your style evolved since launching your own label in 2012?
JS: My style has changed a lot! When I first started I was so concerned about being considered a "Diet Wendy Sullivan" and looking like I was just doing versions of my mum's gowns-which have always been known for their dramatic lace embellishment and detail, that I went completely the other way, and used exceptionally clean lines and minimal detail. I was probably a bit too cautious at the time, still finding my feet as a designer and was worried about the comparison of my mother's label. Also I had poured every cent I had into the set up of the label, so I couldn't really afford any nice laces!! Now I am able to put how much lace and detail into the designs, as I know mum and I have different styles naturally and we always end up designing gowns that look different anyway.
Q: What does a day in the life of a wedding designer entail?
JS: My days change, there is no "normal" day in my life. Since the start of the year I haven't spent more than 4 days in the same city and I am constantly travelling. So it may entail flying to Perth, meeting brides and showing them the new collection. It could be doing boring paperwork and logistics for an upcoming show (my least favourite), or spending all day and night doing hand finishing on new gowns (definitely my favourite).
Q: What are the top trends for AW15 bridal wear?
JS: The trends are ever changing, however, gowns that sit "on the waist " are still really popular, along with the "drop waist" look. Lace is still very in, however, there is definitely a move away from the silver Swarovski crystals and tending to go towards stronger and bolder laces with some pearl detailing.
Q: Designing bridal couture certainly sounds glamorous! What's the most unglamorous part of being a designer?
JS: The most unglamorous part of my job…There are so many! I would say, packing gowns constantly and paperwork.
Q: What's the most timeless trend seen in bridal couture?
JS: Timeless is tough, I really like the look of the gowns that sit on the waist- it gives a very classic look that I love.
Q: You must see your fair share of fashion no-no's, what's the ultimate fashion faux pas when it comes to bridal style?
JS: Fashion no no's in bridal…probably going trendy not timeless.
Q: What's your favourite part in the production process?
JS: My favourite part of the production process is most definitely the hand finishing and detailing- it is really fun.
Q: How do you feel about non-traditional wedding dress colours? Any chance of a champagne pink gown in the next collection? 😉
JS: I love them! Great for shoots and catwalks. I use a lot of traditional colours (ivory and white) layered over champagnes and silvers.
….and Quickly
Q: Lace or Chiffon?
JS: Lace bodice, chiffon skirt haha.
Q: White or Ivory?
Q: Strapless or Sleeved?
JS: Sheer strap.
Q: Vera Wang or Oscar De La Renta?
Q: Veil or Headpiece?
JS: Depends on the gown and the bride.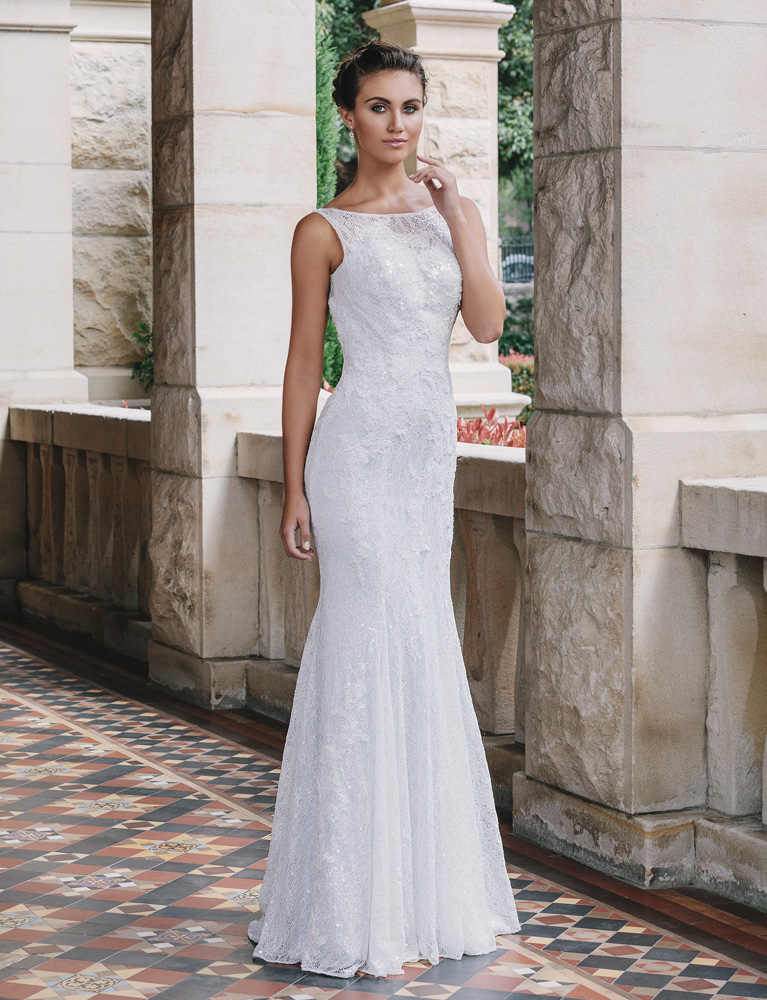 For more information about Jack Sullivan's stunning designs, you can visit his website or Facebook Page and follow him on Instagram @jacksullivandesigns.
Photography supplied
---