Belle Epoque Part Deux.
Sunday, December 29th, 2013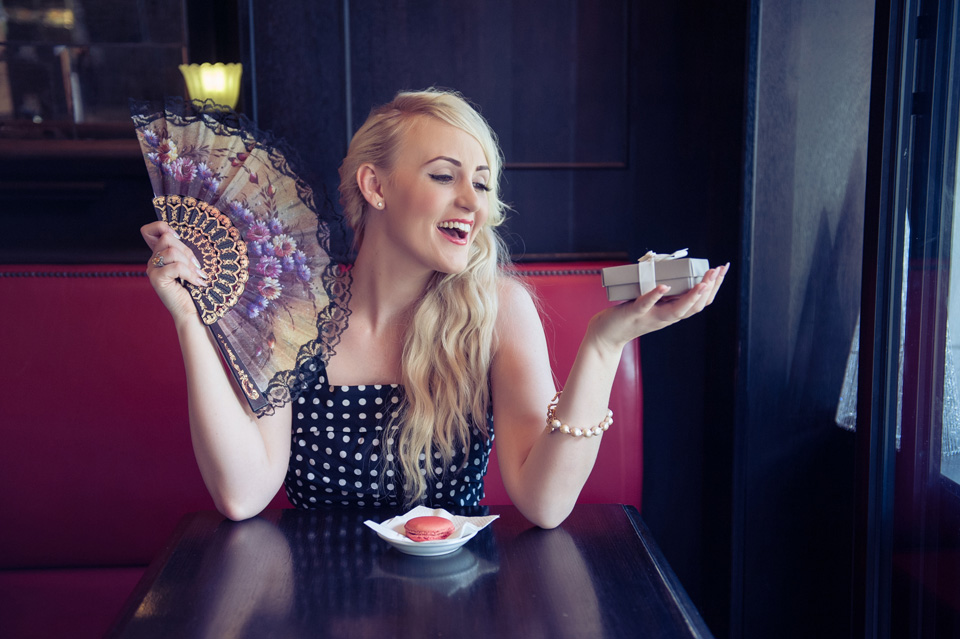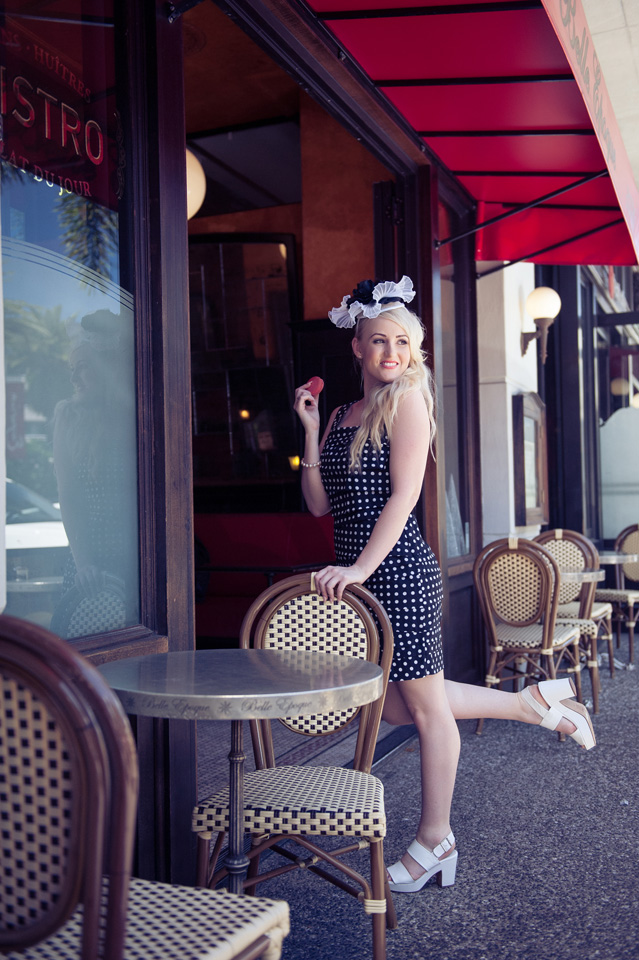 Vintage Dress, Jo Mercer Erika Heels, Mekoe Accessories fascinator (similar style here) Bowerhaus Baroque Fleur Bracelet, Michael Hill Ring.
A deja vu moment captured by Erin Smith Photography, sees The Blonde Silhouette once again dining at her new favourite spot, Belle Epoque at the Emporium Hotel. Strawberry macaroons were enjoyed whilst overlooking the Parisian sidewalk, as she playfully masked her face with a lacy floral fan. A touch of golden sunlight cast a dreamy light over the scenery, turning Brisbane into Paree…
Bonjour from Belle Epoque– Brisbane's little slice of Parisian heaven! While Christmas is well and truly over, along with the remains of fruitcake, trifle and plum pudding, macaroons are still on the menu at my favourite french bistro, located at Brisbane's Emporium Hotel.
Today's Parisian inspired ensemble features my most valuable vintage find- a monochromatic print dress with ruffle detail, picked up at a local op shop. Teamed with white platform sandals and a matching fascinator, my stylistic intentions infuse a modern twist on a 50's classic. Like a transformed Audrey Hepburn from Roman Holiday, I'm favouring feminine cuts, ladylike hemlines, polka dot prints and pearls! You may notice, just like the previous outfit, I am still adorning my Bowerhaus Baroque Fleur Bracelet. The soft champagne pink colouring and splash of gold, is highly versatile, thus providing endless styling opportunities. Not to mention, it's unique design, seen through the highly sculpted S-hook clasp, creates an accessory with an edge of difference, providing to be so much more then your typical pearl bracelet. If you haven't had a chance post christmas rush to peruse the many Bowerhaus jewellery collections, now is certainly the time to do so, by starting off 2014 with a luxury pearl collectable. And while we are on the subject of perusing- have you bookmarked the official homepage of Erin Smith Photography? Her dreamy wedding portfolio is like opening the final chapters of a disney princess fairytale.. As the french say, show some amour to her social media platforms by following her Facebook page, Twitter and instagram channel @erineopso. Merci Beaucop!
SHOP THIS LOOK:
Photography by Erin Smith Photography
---