Adele Frost: Topshop Personal Shopper
Sunday, December 15th, 2013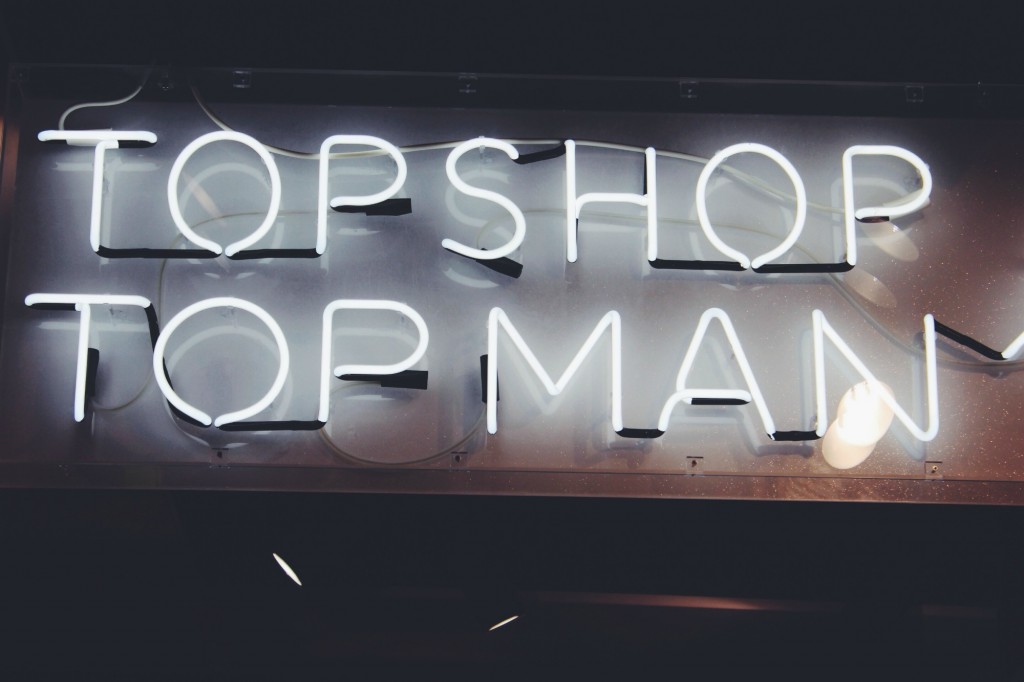 A few weeks ago I attended the official Topshop Topman Brisbane launch (see post here), along with a handful of Brisbane's finest fashionistas. While the event has been and gone (*sigh), I have had the absolute pleasure of a little Q & A sesh with one of Topshop's Personal Shoppers and rising Brisbane model, Adele Frost. Smart, stylish and ridiculously beautiful, Adele chats all things fashion related including favourite seasonal trends, achieving great style and the life of a Topshop Personal Shopper.
Adele (left) enjoying the Brisbane Topshop launch alongside fellow personal shopper and blogger Aicha of The Fashion Heist. 
Q:  Brisbane fashionistas' eagerly awaited Topshop's opening, curious to see if it lives up to its international fame. Being a fashion insider from the Topshop family- what can we expect to see from the new Topshop collection?
Adele: There are so many amazing things here at Topshop, sometimes it's hard to know where to start! The key trends this season are a mixture of 90's Grunge, with variations of dyed and distressed denim meeting tartans and leather in an almost punk feel, as well as an Eastern influence with delicate floral prints and asymmetrical Origami folds making a modern variation. You'll also see a resurgence of an old Victorian style lace, the past meeting the present. Key pieces within are the Military Shirt, Boyfriend Jeans are here to stay, Mermaid Metallics in accessories and an array of statement skirts in cuts like Mini, Pencil and A-Line made from textiles such as PU, Satine and Leather.… my favourite look today is the androgynous tunic dress, we dressed Isabelle Cornish in a similar look for the opening and she looked incredible!
Q: Asos, Zara and H&M; three influential online retailers dominating the international fashion landscape, are set to take Australia by storm. What sets Topshop aside from its competitors and how does it reflect the savvy Brisbane customer?
Adele: Topshop is all about the London look! From Alexa Chung to Kate Moss and Poppy Delevingne. So not only do we extract trends and insight from the Underground Fashion Capital of the world, but we also offer diversity to accommodate all fashion desires and needs. Within our store we offer a series of capsules, targeted towards different character types, budgets, style and extravagance. The Unique range straight off the London Fashion Week runway, the mature tailoring and exotic fabrics of the Boutique range, the 4 Seasonal Trends that are refreshed and replenished everyday, all the way to the Freedom Jewellery range and Sleepwear, perfect for Stocking-Fillers this Christmas. For our Brisbane customers months of research has gone in to street style observation, general climate, existing retailers to really pin point what is missing from the market, you'll find each store in Australia has a specific injection of relevant pieces to offer its local area.
Q: Landing the dream job that every Brisbane fashionista would swap her Saint Laurent heels for- tell me what excites you most about your role as a Topshop Personal Shopper?
Adele: Not only does it combine my love for the fashion industry and my love of working with people, but to be linked to such an incredible, international brand and hand-picked to represent them as an ambassador, it makes coming to 'work' more like coming to 'play'. I feel honoured and lucky to offer customers that next level customer service, build friendships and ongoing relationships with women who speak my language.
Q. Being recognized as the face of Mercedes Benz Fashion Festival Brisbane and modeling for enviable labels must have some influence on your own style. How has your taste evolved since the rise of your modeling career?
Adele: I suppose I have been fortunate enough to see and wear international designer pieces before the general public, giving me an advantage on trends and my personal style, but after dealing with high end labels I have a new found love for 'found pieces and vintage items, I guess adding a quirky element to my everyday style. Topshop's Vintage range (coming soon to Australian stores) is perfect for this!
A rose among..gorgeous suited males?? Adele, the face of Mercedes Benz Fashion Festival Brisbane
Imagery sourced from: The Courier Mail 
Q. Many Brisbane fashionistas' aspire to become part of the fashion landscape through careers in blogging, styling, journalism, modeling etc. From the perspective of a fashion insider- how important is it to define a unique sense of style and how can this be achieved through personal shopping services?
Adele: The great thing about the Service and the reason I am in store is to not redefine someone's style, but perhaps help enhance or even bring out an inner style that they never knew they had. Style is not all about the labels on your back, but more how you wear what you do with confidence. I am here to assist in editing a vast range of style options and bring out that inner beauty, to make our clientele naturally stand out in the fashion landscape. In a very competitive industry I think there is always an advantage to standing out in the crowd, being remembered.
Q. Shopping for someone's style is a very personal experience, what are some key elements to consider when advising women on personal style? 
Adele: Whenever I am booking a client in I am sure to get as much information as possible to I can hand select the correct items before they arrive, I think it is always important to consider complexion, body shape, height, as well as age. The beauty of the private shopping suites is that in the privacy of your own luxury change room you can feel comfortable and open to talk honestly about ones style. There is a level of trust that I build with my clientele to make sure they are walking away completely satisfied.
Q. What are your top summer staples in your personal wardrobe?'
Adele: I'm in love with high-waisted a-line skirts at the moment. They add a level of class while still being cool on those warmer days. Crop tops are great fun to add under a tunic or over-alls, or just worn with high waisted jeans. Kimono's are pretty on-trend and I have a couple which I rotate with jumpsuits for evening and my bikini at the beach!
SHOP ADELE'S STAPLES:
Q. What summer trends will you be recommending to your fashion clientele?
Adele: It's all about the co-ord, that is coordinated tops and bottoms, whether it's a cropped top and cigarette pants, or a lightweight, two-piece, pencil skirt, suit. There is a strong trend of clashing prints as well as matching prints, the brighter, the better!
Q. A young Brisbane fashionista has consulted you for some styling advice to find the perfect outfit for a fashion event. Describe your favourite look for a fabulous occasion.
Adele: Pretty with a slight grunge edge, so adding boots with a dress or biker jacket over something unexpected, creates a modern, stand out look for any budding fashionista!
Q. A savvy shopper…….
Adele: knows how to 'edit down'. If that isn't you, let me help you decide what's best.
---