A Minnie Moment with Pandora
Tuesday, December 15th, 2015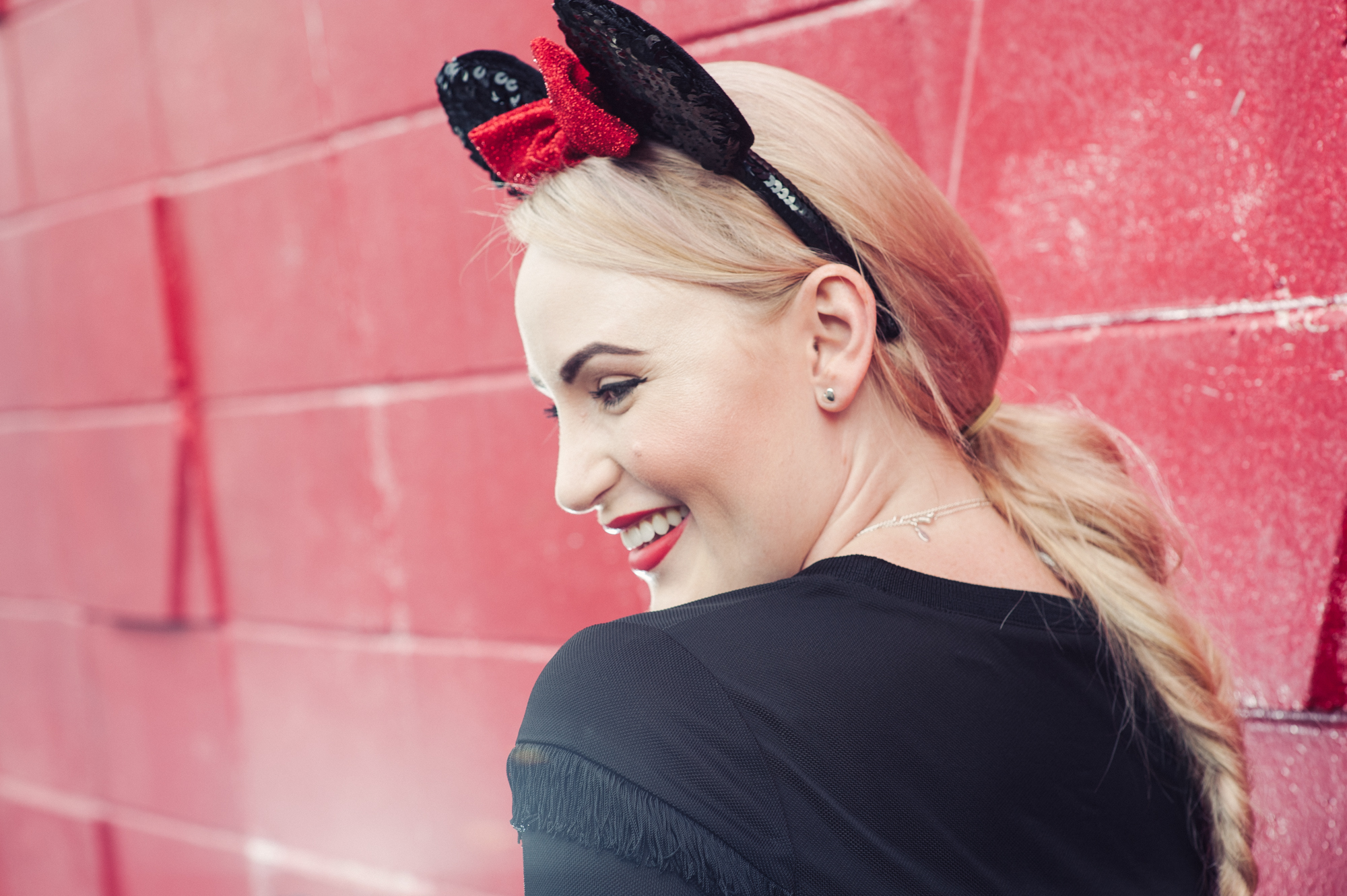 Portmans Lace Stripe Pencil Skirt (available at DFO Jindalee), Country Road Fringed T-Shirt, Wittner Rover Heels, Pandora Disney Minnie Pendant, Pandora Disney Minnie Cupcake Pendant, Pandora Starshine Stackable Ring, Pandora Starshine Solitaire Ring, Pandora Rounded Pave Eternity Ring, Pandora Alluring Brilliant Marquise Cut Ring, Pandora Open Heart Pave Ring, Pandora Hearts Stud Earrings.
Growing up I was totally obsessed with everything Walt Disney, and I'm happy to report that at 26 years of age, nothing much has changed! Upon hearing that Pandora were releasing a Disney Collection, I started thinking about styling the perfect #ootd to team my sequinned, Minnie Mouse ears from Disneyland with. Can you imagine how excited I was when these gorgeous little Minnie Mouse pendants arrived at The Blonde Silhouette HQ? Ladies, if you too love Disney and beautiful jewellery, then you must check out Pandora's Disney Collection, and add a few pieces to the wish list. After all, Christmas is only a mere moment away!
With monochrome being such a timeless statement, I decided to keep things simple and chic (with a few bright red accents of course!) I came across this elegant Portmans skirt on one of my successful shopping trips to DFO Jindalee, and I instantly fell in love with it! As I love playing with multi texture, I have teamed this piece with a fringed top from Country Road – and I love the extra depth and dimension this combination creates.
Such a cute little outfit should never be wasted, so I headed to my local cinemas (sans ears) to see The Dressmaker with a girlfriend. I'de heard so much positive word about this motion picture and was eager to see if it lived up to it's reputation, and I'm happy to report it most certainly did. Not only was Kate Winslet exceptional with her Aussie accent and Liam Hemsworth exquisite (*drools), the story line had real depth, intrigue and some fantastic moments. Not to mention the 1950's fashion decade just gets me! Let's just say, this movie is far more than just a "chick flick", and is well worth a watch.
Of course my DAILIES TOTAL1 contact lenses made the experience even more enjoyable, giving my tired little eyes some long distance support, and allowing for a sharp, crisp viewing of the Aussie film. I'm finding with each wear I am amazed at how breathable and comfortable these lenses are, and then there's the added bonus of their disposable nature. Now's the perfect time to trial the DAILIES TOTAL1 technology, by visiting your local Optometrist. Otherwise, visit the website for deets!
SHOP THIS LOOK:

Photography by Erin Smith Photography
---