Spot me at the ekka
Monday, August 12th, 2013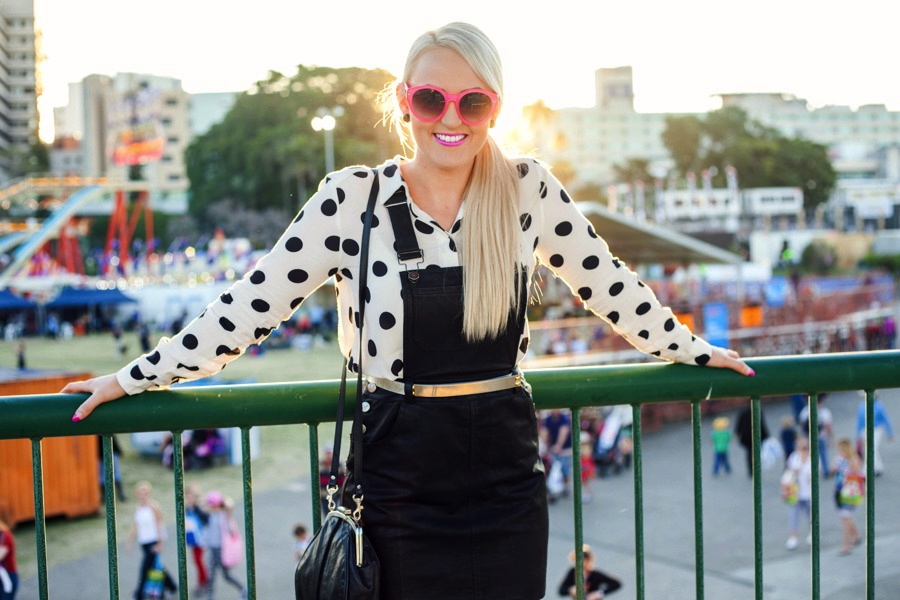 Bardot Polka Shirt, MINKPINK Mod Squad PU Dress, Sheike Ella Leather Belt, Jo Mercer Gambia Heels, Quay Eyewear UM_TRE Sunglasses.
Just last weekend my favourite Brisbane blogger companion, Yolanda from BNEstyle and I were invited to experience the first official weekend of the Ekka 13. With both of us recalling our last Ekka experience as high school days, we faced an uncertainty on the outfit front- how does one look relaxed and causal, yet fun and exciting and most importantly fashionable…at the same time???
After hours of outfit planning, I ended up channelling a carnival inspired look with a monochromatic polka dot sheer top, which was also very practical given the hot Queensland sun that greeted us early afternoon. This pattern was then paired with a heavier texture seen in the PU leather dungaree dress by MINKPINK, adding a cool, on trend essence. As a final touch, my love of the colour pink was introduced through a pop of bright fuchsia seen in my sunglasses. These babies recently arrived for me from The Iconic and not only are they super cute but they were a complete steal! If you're a girl wanting quality sunglasses for a cheap price, definitely check out the Quay Eyewear collection at The Iconic (link above).
Our day started at the Commbank Natural Fibres Fashion Parade showcasing new collections from both established and up and coming Queensland fashion designers. The exquisite pieces were both aesthetically beautiful and eco-friendly, made from natural resources of wool, cotton and silk. 
After the fashion parade, Yolanda and I battled the Brisbane crowd throughout RNA show grounds stopping at the Animal Nursery, Sideshow Alley and a quick ride on the ferris wheel.
Image from BNEstyle

Posing for a snap with Juliette from Lace N Ruffles
A busy day indeed, filled with scouting style, reporting fashion and dictating trends…otherwise a typical day in the life of a Brisbane blogger….
---