Ready, Set, Ibuki!
Wednesday, August 12th, 2015
There's nothing more fashion forward than healthy, glowing skin and as I've come to find, it's not quite as simple as a quick cleanse, tone and moisturise – it's about investing in the right products! From a young age, preteens to be exact, my mother taught me about the importance of good quality skincare products and introduced me to Shiseido.
When it comes to my skin, I can identify with all the usual skin concerns, combination skin, oily t-zone, breakouts and dry areas, but my main concern has always been sensitivity, as my skin reacts to harsh formulas, waxing and of course, the change of season. What I've found in Shiseido's Ibuki range, is that it's formula is super gentle and nourishing, leaving my skin feeling supple, hydrated and rejuvenated. Aiming to bring dull skin back to live, Shiseido's Ibuki formula builds a strong tolerance against UV rays, dryness and daily stress, along with breakouts, visible pores and roughness.
So here's how it works!
Step 1: Cleanse, Cleanse, Cleanse
Remove eye makeup and lipstick residue with a few drops of  Shiseido's Instant Eye and Lip Makeup Remover on a cotton pad. This little product combats those long lasting lip stains and waterproof mascara without leaving oily secretions on your skin. Next, it's time to cleanse. I definitely recommend both the Purifying or Gentle Cleanser, but find the Gentle Cleanser more compatible with my skin type. What I love about Shiseido's cleansers, is that you only have to use a small amount to cleanse your skin of daily toxins and makeup. I find myself using a pea sized drop mixed with a few beads of water for a generous lather. If I'm wearing particularly heavy makeup for a shoot or a special occasion, I'll repeat this step, but generally once is enough to leave my skin looking clean and hydrated.
Step 2: Soften & Moisturise

I like to think of Shiseido's Softener as a primer to help prep my skin for a softer feel and a deeper penetration of the moisturiser that follows.  According to Shiseido's research, this formula helps strengthen skin to resist problems. For daywear, I use the Protective Moisturiser with it's SPF15 formula, perfect for those scorching Queensland summers. The Refining Moisturiser is my night moisturiser as it renews the surface of skin, targets fine lines and leaves skin feeling dewy, rich and moist.
Step 3: Age Defence & Correcting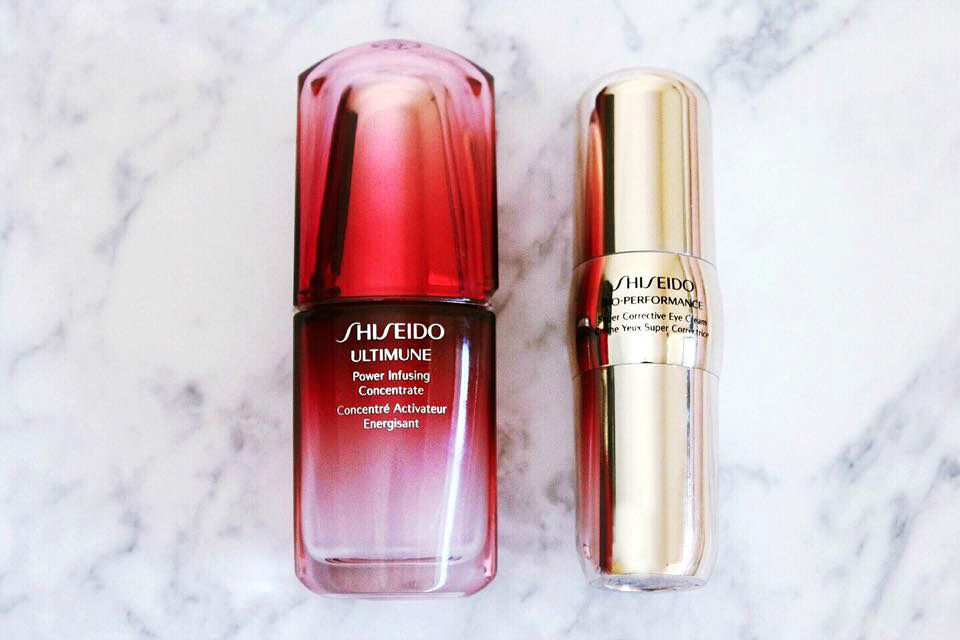 It might sound premature, but I'm concerned with my skin ageing quickly, given that it is so fair and susceptible to sun damage. In the last year, I've been switched onto Ultimune, Shiseido's tested, age defence formula designed to stunt ageing and keep skin looking youthful and radiant. Applied directly after moisturising in the morning, Ultimune recharges skin with its soft, supple serum. Don't be afraid to apply a little pressure with a massage, to really activate the formula and target stressed areas like your frown line, forehead, crows feet and the fleshy party of your cheeks. Lastly, target darker circles, wrinkles and puffy eyes with Shiseido's Bio-Performance Super Corrective Eye Cream. Having used corrective eye creams from other brands in the past, I've experienced the worst, including sensitivity, inflammation and irritations, but with Shiseido's gentle formula, my eye areas look refreshed, hydrated and lifted.
If I haven't convinced you, I encourage you to visit Shiseido for a skin consultation and perhaps ask to sample the Ibuki skincare range. Otherwise, check out the website! Who knows, it could be the best thing you ever do for your skin!
SHOP THIS POST:

---