Queen of Hearts.
Friday, February 14th, 2014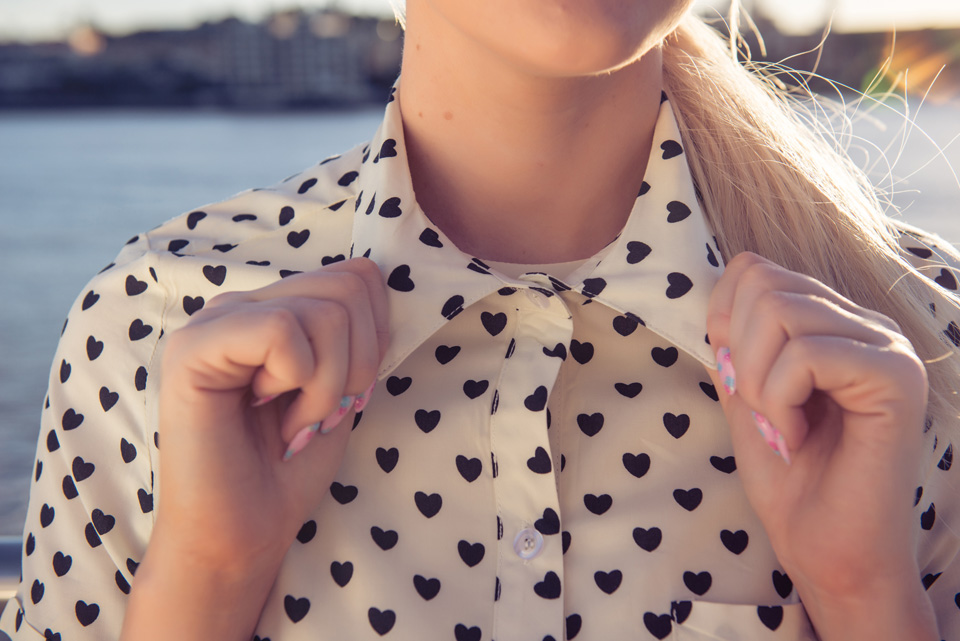 St Frock Christopher Blouse,  St Frock Simplicity Swing Dress, Jo Mercer Tanessa Heel (similar style here), Mimco Crystal Dome Stud.
It comes at no surprise that there is much mixed emotion surrounding Valentines Day. Some people love to love it, others love to hate it and those that fall into neither category decide annually depending on their current relationship status. Being a single lady, I look forward to celebrating Valentines Day by spoiling myself- and no, I don't mean by overindulging in Macaroons and sending myself flowers….. despite how delicious that does sound.
I never thought I would say this, but this year I'm staying clear of the cliches: goodbye pink, red, pastels and candy hearts. Instead, I'll be styling a chic, minimalist ensemble, teaming an ivory sheer dress with a monochromatic print. Forget Teddy Bears and other plush animals, there's nothing more adorable then this St Frock Christopher Blouse in heart print- certainly fitting for the occasion, don't you agree?
To all my lovely followers, I wish you a beautiful St Valentines! May your day be as special as you. As for me I have the dream date… a sunset stroll along the jetty, scattering delicate rose petals with my two amazing dates: my darling photographers, Erin Smith Photography and Ghassani Swaryandini. What can I say… I'm a lucky girl.
As a final kiss, I present a little #bts video With Love, captured by Erin. Talk about multi tasking! Show some love this Valentines day and subscribe to The Blonde Silhouette's Youtube channel and the channel of my talented photographer, ErinEopso….ex oh!
SHOP THIS LOOK:
Photography by Erin Smith Photography and Ghassani Swaryandini
---