Garden of freedom
Monday, October 28th, 2013
"Because the Garden of Eden is far too spectacular to just...eat fruit"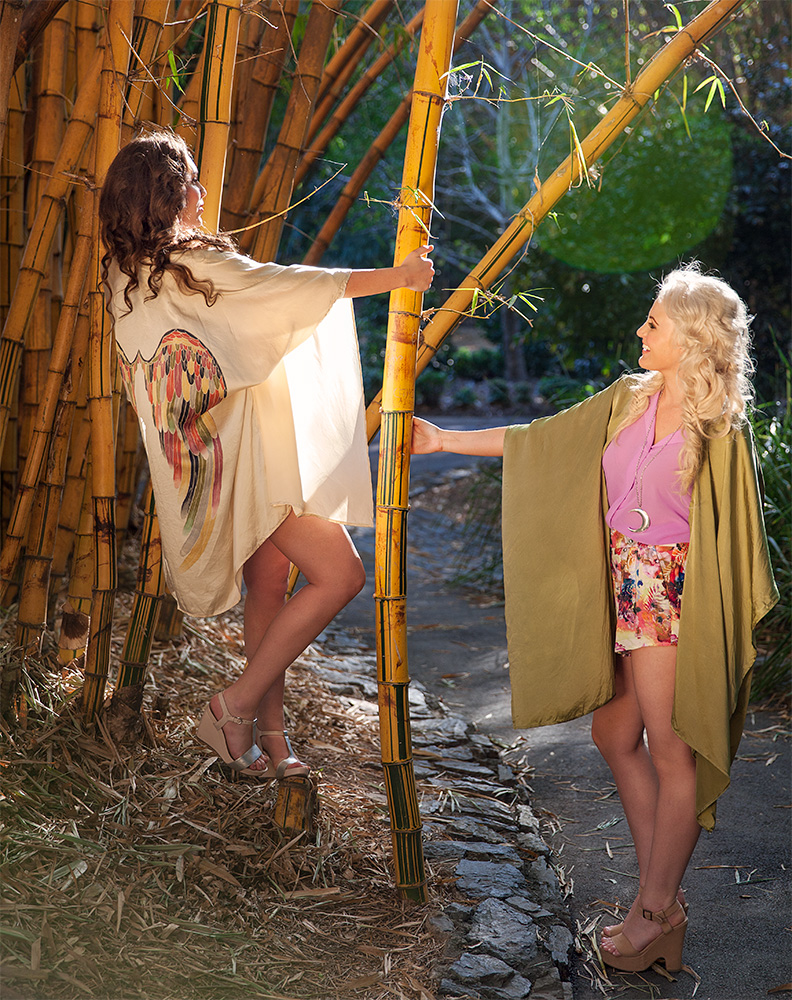 I'm wearing floral shorts and a pastel sheer top from Vigari Fashion, Lisa's Closet Arch Angel Kimono (olive), Hunter Gatherer Statement Necklace, Hunter Gatherer Rose Quartz Ring, Wittner wedges (similar here).
Jemma is wearing summer shorts and a white sheer top from Vigari Fashion, Lisa's Closet Arch Angel Kimono (cream), Hunter Gatherer Arrow Necklace, Hunter Gatherer Moon Crescent Necklace, Jo Mercer Dice wedges.
Spending our sunday surrounded by sunlight glistening through jungle trees, amongst brightly coloured flora and fauna- otherwise a twilight sanctuary for us Brisbane creatives. Caught in a beautiful spring breeze and watching our exquisite silk kimonos from Lisa's Closet flutter, made me feel free, peaceful- rich in natural beauty and happiness. In an attempt to capture Bohemian hearts, Jemma and I are wore relaxed pastel and fruity colours, playful pieces from Vigari Fashion. A love of multi- texture was seen through the layering of chiffon and silk, which was garnished with crystal and silver trinkets from Hunter Gatherer. Our wild spirited nature was abundant, from our curly, untamed fishtail braids and soft, natural makeup. We were one with the earth, happily lost in the beautiful garden…The Garden of Freedom.
I'm wearing a floral playsuit from Vigari Fashion, Hunter Gatherer Crystal Trinket Bracelet Set, Hunter Gatherer Raw Crystal Ring.
Jemma is wearing Finders Keepers New Baxter Playsuit (available at Vigari Fashion), Hunter Gatherer Tassel Bracelet, Hunter Gatherer Quartz Crystal Ring, Wittner Wedges (similiar here).
Photography by BNEstyle
Styling by The Blonde Silhouette
MUA by Alana Rose Makeup Artistry |Hair styling by Faith Williams
Models Jemma Lily and The Blonde Silhouette
 Assistant to photographer Alisha van Kimmenade
---