Falling In Love With Fall Fashion
Thursday, May 11th, 2017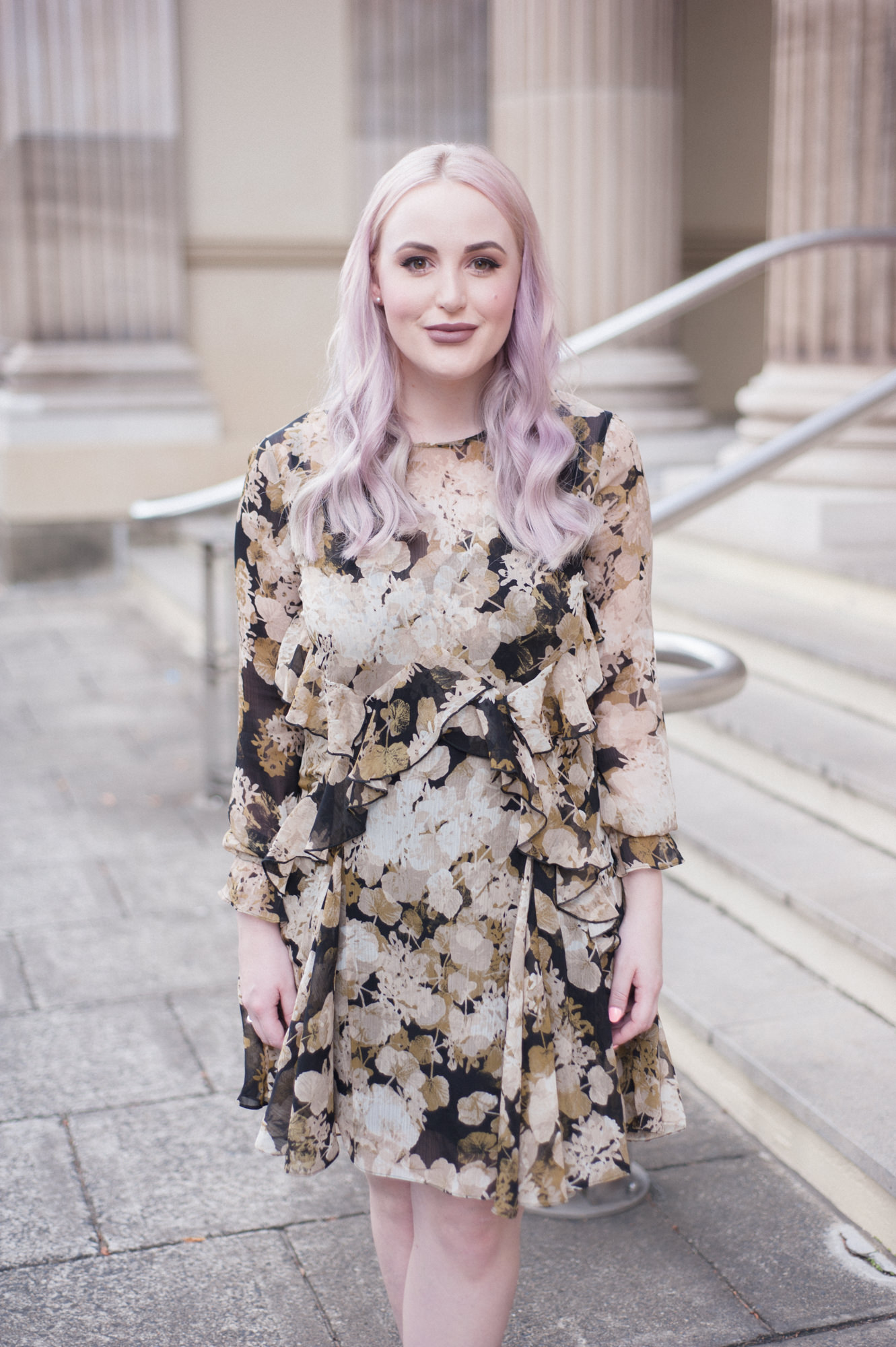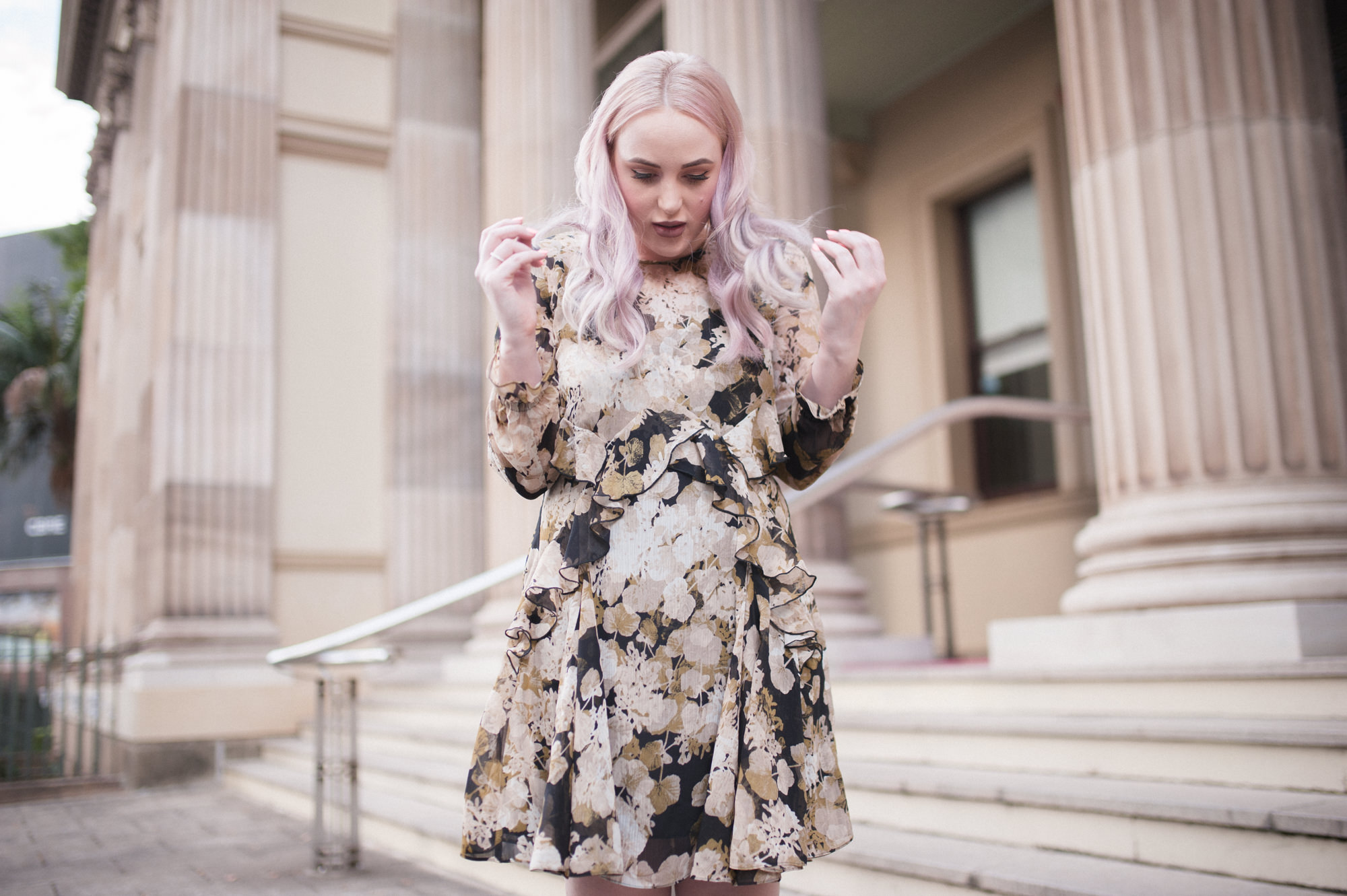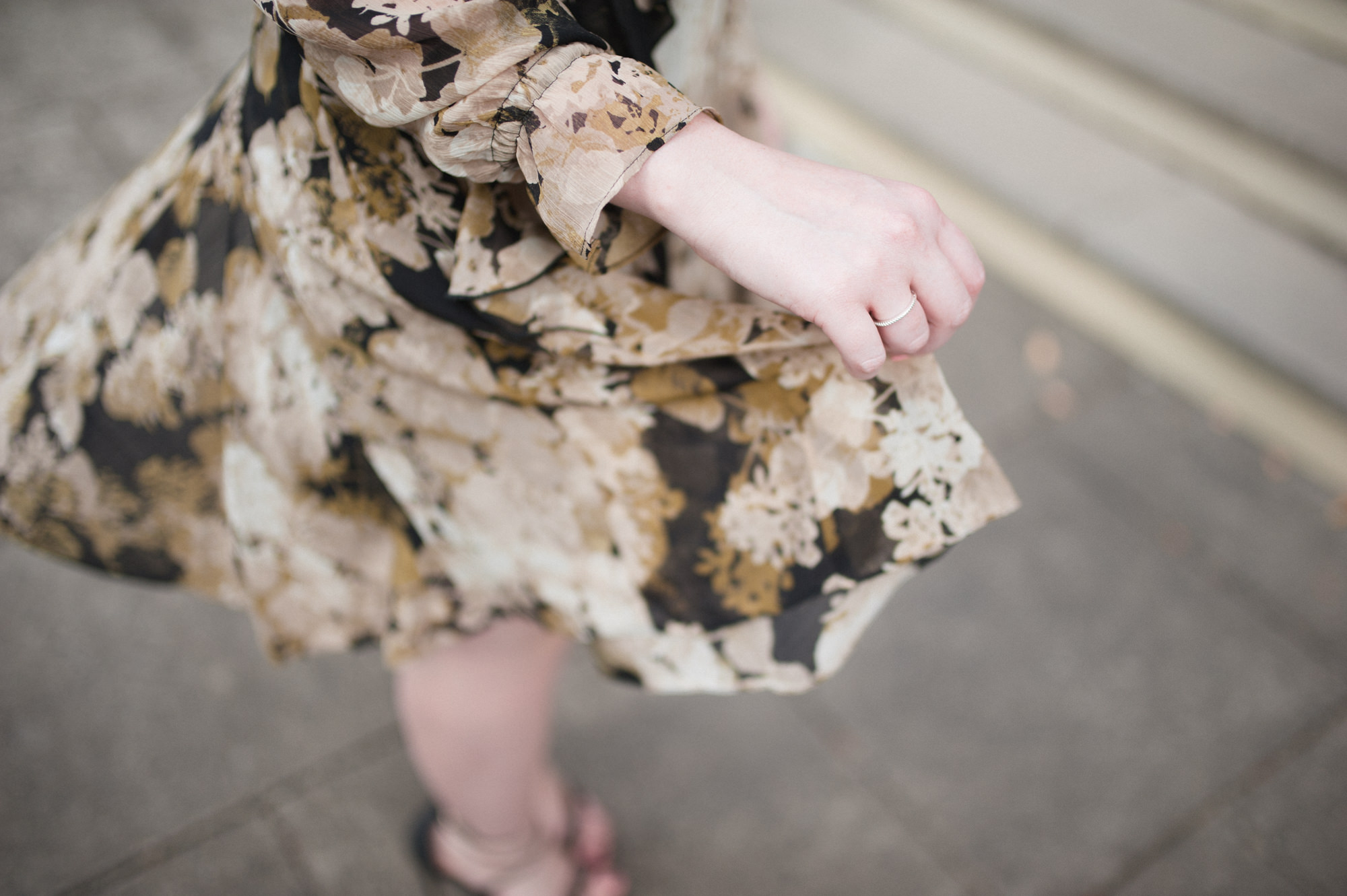 Saba Memento Dress, Michael Hill Freshwater Pearl Stud Earrings, Michael Hill Sterling Silver Ridged Stack Ring, Tony Bianco Heels (similar style here).
I'm falling completely in love with fall fashion this season, from stepping into that familiar ankle boot, to the light layering that constitutes your #ootd, but in particular, I'm loving the colour palette. I saw this darling, warm earthy print dressing a fall window display for one of my favourite brands, Saba. Immediately, I knew this floaty, ruffled masterpiece belonged in my wardrobe, to be styled with heels for a little romp in the city, or teamed with opaque tights and ankle boots for a day in the office.
Of course its the attention to detail that enhances an ensemble and this perfect pair of cultured pearls from Michael Hill, offer just the right shine. These little jewels have been the subject of compliments lately, with everyone remarking how they throw a pinky hue against my hair. So obsessed! Paired with a dainty silver stack ring (also from Michael Hill), I'm keeping my jewellery statement simple and chic. What can I say, I love the classics!
What fall fashion pieces have got your heart racing this season? I'de love to hear about your go-to's in the comments below!
SHOP THE POST:
Photography by Erin Smith Photography
---
Contour & Highlight: The 4 Palettes You NEED In Your Kit!
Friday, May 5th, 2017
Just when I think I've got the whole contour and highlight skills mastered, Napoleon Perdis drops the ultimate game changer, the Total Bae Tone It Reflective Contours.
Napoleon Perdis Total Bae Tone It Reflective Contours in I've Seen The Light, Preach To Peach, Gold Seeker, Hot To Trot.
Defining and accentuating your best facial features has never been so effortless then with the velvet smooth formula of Napoleon Perdis Total Bae Tone It Reflective Contours. What's truely unique about this range, is each palette is comprised of a warm depth of colour, infused with angelic pigments that reflect and absorb light, to better sculpt and enhance your facial structure.
When it comes to correct contour and highlight application, the Napoleon Perdis Goddesses recommend,
"To tone-up your complexion, accentuate the high points of your face with a shade that is lighter than your skin tone. Then sculpt or slim with a shade darker than your skin tone."
I'm utterly obsessed with I've Seen The Light and have been using this to illuminate my high points. Every time I have worn this, I get compliments on the diamond like finish, it's absolutely flawless! On my cheekbones, you'll find me sweeping a combination of Preach To Peach and Gold Seeker to achieve that healthy, golden glow.
Of course, your best contour and highlight work is brought on by the best equipment, so upgrade your brushes today with the exquisite quality of Napoleon Perdis Brushes.
SHOP THE POST:
---
How To Wear Wide Leg Pants in Autumn
Monday, May 1st, 2017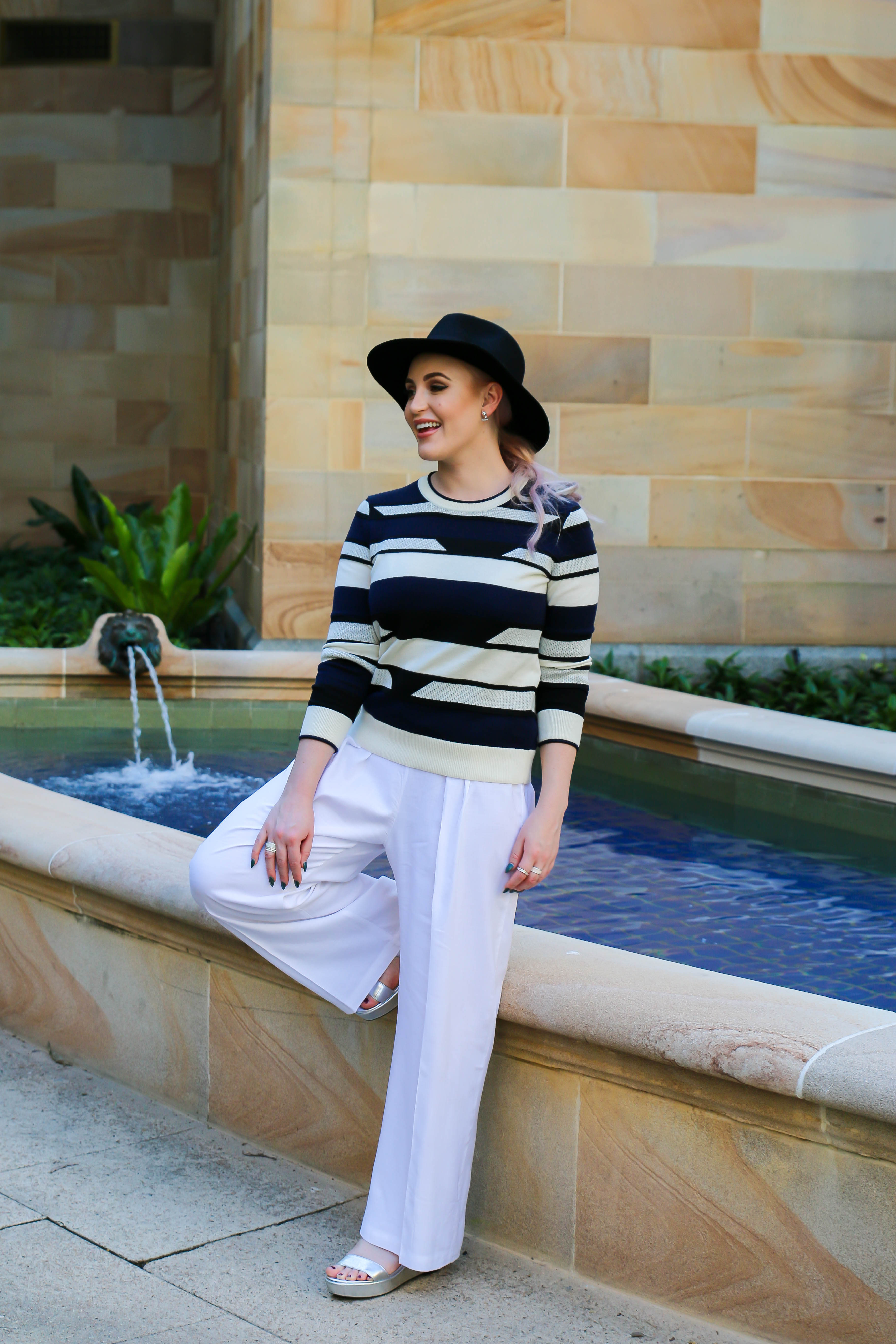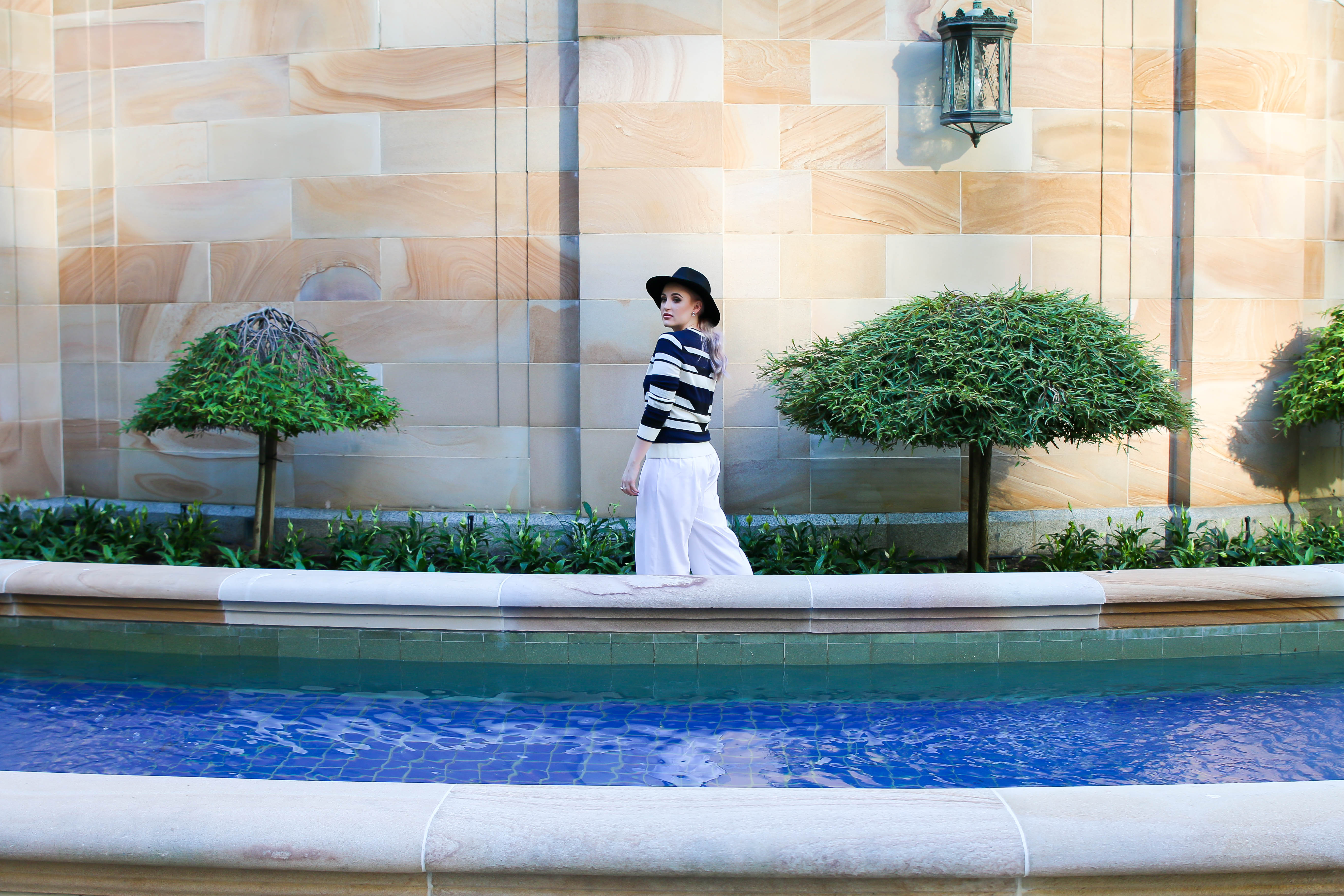 MLM Label Pants, Marcs Glitterbox Geometric Panel Jumper, Seed Fedora (similar style here), Wittner Flatforms (similar style here), Pandora Soft Pink Hearts of Pandora Band Ring, Pandora Pearlescent Hearts of Pandora Band Ring, Pandora For Eternity Ring, Pandora Swirling Symmetry Ring, Pandora Ring Of Daisies Ring, Pandora Abstract Elegance Earrings.
Weekends are for carefree wandering, brunch and delicious bites and time with your favourite friends and fam. Of course, there's a particular style of pant that I practically live in on a weekend and that my girls, is the wide leg pant. Well into Autumn there's still plenty of time to style this piece throughout the season, drawing upon their crisp, relaxed form and effortless nature. Here's how to wear wide leg pants this Autumn.
1. A light knit is the perfect accompaniment and this stripy find from Marcs is my current fav. Did I mention this little jumper is now on sale – snap it up cuties!
2. Flatforms over flats. It's still (semi) warm outside, so you'll easily get by with a sandal or in this case, a flatform. I love the look of a splash of metallics as seen in this Wittner pair.
3. A fedora is both sun safe and stylish so enjoy your brunch with a sunny, seaside view. A black felt fedora is the ultimate cheapeau to add to your accessories collection.
4. Complete with some stackable rings. I can say with confidence that Pandora will have a fabulous selection, like the pieces I am sporting.
I'de love to hear your tips for how to wear wide leg pants this Autumn. Drop me a note in the comments below fashionistas!
SHOP THE POST:
Photography by Folk And Fawn Photography
---
The Red Queen
Tuesday, April 18th, 2017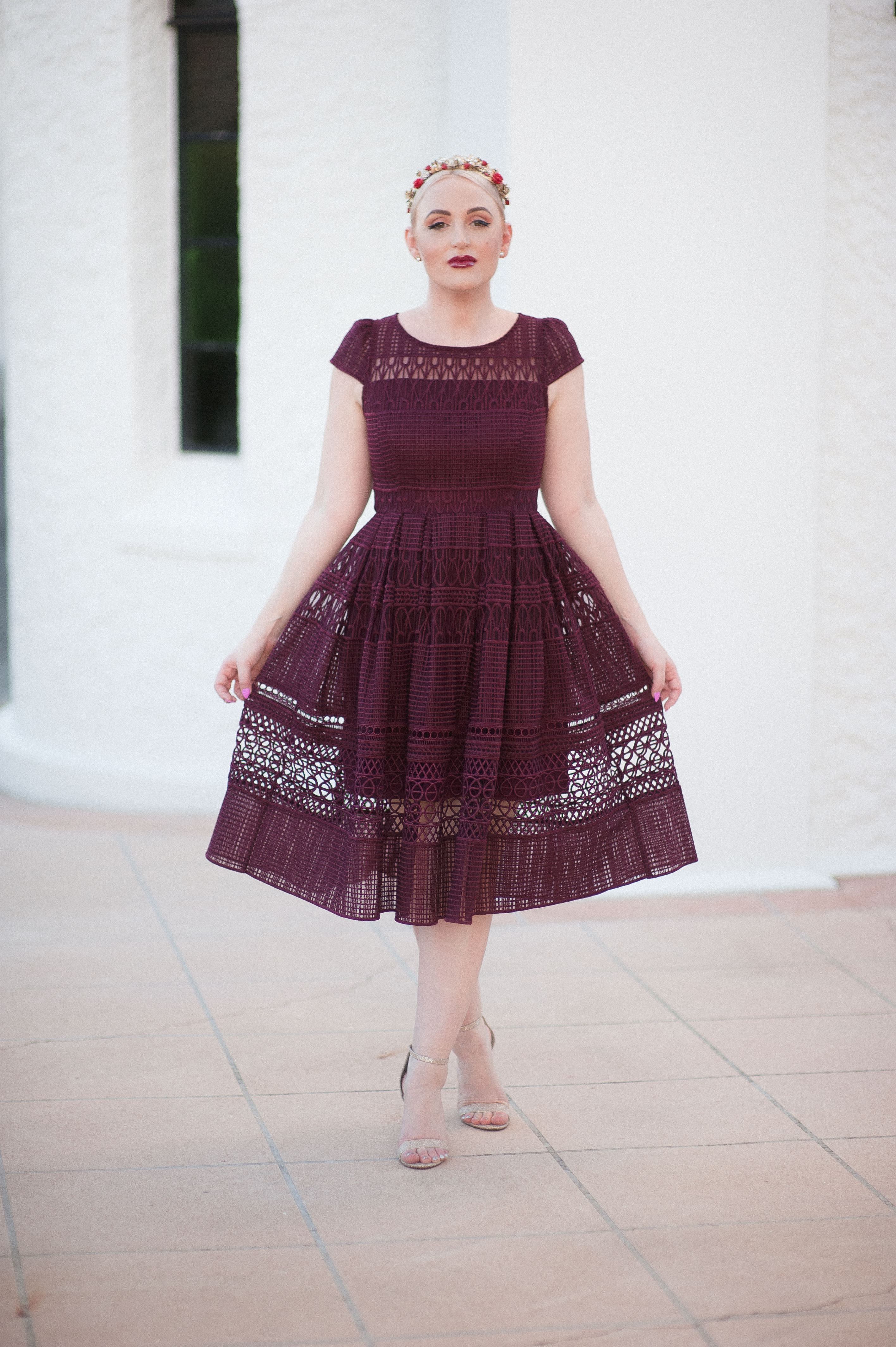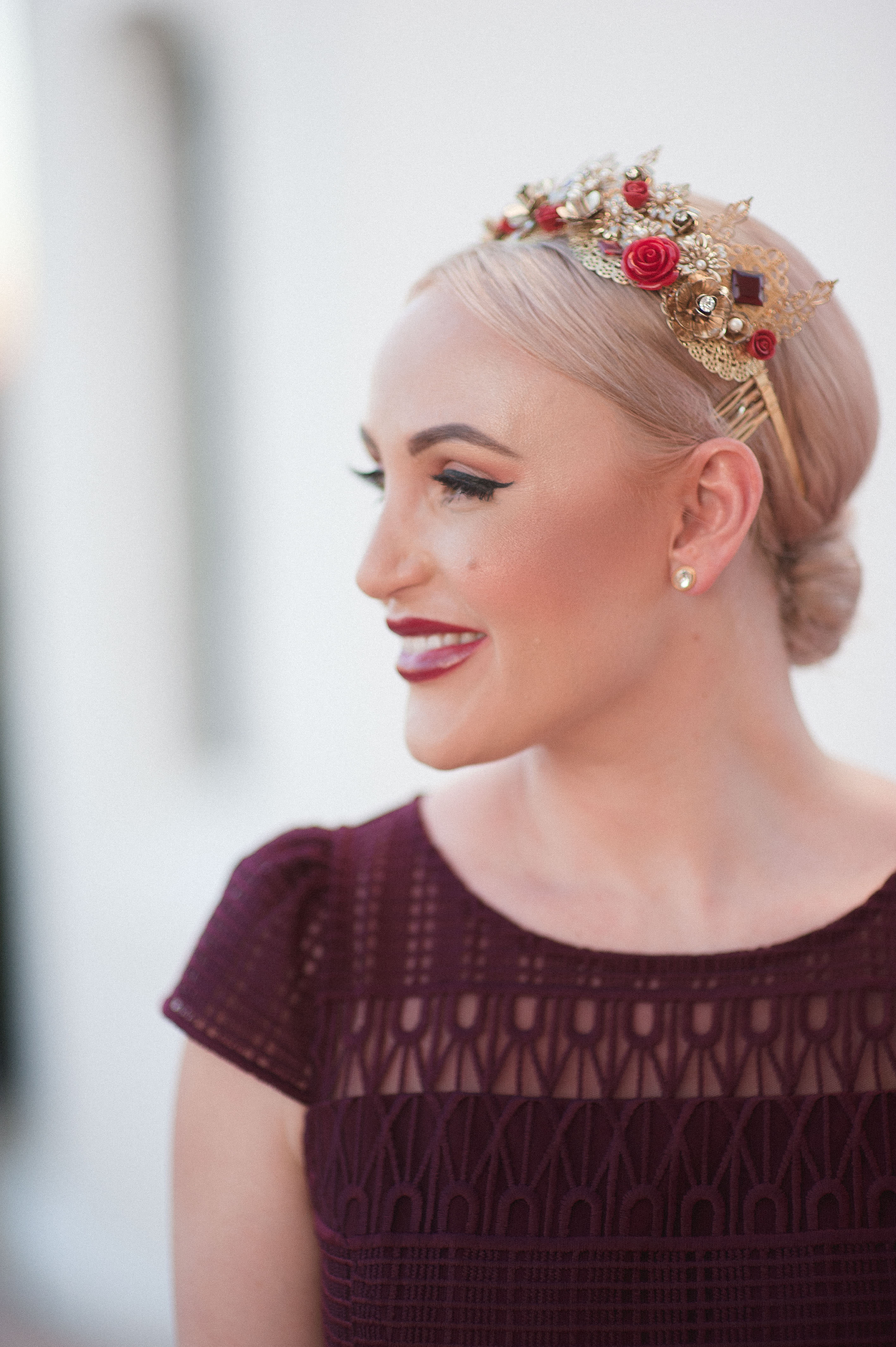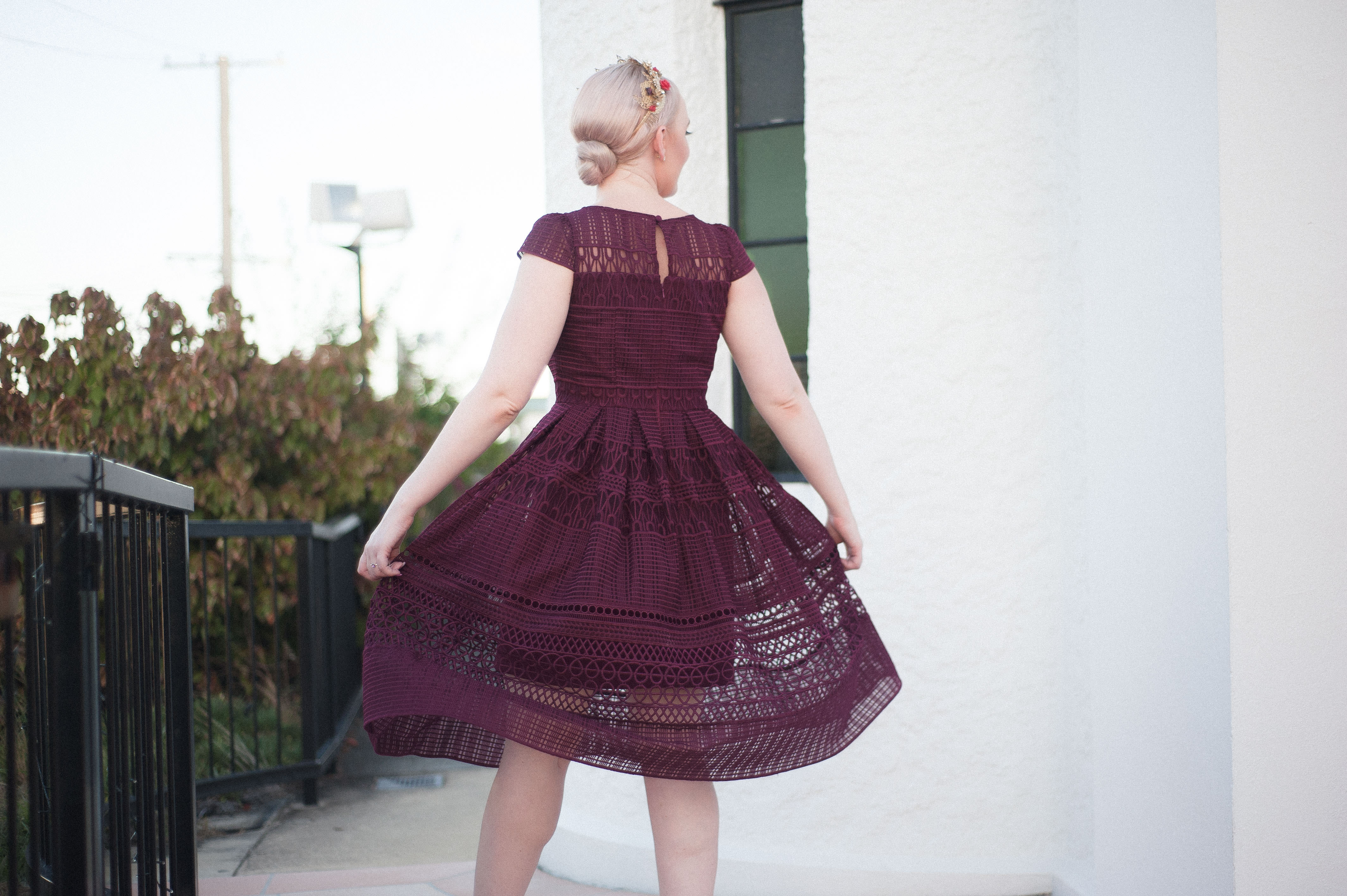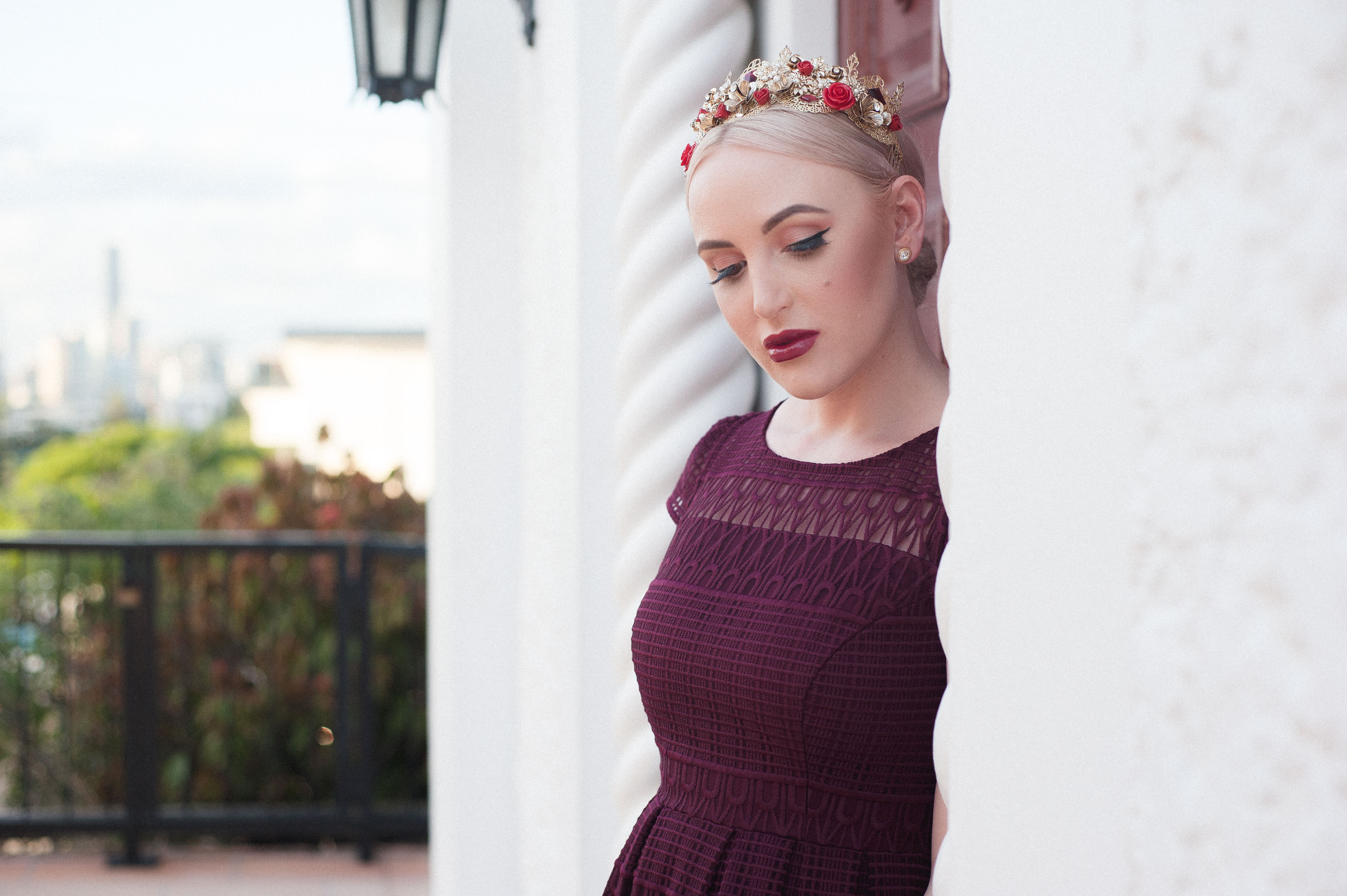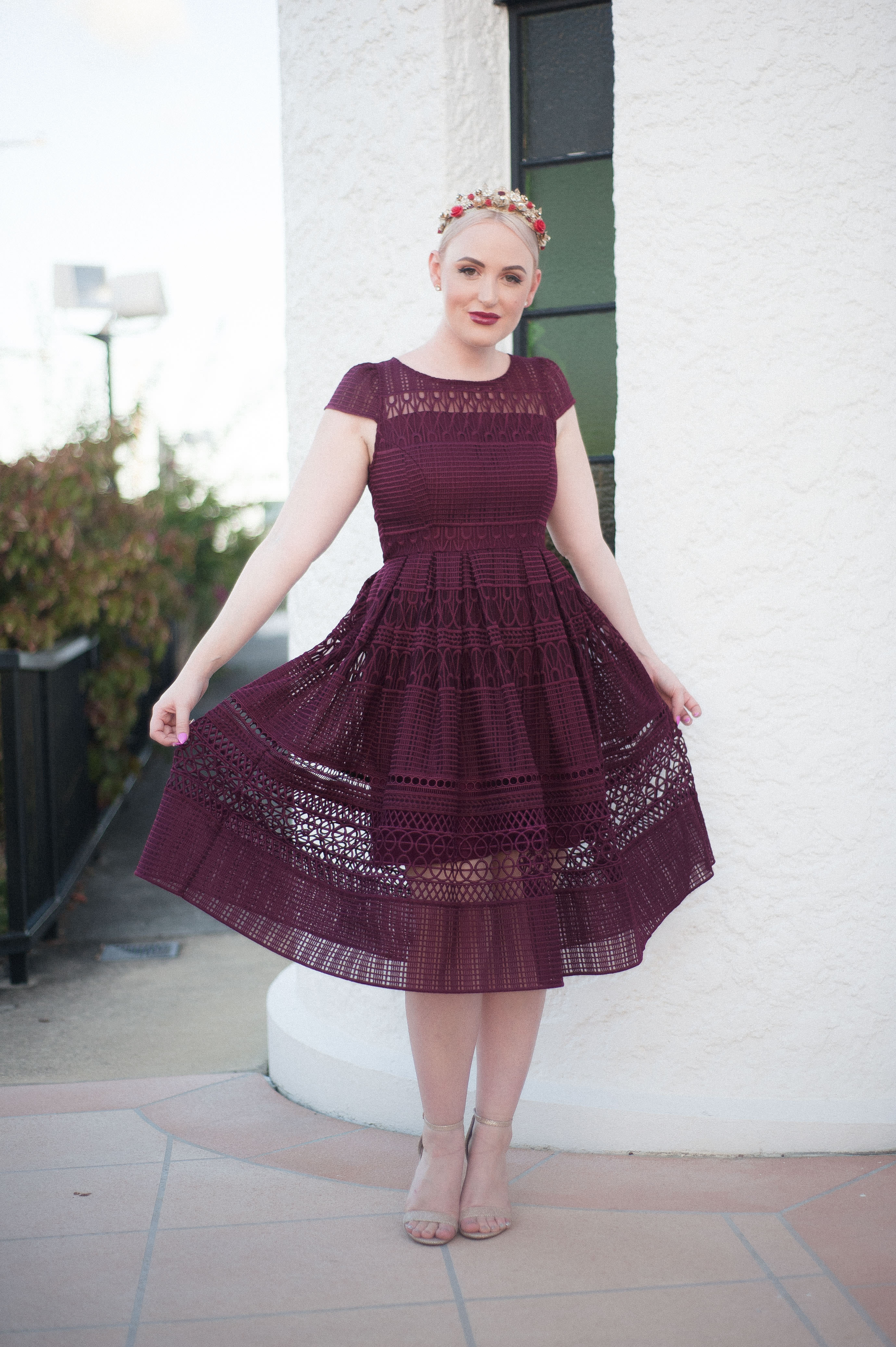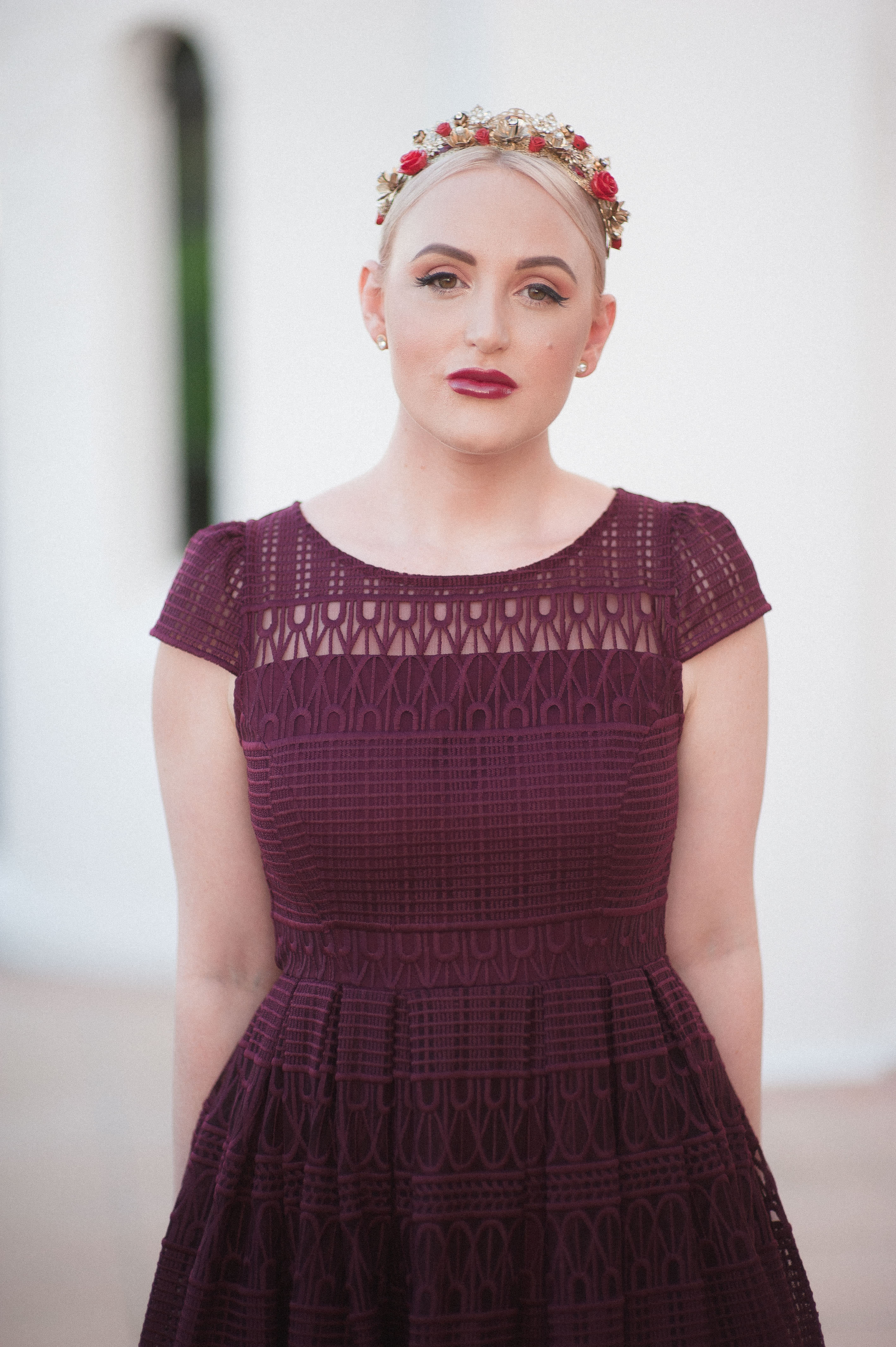 Review Dress (similar style here), Marilyn Van den Berg The Red Queen Crown, Sachi Shoes (similar style here).
It's impossible not to feel those queen vibes while wearing such a rich and opulent colour as this seductive wine shade. Branching out from their signature floral and feminine fabrics, Review are serving up a statement with this bold, geometric lace dress. Unsurprisingly this little piece sold like hotcakes and is no longer available to purchase (tear!) however there are some absolute gems amongst the new arrivals! 
SHOP THE POST:
Photography by Erin Smith Photography
---