New, New Napoleon Perdis!
Thursday, February 2nd, 2017
First beauty post of the year is reserved for a little sneak peek sparkle, as I unveil an exciting drop of new beauty products! Napoleon Perdis, delivering the makeup goods as usual and helping me change my beauty game with some popping summer colours, shimmer and staples.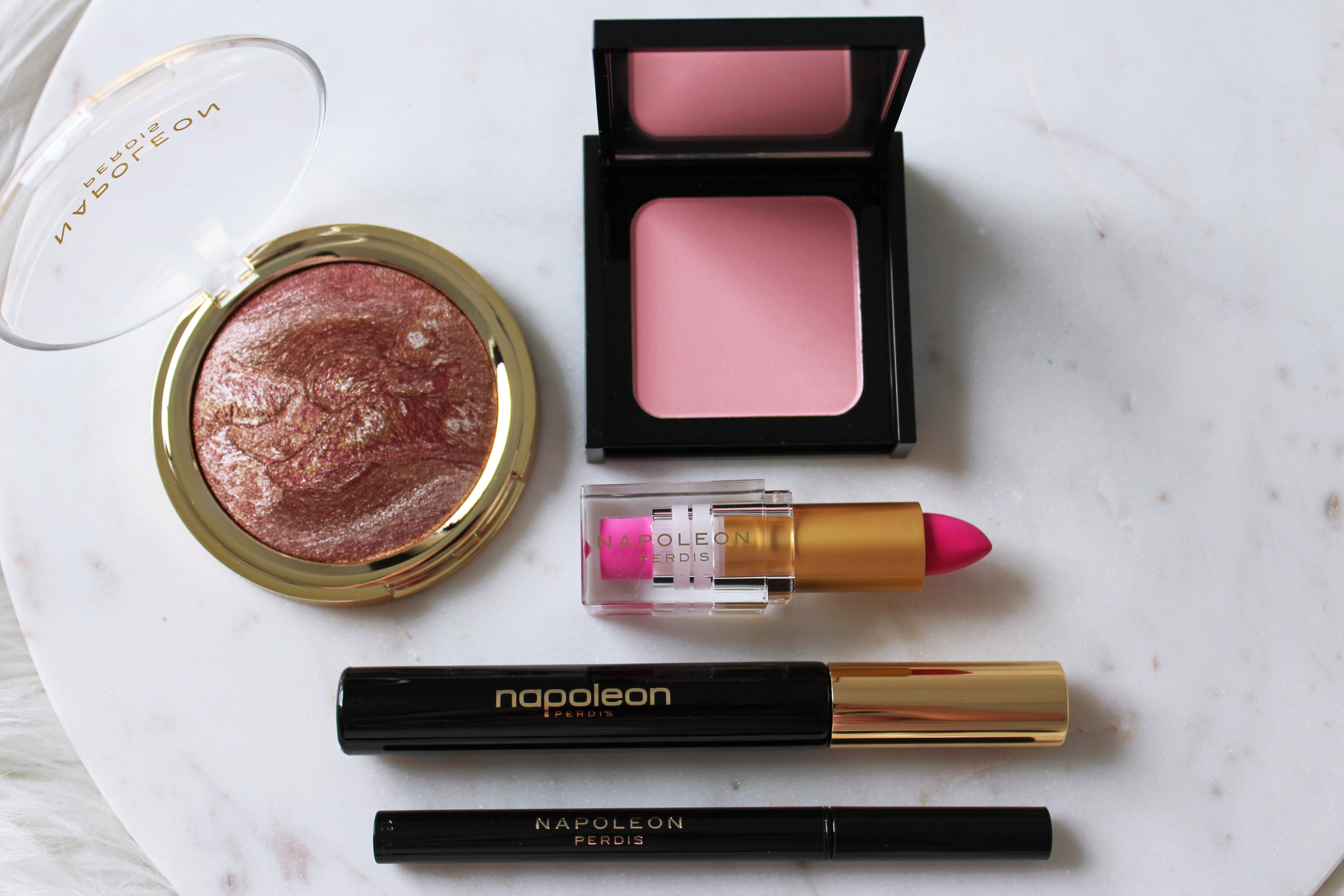 Napoleon Perdis Blush Patrol, Napoleon Perdis Rebirth Of Venus Skin Renewel Cleansing Oil, Napoleon Perdis Total Bae – Blush It! Cheeky,  Auto Pilot Pre-Foundation Skin Primer, Napoleon Perdis Peep Show Madame Beyond Mascara, Napoleon Perdis Neo Noir Liquid Eyeliner, Napoleon Perdis Divine Goddess Lipstick in Lynx and Erato.
I've gone into swatch mode at The Blonde Silhouette HQ, trying out the gorgeous new arrivals from Napoleon Perdis. Let's start with the most exciting part of any beauty boudoir – lipsticks, lipstains and gloss. I'm primping my pout with 2 exciting shades from the Divine Goodess range, featuring a flirtatious fuchsia, Erato and a mysteriously cool mauve,  Lynx.
Next, I'm perfecting the art of the Cat Eye, with precision using the Neo Noir Liquid Eyeliner. Having tested this little beauty for a night on the town, I can vouch that this product allows for a seemly, effortless application and the colour is so deliciously dark black. Of course, no Cat Eye is complete without a heavy set lash, and the Peep Show Madame Beyond Mascara is a game changer for those lashes.
Another favourite of mine from this drop is the Total Bae- Blush It! Cheeky. With a name so perfectly fitting, this cheeky little cheek compact features a girlish, rosy rogue to bring that girl next door beauty to life.
One thing I can always expect from my favourite beauty brand, are products so perfectly packaged they look too good to use. Take this gorgeous, marbled blush compact, Blush Patrol. Featuring highly pigmented hues with a shimmery finish, this beautiful bronzer has been garnishing my cheeks for that fresh, "I just spent my summer in the Hamptons" glow.
Love this little beauty batch? Why not check them out and more, by shopping my selects below!
SHOP THE POST:
Spring Beauty Haul: 5 Things To Add To Your Kit
Tuesday, October 11th, 2016
Brushes, lip stains and bronzers – oh my! Here are the five beauty goodies you should be treating yourself to this spring.
Beginning Boutique Flawless 6 Piece Brush Set, Stila Stay All Day Liquid Lipstick in Carina, Sephora Collection Rouge Infusion Lip Stain in Peony, Sephora Collection Fingertip Eyeliner, Napoleon Perdis Mosaic Powder Collection.
New Makeup Brushes. Take your application to the next level by upgrading your equipment with some new makeup brushes. This six piece travel kit by Beginning Boutique recently came into my possession and I am in love! The bristles are so soft against my skin, while the black and rose gold hardware make these a stylish buy!
Colour Pop Liquid Lipstick. Stila delivering the goods with this flawless Stay All Day formula, and in a wicked neon shade no less. This one's a no brainer for those that love a statement lip and an easy application.
Bronzing Powder. Add that summertime shimmer to your complexion with the help of a bronzing powder, like this Napoleon Perdis must-have. What I love most about this product is the build-able colour and radiant finish. Not to mention, how darling is this mosaic pattern?
Liquid Eyeliner. For the most precise cat eye, I recommend the Sephora Fingertip Liner. Just as it's name suggests, this baby slides onto your finger to allow for the most controlled application. Did someone say #gamechanger?
Rosey Lip Stain. Because nothing says spring beauty like a soft and feminine shade of pink. Otherwise the perfect shade for brunch with the girls, this Sephora gem offers a rich hue and hydrating finish. What more could you want in a lip stain?
I'de love to hear your very own spring beauty buys fashionista's? Have you found the perfect volumising mascara or perhaps a must-have highlighter? Leave me a little comment below with your best tips!
SHOP THIS POST:
How To Get Over Toned Pastel Hair
Sunday, August 21st, 2016
I've been making boysenberry hair my signature since 2015, and I'm not about to change my lavender locks anytime soon! If you are ready to add a touch of pastel to your main mane without making a trip to the salon, then here's what you need to know!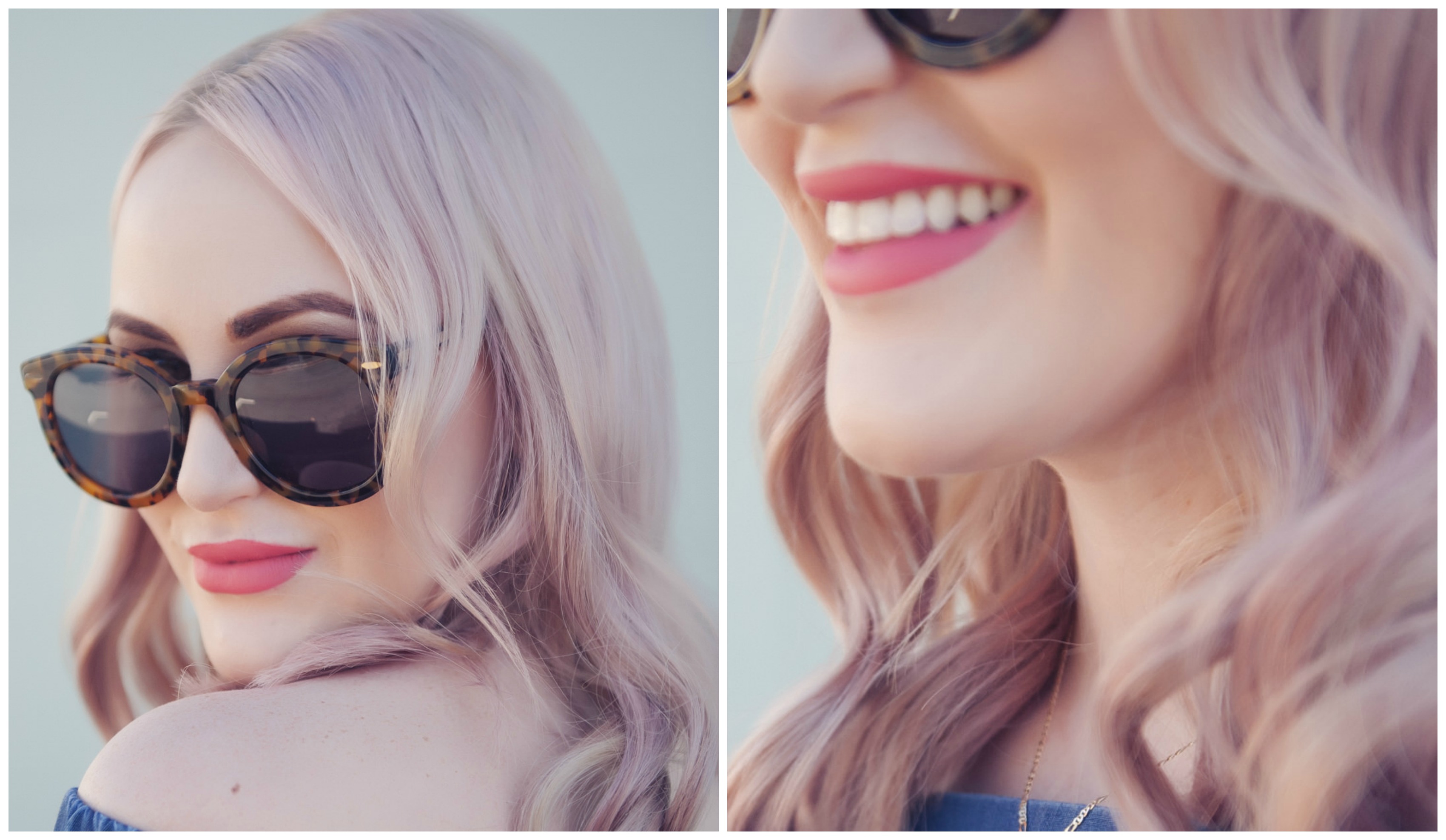 I just want to preface this little read by saying that I am not hairdresser, nor an expert on hair, however, I am using a salon recommended product to achieve my over toned pastel hair – a De Lorenzo Rosewood Shampoo to be exact.
Most blondes will be familiar with toning products, and similar to any purple based shampoo, the De Lorenzo Rosewood Shampoo reduces brassy shades of blonde, while reflecting pastel, lavender hues. But the best thing about this shampoo, is that you can control the intensity of your over toned tresses. For my lilac locks, I leave this product on for a good 2-3 minutes to create a soft, pastel shade. However, if your hair is more statement then subtle and you're after a more striking, violet hue, then you'll want to let this shampoo simmer for 5+ minutes.
De Lorenzo NovaFusion Rosewood Shampoo.
Before you start dreaming about unicorn hair, here's a few little tips and tricks from a fellow unicorn queen.
Tips:
Apply Rosewood shampoo with a paintbrush to ensure a consistent pastel tone throughout your tresses.
Combine with regular shampoo for a more subtle effect.
Repeat as necessary, as this pastel finish will fade and wash out in time.
Wash hands immediately after use, as this toner will stain your nails (trust me, I've learnt the hard way!)
When using throughout hair extensions, do lather and emulsify with water as quickly as possible to avoid patchy pastel shades.
Do continue to condition hair as per normal, for a silky shiny mane.
Tricks
Don't emulsify the product when washing your own hair, as this breaks down the colour of the product.
Don't use an exfoliating or deep cleanse shampoo after using the De Lorenzo Rosewood Shampoo as this will dull the colour.
Wash product thoroughly out of hair.
Are you coveting this over toned pastel hair trend? Have you tried the De Lorenzo Rosewood Shampoo before? Let me know what you think in the comments below!
SHOP THIS POST:
On The Beauty Table with Napoleon Perdis
Sunday, June 5th, 2016
Who said winter has to involve a darker colour palette? This season calls for blush, bronze and a hint of pink! Introducing the newest products to hit my beauty table, featuring my favourite beauty brand, Napoleon Perdis.
Eyes
Nothing emphasises a pair of peepers like a richly, pigmented eyeshadow, and the Napoleon Perdis Colour Disc in Amazon Jungle is my weapon of choice this season. I apply this pinky-tan hue as a base colour to my eyelids, and blend with a light sprinkling of the Napoleon Perdis Loose Eye Dust in Golden Peach, for a warm, dusty pink glow.
Of course a little shimmer goes a long way, so I recommend adding a metallic white shimmer to your kit, like the Napoleon Perdis Loose Eye Dust in Ice Storm. I add a light dusting of this powder to the inner corners of my eyes to create the illusion of bigger, bolder peepers, and underneath my brow bone for extra dimension.
Brows
I'm keeping my brow game strong with the Napoleon Perdis Couture Brow Kit. This handy little kit comes with all the essential tools to maintain a perfect arched shape with mini tweezers, a double ended brow brush, stencils and a compact mirror. Equipped with two different shades to create dimension throughout the brow, the velvety powders allow for an effortless and consistent application. A final disc of clear brow wax helps to tame any stray hairs, and keep your brows on fleek for longer.
Cheeks
It may be winter, but I'm keeping a healthy bronze glow about my cheeks with the Napoleon Perdis Mosaic Powder in Bronzing. Aside from looking beautiful on my beauty table, the mosaic pattern blends seamlessly together to create glowing cheeks and sculpted contouring. Now to get my hands on the other two colours available in this palette, Blushing and Flushing!
Lips
While nude and berry lips are on constant rotation, I'm still coveting pink pouts! The Napoleon Perdis Divine Goddess Lipstick in Nymphe has a beautiful rose pink base that adds a youthful pop of pink to your beauty game. Enriched with herbal extracts and antioxidants, this lipstick series will leave your pout feeling supple and plump with a highly pigmented, satin finish.
For those that love a more glossy finish, I suggest slicking the Napoleon Perdis Silk Road Lip Rouge in Pink Empress across your lips, for extreme colour and shine.
I'de love to hear the must-haves on your beauty table this season, leave me a little tip in the comments below! For those that love a little fashion chatter, make sure you subscribe to my Fortnightly Style Guide in the menu above for seasonal trends, outfit sneak peeks and hair and beauty tips and tricks! You know you want to…
---